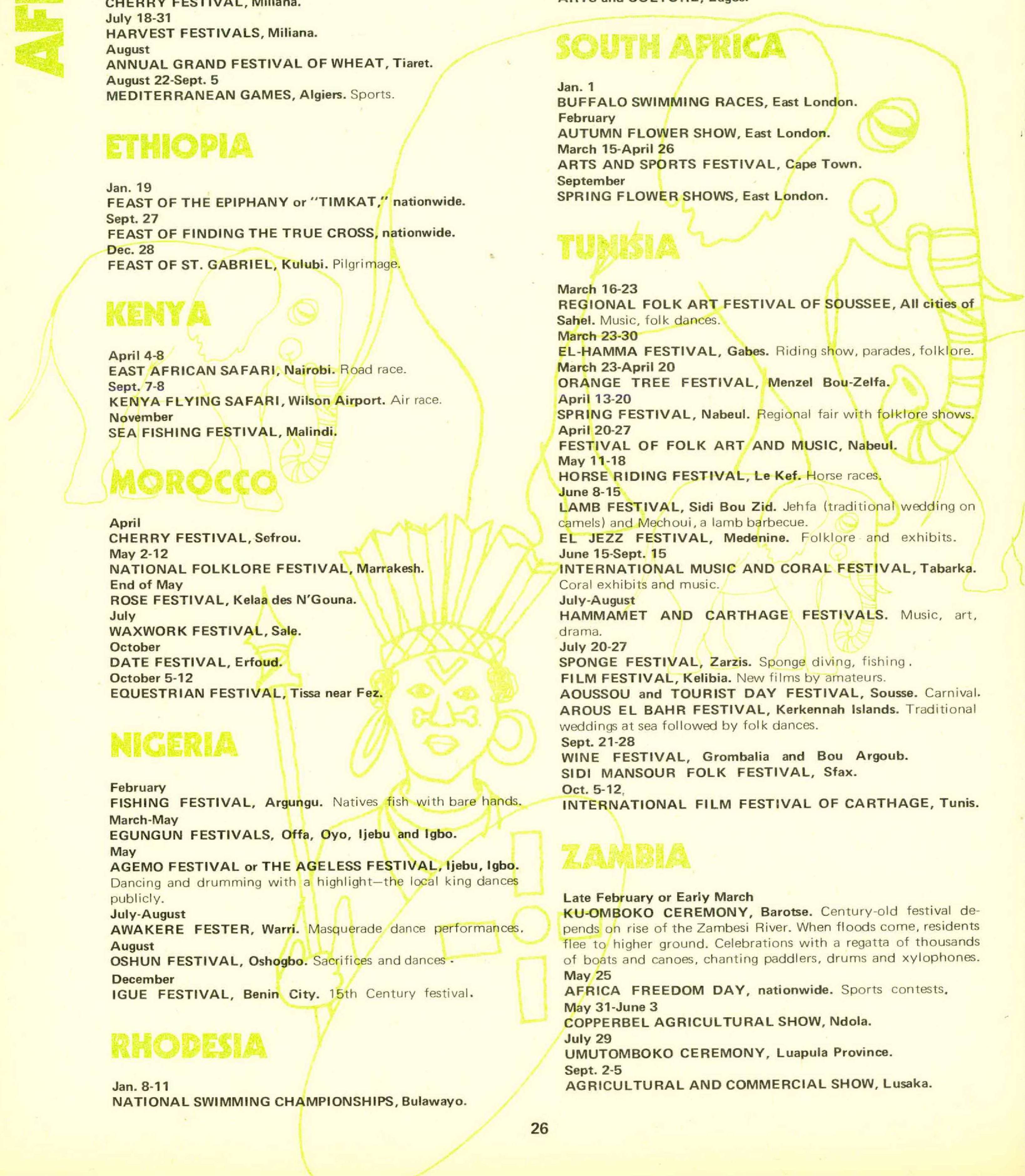 ALGERIA
April 18-30
FESTIVAL OF FLOWERS, Miliana.
Early May
FEASTS OF RABB, Tlemcen. Pilgrimages, folk dances.
June 1-14
CHERRY FESTIVAL, Miliana.
July 18-31
HARVEST FESTIVALS, Miliana.
August
ANNUAL GRAND FESTIVAL OF WHEAT, Tiaret.
August 22-Sept. 5
MEDITERRANEAN GAMES, Algiers. Sports.
ETHIOPIA
Jan. 19
FEAST OF THE EPIPHANY or "TIMKAT,"nationwide. Sept. 27
FEAST OF FINDING THE TRUE CROSS, nationwide. Dec. 28
FEAST OF ST. GABRIEL, Kulubi. Pilgrimage.
KENYA
April 4-8
EAST AFRICAN SAFARI, Nairobi. Road race.
Sept. 7-8
KENYA FLYING SAFARI, Wilson Airport. Air race. November
SEA FISHING FESTIVAL, Malindi.
MOROCCO
April
CHERRY FESTIVAL, Sefrou.
May 2-12
NATIONAL FOLKLORE FESTIVAL, Marrakesh. End of May
ROSE FESTIVAL, Kelaa des N'Gouna.
July
WAXWORK FESTIVAL, Sale.
October
DATE FESTIVAL, Erfoud.
October 5-12
EQUESTRIAN FESTIVAL, Tissa near Fez.
NIGERIA
February
FISHING FESTIVAL, Argungu. Natives fish with bare hands.
March-May
EGUNGUN FESTIVALS, Offa, Oyo, Ijebu and Igbo.
May
AGEMO FESTIVAL or THE AGELESS FESTIVAL, Ijebu, Igbo.
Dancing and drumming with a highlight—the local king dances publicly.
July-August
AWAKERE FESTER, Warri. Masquerade dance performances.
August
OSHUN FESTIVAL, Oshogbo. Sacrifices and dances December
IGUE FESTIVAL, Benin City. 15th Century festival.
RHODESIA
Jan. 8-11
NATIONAL SWIMMING CHAMPIONSHIPS, Bulawayo.
March 7-9
MEIKLES INTERNATIONAL HORSE TRIALS, Salisbury.
April 25-May 4
TRADE FAIR RHODESIA, Bulawayo.
June 27-July 7
ALOE FESTIVAL, Umtali. Fun fest with lots of entertainment.
November 22-December 20
SECOND WORLD BLACK and AFRICAN FESTIVAL OF ARTS and CULTURE, Lagos.
SOUTH AFRICA
Jan. 1
BUFFALO SWIMMING RACES, East London. February
AUTUMN FLOWER SHOW, East London. March 15-April 26
ARTS AND SPORTS FESTIVAL, Cape Town. September
SPRING FLOWER SHOWS, East London.
TUNISIA
March 16-23
REGIONAL FOLK ART FESTIVAL OF SOUSSEE, All cities of Sahel. Music, folk dances.
March 23-30
EL-HAMMA FESTIVAL, Gabes. Riding show, parades, folklore.
March 23-April 20
ORANGE TREE FESTIVAL, Menzel Bou-Zelfa.
April 13-20
SPRING FESTIVAL, Nabeul. Regional fair with folklore shows.
April 20 27
FESTIVAL OF FOLK ART AND MUSIC, Nabeul.
May 11-18
HORSE RIDING FESTIVAL, Le Kef. Horse races.
June 8-15
LAMB FESTIVAL, Sidi Bou Zid. Jehfa (traditional wedding on camels) and Mechoui, a lamb barbecue.
EL JEZZ FESTIVAL, Medenine. Folklore and exhibits. June 15-Sept. 15
INTERNATIONAL MUSIC AND CORAL FESTIVAL, Tabarka.
Coral exhibits and music.
July-August
HAMMAMET AND CARTHAGE FESTIVALS. Music, art, drama.
July 20-27
SPONGE FESTIVAL, Zarzis. Sponge diving, fishing .
FILM FESTIVAL, Kelibia. New films by amateurs.
AOUSSOU and TOURIST DAY FESTIVAL, Sousse. Carnival. AROUS EL BAHR FESTIVAL, Kerkennah Islands. Traditional weddings at sea followed by folk dances.
Sept. 21-28
WINE FESTIVAL, Grombalia and Bou Argoub.
SIDI MANSOUR FOLK FESTIVAL, Sfax.
Oct. 5-12,
INTERNATIONAL FILM FESTIVAL OF CARTHAGE, Tunis.
ZAMBIA
Late February or Early March
KU-OMBOKO CEREMONY, Barotse. Century-old festival depends on rise of the Zambesi River. When floods come, residents flee to higher ground. Celebrations with a regatta of thousands of boats and canoes, chanting paddlers, drums and xylophones.
May 25
AFRICA FREEDOM DAY, nationwide. Sports contests.
May 31-June 3
COPPERBEL AGRICULTURAL SHOW, Ndola.
July 29
UMUTOMBOKO CEREMONY, Luapula Province.
Sept. 2-5
AGRICULTURAL AND COMMERCIAL SHOW, Lusaka.