The Difficult Grandeur of Robert Lowell
Why should such grim books give such pleasure?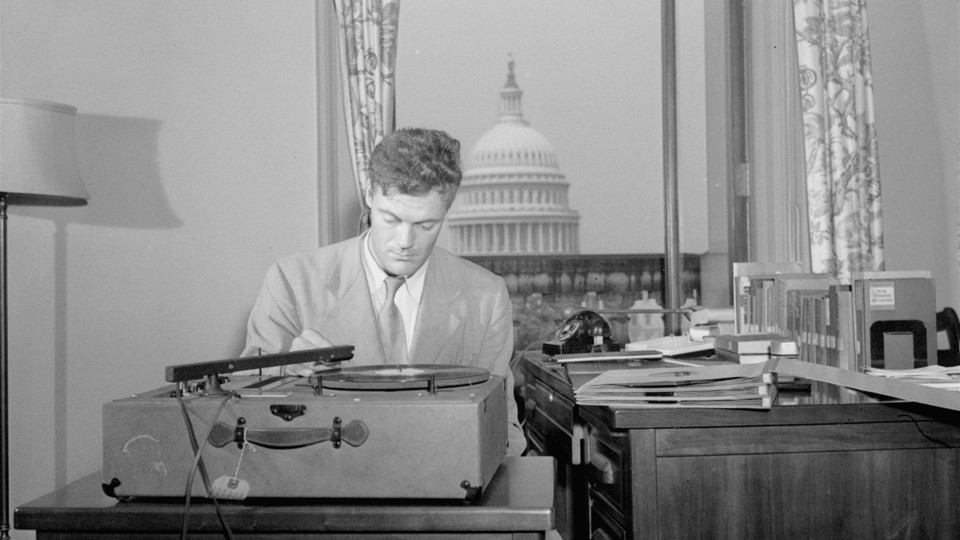 In 1973, Robert Lowell, our greatest contemporary poet, published three volumes at once—History, For Lizzie and Harriet, and The Dolphin—and by that decisive self-presentation made us all once again confront his tumultuous and vexed career. The books were prudishly ignored by the National Book Award judges, who refused even to nominate the entirely new one, The Dolphin, for an award, but it later won the Pulitzer Prize for poetry, and reviews mirrored the mixed feelings reflected in the award-giving. History is a recasting, in chronological order and revised form, of the poems which appeared in Notebook; bracketing it are For Lizzie and Harriet, about Lowell's former wife and child, and The Dolphin, about his new wife and child. Personal history and the history of the race are Lowell's subjects, and the brutal force of the three books taken at once forced energetic postures of repudiation or championship from all his readers.

Lowell, though born of the Winslows, the Starks, and the Lowells, and perhaps our last intellectual New England poet, is nonetheless not a parochial Boston voice. He is now fifty-seven, and world-famous, but the eccentricity of his life began, we may think, with his expulsion, for throwing stones, from the Boston Public Garden; it continued with his leaving Harvard for Kenyon College; it was marked by a conversion, though temporary, to Roman Catholicism, followed by imprisonment during World War II as a conscientious objector; it has included successive periods of mental illness and successive marriages; and in its combination of reclusiveness and public action, it embodies its own contradictions. The books that have issued from this life trace, at first obscurely and then candidly (some have said exhibitionistically), the contours of Lowell's experience, and offer us a poetry of difficult grandeur.

In Lowell, the "mill of the mind" (as Yeats called it) grinds a diverse grain with a stony force. Perhaps the first and only question put to us by its incessant activity is why the grim books that make up his collected works should give us, in any sense, pleasure. Lowell's dramatic power has an edge of malice and, in his tragic moments, cruelty: Both malice and cruelty are countered by a quietism which took its extreme form in the early portrait of the shrine of Our Lady of Walsingham in "The Quaker Graveyard at Nantucket"—the face of the statue "expressionless, expresses God." This quietism has recently taken the form of an expressionless, if biting, historical impartiality. But behind cruelty, malice, and deadly observation lies a covert idealism, sometimes self-indulgent and knowingly sentimental, sometimes pure. His commonest fantasies are of "tyrannizers and the tyrannized," whether Jonathan Edwards terrifying his congregation, or Stalin executing his friends; in our putatively democratic America, Lowell speculates on the use and abuse of power and kingship.

His most recent manner throws up nearly indigestible fragments of experience, unprefaced by explanation, unexplained by cause or result; sudden soliloquies of figures ranging from Biblical times to contemporary history; translations; diary jottings; stately imitations of known forms; the whole litter and debris and detritus of a mind absorptive for fifty years. His free association, irritating at first, hovering always dangerously toward the point where unpleasure replaces pleasure, nonetheless becomes bearable, and then even deeply satisfying, on repeated rereading. And if Verdun or Thomas More or Frank Parker is not in our sphere of reference, we can slide off to poems on the march on Washington, or private walks, or Emerson, or a Cambridge blizzard, or New York taxi drivers. The presence of the familiar, and the genuineness of its note, act to assure the genuineness of the rest.

Lowell is one of our most learned and widely read poets, liking encyclopedic reference for its own sake: He tells us that when he was a boy, he "skulked in the attic, / and got two hundred French generals by name, / from A to V—from Augereau to Vandamme." Any one of the two hundred might put in an appearance in History, and other, more private allusions to a family past jostle the large and casual mention of historical figures. Lowell has a formidable genius for the details of life, those details which made Life Studies an unrivaled family history in verse, and which now, filling the pages of History, constitute an unspeakably dense poetic or secondary world. It is a world where, even after the publication of Life Studies, the Lowell ancestors refuse to disappear:
They won't stay gone, and stare with triumphant torpor, as if held in my fieldglasses' fog and enlargement.
Like some crowded Tiergarten, Lowell's poetry exhausts all species. Since everything is here, we cannot exactly define the poet as a selective collector; he is rather the curator of the world, and it is only in the tone of regard with which this curator presents his specimens, whether alive or fossilized, that we can catch his likeness. That tone, though fierce, is measured. For him, the monuments of culture are not, as they were for Rilke, inexhaustible proof of the ecstatic potential of man; history has not for Lowell, as it had for Tennyson, a teleological shape; and family and home are not finally, as they are to Allen Ginsberg's monstrous piety, sacred. The disloyalty of Lowell-as-grandson in Life Studies, where we see him doodling moustaches on the last Russian Czar, plays a decisive role in Lowell's historical perspective. Though his poetry has been seen, with some truth in respect to the early books, as one rising out of disgust, preoccupied with the grotesque, and violent in its sensibility, these qualities are not its determining ones. He has learned, partly through the fitful tenderness first manifested in Life Studies, to tame the apocalyptic to the eternal dailiness of life. It is not that his Miltonic avidity for omnipotence has disappeared; but its direction has altered, and the temporal has obscured the prophetic. In fact, History and its companion volumes, with their tenderness toward the earth and its offerings, contain the first legitimate continuance of Shakespeare's sonnets since Keats, full of "Any clear thing that blinds us with surprise / ...wandering silences and bright trouvailles." The closing poem in For Lizzie and Harriet demands quotation in any writing about Lowell's recent work: In it he puts transcendence—all that demands aspiration, vengeance, order, justice, law, salvation—to rest, and chooses instead a Shakespearean recurrence:
Before the final coming to rest, comes the rest
of all transcendence in a mode of being, hushing
all becoming. I'm for and with myself in my otherness,
in the eternal return of earth's fairer children,
the lily, the rose, the sun on brick at dusk,
the loved, the lover, and their fear of life,
their unconquered flux, insensate oneness...
"My breath," says Lowell, "is life, the rough, the smooth, the bright, the drear."

Into his infernal scenarios enter the odd domestications of the universe, like the turtle discovered on the road, kept in the bathtub, then in the sink, where he refuses to eat:
raw hamburger mossing in the watery stoppage,
the room drenched with musk like kerosene—
no one shaved, and only the turtle washed.
He was so beautiful when we flipped him over:
greens, reds, yellows, fringe of the faded savage,
the last Sioux, old and worn...
Lowell and his wife drive the turtle to the river, watch him "rush for water like rushing into marriage." The "uncontaminated joy" of the turtle finding his proper food and element at last transforms the river for Lowell:
lovely the flies that fed that sleazy surface,
a turtle looking back at us, and blinking.
The turtle has some of the staunchness of the skunks in "Skunk Hour" (from Life Studies), but in that poem the poet cannot share in the cheerful animal life; his "ill-spirit sob[s] in each blood cell." In the vistas of the newer poems, however, the human species performs generic acts, like the lizard:
The lizard rusty as a leaf rubbed rough
does nothing for days but puff his throat
on oxygen, and tongue up passing flies,
loves only identical rusty lizards panting:
harems worthy this lord of the universe—
each thing he does generic, and not the best.
In his recent poetry, Lowell embodies his maxims in fine-drawn descriptions, and views himself as not distinct from the lizard: "I, fifty, humbled with the years' gold garbage, / dead laurel grizzling my back like spines of hay." He moves ahead, "drawn on by my unlimited desire, / like a bull with a ring in his nose, a chain in the ring..." The cause of our will to direction is only language: If seals should suddenly learn to write, "Then all seals, preternatural like us, / would take direction, head north—their haven / green ice in a greenland never grass." "The fish, the shining fish, they go in circles, / not one of them will make it to the Pole— / this isn't the point though, this is not the point." The "horrifying mortmain of ephemera" becomes in another view our only night on stage, as Lowell says in his poem about his ten-year-old daughter:
Spring moved to summer—the rude cold rain
hurries the ambitious, flowers and youth....
Child of ten, three quarters animal,
three years from Juliet, half Juliet,
already ripened for the night on stage—
beautiful petals, what shall we hope for....?
If I quote such poems, it is because the inexhaustibility of the world, the eternal return of earth's fairer children, seems to have become Lowell's new subject, expressed with full knowledge of the fragile in the inexhaustible. This poetry has no need of invitation or seduction to win us: It beckons by the comprehension of its atlas, historical and geographical, its representation of all we know.

It does not abandon its previous myths, but it subjects them to a relentless modernizing. Genesis is thrust into Darwinian time, as we see the beginning of the world:
The virus crawling on its belly like a blot,
an inch an aeon; the tyrannosaur,
first carnivore to stand on his two feet,
the neanderthal, first anthropoid to laugh—
we lack staying power, though we will to live.
Abel learned this falling among the jellied
creepers and morning-glories of the saurian sunset.
Lowell believes equally in Abel and the dinosaurs; and he decides, in a bold throw of the dice, to give twentieth-century speeches to all his characters, even those lost in antiquity. So Clytemnestra becomes Lowell's mother, complaining about her husband:
"After my marriage, I found myself in constant
companionship with this almost stranger I found
neither agreeable, interesting, nor admirable,
though he was always kind and irresponsible...."
Lowell himself appears as the young Orestes, in Clytemnestra's Christmas poem:
"O Christmas tree, how green thy branches—our features
could only be the most conventional,
the hardwood smile, the Persian rug's abstraction,
the firelight dancing in the Christmas candles,
my unusual offspring with his usual scowl,
spelling the fifty feuding kings of Greece,
with a red, blue and yellow pencil....I
am seasick with marital unhappiness—"
The compulsion to rewrite history, to afford privileged glimpses of the hidden moments of intimacy in public lives, to insert in the book of history the commentaries of poets—Horace, Du Bellay, Góngora, Heine, Baudelaire, Becquer, Leopardi, Rilke, Rimbaud—to modernize relentlessly in laconic colloquialisms, to assume familiarity, to impute motive—all this rules more of History than perhaps it should.

Yet what fixes us in admiration of this recent poetry is the continual presence of Lowell himself. He is at the shore, has eaten lobster, watches his dying fire, and thinks how we still discover the dead fires of druidic Stone Age men and quasimythical Celtic kings:
The fires men build live after them,
this night, this night, I elfking, I stonehands sit
feeding the wildfire wildrose of the fire
clouding the cottage window with my lust's
alluring emptiness. I hear the moon
simmer the mildew on a pile of shells,
the fruits of my banquet...a boiled lobster,
red shell and hollow foreclaw, cracked, sucked dry,
flung on the ash-heap of a soggy carton—
it eyes me, two pinhead, burnt-out popping eyes.
This is the quintessential beauty of the appalling exactly drawn. It stands in counterpoint to the equal beauty of the beautiful exactly drawn, in this "imitation" from Bécquer:
The thick lemony honeysuckle,
climbing from the earthroot to your window,
will open more beautiful blossoms to the evening;
but these...like dewdrops, trembling, shining, falling,
the tears of day—they'll not come back....
The vignettes of history spoken in Lowell's voice strike even more sharply than the resurrected voices of history left to speak for themselves. Here are the Pilgrims in New England:
The Puritan shone here,
lord of self-inflicted desiccation,
roaming for outlet through the virgin forest,
stalking the less mechanically angered savage—
the warpath to three wives and twenty children.
As History moves to the modern era, Lowell speaks to his contemporaries, the dead poets—Eliot, Pound, Schwartz, MacNeice, Frost, Williams, Jarrell, Roethke—and to the then still living Berryman. He speaks as well to the other admired dead, from F. O. Matthiessen to Harpo Marx to Che Guevara. Each is allowed a remark, an epigram, a moment of appearance, before the spurt of life dies out: "The passage from lower to upper middle age / is quicker than the sigh of a match in the water." Interspersed are other sighs of aging, this one adapted from a letter by Mary McCarthy:
Exhaust and airconditioning klir in the city....
The real motive for my trip is dentistry,
a descending scale: long ago, I used to drive
to New York to see a lover, next the analyst,
an editor, then a lawyer...time's dwindling choice.
It was not to be expected that Lowell should forsake his autobiographical vein, but it is tempered often, in History, with episodes of pure and detached observation, as an immortal eye, indifferent to its own decay, makes notations of the disordered wonders of the earth—the panorama, for instance, of Cambridge in a blizzard:
Risen from the blindness of teaching to bright snow,
everything mechanical stopped dead,
taxis no-fares...the wheels grow hot from driving—
ice-eyelashes, in my spring coat; the subway
too jammed and late to stop for passengers;
snow-trekking the mile from subway end to airport...
to all-flights-canceled, fighting queues congealed
to telephones out of order, stamping buses,
rich, stranded New Yorkers staring with the wild, mild eyes
of steers at the foreign subway—then the train home,
jolting with stately grumbling.
Such a passage rests in the present, in the isolation of perfect registering of sense, and prevents the worse isolation of the mind withdrawn from sense:
Sometimes, my mind is a rocked and dangerous bell;
I climb the spiral stairs to my own music,
each step more poignantly oracular,
something inhuman always rising in me—
Lowell works, in his poems of sense, like those "star-nosed moles, [in] their catatonic tunnels / and earthworks...only in touch with what they touch."

There are morals that can be quoted or deduced from the poems in History and its companion volumes, but they are not what vivifies the new work. These poems live neither on ideology nor on logic—props thought to be the mainstays of an earlier Lowell; instead, they yield to the lawless free associations of the rocked and dangerous mind. The worst one can say of Lowell's recent verse is that its connections are often at first sight baffling and its use of slang sometimes uncertain; but the awed formality of the early verse was a young man's evasion of his own language. Repudiating the "monotony of vision" inherent in unending attachment to the child he was, and yet knowing that child alive in himself till death, Lowell feels the thread of self as perpetual clue while following the labyrinths of change, forcing works into shape, dismayed by the recalcitrance of words, wishing a real, not artificial, flame on the hearth:
I want words meat-hooked from the living steer,
but a cold flame of tinfoil licks the metal log,
beautiful unchanging fire of childhood
betraying a monotony of vision....
Life by definition breeds on change,
each season we scrap new cars and wars and women.
But sometimes when I am ill or delicate,
the pinched flame of my match turns unchanging green,
a cornstalk in green tails and seeded tassel....
A nihilist has to live in the world as is,
gazing the impassable summit to rubble.
Of all styles, description is the most difficult to describe. Lowell has freed himself from his large early abstractions, even from the categories of the individual soul that once seemed so natural. Taking on history as a discipline, Lowell refuses to be less than the world is.

Have we had a nihilist poet before this recent Robert Lowell? Not a nihilist who is a disappointed idealist, but a philosophical nihilist, incorporating within truth both instinctual hope and equable resignation? How Lowell came to this nihilism is not clear; political and marital discouragement, the weariness of twenty years of cyclical mania and depression, and repeated, inevitable hospitalization would suffice, even without the blighting of Lowell's own generation by insanity, suicide, and tragedy. But the weariness is allowed to remain weariness, tending toward but never reaching that death whose "sweetness none will ever taste." "Life, hope, they conquer death, generally, always."

The comparative lack of fertility in Lowell's two weaker volumes, For the Union Dead and Near the Ocean—after their exquisite predecessor, the original Life Studies—warned us that Lowell had to find a new impulse of energy or die as a poet. It seemed impossible that he should go beyond Life Studies, with its finely modulated satiric memoir, "91 Revere Street," and its subsequent collection of family portraits. Though there were many beautiful poems in Life Studies, it was Part IV of that book, with its quality of sporadic memoir from a son not detached enough to be all-forgiving, but old enough to permit himself detachment, that immediately gained Lowell a new fame, a fame as misplaced in the adjective "confessional" as it was, in itself, deserved. It was not the confessions that made Life Studies so memorable; it was rather the quality of memory indelibly imprinted, a brilliance of detail almost unconsciously preserved in a store of words perpetually refreshed.

In Life Studies, a deliberate sparseness of syntax enhanced minute details, as daguerrotype succeeded daguerrotype, rendering the furniture, the cuckoo clocks, the lamps with doily shades, the hot water bottle, the golf-cap, the ivory slide rule, the Pierce Arrow, the billiards-table, the decor "manly, comfortable, / overbearing, disproportioned." If we believed in the confessions, it was because we were made to believe in their ambience. And all the forceful particularity of Life Studies reappears in Lowell's latest work.

Tt is astonishing that anyone confronted with Lowell's three new volumes should still be praising Lord Weary's Castle over History. And yet it is done, for example, by a fellow poet who accuses Lowell of "self-exploitation" in History: "One senses the life lived in order to provide material for poems; one sees with horror the cannibal-poet who dines off portions of his own body, and the bodies of his family." There are flaws in History, of course, since there are no flawless books of poetry, but flaws die of themselves, in silence, and need no criticism for their extinction. A poet's necessary conversion of experience into art can hardly be called cannibalism, and if the accusation that "the life is lived in order to provide material for poems" is to be convincing, it must be proved. These poems are Lowell's life as much as his life is; perhaps more.
Conscience incurable
convinces me I am not writing my life;
life never assures which part of ourself is life.
Lowell is not at his best in describing the chaos of present relation; Life Studies benefited from the haze, the selective screens of memory, which refined the dramatis personae into effigies of themselves, sepulchral statues fixed in eternally characteristic positions. The slip and flow of changing personal give-and-take is apparently not yet available to Lowell, and that truth is more damaging to his recent poetry than any moral criticism. The lapses in these three recent books spring from two sources—the cruel brevity of a fourteen-line form used for encyclopedic material, and the attempt to write of immediate personal interchange. When we lack Lowell's penumbra of information about Rome or the Enlightenment or the Chicago Convention, we miss his point; wishing for intimacy in the personal sonnets, we find sometimes simply the rags and tatters of conversation. "I am learning to live in history," says Lowell in For Lizzie and Harriet, and adds his definition: "What is history? What you cannot touch." Once it is irremediably past, and only then, does life give itself to the epiphanies of Lowell's verse, without losing itself as plight, and without divesting itself of dailiness. The shame of wrongdoing, the bitterness of the wronged, the claims of fidelity and the claims of change, must in life clash to a standstill, but nothing in the art of poetry serves justice as justice might urge in life. The extreme power, even of an apparently unjust position, cannot be gainsaid when it occurs. Here is Lowell, for instance, on the eternal problem of the subjection of women: In youth they were swallows, beautiful, capricious, full of movement and gaiety; they asked to be domesticated, to be put into nests, to be fed; now, oppressed by the drudgery of life, they metamorphose into stinging wasps: What are they but prostitutes? I quote the earlier version, called "Das ewig Weibliche":
Serfs with a finer body and tinier brain—
who asks the swallows to do drudgery,
clean, cook, peck up their ton of dust per diem?
Knock on their homes, they go up tight with fear,
farting about all morning past their young,
small as wasps fuming in their ash-leaf ball.
Nature lives off the life that comes to hand;
yet if we knew and softly felt their being,
wasp, bee and bird might live with us on air;
the boiling yellow-jacket in her sack
of zebra-stripe cut short above the knee
escape...the nerve-wrung creatures, wasp, bee and bird,
felons for life or keepers of the cell,
wives in their wooden cribs of seed and feed.
Whatever our judgment of the social view of the poem, who can dismiss its powerful metamorphoses, its fuming wasps and boiling yellow-jackets, its lethal conjunction of seed and feed? Finally, the only test of the poem is that it be unforgettable, the natural held in the grip of vision. We know Lowell's vision, a powerful one that has forgone the comforts of nostalgia, of religion, seemingly of politics. In the sterner poems, he even forgoes love, though The Dolphin lingers in a forlorn hope for that subject even yet. Love itself bows to the eternal phenomenon of recurrence and fate:
I too maneuvered on a guiding string
as I execute my written plot.
I feel how Hamlet, stuck with the Revenge Play
his father wrote him, went scatological
under this clotted London sky.
But even within the rigid confines of the plot, still declaiming words fed by the prompter, the poet finds some liberties of choice and action hovering in possibility: To waver is to be counted among the living, he says, and "survival is talking on the phone." While death becomes "an ingredient of [his] being," he nonetheless watches, from night to morning, "the black rose-leaves / return to inconstant greenness." Writing and writing and writing, with an urgency showing no diminution, Lowell places himself, myopic and abashed, below his former epic assaults on heaven:
I watch a feverish huddle of shivering cows;
you sit making a fishspine from a chestnut leaf.
We are at our crossroads, we are astigmatic
and stop uncomfortable, we are humanly low.
Though this is not a comfortable poetry, it has the solace of truth in its picture of the misery, sense of stoppage, and perplexed desultoriness of middle age. "They told us," says Lowell, remembering the old motto, "by harshness to win the stars." That was, for a long time, his mode, the Luciferian embattled ascent, accompanied by an orchestration of clashing arms and wars in heaven. Now, making a net, as he says, to catch like the Quaker fishermen all the fish in the sea of life and history, even up to Leviathan, he works with no props but the mood of the occasion, with no sure guide but the inexplicable distinctiveness of personal taste. Foretelling the mixed extinction and perpetuity of his own poetic accomplishment, Lowell hangs up his nets in perpetuity. They are the equivocal nets woven and unraveled by a Penelope:
I've gladdened a lifetime
knotting, undoing a fishnet of tarred rope;
the net will hang on the wall when the fish are eaten,
nailed like illegible bronze on the futureless future.
The self-epitaph is premature, but not on that account false. The subjects of these poems will eventually become extinct, like all other natural species devoured by time, but the indelible mark of their impression on a single sensibility will remain, in Lowell's votive sculpture, bronzed to imperishability.