The Art of History Painting
Before Benjamin West and John Singleton Copley, the genre was dedicated to the good, the ideal; it now encompasses the bad and the beautiful.
"History painting" sounds more fusty than feisty, perhaps. Yet I cannot help regarding it with special interest, since both art and history fascinate me. Not generally recognized is the fact that the two most important Early American artists were history painters. Benjamin West and John Singleton Copley, however, followed that line in England rather than America. Between them, they injected realism and portraiture into the genre, and before and after the American Revolution they brought an art revolution home to London.
Benjamin West, although born in the same year as Copley (1738), was the first to reach England and turn the London art world upside down. The tenth child of an innkeeper. West had grown up in idyllic surroundings near Philadelphia, on the site of the present campus of Swarthmore College. According to his own account, friendly Indians first taught him to mix red and yellow earth pigments, while his mother supplied blue indigo from her dye vat, and the family cat less willingly gave up the raw materials for paintbrushes from her fur.
By the age of sixteen, West had achieved local fame as a portraitist. One of his sitters, a gunsmith named William Henry, was so taken with the youth's abilities that he suggested West attempt history painting. "What is that?" West wanted to know. By way of reply, William read aloud Plato's account of the death of Socrates. The dignity, display of character, and transcendental overtones of Plato's Dialogue spoke directly to young West's Quaker heart. He set himself to paint the scene, and soon he had resolved to devote his professional life to subjects of a similar nature.
The way to begin, he guessed, would be to absorb the best examples of the art in Rome. To any ordinary young fellow in his position at the time, such an ambition would have seemed quite wild; but not to West. He found wealthy sponsors to support his aims, reached Rome at the age of twenty-two, and spent three years there under the tutelage of the neoclassicist Anton Raphael Mengs. When he was taken to the Vatican to view the famed classical marble called The Belvedere Apollo, West exclaimed in his easy, enthusiastic way: "How like a Mohawk warrior!" Roman society was charmed by him, naturally.
In 1763, West headed for home again. Stopping off in London en route, he made friends with the great portraitist Sir Joshua Reynolds and other artists. The considerable figure-skating skills which West had developed on the Schuylkill river, however, were what gained him entree into London's smart set. His impromptu performances on the frozen pond in Hyde Park were the talk of the town. Lords galore, and bishops as well, flocked to commission pictures from the clever and accomplished young American. So West found himself persuaded to stay on in London.
West's paintings of that time were in the classicizing vein of Poussin. Their sources in literature and statuary were so remote as to appear universally edifying. Pylades and Orestes, The Continence of Scipio, The Fright of Astyanax, Pyrrhus When a Child Brought to Glaucias for Protection, and Agrippina with the Ashes of Germanicus were just a few of the commissions which were showered upon him. It was Agrippina, the last on that list, which happened to catch the hazy eye of the king.
An unusually perceptive critic had observed, soon after West's arrival in London, that "the glorious title of the American Raphael can never be, without irony, bestowed on West." King George III could not see why not. Himself a simple, though unstable, soul, he found West's open-faced idealism and industrious work habits irresistible. This, he doubtless thought, was just what the old masters must have been like. George appointed the artist History Painter to the Crown, with permanent studios at Buckingham and Windsor Palaces. Then later—at West's own urging, it seems— the king personally sponsored the foundation of the Royal Academy of Arts. Sir Joshua Reynolds was the Academy's first president, and West its second. Long-lived, serious, and almost universally liked, West presided over Academy affairs for nearly three decades. He had just one known difference of opinion with the more sophisticated Reynolds, but this was basic, for it concerned West's chosen field.
In one of his celebrated "Discourses," Reynolds averred that works of art "which are built upon a general nature live forever, while those which depend for their existence on particular customs and habits, a partial view of nature, or the fluctuation of fashion, can only be coeval with that which first raised them from obscurity. Present time and future must be considered as rivals, and he who solicits the one must expect to be discountenanced by the other." Sir Joshua felt strongly on that point. Imagine, then, his astonished distress when, in 1770, he found his friend West hard at work upon a history painting which dealt with very recent history!
In 1759, General James Wolfe had driven the French from Quebec's Plains of Abraham to win Canada for England. It was an epic battle, in which the impetuous Wolfe himself was three times hit by musket balls and expired on the field at the moment when victory was assured. "I die contented!" were the general's last words—perfect, West thought. The Death of Wolfe, as West envisioned his painting, would combine the chill grandeur of classical idealism with all the color and excitement of an actual battle scene in modern dress. Reynolds, however, earnestly begged him not to paint it like that, but instead to "adopt the classic costume of antiquity as much more becoming the inherent greatness of the subject than the modern garb of war."
King George himself backed Reynolds' argument; but West felt keenly that, in the commonwealth of art, painters ought to make their own decisions, regardless of councillors and kings. The Battle of Quebec, he pointed out, had transpired "in a region of the world unknown to the Greeks and Romans, and at a period of time when no such nations, nor heroes in their costumes, any longer existed." Although the battle had been recent, it was, he concluded, "a topic which history will proudly record, and the same truth which guides the pen of the historian should govern the pencil of the artist." In brief, and in more than one sense of the expression, the American stuck to his guns. The result was a radically new masterpiece, which caused a sensation at the Royal Academy exhibition of 1771. Applause drowned out the first shocked reactions, and it soon became evident that history painting would never be the same again. Reynolds himself gracefully conceded: "Mr. West has conquered."
The following year, West consolidated his victory by painting William Penn's Treaty With the Indians in commemoration of an event which had occurred almost a century before. This time he clothed his characters in costumes which he recalled from the days of his own youth in Pennsylvania. The buildings also were such as he himself remembered. West portrayed plump Penn on the basis of tradition. His own relatives, including his father, stood in for some of the surrounding figures. "The great object I had in forming the composition," West later wrote, "was to express savages brought into harmony and peace by justice and benevolence, by not withholding from them what was their right, and giving them what they were in want of." The picture does breathe peace, albeit not very deeply. It is accomplished pageantry. One guesses that it may also have been intended to convey a hidden message as to how the coming breakaway of the American colonies might be averted.
If so, the king failed to register that. The aesthetic message, however, he was now ready to accept. Grand themes need not be ancient ones; modernity in itself does not exclude sublimity. The king was so excited by this discovery that when West later proposed to commemorate a British victory at sea (The Battle of La Hogue), George personally saw to it that the artist was enabled to make preparatory sketches of naval maneuvers from the poop of the Admiral's frigate. Thus pictorial journalism achieved, for the first time, the favored place in the scheme of things which it still retains.
I turn now to West's great rival: John Singleton Copley. As everybody knows, he made his unique contribution to America's self-image in the stream of time by painting portraits of notables in and about his native Boston. But Copley also aspired to loftier achievements. At the age of thirty-six, therefore, he took a holiday from portraiture in order to embark on a Grand Tour of Europe and imbibe the necessary culture. George Carter, a British artist who accompanied Copley partway on his travels, penned a waspish but vivid caricature of Copley the innocent abroad:
He had on one of those white French bonnets which, turned on one side, admit of being pulled over the ears: under this was a yellow and red silk handkerchief, with a large Catherine wheel flambeaued upon it, such as may be seen on the necks of those delicate ladies who cry Malton oysters: this flowed half way down his back. He wore a redbrown, or rather cinnamon, great coat, with a friar's cape, and worsted binding of a yellowish white; it hung near his heels, out of which peeped his boots: under his arm he carried a sword which he bought in Paris, and a hickory stick with an ivory head. Joined to this dress, he was very thin, pale, a little pock-marked, prominent eyebrows, small eyes, which, after fatigue, seemed a day's march in his head.
As for what was going on behind those deep-set eyes, Copley's letters home to Peter Pelham contain valuable clues. Writing from Paris in his careless hand, he exhorted his young half-brother as follows:
I . . . would persuade you from inactivity as I would a near friend from plunging into certain destruction . . . Draw landscapes, Dogs, Cats, Cows, horses, in short I would have you keep in your Pocket a book and Porto Crayon—as I now do and where ever you see a butifull form Sketch it in your Book.
Then from Parma, in March of 1775, Copley wrote:
Poor America! I hope the best but I fear the worst, yet certain I am She will finally Imerge from the present Callamity and become a Mighty Empire, and it is a pleasing reflection that I shall stand among the first of the Artists that shall have led that Country to knowledge and cultivation of the fine Arts, happy in the pleasing reflection that they will one day shine with a luster not inferior to what they have done in Greece or Rome in my Native Country.
The fourteen months which Copley spent in Italy, indulging what he called "the luxury of seeing," and copying Renaissance pictures, irrevocably altered his whole approach to art. The honest vision of character and the solid craftsmanship which had distinguished his American portraits were supplanted by sophisticated techniques and exalted ideas. Copley was one of the first Americans to view the excavations then taking place at Pompeii. He bought plaster casts of ancient carvings for study purposes, and among these appears to have been The Gladiator from Rome's Villa Borghese. For the first time, Copley was applying himself to figure drawing and to large-scale composition.
In October, 1775, Copley concluded his Grand Tour where it had begun, at London. To his delight, he found his wife, his children, and his Tory father-in-law there to welcome him. They had come from Boston to avoid being caught up in the struggle for independence. Copley, of course, approved the move. "Political contests" he considered "neither pleasing to the artist nor advantageous to Art itself." Except, Copley might have added, as subject matter.
Unschooled, of Irish stock, contentious, and selfconsciously self-made, Copley was not the sort to breach the upper levels of London society as West had done. Moreover, the city of Gainsborough, Romney, and Reynolds would be less than overwhelmed by Copley the portraitist. But the growing colony of Tory American expatriates warmly welcomed the Copley family into their midst. Then, too, Benjamin West, with whom Copley had corresponded for years, was cordial and encouraging. Copley bought a fine mansion in Leicester Square, and settled in to practice his profession, come what might. He doubtless already entertained a secret ambition to outstrip the kindly West at history painting.
The single most original work which Copley had accomplished in Boston was his portrait of Paul Revere. He had posed the patriotic silversmith at a workbench, and in shirt sleeves—something unheard of before. Thus Copley had created a silent hymn to the dignity of craftsmanship, and also an egalitarian icon. Now, in London, it occurred to him that something similar might be done with history painting. Why not democratize the genre by depicting some personally fateful but historically trivial occurrence in the life of an ordinary citizen? For example, the London merchant Brook Watson.
In youth, while swimming in Havana harbor, Watson had lost a leg to a rogue shark. Copley obtained Watson's commission to commemorate the event on a grand scale. To make sure that his picture reproduced the setting correctly, he drew upon Peter Canot's engraving of the harbor. Hired models, it appears, posed for the figures of Watson's rescuers. For the face and figure of the desperate youth under attack, however, Copley employed The Gladiator from Rome's Villa Borghese. By tipping his marble-limbed protagonist head down and belly up before the drop-jawed onrush of the shark, Copley arrived at an unreal—almost surreal-effect which immeasurably heightens the whole picture's atmosphere of nightmare. Young Watson appears absolutely frozen with terror. When the picture was exhibited at the Royal Academy in 1778, saltwater enthusiasts among the public noted various lapses of realism. It was, for instance, evident that Copley could never have studied a shark close at hand. Nobody even noticed the extreme novelty of the work. Yet Copley had struck the keynote for romantic horror painting of the future.
In fact, Watson and the Shark eerily foreshadows Theodore Géricault's The Raft of Medusa, which was first shown at the Paris Salon of 1819. Géricault, too, balanced hope against horror in a spine-tingling manner. But Gericault meant his picture to embarrass the French maritime service and render unforgettable the scandals which surrounded the frigate Medusa's shipwreck. This was history painting with an angry twist. Like Copley's relatively minor, but much fresher, masterpiece, it failed to win much recognition at the time. Copley's Watson has come to rest at the Boston Museum of Fine Arts, however, and Géricault's Raft is now in the Louvre, so justice finally triumphed in both cases.
In 1778—to return to the year when Copley first exhibited Watson— a curious drama occurred in England's House of Lords. The Duke of Richmond had proposed making peace with the American colonies. William Pitt the Elder (the ill, eccentric but eloquent Earl of Chatham) arose to contest the motion. In mid-speech, however, the Earl fell back, open-mouthed: the victim of a fatal stroke. Here was a subject, Copley saw at once, which might fire the public imagination as Watson had not. He resolved to paint it in truly monumental style, and to begin by making portrait sketches from life of some fifty-four peers who had been in the chamber at the time. To incorporate so many actual portraits in the final work, he guessed, would be an innovation fully as startling as any of West's.
Portraits which employed history picture props were a commonplace of the period, but no one could recall ever having seen a history picture so heavily freighted with portraiture as was The Death of the Earl of Chatham. Although it took two years of unremitting labor to complete, the effort paid off handsomely in every way. Bypassing the Royal Academy, Copley exhibited the picture privately at Spring Garden. Some twenty thousand people paid their shillings to view it in the course of the first six weeks, and attendance at the Royal Academy exhibition for 1781, which ran concurrently, fell off by almost a thousand pounds. Copley took orders for engraved reproductions of the painting and disposed of the picture itself, by raffle, for the then princely sum of two thousand guineas. He had rocketed to equal eminence with West in public opinion.
Early in 1781, nine hundred French troops landed on the English island of Jersey and swiftly occupied its capital. Major Francis Peirson, aged twenty-four, led a British counterattack which repelled the French invasion. And, like General Wolfe at Quebec, Peirson died of his wounds at the battle's height. This was the next subject which Copley seized upon and transformed into instant history. Once again he employed portraiture, painting the figures around Peirson from life. But he did not so honor Peirson's black manservant, who was believed to have shot down the French soldier responsible for the major's death. The cockadehatted black in Copley's painting is a splendid personification of cool, concentrated revenge. Yet Copley's actual model was a house servant of the auctioneer James Christie (who lived just across Leicester Square from the artist's own residence). As for the icy, rigid figure of the fallen Peirson, that was the Villa Borghese's Gladiator, felled once more. A crisply opportunistic and calculated work The Death of Major Peirson certainly was; but perfectly brilliant. This diamond in the crown of "British School" painting, as the works of West and Copley were labeled in British and European museums, retains its feverish luster even now.
History painting had been rendered lifeless by too great an allegiance to the good, the true, and the beautiful; in short, to the ideal. First West, and then Copley, plunged the genre into the tempering waters of the real. Between them, they reinvigorated the ancient art form.
This is not the place to record the subsequent erosion of their powers, nor to discuss the labored and lame canvases which both men produced in later life. The two constantly quarreled over Royal Academy business, and their squabbling distressed the poor, precarious mind of the king. "West is an American," George III one day informed an importunate Academician, "and Copley is an American, and you are an Englishman, and if the Devil had you all, I would not enquire after you!"
Copley was acutely conscious of his later failures. He died a disappointed man, wishing that he had returned to Boston to live. West, on the contrary, waxed ever more complacent. William Hazlitt, in a sharp-edged passage from Table Talk, gave the reason for this. "When Mr. West had painted a picture," Hazlitt wrote, "he thought it was perfect. He had no idea of anything in art but rules, and these he exactly conformed to so that according to his theory, what he did was quite right. He conceived of painting as a mechanical or scientific process. . ."
The next generation of American painters was decisively influenced by West and Copley both; sometimes in unexpected ways. Gilbert Stuart, for instance (far and away the most successful of West's many students), was put off history painting for life by his master's example. But West prepared John Trumbull (who had served directly under General Washington) to create stirring and historically invaluable scenes. Trumbull had lost one eye in a childhood accident, so West advised him to paint small. Accordingly, Trumbull crammed forty-eight portrait figures (in Copley's manner) into his surprisingly lively thirtyinch-wide canvas. Declaration of Independence.
Washington Allston, John Vanderlyn, and Samuel Finley Breese Morse all three devoted enormous efforts to history painting, but with less happy results. Morse, in particular, had worshipped West. "There is not a line or a touch in his pictures," Morse wrote home from London, "which he cannot account for on philosophical principles." As to his own ambitions, Morse added: "I cannot be happy unless I am pursuing the intellectual branch of the art. Portraits have none of it; landscape has some of it, but history has it wholly." In 1822, Morse completed his most ambitious canvas, House of Representatives, which hangs now in Washington's Corcoran Gallery. It contains no less than eighty-one portraits of congressmen, but brings none of them to life. The scene is shadowy, serene. Morse took the picture on tour; it drew no crowds anywhere. "Alas," he confided to a friend in middle age, "the very name of picture produces a sadness of heart I cannot describe." Abruptly abandoning the painting profession, Morse went on to invent the telegraph—which must have given him some satisfaction.
A PORTFOLIO OF HISTORY PAINTINGS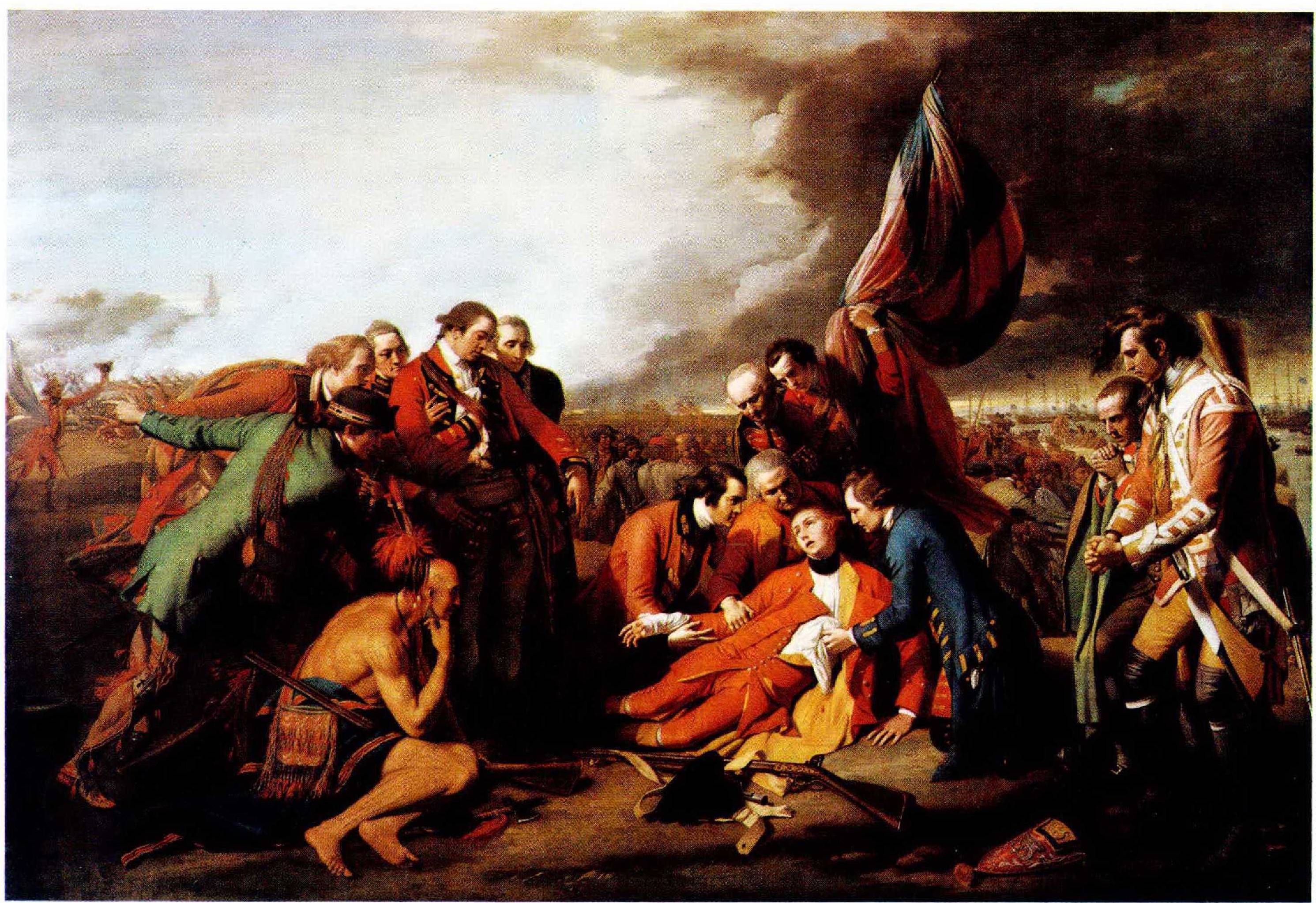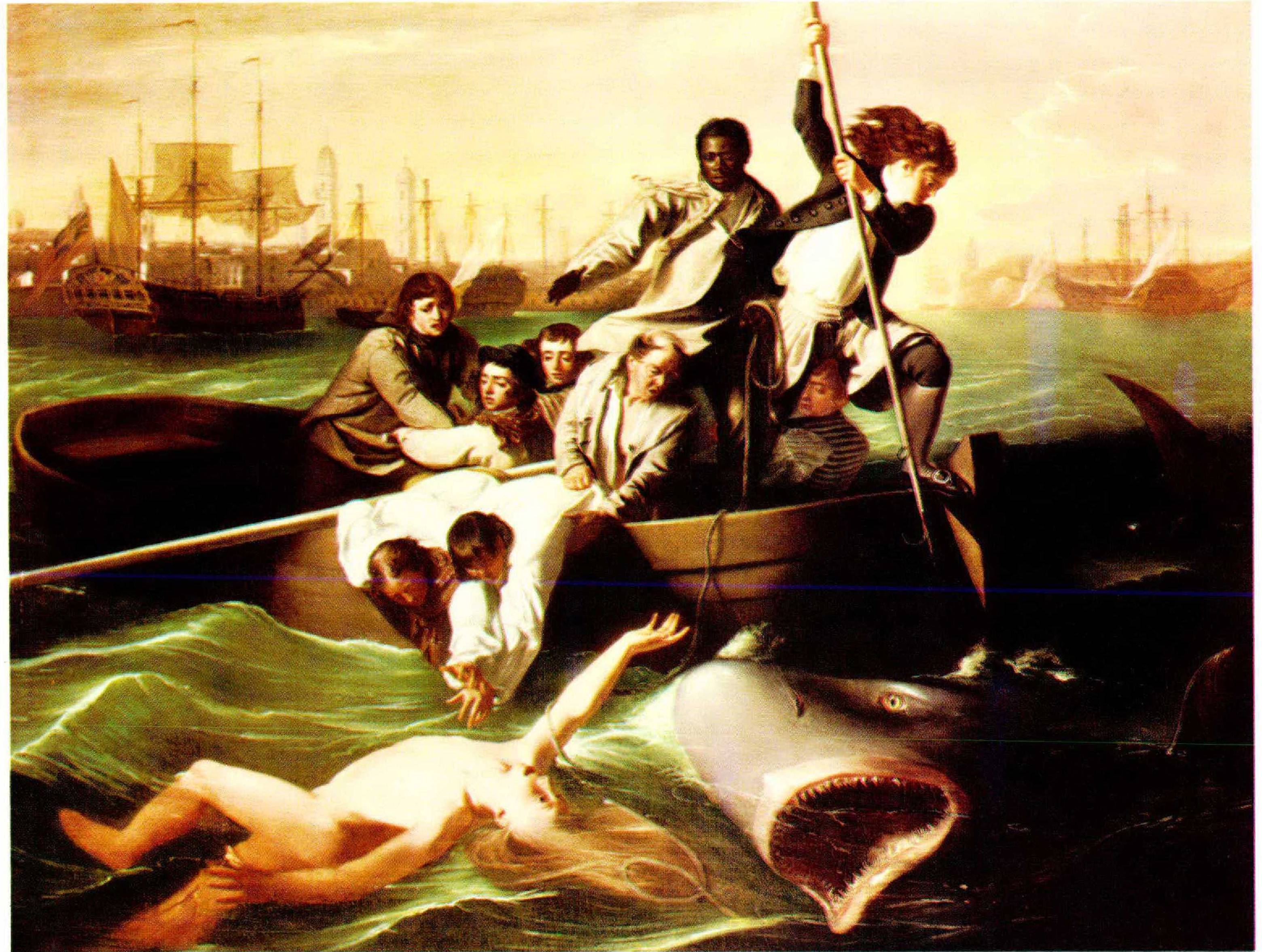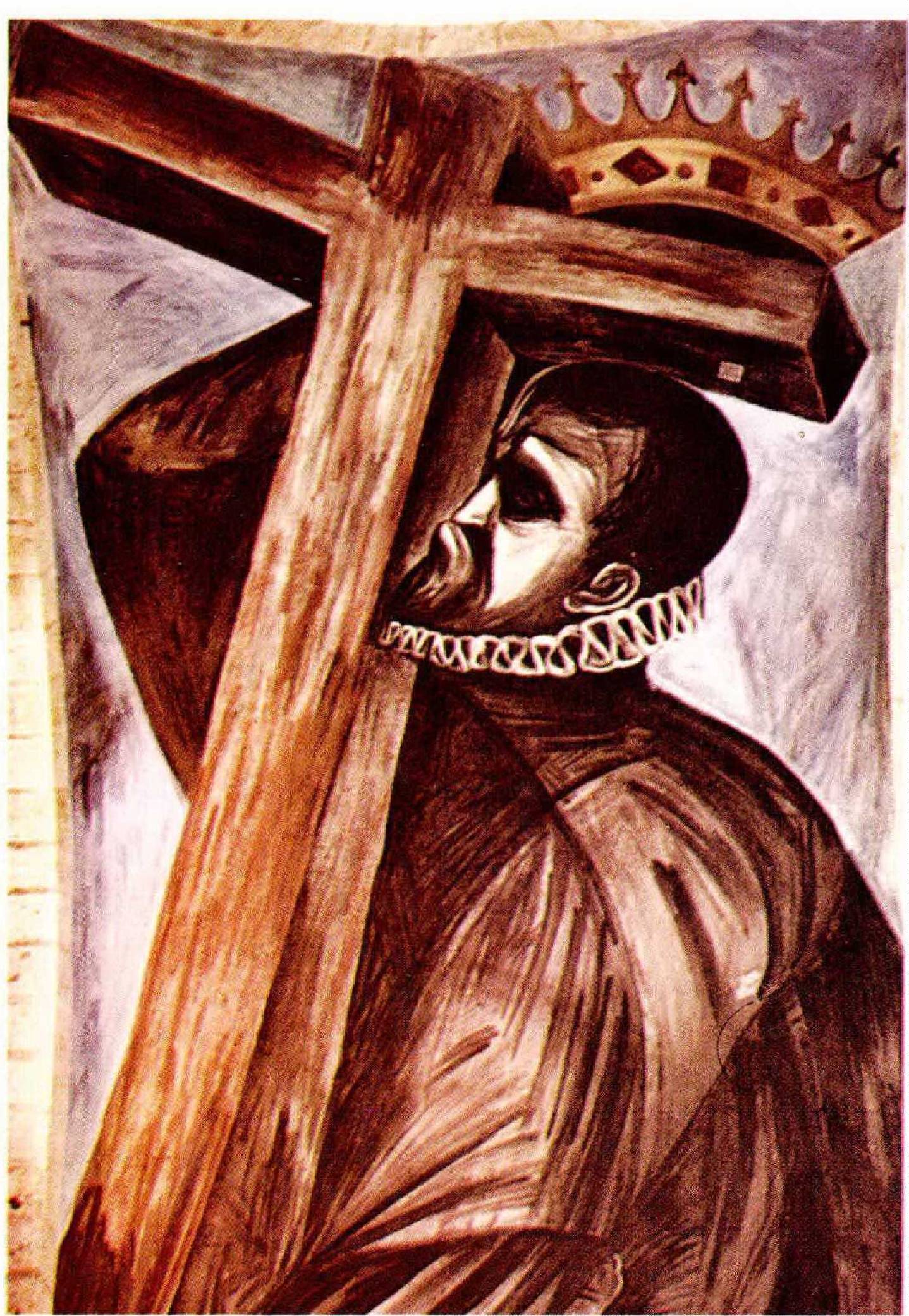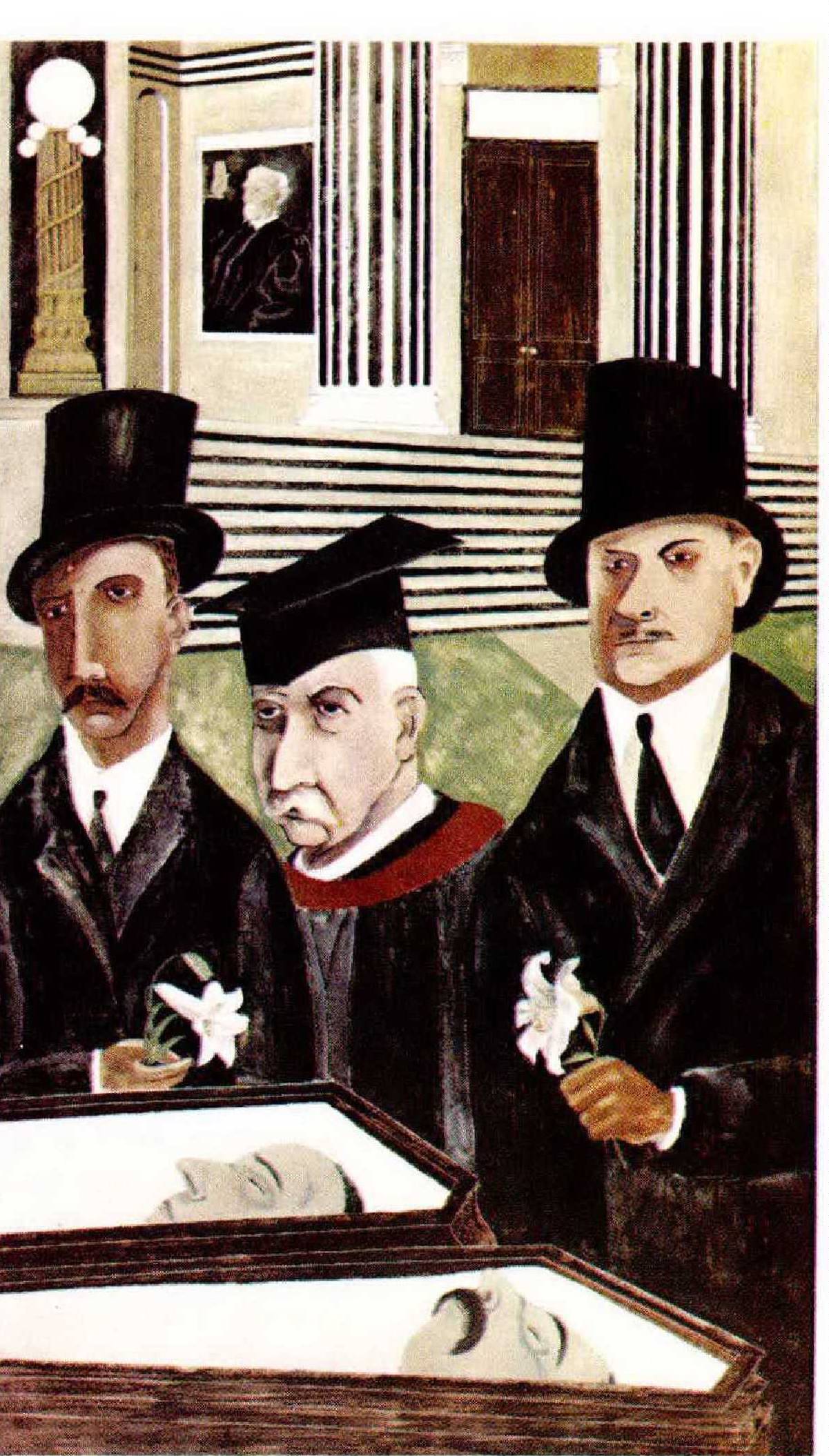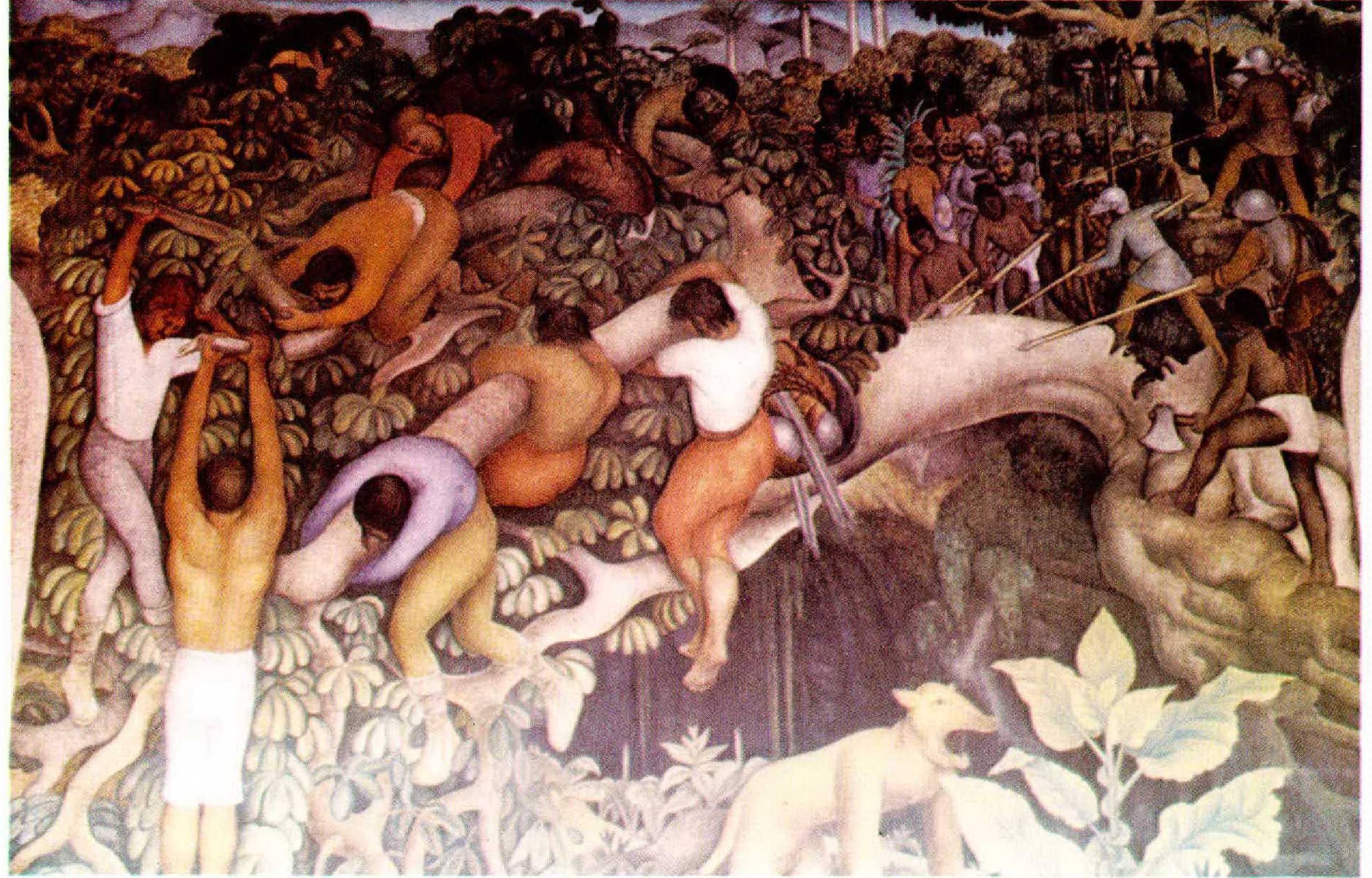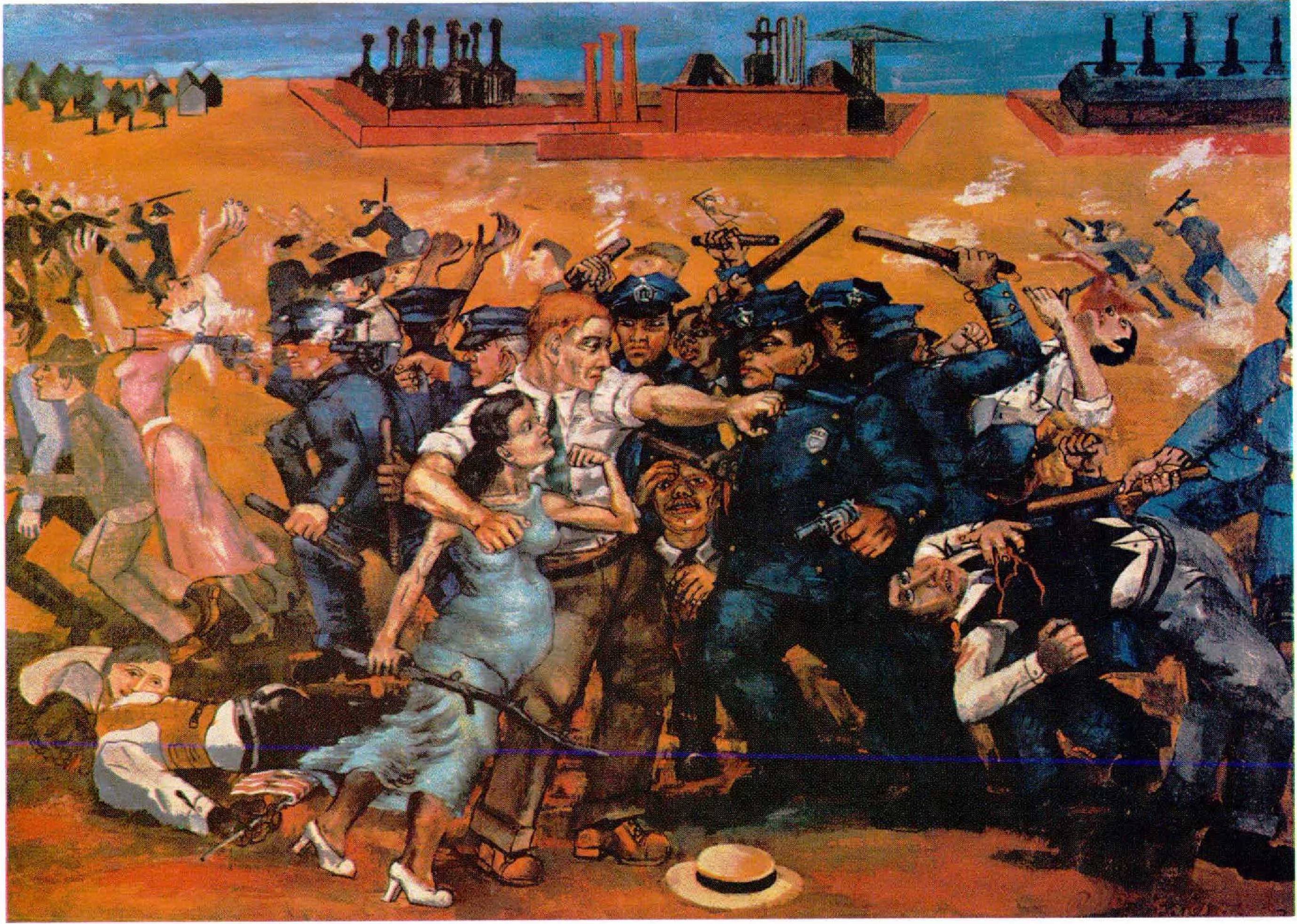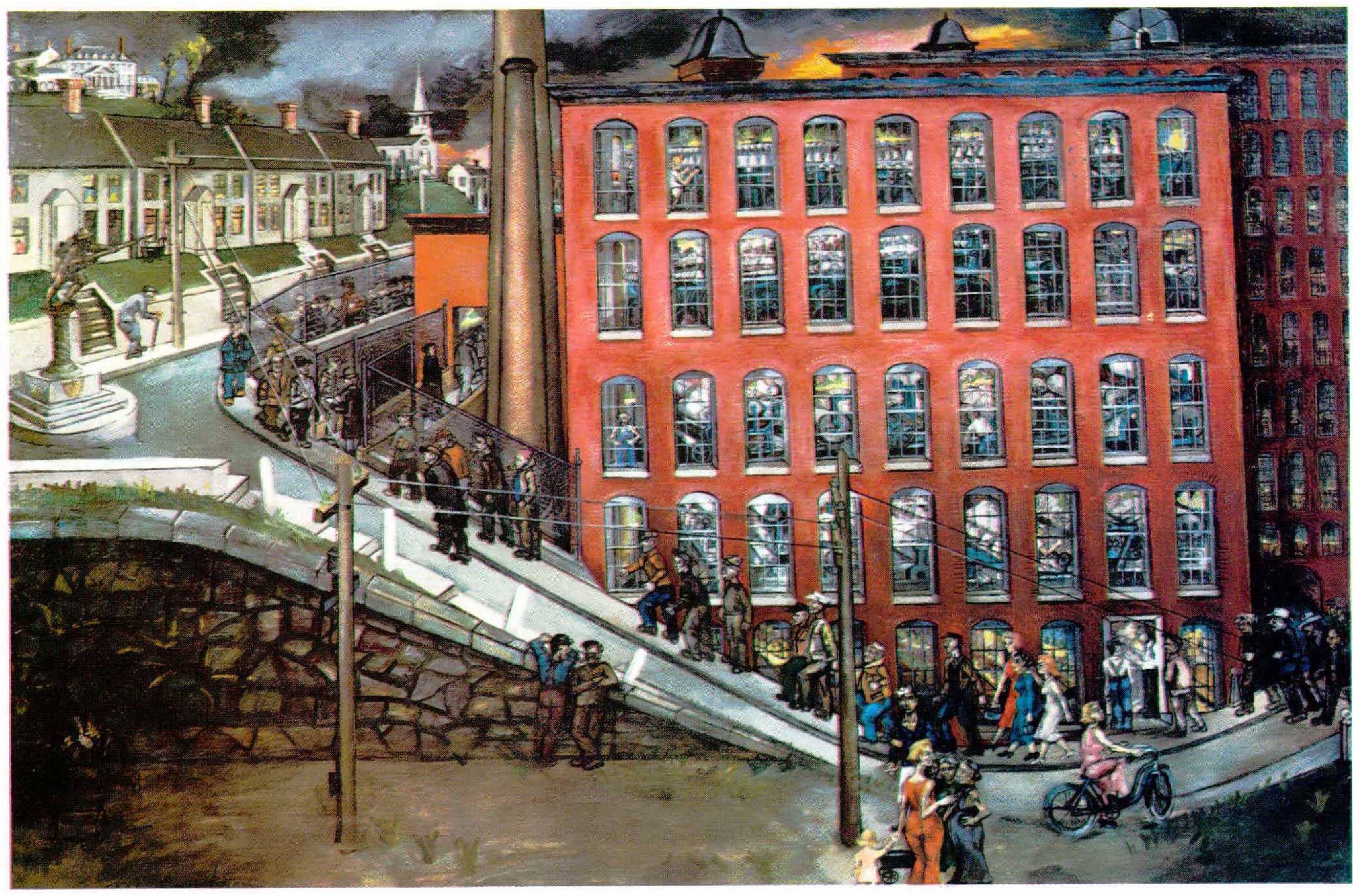 From the telegraph to television, technology has advanced at a rush. For us, televised news and wide-screen cinema epics convey more sense of history-in-the-making than can oil paints. Yet it would be callow to argue from this that the genre itself is dead. History painting lives and breathes, but now it serves a purpose which would have amazed West and Copley. Those two expressed, throughout their work, a sort of reverence for the status quo. Not for nothing had they abandoned the relative freedom of America and snuggled up, as it were, to the British throne. As for their American heirs, the whole lot painted pictures that tended to confirm and support the triumphs and pretensions of the young republic. State propaganda, of a positive kind, remained the rule for them as it had been for their mentors in London. And this is just the sort of art that Soviet Russia's official painters still produce. It does indeed seem spiritually dead today, yet history painting survives in another way.
If any one man may be said to have given the genre a whole new lease on life, it is Francisco Goya. His overpowering canvas called The Third of May, 1808 shows Napoleon's soldiery inexorably gunning down a group of bare-handed, childlike Spanish "rebels." Completed in 1814, and now at Madrid's Prado Museum, the picture displays no piety whatsoever; on the contrary, it bristles with protest. Much the same thing might be said, I imagine, of all the great history pictures produced since Goya's time. Gericault's previously mentioned The Raft of Medusa hisses and sobs like a sea in torment; it came just five years after Goya's masterpiece. Eugene Delacroix's cold, gory condemnation of Turkish imperialism, The Massacre at Chios, followed in 1824.
Our century, too, has known masterpieces of history painting which were done in protesting rage. An American example, dating from 1932 and now at the Whitney Museum, is Ben Shahn's dry, looming Passion of Sacco and Vanzetti. In 1936, the air bombardment of a defenseless Basque village stung Pablo Picasso to furious indignation, out of which he created Guernica—the best-known of all his works. Guernica commemorates a chillingly prophetic moment in the history of warfare, and also damns it with tremendous moral urgency. There are no heroes in this history picture, only victims, and that is just the point.
Three great Mexican painters contemporary with Picasso and Shahn—Diego Rivera, José Clemente Orozco, and Alfaro Siquieros—eloquently condemned the "conquistador-christian" ethic in mural after mural. They have a worthy heir today in Ecuador's Oswaldo Guayasamin, who wields his paintbrush like a machete.
The greatest living master of angry history painting is one whose career reads like West's and Copley's in reverse. Philip Evergood was raised in England and schooled at Eton. He went on to study at Cambridge, then switched to London's Slade School of Art. During the twenties and early thirties, he wandered France, Italy, and Spain, developing a rich sense of art history along with professional sophistication as a painter. Then, during the depths of the Great Depression, Evergood turned his back upon Europe to settle permanently in the United States. Soon afterward came the moment of decision concerning what to do with his gift. Happening upon a shantytown settlement of cold and hungry people, Evergood presented them with a half-gallon of gin and joined their shivering circle around a bonfire in the snow. "Their tragedy hit me between the eyes," he later recalled, "because I had never been as close to anything like that before. Then I got a brain wave. It seemed to me that I should be involved in my work with this kind of thing." So he sat up all night with the ragged outcasts, white and black, sketching them by firelight.
"When I thought of my background at Eton and Cambridge and that kind of nonsense which had taken up so much of my life," Evergood concluded, "I felt very moved to shake it off and to be a part of what I was painting, and to me it meant even more ... it meant sacrificing your good and comfortable safety to fight for some of these guys and stick my neck out too." Accordingly, Evergood plunged into militant social demonstrations and strikes. "Perhaps I overdid the action." he guessed in later years. "Maybe I could have done just as much by putting the time into my work. Still, what's lost on action may be gained in feeling. ... I don't think that anybody who hasn't been really beaten up by the police badly, as I have, could have painted an American Tragedy."
Out of tragedy, in part, spring the good things that people do, including relatively deathless works of art. But where will history painting go from here? Is it likely to retain the journalistic aspects first introduced by Copley and West? Will it keep the acid ingredients injected by Goya and Evergood? Or will our children or grandchildren witness some totally unexpected development of the genre? □