The Golden Silence of Ballyfungus
Of a poetry festival that never took place, but could have, in a place that doesn't exist, but might. Come to Ballyfungus, where silences are like the pauses in Beckett plays, some more significant than the dialogue, and the booze flows faster than the river Fung.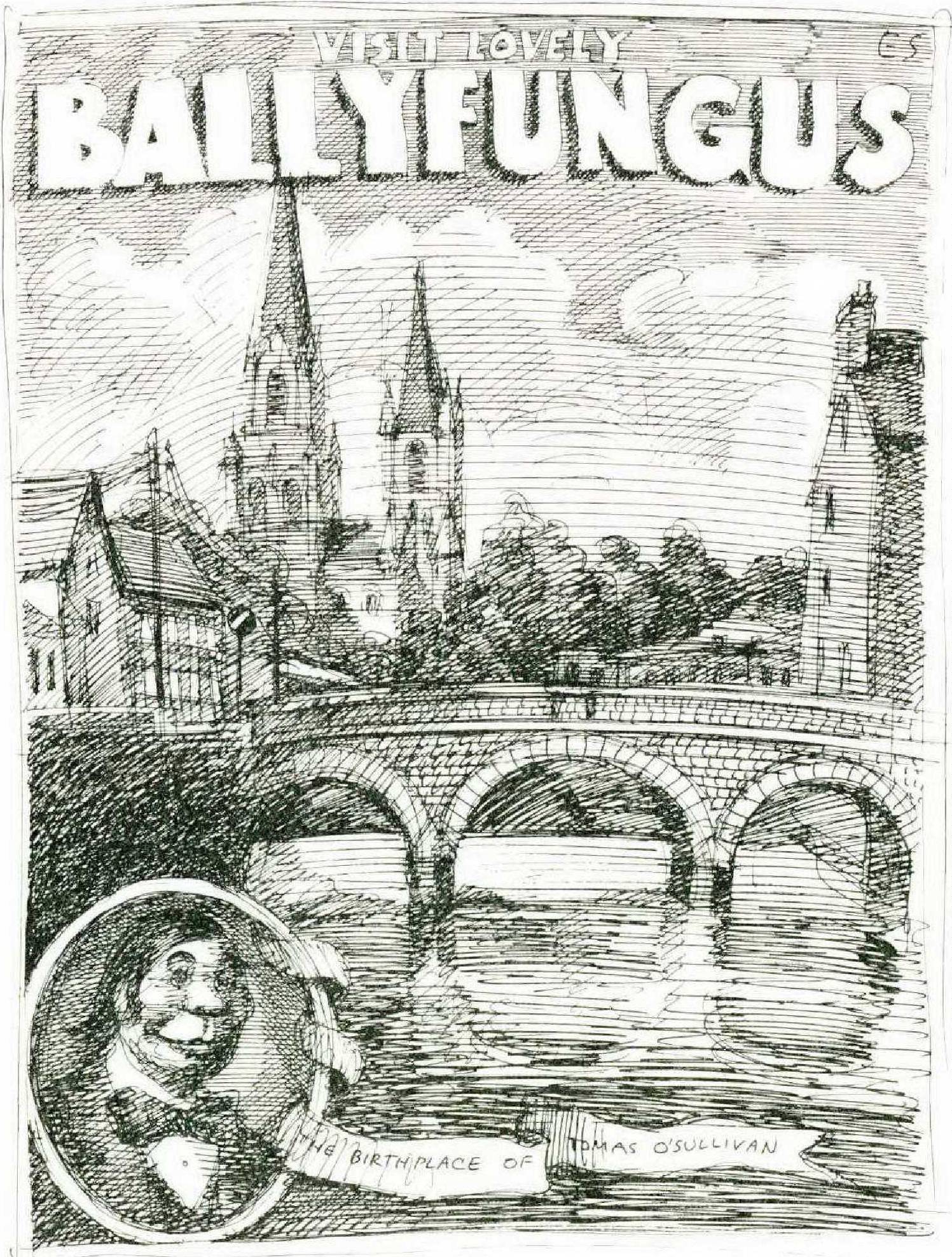 Ballyfungus is hardly on the map it's so unimportant. It is a small market town situated on the river Fung which meanders through rich grazing country and pleasant woods into the sea at horrible (developed oil) Fungusport. There is one hotel, used mainly in the season, for coarse fishermen who angle for coarse creatures like carp or pike, which they throw back again into the river. There are two churches, Catholic and Protestant, and one tin Pentecostal chapel; six pubs; one supermarket; one drapery establishment, which features long underwear in the window; a small Victorian-gothic town hall; a Victorian-gothic castle (ruined), once the residence of the De Braeeys, also ruined: an expensive Sacred Heart convent boarding school; and of course a Victorian-gothic post office. The twelfth Lord De Bracey was a Victorian-gothic madman (syphilis they say), which explains everything.
Why then did I arise and go now to Ballyfungus, because peace does not come dropping slow there. I went because February is the meanest month and I was getting over flu, when Lizzie Atkins phoned me and asked me down for the last weekend of that horrid month. Liz is a painter and a very successful one, but she is not all-successful in love. She has two ex-husbands and is always looking for the perfect mate and though she's in her middle fifties the search still goes on.
I traveled by rail from Dublin and was met by Lizzie in her old station wagon with her dog Sheppie in the back. He's a Wicklow collie and very clever. Mv friend is still handsome in a battered way and though usually dressed as a man is absolutely straight sexually. Driving toward the Old Mill in a minor tempest (there's always an old mill that she's made over), we both agreed that we'd come to terms with arthritis and death and that life from now on was simply a matter of maintenance. As we entered the Mill, which is charming though damp, a good looking broth of a middle-aged boyo came up the stairs carrying a load of firewood.
"Thank you, Tom," Liz smiled upon him. "Thank God, you lighted the fire."
"I knew yous would be cold, pet" he answered, smiling back at her. It was a cosy, an intimate smile. "And I put a hot-water bag in the lady's bed." The smile was now directed at me. "It was a bit damplike. Mr. Evans called. Theys will pick you up at five. It's gone five now. The kettle's boilin'—thought yous might like a drop of tea. Well I'll be off. Ta, now." He vanished with a last roguish glance at my hostess.
"Who's he?" I asked in an offhand way. "He seems very familiar. Pet?"
Liz looked vague, a bad sign. "Oh, Tom. He does everything for me. Makes bookcases and repairs things. Poor fellow, his wife is bedridden and his children are all grown up and gone." (I thought of Ethan Frome, but said nothing.) "I hate to bore you but there's a meeting at the hotel tonight. It's about the Festival and I'm on the committee."
"The Festival?" I called from the bedroom where I had begun unpacking. "Don't tell me Ballyfungus is having a festival. (Festivals are the rage in the Republic just now. Every little town and village is putting on a happening to attract tourists and put themselves on the map.) Festival of what?"
"Oh, just a festival. We'll know more when we get there. Colin and Eddie are picking us up."
"Who are they?"
"Two sweet men who live in that pseudothatched cottage down the river. You can see it from your window. Colin Evans writes detective stories. His hero is a private eye called Tierney who's savagely male. You must have read them?"
"Yes, I have. They're very good. And what does Eddie do?"
"Eddie Fox? Nothing. Has money, travels."
The bell rang. "There they are." She hastened to open the door and a minute later I was being introduced to two balding, expensively dressed hippies. Colin was tall and thin with glasses and an excitable look and Eddie was fat, small, and very calm.
"Help yourself to sherry, dears." Lizzie combed her hair rapidly and applied lipstick in a way, I fear, that dated her as it does me. Too careful and too red. "Eddie, you're less prejudiced. Give my guest a rundown on the Ballyfungus Festival committee."
"Well," Eddie seated himself on the sofa and between sips of sherry launched forth. "First of all the Grande Dame-nation, Alicia De Bracey. Her ladyship cannot afford to live in her frightful castle so she lives in what she describes as a luxury bungalow in the grounds. She gives classes in flower arrangements; runs her own weaving industry; plays a prominent role in the Irish Countrywomen's Association; is president of the Irish African Violet Society . . ."
"The Rector, Mr. Green, has a low IQ even for his profession, but is a dear, and Father Hannigan, our local P.P., will take the chair. He always does."
"Not the Father Hannigan," I asked, "the one who wrote those endless boring letters to the papers about contraception and abortion?"
"The very one. We bask in his reflected infamy. Apart from his mania, he's really a very pleasant fellow, and then that villain, the multimillionaire John Fallon, will be present. You know the man? He owns hotels, office blocks, mines, all over Ireland and he also owns Ballyfungus. He was born here, a barefoot boy."
"His wife will not be present," Colin interposed. "He's risen so high in the world he can afford open and brazen adultery. His mistress is the wife of that famous jockey whatshisname."
Eddie now took over, they were a string duet; "And now we come to Mairin O'Kelly, the postmistress." A silence fell upon the company and even upon the Mill. I could hear the rooks cawing outside and the wind soughing through the leafless trees. "Mairin comes of a long line of Fenian gunmen and is a great patriot herself. She openly boasts of a nephew who's a teen-age general with the Provos up North and her revered father, who is one of the most charming old murderers you could meet, will tell you all about his killings during the Troubles. They run. I believe, into three figures. This Festival I must tell you is all Mairin's idea. You see it's the Tercentenary of Tomas O'Sullivan's birth. He was born in Ballyfungus. Aren't you impressed?"
"I would be if I'd ever heard of him."
"Tut! tut! He was a wandering poet. He wandered around Ireland with a blind fiddler called Phelim O'Flynn composing poetry in Irish and singing the results to the great landlords who gave him bed and board."
"Later," giggled Eddie, "they added a drummer boy called Paudge so it became the first Group."
Liz took a tweed cloak off the rack in the hall and threw it over her shoulders. She resembled Henry the Fifth getting ready for battle. "We should be going."
Colin halted her at the door; "Just a moment! This poet, my dear, wrote pornographic songs and one very bawdy piece in particular called 'The Celebration of Spring' which has been frequently translated into English."
"It's exceptionally coarse even for the eighteenth century." Eddie wrapped himself into a shepherd's plaid. "But not coarse for this century. Mairin, you see, thinks the Festival should center around Tomas. She does not mind him being coarse, as long as he writes in Irish."
"And what does Father Hannigan say?" I followed them out.
"He's very dubious because the last translator insinuates that Tomas and Phelim were, vile word, 'gay,' and having fun with little Paudge. Next to sex the Father worries about money and he hopes like the rest of us to make something out of the Festival. He craves improvements to the presbytery which is indeed in need of repairs."
"His motivation is clear," Colin added, every inch the private eye, "but I must confess Mairin's does puzzle me."
The hotel entrance hall smelled of years of coarse cooking. The walls were lined with glass cases displaying stuffed fish with weight and date of catch. In one corner stood a large stuffed bear holding out a box with "Give to St. Vincent de Paul" on it. People were already seated in the lounge which was a replica of the hall, except for the smell. Here the air was heavy with a century of drinking. Johnny Fallon was a big handsome man in his early fifties expensively dressed as befitted a millionaire. I suppose I am overimaginative but he emanated a steely power which I found unattractive. Seated beside him was his secretary, a plain but watchful girl who I feared would never be anybody's mistress but her own. Still, it was a good start. I was introduced on entering to Lady De Bracey who was handwoven from head to foot and rattling, every time she moved, with strange jewelry. Her hair was a pale withered pink and her face was scarlet from exposure to the elements. Then I was led up to Mairin O'Kelly who was a small thin woman with a belligerent expression and a perpetual sniff. She was wearing a badge pinned to her thin bosom. On a white ground was written in black "Out Mullarkey," splashed with what looked like drops of blood. I feared for Mullarkey.
"Drinks are on the house. Order what you please," boomed Johnny who never drank himself, it didn't pay. "I nominate Father Hannigan to the chair."
"I second that," shrilled Mairin. Like an Aer Lingus air hostess she spoke first in Irish and then in English.
"I don't half like it," murmured the priest taking the seat of honor. He was a plump pink-faced man with a merry expression. "Tomas O'Sullivan wrote filthy drivel, in English that is, and I don't think we should celebrate filthy drivel."
"No problem," said Johnny comfortably. "Everyone writes filthy drivel now."
"I would like to suggest," Colin leaned forward smiling agreeably; "I would like to suggest that we hold the Festival first week in May. After all Tomas wrote 'Celebration of Spring' and I cannot see that there are any other festivals scheduled for that week. Croom and Kilrush I hear are thinking of celebrating the Colleen Bawn murder case, but they haven't yet decided in which town she was born, so we don't need to bother about that." Everyone voted "aye" on this and a pause followed while drinks were handed round by an aged waiter whom everyone addressed as Old Mick. Eddie whispered to me he was an amateur astronomer and at least a hundred years old.
"I presume," said Lady De Bracey, "it will be a festival of poetry?" There was universal agreement to this. Eddie now piped up with "I do think we need some Theater. Perhaps we could persuade Micheál Mac Liammoir to come down and do his Oscar Wilde."
This stirred Father Hannigan into explosive life: "Oscar Wilde following on Tomas O'Sullivan's filth. Never!"
Johnny fixed the Father with his hard gray eyes: "No problem there, Father! Buggers can't be choosers you know." He was learning the witty ways of the rich permissives. The Rector winced and Father Hannigan closed his eyes. Lady De Bracey murmured, "I say!"
Eddie persisted; "I have a friend at the Old Vic who puts on a good one-man show. The Women of Shakespeare. "
"Is he a man?" asked the priest suspiciously, scenting a transvestite.
"No, he's a woman. I mean she's a woman." The company tittered and Johnny roared. Father Hannigan's lips moved as if in prayer.
"The Old Vic," Mairin raised her head and hissed like a bilingual rattler. "Then, he's English and no English need apply." Lizzie intervened hastily; "Dairin McGivern does a one-woman show. Yeats's Women, something like that, and I hear it's quite beautiful."
A vote was instantly passed to invite Dairin, Yeats and Dairin together being safe and "made in Ireland" so to speak.
"I say," said Lady De Bracey holding the floor with a tremendous rattle of bracelets and gewgaws, "I say, if it's to be a poetry festival we'll jolly well need poets don't you know." I realized she was using the patois of the thirties. "We'II dash well need about a dozen, what? I say Colin, you read a lot. You'd know what to pick out. I vote you go up to Dublin and engage half a dozen of the best poets. There's a good chap."
Colin bowed; "I'd be honored."
Lady De Bracey was still on her feet. "Mr. Fallon, Oh I say, I'm frightfully sorry Mr. Chairman, I would like to request the Town Hall for my weavers." She turned to Elizabeth. "And Miss Atkins could exhibit some of her pictures, darling behind the weavers. I'm sure they'd have no objection. Incidentally," she turned to Johnny. "I say, wouldn't it be jolly if I opened the castle and grounds for the occasion." There was a dark and brooding silence.
"Shouldn't someone read 'The Celebration of Spring'?" asked Eddie in his quiet matter-of-fact little voice; "Incidentally, has anyone on the committee read O'Sullivan's poems?" Nobody it seemed had read the work of their native son. "Well, somebody better. I think it might be a good idea to ask Myles Murtagh down to read it. He is a well-known personality, an actor, a writer, and I may say always in trouble."
"We must be careful which version he reads," snapped Father Hannigan, fast on the draw.
"No problem, Father," Johnny looked very sternly at the priest. "The more uncensored a festival is—the better. People want to enjoy themselves. There's money in this for Ballyfungus, so let's go ahead on that premise." The Father thought of the much needed repairs to church and presbytery and shut his mouth. "And," continued Johnny, "I'll get a good PR man working on this. Let me know when you decide on another meeting and I'll send someone down." He rose decisively, a monarch dismissing his court, and such was the power of money we all rose too and trooped out into the windy darkness. A slightly ominous note was introduced by Old Mick hobbling up to the great Fallon as he was about to step into his Mercedes and croaking out, "Mister Fallon mind your step sir. 'Tis the year of the comet and nothing good comes of the comet. If it was aurory boreyalis now I wouldn't mind . . ."
"Come back to our place for a bite," murmured Colin to us. "Eddie has a casserole ready to pop in the oven." The invitation was gratefully accepted. The boys' so-called cottage was deliciously warm and comfortable. A woodfire was quickly lighted in the spacious living room. Our hosts bustled around while we all performed a verbal autopsy on the meeting. "Why was everybody so silent when Lady De Bracey offered to open the castle and grounds?" I asked.
Colin sniggered; "Because, my dear, she doesn't even own it. Johnny bought it years ago. The grounds resemble a rain forest and the castle is empty. Poor Alicia lives in 1930 quite happily."
"And did you hear her saying she'd hang my pictures behind the weavers, if they didn't mind, as if I'd hang them anyway. Hang her!" said Liz forcibly,
"What I can't understand," exclaimed Eddie bustling in with the casserole, "is if the IRA claim to be socialists and want the land for the people why don't they run people like Johnny Fallon out of power?"
"My dear fellow," Colin wagged a finger at him, "don't be so naïve. Johnny is handing out the money for the guns, so they stay off his back. In this tight little island Mammon rules the waves."
"Which reminds me," cried Liz sitting up suddenly and seriously upsetting one of the cats, "we never talked about money at the meeting . .
"Johnny will see to that. Ours not to reason how. Sit down ladies. No, but seriously," Colin continued as he tossed the salad, "the whole thing is a mystery to me. Why this festival? Mairin has never read anything in her life except other people's mail or directives from IRA HQ. Why this sudden interest in a very' dead poet?"
The conversation dwelt upon this mystery during dinner and late into the evening. When we were leaving (Colin was driving us home while Eddie washed the dishes), Liz remarked as she threw on the tweed cloak: "No need to get up early. Tom will bring you your breakfast in bed."
"Tom?" I looked at her in genuine surprise.
"Yes," she answered with the utmost aplomb. "He always brings me mine."
"Isn't it nice Liz has Tom?" remarked Eddie with a deadpan expression.
Liz smiled. "Yes, he's a treasure."
There was a long, thoughtful silence. I was beginning to feel that the silences in Ballyfungus were like the pauses in Beckett plays: even more significant than the dialogue.
Publicity began appearing in the Dublin papers during March about the Ballyfungus poetry festival. There were all kinds of paragraphs, hints, and comments. A great deal of emphasis was laid on the earthiness of Tomas O'Sullivan which we all know is just another name for dirt. Myles Murtagh had, on the express urging of John Fallon, patron of the Festival, consented to give a public reading from the poet's work and the theme of the Festival was to be LOVE. Young, joyous, uninhibited, normal love. "There is nothing abnormal or suggestive in this great epic which is a hymn to joy," wrote Myles Murtagh in his Sunday column. "I simply do not believe in the innuendos relating to the poet's sexual proclivities. The poem as I see it celebrates normal love between boy and girl."
I thought of Father Hannigan. His soul must have been a battlefield. However he did get a letter off to all three Dublin dailies warning that the Irish people would be voting themselves into hell if they allowed the Government to put forward any form of legislation legalizing birth control. Later a letter arrived for me from Liz.
"Some odd little wooden structures, like those latrines you see on building sites, have gone up round the hotel. They're called chalets. Dairin is doing her thing. It's called 'A Terrible Beauty.' Colin says it adds up to: she was a beauty herself, but is now simply terrible. He has gone up to Dublin to shop for poets. You'll probably hear from him. Incidentally the castle is not to be opened. Johnny is tearing it down and building a country club instead."
I was not there in time for the official opening of the Festival which was performed by the President of Ireland, two Catholic bishops, and John Fallon, Esq., assisted by "the influential committee."
I arrived in the late afternoon and was met at the station by Liz. This time Tom was driving. She looked splendid, much better than when I saw her last and Tom greeted me as "Love" and tucked me up in the back most efficiently.
"How are things going?" I asked.
"Well the opening went off very well. The President has a very nice voice. He ought to have been an actor I think. He asked us all to look on the bright side and he hoped for many more festivals which would involve the youth of the country and he also added a few words about the sanctity of the family which pleased Father Hannigan no end,"
"The friggin' tinkers is here in their hordes," added Tom bitterly. "They're all over the friggin' place tellin' their fictitious lies, beggin' the arse off you!"
"And" continued Lizzie, "that damn woman Alicia De Bracey is pursuing a slave trade amongst them. And her weavers are in the Town Hall in medieval folk costumes, banging away at the looms, but they keep slipping away to TV and bars." We were now entering Baliyfungus. What a transformation. Colored lights were strung across the Main Street. Window boxes were tilled with flowers, some of them plastic, and tropical flora were set up in pots around the entrance to the hotel.
We drew up outside the hotel and were immediately engulfed in a mob of shawled tinker women with "babbies" at the breast begging for alms. The Gardai were on duty wearing expressions ranging from quiet desperation to despair. The sergeant moved over to us and poked his head in at the window.
"Nice mornin' Mrs. Atkins. Keep movin'. If you knock some of them itinerants down it's their own bloody fault."
"I thought this was to be a boy meets girl festival," said Lizzie staring in wonder at some strangely dressed youths. "Looks to me like boy meets boy."
The sergeant shook his head; "Yes, 'tis buggery," he said in his strong Kerry brogue, hastily adding. "I tink." He saluted wearily and motioned us on. We were stopped, however, by the sudden appearance of Colin charging alongside the car. He was most elegantly attired in a gray suit with mauve silk handkerchief knotted around his neck.
"Welcome, welcome," he panted. "Myles has arrived. He's resting. He asked for a cup of tea—he doesn't drink you know—and a copy of Tomas's poem. My dear he hasn't read it yet. Luckily the girl at the desk had one, or we were in the soup. Imagine the risk! I was quite irked. And my dear Father Hannigan preached a bloodcurdling sermon last Sunday about the disgusting pernicious and lying English version of 'The Celebration of Spring' and asking all pure-minded boys and girls to keep away from the reading. There's sure to be trouble."
The hotel banqueting room hitherto used for weddings had been gaudily renovated; a small stage installed with curtains and seating, hopefully for a hundred, had been arranged. As we passed the bar we heard a roar of voices and laughter. It was jam-packed; so was the lounge and the little TV room. The Festival committee composed the entire audience for the reading. The hall was a welter of cameras, cables, lights, and cynical TV engineers preparing for the great Murtagh's reading which was to be a nationwide broadcast.
"I can't get anyone out of the bar or the TV room," Colin said almost in tears. "They simply won't move and more are arriving."
"Arriving here?" Liz looked eagerly toward the door.
"No, into the bar of course. Great God what can I do? It's all Father Hannigan's doing. And also drink, which is the curse of this country. And here comes Myles."
Then did Myles Murtagh, a colorful vision of middle-aged boyishness, stride onto the stage and with the nonchalance of long experience adjust the lectern and reading lamp to his liking. He was wearing what Colin explained afterwards was the costume of a Lapp miner; he was just back from Lapland, where he had been reading his poetry. He flashed his pixie smile over us and over the nation, while the cameras, having temporarily blinded the sparse audience, were now focused on him.
"I am about to read excerpts from Tomas O'Sullivan's epic 'The Celebration of Spring,' " he began, using his roguish lilt which went down so well in the USA. "Cantos which I consider the most delightfully humorous portion of this marvelous folk song to love." He paused, "And here— we—go—
The Harlot's Lament
Travelling footsore from fair to fair
I would ply my trade in the market square.
As evening came with its lowering sky
Flaunting my bosom and swaying my thigh
You see," Myles leaned forward and addressed the audience confidentially. "Stripped of its cosmetic overtones we hit on something deeply primeval in Tomas O'Sullivan." (At this point Father Hannigan remarked quite audibly, "Slime." I was then aware that some people were entering rather noisily from the bar and seating themselves at the back.) Myles ignored it.
"But the lustv fellows would not come near
Edging away to their games and beer."
More people seemed to be crowding in now and I also saw tinker faces pressed against the windows. I began to feel as if I were in the middle of the worst excesses of the French Revolution. Myles continued undaunted.
"Young priests would pass with a hasty glance
But their vows would hold though their pulses dance—"
"Stop!" shouted someone from the back of the hall. We all turned as did the cameras. A large, red-headed farmer's son had tottered to his feet. "That's dirty so it is. This is a Christian country." "Hear! Hear!" came from his uncouth companions. "Hush! Hush!" hissed the establishment in agony. The noise was now deafening, but Myles unperturbed read on and I have never seen anything like the bored calm of the TV crew. Most of them of course had done time in Ulster.
And the old men's limbs are weak and slow
With cocks that have long since ceased to grow.
And I thought of the silly maid in trouble
With belly that's swollen to nearly double,
And I let her grease the wise woman's palms
And the ancient hag used all her charms
In haste and speed at dead of night.
To remove the trouble and set things right.
All the drunks were on their feet now, bellowing crudities which Tomas in his most abandoned moments had never thought up. Myles closed the book. I could not but admire his self-possession. "You clods," he shouted. "You don't know one of your own great poets when you hear him. You "don't know a goddam thing except the price of a bullock. What are you doing here anyway? Get back to your cowsheds! Clots! Peasants!"
The red-headed lout was rolling up the sleeves of his dirty Aran sweater. Colin had slipped out to call the Gardai and Lady De Bracey was standing on a chair with one hand on the Rector's wilting shoulder. "You disgusting drunken brutes! I say, I say," she bellowed. "Get out of here! Here, I say, somebody throw them out! Father Hannigan, tell those wretches to go away." Father Hannigan was sitting there quietly smiling—the smile on the face of the tiger. Myles leaped off the platform—he was an ex-boxer and in spite of the crowding years was in pretty good trim. Before you could say Sean Ni Robinson the red-headed one was lying flat on the ground and Myles was standing over him laughing his head off. The cameras had been leveled on them throughout. What a nationwide opportunity! At that moment the Gardai arrived led by the sergeant, and amidst cheers from all establishment members, except Father Hannigan, the drunks were evicted and the hall was cleared and the redheaded one was carried out by his friends. The Gardai of course came in for a stream of abuse most of it political: "Traitors! Spies! Informers! Felons!" and the red-headed one was distinctly heard shouting, "I don't recognize the court." So ended the first round of the Ballyfungus Festival. Smilin' Myles departed for Dublin by helicopter followed by the TV crew in their own conveyances.
Colin and Eddie came back to the Old Mill for a bite. We couldn't face the hotel food and were too broken in mind and spirit to meet the rest of the committee. Lizzie cooked sausages and scrambled eggs and we drank Irish coffee.
"Old Mick says it's the comet. There's no good comes of the year of the comet," remarked Eddie. "He may well be right."
I tried to be comforting but only succeeded in being an irritant. "Surely Dairin McGivern will do well. And the convent theater does not have a bar."
"Don't be funny," snarled Colin, "the booking is appalling. We've had to draft a captive audience from the school. And another thing, once Dairin starts she never stops."
Eddie threw himself down on the hearth rug and closed his eyes. He seemed to be muttering in his sleep. "Worse is yet to come. Mairin's nephew the General has been down here, on the run of course, but everyone knows. The Belfast one who's so high in the Provos."
"They're up to something." Colin before our eyes was turning into his own creation—Tierney. "But what? This boy is a genius they say. He did brilliantly in science at school and instead of going to the University went into violence. Bombs are his thing. But whv the Festival? We better go home. Eddie is asleep."
Eddie sprang nimbly to his feet. "I'd like to turn this whole demented island into an internment camp and seal it off, then we might have some peace in the world. Come on Colin. We've got two hard days and nights ahead of us."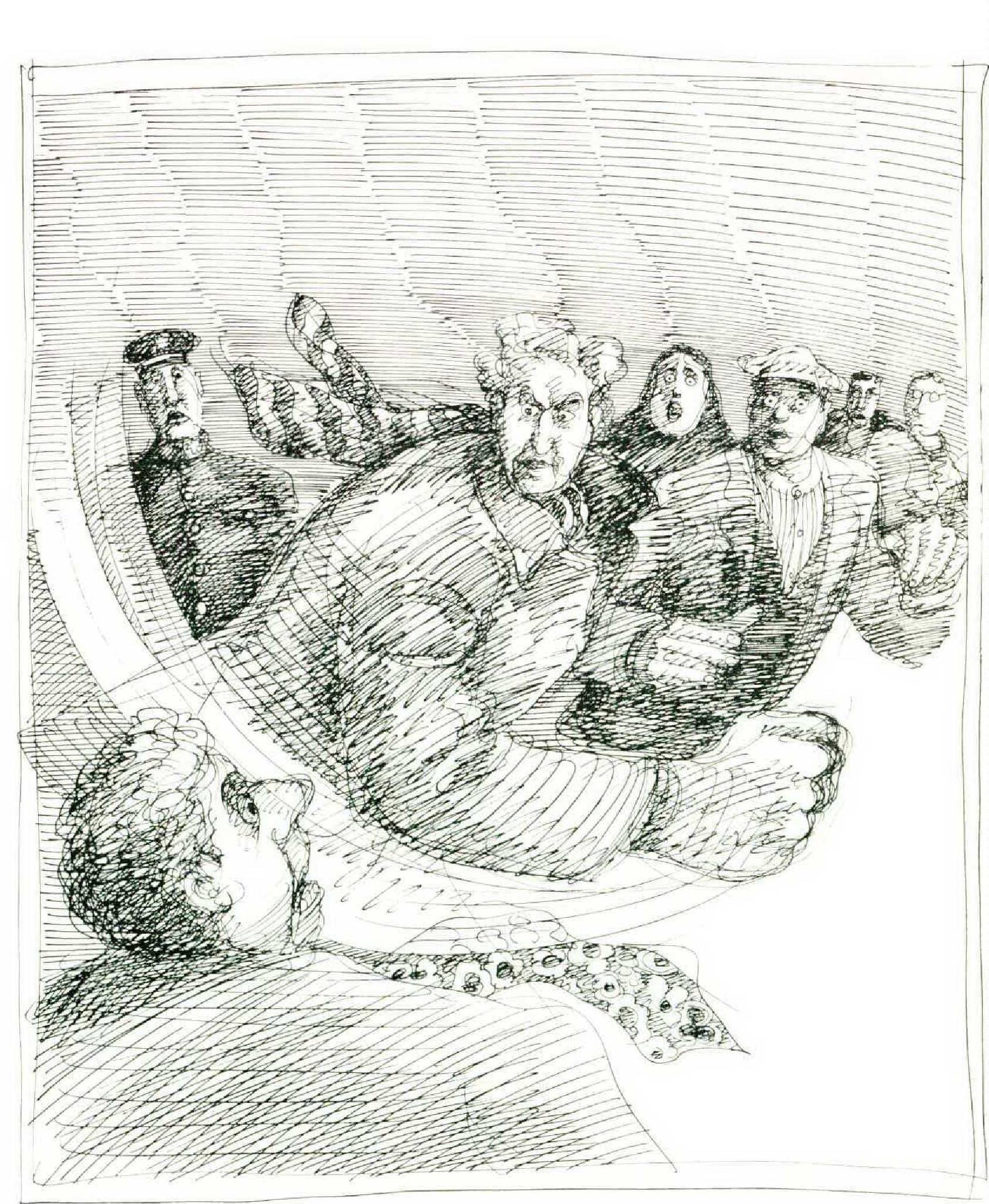 Tom brought me in a dainty breakfast tray the next morning. He was wearing a dressing gown over a pair of pants; a hairy chest was plainly visible. I wondered, as I sipped my coffee, what the bedridden wife thought about in her lonely bed. All day we rested except for a visit to the weavers which Lady De B. said was jolly decent of us.
At eight o'clock we trooped over to the convent which had a beautiful little theater fully equipped. The bulk of the audience was made up of fifty giggling schoolgirls, the offspring mostly of nouveau-riche millionaires, and in the back sat Father Hannigan, for once relaxed.
Punctually at eight Dairin McGivern, the famous Irish actress, strode out onto the stage swathed in black as the first of Yeats's ladies— Maud Gonne. At the conclusion of "A Terrible Beauty Is Born" she was loudly cheered by Mairin's party. When she turned into the more legendary ladies she simply threw a green shawl over her shoulders. She then, as they say, "acted out" "The Land of Heart's Desire" with frequent recourse to the book and—being a large lady approaching seventy—she was not convincing, lolloping around as The Faery Child. At nine thirty there was an interval in the dining hall, when instant coffee and digestive biscuits were handed out courtesy of the Sacred Heart. At ten we all trooped very slowly back into the theater and Dairin graciously began reading from the "Plays for Dancers," then went into "The King of the Great Clock Tower." Eventually she moved into "Purgatory," where we all joined her in spirit, and at eleven o'clock the Reverend Mother whispered to Colin that it was very late for the young ones, in fact it was their bedtime and when was Miss McGivern going to close down? Colin whispered despairingly, "What am I to do?" The Reverend Mother who feared neither man nor beast only God and that occasionally, whispered back: "Til take the girls out, don't you bother. Blame me." The noise occasioned by fifty young girls clambering over chairs giggling and pushing did not bother Dairin at all. She simply went right on into "The Cat and the Moon." Eddie, who feared for Colin's reason, sidled out into the hall. He returned in a few minutes and woke up Father Hannigan, now deep in sleep, and whispered in his ear. The Father nodded and stood up. "I'm sorry to inform all you good people and the good lady Miss McGivern that we have just received a phone call warning us that a bomb has been placed in the hall and is due to go off in fifteen minutes." The words were hardly out of his mouth before the hall was cleared. As soon as everyone was safely outside the building, the great actress included, Eddie announced that another phone call had been received confessing that it was a hoax and the work of some drunk in the hotel.
"I hope you told the Reverend Mother it was a hoax before the fact?" asked Colin gravely.
"I did. She said 'God moves in a mysterious way' and winked at me."
"A great woman!"
The poets, meanwhile, for whom this festival had been planned, had lost the battle against the demon rum and were thoroughly disgusted with empty houses for their readings. After an extremely sensible and businesslike meeting with the committee they said they saw nothing for it but to move right into the pubs with their guitars and forget about the hall.
We now come to the grand finale. A bad storm broke over the southeast of Ireland in the early hours of Sunday morning. The scheduled boat trip down the Fung was indefinitely postponed and the "bum boys" pulled out faster than light, greatly to the relief of the guards who owing to the new permissiveness hardly knew how to deal with the delicate problem. However, one thing could not be avoided and that was Father Hannigan's rendering of the original Irish version of "The Celebration of Spring" which was to be read in the hotel at 8 P.M. No one could imagine how he could bring in contraception or abortion and we were all too exhausted to care. It was the lack of the artistic spirit which discouraged us so deeply.
"To put on a real festival you have to be subsidized and be able to hire a director with flair," Eddie remarked that evening. "Wexford, Cork, Sligo, Dublin, they all have money and genuine motivation. We had none of those things. Tomas was not enough."
"It was all Mairin's idea. I wonder why?" Colin pondered frowning into his martini. He was as usual identifying with Tierney. "She's not interested in the arts. And why was Johnny backing us?"
"It is odd. We haven't cleaned up on anything except drink and all the money is in the hotel and it must be huge. People from all over the southeast have been drinking here for four nights every night. The poor girl at the desk says she hasn't closed an eye since the Festival started, what with the drunken brawls, smashed bottles and glasses, and the Gardai say they've had it. Ten arrests and two riots," Lizzie sniffed a syringa blossom and sighed. "And it looks so peaceful."
"Time to go," Colin wearily picked himself out of the deck chair. "The curfew tolls the knell for Father Hannigan. And may God defend the right."
As to be expected the bar and lounge of the De Bracey Arms was filled with drinkers but surprisingly enough the hall also was full, this time with devout old ladies and several girls from the Sacred Heart with male escorts from Darragh Abbey school. They were chaperoned by two young and liberal nuns in short skirts who looked as if they could do with chaperons also. Lady De Bracey was there wearing her own woolens hastily run up by a little woman in the village, and what Colin described as rows and rows of "handbeaten beads." Mairin was sitting behind us this time alone. She was wearing a badge with "Remember Bloody Sunday" on it. There was something specially menacing about this, I felt. Today being Sunday and the Festival marked as it were for disaster. At eight o'clock Father Hannigan strode onto the platform beaming, all smiles and good cheer. It was very hard to believe in that strain of madness. On the little table in front of him he placed what looked like a water pitcher covered with a white cloth. "He can't be going to celebrate Communion?" whispered Lizzie apprehensively. A blackboard was then carried in by a small boy and placed behind the priest. Our blood ran cold; something awful was coming. He turned to the blackboard and chalked out boldly in Irish and English; "Celebration of Spring" and underneath this he wrote "God and the Family." The Rector, who had just seated himself beside me, whispered, "I fear the worst."
"Tomas O'Sullivan," thundered the Father, "in spite of all the dirty drivel the translators have said of him was a pure-minded God-fearing man. There is no reason to believe that he was not married. Young Phelim the fiddler who accompanied him on his wanderings was a fine lad who honored his father and mother and this was the only way he could earn money to send home to his good mother. All we actually know about this ugreat poet was that he wrote in the true Irish, God bless him, and that he said his prayers and loved nature." He repeated "nature" three times and then amidst subdued applause launched into his reading. I may say the Father's rendering of the poem in Irish sounded more like prayers for the dead than sexual orgies. After fifteen minutes he suddenly closed the book and broke out into English. "The public, my friends, deserves an answer to many questions. I will do my best. People, especially the Irish, should see more easily, the malice, I repeat the malice, of contraception when it takes human life. Abortion," he rumbled on lost in his own womb-world, "is murder." With a dramatic flourish he now uncovered the object on the table which appeared to be a specimen jar with something, we dared not think what, floating in it. "Inside this jar, you may step up anyone who cares, and look upon a four-weeks-old fetus—this perfect little creature—this human being was murdered . . ."
At this point Lady De Bracey rose to protest but before she could open her mouth, the door was flung open, there were sounds of commotion outside, and Old Mick tottered into the hall. He was trembling and distraught.
"The safe's gone! The money's all gone! We're ruined! It's been took. Father."
"What's been took?" demanded the priest angrily, forgetting his grammar.
"The money. The take from the Festival, all of it. Ten thousand pound! Three lads with guns and stockins' over their faces took it safe and all. and a car waitin' for them outside. It went off headin' north. Oh, the comet, I told you the comet would have us ruined." He tottered out again and disappeared into the confusion and dismay in the foyer. The audience inside the hall was undecided whether to join the throng outside or wait for the horrors inside.
"Ten thousand pounds!" repeated Mairin looking like the cat that swallowed the cream. "Ten thousand pounds!"
Father Hannigan seized the jar and shouted: "In view of the tragic happenings I declare this meeting adjourned and the Festival closed." Without waiting for anyone to second the motion he disappeared into the wings with his precious burden.
Later, huddled round the fire in Lizzie's studio holding stiff whiskies in our shaking hands, we all agreed there would never be another festival in Ballyfungus.
"Everything now falls into place," Colin said thoughtfully nursing his glass and staring into the flames. "It was a plot hatched by Mairin to get money for the Provos, for her nephew in fact. He did it, he and his gang, and she just used us all. And Johnny just used Mairin because in the long run, money talks. I just happened to glance at a Dublin evening paper the other day and on the front page there was a sensational article, no names given, about a certain Dublin millionaire who's buying up bombed out sites in Belfast and Derry as a long-term investment and at the same time is handing out money to the Provos for arms. Do you get me? Strictly anonymous. It was staring me in the face however—Fallon."
"Just as long as Fallon isn't staring you in the face it's all right!" Eddie agreed. "But I think you're right. Yes, it all fits. Excuse me Tierney."
"And nothing will be done about it," Colin said sadly. "Think of it," he continued, "we all know, but none of us will ever say anything about it because we want to live in peace." He opened the window and leaned out: "On such a night as this . . ." Below we heard the river rippling gently, as it flowed sadly and irrevocably toward the sea. Far off we heard the mournful cry of a curlew. "Silence has once again fallen on Ballyfungus."
"At a price," was Eddie's sardonic reply. "We've all been bought—all of us—by Johnny Fallon." □