Burning Up People to Make Electricity
In Harlan County, Kentucky, are some of our country's richest natural resources—and some of its poorest people.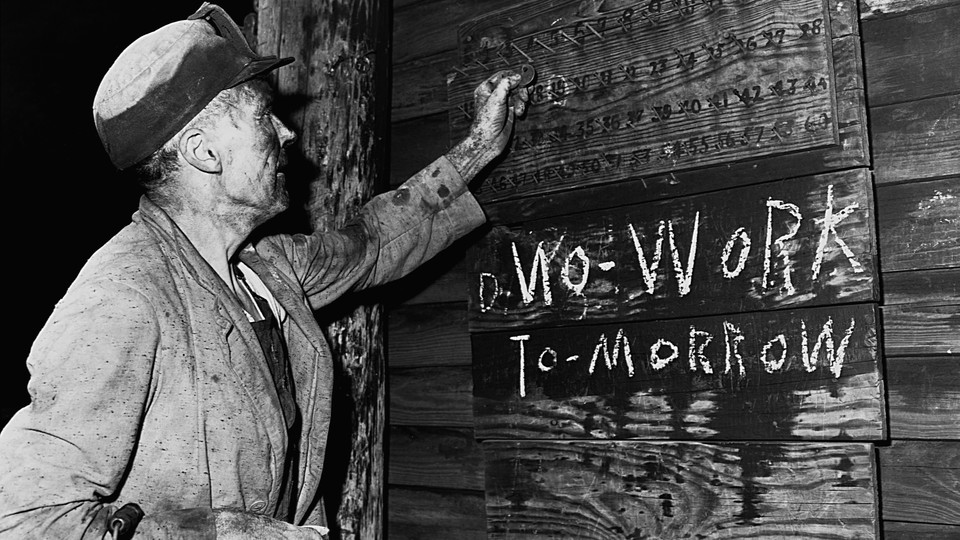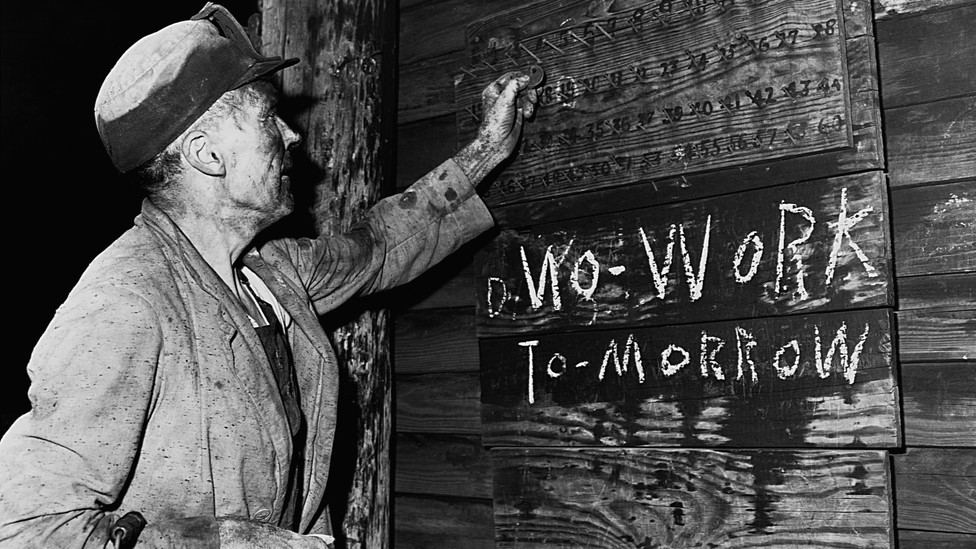 Among coal miners, Harlan County, Kentucky, is known as "Bloody Harlan." The name comes from a series of United Mine Workers strikes and labor-management battles which ended in a gunfight between deputized mine guards and miners on May 4, 1931, in the tiny community of Evarts. When the smoke had cleared, the bodies of three guards and one miner were found, and an undetermined number of other dead and dying had been carried away into the mountains.
Soon after the "Battle of Evarts," novelist Theodore Dreiser led a citizens' group to Harlan County to find and publicize the bloody facts. The group included John Dos Passos, Sherwood Anderson, and a number of other writers and artists. Now, forty-three years later, Harlan County is again gripped in a UMW strike, this time at the Brookside mine of the Eastover Mining Company, and another citizens' group has been formed. Arnold Miller, who was an active coal miner until three years ago and is now the reform-minded president of the United Mine Workers, has asked me to serve as a member of a "Citizens Public Inquiry into the Brookside Strike."
It was Miller who defeated W. A. ("Tony") Boyle for the national presidency of the UMW in 1972 in an election closely supervised by the federal government. Prior to Miller's election, the union had become corrupt, dictatorial, and a frequent collaborator with the mine owners. In 1970, Joseph Yablonski had led a rank-and-file revolt against Boyle, and Yablonski and his wife and daughter had been brutally murdered by killers hired with union funds. Now, Tony Boyle is among those who have been convicted of complicity in the murders, and Arnold Miller is the head of the revamped union. The Brookside labor dispute erupted spontaneously soon after Miller's election. He decided to make Harlan County a test case in the UMW's new, more aggressive organizing efforts.
At Washington's National Airport, I board Piedmont Airline's fat little silver jet on a Sunday afternoon in early March. I glance at the new Piedmont magazine, Pace. It reports that "Piedmont" is an adjective derived.from Italian words that literally mean "formed at the foot of the mountains." In America, the word describes a region, including Harlan County, Kentucky, between the Appalachian Mountains and the Atlantic coast. The airline magazine contains an article on southern skiing, a feature on hot, winter drinks for the "Piedmont palate," an article on how tough it is to be thirty-three and middle-class today, and a success story about an Atlanta bra, sleepwear, girdle, and pantie company. The magazine presents a different picture of the people and conditions in the Piedmont region than the one I am to see in Harlan County, Kentucky.
On the plane with me, it turns out, is another member of the Citizens Inquiry, Jacqueline Brophy, who is the director of the Labor-Liberal Arts Program of Cornell University's School of Industrial Labor Relations in New York. Jacqueline Brophy is the daughter of Pat Brophy, who went into the mines when he was twelve, and who, in 1926, ran against John L. Lewis and lost. Brophy's was the last reform insurgency against UMW leadership until Joseph Yablonski's fatal try.
We are picked up at the airport by Si (for Simon) Kahn, a Pennsylvania rabbi's son who graduated from Harvard, came to the Southern mountains as a Vista worker, and remained here, working for local community groups. Si has signed on as head of the staff for the Citizens Inquiry, which is funded with a five-thousanddollar grant from the Field Foundation. It will be a two-hour, winding drive through the Cumberland Mountains to the town of Harlan. Si sticks a wad of Red Man chewing tobacco in his cheek and begins to fill us in on the background of the Brookside strike.
At first, heading northwest on modern Route 23, through Kingsport, Tennessee, Weber City, Virginia, and Gate City, Virginia, the sights are the same as almost everywhere else in America today. Trailer parks called Walnut Grove, Mobile Manor, and Mesa Village Mobile Manor. New subdivisions named Tall Oaks and Colonial Heights. Burger Chef. Big Boy. McDonald's. We stop for fish and chips at a chain-operated Long John Silver's Sea Food Shoppe, as out of place in the Cumberlands as a clam in a spruce tree.
Crossing the Clinch River, we turn onto Highway 421 and leave the modern world. Now, along a cloudy green stream, or through deep cuts in the mountains, or high atop a timbered ridge, looking down on green quilt-patch valleys, we wind our way toward Harlan. Frame houses with rusty tin roofs. Isolated trailer houses. Working barns of gray-black weathered wood. Faith Primitive Baptist Church. Now and then, there is a neat, new frame house or a Pic and Pay market between scattered tarpaper shacks. And, all around, there are the rolling mountains, covered with second-growth timber. And always there is a murky roadside stream, beech and sycamore trees lining its banks. It is too early for dolor. The trees are barely beginning to bud in the early March warmth.
"This whole country is like a layer cake," Si Kahn says, "a layer cake of shale, coal, and sandstone. Drift mines back into the mountains follow the seam of coal wherever it goes." Duke Power Company of North Carolina, he says, is the sixth largest utility company in the world. It has assets worth $2.5 billion. Its profits in 1973 were $90 million, up 14 percent from the year before. Duke went into the coal business directly in 1970 when it organized Eastover Mining Company as a wholly owned subsidiary and, through it, bought several mines in eastern Kentucky, including the one at Brookside. Kahn says that the miners were encouraged by Eastover's management, headed by Norman Yarborough, to join a small "company union," the Southern Labor Union. There was no standard contract for the miners. Each contract varied from mine to mine. Pay ranged from $17 to $32 day, the average being $25. There was no functioning safety committee Medical and retirement benefits were minimal and unreliable.
In June of 1973, in a National Labor Relations Board election, the miners at Brookside voted 113 to 55 to affiliate with the United Mine Workers. But negotiations for a contract with Eastover soon broke down, and on July 30 the miners at Brookside began the strike that now, as we arrive, is in its eighth month.
Si Kahn says that Eastover tried for a time to operate the mine with "scabs," but that the mine was shut down when the coal miners' wives and other women joined the men on the picket line. There had been several clashes with the "scabs," the mine guards, and the state police, Kahn says. Some of the women went to jail with the men, and some took their children with them.
We come into Harlan County at dusk. It is a warm night and at every bend in the asphalt road we hear a chorus of croaking frogs. The sign man for R C Cola has worked this territory well. Si says Harlan is a dry county—no legal liquor and no beer. We drive through the streets of the town of Harlan, past the stores and houses, past the Harlan Baptist Church with a sign out front which reads: "If you are unkind, you are the wrong kind." Five miles north of Harlan, we drive up Inspiration Mountain. A historical marker says we are near the Little Shepherd Trail, the setting for the novel Shepherd of the Hills. Perched atop Inspiration Mountain is the modern Mount Aire Motel. What a marvelous view! "Yeah," a coal miner says, "but the land's so poor, you can't hardly raise an umbrella on it."
Before the first meeting of the Citizens Inquiry, we sit around and talk with the Inquiry chairman, Daniel Pollitt, a professor of law at the University of North Carolina. We are joined by Bernie Aaronson, the young public relations director of the UMW, and John Ed Pierce, a reporter for the Louisville Courier-Journal. We soon get into a discussion about Dreiser's 1931 inquiry. Pierce mentions the "toothpick incident." It seems that unfriendly local law enforcement officials kept a constant surveillance on Dreiser, hoping to catch him in something that would justify a criminal charge against him. One night, they saw a secretary for the Dreiser group enter Dreiser's hotel room, and they placed toothpicks against the door to determine whether she ever came back out during the night. The next morning the toothpicks were still in place, it was said. The local grand jury returned an indictment against Dreiser for adultery, but by that time Dreiser had finished his work and had left the county on the train. The warrant was never served.
Pierce has brought the actual Courier-Journal clippings about the Dreiser inquiry and shares them with us. "Dreiser, Woman Indicted," one headline reads. Dateline Newport News, Virginia, November 12, 1931: Dreiser denies the charge and says he wants people to concentrate on the facts of the labor dispute and "get the American mind off sex for a moment." Dateline New York City, November 13, 1931: Dreiser again denies the charge and adds, "Even if it were true, I wouldn't give a damn. If any attractive woman became interested in me, I'd think it was a very lovely thing. But you must remember I am an immoral man. I am the only man in the United States who would do that sort of thing."
Other clippings detail the earlier bloodshed and misery in Harlan County. The Harlan County Coal Operators Association, still functioning today, spent nearly a half million dollars from 1927 to 1938 to combat unionism, most of it going to pay strongarm men to terrorize the miners and their families. The Sheriff reportedly got rich on payoffs from the companies, and he used 181 mine company gunmen as special deputies.
Poffitt, Jacqueline Brophy, and I meet the other members of the Citizens Inquiry in a private dining room in the Mount Aire: James David Barber, chairman of the Political Science Department at Duke University and author of The Presidential Character; Monsignor Geno Baroni, president of the National Center for Urban Ethnic Affairs, a Catholic priest whose father is a retired Pennsylvania miner with black lung; Barbara Bode, president of the Children's Foundation in Washington; and Dr. Raymond Wheeler of Charlotte, North Carolina, president of the Southern Regional Council. Harry Caudill, attorney and author of Night Comes to the Cumberlands, will not be able to join us in Harlan because of legal business. Neither will Dr. Robert Coles, psychiatrist and author of Children of Crisis.
The committee has invited owners as well as workers to participate in the hearings, but the impression we get is that management will not appear. Dan Pollitt reads a letter from Carl Horn, Jr., president of Duke Power Company, respectfully declining our invitation. Norman Yarborough, head of Eastover Mining Company, is not coming either. Horn's letter questions the fair-mindedness of the inquiry members. We agree that most of us lean toward the miners, but we think we can be fair in trying to learn the facts. The letter states that Eastover has now raised the wages in their other mines to the UMW scale and is paying the miners for time spent with the mine moving to and from the face of the coal. They have done this only since the Brookside strike.
Back in my motel room, a gathering place, Bernie Aaronson of UMW says that the union is paying strike benefits and medical bills for the 160 strikers. Strike benefits are $100 weekly for a family, $90 for a couple, and $80 for a single man. It comes to a bill of about $20,000 a week for the national union. On top of that, we learn later, the union is spending $108,000 a year for medical and hospital coverage for the striking miners and their families. Altogether, it is a heavy financial burden for the UMW.
Up at seven on a Monday morning, I walk out onto the balcony of my motel room. I'm standing at 2800 feet above sea level. A thousand feet below me lies a small, green valley, partly shrouded by the morning mist. I can see twenty-five miles to the southeast, five ridges. The nearest ridge is green with spruce and pine. Past that, the other undulating ridges are blue and hazy. It is beautiful in Harlan County, as pretty as any place in the world. Here, too, are some of the richest natural resources in the country—and some of the poorest people. In the year of "the energy crisis," Coal is King again at $30 a ton. But what of the people of Harlan County? I look at the government statistics once more. There are nearly 40,000 people in the county, a drop of 36 percent since 1960. The median family income is $4600 a year. Only 23 percent of those in the county over the age of twenty-five have completed high school. Forty percent of the county's dwellings lack some or all of plumbing, water, or toilet facilities. Thirty percent of the families lack automobiles. More than twenty-four babies out of a thousand die before they are one year old, and the expenditure per child in the public schools is one-half the national average. The unemployment rate in the county is 7 percent; that doesn't count those who have long since given up looking for the scarce or nonexistent jobs.
After breakfast, we travel fifteen miles east to Evarts. Along the way, we pass through the community of Brookside, its mine-camp houses dominated by the brooding tin presence of the Eastover mine building on the hill. Bright yellow forsythia has begun to bloom in the yards of Harlan and Brookside and Evarts. Here and there, we also see white-blossoming pear and dogwood trees. But mostly the scenery is depressingly bleak. Garbage along the roadside. Overturned car bodies everywhere. Our drive takes us upstream along the yellow-brown Clear Fork River. Toilet paper clings to the bushes and tree limbs five or six feet up from the rushing stream. Toilets are built out over the river, and the water has obviously been much higher in the recent past. Jacqueline Brophy asks why public services have broken down. Why haven't the car bodies been removed from the highway and the streets? Why is garbage left on the roadway? Why are people allowed to dump raw sewage in the streams? Typical of counties with low income, counties where the mine companies own everything and pay low taxes, our UMW driver says.
The Citizens Inquiry meets in the attractive, river-rock Evarts Community Center, directly across the Clear Fork from the site of the 1931 "Battle of Evarts." Two hundred people crowd. the meeting room. CBS is represented by a camera crew, and there are a number of national reporters. Two more Inquiry panel members join us, Willard Wirtz, who was Secretary of Labor under Presidents Kennedy and Johnson, and the Reverend Max Glenn, executive director of the Commission on Religion in Appalachia.
We first hear from a number of the striking miners about safety conditions in the Brookside mine. They relate federal mine-safety figures which show that in 1971 the accident rate in the Brookside mine was three times the national average, and in 1972 was twice the national average. They file with us copies of specific federal safety violation reports, and they say that nothing was ever done to correct these violations. Three of the federal reports state that there was no safety committee at Brookside, as required by law. J. D. Skidmore says that, back in the mines, the phones are always out of order, there is no transportation out until the end of the shift, and it's a one-hour walk to daylight. The roof is approximately forty-eight inches high in the mine. "Try walking out of there, carrying a man with a broken back," one of the miners says. "Roof falls are a constant hazard, but the bosses just keep on rushin'."
Darrell Deaton, president of the Brookside UMW local, says he was caught in a belt line last year because he had to work alone, without a helper. A shoulder blade and five of his ribs were broken. He'd worked seventy-eight hours straight the preceding week. It was two o'clock on a Monday morning when the accident occurred, and he'd been in the mine., more than twelve hours. It took forty-five minutes for someone to come and help get him out, Deaton says.
The miners say that they often have to stand knee-deep in water while handling 440-volt electrical cables. There's water in the mine because the pumps often won't work. When fuses blow, they are not immediately replaced; the cable is spliced or "hot-wired" around the fuse. Breaks in the cable, they say, are often just wrapped with mask-ing tape and exposed again to the water. When a miner complains, Jerry Johnson says, the foreman says, "If you don't like it, you can always get your bucket," meaning pick up your lunch bucket and get out.
Bill McQueen says that the shuttle car into the mine usually has no brakes, and that it can only be stopped by putting it in reverse. If you protested this safety violation, he says, "the boss would just say, 'Run it.'" McQueen says that in late 1972 he burned his fingers to the bone on a switchbox where a blown fuse had been hot-wired. Why wasn't the fuse replaced at once? "You could hunt for one, but there just weren't one there," he says. "The way I figured it, they done that because it was just a faster, way of getting coal." When McQueen was hurt, his foreman drove him to the hospital and left him there, and he was two hours hitchhiking home. "We've took about all we can take," he says.
Leroy Helton says miners often have to splice electrical cable, even though they're not qualified to do so. "I don't like to handle that raw juice," he says. "I don't know nothing about the electrical part." He says that, standing. knee-deep in water, he has experienced many electrical shocks. "I've been juiced a lot, and I've had to just set down thirty-five minutes because it just takes the pep out of you." What did the foremen say on those occasions? "They didn't say nothin'; all they want's coal.' They just laughed about it, and we kept on cuttin' coal."
Bill Doan says that he was hurt in a rockfall at 7:15 one morning and that he didn't get out of the mine until nine o'clock. Other times, he says, "Roof was workin', rock was a-hangin', and it sounded like thunder. The bosses wouldn't go in, but I've. had them make me go in and pin it because it wasn't done right the first time. If you wouldn't do it, they'd just say, 'Get your bucket.' I don't like- workin' in them kind of conditions." James Sizemore says that frequently float dust, which is dangerously explosive, would get too heavy in the mine, and he would complain, but that. the foreman would just say, "We gotta run coal."
What about the Southern Labor Union? They had no safety committee, the miners say, and the federal reports bear them out. "Here at Brookside, if you called someone from SLU, he might come in a week, he might come in two weeks, but when he did come, he'd go into Eastover's office and talk for an hour," Bill Doan says. "Then he'd come out looking like a sheep-killing dog and get in his truck and run. We never would find out what happened."
What about federal inspection? The miners say that, somehow, management always knows when the government inspectors are coming. Don Dalton, UMW Safety Director for Region Six, explains this. On one excuse or another, such as not having personnel readily available to accompany the inspector into the mine, the company can delay the inspection. And, even so, it usually takes forty-five minutes to an hour for the inspector to get from mine entrance to the face of the coal. Word precedes him. "Boss walks up and says, 'We've got to make this mine look good now, boys; the inspector's comin','" Jerry Johnson says. Louis Stacy that he has several times been running a defective roof—bolting machine when word came that inspector was on his way. "I've had the foreman to tell me to set timbers or something until the inspector got gone. The men's life depended on my job, but I knowed if I protested I'd a got fired."
Bill McQueen says that when the shuttle's lights and brakes were not working and the inspector was coming, the foreman would say, "Park it." Bill Doan says that the roof bolts often didn't have enough torque on them, sometimes causing roof falls as high as thirty-five feet above the regular ceiling, and that once he complained about this to the visiting inspector in the presence of his foreman. He was transferred to a worse section, he says. "They sent me to 'Waterhole No. 3.' You come out of there lookin' like a hog that's been rootin' in the mud.' Darrell Deaton says there is a direct telephone line to Washington for safety complaints, "but if you identify yourself; you're gonna be out of a job."
The miners say that they want their own safety committee, elected by the miners, as the standard UMW contract provides, with the right to walk out, losing their pay, when there is eminent danger in the mine. "We want safety all the time, not just when the inspector comes," Jerry Johnson says. Apparently, this is one of Eastover's major objections. "Yarborough says he just don't want nobody tellin' him how to run his mine," Deaton says. "They don't want miners havin' any say in safety." Dalton points out that there were 132 mine fatalities in the United States in 1973, only seventeen of them in UMW mines. "If we could monitor these inspections, perhaps we could cut down on the fatalities," he says.
The miners speak of other dissatisfactions with Eastover and the old Southern Labor Union contract. They want the terms of the standard UMW contract or better. That means, among other things, an average daily wage of $45. Prior to the strike, the pay of the Brookside miners started and stopped at the face of coal. They want portal-to-portal pay from the time they enter the mine until they leave it. "The danger's just the same," they say. (Eastover, to repeat, now pays portal-to-portal wages for inside workers in its other mines and has raised the wages of nonstrikers to the UMW level.) The miners express extreme dissatisfaction with Eastover's medical and retirement benefits. They are demanding the standard UMW provision requiring the company to pay a royalty of seventy-five cents a ton on mined coal into the UMW Welfare & Retirement Fund. At Brookside, this would amount to $400,000 a year. (Eastover offered fifty cents a ton.) Bill Doan says, "When I got hurt, I couldn't find Jim Miller, the man who had charge of the sick fund." Leroy Helton says he still owes a lot of bills that should have been paid by SLU. "I've got so many duns from the hospital that I just quit lookin' at them."
We break for lunch, prepared by the women of the Evarts Community Center. A young woman from the Associated Press asks me, aren't we getting only one side of the story? I remind her that Duke and Eastover executives were invited, and have refused to appear before us. But, I say, even without further investigation of each of the complaints, it is possible to conclude that fear is an everyday part of the miners' lives. I remind her of what Bill Doan has said: "You work with one eye on the roof, one eye on your job, and your mind's outside."
During the rest of the afternoon, the miners talk about what has happened on the picket line and in the local court. Special Judge F. Byrd Hogg, a neighboring county judge who has been assigned to the case, entered an early order limiting the strikers to three pickets at each of two entrances to the Eastover Mining Company property. Fifty miners and their wives have at one time or another been held in contempt of this order.
The miners charge that Eastover has hired what they call "gun thugs." That's an old term in Harlan County, used to describe special, plain-clothed guards. They tell of two night incidents when rifle shots were fired at the picketers by unidentified persons. We are handed copies of court records concerning a certain Claude Beach, who has been hired by Eastover during the strike as a "security guard." The records show that Beach was convicted of voluntary manslaughter in 1954 and sentenced to ten years in the penitentiary, that he was later charged with carrying a concealed pistol (no disposition shown), and that in 1966 he was tried and acquitted on a murder charge. Some of the miners also claim that the state police have tried to intimidate them.
The miners charge that the Harlan County Coal Operators Association is behind Eastover's refusal to sign a contract. They point out that most of the big coal companies, such as U.S. Steel and others, have signed UMW contracts, but that the smaller companies of eastern Kentucky have held out. (Fifty million tons of union coal are mined in western Kentucky; only 6.5 million tons of union coal are mined in eastern Kentucky.) The miners say that all of the strikers have been blacklisted by the Association. J. D. Skidmore says, "I have no chance of getting a job in Harlan County if this strike is not settled." Grover Jennings says that six months ago he applied for a job at the Mary Helen mine and was apparently accepted, but that when he went back for his physical, Clyde Goitis, an official at the mine, said, "Buddy, there just ain't no way I can do anything for you. I've talked to Norman Yarborough, and you ain't bringing no union down here."
"They've done discriminated me," Grover Jennings continues. "I cain't get a job nowhere in this county. But I ain't leaving because this is my home."
On the way back to the Mount Aire at the end of the day, we pass back through Brookside with its deteriorating mining-camp houses along the stinking Clear Fork River. Our driver points out Norman Yarborough's two-story frame house, across the highway from the camp and up out of the river bottom. We are told that Eastover has announced its intention to tear down the mining-camp houses and move the striking miners out. One of the better houses is already being demolished. Where will the families go? There are very few vacant houses in Harlan County and virtually no available land to build on. Most of the land is owned by the mining companies. What will happen now that the first full year after the union election is ending? The company will probably demand a new election. Nobody knows how long the UMW can keep paying strike benefits.
Tuesday morning: Norman Yarborough has agreed to meet some of our group. Our delegation arrives on time at the Eastover office in Brookside. Yarborough comes out of a staff meeting and ushers us hack to a large, paneled meeting room with folding tables and chairs. He is a sturdily built, self-assured man of about fifty, with a strong, square jaw and a rough, weathered face. He is dressed more like a miner than a mining executive. There is one ostentatious feature about him, though: a large, multi-diamond ring on the third finger of his left hand.
Willard Wirtz asks how it will all come out, how the strike will end. "This troubles me; I don't sleep," Yarborough says. He speaks of "my people" and "my men." He says that they do not need the UMW to look after them; he will do that.
Is the safety provision in the UMW contract the sticking point for Eastover? "Not at all," Yarborough says. The main problem, he says, is that the company wants a "no-strike" clause, so that the union cannot strike during the contract period. Is that the only objection that is holding up a settlement? "It's one of 'em," Yarborough says. He says that he will not agree to the Brookside contract applying to "all" of Eastover's operations. (The union has told us that they are quite willing to limit the contract to the Brookside mine.) Yarborough says that he will not agree to the contract applying to Eastover's subcontractors. (That is a tough point.) He says that wages are no longer a problem and that the amount of the royalty to be paid into the UMW Welfare & Retirement Fund is not crucially important. Yarborough tells us that the company does not now object to paying the miners for portal-to-portal time for inside mine work, but that the union wants comparability for outside workers too, in effect requiring the company to pay outside workers overtime for all work in excess of a seven and-a-quarter-hour regular day. (There is such a provision in the standard UMW contract.)
How does the Harlan County Coal Operators Association fit into the picture? They are merely a service organization, Yarborough says. They lobby in Frankfort and Washington and sponsor an annual "Coal Miners Day" to try to get more high school students interested in mining engineering.
Does the Association hire for all the mines in the county? No, Yarborough says; it just serves as a central clearing house, so that job applicants won't have to go around and apply at each of the mines separately. He then answers a question he wasn't asked. "I don't try to blacklist anybody," he says. "But if they call me and ask if a man works for me, I simply say yes or no."
Yarborough is tough and unyielding. He does say, I think primarily for the record, that he would like to see negotiations begin again. He says that negotiations were broken off on November 28, 1973, because of the miners' insistence on the full terms of the standard UMW contract. Why couldn't Eastover live with the same national UMW contract that so many other companies have accepted? "Why couldn't the original thirteen colonies live with the same British policy that applied to all other British colonies?" Yarborough replies.
We drive to the Evarts Community Center and report to the other members of the Citizens Inquiry. Willard Wirtz says he senses that the Harlan County Coal Operators Association is a major factor in the dispute, that it doesn't want a settlement with higher wages and benefits and tough safety provisions to be made by Eastover, because it fears the domino effect of such a settlement on the rest of the companies in the county. Duke Power Company appears to be the key to breaking the deadlock in negotiations. But is it really hurting? The Brookside mine is capable of producing only about a half-million tons of the 15 million tons of coal Duke uses each year. Wirtz says that his arbitration experience tells him that if Eastover really wants to negotiate in good faith, the remaining issues, tough as they are, can probably be worked out. But will Norman Yarborough ever agree to recognize the UMW?
It is also women's day before the Citizens In-quiry. The women are nervous about testifying, afraid of retaliation. But Barbara Bode has arranged for eleven of them to come up onto the stage at the same time, and they seem to take strength from their numbers. They range in age from about twenty-one to seventy. They are neatly and attractively dressed. Lois Scott, a woman of about forty-five, begins to speak first. There is a hard edge in her voice, and her blue-gray eyes are flashing. She says that she and some of the other women hid out last night to avoid being served with a contempt citation from Judge Hogg's court. "We run because we wanted to testify, and if we hadn't run, he woulda had us in jail." Her daughter, Bessie Cornett, an attractive young brunette, says, "I'm not in jail today because you people are here." Lois Scott says that the women organized the Brookside Women's Club and got involved in the strike "because we knew that if the women didn't come in there would be violence." Their activities began with a demonstration and march in Harlan on September 27, 1973. Afterwards, they gathered near the picket line at the Eastover property in Brookside. Nonunion workers were attempting to leave the mine. Some of the women cut switches and joined the picketers. "A gun thug pulled a gun on us, and I broke a switch over his head, and the little gun thug pulled out," Lois Scott says matter-of-factly.
Following this episode, the women say, Norman Yarborough asked Judge Hogg to hold the UMW and a number of miners and women in contempt of the Judge's order limiting the number of picketers to six. Yarborough's affidavit stated that "the group swarmed out into the roads, stopped cars, and forced company employees into coercive conversations and indulged in generally raucous name-calling and abuse." Midway in the trial, Judge Hogg dismissed the jury and directed a verdict of guilty. He fined the UMW $20,000. He sentenced nine men and seven women to six months in jail and fined them $500 each.
When they went to jail, they say, some of the women took their children with them. Mrs. Herschel Gaw, wife of the ailing jailer, locked them all up. During the day, a man came and said that if their children weren't out of the jail by night, the welfare people would take them. Nannie Rainey says, "I told him if he got my children, he was gonna haveta take me too." Freda Armes says, "I run him off. He run all the way down the stairs and out of the jail." But relatives did come and take the children. The women spent the night.
The judge's fines and sentences were appealed. The men and women were released on good behavior. The women say they then organized a "sunrise worship service" to begin at 4:30 on the morning of October 23, on the railroad tracks across the highway from the picket line. Some seventy-five state policemen were on hand as the crowd gathered. Betty Eldridge is a mild—mannered, well-dressed woman of about forty. She speaks in a soft, pleasant voice. "With all those state police, we knew we had three choices," she says. "We could lay down, fight the police, or let them scabs go to work. So we lay down in the road." There was a scuffle when a state police captain tried to remove one of the women, she says, adding, "Captain Cromer did get hit several times; I hit him with a stick myself." Did she find the stick on the ground? "We took the sticks with us," she says. Lois Scott explains that during the first confrontation at the mine, she saw a pistol in the front seat of every "scab" car she looked into and that a company "gun thug" pointed a submachine gun at the women from the porch of the Eastover office. She says that the women decided that they couldn't fight guns with switches and that they had taken sticks with them the next time.
It is clear that these women have been a main factor in keeping the mine shut down. Captain James Cromer of the state police later tells news reporters, "The women are a problem. You just don't hit a woman in Harlan County." They have probably helped keep their own men from exploding too. These women have organized a special kind of feminist movement, and the issues to them are life-and-death issues.
Sudie Crusenberg, a plain woman in a cotton dress, gives us some idea of what life is like for a coal-mining family. "I've seen some hurt and some killed. Seen 'em carried out on a stretcher," she says. "My daddy's a retired coal miner, and he's got the black lung. My brother died at the age of forty. I've got five living children and four dead. My man was mashed up in the mines. He can't never walk again." She's been picketing with the other women.
The women furnish the panel with a copy of a report from the Harlan County Health Department, dated October 12, 1973, which states that the drinking water in the Eastover mining camp, where approximately thirty of the striking Brookside families live, is "highly contaminated" with fecal bacteria. They say no action has been taken on this report. Only three of the families in the camp have indoor toilets. In one of these, the septic tank has been out of order for several months. Many of the houses have no running water, and these families have to carry all their water from a common outdoor spigot. Freda Armes says, "I take a cloth and strain the water to cook with. Sometimes, they'll be a black scum on the rag." Some of the women say they haven't had a drink of water since moving to the Brookside camp. No wonder R C Cola has so many signs everywhere.
The members of the Inquiry panel leave the Community Center to visit the coal camp at Brookside-rows of delapidated frame houses, identical except for their weathering gray, green, red, and beige paint. The three houses with baths rent for $24 a month, plus $14 a month for electricity. Those with running water rent for around $20 a month, plus electricity. Nannie Rainey takes us into her four-room house where she and her husband and five children live. There is no water in the house. She pays $10 a month for rent and $10 a month for electricity. She doesn't know where she will go when the camp is closed. There are very few vacant houses in the county. The kind of house she would like, if she could find one, would rent for about $50 a month, but she and her husband cannot pay that much.
We gather back in Evarts and announce that our report will be ready in two or three weeks. A reporter asks us again how we can expect to make an unbiased report when we've heard only one side. Willard Wirtz says that it is important to remember that one side of the dispute felt confident enough about their case to arrange to spread it before the widest possible audience. He hopes the other side will do the same. Another press member criticizes Barbara Bode for having raised a clenched fist during the women's testimony. Barbara says that she was reacting spontaneously to the spirit and determination exhibited by the women, that their testimony was the highlight of our hearings. When Barbara finishes her answer, Wirtz raises a clenched fist and says, "Right on!" Each of us makes a statement. I say that the issue is whether or not the men will be allowed to have their own union to protect their safety and secure and maintain decent wages and benefits, that if enough pressure is put on Duke Power Company, maybe something will give.
We huddle before breaking up. We hope that our hearings will help hold down violence. We feel that we have provided a national forum for the miners to tell their story. The transcript will be published as a book. Three of our Inquiry members plan to talk with the president of Duke Power Company. Others say they intend to speak and write about what they have heard. It doesn't seem like enough.
A month later, back in Washington, I meet with Bernie Aaronson at UMW headquarters. For a time after the hearing, he says, it appeared that Duke had softened. Carl Horn of Duke Power and Arnold Miller of the UMW had talked, and negotiations had been resumed. The issues had been narrowed down to Eastover's demand for a "no-strike clause" and a limit on the power of the safety committee. The UMW had made written proposals for compromising these issues a little. But, Aaronson says, Norman Yarborough had then called back to say, simply, that there was nothing of further interest to them in the negotiations More public pressure on Duke is needed, he says. He tells me that the miners plan to picket on Wall Street, hoping to give Duke problems with its stock. They also plan to join with a North Carolina group in protesting Duke's requested rate increase, and they are going to attend the meeting of Duke's stockholders on May 30.
The prospects for settlement do not look good unless Duke begins to feel public pressure. Talking to Aaronson, I am reminded of an old tin sign I saw tacked on a tree along the highway as I left Harlan. It read: RE-ELECT GAW, JAILER. It seems to me that for a great many people in Harlan County-for poor people and a lot of coal miners the whole county is a jail. They're trapped. It is not all Duke's fault by any means. We're all involved. And we're burning up people to make electricity.