"What Do We Do Now? What? What?" a Visit to Israel
"How is it I've never met an American who lost someone in Vietnam?"
—An Israeli
Into the 747 marched some three hundred American Jews—many of them "presidents" of Jewish organizations—on their way to visit Israel, and some of them were carrying Torah scrolls to replace those lost in battle. In Jerusalem I was to see a photograph of a young Israeli soldier in "Africa"—that is what the soldiers call Egypt—smoke-bombed out of his bunker and clutching to his body the Torah scroll he had kept by his gun while under siege.
The proud-looking Americans carrying Torahs into the plane already looked different from the others, and they and the orthodox among the "presidents" certainly looked "different" the next morning. Thirty thousand feet over the coast of Spain they stood at the back of the plane in their prayer shawls and phylacteries to say their morning prayers—and made quite a barrier to the washrooms. Although we had all spent a night in our seats and were standing in line to freshen up. the worshippers ignored everything around them and prayed with a will.
On the whole it was a sociable, cheerful crowd, full of nice upper-class Americans who had obviously made it in Topeka and Oklahoma City and Portland. A young bearded surgeon in turtleneck and hippie beads, explaining, so that half the plane could hear, how he was able to get away from his many patients. "My rabbi said he would skin me alive if I didn't make this trip!" A charming Washington lobbyist, talking about his son, the space scientist. Handsome, well-groomed lawyers and stockbrokers with neatly graying crew cuts, talking with proud wonder about how much money they had raised for Israel among their professional colleagues. One of them said, very severely: "I know I don't look Jewish, but the minute I heard that they had attacked on Yom Kippur, I went crazy. . . ."
Lod: the terminal quite empty despite the last of the Americans anxiously grabbing their luggage off the rollers. This is the room in which the Japanese gunmen murdered two dozen people; this could be the roller on which one of the assassins stood as he emptied his gun into the crowd. Everything at a low key this morning, and despite the sunshine, the palm trees in November, I've never known this chill, lonely feeling arriving in Israel. My first experience whenever I land is of the passengers, while still in the plane, joyously singing Hevénnu Shalom Aleichem as the wheels hit the ground "Shalom! Shalom! We have brought you peace. Peace! Peace!" Then the crowd behind the barrier positively bursting with impatience to carry the loved ones off.
Still, the streets are as usual full of cars, and blocks and blocks of new housing rise up around us as we rush toward Jerusalem. Everything is surely normal? The two Foreign Office men in dark suits and discreet ties hitching a ride with us are, like all top Israeli people I have met, crisply knowing, authoritative, methodical to a degreetaking apart every question you put to them inch by inch, like a surgeon cutting into a body. So much care, ostentatious competence, professional discretion! But as the older Foreign Office maven loosens his tie, unbuttons the top of his shirt, and shows a rim of undershirt, he flashes me that grinning, shrugging look I know so well from watching Israeli diplomats abroad explain everything in their insecure British accents: the parts we have to play! The pride of confronting so many technical difficulties and playing the imperturbable Western ambassador, the scrupulous minuteness and grinding complexity with which every Israeli difficulty is discussed-all this can suddenly go up like a curtain, leaving a baffled, very tired Jew to hold the stage alone. For all his pyrotechnical analysis of what Brezhnev may do and what Nixon can't do and what Kissinger has in the back of his mind, my Foreign Office expert is only a kibbitzer at a game that isn't being played for him to see.
Experts, oh Israeli experts! At dinner tonight with still another Foreign Office official, his wife and son—the son lives mostly in America, and, during the inevitable argument with Israelis about the Vietnam War, he agreed with us for unexpected reasons—"it was fought in the wrong place."And dining in style, we nevertheless dine on the bitter uncertainty of Israeli existence just now. We are in a beautifully contrived French restaurant built into the Miskenot Shaananim, the "Peaceful Dwellings" complex, an enclave of studios constructed by the municipality of Jerusalem for possible use by "world-famous" writers, artists, and musicians. This enclave is down the slope from the windmill that marks the first Jewish dwelling, constructed in 1860, outside the walls of the Old City.
We are certainly outside the walls of the Old City in this haunting little place. The meal is gastronomically innocent, like every mysterious morsel in these "French" restaurants that are supposed to impress visitors. But the service is touching in its deferential eagerness to make everything seem luxurious. You look around at the clever little bar, the chic little cave of Jerusalem stone in which we are dining, the candles that cannot keep out the darkness of this frightened night in Jerusalem.
And what are we talking about in the midst of all this chic, this ostentatious service, these mouthings of "French" food and "French" table lore? We are talking about death. For as of this day (confidentially) the number of Israeli dead is nearer twenty-five hundred than the six hundred or so announced (after an ominous silence) once the Israeli army was on the attack. And the losses among the officers, famous for always being up in front, would be enough to frighten us—if we were not already used to living with fright. And leaving aside for the moment what (confidentially) Governor Rockefeller said about Nixon when he was here, and what Senator Humphrey said, it seems that there do indeed exist photographs of the Israeli prisoners mutilated and murdered by the Syrians. They are being kept in reserve, naturally, but Golda Meir did show them to Bella Abzug, who incidentally was the one woman allowed to visit our troops in Ahf-ree-cah, for how can we refuse anything to a member of Congress?
Now our host sardonically goes over the week in which Israel was diplomatically isolated. Twentysix African nations cut off relations with Israel in the twinkling of an oil sheik's eye. Israel, you vile racist and imperialist, we no longer recognize you! We were glad to have you train our air force and teach a little business administration to our treasury and even give us dough, but we can no longer accept you! Even Ethiopia, with which Israel had had a particularly close relationship (the Arabs supported Eritrean insurgents against Haile Selassie, trained guerrillas in Damascus, and provided terrorists with arms and funds), has just broken off relations with Israel. The ships and planes carrying arms to Israel were kept from most NATO bases. And what does it prove that South Africa (whose racial policies Israel has attacked over and again in the United Nations) is still officially on good terms with Israel? A shrug of the shoulders, but a voice at another table rises in well-bred panic: "The world has gone mad. I tell you.""No,"interjects someone else, "we're just waking up from our dream. Everything's just normal again. The world hates Jews and always will."
"It's Spain in 1936 all over again."says a writer over still another "French" dinner, "Czechoslovakia in 1968."
Every conversation with my sabra cousins in Petach Tikvah comes back to it—to the day, the attack, the shock. "Yom Kippur was the one day we could walk down the middle of the street. . . . We were living like other human beings for once. . . . We were at home in our land, our own country. Then, two in the afternoon, the air sirens screamed. We were frightened by the sight of our own planes flying low in the sky, of our boys still in their prayer shawls as they were called out of the synagogue."
An old Mapanmick (a supporter of the radical, once pro-Soviet minority Eabor Party that after 1967 merged with the major Labor Party, Mapai, into the "Labor Alignment" that is now in power) jeeringly shows me a Labor Alignment election ad that ran in the papers just before the war. Under pictures of Golda Meir, Moshe Dayan. Abba Eban, comes the now celebrated pronouncement: "Quiet reigns on the banks of the Suez. Our lines are secure: the bridges across the Jordan are open; Jerusalem is united. New settlements spring up and our political position is strong."
"Secure!" The old Mapanmick spits out the word with vengeful joy. Now that the world has resumed "its normal hostility to us.""is united from London to Tokyo in its isolation of Israel."now that you hear on every hand. "Israelis cannot afford to make mistakes, but our so-called leaders are allowed miscalculations." Israelis are letting "our socalled leaders" have it. More than any other people in the world, Israelis feel that they are under siege and that the "commanders" are flesh of their flesh. blood of their blood. In 1967 "our commanders" were peerless in their audacity and shrewdness. Now Jewish family pride turns into the usual pitiless internecine Jewish insults. Dayan, it seems, is utterly "unstable," and so involved with his own ups and downs that, as one Israeli writer put it to me, "the guy has no superego." As he said after the first shock when the Egyptians crossed the canal, it was natural for him to be blamed. "Am I not Moshe Dayan?" Some soldiers were very bitter indeed. When he was visiting the wounded, one of them actually screamed "Traitor!" at him. Dayan is said to have turned away in tears. Eban, a dove in private (and notoriously more popular with Americans than with Israelis), is now attacked on every side for not having openly expressed his doubts about the government's "ungiving" policy. "That gasbag," one official sputtered. "with his three chins!"
As for Golda! "The trouble with Golda," one political scientist explained, "is that her Hebrew vocabulary does not exceed fifteen hundred words, so that her pronouncements of policy always sound more inflexible than when she is abroad and talking English."
Today (November 30) the Palestine Post carries a manifesto drawn up by Israeli doves:
PEACE INITIATIVE NOW!
The Yom kippur war exposed the illusion and errors of the polities of stalemate and creeping annexation which did not lead to peace and did not prevent war.
In the wake of the cease-fire, a historical opportunity for peace has arisen.
Peace is more important to us than territories.
Israel should recognize the existence of the Arab Palestine people and help promote their participation in the peace efforts. . . .
Israel's security will not be achieved by annexation and/or occupation of territories but through peace agreements, creation of demilitarized zones and increasing the strength and vigilance of Israel's defence forces.
The new situation requires a leadership capable of exploring without misgivings all avenues leading to peace.
The "partial list of signers" includes not only scholars, writers, and the "usual intellectuals" but one general (retired). Matiyahu Peled.
Likud ("Unity"), the right-wing opposition to the government, offers these thoughts:
TO ALL CITIZENS OF ISRAEL OF WHATEVER OPINION OR PARTY
The declared police of the Alignment Government, which seeks to re-partition the Land Of Israel, spells future peril, peril to the existence of the Slate. The Alignment's policy may well bring the centers of our civilian population within artillery and rocket range of the enemy, and thus expose us to continuous warfare and bloodshed.
LIKUD OFFERS AN ALTERNATIVE POLICY, CALLING FOR: Rejection Of Withdrawals Which Would Endanger The Peace And Security Of The Nation.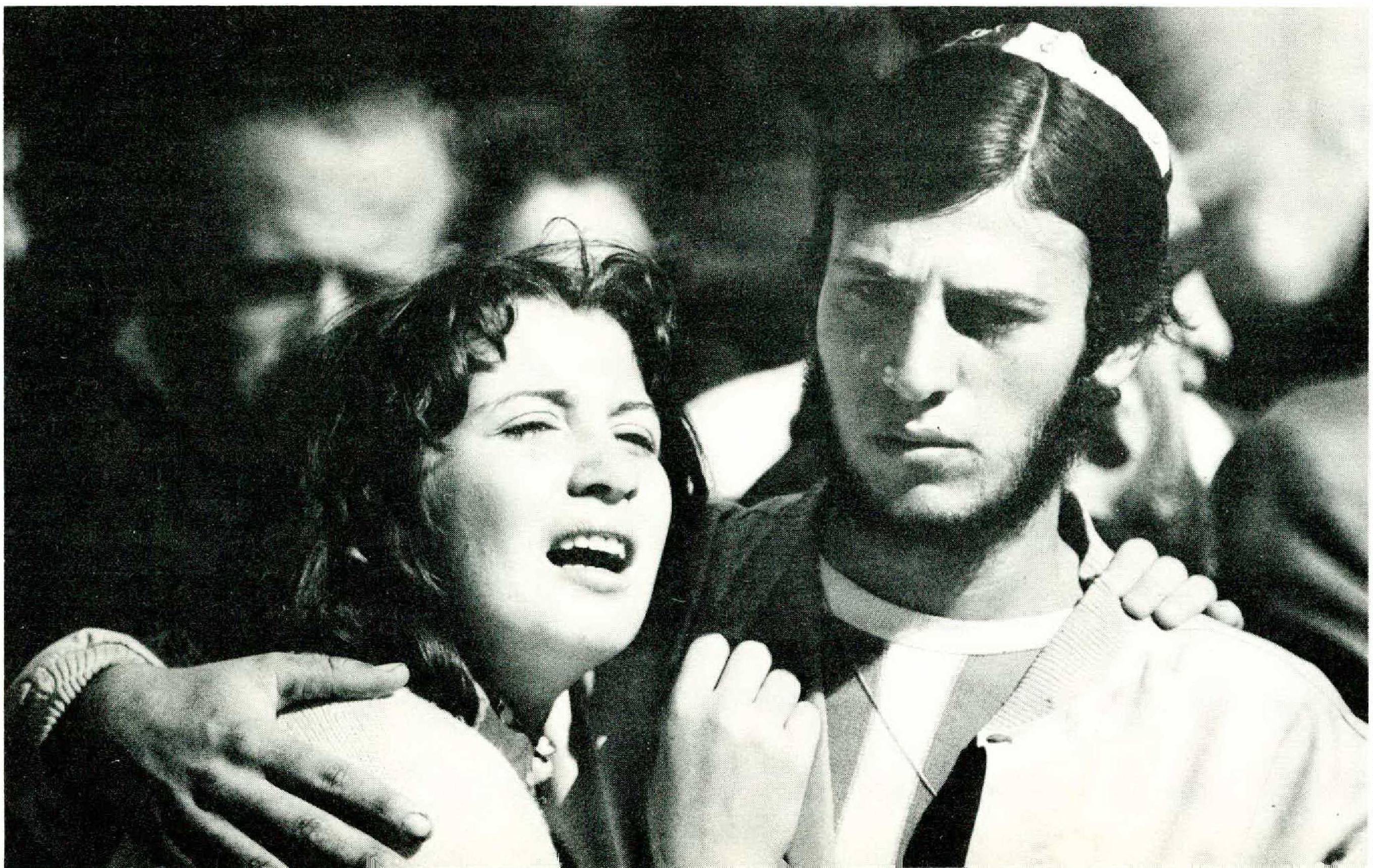 Upholding Our Right To The Land Of Israel. National Security, True Peace.
Enlisting The Support Of The Jewish People And All Friends Of Israel Throughout The World. Particularly In The United States Of America. In Order To Prevent And Overcome Pressures . . .
The National Religious Party, a minority party without which the Labor Alignment could not hold office, regards the West Bank of the Jordan as part of "the historical homeland of the Jewish people." For them there can be no compromise with Jordan on this score. But the orthodox attach no historical significance to the Sinai Peninsula, so Egypt is welcome to take it back—"in part."
I hear that in a radio interview the Prime Minister rejected, as usual, direct negotiations with the Palestinians, on the ground that they had no properly elected representatives. Whereupon the Israeli interviewer asked: "Who elected Herzl?" She had no reply.
Meanwhile, here is this picture of the Prime Minister weeping at the airport as she watches the return of the Israeli prisoners from Egypt—several of them on stretchers. Her face is contorted.
The young Israelis find her unbearably rigid, and there is a revulsion from her among many of the people I encountered. In English, doing what many Israelis still think would change their fortunes in the world—performing a job of "public relations"—she sounds sage, humorous, with a keen old Jewish wit. "You have to admit that God has a sense of humor." she said. "To settle His Chosen People in the one spot in the Middle East where there isn't any oil."And then there is (to me) her touching candor, as when she said (by way of apology for those hesitations and uncertainties on Yom Kippur?) that this was her first war as Prime Minister.
From all reports, from the look of her on television, she has at the age of seventy-five personally undergone everything about this war—not least the excruciating sense of her own responsibility, the inevitable guilt that any leader of a country so much in peril must feel. Speaking at a Knesset dinner for leaders of Anglo-Jewry, she said:
We were so absolutely certain that war can solve nothing and that we wanted peace that we transferred this feeling to a very large extent to our neighbors. . . . The intelligence reports about war preparation came in, and the best of our people said, "It can't happen here."
I'm convinced as I never was before that the continuity of the Jewish people depends on us. . . . We just cannot live like other people. . . .
Jacob Talmon, who holds the chair of "modern general history" at the Hebrew University, has an extraordinary time sense even in conversation. When Talmon has you in to tea. "modern general history" certainly comes into play: everything in contemporary Israel, in his native Poland, in the history of modern Europe, and above all in the unbelievable, the unendingly fascinating (for Jews) history of the Jews. "No other story like it,"this sprightly little man says. Not surprisingly, his writing has a persuasive tension to it, reveals the gift for putting all historic forces on stage that makes him the most delightfully clear and balanced of historians. No other scholar I know has such a way with Jewish history within the context of world history. He is a peculiarly satisfying historical thinker on this subject, neither pedant nor apologist, and certainly never a sentimentalist about this people for whom his love is intense.
In his magisterial essay. "European History— Seedbed of the Holocaust,"Talmon linked the bloody centuries of European anti-Semitism to the "family" relations between Judaism and Christianity—"murder within the family ... is the cornerstone of every culture, every order of values, every ethical system. . . ." But Talmon distinguished this historic Christian animus from the Holocaust. This, in the "absence of any emotional element in the remorselessly applied decision to exterminate every rone (Jewish], but everyone," Talmon ascribes to the peculiarly modern idea that "there are entire classes of people whose very existence is objectively a crime and who must therefore be cut out of society's body like a diseased limb. The question of individual guilt or responsibility . . . is irrelevant."
But though he has a commanding, luminous, and essentially positive sense of the Jewish drama within the uplifting and tormenting pages of modern history. Talmon does feel that the twentieth century will yet decide the fate of the Jewish people. Moreover, he feels that time has been working against Zionism itself.
In his affirmative but inescapably tragic book. Israel Among the Nations, he writes, "It was the misfortune of Zionism to have arrived late . . . nationalism everywhere in Europe had developed into it cult of sacred egoism."And he could have added, as every thoughtful Israeli knows, that Palestinian nationalism owes much to the Zionism it has never acknowledged and can't wait to destroy. Talmon does not underline the point in Israel Among the Nations, for his purpose is to demonstrate the legitimacy of Jewish nationalism within the history of nationalism. But a twentiethcentury definition of tragedy is that bitter contestants for the same soil may both have "historic rights."And either one is less able to admit it than those abstract idealists who propound, with a confidence known only to themselves, a "bi-national" state.
Talmon's remarkable unification of different cultures, nations, historic aspirations comes out in his amused comments on his own situation. Polishborn, trained in England, at home in Europe and America as he is in Israel, he describes himself as a child of the shtetl, and occasionally falls into Yiddish with all the joy of an old-fashioned Polish Jew at home with his own on Sabbath Eve. But like many middle-aged Israeli scholars and writers I know, Talmon has a great sense of working against time; the wars, the everlasting anxiety have taken their toll; he trembled when he spoke of his impatience to finish his trilogy on modern Europe. And then again (the universities are without students now anyway ), he is devoting himself to "politics." His analysis in Ha-Aretz of Israelis' political difficulties has created a lot of attention.
But caught up in the crisis as he is—"we're trapped!" he said at one point—Talmon sparkles, and gives off light with every sentence. His mind, exhilarated by superabundant materials, is a joyous thing to watch in action. About living across the street from the Prime Minister and being able from his top-floor flat to look down on her private residence, he says, "At last a historian can look down on a politician."
A Golda-watcher (Talmon is known as a "peacenik" and Golda is not one of his greatest admirers). he gravely reports that on the Yom Kippur before this Yom Kippur, the policeman on guard in front of Golda's house, seeing that there wais nothing to do, bravely put on his prayer shawl and. standing there in the street, spent the day saying his prayers.
I am going to the Golan Heights this morning. I am as wound up as the State of Israel itself and as I get down to the hotel lobby almost an hour early, I find—at live in the morning—the escort officer waiting for me. He is a major in the reserves, probably ten years younger than he looks. This is his fifth war (the "war of attrition" after 1967 is now officially Israel's fourth war with the Arabs). He briefs me on the joys of living next to Syria this day, week, month (while dandling between thumb and forefinger another cigarette he will soon put into his mouth). He has the look of "attrition," of having lived through too many wars, sieges, alarms.
There are people in this world who appear to be secretly thinking out problems too hard for most of us—problems that make them look more subtle about the world, more intelligent, more stoical. Many Israelis have that look, which is why I have never admired people in the group as I do here. The Major, like the good Israeli he is, has naturally lived not just his own life but that of his generation in the upper Galilee valley. Between wars he grows grapes up there. Yet though weariness, skepticism, and some premature heaviness of movement are all over him, he is funny, wistful, charming as he swears by the great Jehovah that he will never accompany another American television crew to the Egyptian front—all that those characters want to see is dead flesh! In his totally informal Israeli military getup—shirt and pants are invariably mismatched, and the soldiers I was to see behind the Golan Heights looked like hippies outfitted by an Army-Navy store—the Major seems vaguely impeded by his sidearm as he sprawls in the car taking us north. He takes it off and studies it, then puts it on again. An escort officer who joined us later forgot his Uzi submachine gun in the car when we returned to Tel Aviv and had to hunt up the driver to get it back.
But tired to death of wars and visitors to the wars as the Major was he brightened up as we stopped for coffee at Rosh Pinnah, "the cornerstone." The first Zionist settlement in the Galilee, Rosh Pinnah was built on deserted rocky land, and its name comes from Psalm 118: "The stone which the builders rejected has become the chief cornerstone."It is on the most important crossroad in the eastern upper Galilee—from here the road goes straight up into Syria.
In the village square is a drab little truck stop run by a very large, very old woman. I was assured that she had been here from the beginning and was not under a hundred years old. She is known to everyone as Gittele. Gittele waddled out with coffee to the rickety outdoor table at which the Major and I were sitting as we watched the army trucks pull up at the gas pump before beginning the ascent to the Syrian heights. It was like being at a Western to see all those guns and the dust rolling past Gittele's corner café—a Jewish Western. The Major was suddenly cheerful, resting from the endless war as he described the efforts of the Rosh Pinnah pioneers to develop a wine industry out of a gift of cuttings from the Rothschild vineyards. Rosh Pinnah is the cornerstone of a dream—a country of Jewish farmers peacefully tilling their own soil.
Now we are on the road to Syria. There are crumblings of black lava rock all over the plain. The wildness of these stony fields, empty except for burned-out Syrian tanks and trucks and a few Israeli army huts and tents at wide intervals along the emptiness surrounded by equally ferocious mountains! Everywhere you look the fields seem made of sooty lava rock. Every modest little farmhouse is built of it, so deep in mounds and piles of rock that you cannot tell if a house is going up or falling down.
Kuneitra, the principal Syrian city hereabouts, is a total ruin. It looked like hell when I saw it in 1967, with abandoned cattle roaming through the blasted streets. Now there are not even any cattle. Up and down we go in sight of Mount Hermon, as far as the U.N. compound that watches over the cease-fire lines. And the higher we go, the more I get from this implacable landscape a sense of the savagery that the Israelis have reason to impute to the Syrians.
The soldiers were sitting around their huts playing chess, growing beards and looking bored. It can get very cold up here, I am told: the washing water is often frozen in the morning, and in Tel Aviv I heard that there is not enough warm clothing up on the Golan.
It was a relief to get down that mountain road again into the green Galilee valley and to have lunch at the lakeside kibbutz of Ein Gev, where you can look at "St. Peter's fish" following a leader round and round, as fish do, before the leader ends up on your plate. The excursion boats that usually cross the lake to Tiberias were all tied up, but three soldier boys and one soldier girl, sporting helmets and looking free and happy to have made it down to Ein Gev for lunch, were clowning and taking pictures of one another before they climbed back into their armed jeeps. What a pleasure to get out of Syria for an hour!
I had wanted for the longest time to meet the writer A. B. Yehoshua, whose extraordinary short stories, Three Days and a Child, have been published in America. They are quiet, almost ostentatiously hushed in tone, quite macabre symbolic situations at times. An eccentric university student who cannot get on with his thesis and has become the despair of his friends gets a job as a fire watcher overlooking a "memorial forest" largely planted in tribute to their departed by American Jews. The forest happens to occupy the ruins of an old Arab village. The fire watcher, though spellbound at first by the magical solitude of his lookout station, is increasingly interested in an Arab who with his little girl brings the fire watcher his provisions and who makes his home in the forest. The Arab is silent throughout the story. The fire watcher gets so fascinated with the Arab that though the latter does not understand Hebrew. the fire watcher passionately recites to him the sufferings of the Jews through the ages. The effect on the Arab is odd: he burns the forest down.
Yehoshua's stories are about muted people in lonely situations—an old poet with a demented son; a bachelor baby-sitting for days with the child of a married woman who was once his mistress; an Israeli engineer on a project in Africa who comes home to die and realizes that he is not in touch with anyone around him. These stories somehow convey more of the peculiar suspension of feeling among Israelis than anything else I have read. Most of the "new" Israeli fiction, unlike Jewish writing elsewhere, seems to emphasize internal emotions as a self-sufficient guide to the unnameable and frightening world of Israeli-Arab relations. It is laconic, ironic, detached, and so determined to affirm the reality of personal fantasies that as an American Jew reads it he becomes more and more aware of how little he knows about what Israelis are thinking. Visitors to Israel, accustomed to think of terror and guilt and violence as "psychological." can since the October stalemate find Israel a frightening place. "I can't wait to get out of here!" I heard one American say. It was a confession I overheard more than once.
Yehoshua. I would guess, is something special among the new Israeli writers. He is unsparing but subtle about the Israeli situation that, even before Yom Kippur, Jacob Talmon would have described as a "trap."He is also humorous about the day-today relationships between Israelis. (The fire watcher in his retreat is visited by a friend, a married woman, who feels sorry for him but also wants to make sure that in his scholarly solitude he is not getting ahead of her husband. In the course of this visit she manages with great difficulty to get him to bed with her—he is so mesmerized by the forest.) Yehoshua, in really getting down to the daily lives of individuals, portrays a people so deeply, transcendentally troubled that in a strange way their gropings within ironically "private" worlds make them sweet, fuzzy, amiable.
The writer of these unusual stories, when I finally cornered him in Haifa one Saturday afternoon, turned out to be a laughing young Sephardi in a ski sweater, restlessly intelligent about everything in sight, and very, very easy about bestowing on me every thought he had about everything. Yehoshua is a militant dove, determined to do something, to lead something, that will at least attempt a rapprochement with the Palestinians. He is so all out in this search for a wholly new Israeli policy that he doesn't even want to write just now. Nothing is so important to him as getting Israel to drop its "annihilation complex" and to begin thinking of itself as normal, not frightened!
Haifa, with its fine hills above the harbor, is beautiful. (It was inside one of these hills that during World War II the Palestinian Jews stored war material for their defense in the event that Rommel should break through.) Yehoshua impatiently walked me up and down the path overlooking the harbor, restlessly talking, thinking out loud, brilliantly scorning and scoring off, rat-tat-tat. everything about the Israeli establishment that disgusted him. He lives in Haifa because he comes from an old Jerusalem family and he moved here so as to feel "alienated" enough to write. He gives a course at Haifa University in Holocaust literature—which includes such works as Camus' La Peste. He wants to see normality, confidence, rationality in Israel! Only politics will do it, he says over and over. Only politics counts now. We must do something quickly to meet the Palestinians halfway! Anyway, the Palestinians are right to think of themselves as a people. Jews have the most flexible definition of peoplehood—why shouldn't Arabs? And besides, Israelis never seem to realize how much they can be feared.
He grins up at me as he talks about "the disgusting union of Golda and Jewish capital in America." and says that after 1967 Israel became a "mini superpower" the Egyptians talk about "Mighty Mouse"—a position it cannot sustain. And anyway, had I read the Israeli historian Yehoshaphat Haracabi, whose researches demonstrate that the Jews pushed the Romans into expelling them in A.D. 70. and that none of the other peoples subject to the Roman Empire had had the Jews' troubles with Rome? "See you at the meeting!" he says and runs off.
Ben-Gurion died that Saturday, and at the big "peace" meeting in del Aviv there were some interesting tributes to the Old Man as a "realist" whose "realism" was much needed just now. Writers spoke. General (retired) Peled spoke, the former secretary general of the Labor Confederation, Arie Eliav, spoke. Yehoshua, still in his ski sweater, led off. and at one point a reference of his to Dayan was misunderstood as more positive than it was meant to be and provoked scornful remarks from the audience. General Peled criticized the army leadership for its pre—Yom Kippur illusions and said that the military situation was "not an earthquake but the collapse of a house of cards."He seemed to think that giving up the territories acquired in 1967 would not put the country in danger. "We have made an idolatry out of these territories."
It was an audience full of intellectuals, writers, scholars, leftists. In the lobby, where a poetry magazine in Hebrew and Arabic was being sold, some young soldiers were looking at Ben-Gurion's life unrolling on television. There was the young B-G in his Russian blouse at the foundation of Histadruth, the Labor Confederation of Israel. There were camels bounding through the sandy piles of what is now Tel Aviv. At the meeting itself there were more points of view and many more disagreements than I would have expected from this bitterly antigovernment group. When one speaker said ironically that Israel's "expansionist" government might yet march into Saudi Arabia, a man called out: "Not a bad idea!" But as always at an Israeli meeting, the group was so taut that it was as if the audience were silently questioning the speakers—and the speakers the audience.
What to do? What do we do now? What? What? Nobody asked me for my opinion. There was such a tension of conflicting opinions and ideologies around me that still another proposal about moving back here and giving up there would have been redundant. All I really know about Israel is that a great many people around the world would like to see it vanish—sooner or later. So that if someone had been ridiculous enough to ask me to contribute one more thought to the political wisdom already tormenting Israel, I would have shouted with all my might: Brothers! Friends! LIVE!! □