Innocent Bystander: Gutenberg 7, McLuhan Tech. 0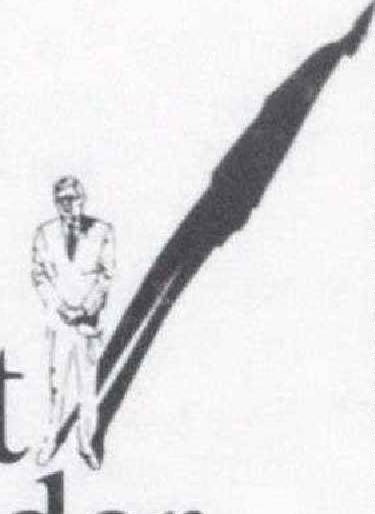 Television is not a marriage; it is a series of one-night stands. It is the exception, not the rule, for us to become constant viewers of a favorite show, assuming that we are literate and that TV is not simply a time-killer or anodyne. And even our favorite personalities or programs stale and lose their infinite variety— partly because they must produce so much new material to fill the maw of a regular time slot that nothing can be polished or perfected, and partly because no television show is the work of a single intelligence but rather of a committee.
It is, thank God, not so with books—or magazines. Many have written on the communion of an author with his reader, but few, to my knowledge, have spoken of the ongoing relationship between Editor and Constant Reader. In this age of the apparent eclipse of magazines by the electronic media, it should be said—early and often—that magazines, good magazines, are unique and indispensable to the intellectual life of their readers, and that, at their best, they are a form of art.
I'm not speaking now, of course, of the many commercial magazines that succeed as examples of craft— the surefire application of a surefire formula, as exemplified by Cosmopolitan, Playboy, and many more— but of the few dedicated magazines that are the lengthened shadow of one man, the editor, and that are published for love as well as money, and sometimes for love alone. The old-fashioned editor, consumed with the pursuit of consistent excellence in the exploration of his purview, seems to be a disappearing figure these days; but there are still enough like him to keep us constant readers reading happily and (surprise!) there may be a few younger old-fashioned editors rising to take his place.
In the mid-1930s, when I was a very little boy, I first encountered the force of an editor's personality in a large, jumbled swipe file of old magazines in my father's commercial-art studio. I enjoyed leafing through all the magazines in the file—Saturday Evening Post, Collier's, Woman's Home Companionbut I was conscious of some sort of guiding genius behind the slick and colored pages in only two cases: Vanity Fair and The New Yorker. Vanity Fair, even on its last legs, was scrupulously respectful of its reader; in some sort of shared intimacy, it presented him with all that was fresh and amusing and in its rather liberal good taste—and nothing else. In decline, the great literary and pictorial magazine of the teens and twenties was careful, so to speak, to brush down its wellworn Huntsman suit and bone its brown Lobb shoes; it carried a figurative display handkerchief in its breast pocket to the last, like some old clubman in a John O'Hara story. Small as I was, I got some inkling of its fading grandeur, and of the rectitude and civility of its editor.
The New Yorker was another story. Depression or no, it had caught the fancy of the smart and would-be smart with its sidelong irreverence, its less courtly, more timely irony, and it was on the way up both artistically and financially. Harold Ross, a disheveled, unpolished Westerner, was not apparently the editor of choice for such an intensely metropolitan magazine; yet, as many of his associates have recorded, he possessed a fierce perfectionism that created something quite new and excellent in magazines.
Some of this unity of purpose-reflected in a unity of surface and tone in the magazine—must have got through to me even then, for I have been a regular reader ever since.
More than thirty years later, I find myself a constant reader of six or seven magazines—a high score, considering the proliferation of paper trash upon our newsstands. I'd like to list them for you, citing the various essences I almost never fail to find in each new issue. I'll except The Atlantic and The New Yorker, to both of which I've contributed for some time now, on grounds of understandable bias; I'll simply content myself with saving that I still read both, qua reader I should explain that I develop severe fugue symptoms on encountering anything I have written in actual published form, and therefore normally read around my own writings in printhecause I feel that both magazines have moved with the times and still have something very pertinent to say about them.
Let me begin my constant-reader list with a magazine that has received some I think unwarranted brickbats lately: The New Statesman. For the last twenty years, I've read a number of British publications on and off-The limes Literary Supplement. The Listener, The Spectator, The Times, The Observer, and The Guardian. During the last ten, I've more or less, for reasons of lack of time and money, settled on The New Statesman alone. It's gone through three editors during this period, each of whom has imposed some dogmas of his own, but it has never wholly lost the incisive decency that marked the long reign of its first great editor, Kingsley Martin, though it came close under the ultrapolitical Richard Crossman, its last editor. Now, under the former Washington correspondent Anthony Howard, it has become a gadfly of its own Labour Party without losing its tolerant objectivity about artistic matters. The book reviews and film and theatrical reports are, to me at least, a constant source of pleasure and enlightenment and an open window on the English-speaking part of Europe; while the famous competitions are perhaps not what they used to be, I break up sufficiently often to compensate me amply for the twentyeight dollars a year I spend for the airmail edition.
To give you some idea of what fractures me, I'll quote, possibly at my peril, three entries in a 1972 competition designed to add to the store of untrue English verse proverbs:
If oak and ash be out in May
It don't prove nothing either way.
When Yapton wenches be on heat,
The hour be nigh to lift your beet-
root.
Better a day in Oxbridge
'Than a thousand years in Ux-
bridge.
But what I really like and keep on liking-about The New Statesman is its English mildness, its English strictures, its occasional English ferocity-an altogether Orwellian combination.
Harold T. P. Hayes
Moves in mysterious ways.
Herewith, my own unproverbial formulation of my abiding fascination with Esquire. Now there's a magazine that appears to have waxed fat and prosperous on a formula-those Fischer/Lois covers in calculated bad taste, those painfully unfunny Dubious Achievement Awards, for all the world like a Laugh-In script anesthetized and stretched out on a timeless table, those awfully in, and awfully thin, little cues to with-itness but really hides a great deal more in almost every issue. Not out on the sizzling million-bulb marquee but down in the engine room, the oily, muscular power of Esquire is the consistently good and interesting writing by both its regulars and its discoveries. Bogdanovich, in his little diaries of film-making life, is giving us a view of Hollywood we've never had before. Ron Rosenbaum, following his own nose, is turning up all sorts of contemporary Americana, my favorite being his exposition of the phone phreaks. Others are reporting otherwhere; still others are trying, and sometimes bringing off, new things in fiction. Mr. Hayes is some kind of alchemist who has gone pop with his left hand and serious with his right-and somehow made it work.
Can a lone provincial reader find happiness with a big, sophisticated New York news magazine? Well, I'm here to report that, after twenty-two years of reading Newsweek, I rest content.
In the fifties, Newsweek seemedand was-a pale substitute for Time, with its lame circumlocutions to avoid Time style (for example, "at the weekend" for "at week's end"). But things got slowly better; by the early sixties, Newsweek was weighing in with some innovative journalism of its own, from the Harris polls to the strong, modern photographic covers. What's more, Newsweek left some of its rivals at the post by permitting personal journalism; among news weeklies, it was first with both signed opinion columns and signed back-of-the-book reviews. The magazine suffered a slight loss of direction in the late sixties, but now, under Oz Elliott again, it seems to me to do a consistently commendable job week after week, given the limitations of depth of the newsweekly form itself.
This kind of slow growth into an identity of its own is what often engrosses me about a magazine: watching it find its niche and fill it with increasing confidence. One of the few special-interest magazines that has grown and prospered in this manner is an old favorite of mine, Road & Track, which I've read these twenty years with growing admiration. John Bond and his small editorial group have created a magazine with style and authority in its field. Though it has always been based in California, R & T has never gone West-Coast-goofy about absurd vehicles, nor has it, unlike its feckless rival Car and Driver, affected a mock-tough intransigence toward the safety and pollution laws on behalf of its Detroit advertisers. Road & Track, to its eternal credit, has been more than enlightened, from 1961 onward, about the need for curbs on the automobile, which is almost as if The American Rifleman had come out in favor of gun controls before Dallas. What's more, R & T has, in Henry Manney III, the most literate and imaginative of American motor-sports writers; I just wish he'd re-emerge from semihibernation and start writing those marvelously idiosyncratic (and jaundiced) race reports again.
Apparently, lightning can strike twice in the same field; over the last ten years, Britain has developed, in Car, a transatlantic equal of Road Track. Car is a bit more mod andsensational in its graphics, but the solid stuff of irreverence and objectivity is there in every issue, most notably in the distinguished (and funny) technical commentaries of L. J. K. Setright, a classicist (to judge from his erudite allusions) who is also somehow one of today's foremost authorities on the innards of the i.c. engine, the history of formula racing, and related topics.
To go north to Newcastle-uponTyne and a wholly different kind of special-interest magazine: in Stand, a modest literary quarterly almost unknown this side of the Atlantic, the poet Jon Silkin has created one of the few really live little magazines of the sixties and seventies. Though its editor has certain affinities with the American school of the followers of Olson, this never prevents him from publishing important work of any school—or no school whatever. And Stand is solid meat; almost the whole magazine is devoted to new work by good poets and short-story writers, both known and undiscovered.
The seventh publication on my list is the youngest and, in some ways, the most daring. It's called The American Poetry Review and it started last year, as a nonprofit venture, in Philadelphia. APR is a handsomely designed monthly tabloid that, like Stand, undertakes to publish good new work—all verse, of course—by new and established poets of whatever school or style. There are columns and reviews as well, but the heart of each issue is the sizable number of poems, well chosen and presented, by all sorts of voices on all sorts of themes.
I said at the beginning that there might be new old-fashioned editors coming along, and I see some evidence of this on many hands. Beginning with The Village Voice, good underground journalism has made itself manifest in many publications, and the Rolling Stones and their local avatars in many cities seem to me to more than offset the cynical sleaziness of such oldformula junk as National Lampoon on the one hand and W on the other. If the serious young editors, reporters, writers, and reviewers who are dedicated to chronicling the culture of their own generation should succeed with their small, innovative magazines and papers, you and I can look forward to a new lease on our lives as Constant Readers.