Out of Small-Town America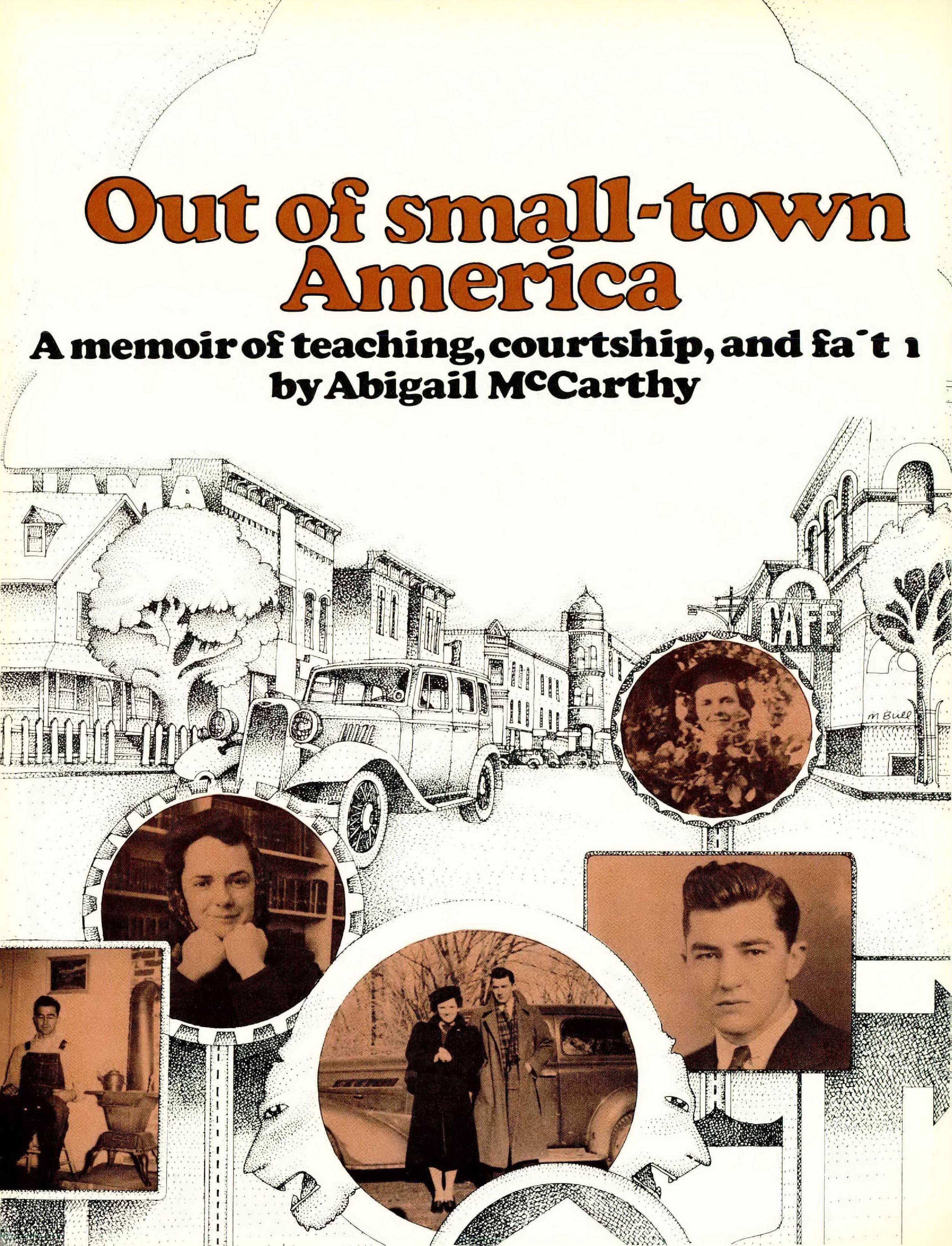 I have to think hard to remember how it was in Mandan, North Dakota, that fall of 1936, even though Mandan is a town I love to remember. it is the place in which I was first on my own, Abigail Quigley, nobody's niece, nobody's daughter, just the new teacher in town. So it was the scene, I suppose, of my greatest adventure, the adventure of discovering just who and what I had become after twentyone years of living. To casual tourists, Mandan, population 11,000, would seem just another rather raw and ugly Western town in the foothills of the Missouri River slope, but I remember it as a place of high, wide, blue skies and beckoning, undulating plains stretching without barrier to the horizon, a place of breezy Western friendliness, and the place in which I first fell in love with students and teaching and the whole special world of school life.
The teaching job in Mandan was like a gift from heaven to me in that Depression year. It was almost impossible for an inexperienced person to get a teaching position in those days—one which paid a salary. Some of my contemporaries went out to teach in private academies for $25 a month and their board and room. Others took secretarial and clerical jobs at $65 a month rather than accept the overloaded roles assigned to teachers in the rural towns of the Midwest. The hope of getting into a city school system was a hope to be long deferred. After a long apprenticeship in small towns, one could hope eventually to make it into Minneapolis, St. Paul, or Duluth. I was the first inexperienced teacher that Mandan—a city by Dakota standards—had employed in Years; and that the job opening existed at all was due to a curious combination of circumstances.
Purely as a matter of accumulating credits, I had acquired a German major at the College of St. Catherine in St. Paul, second to my chosen major area of study, English literature. The German teacher in Mandan had suddenly, after years of trying and a week after school had started, been offered a position in California, the mecca of all schoolteachers in those days. Without so much as a by-your-leave and farewell to the school board, he had walked out the door and gotten on a train to California. Hence, Mandan had a vacancy for a teacher of German and English, an almost unheard of combination; and I, a recent college graduate still unemployed a week after school started in the fall of '36, was the only one who turned up on the lists of the teachers' agencies with those particular qualifications.
I had been sadly packing my bags after a summer of fruitless applications to return to the Twin Cities to begin graduate study at the University of Minnesota. Twenty-four hours after the telegram came from Schummer's Teachers' Agency, I was on board the Northern Pacific train for Mandan. I had a full-fledged teaching job. and I was going to get $100 a month! And, as a bonus from St. Jude, to whom I had made novena after novena, I was going west to a different state. I had a career and I had adventure as well. This is what Mandan meant to me, and it also came to mean the place where I met my husband, Gene McCarthy.
The fast-moving history of the nineteenth century had broken over Mandan in wave after wave. The town is situated near the confluence of the Heart and the Missouri rivers at the foot of the Missouri slope, where the land begins to rise slowly toward the foothills of the Rockies far to the west. It had been a trading center for the more peaceful tribes of the Dakota country, then the site of a fort during the period of Western expansion. After that it had been a cattle town before the railroad had brought in GermanRussian wheat farmers and artisans to settle the area. More than half of its population and that of the surrounding area was now of this stock. They were a people with a strange history. They had been brought from Germany to Russia by Catherine the Great and settled in the Ukraine to improve the farming there. They were allowed to keep their Roman Catholic religion and their language. In almost the same way and for the same reasons they had been brought to North Dakota by the railroads, which advertised for settlers in the parts of Europe most nearly like the land to be settled along new rights of way. Dakota was wheat country, and it was believed that peasants from the Ukraine would be ideal. Although they were commonly called Russian and called themselves so—and indeed, they must have mixed with the Slavic population because many of them were squat, rather brown-skinned, and had high Slavic cheekbones—they were essentially German. It was for their sake that German was taught in the school, and it was for them, really, that I had come to Mandan.
Compared with the Minnesota towns of the period, where everything seemed to have come to a dead stop, the mood of Mandan was relaxed and cheerful. Anyone whose family had taken a chance on North Dakota in the first place had a gambler's optimism in his bones. Then, too. the combination of drought and dust storms, added to the long farm depression, had resulted in a number of federal relief programs in North Dakota. The bureaucracy of these agencies had brought some business and some bright young men to town. Agronomic scientists were working at the Department of Agriculture experimental station. In addition to the faculty of the senior and junior high schools and the two elementary schools, there was a second faculty at the state institution for juvenile offenders, which was just outside town. The county government and some state agencies were there. All this made for a transient community of voting marrieds and career people who gave their business to the small stores, restaurants, rooming houses, and hotels.
Residential Mandan was rather arbitrarily divided between the west end, where the bankers, doctors, and owners of the town's businesses lived—there the houses were bigger and the streets shaded by elms— and the east end, where the Russians lived—railroad and creamery workers and farmers who had come to town to go on relief. The streets there were bare or lined with a few cottonwoods. Across the tracks there was a little community of tar-papered houses near the Dead Heart, a slough left when the Heart River changed its course in the restless way of Western rivers.
A family of distant cousins, the Dahnerses, found a room for me in the comfortable house of Mrs. Peter Rippel, a hardworking Hungarian woman who protested at first that her house was not good enough for a teacher. It was her way of expressing pleasure at the recommendation. It was a house of shining cleanliness, but the Dahnerses insisted that its chief virtue was that it was warm—a matter of vital concern in a climate where it is often 40 degrees below zero. Mr. Rippel was a butcher with a downtown meat market. He was rough-voiced and rough-mannered. We always thought of the house as Mrs. Rippel's because he seemed a visitor, and he eventually became one when, a few years later, he left and set up housekeeping with someone else, in the east end.
I came from a teaching family, and from my earliest years, schools and students, books and learning, had been staples of family conversation—so it never occurred to me that I was anything but lucky to be teaching.
Mandan was a good place for a teacher to start. Professionalism was encouraged by the young principal, Mr. Neff, and was practiced by the veteran teachers, who, with few exceptions, loved teaching. Now, thirty-odd years later, I can still see those teachers and hear their voices. In wide-open Mandan they were free of social restrictions. Through them and my relatives I soon found myself going out a good deal, sometimes dating the young business and professional men, sometimes other teachers. My life filled up. I liked Mandan and its people.
I was the youngest teacher on the faculty, the first inexperienced one to come to Mandan in many years, and something of a novelty. The students found me more inclined than the older teachers to listen and laugh in the after-school hours, and many took to "helping" me then. For my part, I discovered the wonderful zaniness of thirteenand fourteenyear-old boys and willingly spent hours with them.
It was in Mandan that I met my first political priest-a bald, roundheaded German Benedictine, Father Hildebrand Eickhoff. He had a passion for improving the lot of his people and a great contempt for the "cheese-knifers," as he called the Protestants of the town Establishment. Some years before my arrival it had occurred to Father Hildebrand that when the German-Russian and a few Irish children left the safe environs of St. Joseph's parochial school for the public high school, they were delivered into the hands of the cheese-knifers who controlled the school board and the teachers who would mold their adolescent minds. The pattern of public education in Mandan was typical of its evolution in this country. The public school was Protestant, and the regular election of Protestant ministers to the school board guaranteed that fact. (It is ironic to think that the Catholic school system in this country would never have come into being if the children of Catholic immigrants had not been compelled to take part in the Bible services and hymn-singing which gave a Protestant cast to public school life.) Although the states of the Northwest Territory and those of the West banned religion from the schools in their charters, the close supervision of textbooks and the seasonal celebrations by vigilantly Protestant school boards tended to maintain the Protestant flavor. The only Catholic teachers were ones with local family connections. The solution was simple. There were more Catholic German-Russians in town than anyone else. Father Hildebrand urged some of his parishioners to run for the school board and recommended them as good candidates to the rest of his flock. And the majority ruled. The new school board selected my principal, William Neff, who had a master's degree from Notre Dame and proved to be a really fine educator. The board began to elect a few Catholic teachers to fill vacancies on the faculty as they occurred.
One of Mr. Neffs first suggestions to me was that I might like to drop in and see Father Hildebrand some evening. "He reads a lot," he said, "and he likes to talk to the teachers." I thought this an intriguing idea because I had never known a priest socially. In the days of his prime, our pastor in Wabasha, Minnesota, where I was reared, had ministered to us in an aloof, irascible, and authoritarian way.
So I went to visit Father Hildebrand with lively curiosity. The square brick rectory sat between the church and the school in a yard almost bare of grass in those years of the great dust storms. I was aware of the housekeeper's surveillance as I walked self-consciously up the walk and was taken aback when she snatched open the door, stared at me with obvious disapproval, ushered me in without a word, and disappeared. leaving me standing in the dim hall. But Father Hildebrand emerged almost at once from the back of the house. He was dressed in the Benedictine habit he wore at home, with its long scapular, cowl, and black leather cincture. He gestured after the housekeeper with his cigar, tapped his forehead to indicate his low opinion of her mental stability, bared stubby brown teeth in a grin, said. "Jealous, you know," and beckoned me into his study. I was mildly shocked, but I accepted the remark in the matter-of-fact tone in which it was delivered. It was clear to me almost at once that Father Hildebrand, living happily and autocratically in his little Benedictine community of two assistants, had no problems with celibacy—that he simply had a rather obsessive but necessary housekeeper who was jealous of everyone: the assistants, visiting teachers, the janitor, anyone who took the time of the pastor. In her opinion he was a being who should not have been at the beck and call of ordinary people.
The study was a room I grew to know well. There was a worn sofa, a utilitarian mission-type desk, and an old cracked leather chair where Father habitually sat indulging his passion for reading. There were books everywhere, on the desk, on the sofa, in piles on the floor. He ordered them directly from London—from Longmans, Green and Sheed& Ward—and from Herder in Germany and in St. Louis. He devoured history and biography. He accepted Hilaire Belloc, G. K. Chesterton. Christopher Dawson, Carlton J. H. Hayes, Christopher Hollis, the Sheeds without question. He was fascinated by Amintore Fanfani and especially interested in the scholarship which was re-examining the Reformation and the Middle Ages, abolishing old myths, and discovering that nationalism and new economic systems had as much to do with the conflicts in those times as religion.
He loved to share what he was reading. He would read and paraphrase and jump from book to book, saying. "Listen to this, girl, listen to this!" And he always sent me home with books to read, insisting darkly that they hadn't taught me much in "that place." To him my alma mater, St. Catherine's—nonGerman and non-Benedictine was not quite orthodox. St. Catherine's had been founded by the sister of John Ireland, the great Americanizing archbishop of the Midwest, in the same quarter century as Radcliffe was founded, and was in the mold of the "seven sisters" colleges. I think that Father Hildebrand thought our professors—St. Joseph nuns with degrees from Oxford, the Sorbonne, and the like, as well as from the great American universities—our Phi Beta Kappa chapter, our accreditation, were all evidences of truckling to the cheese-knifers and their values.
In a sense he was right. The St. Catherine's I left in 1936 was a very fine liberal arts college that happened to be Catholic. Those of us who were graduated from St. Catherine's in the twilight years of Mother Antonia, its foundress, were unaware of how unusual our school was for its day. Mother Antonia was a woman of amazing energy and intellect, with a passion for excellence. When she was chosen to head the fledgling St. Catherine's, she was determined that it was going to be the very best college possible.
I was the beneficiary of what Mother Antonia had accomplished, but during my college years I, like my classmates, rather took it for granted. We did not realize how recent such a good education for women was, nor what boldness Mother Antonia's achievement required in the world of the Catholic Church. Through the first three decades of this century, a time when university education for women was still for the few, and thirty years before Catholic University allowed nuns to register at all (and then only on a separate campus), she sent her nuns to the world's best universities. When she wanted a young sister to study at Juilliard in New York and another to take her master's at the library school of Columbia University, she learned that the Archbishop of New York would not allow a convent in his archdiocese to harbor any nuns attending such godless institutions. She rented an apartment for them and told them to consider it their convent.
We came out of St. Catherine's with an awakened interest in the arts and sciences of our time because of the strong liberal arts orientation of the college. We came out prepared for a world of specialization, prepared professionally to be journalists, writers, teachers, social workers, musicians, technicians, librarians. We wanted and expected to be part of our world. We believed in and had benefited from the New Deal; some of us were beneficiaries of the National Youth Administration. Dorothy Day's Catholic Worker was beginning to be circulated on the campus, but we were aware of the movement as a novel and attractively direct form of social work rather than as a movement of social criticism. When we thought of the terrible problems of our time in terms of Catholic solutions at all, we were likely to take the view of Commonweal, the liberal Catholic weekly, which was strongly against Franco and fascism and pro-Roosevelt.
Father Hildebrand came out of a different tradition. He was a Benedictine of St. John's Abbey in central Minnesota, the largest monastery of the oldest order of monks in the Western world.
in the 1930s St. John's was linked to whatever was going on in the Christian world. Men in monastic life, no matter how remote the monasteries, are in touch with their counterparts everywhere. Their brightest scholars are sent off to Rome or some other world center for advanced study; their missionaries go off to Asia or Mexico or the Caribbean, as well as to remote parishes in North Dakota, and come home again. Therefore St. John's had been touched by many trends and had begun to play a significant part in a few. At St. John's the liturgical movement took American form and became united with the social action movement. These movements were, briefly, the first structured efforts to cope with the rediscovery of the Church as a whole people—not as a hierarchy with a ruling few and a passive many—and of Christianity as the religion of God come to earth to renew all things—not a religion of man going to heaven.
The college of St. John's University—Gene's school—had grown from the monastery and was unique among Minnesota colleges in the way it became a lifelong second home for the men who attended it. Perhaps this was because a significant number of the students entered the monastery and were always there, in a more unchanging way than alumni at other universities. And the Benedictine professors stayed there, grew old, and finally gave their names to headstones in the graveyard where the men of St. John's walked with their wives when they came back to visit. The graduates of St. John's University thought of themselves as part of the Benedictine family.
Benedictine parish priests like Father Hildebrand espoused the new ideals as far as they understood them. The boys and girls of Mandan were going to learn history and literature from people who had a world view, he insisted. He looked forward to the establishment of cooperative housing projects and credit unions. His first step was to have an addition built to the parish school with the help of parish labor. Those who had laid bricks and nailed two-byfours were credited with contributions to the church in the amount of man-hours they had spent. He computed the time according to the highest union scale, with time-and-a-half for overtime. In the annual report that year, plasterers and Depression-ruined farmers came out as bigger contributors than the town doctors, merchants, and undertakers.
It was through Father Hildebrand that Gene, by then principal of a small Minnesota high school, came to Mandan as head of the English department in the fall of 1938. I had aspired to that position and was inclined to resent his coming. "He's a genius,"Hildebrand said, "a fine man from a good family. Lots of priests and nuns. Went through college in three years."
"So did I," I said defensively, but he ignored me.
"He's at Mass every morning,"he continued. "Never misses devotions either."
"Why isn't he a priest?" I asked.
That daunted Father a little. He pulled on his cigar.
"I don't know. I don't know," he said.
It was something of a mystery to us both. In the days prior to World War II men who went to daily Mass at any time other than during Lent were either old men preparing for death or seminarians home on vacation.
But Father Hildebrand brightened as he expatiated on his plans. The superintendent of schools, Mr. Gould, would go eventually. Neff, the principal, would take his place, and there would be McCarthy, ready for the principalship.
If this was the plan, it should have been reassuring to Mr. Neff, but there was an implicit threat in the situation. Father Hildebrand was developing the instincts of a true political boss. I met Mr. Neff in the school hall one day. "What do you think of this McCarthy?" he asked. I wasn't at all sure what I thought except that he was too handsome to be true, but I didn't think that was relevant to the conversation. The new teacher seemed indifferent to the buzz of attention he caused among the young women of the town and unaware of my own critical attention at English department meetings where he seemed to slough off our serious concerns. In an effort to know him better, I had halfheartedly schemed to put myself in his way at school affairs and at church, then, in fits of ambivalence, withdrawn at the crucial moments of meeting.
Mr. Neff offered his own assessment gloomily, "I think he's a wolf in sheep's clothing,"he said.
"Oh, no,"I said indignantly. I had already decided that Gene McCarthy was some sort of inaccessible saint with a mysterious purpose of his own.
"Not that kind of wolf." he replied.
I understood then and confided what Father Hildebrand had said about the eventual superintendency. He cheered up a bit.
The new teacher and I finally began to talk to each other, and then to know each other a little on a train trip home to Minnesota at Christmastime. This ride together was not a matter of accident, but the scheming was on Gene's part, not mine. He refused a car trip with another male teacher, citing incurable car sickness, which made it necessary for him to take the same train that I was taking.
The train left Mandan in late morning. We had lunch together and talked all the way across the prairies of eastern Dakota and western Minnesota. When he left the train at St. Cloud, Minnesota. I think we were both sure we were in love.
Companions on a train trip are like the only inhabitants of a world. In some ways on that journey we grew to know each other as no one else knew either of us. When I admitted that I thought him aloof and disparaging of the teachers and students with whom I was so vitally involved, Gene made a confession of another kind. He said that he struggled with a deep disinclination to accept life—a state he later described as being neither "hot nor cold" toward it, "an inertia of years." He marked it as beginning with an incident when he was twelve and after a heavy rain had come upon a baby sparrow thrown from its nest to the sidewalk. He stepped on it and watched the life go from it. That was all there was to life, he thought, that faint flicker.
During that Christmas vacation Gene struggled with a poem in which he compared me to the wild rose which grows everywhere in Minnesota, along the country roads and the railroad tracks, thrusting its way out of the gravel or the cinders, "born of life, affirming life, guarded by thorns, but a rose." A long time later he showed it to me. The lines had begun to blur on the much folded and creased piece of paper he had carried about with him. I have it still.
After vacation Gene asked me to go to a movie. This caused a wave of excitement among the Rappel roomers, to whom our new rapprochement was a surprise. "I never!" exclaimed one of the girls there. "The guy is human after all." But we never saw the movie. After the first five minutes Gene said, "You aren't really interested in this silly thing, are you?" And I, who still like to know how even the most puerile television script ends, said, "No, of course not." He thought I must be impatient with the entertainment he had chosen. I was afraid he would think me hopelessly lowbrow if I said I would like to stay.
"What's the matter?" asked Joe Reis, a high school student who worked as an usher. "You seen it before?"
On another night we went skating together. It was bitterly cold, and the rink—a boarded and flooded vacant lot in south Mandan—was deserted. Naked trees and lonely houses, each with a single lit window, bordered it. There was one floodlight high on a pole. We skated in and out of its pale light, veering together for brief colloquies which sent our words in short puffs of mist into the freezing night air, and then, too cold to stay still, stroked away again over the rough ice.
"It was such a tentative coming together," Gene said later.
A month after that Christmas vacation in 1938, Gene asked me to marry him. ("I looked at the calendar today to make sure of the dates when I will see you again," he wrote me a year later, "and came across February 3 circled in red.") We sat together in the little attic living room with the fierce Dakota wind lashing branches against the roof so close to us and solemnly pledged our lives to each other. I had never expected to be so happy. We talked a little vaguely of marriage in two years and made plans that were half dreams. In those bleak Depression years we all thought of our system as having failed us, and schemes to renew it were everywhere in the air. Gene believed in renewal through the rural life movement, and I was ready to assent to whatever he thought right. We would live on a farm—but, of course, a farm like none that either of us had ever known, a farm which would become the center of a community of writers and scholars.
It was a very happy spring. Always given to sporadic bouts of piety, I became a steady attendant at daily Mass partly to please Gene. "It must be love if it gets you up early," sniffed one of the teachers. Gene bought a car, a secondhand 1937 blue Chevrolet. The car enlarged our world, allowing us to roam and explore the prairies and hills together. A snapshot taken at the time shows the two of us beside the car, looking very much like the hero and heroine of a 1930s movie. Gene has the conventional good looks, the black wavy hair parted on the side, the handsome smiling face; he has on the large casual overcoat and carelessly worn muffler of the decade. He looks shyly pleased. I am wearing a coat I remember well—black wool with puffed sleeves and a stand-up Persian lamb collar. My hair is upswept in a roll on either side and crowned with an oversized pillbox fashionably aslant. The car is mud-splashed, and behind it is a tangle of bare trees and vines. The picture must have been taken beside the Dead Heart River; in Dakota trees grow thick only in the river bottoms. It is a sunny picture except that my hands are tightly clasped as if something precious might escape.
As the weather grew warmer we became inseparable, and our pleasure in each other was reflected in the people we knew. We became favorite chaperons for the homeroom picnics which multiplied every spring, and I sat happily with the girls watching Gene play softball with the boys.
At Easter I went home with Gene to Watkins, Minnesota. He had told me about his family, each one, and I was ready to endow them with all the extraordinary qualities I found in him. From Gene, who described him with a sort of amused respect, I knew that his father was a cattle buyer and superintended the family farm, that he was quick-tempered, irascible, but sentimentally warmhearted. I had no clear picture of his mother—her note of invitation had been painstakingly correct—but Gene seemed very close to her, and I thought of her as classically devout and home-loving. There was Mildred, his older sister, who had been away from home for a long time, now married and living in Panama. That seemed a romantic circumstance to me, and I warmed to the idea of Mildred; Gene said I sometimes reminded him of her. There was Marian, also a teacher, who would be home for the vacation, and Austin, his younger brother, who was at medical school and would not be there.
Mentally I pictured the family as revolving around Gene. And I, as belonging to him, would become part of its center—a fond conceit but understandable considering my state of mind in those days. I had always been at home with older people, having grown up in an extended family of grandmothers, greataunts, aunts, uncles, and cousins, and I looked forward to being accepted by Gene's father and mother. The acceptance was to come eventually but not just then, and in ways I did not foresee.
The McCarthy house was a two-story frame on Watkins' second street, a house with a small screened porch across the front and two windows like eyes above; its replicas line thousands of Midwestern streets. Gene's father had built it with the help of Gene's grandfather, a carpenter when he was not playing his violin. Gene's grandfather was known to the family and all the relatives as Carty-Pa; he and his strong-willed wife, Carty-Ma, had moved into the house before Gene's father and mother could get married and come home to it. Carty-Ma's redoubtable spirit seemed to fill the house she had dominated until she died at the age of ninety-seven. Her sayings were quoted, and her ways were still followed.
In those days of foreclosures and unemployment, it was something for a house to have survived, wellroofed and warm, as a family home and a haven for the children who had gone out to make a living in a world devoid of warm welcomes. That was how I saw it then, and I tried eagerly that vacation to enter into its life. The gaiety of Mildred, called Mid, still lived in the house, and Austin, clearly the apple of his parents' and sister's eyes, was present in his likes, dislikes, the memories of his boyhood. Gene's mother, a neatly and stockily built woman in her early sixties, was sweet and welcoming. Her features were strong and very like Gene's except that her face was broad and she had the dark ivory cast of complexion from her south German ancestors, not Gene's Irish fairness. Her almond eves were the brown of shiny buttons and sometimes made me uneasy with their steady regard. Her voice had a musical timbre—she had, I think, sung in the choir in her youth—and she interspersed her steady conversation with inquiring little hums. She seemed to find her worth in doing things for us all, especially in feeding us. and she was constantly jumping up from the table to bring us something else, some pickles or another kind of jelly. It was only later that I learned she still clung to the hope that Gene would one day be a priest; his going so far as to bring a girl home was a threat she was not ready to face.
"Doesn't Abbie remind you of Mid?" Gene asked one dinnertime when he was amused at my recounting of some St. Paul story.
His mother stopped dead still and regarded me with an opaque look.
"No," she said.
Marian I liked at once. She was Gene's senior by five years, and she was stocky like her mother but blue-eyed and placid. Gene's father called Mrs. McCarthy "Mom." and his attitude toward her was laced through with a condescending teasing which passed for rough affection. He seemed to look on any show of tenderness or emotional dependence as weakness. When Gene, half-shamed by his teasing, left me behind once during the visit, his father snorted with approval. His appraisal of his fellowmen was almost universally sour, and he had the habit of limning them unforgettably with biting, homely witticisms. He belonged to that generation of men for whom the Depression was the last defeatwho had struggled out of bitterly hardworking childhoods into moderate success in the early part of the century only to have their world changed radically by the First World War. So in time I came to feel toward Dad McCarthy something of the affection and understanding that his own children felt.
Icame away from that first Easter vacation in Watkins with the feeling that the alienation of which Gene sometimes spoke had its roots in his home and his town. Watkins was nothing like Wabasha, the old Mississippi River town in which I had grown up—restricted, provincial, but nonetheless full of variety, the acknowledgment of differences, and a certain respect for eccentricity. Watkins was more like a European country village, almost literally transplanted from rural Germany to rural Meeker County, Minnesota. It had existed as an entity during the lifetime of one man, Gene's uncle by marriage, who had started it by building a general store along the new Soo Line Railroad. Almost everyone spoke English with a slight German twist or accent. There was little place or understanding for the exceptional there. Yet on long walks during those few days Gene had shown me that there was beauty there, too. Some of his best poetry stems from the memory of that countryside and its creatures;
The sky was a kite.
I flew it on a string, winding
it in to see its blue, again
to count the whirling swallows,
and read the patterned scroll of blackbirds turning
to check the markings of a hawk.
As for his loneliness, I was sure that was over, as was he. After we had made our commitment to each other, I tried to give him my friends with both hands, and they had quickly become friends of his. "Your letter, filled as it was with a zest for life, helped me over a bad spot again." he wrote. "I need you so much that it would be selfish if you did not have so much understanding and capacity to live that it can run over to others. The sky is closer now and the wind seems to be blowing it across the brushy tops of the trees, catching out the dust and smoke just as you do with people, letting me see them as better and more human and ultimately good—goodness has been theoretical to me for so long."
Riding through the countryside that spring or sitting on the bluffs looking down on the Missouri and watching the birds fly north, we made our plans. We would try to find new teaching jobs in Minnesota at better salaries—near each other and the university, we hoped, so that we could drive to Saturday classes. Perhaps we could augment our earnings by speaking and writing.
By the end of the school year we were no longer willing to wait two years to get married, but the practical problems were mountainous. In Mandan I earned $105 a month for the school term; Gene, about $125. After expenses I had only a very few hundred dollars a year for clothes, trips home, and summer school at the University of Minnesota, where I had started my graduate work. Gene had to return to summer school, too, if he was to finish his M.A. that year.
Gene's sister Marian wrote that there was a vacancy in the English department in the high school in Litchfield, Minnesota, the town where she and her friend Harriet were teaching. She thought it might pay $1200. Gene suggested that I apply. With reluctance, for I hated to think of leaving Mandan where I had been happy, I did so and received a favorable answer. Our hopes rose. Gene would surely find a Minnesota principalship once he got his master's that summer.
In a way that summer of 1939 gave us back a part of the college year we had missed. We strolled the campus between classes, ate lunch in the crowded student union, or picnicked under the elms on the Knoll, a traditional trysting place. We studied together in the pleasant library reading rooms. We found old friends among the summer students and made some new ones.
In the university atmosphere our strenuous efforts to economize seemed more like moves in a game than grim necessity. We pooled our food money and tried to eat on eighty-seven cents apiece each day. This strange total came from the prices set in the nearby student eating places. Walgreen's Drugstore featured a twelve-cent breakfast that usually consisted of juice, raisin toast, and coffee but was sometimes varied with sweet rolls or one pancake. An old account sheet torn from the back of one of Gene's notebooks shows that we were more often successful than not. It was possible to get an adequate lunch— sometimes a dish of stew, sometimes soup and a sandwich-at the student union. We could eat dinner for fifty cents at the Varsity, the Duchess, the Gopher, and other depressingly similar establishments.
Gene was awarded his M.A. at the University of Minnesota summer school graduation, walking across the stage in his rented academic gown, chin outthrust in the self-conscious gesture which had grown so familiar to me and which he never outgrew. I was very proud of him. But he found the endless job hunt that followed very distasteful, and I suffered through every interview with him in prospect and retrospect, often waiting in the car and praying dutifully, only too aware of what he was enduring. If one survived the scrutiny of the administration, there remained the ordeal of interrogation by one or the other school board member, who tended to have cranky theories of his own. Gene could not and would not banter with them or try to win them over, nor did I want him to. He would not have been Gene if he had.
In the end Gene went back to Mandan for a second year and I took the job in Litchfield. We wrote every day and sent each other special delivery letters for Sundays. I used to tear the letters open and skim them quickly, first for the assurances of love, and then, like any exile, for the news of friends left behind. Gene had gone back, no longer an observer, but involved—usually with affectionate amusement, sometimes with genuine concern - in the lives of our friends. He related everything faithfully, with a sure eye for the flavor of occurrences and the nuances of relationships. That was a year of meeting and leavetaking-at Thanksgiving, at Christmas, at weddings, at the semester break, and at Easter; our letters, alternately hopeful and discouraged, went back and forth trying to share everything we saw and heard. All the images of his later poems are in them; the identification with trees and the preoccupation with their bones the black of box-elder twigs and the burnished dark red of rose branches in winter; the sky and its closeness: the perception of the earth turning and the relativity of time: the imprisonment in self—"Does it frighten you to think of having to be yourself for eternity-perhaps I should be frightened of joining my life to yours as an influence on your endless future." Sometimes he included fragments of poems, half-worked-out, abortive with words crossed out one, two, three times until he found one good enough. He was fascinated with words and used to carry a slip of paper in his breast pocket to list those he wanted either to remember or to check the meaning of.
He read voraciously but novels did not interest him except as expressions of philosophy. He abandoned Mann's Joseph trilogy, and when I wrote that I was reading War and Peace. he took it out of the library—but "I only read the first few chapters," he wrote. "You can find his whole theory of war in the last few pages."
It was as if he measured everything except the earth itself against an abstract pattern of perfection, and he found that pattern in the teachings of the Church. He wrote that he wished that two of our friends whom he found most congenial were Catholics. He feared, he said, that one of them was inclined toward an atheistic humanism which, he reminded me. Dostoevsky had called the "mark of the Antichrist," and that he found it hard to oppose. He wished that he himself knew more history—and more of the Church and history—so that he could lead our friend to consider it as giving meaning "to life and humanity."
Although I was sure that it was proof that he was better and finer than any other man, his need to find transcendent meaning sometimes frightened me.
He wrote that heaven seemed attainable when love approached purity and unselfishness in human beings. I felt unworthy in thinking so, but I did not want to be that pure and unselfish. I much preferred it when he wrote, "I like to watch you run. I would be so glad to see you running toward me now." Or "Tonight you were there, a presence just outside the pool of lamplight where I was readme."
My real life was lived in that daily exchange of letters and in our trips to meet each other, but my teaching life went on nonetheless. I would probably have liked Litchfield if I had not taught first in Mandan, but as it was, I was acutely unhappy. I first took a room with a childless couple who lived in a small bungalow. To get to my room I had to pass through their living room, which was cluttered with a welter of furniture bedecked with crocheted and ruffed doilies. My landlady wanted companionship and was annoyed at my retreating each night to my room and my typewriter. I was bent on writing for money and I did manage to sell articles to The Atlantic and Commonweal that fall, but I found it hard to pray and read and write separated only by a thin door from her humming and sighing and rustling about.
In a sense teachers were, as I wrote in my Atlantic piece that year, migratory laborers. However much they might like the community, however deep their involvement with their students, they had no permanent place there. Their only security lay in their contracts, negotiated anew each year. They had no tenure, no pension plan, and no reasonable expectations of advancement. If they wished to better themselves, they had to move on. They were, in reality, cogs—and easily replaceable cogs—in a machine which was of institutional, recreational, and financial value to the town in which they taught.
School superintendents were really managers hired to supervise one of the town's biggest businesses. This was vividly demonstrated in the first teachers' meeting I attended in Litchfield. We were instructed in the care of the plant and the necessity of cooperating with the janitors. We were told, for example, that we were expected to leave all the shades in our rooms at an even level at the end of the day. We were told that our absence records were of more importance than anything else in judging our performance, since state aid was prorated on the number of pupil-days reported. We were also told that we were expected to spend three weekends out of every four in Litchfield, since the town paid us and expected us to spend our money there. To assure the town that we were really earning our salaries, we were instructed to be in our classrooms by eight thirty in the morning and not to leave them before five. The school football games and basketball games were a great source of revenue, and we were all expected to work at them, taking tickets, guarding gates, ushering. After this initial meeting, the junior high school principal, a woman, gathered the women teachers together to instruct them in the morality expected of them by the community. We were not to smoke, drink, or go to local dances, and it was strongly advised that we attend the local church. She also discussed the necessity of modest clothing.
As head of the English department in which I had worked, Gene had written one of my recommendations. Now he wrote me that my determined and extensive self-assertion was no doubt placing my new administration in a state of trepidation—and placing his fine statements about my cooperativeness in the balance. He added that he loved me for it all, and that I should be kind to the poor schoolmen!
I waged my own fight with the Establishment. The younger teachers had joined and given new life to the local chapter of the American Federation of Teachers, which had languished after the departure of the former superintendent, a confirmed liberal. The Federation was tarred with the Communist brush in those days, but it was the only agency of solidarity for teachers; without it each one dealt singly with the administration and the school board.
The superintendent met with us to deplore professional people joining a labor union. I remember the courageous answer Nellie Allen, the oldest member of the English department, gave him: "A professional person takes responsibility for his work and his working hours, Mr. Harbo," she said. "I am not a professional person as long as I in effect punch a time clock. A professional person also sets his own fee. My fee, that is my salary, is set for me by others. And I must have some way of bargaining with them."
I was elected president of the local because I was willing to speak out and also because I did not have as much to lose as the married men. We tried in my brief tenure to set up relations with the only other union in town, that of the railroad men. But they were irritated and put off by our attempt to make our problems seem similar to theirs. We sought a salary scale and a regular system of raises, but our proposal was tossed aside by the administration and the board. There was tally so much money for salaries, we were told, and it always had to balance off. If someone got more money, someone else would have to go.
But to many struggling with the problems of urban schools today, Litchfield would have seemed a dream school, and indeed it was very good. It had become a regional school to which over half of the students were bused from smaller outlying communities. In order to serve all the students, there were both college preparatory and general education courses, but the stigma of the track system was avoided in that these were electives on the part of the students, although the guidance counselors tried hard to steer students who were not capable of the college preparatory work away from it. There was a large library and a flourishing library program; there was a fulltime guidance teacher who worked with each homeroom adviser; there was a remedial reading teacher.
During Thanksgiving vacation, 1939, Gene brought me an engagement ring. His mother wept when she saw it, but I, like all engaged girls, thought it the most wonderful ring in the world. I spent much time admiring it to the amusement of my students. It solved my problems of status; I was now definitely, formally engaged.
We could not marry for several reasons. Our practical problems proved stubbornly incapable of solution. The hope of the principalship in Mandan had disappeared. Despite Gene's dogged efforts —he applied for opening after opening—nothing had matured. One salary would not allow us to marry and discharge our family obligations, but the idea that we might both teach was unthinkable in those days. The competition for employment was so keen that a married woman working was thought of as taking the bread and livelihood away from the head of another family.
Everything was complicated by the shadow of approaching war; there was talk of a draft, and Gene would be subject to it. Then came a new and hopeful possibility which changed the direction of all our plans.
When, late in the spring of 1940, Gene was offered a position teaching education and economics at St. John's, it seemed to us that God was answering our prayers in a way better than we could have dared to hope. Our plans of farming as an adjunct to teaching had always been meant as more than a practical solution to our personal problems; they were our answer to what we saw as the need for Christian renewal of society. The return to St. John's meant that we might join the Christian community there, which was gaining new life. The salary was not very large, but it was supplemented by room and board. For the first time Gene could really save money. Litchfield was not far away; we could see each other often. Perhaps, perhaps even by the second semester, we could marry. We drove through the little street of "Flynnville" near the campus in the dusk, picking out the nicer houses, hoping that the abbey might substitute one of them for Gene's room when we married. At last we could be decisive. We would not wait beyond June of the next year to be married.
Going back to St. John's was not only going home but also a source of liberation for Gene. He had increasingly come to feel, as I had so painfully in Litchfield, that serving the great and impersonal machine of public education—no matter how good our relations with our students or how enlightened our classroom teaching—was only half living. It was not a way in which we could make a fundamental change in our world. Gene still thought of this in terms of secularism—the all-inclusive term used by Catholic social thinkers to describe the deliberate exclusion of religion or any coherent philosophy of life from education and the world of work. It was generally held that bourgeois spirit and unchristian individualism had both resulted from the lack of any Christian social theory and had in turn brought about the injustices of laissez-faire capitalism, materialism, the breakdown of the family, and the depersonalization of society.
Gene's application was couched in those terms. Teaching in a public school, he wrote, meant that one was only half teaching since the most important questions could never be raised and the most important reasons never given.
Gene had gone out from St. John's in 1935 into the world of the Great Depression, of social upheaval, without any very adequate preparation. His world had been the uncomplicated and wholly Catholic and ethnic world of Watkins and St. John's. At the time he graduated, St. John's was a small denominational institution of no particular distinction, although the monastery to which it was attached was beginning to have a worldwide reputation. It was a small college of only three hundred students, half of whom were clerics, as the Benedictines called their seminarians, and it had never been accredited because the abbot believed that with accreditation would come secular interference.
But in the fall of 1940 St. John's was expanding and building its faculty and well on its way to becoming a center of adult education, a center for the discussion of, and attack on, the social problems of the day. All this had been brought about largely through the efforts of one man—Dom Virgil Michel. Father Virgil had come back to St. John's as dean during Gene's second and last years in college, but his effect on the students was then largely indirect. Gene's own interests were in English literature and economics, interests which did not engage much of Father Virgil's attention at the time. As a student. Gene was affected more than by anything else by the renewed emphasis on the liturgy—all the ceremonies radiating out from the Eucharist as the sacred sign of the unity of all men—and by the social institutes— weekend adult education meetings. At these he acquired his interest in the cooperative movement and the rural life movement as cures for social ills.
But Gene was only nineteen when he graduated, and he had spent only three years in college. His classmates of the time described him as a loner and an observer. He did not date and he did not drink; he drew some criticism for sitting silent and listening through dormitory bull sessions. It was assumed that he was weighing a religious vocation. But he had thrown himself into his studies and into athletics, in both of which he excelled, and his college fame rested on his star quality in almost any sport. Although he had turned in his football suit after a disagreement with the coach, he ranked as an "all-state" player in baseball and hockey. He was president of the Scribblers Union, a club organized for those who aspired to write for the college paper and yearbook, and was one of the editors of the latter.
In the academic field he had had no rival. His senior biographical sketch records this in an excruciatingly arch style:
Gene was not satisfied with finishing college in three years. The really breathtaking accomplishment is yet to be recorded. In order not to heighten the suspense too much, we will state now . . . that this jolly and towering Gael made local collegiate history by registering eight A's in his classwork two years ago, and has continued that splendid work. To him the marking alphabet of professors terminates with Alpha.
When Gene returned to St. John's in the fall of 1940, he returned as someone very much more involved in life and as an active participant in the informed discussions which nightly raged in the prefect's room. Basic to these discussions were the ideas of Father Virgil, who had died the year before but who had left a great blueprint for the renewal of society in his writings and in his research. Ultimately, it was clear to Father Virgil that if one is aware of the implications of his worship, one must be led to the need to bring about a more perfect community among men. This, in his time and in his terms, meant a concern with social action.
The regular gatherings in the St. John's prefect's room included men who had been either contemporaries of Father Virgil's or his students; it included men who had been stimulated by him to pursue ideas of their own. How much Gene delighted in the give and take of the nightly discussions was reflected in the letters to me, usually written when he had just returned to his room.
Father Walter was in good anti-clerical form tonight—he attacked the monastery faction which favors a complete turning to the contemplative life and the liturgy—as escapists—asserting that most of the leaders of the movement are escapists—covering up their inability to teach, preach, etcetera. He made a good point against private schools, too-explaining that they are being displaced by state schools because they have neglected to educate the poor—he includes this as one of the causes for the loss of faith among the poor during the Reformation, He thinks the same criticism can be levied on the Catholic schools today. He also took two or three swipes at the liturgists who over-emphasize the appointments, vestments, candles, altars, at the expense of the spirit. All in all, it was a good destructive evening.
I could see the scene, the ambience very much like that in Father Hildebrand's study. The prefect's room was a very masculine retreat. Father Walter, whose field was history and who was dean of discipline, would be presiding genially. He was the "Mr. Chips" of St. John's—the man everyone came back to see—an expansive man, easily excited by ideas. He would sit, feet apart, using his cigar to punctuate his points, occasionally brushing absently at the ashes which fell on the scapular of his habit. Father Martin would be there, still fresh from his studies at Harvard, full of enthusiasm for the cooperative experiments and the folk university at Antigonish in Nova Scotia or for the latest news from Monsignor Ligutti, who was establishing cooperatives and credit unions among the poverty-stricken farmers and coal miners in Iowa. There would also be Father Emeric Lawrence, a teacher of French then serving as chaplain to the students and beginning to try his hand at writing on spirituality. And occasionally Father Godfrey Diekmann, a more austere scholar, then the new editor of Orate Fratres.
Emerson Hynes, who had returned with his M.A. from Notre Dame the year before, was the unofficial leader of the lay faculty. I could see him, already every inch the campus guru, tapping his pipe and drawing on it meditatively before he made his own points in his slow-speaking, definitive way. Father Ernest Kilzer, head of the philosophy department, would nod, underline, and redefine these points like a true scholastic philosopher.
Emerson had been a freshman in college with Gene. It would be hard to measure Emerson's influence on Gene, but their lives were intertwined then and never really separated again. (He became Gene's legislative assistant in the Senate.) Emerson's preeminence sprang from his firm intention to live out his beliefs in distributist-agrarianism and the need for the decentralization of society. He was committed to the lay apostolate and the "one foot on the land" theory. He planned to marry a St. Catherine's graduate coincidentally named Arleen McCarty. They had leased ten acres of abbey land where they planned to raise their own food and were building a cinderblock house with the rather desultory help of other faculty members and local craftsmen.
The lay faculty was not always serious. Joining in their company on weekends and at homecoming, I found them less sophisticated and more given to playful foolishness than the friends we had shared elsewhere. They were hard-drinking except for Emerson, who subscribed to the theory that Christians were meant to drink wine, a more natural drink than whiskey in any of its forms. Once they hit on a whimsical theory, they tended to elaborate on it endlessly, such as one coach's excuse for the basketball team's losing in a night game with Gustavus Adolphus. He declared solemnly that the light reflecting from the hair of so many Scandinavians had blinded his players. One weekend they drove Arleen and me almost to distraction by insisting that Newman's essay on the education of a gentleman must have been intended as a satire. I think that all of them, including Gene, half believed it. On another occasion they upheld their theory that animals could not feel pain by absurd proofs; a piece of steel thrown suddenly on dry ice would emit a sound like a scream but certainly did not feel. It was fun. but it was not conversation.
It comes to me now as something of a shock to realize that they were still in their early twenties—Gene was only twenty-four—younger than many of the leaders in the youth movement today. They shared the common belief of youth that their elders were compromising their ideals and that the old institutions were not working. If Christian renewal was the answer to the problems of the day, they wanted its ideals pursued completely and immediately. Within the framework of this microcosm of university life, Gene and Emerson and some of the younger monks waged battles which, although they were battles in discussion only, were—in the very different idiom of Catholic social philosophy—the battles of the students today.
Emerson approached these disputes as philosophical problems. He had a patient man's tolerance for foibles and contradictions. But they seemed to disturb Gene profoundly. I was glad that he was so alive and engaged, but I sensed that his passionate antisecularism and his obsessive concern when the monks seemed to fall short of the Benedictine ideal were creating a subtle harrier between us. Often, when we were together, he would hold my hand absently while he ruminated aloud about these things. One of his recurring themes was that, although the monks practiced poverty, chastity, and obedience, Christian asceticism and Christian love for the brotherhood as individuals, they had relinquished all economic and social responsibility to the religious community as a whole and the community was as much a part of the capitalistic system as any other corporate body; that the community acted as employer, property owner, and landlord without any moral sanctions and with reference only to supply and demand. (This same criticism of church bodies has become commonplace today among the faithful in all denominations.) I often felt an outsider, still working and battling in "the world," a victim of the dichotomy set up by integralistic Catholic thinking.
In December of that year I made a change which I thought must surely bring us closer together again. The administration at St. Catherine's knew of our plans for marriage in the approaching summer, so Mother Eucharista, the president, and Sister Antonine. the dean, felt free to ask me to take Sister Maris Stella's classes for the remaining half of the school year so that she could work on a textbook commission set up at Catholic University. The prospect was a delight to me. I was to take over the classes of my most admired college teacher and to guide the destiny of the very successful college magazine, Ariston, in her place. Like Gene I would be teaching college classes and sharing the same concerns.
When I returned to St. Catherine's, I found there the same pursuit of academic excellence as in my student years, but also a ferment of ideas. The so-called "Catholic Renaissance" was at its joyful height. To be Catholic no longer meant that one kept one's religion in one mental compartment, one's secular knowledge in another. The Church was being rediscovered. To be a Catholic now meant that one was part of a worldwide community which shared a splendid heritage of arts and letters and in which tremendous intellectual effort was being put into the restructuring of human society to cope with modern evils. It meant that one could claim affinity with the ancient Greek and Roman and Hebraic cultures from which Christianity sprang; it meant that one could identify the universal in the tribal and ethnic cultures to which Christianity had adapted; it meant that one could affirm as Catholic everything true and good.
The Church in America, at least in an important segment of its intellectual leadership, had rediscovered its pre-Puritan past and was no longer to be thought of as at odds with science and the arts. It was the era of conversions: Evelyn Waugh. Robert Lowell, Thomas Merton—so many others. One could think of Christian thought as a dominant and creative influence once again in Western culture. NeoScholastic philosophers like Bergson, Gilson, and Maritain were seriously discussed in the most thoughtful journals.
Evelyn Waugh, Graham Greene, Bernanos, Mauriac, Claudel, were in vogue wherever the novel was seriously discussed—and they were ours. Gerard Manley Hopkins was one of the most imitated poets. Sean O'Faolain, Sean O'Casey, Paul Vincent Carroll, and Frank O'Connor were applauded and discussed here. James Joyce was perceived as permanently formed by the Catholicism he rejected. A minor school of the breed known to us as "Catholic authors," as distinguished from authors who merely happened to be Catholic, flourished briefly; perhaps the most distinguished was J. F. Powers, whose short stories brought the near perfection of that most American of forms to the service of what we thought of as truly Catholic themes. The enthusiasm for such writers affected the literature curriculum. We who taught literature were in demand as lecturers and book reviewers. The excitement spread to the alumnae and their friends who formed book discussion groups; some of them founded a critical review called Books Abounding, which I edited for two years.
I found my work at St. Catherine's exciting and my continued graduate work stimulating. All this I tried to share with Gene in letters and on our weekend meetings, but he did not seem to take it in. It was as if he were off on a track of his own.
Even harder to cope with emotionally was the sly male ragging that the very mention of St. Catherine's seemed to evoke in the St. John's prefect's room. In part this may have been the old rivalry between the institutions founded by Archbishop Ireland (who had little time for German thought and German ways) and the Benedictine institutions. But I think it was more than that. The monks of St. John's were dedicated men in serious pursuit of holiness. Like most men of the Church they would have denied that they were misogynistic and would have cited their devotion to the Blessed Mother and their own mothers to prove it. But they dealt with the problem of women, as men in groups ever have, by refusing to take them seriously. The attitude was so ingrown, so habitual, that I am sure they did not recognize it for the casual brutality it really was. Thus, when St. Catherine's psychology classes and faculty, earnest and admiring, made a held trip to St. John's to study monasticism, the only report from the prefect's room was that St. Catherine's girls affected a darker, more Joan Crawfordlike makeup than those at St. Benedict's, the neighboring women's college. What, they wanted to know, was the reason? When St. Catherine's introduced a course in rural sociology, the hope was expressed that the dignity of farm life would not be considered inseparable from "running water, electricity, tractors, and the neighbor's daughter as a maid."The gibes were insignificant in themselves, but it hurt me to have them come from Gene. He had always seemed to me sensitive to women as persons and to their aspirations.
My uneasiness was allayed because his letters were still full of thoughts and hopes I was sure he shared with no one else. At the beginning of Lent he wrote that he was going to limit his time in the prefect's room to an hour a day and spoke of our love for each other as a grace from God. On February 14 he wrote simply, "It is St. Valentine's Day. I love you," and I found at my door a huge box of red roses.
Easter was late that year, but it was still cold and gray and the signs of spring were few when I went to Watkins to spend the Holy Week vacation at the McCarthys' with Gene. After the Good Friday service, Gene and I went driving out into the country. We stopped by a little slough where the willows showed only a pale haze of green. There he told me that he felt called to be a priest after all. He wanted to enter the novitiate at St. John's. With those few words I was bereft of the hope and love which had sustained me and given my life center and purpose. But I could not protest the will of God.
I did not quite see how I could live without him, but I felt a queer sense of relief because the veiled hostility and tension I had sensed in him were gone now that I no longer stood between him and his goal. We fell back almost at once into our old trustful and open exchange of thoughts. "That was why I didn't like G.," Gene said with rare frankness, referring to a teacher friend of mine in Litchfield. "His feelings about you were more honest than mine." And he proposed very tentatively that I might consider entering a convent. There was dark consolation in that thought—that he still wanted me to share his future but in a different way.
Somehow I got through the rest of the weekend. Mrs. McCarthy looked knowing but said nothing until I was leaving. "You are always welcome here, Abbie," she said kindly, and I bore away the bleak knowledge that she, too, like the monks, had known Gene's plans before I did.
Until Gene finally entered the novitiate a year later—he had to save money and prepare himself further in philosophy and Latin—my life was lived on two levels. On one level I continued to be caught up emotionally with him and his plans. We saw each other often—how often, I think his spiritual advisers had no idea. (One night we ran into a prominent St. John's alumnus in a restaurant, and Gene, nervous and surprised, tried to slip by without introducing me. I stormed off in tears.) My friends, too, disapproved because they thought the ambiguity of the relationship too hard on me. I suppose I hoped until the last that he would change his mind.
On the other level I was rebuilding my life. The sisters had rallied to my need. I was to stay on at St. Catherine's teaching part-time until I finished my M.A. In those days an M.A. was much more of a distinction than it is now. The choice of a thesis was a very serious matter, as it was often published, or failing that, became the central core of a doctoral dissertation. Many college teachers never took a higher degree, preferring to grow as classroom teachers rather than to spend several years in the narrow specialization then required for a doctorate.
In my graduate work at the University of Minnesota, I had already been caught up in the rediscovery of the seventeenth century and the Metaphysical poets. The seventeenth was the century in which, as John Donne, its best-known poet said, "a new philosophy called all in doubt." It was a century like our own, in which the implications of recent scientific discoveries were dizzying. It was a century of terrifying doubt and of religious revival; of experimentation in art and poetry.
My first thought was to work on John Donne, but I was advised that he was such a popular subject that it would be difficult to make any original contribution. I had turned to Richard Crashaw— not because I found his baroque and sensuous verse appealing, but because through him I had come to know the great sixteenth-century Spanish mystics, especially Teresa of Avila.
The mystics were regarded with great suspicion by Catholics after the Council of Trent. The popular idea was that they were impractical and given to foolish excesses. The magisterium seemed to consider the mystics dangerous. Student theologians were allowed to read them only under guidance. After all, the mystics belonged to the Augustinian stream of Christianity, and, although St. Augustine had survived his deplorable youth to become one of the fathers of the Church, everyone knew his effect on Luther. Out of favor with both the world and the Church, the mystics' books were hard to find.
A summer school acquaintance of mine had a copy of the Autobiography of St. Teresa, smuggled out of some seminary library, and lent it to me. I had read it the first fall I was in Litchfield, totally unprepared for its shattering effect. I knew that one met and experienced God in prayer and in the sacraments, but that there could be this naked, blinding experience of the Divine was frightening. If there was any invitation extended in my discovery of mystical experience, I did not want to accept it. Clearly the price in detachment was more than I wanted to pay.
On Sunday, December 7, Gene was visiting me in a new apartment in St. Paul which I shared with a friend, Edna Fluegel. He went to the little downstairs delicatessen to get something we had forgotten for lunch and came back with the news of Pearl Harbor. For the rest of the day we were close to the radio listening to the flashes and bulletins and interpretations as the story was pieced together. We sat thinking our own thoughts. I could not imagine what Gene was thinking. In the spring he had written, "The speeches in the Senate begin to sound like 1918—the same arrogance, presumption, and emotion begin to show." Americans had done nothing to avoid the war or to help end it, he thought, and he suggested that we read the Old Testament to learn how the Hebrews escaped the punishment of war. Like most Midwestern college people, we had been intellectually pacifist, in favor of disarmament, even, perhaps, isolationist. However, in the face of Nazism all this had changed for me. But Gene was set apart now. He was already thinking of what must be taught after the war. He was not to share the experience of his generation—a fact, I think, which set him unusually free later.
Gene came to see me just before he left for the novitiate; I took him to the train for Collegeville for the last time and stood with the tears openly running down my face. "Good God, girl, don't cry," said the conductor, "he's only going sixty miles."
Gene wrote once more before he entered. "I can't do this if it isn't going to be right for you. Abbie," he said. "You must tell me if it isn't." There was nothing I could say, but I was grateful for the letter and happy that he had written it. The next week Arleen Hynes sent me a snapshot she had taken. On the back was written simply "Frater Conan. OSB." Gene's new name. He looked thin and serious but happy in his novice's habit. His hair was cropped short in the novice's tonsure.
I felt bereaved, but in a way, as if I had stepped back into real life out of a story. I took my M.A. that summer.
Every Catholic child is faced with the possibility of a vocation to tire priesthood or to the religious life. It is not thought of as a matter of one's own choosing but as a call from God, who may draw you to it irresistibly in a manner of ways, by natural attraction to the life, through another person, through circumstance. But it is a call, echoing through life, to an existence of greater dedication and purpose. Ultimately, to refuse it is to reject Him who has known you before you were begotten, who has called you into being out of illimitable love and for a mysterious purpose. Thomas Merton wrote of his moment of decision, that he was called to answer a question "that had been preparing, not in my mind, but in the infinite depths of an eternal Providence." Although the Church gave lip service to the idea of lay vocation, most Catholics thought of vocation in terms of the priesthood or the convent.
It was a shock to me that good friends could see only regression in Gene's entry into the monastery. They urged me not to follow suit. "What could you ask that is better than that?" asked one of them sadly as he watched me playing with his little boy.
I was even more shocked by the implication of priesthood as an escape; my former landlady Mrs. Rippel, Catholic though she was, was probably speaking from the view of the Middle European peasant. "Well, both our men left us," she said, sighing lugubriously.
I traveled to the West Coast one summer, and then east to study at Bread Loaf, and another year, at the University of Chicago. There were new and interested friendships.
At St. John's Gene was fighting his own battle in the novitiate. Father Basil, the novice master, had made allowances for our former relationship as prospective man and wife and allowed Gene to write to me. This had been a happy surprise to me when I had received the first letter in California. It had seemed so abrupt and unnatural to have any communication between us cut at a stroke; yet I knew it was the norm for those who left the world for religious life. True, these letters supposedly had the aim of counseling me on the problem of my spiritual life and easing the transition to my own vocation, whatever that might be, and could be read by the novice master. After a while Father Basil limited them in number.
It has become something of a cliche in recent books and articles about Gene to speak of his time in the novitiate as time he took out from active life to read and to study. But the novitiate is neither a school nor a place of respite, and Gene did not then look on it as one. The novitiate is a place of testing a vocation. Each particular religious order has a way or spirit of its own. As late as 1968 Gene wrote in an introduction to a book by Abbot Boultwood: "The Benedictine way has never been the way of sudden conversion, but of continuing effort in combining work and prayer without sharp distinction between the secular and the spiritual."
That was the ideal. But the emphasis in the novitiate was very much on the spiritual alone. The new name given the novice signified his death to the world and rebirth in a new family. The life in the novitiate was a rigorous experience of manual labor and spiritual exercises, of work and prayer and learning to live in a community.
Gene's notebooks for the year, duly labeled "Conan, OSB," list the subjects of study and reading, all done under the direction of the novice master. There were notes on assigned reading and on lectures on the spiritual life and on the history of monasticism, with concentration, of course, on the history of Benedictinism. There is a commentary with lecture notes on the Rule of St. Benedict according to which he was beginning to try to live. There were voluminous notes on the Psalms, a necessary preparation for proper participation in the Divine Office which for centuries Benedictines had prayed and recited together every day. There is a course on Mass and the Sacraments, a basic course in the liturgy.
The period of the novitiate lasts for a year. Others who were novices at the same time say that Gene was a very good novice, very observant of the Rule, but that the novice master found him difficult. According to one of them, Gene read all of the back copies of Orate Fratres, the organ of the liturgical movement, using them as a starting point for meditation, and was constantly reprimanded by the master for reading for intellectual pleasure rather than for spiritual profit. Father Basil took his responsibility to test the vocations of those under his charge very seriously. He was somewhat suspicious of novices with superior ability and education. At the end of the year it was his duty to recommend to the older monks of the monastery—the Chapter—the acceptance of the novices who had persisted in their vocation and been found worthy. If the Chapter accepted them they became Benedictine clerics studying for the priesthood.
Gene never explained exactly why he left St. John's, but he did tell me once years later that the novice master had not wanted to recommend him because he thought him guilty of intellectual pride. It was true that the novice master had often accused him of it before other novices, but his confreres insist that he could not have been seriously rejected, that he would surely have been approved by the Chapter. However, he left before the time of appearance before the Chapter and went that summer to St. Francis Seminary in Milwaukee, a seminary for secular priests, that is, priests who do not belong to a religious order.
All through that year, Gene must have labored with his feeling for and responsibility to me. He sought out in his reading quotations and information about the great spiritual friendships which are so much a part of Catholic history. His meditation notes were studded with these quotations:
"Love desires all that is good for the beloved. . . . Lovers look not at each other but at the same goal." (Gibran) "The love of man and woman is a crack which admits the love of God." (Mauriac) "Each is an aid to the other in advancing in the love of God, even to the point where they must separate. ... So those who love each other must remain concerned over the salvation of each other as long as they live. I will remember you after I have forgotten myself, to fix myself to the cross more firmly." (St. Francis de Sales to St. Jeanne de Chantal) From a note on Montalambert—perhaps the most telling quotation of all— "In the history of most saints who have exercised a reformatory [italics mine] influence on monasteries the name and influence of a holy woman is found. Basil and Macrine. Augustine and Monica. Benedict and Scholastica. Clare and Francis. Francis de Sales and Jeanne de Chantal." And from Abbot Marmion, "One gives up last what he loves best, or better than self."
When he wrote to me, he wrote asking me to consider becoming a Benedictine. The reasons he gave were historical. Over the centuries they had adapted best; their rule was most human; and they had been centers of renewal whenever Western civilization floundered.
For it was not the Benedictines as they were that Gene felt called to, but the Benedictines as he thought they should be, although he tried to muffle that thought in his letters from the novitiate where he was supposed to be learning to set aside his own judgment. He had written the year before that although he still tended to think the Church was right in Spain—one of our few points of difference— he knew now that there was too little thought about what had brought about revolution in the first place: "The monks were in the monasteries, and the secular clergy in the parish houses—no regard for the temporal need of the people." He had thought, too, that the renewed emphasis on teaching the humanities in Catholic colleges was our excuse for avoiding political, social, and economic questions which require positive action and personal sacrifice.
Within Benedictinism there were many possibilities. Before his entrance, Gene's advisers must surely have discussed with him the way in which truly exceptional intellectual gifts could best be put at the service of God and the order. He told me of the Benedictines' plan to establish small priories in state university communities—something the Dominicans had done very effectively—where classes could be taught and where scholars could act as a magnet in the university community for true philosophy and theology. There was in his concern about what he considered false teaching much of the reformer's love, which, as Virginia Woolf once said, has so much hatred mixed into it. He read the poetry of Robert Lowell, at that time considered a Catholic poet, and reread Robert Frost. He made notes on some of the poems and a sketchy consideration, perhaps for a talk on teaching, of the comparison between teachers and poets. A teacher must give something of himself, he noted, in a way lay bare his soul as a writer does, especially a poet (Gene was always in his own teaching to find this necessity a stumbling block). He felt called to do something rather than to be something. His vocation was a restless river seeking a channel.
His novitiate notes on St. Benedict's Twelve Degrees of Humility show that he struggled to the end with the problem of what intellectual pride might be. Years later he was to write in the notes for one of his books this comment: "Intellectual pride—always a contradiction—demanding rejection of the one distinctly human faculty—reason or knowledge—understanding."
He was instinctively feeling a healthy reaction to the false spirituality which attempted to divide a man's spiritual growth from the total development of his gifts and talents. And the failure to realize that an intellectual's weakness often lies in his own all too keen awareness of his deficiencies, rather than the opposite. In the revival of spiritual direction which in the 1950s and 1960s began to use the insights of modern psychology, the tendency to glorify mediocrity and conformity was pinpointed for what it really was.
I was at the University of Chicago in that summer of 1943, and Gene came to see me a few times. I met him at the railroad station and we spent the days wandering about Chicago, eating our lunch in the sunshine in Grant Park. I think I shied away from the struggle he was going through.
It was not that my own search for vocation had not been serious; I had accepted Gene's suggestion that I enter a convent as a sign from God, since obviously our lives were meant to be intertwined. The spiritual friendships and the dual vocations cited in Gene's notes were familiar to anyone who had considered the spiritual life very seriously. And there were even more modern examples of married couples who had left each other to pursue lives of individual holiness. (The Church only gives permission for such a separation if both parties will accept the religious life.)
I loved the nuns I knew—strictly speaking, as teaching sisters, uncloistered, they were not nuns. All my school life they had been to me quite literally "other mothers" and good friends. The accidentals of religious life did not repel me. I liked the local color of convent life, the in jokes, the variety of habits, the familiar smell of starched linen and waxed floors in convents. When I was a junior in college one of my best friends, now president of St. Catherine's, stunned us by entering the convent during spring vacation without a word to any of us. There was innocent drama in her reappearance among us as a student postulant in the black, caped postulant dress, guarded from contact with us by older postulants— but I was wildly saddened by it and cried uncontrollably in bed at night. I cried, I think, not so much for her as for myself: I was afraid that I might have a vocation, too. And I had wanted more than anything else in life a warm personal love, a home and babies of my own. I had dreamed of the completion of finding one person among all others who would understand and love me, and whose life and hopes would become my own—of some one both friend and lover.
When I dutifully studied various modes of religious life, I found myself pulled two ways: to the traditional orders I knew and to new forms of service. I was attracted by the comparative freedom and the newness of spirit in new kinds of vocations which had come into being as responses to twentieth-century problems. In the first sad summer away from Gene. I had read in Time of the coming to America of a new kind of nun. Dutch women who were the dedicated core of a women's movement. They were called the Ladies of the Grail. They did not wear habits, did not necessarily live in community, moved freely about, and were not interested in the traditional women's roles of teaching and nursing. The little I read about them, with their promise of challenge and freedom, interested me very much. I wanted to explore that avenue. In Minneapolis I had taken up volunteer work with the Catholic Worker House, badly understaffed as the men were drafted or went off to conscientious objector camps. I liked the sense of the Worker community, which then stretched from coast to coast. I wrote the newsletter for them and took an active part in the discussion meetings, although I could not quite reconcile myself to Dorothy Day's unyielding pacifism. There were times when it seemed to me that the Worker was the answer to Christ's call to serve the poor.
When I last saw Gene that summer of 1943 he had told me that he could not go on at the seminary and that he had been accepted at another Benedictine monastery, St. Bede's in Illinois. When he suddenly appeared in Minneapolis that fall, having abandoned the idea of a priestly vocation, I felt drained. He talked tentatively of ways we might be together, ways based on his seminary reading. For the first and only time in our relationship I deceived him; I suggested that he should consult his cousin, Father Louis McCarthy, a professor at St. Paul Seminary, who had acted as my friend and confessor in those difficult years. When he was on his way, I called Father Louis. "You must help him, Father," I said. "I don't know what to do. I am too tired emotionally. I don't understand what he wants and needs."
When Gene returned that evening he said that Father had been very helpful. "He knows a great deal about women," he added cryptically. "He thinks we should not talk about any plans just yet." I demurred, pleading emotional exhaustion, and we soon fell quite naturally into the easy and natural close and undemanding friendship we had shared in the two years he had been preparing for the monastery.
He went through the ordeal of reporting for the draft and being rejected on physical grounds. (He suffered in those years from a severe bursitis which left him with a limp that is noticeable even now when he is tired.) Then he started an uneasy job search. He considered going to the West Coast with his brother, Austin, who was reporting for Navy duty. "I have been here too long now," he had written significantly from Watkins. To leave the seminary was thought scandalous then, and his position must have been painful in Watkins. A teachers' college job fell through. He suspected that the recommendation from St. John's had been "too specific" about his reason for leaving there. At Sunday supper gatherings in my apartment he renewed ties with our old friends and met some new ones, all of whom tried to be helpful. In the end, his government applications, updated, bore fruit. He was recruited for Army intelligence and left for Washington, D.C. His letters sounded lonely, but he had a flair for cryptoanalysis. At the end of the war he bought a farm at Watkins and asked me to come there with him. We were married on June 25, 1945. □