The Orr Effect
How a twenty-three-year-old ice-skating genius helped to revolutionize his sport, double the size of theNational Hockey League, bring television to rinkside, and enlarge the paychecks of hockey's neglected professionals.
by Tom Dowling
The Boston Garden, home of the Celtics and the Bruins, is an ugly, massive building with the appearance of an abandoned dockside warehouse in some tough seaport town where the sun never shines. Hamburger wrappers, Dixie-cup lids, and other pieces of wind-borne trash wheel across the nearly deserted sidewalk. Ghostly, metallic squeals and clanks from subway cars stopping and starting issue from the adjacent overhead tracks. This is a dingy neighborhood by day, and at nightfall a sinister one as well.
The new Cadillac pulls into an empty parking lot, and the driver, a young man in an unassertively mod tweed suit and a long, for the moment mournful, plowboy's face, locks up his car and strides off rapidly, his shoulders hunched forward. Up ahead is another warehouselike structure with grimy window slits. The young man climbs up a truck ramp to a corrugated metal door and pushes a huge doorbell the size of a quarter. No sound echoes within, and he presses the buzzer again with urgency. More silence.
"Come on down, Bobby. Gimme an autograph," a voice calls up from the group that is gathered below.
At length the door is thrown open by a grinning janitor, who explains that the buzzer is temporarily out of order. The crowd slips off amiably into the shadows, secure in the knowledge that whoever goes in must finally come out—if he wants to redeem his Cadillac, that is.
And so Bobby Orr—defenseman for the World Champion Bruins and probably the greatest hockey player ever—makes his customary furtive entry into Boston Garden better than two hours before gametime against the Minnesota North Stars. At twentythree, stealth has become a way of life for Orr, a quiet, unassuming small-town boy from Parry Sound, Ontario. J. Edgar Hoover would have trouble prying his telephone number out of the Bruins organization. His contacts with the outside world are scrupulously screened by his Toronto lawyer-cumbusiness manager, Alan Eagleson.
Down in the Bruins dressing room there is another Bobby Orr on display; cavorting about in his long johns, the face, with its spadelike jaw, now beaming as he exchanges the usual locker-room salacious banter. Though his witticisms and sophistries are preserved and embellished by writers and fans alike, the truth is that they aren't very funny or profound. There is no reason, of course, why a great athlete should be a raconteur or a philosopher. Perhaps the best thing about Orr is that he has remained his own man—high-spirited, reticent—in spite of the adulation and pressure that summon him to a career as a full-blown public man and, more than that, as a catalyst for changing the structure of professional hockey.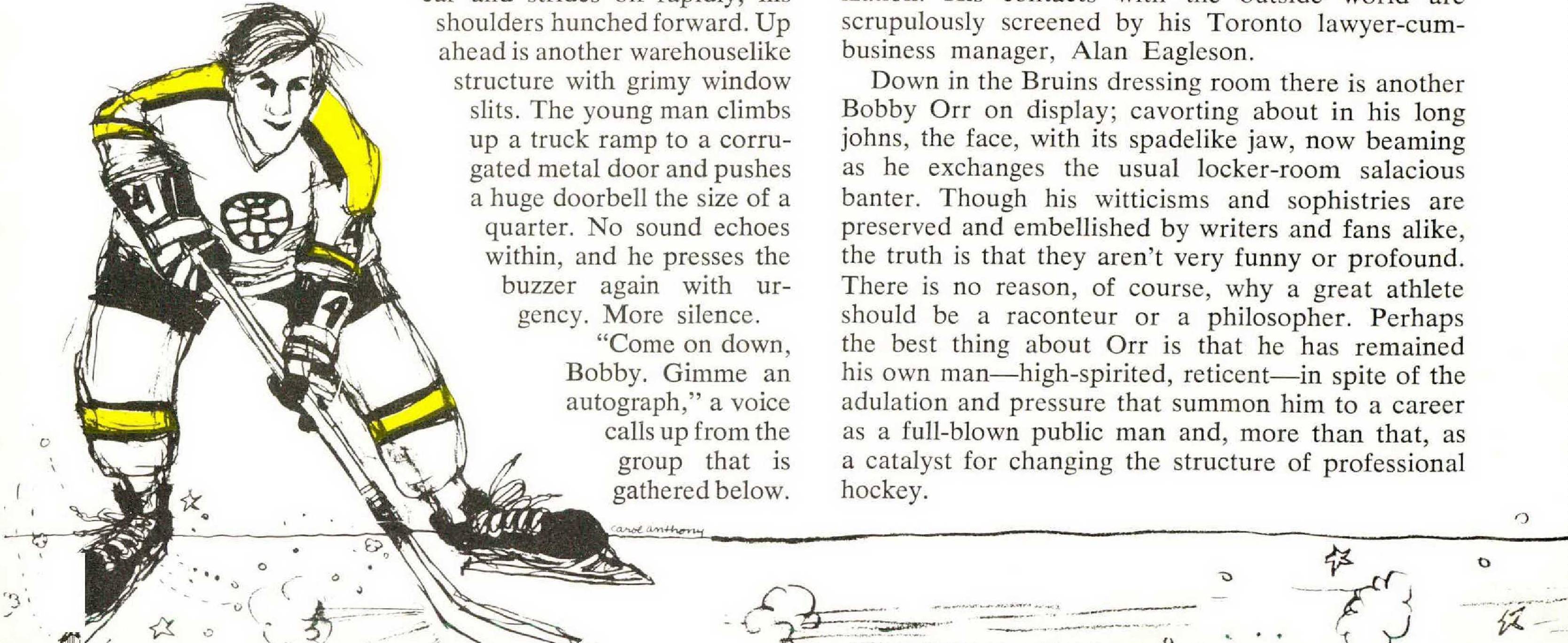 Orr's Boston "home" is a hideout that shifts location from one hockey season to the next. This year he has sublet an apartment in a posh downtown Boston high-rise that boasts the kind of impenetrable security arrangements that would make it a natural East coast pied-à-terre for Howard Hughes. Recently, after many false starts leading to bolted doors, a caller (cleared by the intercession of Eagleson) located the desk clerk in the building's subterranean lobby.
"May I help you, sir?"
"Yes, I have an appointment with Bobby Orr."
The clerk cast an anxious glance at a matronly woman standing near the desk. He took the caller aside and said, "Next time you come don't mention any names. Just give the apartment number. We'll take it from there. You never can tell. We wouldn't want Bobby's apartment number to fall into the wrong hands." He stared at the matron and gave a significant nod, indicating the possibility of her leading an unauthorized autograph raid of senior citizens on Orr's secret hideaway upstairs.
And perhaps all this wariness and secrecy is warranted. For the Boston hockey fans are a raucous, possessive mobocracy with no inhibitions. A year ago when the Bruins won the Stanley Cup, the Beantown honored the conquering heroes with a downtown parade, the team of twenty-odd Canadians perched uncomfortably on the back seats of convertibles.
"I always thought the only hockey fans in Boston were the same 14,994 fanatics you see every game at the Garden," Boston sports attorney Bob Woolf recalls. "My God, there were 200,000 of them lining Washington Street, just as rabid as the people in the Garden."
The game of hockey is indeed conducted in an atmosphere of animalistic fervor—on the rink and in the stands. Earlier this season, Bruin Derek Sanderson, with his shaggy head of hair and swashbuckler's mustache covering his pinched, street urchin's face, slugged it out with enemy fans in the seats behind him while killing some time in the penalty box. For professional hockey is fundamentally a sport of the people, a working-class game played by tough brawlers and witnessed by fans just as tough and pugnacious. The hockey fans are what Sanderson calls "the lunch-bucket crowd, guys who slug their guts out all week long and whose only enjoyment is a few beers and a hockey game."
With tickets at Boston Garden selling for as high as $8, the working man expects more for his money than an effete display of Peggy Fleming ice-skating grace. He is looking for action, and hockey, a streetfighting game with no pretense at being staged for moral uplift, provides savage action aplenty, with its flailing wooden sticks, blind-side body checks on the boards, and zooming 120-mile-an-hour pucks in the air.
There is no reverence for managerial leadership here, no mirroring of middle-class aspiration, no hungering for upward mobility. Before the game, the PA system does not trumpet the hockey players' college pedigrees, since, as it turns out, many of them have no more than a ninth-grade education. The game is a calling whose apprenticeship begins as early in life as is legally possible, as in the trades pursued by the "lunch-bucket crowd." To make the whole relationship even more apposite, for years hockey players earned little more than their fans. The piddling wages, the seedy surroundings at home, the life of enforced parsimony on the road, the physical battering gave hockey a certain air of oppression. Working conditions on the rink resembled life in the sweatshop.
It should come as no surprise, then, that the ethic of hockey, like the ethic of the early labor union, is solidarity and revenge. "We got eighteen players and each'll fight for the other seventeen," says Sanderson, "and if someone gets taken out and can't get the bastard that did him in, then someone else'll pick up the banner. Sooner or later we'll get him." The fans also hunger to see vengeance enforced, and the stomping, the high-speed courtship of danger and injury indicate a strong code of group loyalty.
Oddly enough, presiding over this down-toearth enterprise were a small band of plutocrats, the owners of the "old six" teams —the Bruins, the Montreal Canadiens, the Toronto Maple Leafs, the New York Rangers, the Chicago Black Hawks, and the Detroit Red Wings. Unlike the founding fathers of professional football, the first hockey owners were men of wealth and social standing, the Adamses with their grocery fortune, the Norrises with their railroad and food grain millions, were amply endowed long before their entry into hockey. They were enthusiastic and dedicated sportsmen, the game having its prep school and college strand as well as its stronger working-class one. The six teams were manned by a little more than one hundred Canadian athletes drawn from a whole nation of players, thereby guaranteeing an exceptionally high level of play and an unusually clublike atmosphere of control at the top. The players were acquired and maintained like a string of racehorses. They had no choice about their future and no leverage for increasing their material wants.
Attempts to band together in a unionlike association were ruthlessly squashed, the ringleaders traded off to other teams as an example to those who might desire to upset the status quo. Hockey was a sport of serfs played to the specifications of feudal autocrats. It is no accident that one quarter of the 175 members of the Hockey Hall of Fame are "builders"—a euphemism for management —a hefty percentage of nonplaying personnel that indicates the degree to which the owners and their associates have dominated the crusty nongrowth of the sport.
Until the mid-1960s hockey remained a backwash of change, the ordinary players settling for small annual salary hikes, the superstars rewarded with more trophies than cash. Then in 1966, Bobby Orr, the All-American boy from Canada, skated into the static, confined medieval world of hockey. From the outset he was an incredibly fast and mobile skater, an instinctive playmaker, a superb stickhandler and shooter, a defenseman whose greatest skills were offensive. And this anomaly is the key to the current pre-eminence of Orr and the Bruins. Bobby's instinct is to score, to attack. He thinks not like a defenseman but like a wingman. Either by miraculous neglect or unusual foresight, his coaches have allowed him, sui generis, to retain his instincts in a position for which they are classically ill suited. That has made all the difference. The Bruins offense is built around Orr's keen instinct to attack; his presence on the ice makes the Boston power play irresistible. Traditional hockey defenses were not designed to cope with an attacking defenseman, thereby forcing Bruins opponents to engineer new anti-Orr defense alignments. But Orr's gifts, his speed and shiftiness, are all the more effective over the whole length of the hockey rink. The truth seems to be that he is better on offense than the NHL players assigned to cover him are on defense, a realization that has led many teams to double-cover him this year. This smothering tactic might have more merit if Orr were playing on a thinly staffed expansion team instead of the deeply-talent loaded Bruins.
The upshot is that Orr's athletic abilities have permitted him to break the rules, and by breaking them successfully, he has forced a change in the offensive strategy of hockey that is potentially as revolutionary as the development of the forward pass in football. At twenty-three, he is the only athlete in North America to dominate a team sport, a total player whose presence in the lineup makes an overwhelming difference in the game's outcome.
"In my thirty-five years in the National Hockey League," says Bruins General Manager Milt Schmidt, "Bobby is the greatest player I have ever seen in the past, the greatest player at present, and if anything greater than he should ever show up, I just hope the Good Lord has me around here to see him and let him be a Bruin."
"Ever since I joined this club in 1962 Orr was our Moses," says veteran Bruins goalie Ed Johnston. During the early and middle 1960s, when the Bruins were the doormat of the National Hockey League, the Boston faithful were urged to remain of stout heart until Orr turned eighteen and could legally arrive to lead the team out of the League cellar and into the playoffs.
A party of Bruins scouts had stumbled across Orr in the frozen bullrushes of Ontario back in 1960 when he was a 5′ 2″, 110-pound peewee, playing in an All-Ontario Bantam tournament. They began romancing Orrs' parents and buttering up Parry Sound public opinion by selflessly donating $1000 a year to support kid hockey in the area. Two years later the courtship paid off, and the Bruins signed the fourteen-year-old Orr to a Junior Amateur contract that bound him to the parent club with the finality of feudal serfdom.
The cost of this transaction, like all NHL financial maneuvering, is shrouded in the deepest secrecy, but seems to have involved a new coat of stucco for the Orr's home, a secondhand car, a few hundred dollars in spare cash, and the casual promise of a new wardrobe for the indentured savior of Boston hockey. The Bruins are said to have suffered a lapse of memory on the clothing front, a misstep that was to alert the Orrs to the wisdom of getting legal counsel in future negotiations.
At fourteen Orr was assigned by the Bruins to their Oshawa Junior Amateur farm team, where, commuting almost 300 miles round trip from his hometown to compete against players five and six years older, he made the league second all-star team in his rookie season. The publicity mills began to grind out the copy, and year by year in the Canadian amateurs Orr got better and better. Boston gloatingly passed the word to the hometown loyalists that Moses would be on hand shortly, just as soon as he became old enough to acquire a work permit. At eighteen Orr's father announced that his son was prepared to turn professional and would be represented in the contract talks by Alan Eagleson, a thirtyish Toronto lawyer who had earlier crossed swords with the NHL by representing several Maple Leaf players in disputes with Toronto management.
The Bruins were appalled. They stalled throughout the summer of 1966, testing the Orrs' resolve, blustering over their antipathy to lawyers, and in the end acknowledging that they had hoisted themselves on the petard of their own publicity campaign touting Bobby's arrival.
Eagleson is a square-jawed, hard-eyed man, a former Conservative MP not given to wasted motion. He charges $100 an hour, so he has to produce brisk results if his clients are to afford him.
The summer-long cat-and-mouse game with the Bruins back in 1966 could not have pleased him. "Hap Emms, the Bruins general manager at the time, kept saying he wasn't going to meet with any lawyer," Eagleson says. "Well, hell, we had them. The Bruins had been selling Bobby like anything back in Boston. We had the threat of letting Bobby finish his schooling and play for the Canadian National team if they didn't come up with a good contract. The long and short of it was we signed a two-year contract that was the highest any rookie had ever received up to that time, both in bonus and in salary. The highest until then was $7000 and $7500 on a twoyear basis with $3000 to sign. We were able to get a two-year deal that was between $50,000 and $100,000 with a $25,000 signing bonus. Now Bobby was able to command that kind of money the year before expansion. If he had got that kind of money when there were twelve teams around instead of six, it wouldn't have been such a coup, not nearly as revolutionary. With expansion there was money around. The new teams paid $100,000 to draft from the rosters of the original six, and they had to follow up their investment by signing the guys they drafted. Expansion doubled the number of jobs to 240. I represented 180 of those players, by default as much as anything, since there was no legal competition in the field. I had eighteen of twenty Bruins. Nineteen of twenty on Pittsburgh. What happened was that a player like Bobby Baun, who wasn't even protected by Toronto, went from twenty thou a year to thirty when he was drafted by Oakland. You had rookies going from twelve thou to twenty, which was what Baun was making the year before after ten years or so in the League. It was the old philosophy of supply and demand."
Orr opened the door, and to expansion allowed a lot of lesser lights to come in and join him at the hearth of prosperity. But in between these two seminal economic events came a third, the forming of the NHL Players Association. Having seen what Eagleson could do for Orr, the Bruins team in December, 1966, asked him to help them form the Association.
"The hockey owners among the original six make the Bruins look liberal by comparison," Eagleson says. "The Bruins are parsimonious, but at least they can grasp a liberal idea. Bobby's contracts, the Association, and expansion forced management to reconsider their assumptions. Owners always considered hockey a business, and the players often considered it a game. Now everyone understands that hockey is a business. In 1957 the players tried to form an association which the owners broke by trading the organizers, like Ted Lindsay, to other teams."
But the Eagleson-Orr experience demonstrated that management could be bucked and beaten. "The players were frightened of getting traded if they joined the Association at first," says Orr. "Eagleson set it up out of his own law firm. He paid to get the goddamn thing rolling."
Today the Players Association pays Eagleson $20,000 a year, which he says represents one sixth of his hockey billings and takes up half his time. He charges Orr about $25,000 a year for what he says represents one quarter of his total time. One month of the year—or 8 percent as he likes to figure it—is devoted to negotiating contracts for his other hockey clients, who collectively total about half his billings. It also means that on an hourly basis, Eagleson's regular clients are subsidizing his work for Orr and the Association. Few of them would complain of that, since without the Eagleson-Orr combine, hockey players would probably still be bumbling along negotiating their own contracts with hockey's general managers, most of whom are former players who speak fondly of the good old days.
"If you argued about money when I first came up nine years ago," says Bruins right wing John McKenzie, "they said, 'screw you,' and sent you down to the minors. Bobby wasn't scared of management, and that revolutionized the whole game. We figured if he can do it, why not us. Hell, I got a ten-to-eleven-thousand-dollar raise the year after Bobby signed."
Phil Esposito, the Bruins Plasticman contortionist on skates, who holds the NHL scoring record with 126 points in a season, sees the Orr factor, expansion, and the Association as a three-headed beast unleashed on management. "Orr showed a good player could make good money for once. Expansion meant more teams and a demand for good players. When I first came up, you had to play ball or they'd bury you in the minors. Christ, everyone was leery of that. The Association gives kids security so they can't be shipped down, since a player on the protected list has gotta be waived through the League, and it only costs $30,000 for another club to pick him off."
Yet the Association's gains in sheer dollar terms are not exactly staggering. With virtually the whole League now enrolled, in three years the Association has helped its members win a $3300-to-$4000 average salary increase, plus an additional $1000-to$1500 hike in fringe benefits. The big money has still not filtered down to the ranks, though even here the Orr factor is at work.
Having signed his professional contract aboard Hap Emms's yacht back in 1966 (in a characteristic act of pique Emms refused to pose for photographers with the smiling Eagleson), Orr joined the Bruins and won the Calder Memorial trophy as rookie of the year, as well as making the second team allstar squad. The next season, though hampered by a knee injury, he won the Norris Trophy as the outstanding defenseman in the league. Meanwhile, after eight barren years the Bruins inched up into the playoffs, and Orr's contract expired.
The new pact, reported in a Toronto paper at $400,000 for three years, sent waves of consternation and paranoia through the League. The Bruins even held a press conference to denounce the figure. Most sources agree that Orr's three-year contract was in the vicinity of $200,000. "Let's just say it made Bobby at twenty the highest-paid or the second-highest-paid player in hockey," Eagleson says with a lewd grin, as if skirting away from a subject of titillating impropriety. "And Bobby was worth it. He changed the attendance around the league."
In any case, what Eagleson sought in his new Orr contract was not cash, but tax relief—a sort of second-stage inroad on the drive for the ultimate coup, equity in the company. "I'm a firm believer in takehome pay," Eagleson says. "Taxes in Canada are much heavier than in the States. On forty thou in Canada, Bobby would have to pay thirteen, here about nine. So in his second contract we were looking for deferred payments, a public relations employment contract with the team, and certain other nonhockey concessions from the club. We put those things, along with all his promotions and endorsements, into a separate company, Bobby Orr Enterprises, which is not considered a personal corporation and which only has a 23 percent tax figure up until the first $35,000. One way or another we got Bobby's take-home pay considerably bigger than it would have been if he was just getting a salary."
Still, it was that putative $400,000 that stuck most vividly in the minds of Orr's colleagues. Eddie Westfall waggishly announced that he was half as good as Orr and accordingly deserved half as much money. Other players figured themselves two fifths as good, two thirds as good. And, of course, there were the select few, like Chicago's Bobby Hull and Detroit's Gordie Howe, who calculated present and past services and figured they were at least as good as Orr and perhaps a third better. Hull went into a protracted pout and announced his retirement from hockey before the 1968-1969 season. The Chicago Black Hawks were forced to cough up an estimated $100,000 a year to sign him. The Detroit Red Wings' Gordie Howe, who entered the NHL when pro football's "aged wonder," George Blanda, was a freshman in college, was halfway through a two-year contract when the Orr deal was announced and had to wait a year to wring an estimated $80,000 pact from Detroit. Teddy Green, the Bruins other all-star defenseman, was also working on a two-year contract when the Orr signing came, and when the Bruins refused to renegotiate, Green walked out of training camp. Both Eagleson and the Bruins tried to explain the nature of a contract, but in vain. Green sat tight.
Enter another sports attorney, Bob Woolf of Boston. At the time of the Green walkout, Woolf already had a sizable stable of football, basketball, and baseball clients.
"Derek Sanderson and a few other Bruins came into the office and said, 'We miss Teddy,'" Woolf says. "I went to see the Bruins, and in three or four days ironed out all the differences. Teddy was misinformed. He had heard that the Bruins had renegotiated other contracts before they terminated. But the Bruins were able to show me they hadn't. I advised Teddy to rejoin the team, and that the following year when his contract expired, he would have every right to fight for a really good deal. He did, and I got Teddy a three-year contract that included a clause that if he was injured he was to get the entire amount of the contract, plus a fourth year's salary at the third year's rate."
It was to prove a providential clause, since shortly after signing the contract Green was clubbed on the head and almost died, and when he didn't was presumed destined to go through life as an invalid. This year, to the astonishment of his doctors, Green is back with the Bruins.
Woolfs pride and joy, the centerpiece in his hockey collection, is Derek Sanderson, hockey's own gift to the alienated-youth market. If Orr opened up the cork of hockey's new age, Sanderson is the irksome genie the Bruins always suspected at the bottom of the bottle. "Derek's hobby is pulling everyone's chain," says Bruins president Weston Adams, Jr. "Most athletes like to be on the sports pages; Derek likes to be in the gossip columns," Bruins coach Tom Johnson notes.
"Orr is the best player in hockey," Woolf says; "Sanderson gets just as much ink on color alone. More ink. He only scored eighteen goals last year, but the average American thinks Derek's a superstar. And that puts him in line for the money on the outside."
Woolf's prize Bruin sits upstairs at the Bachelors III (the club in which he has invested on Boston's Boylston Street), spinning implausible daydreams, manufacturing newsworthy exaggerations as is his wont. "I signed for $55,000 this year. Base pay. I got it because, number one, the Bruins knew I had the talent for it, and number two, they knew I was flaky enough to quit if I didn't get it. This other idea I had was to say, stick the money up your ass and I'll play for nothing. My attorney advised me against that. Very materialist kind of guy."
A caller can grasp the Bruins' reluctance to send Sanderson sallying forth on the national TV talk shows. His monologues are a trifle on the bawdy side, his discussion of his hockey salary, if frank, is overstated. Moreover, Sanderson is the most artful of men. In spite of their rambling, not infrequently scatological nature, his anecdotes are carefully practiced and honed for maximum impact. For Sanderson is interested in bringing hockey into the mainstream of American life, with all the wealth, celebrity, and crass vulgarity that the phrase implies. The Bruins management—in many ways to their credit— cherishes the game's traditional values, the independence from corporate life and TV domination, even the savagery of the game, which, unless diluted, is too raw to gain even middle-class respectability.
Orr was hockey's inadvertent revolutionary, who changed the economic structure of hockey by the mere existence of his unarguable talent. Sanderson actively seeks to revolutionize the game from salaries on down.
"I only had one blue suit when I came into the NHL," he says, staring down at his embroidered shirt and bell-bottoms. "I see the players come in the dressing room in three-button suits, dark grays, pointed black shoes, and thin black ties. Man, they were like machines marching in. The regimentation was terrible. I said to myself, it's got to change. I kept the blue suit all my rookie year. Then I won the rookie-of-the-year award, so I had some weight behind me, and I decided to grow my hair long and I got into mod suits and bell-bottoms. The Bruins got uptight, but after a while they started to change too. And now all of the guys dress sharp. I called Campbell [the NHL Commissioner] a stuffed shirt because he wouldn't let me wear white skates, and they damn near died. Now ther're four teams with different colored skates. They said to me, you're too young to drive a Cadillac. Now ther're four guys on the team with Cadillacs. They let me get away with a little bit more every year. This year I don't wear ties to games. That's never been allowed before in the history of the game.
"Yeah, man, it's changing, but it's got to change more. The guys have got to work at it to put this game on the map.
"I'd have to say management would be freer if they had more money coming in," Sanderson continues. "If you compare the gross income of management with what the players are getting, I guess it's pretty fair now. The TV has got to take off to get the big money. And the rotten truth is the game's too fast for TV. Too creative, too ad-lib, too unpredictable. The way it is now the cameras can't cover it. They have to get in too tight to follow the puck, so they miss the punches, the elbowing, hooking, tripping. You got to see those things. That's what the sport's all about."
Now that expansion has broadened hockey's base by putting franchises in eleven American cities, television remains the key to future prosperity.
The new franchises gave hockey the illusion, at least, of a national market. But CBS's NHL Game of the Week has failed to capture America's Sunday afternoon sports fan deep in his rec-room armchair. National Nielsen ratings have gone from 4.1 for the 19671968 season to 4.8 in 1968-1969, to 5.6 for the 1969-1970 season. The network has lost money on the operation and got hockey to agree to a smaller package for the current season, which is believed to net each of the fourteen teams around $75,000 a year. The breakdown of the Nielsen ratings on a city basis tells the story: 3.8 in Atlanta, 4 in Cincinnati, 2 in Los Angeles, 3.4 in San Francisco, but 25.2 in Boston and 16.1 in neighboring Providence. Simply put, the problem is that outside New England and a few scattered Nordic pockets on the Canadian border, few Americans have played the game or are likely to in the near future. And the larger American public has never been known to pay homage to a game at which it does not excel.
As a result the new franchises in Oakland, Pittsburgh, and Los Angeles are in dire-to-disastrous financial straits, their losses hardly pared by their meager local and national TV revenues. The original six teams remain bastions of security in a shaky, somewhat uncertain hockey empire.
And the Bruins are an especially prosperous satrapy, with an annual profit believed to be between $1.75 and $2 million dollars. This year alone they will earn $1 million in franchise payments as their share from the entry of Buffalo and Vancouver into the League, $375,000 from their own local television contract with a UHF station that had a 42 percent regular season rating for Bruins telecasts and a 56 percent rating for the Stanley Cup Playoffs, and an extra $600,000 from ticket sales.
"We're very New Englandish," says Weston Adams, Jr. "A debt is a matter of honor, a penny saved is a penny earned. 'Cheap' is the tag line that has always gone with this organization. If running an operation conservatively, for the love of the game, is cheap, then so be it. People say, 'How can you play in a dump like the Garden?' Well, it has tradition, it's one of the monuments to American hockey. Besides, it would be contrary to the way we do business to float a $15 million loan for a new hockey rink.
"On the aggregate salary front we're close to the top of the League, but I'd be very surprised if we were at the top. We pay about $45,000 for our top four, but they're only twenty-five. Still, I don't think we'll ever challenge football, because hockey just isn't a very good TV game. The puck is so small, and you can't get in tight on it without losing too much of the game. And hockey doesn't lend itself to the isolated camera the way football does. I hope hockey doesn't go big on TV. TV runs football, and I don't want that. I dislike the prostituting of the game that big TV would mean. The new teams want that TV money, the older owners don't. I can't say that expansion has been a blessing for us. The other clubs are stocked with kids from our farm system. It's not cheap to fly out to Vancouver, Los Angeles, and Oakland to play. Still, you had to have expansion to prevent the kind of interleague war that football and basketball fought. Just the same, we've remained in a pretty solvent position."
Solvent enough to withstand Eagleson's impending assault to renew Orr's contract, which expires this year. From Eagleson's standpoint the tragedy is that it didn't expire last year when Orr figured so prominently in bringing the Stanley Cup to Boston for the first time in twenty-nine years. In the process he scored 120 points—only the fourth time in NHL history that any player, much less a defenseman, has gone over the 100 mark—was once again unanimously elected to the All-Star team, won four of hockey's eight major individual trophies (the other four being reserved for rookies, goalies, old-timers, and good sports), and to top things off, slammed in the winning goal to clinch the Stanley Cup in the finals against the St. Louis Blues.
Eagleson is buoyant over the future. "Look, Orr is a once-in-a-lifetime player, and the Bruins are prosperous. I find the Bruins reasonable people to deal with. They say, 'Look, this is what we made last year, and this is our budget for next year, and it includes $500,000 for player salaries, so if we give Orr $200,000 a year, then what's left over for the other guys?' Well, hell, they may have to find some more for the other guys. Orr is the only player who can help the other teams out, and if I owned a team, I'd be happy to pay part of Orr's salary to see him signed. Like in Oakland, Orr played there on a Sunday night and they drew 10,500. St. Louis came there on a Wednesday, and they drew 3000. In Los Angeles Orr drew 12,700—a capacity house, only the second time in history they'd filled the rink, and the first time was when Orr was there last year—the next night against St. Louis they drew only 7200. Vancouver's general manager says he could sell an extra 30,000 or 40,000 tickets when Orr is in town. Now, if I were the owner of Vancouver, and I knew I could get Orr in there three times a year and it was going to make an attendance difference of 8000 a game, hell, I'd kick in $10,000 to Boston to sign Orr. Eight thousand people for three games at five bucks a pop, hell, that's $120,000. You're damn right I'd pay it, or at least put some heat on the Bruins to sign Bobby.
"I tell you, his next contract is going to be the most exciting thing in sports. It will be at least five years. There's going to be enough security in it so that if he's injured or dies [sic] he will still have longterm protection. Bobby is going to go public. I wouldn't be a bit surprised if he became a stockholder in the Boston Garden. In my opinion he is entitled to a piece of every hot dog and bottle of beer sold above the average. Ten years from now Bobby will have at least a million tucked away, and if he wants, he'll be a part owner of a NHL franchise. And whatever he gets is going to reap benefits for every other player in the game. He has already changed hockey, and he's going to change it still more."
"You bet your ass I'm going to make more money next year," Phil Esposito confides with the truculence of a man on the last leg of a comparatively paltry three-year contract. "Yeah, a hundred thou for Orr would still be a barrier. I don't know whether to go and talk before Bobby or not. There won't be much left when he's finished."
Throughout it all Orr remains remote and circumspect, a little abashed at all the furor unloosed in his name, like some medieval monk whose pious lifework has inadvertently overturned the status quo of which he is a contented member.
"I was only fourteen when I was sold into servitude to Boston, so really, playing hockey is the only thing I've ever done." The blue eyes cloud over briefly as he ponders the look of that word "servitude" in print, and he adds, "But don't get me wrong; I'm happy to be in servitude to Boston. Everyone is always telling me how I've changed the game. But the Players Association and the League expansion, which made it possible to televise the game nationally, have had more to do with players' getting more pay than I have. I hope players are getting more money now, but I can't see where I was responsible. Money. Everyone is asking me about money. Hell, I'm just one of the Bruins. I just try to do a job. I'm no different from a mechanic." Just a simple mechanic-serf, who, with the help of his lawyer, froze over the Red Sea and led his people to the promised land of deferred payments, tax shelters, and sixfigure contracts.