The John F. Kennedy Library exists only in blueprints. The Lyndon B. Johnson Library is still but an architect's dream. Readers might therefore conclude that we are exceedingly premature in unveiling this month the first proposals for the Richard M. Nixon Library. Actually the germ of inspiration came many years ago to the designer, Edward Sorel, before there was much reason to believe that Mr. Nixon would get to be President.
Born a few months before the stock-market crash of 1929 ("I have been nervous and high-strung ever since"), Mr. Sorel attended The Cooper Union in New York City. He graduated in 1951, and "that same year, I saw The Fountainhead and determined that someday I would design a building that was ahead of its time. The Nixon Library is thus the fulfillment of a dream deferred.
"I hope your readers will not infer from my suggestions for the Library that I am partisan one way or the other," he says. "I think of myself as a political independent, and during the 1968 presidential campaign felt this country fortunate to have three candidates to vote against."
Parodies and caricatures make the most penetrating criticisms, Aldous Huxley wrote, and Mr. Sorel, true to his profession of nonpartisanship, has previously caricatured in these pages a representative array of public figures, among them Robert Kennedy, Lyndon Johnson, John Kenneth Galbraith, Harold Wilson, Hubert Humphrey, Dean Rusk, Norman Podhoretz, the Reverend Billy Graham, Nguyen Cao Ky, Vice President Agnew, and General Moshe Dayan.
He is the author of three books: How to be President (1960), Moon Missing (1963), and Sorel's Fair (1964), and has illustrated half a dozen children's books and the recently published Word People by his wife, Nancy Sorel. He lives in Carmel, New York, where he is at work on, among other things, The Ice Age Cometh, an account of world events after the polar ice cap melts.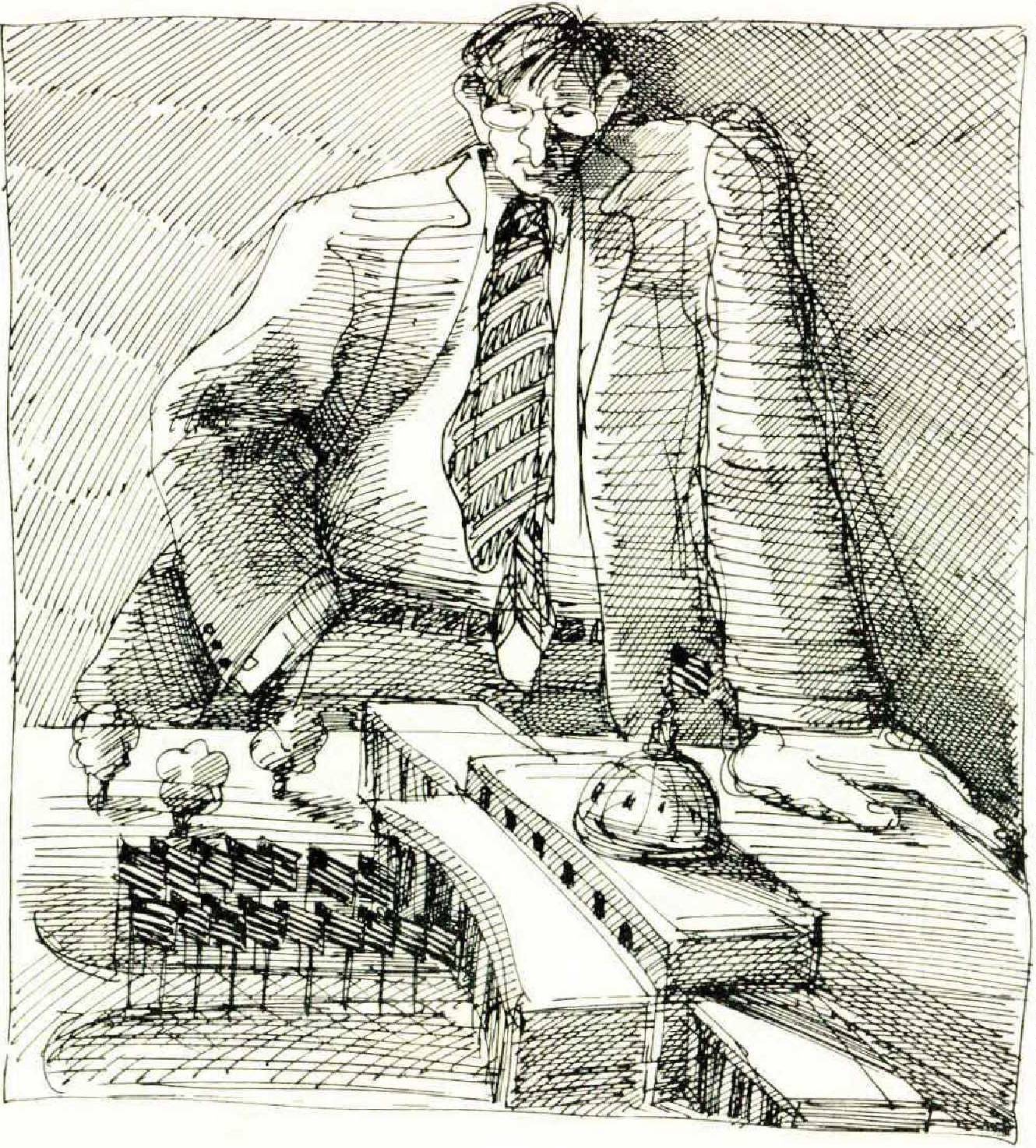 "ATOM LEAK FORCES HUNDREDS TO FLEE NEVADA TEST SITE"
This headline appeared in the New York Times just as the February Atlantic was going to press with Paul Jacobs' report on the accidents and hazards inherent in the American nuclear energy program and, more disquieting, the attitude of the powerful U.S. Atomic Energy Commission toward those who expose mishaps and criticize nuclear policy. The American Association for the Advancement of Science adds further pertinence to Mr. Jacobs' reporting with its decision to establish a Committee on Scientific Freedom. It will look into the way the AEC has dealt with Dr. John W. Gofman and Dr. Arthur B. Tamplin, whose case is detailed in Mr. Jacobs' article, page 45.