by Edward Weeks
The Sleep of Reason
by C. P. Snow (Scribner's, $6.95)
1976: Agenda for Tomorrow
by Stewart Udall (Harcourt, Brace & World, $3.75)
Bruno's Dream
by Iris Murdoch (Viking, $5.95)
As it happened, I introduced Charles P. Snow (not yet Lord Snow) to Wolf Mankowitz, the British producer, over drinks in my suite at the Stafford. Wolf, who was then dividing his time between the theater, films, and writing fiction, looked up at his elder with something like awe. "Are you at work on your next novel in the sequence?"
he asked the bulky Charles. "Yes, I'm well into it." "How I envy you that continuity!" said Wolf. "With my generation we are always trying to get on with something new, and it's risky and distracting."
In ten novels written over a period of two decades, C. P. Snow has projected the career of Lewis Eliot, beginning with his childhood in an English provincial town, his selfdiscovery and education, his promising start in law, and his dangerous marriage to Sheila Knight. Since then the chronicle has moved on and upward through those realms of English society which the author knows from the breadth of his unique experience: the university, the courts of law, Whitehall, and the nuclear physicists who saved Britain from Hitler. So we come to the tenth and present novel in the series, The Sleep of Reason, which begins with Sir Lewis Eliot, now in his late fifties, full of honors, and happily married for the second time, selfassured, with the fighting part of his career behind him.
Instead of being passionately absorbed in his own advancement, Sir Lewis, more relaxed and sapient in his maturity, is now compassionately concerned in the affairs of others. As a trustee of the new university which has been established in his old hometown, he has the chance to revisit the scenes of his young manhood and to recall its strife; he has become "a public face," and with his reputation and knowledge of affairs he is in a position to help two of his old friends, Arnold Shaw, the likable, wrongheaded vice-chancellor, and George Passant, a soured liberal who has become the sensual Pied Piper of the community. Lewis has lost none of his shrewdness in reading men's motives, and the mature happiness of his second marriage makes him better able to judge the variations of love and sex which come to his notice in the university town, including the shocking murder case in which two lesbians are charged with torture. Lewis Eliot throughout the series has been a most engaging person, and he holds our interest, I suspect, because he has been so liberally endowed with the author's individuality.
The English have a habit of writing a sequence of novels about the same milieu and often centered in one man and his family. Trollope did it, and John Galsworthy, and so does Anthony Powell; and to the task C. P. Snow brings a special qualification. He embraces in his own discipline that blend of science, politics, and the humanities which our age demands. The disadvantages in his scheme are obvious, for each succeeding novel must carry in it echoes of earlier crises, such as Sheila's suicide or Roy Calvert's torment, which cannot be amplified and the reasons for which new readers can only guess at. It is also disconcerting to have characters walk into the story unidentified. These troubles are, however, thrust aside by the clarity and perceptiveness of The Sleep of Reason: by the father-and-son relationships so skillfully revealed, by Margaret's care of Lewis when he has a detached retina and thinks he is losing his eyesight, by Lewis' protection of Vicky in her vulnerable affair with young Pat, and by Lewis' humiliation when outfaced by the paranoiac Patemans. C. P. Snow is at his best when writing about people under pressure: he makes the struggle for power of engrossing interest, and although he works in a now familiar background, each book in its different way has enriched our understanding.
When Gifford Pinchot and Theodore Roosevelt initiated a program of conservation in the early years of this century, they were working at a patchwork quilt; they blocked out pristine and remote fragments of our wilderness which were to be preserved as national parks and so exempt from exploitation. The fight to perpetuate and increase the park system is never-ending, as we know from what has been done to the Redwoods and the Grand Canyon; a monument as prehistoric as the Great Swamp in New Jersey is repeatedly threatened by highways and pollution. Conservation today has become not alone a cause for idealists but an international concern of utmost urgency. The Pribilof seals were saved from extinction only when the killing was restricted to the young bachelors and to a quota respected by the competing nations; and the same sort of precaution, the prohibition of deep-sea netting of Atlantic salmon, is probably the next item on the agenda.
Stewart Udall, in closing out his eight-year term as Secretary of the Interior, believes that the time has come when we as a people must begin to replan our rural areas quite as much as our troubled cities. In his new book, 1976: Agenda for Tomorrow, he accepts the possibility that our population, instead of zooming up to 300 million, will actually level off to about 220 million and stay there, and, with Lewis Mumford, he believes that "the balanced economy we must now seek will place its emphasis not on the horsepower it consumes but on the manpower it releases: it will translate energy into leisure and leisure into life."Mr. Udall proposes that the best way to commemorate our bicentennial is to begin "a templebuilding enterprise of our own, a vast project to make all our cities fair, and all our human relations amicable. It could be called 'Project 76.' "
This sounds too utopian to be true until we remember some of the impossible things which this country has achieved in the past thirty-five years. He reminds us that we restored the Tennessee Valley when it lay in ruins. He reminds us of the Marshall Plan. He reminds us of the 41,000 miles of the interstate highway system which will cost $60 billion, and which when completed will dwarf the Great Wall of China, the Pyramids, and the Panama Canal. He reminds us of the space mission to the moon, and then asks whether the re-creation of our country is any less urgent, any less American, than these earlier feats.
"It is no small scandal," writes Mr. Udall, "that a nation seventy per cent urbanized has a national legislature with no committees on urban affairs. It is equally outlandish that a nation caught in a racial conflict that imperils its future has a Congress with no committee on human relations." He says, quite rightly, that the time has passed when the "dabbing of disinfectant on selected sores" will cure our suffering, and he explains the anticity bias in Congress by reminding us that four fifths of the members of the House of Representatives represent citizens who reside in small communities, or suburbs, or the open country. There is, he argues, still too much bigotry and too little altruism in our country. In the face of our present danger, "the only way to arouse and involve the nation is by a grand strategy . . . which will transform our communities and do the unfinished work of our half finished society." He concludes emphatically that our towns and cities can be made livable and that our multiracial society can be made to work. And that is what his book is about.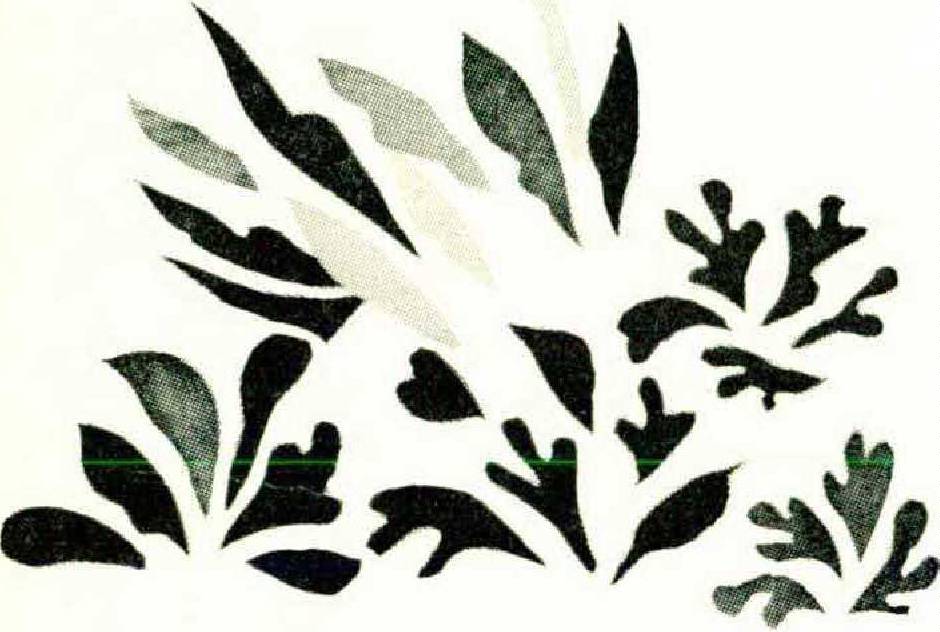 No situation is too eccentric to daunt Iris Murdoch, but there are times when the pleasure she affords her reader is in inverse proportion to the eccentricities of her characters, and for me, such is the case in her new novel, Bruno's Dream. Bruno, the main prop of the story, is an octogenarian withered by age until he resembles the spiders who were his hobby in life and about whom he always intended to write a book. He is bedridden but still able to make the lavatory in his old red wrapper, and as the story begins he puts one in mind of Peter Ustinov in the opening scene of his play Photo Finish. But Bruno is much less beguiling: through the days he lies ruminating on his past, playing with the stamp collection he inherited from his father, supposedly his most valuable asset, and awaiting the teatime return of his son-in-law, Danby. Danby will tell him the funny things that happened at the printing plant, which is their family business; Danby will feed him tea and muffins and anchovy toast and a new kind of jam; Danby will let him read the Evening Standard and will open champagne which the doctor has prescribed; and after supper Bruno will play his game with the telephone, calling up strangers whose numbers he has plucked from the book, or lie reading a detective novel until the time comes for his back to be rubbed. So much is believable, if dreary.
The active life in the novel is provided by those who either wait on Bruno or who are related to him — and a grotesque crew they are. The one who generates the most heat is Danby, a hedonist with undentable optimism, who makes a good enough living from his press and who has an eye for the girls. He believes he worships the memory of Gwen, Bruno's daughter; meantime he has made Adelaide, the maid, his mistress until something better turns up. Then there is Nigel, the male nurse, an incomprehensible mystic and a peeping tom, and Will, his twin brother, who is fatuously in love with Adelaide. And at one remove is Miles, Bruno's son, a milk-and-water poet whose ineffectual career is sustained by his second wife, Diana, and her sexy sister. Lisa.
If I do not seem to be doing these people justice, it is because they do not strike me as being either plausible or entertaining. Miles is a cold fish who broke off from his father at the time of his early marriage to an Indian girl whom he had met at Cambridge and could not forget. When he proposed to marry Parvati, Bruno said with acerbity that he wanted no "coffeecolored grandchildren," which so incensed Miles that they hardly spoke afterward. Now as he lies dying, Bruno wants his son's forgiveness, and it is with this attempted reconciliation that the merry-goround begins.
Miss Murdoch likes to parcel off her couples in neat, new packages at her story's end, and the way in which she manages to bed down these people, with Diana in love with Bruno and holding his hand as he fades from view, is ingenious to say the least. After the animation and gaiety of Miss Murdoch's previous book, The Nice and the Good, Bruno's Dream seems a strange, disappointing affair.