The Children's Trip to the Gallows
by Martha Bacon
In a celebrated passage in a once popular children's book, The History of the Fairchild Family, by Mary Butt Sherwood, the father of a family of quarreling children deals with the problem of bickering by taking the little ones to view a gibbet upon which the body of a murderer (a fratricide, conveniently enough) is rotting in its chains. The hideous corpse is masterfully described, and the passage is nearly as vivid as the account in The Lord of the Flies of the dead aviator dangling in his parachute strings, his nightmare countenance looming through the island thicket. The Lord of the Flies is about but not for children and will probably remain unbowdlerized. The Fairchild Family was for children, and some years after its publication the passage was suppressed on the grounds that it was unsuitable for the young readers. The book lost immeasurably by the deletion and is no longer read by anyone except scholars. There seems to be no record that the gallows scene, magnificent though it is, ever prevented any little sisters from scratching each other's eyes out, so the harm that it did appears to have been negligible.
I do not know if Vera and Bill Cleaver, authors of the very popular Ellen Grae and now of Lady Ellen Grae, have read the same lesson which I have derived from the decline and fall of The Fairchild Family, but there is no doubt in my mind that they have succeeded in restoring to their rightful places a good portion of harmless, necessary horror and fine, purple prose. In the first book Ellen Grae, a lonely child, forms a friendship with a demented individual who has buried both his parents in a swamp after they have died of snakebite. In the second work the heroine faces the ghastly ordeal of becoming a lady. Her father, divorced from her mother, is worried about her disorderly ways and what Ellen refers to as "my lies." Ellen's lies are not simple little falsehoods, told in the interests of family peace or gain, but rather Gothic constructions on themes of mass murder, adultery, emergency operations, and switched identities. Ellen is packed off to relatives in Seattle, acquires some smart clothes, meets some interesting people, is shaken to jelly by an earthquake, and gets smashed by the boom during a sailing excursion. Her father sends for her at this point, apparently having second thoughts about ladyhood, and Ellen returns to her home in Thicket, Florida, and the status quo. I enjoyed the book and found it too short. The authors left me wishing to know more about the neighbors and the admiral, and hungering for more adventures in Seattle: Ellen's contretemps with a garter belt, the saga of the home permanent, and the false eyelashes at $6.00 a set. Girls and people who have been girls, and males as well, will probably enjoy this book. It is a nightshade sundae, but the helping is too small.
I cannot speak as highly of I'm Really Dragged But Nothing Gets Me Down and for the following reasons. C. S. Lewis has said that the only motive for writing a children's story is that this particular art form should be the one best suited to what the author has to say. The somewhat gagging title, given in full above — there seems no way to shorten it — is in the words of the publisher a "young adult novel," whatever that is. If "young adult" refers to the ages of the central characters, I presume that Northanger Abbey and Bleak House would both qualify in this category, and without stretching the point too far we could name a large number of others. But in the two examples I have cited, Jane Austen's Catherine Morland is seventeen and Richard Carstone and Ada Clare are nineteen and seventeen respectively. In both books the young people are dealt with seriously. We suffer and love with Catherine and laugh at her and flush to the roots of our hair at her undeniably teen-age follies and rejoice when she lives them down. Dickens' children of Chancery and disaster are in undoubted rebellion; Richard Carstone is unmotivated and ultimately alienated unto death. Although Dickens failed to give these two characters the vitality that they needed to have been successful portraits, he nevertheless saw them in perspective and required the reader to do so too. They are not, because of a mere accident ot birthdays, relegated to the limbo of a "young adult" story but take their places in a novel ot substance and scope. "Young adult" seems an unnecessary piece of pigeonholing, restrictive and a trifle denigrating.
In Nat Hentoff's book, Jeremy Wolf, aged seventeen, is beset with every ill that the present younger generation is supposed to be heir to, including an uncontrollable affection for the Rolling Stones. He can't communicate with either parent, decides to resist the draft on moral grounds, and is troubled about the condition of the Negro and the question of violence. Or so the author tells us. Jeremy is in fact a stencil of today's "alienated youth," and his parents are stencils of today's puzzled progenitors. Jeremy and his father and mother are stupid and boring. It is bad enough to be a bore in real life, but to be a bore in a book is unpardonable. The Wolfs and their tiresome, spoiled, and priggish son — for Jeremy is at heart a prig in his egotistical selfrighteousness — are exactly what they would be if we were forced to ask them over for a drink to pay off a social debt, and the medium of fiction has not embellished them. They have surrendered to every cliché popular with the makers of the mass media, and the conflict with which Jeremy attempts to mask his mediocrity is no conflict at all. Jeremy is not assailed by self-doubt or torn by opposed loyalties. He gives way to tantrums when asked to turn clown the hi-fi, experiences a number of self-regarding alarms when he encounters black hatred, anti-Semitism, and twinges of sexuality, and stands forth as complete a stereotype as an end man in a minstrel show. His decision to become a draft counselor in the end seems altogether too easy to be true.
Lady Ellen Grae by Vera and Bill Cleaver (Lippincott, $2.95)
I'm Really Dragged But Nothing Gets Me Down by Nat Hentoff (Simon & Schuster, $3.95)
The Ballad of the Burglar of Babylon by Elizabeth Bishop (Farrar, Straus & Giroux, $3.95)
The Sea Egg by Lucy Boston (Harcourt, Brace & World, $2.50)
The Fool of the World and the Flying Ship by Arthur Ransome (Farrar, Straus & Giroux, $4.50)
Irish Fairy Tales compiled by James Stephens (Macmillan, $6.95)
The Tailor of Gloucester by Beatrix Potter (Frederick Warne, $4.95)
Beasts: An Alphabet of Fine Prints selected by Catherine L. Fuller (Little, Brown, $4.95)
Out of the Ark compiled by Gwendolyn Reed (Atheneum, $5.75)
Amor Est Sensus Quidam Peculiaris by G. M. Lyne (Harcourt, Brace & World, $2.25)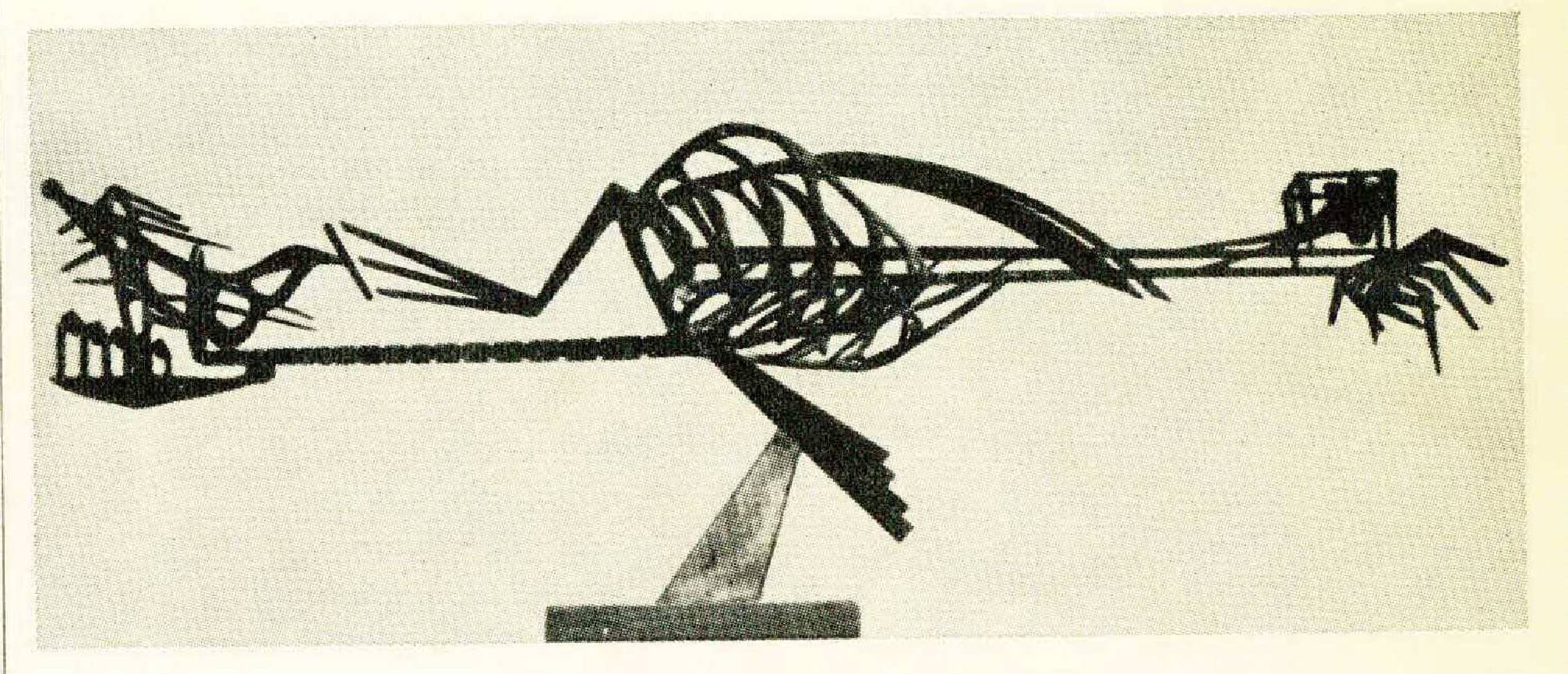 All of this would do very well if the author had taken time and space to discuss what really "bugs" these people, as Jeremy would say. He doesn't. He merely "tells it like it is," and "like it is" doesn't even scratch the surface of what ails Jeremy and all the rest of us. Potsmoking, shaggy hair, soiled clothes, bad language, and lies arc with us today, "the troubles of our proud and angry dust," and wretched little Jeremy and his woebegone parents deserve more exacting and more humane treatment than they receive in this too slight and humorless novelette. Indulgence is not an attribute of compassion.
Two books scarcely signify a trend, but upon making inquiries, I learned from members of the staff of a local library that people between the ages of ten and fifteen favor challenge and austerity in their fiction and prefer their comedy black. Louise Fitzhugh's Harriet the Spy and its sequel, The Long Secret, are both very popular. Harriet, the elevenyear-old heroine of these volumes, is a girl of savage propensities, a snoop and a bully and a genuine comic creation. She will never appeal to the sweet tooth, being pure pickled pig's feet and Holland gin, and she is dear to the hearts of borrowers. The race problem, drugs, and crime also invite readers to any text that purports to deal with these things. The Contender by Robert Lipsyte and How Many Miles to Babylon by Ann Borowik both tackle these questions and have captivated many readers in the last couple of years. Crime in particular pays. Macbeth is in constant demand. The Ballad of the Burglar of Babylon by Elizabeth Bishop, with woodcuts by Ann Grifalconi, should therefore find the present climate healthy. Miss Bishop's ballad concerns a black burglar in Rio de Janeiro who is finally hunted down by the authorities. The poem is wistful and restrained and combines with the illustrations to make a handsome book.
Although I yield to none in my admiration for the acid head, the slip knife, and the purloined bra, I feel that a case ought to be made for escape literature, at least once in a while, and out of consideration for those who like it. Lucy Boston's The Sea Egg is a fable of two little boys on the Cornish coast who discover and befriend a young triton. The book, with illustrations by Peter Boston, is slight but beautiful. There is almost no story to it, but the seal puppies with blunt noses, the glittering scales, shining eyes, and cold lips of the triton, the sense of the sea, and the eloquent language make a book like a coral cluster, to be read as though it were a poem. The form of the children's story in this case is that best suited to what Mrs. Boston has chosen to say. I cannot imagine The Sea Egg expressed in any other manner.
There are enough picture books and anthologies of poetry to adorn any pile of Christmas presents. Arthur Ransome has retold the Russian story The Fool of the World and the Flying Ship, to which Uri Shulevitz has contributed a really generous number of illustrations in gleaming colors. Peasants, onion domes, and the Czar's court are all satisfactorily brilliant and Byzantine. Macmillan has reissued the Irish Fairy Tales, compiled by James Stephens with Arthur Rackham's matchless illustrations, and Frederick Warne & Co. have brought out The Tailor of Gloucester as Beatrix Potter originally wrote it. This version is much longer than the tiny book to which most of us are accustomed. It is exquisitely produced, the sort of volume that one would wish to display under glass. Beatrix Potter sacrificed a thousand words for the original Warne edition, and it is interesting to see how the work reads in its first form. Beatrix Potter's economy of style required no cutting. She was a mistress of brevity, and the complete Tailor of Gloucester remains admirably direct and uncluttered.
Beasts: An Alphabet of Fine Prints, selected by Catherine L. Fuller, is presented as a book for children and is no doubt a useful alphabet but would delight anyone who likes beasts and prints. The prints range from the Renaissance to the present, are imaginatively chosen, and the compiler has provided an informative introduction to her material. Out of the Ark, an anthology of Animal Verse compiled by Gwendolyn Reed, is one of my choices for a desert island. It is a lovely collection of animals from everywhere and everywhen. I was particularly struck by Sir Thomas Wyatt's version of the Country Mouse and the City Mouse — there is something irresistible about any mouse, but a Tudor mouse is the most irresistible of all. And I was glad to find John Davidson's A Runnable Stag and Ralph Hodgson's The Bull, besides; many others. This is a fine, thick book, and I would have had it thicker, though this may be just plain greedy. I should have liked even more of James Stephens and Edmund Blunden's translation of the Greek epitaph on a Maltese Terrier.
One tiny book. Although I have found Joan Walsh Anglund's Love Is a Special Way of Feeling a trifle sweet for my taste, I must heartily endorse Amor Est Sensus Quidam Peculiar is, G. M. Lyne's Latin version of the same work. The Latin lends a gentle austerity to the sentiments expressed in these little pages and endows them with an unexpected elegance. "O sensus est iucundus laetusque amor, manetque in corde sempiternus." God rest you merry.