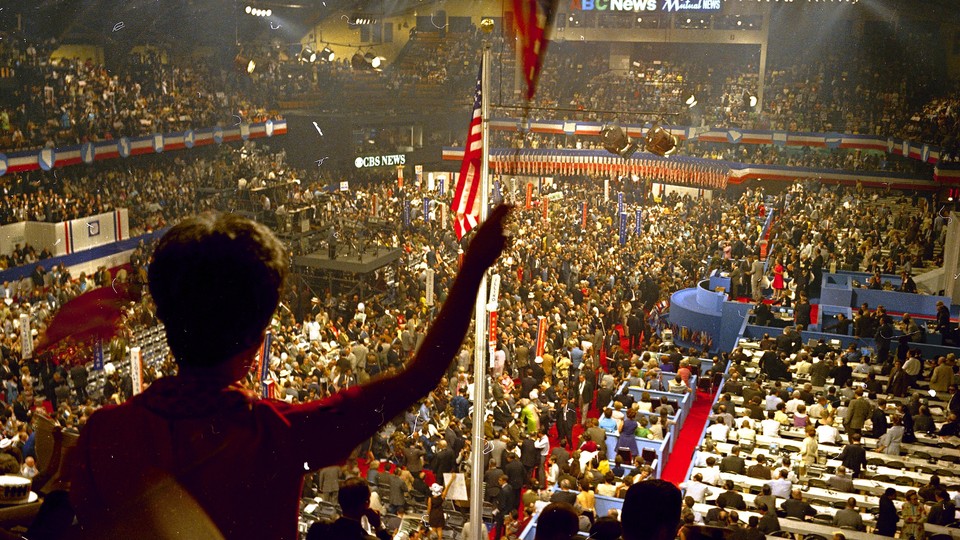 As we prepare to face up to the national political conventions of 1968, let us go back to a moment in 1964 when David Brinkley looked down on the Republican convention and said in that way that David Brinkley says things, "Nothing succeeds like excess."
He was talking about some madness of the moment, some gassy, extravagant, and irrelevant exercise by the assembly in the Cow Palace at San Francisco. His aphorism could have been applied as well to the whole institution of presidential nominating conventions. The institution is an American invention of the mid-nineteenth century and nobody has had the nerve to copy it; but to the wonderment of the rest of the civilized world, this carnival of excess remains a vital part of a successful political system.
Brinkley also could have been talking about the television enterprise in which he was participating. The acknowledged wry comment champion of television news was defending his title in a glass aerie that cost the National Broadcasting Company about $100,000 to build, use for four days, and tear down. The network was spending nearly $3 million to cover the convention (whose outcome was foregone) with 60 tons of electronic equipment and a staff of more than 500 people. The staff included such specialists as 26 directors and associate directors; 173 cameramen and engineers; 4 famous transistorized correspondents explaining and creating confusion among the delegates on the floor; a bearer assigned to haul food and drink to Brinkley and Chet Huntley in their booth under the rafters; and a flack assigned to monitor, collect, and publish for the greater glory of NBC each day's wry comments under the title of "Brinklies."
That convention was won, as almost everyone on Madison Avenue recalls, by the Huntley-Brinkley ticket. NBC swept the ratings from the first gavel to the last, routing the Columbia Broadcasting System and leaving the American Broadcasting Company far behind with hardly a respectable favorite-son vote. The outcome of the Democratic convention was the same.
NBC won not because the other networks failed to compete vigorously. All three competed so vigorously, and seemed to become such a prominent part of the proceedings, that a mighty flap about intrusive, obtrusive coverage ensued. Its reverberations continue on the eve of the 1968 conventions. There is growing concern that television is subverting the character and injuring the function of a grand old American institution.
After the 1964 conventions Walter Cronkite of CBS made a speech in which he came right out and said, "I heartily believe that in 1968 the political parties ought to ban television from the floor of the convention hall." He was for televising the convention, of course, but he thought television's aggressive and gadgety presence on the floor itself "makes a mockery of the fact that this is a convention of delegates who are supposed to be listening to the speeches and tending to some sort of business."
This was heresy to a large segment of the television news fraternity, but Jack Gould, the influential television critic of the New York Times, rushed to Cronkite's support, writing: "For any viewer who survived the long summer nights of TV's competitive frenzy and the cathode calisthenics on the convention floor, Mr. Cronkite's stature has achieved heroic proportions."
Some weeks later, no less an advocate than General Dwight D. Eisenhower carried the case to the Republican National Committee. In the best tradition of Eisenhower-off-the-cuff indignation, the former President said a political convention on television "is a picture of confusion, of noise, of impossible deportment, of indifference . . . and in short a thing that if it happened in a business trustee meeting or even the annual meeting of one of your corporations, you would be horrified." He blamed television and the press, along with inept sergeants at arms, supernumeraries, and "spurious" demonstrators, for the spectacle that offended him. "I think the convention floor should be inviolable. Only people on it should be delegates. I say all press, all publicity media, should be excluded from the floor. They have places. We want them, but certainly we don't want them running around and having interviews when they are interfering with someone who is trying to make a serious point before the convention."
The Republicans cheered and appointed a Committee on Convention Reform. From their initial zeal one could have concluded that the Republicans were going to turn the next party convention into a sort of Chamber of Commerce meeting with violin music in the background.
The Democrats did not get very excited about reform; they have always been much more relaxed than the Republicans about television and the press and confusion generally. While the Republicans were drafting pages of suggested restrictions, most of which would be greatly softened, especially where television was concerned, by convention time, little was heard from the Democrats except a casual remark by National Chairman John Bailey that he hoped to "do something about that damned camera stand." He meant the one at the front of the hall blocking a good many of the delegates' and alternates' view of the podium at the last couple of conventions.
It should be said that many of the most respected men in television news have rejected the contention that their medium should concentrate on decorous coverage of the podium and program of the conventions. Brinkley, for example, has said, "Television's job at a convention is journalism, to cover the news, whether it is on the rostrum, on the convention floor, in a back corridor, or in a downtown hotel. Our job is not to serve as . . . a coast-to-coast loudspeaker system for politicians to use as they see fit. I 'disagree completely [with the Cronkite proposition], and I think it is one of the worst ideas I ever heard of."
Howard K. Smith of ABC said, "Many things are wrong with political conventions, but they were wronger long before television. Speeches and demonstrations that once lasted for hours now take only minutes. Thanks to television, and its floor correspondents, the 'viewer is generally better, and sooner, informed, than is the spectator in the convention hail. When there is confusion, frequently it is the television or radio newsman on the floor who first provides the' needed clarification."
Television needs a show with enough color, drama, and tension to hold an audience for the sponsors. Within that framework, news executives want to cover the news. At a national convention precious little news is made on the rostrum, nor is there much color, drama, or tension in a windy address by the lieutenant governor, of somewhere who wants to get some prime-time exposure and then go home and run for the Senate.
Bill Leonard, vice president of CBS News, said recently while brooding over his network's' plans for 1968 convention coverage, "You can't just point the camera at the convention. Hell, nobody would watch after a while. Even the delegates don't pay any attention to most of what goes on. They have to be chained to their seats. We have to try to report what's really going on. Often, the way a correspondent has to do that is to look into the camera and tell you with his mouth. Or, if I've got my choice between the national committeewoman of Wyoming welcoming some guest to the platform, and an interview on the floor with the chairman of a crucial delegation that has just caucused, I'm going to the floor." Leonard does not contend, nor do other network news people, that television coverage of conventions approaches the ideal. "I'm not ashamed to say that we overcover them," he said. "When we turn our attention to something, we are so big we make it big. When we overplay something, it can be serious. And I must say we sometimes hit a gnat with a baseball bat."
UNDETERRED by dreamy talk of reform, NBC and CBS are coming back this year with the most expensive, extensive, and aggressively competitive coverage of the conventions in history. ABC, as a matter of fiscal necessity rather than journalistic judgment, is withdrawing from the big battle of live coverage. It will experiment instead with a nightly convention summary from 9:30 to 11 P.M. emphasizing analysis, background, and videotaped highlights. For untold millions of viewers, ABC's early-evening entertainment shows, mostly reruns of popular situation comedies, will provide a long-awaited alternative to the conventions. As "lead-in" programming, the entertainment shows could deliver a huge audience to ABC's convention summary. If ABC does bring off a coup in the ratings, 1968 could be a major turning point for the philosophy, technique, and economics of convention coverage.
NBC and CBS each will spend up to $5 million covering each convention, and neither can count on getting back more than about a third of its expenses in sponsors' fees. ABC's convention coverage will be much cheaper; not only that, but ABC will be making money on sponsored entertainment, and its affiliates will be taking advantage of more opportunities to sell lucrative local spot commercials, while the other networks are losing money on public service. NBC, cushioned by its parent corporation, RCA, implies with perhaps pardonable smugness that it will be giving blanket live coverage to national conventions as long as there are national conventions. But CBS confesses that it has been discussing what it calls "selective coverage" for years. That is, the network would stay with the conventions when they were lively but cut away to some sort of standby entertainment show when things got dull. Richard S. Salant, president of CBS News, has said that covering conventions from start to finish has led to massive reporting of trivia. He asked, "Are we really exercising our news judgment when we stay on that long—while the boy orators orate; while the favorite sons, who everybody knows will withdraw, are nominated and seconded?"
Still, CBS wound up planning full-scale coverage this year. If the conventions, which promised to be exciting at planning time, should turn out to be cut and dried, there would remain the exciting competition with NBC to keep things interesting. The industry's audience analysts estimate that the country has 56 million "television households"; on the basis of past experience, when ABC was not offering its early-evening alternative, well over 100 million people in 52 million of those households could be expected to watch at least part of the conventions. The average viewing time in the past has been about fifteen hours for the two conventions. About 23 million households will have color sets by August, and these will be the first conventions broadcast in color. That means that, along with additional expense and various technical problems, much hotter lights will be needed than before, which means in turn that the Miami Beach Convention Hall and the Chicago Amphitheater have had to look to their air conditioning lest the poor delegates be addled by heat before they nominate. As for the glare, dark glasses are recommended.
The network staffs will be ready in Miami Beach a week before the Republicans convene on August 5 and in Chicago a week ahead of the Democrats' opening on August 26. After covering the preliminary committee meetings and political maneuvering on an irregular schedule, NBC and CBS will begin constant live coverage during the formal convention sessions, which will be held almost entirely in the evenings to accommodate the viewers at home.
NBC plans to go all the way with its Huntley-Brinkley ticket, undefeated since its first great victories at both 1960 conventions. Below the anchor booth, floor men and candidate-trackers will include such correspondents as Sander Vanocur, Frank McGee, John Chancellor, Edwin Newman, Douglas Kiker, and Jack Perkins. Like a good many of their colleagues on the other networks these days, most of those men would be top-flight journalists in any medium. No longer do realistic pad-and-pencil reporters have the luxury of scoffing at television correspondents as superficialists with deep voices and nice smiles. Yet I have not forgotten watching Robert ("Shad") Northshield, a top NBC News executive, sending Vanocur, McGee, and Chancellor onto the floor of the Cow Palace at the start of the Goldwater convention. As they threw their legs over the railing and went out there like a fresh hockey line, the amiably flamboyant Coach Northshield intoned, "I have the feeling this is the lull before the lull. But if it gets deadly, we are prepared to make our own show."
Later, as everyone knows, Chancellor was arrested for refusing to be cleared from the floor. After interviewing his captors, he was bodily removed, signing off for posterity, "This is John Chancellor, somewhere in custody."
The incident was an extreme example of the kind of electronic journalism that provokes the charge that television does not so much cover a convention as it covers itself covering a convention. The industry contends that self-coverage is inherent in a "live" medium that must interview and explain if it is to do its job right. Advanced thinkers apparently find comfort in extending the philosophy of Marshall McLuhan to redefine the whole situation: the medium is the convention.
The competitive stakes are high. Convention coverage is an investment in prestige for the network news departments. Experience has demonstrated that ratings, critical notices, and public reactions during the convention broadcasts carry over to affect a network's public-affairs image and audience for months and even years. So for this year, CBS will be ready to match NBC dollar for dollar, gadget for gadget, and man for man (with a bit of tactical double-teaming where that seems judicious). When NBC asked the Republican arrangements committee to approve a center camera stand 25 feet in front of the rostrum and "a foot or two above the level of the speaker's nose," CBS seconded the motion. When CBS told the committee that its legions at the convention would require 750 single hotel rooms, 20 suites, 30,000 square feet of working space just off the convention floor, and 700 passes to the convention hail, the NBC request was substantially the same. NBC did make a mysterious request for dock space for two yachts in front of the Fontainebleau Hotel at Miami Beach, and that caught CBS unaware, but otherwise the contest looks equal logistically.
NBC has four "ultra-portable mini-cameras" for use in close support of its floor men. To match the competition camera for camera, CBS has its own new color portables for the infighting. The negotiations about these roving cameras on the floor may provide a measure of the Republicans' success in trying to reform journalistic enterprise at their convention. The networks each wanted to use four roving cameras; the most ardent Republican reformers preferred none. At last report, the compromise was three.
CBS will "anchor" its convention coverage with Walter Cronkite. He will be on camera alone in his glass booth next door to Huntley-Brinkley. But the CBS strategists have come up with a new ploy to support Cronkite: Eric Sevareid and Roger Mudd will work in a studio adjacent to the convention floor, and CBS viewers will be seeing a lot of them. The network also will have Harry Reasoner reporting from a seat on the rostrum; the floor men, headed by Mike Wallace; a spirited crew of young correspondents scattered around the convention city; and Art Buchwald, the humorist, and Theodore H. White, the historian, on call for spot duty. In the main confrontation, however, it is apparent that CBS means to counter Huntley-Brinkley with a threesome, Cronkite-Sevareid-Mudd. The team does not sound catchy, heaven knows, but it is interesting. Bill Leonard gave the executive view of the new team's responsibilities: "Walter will tell us what's happening. Eric will concentrate on the meaning of what's happening. Roger will discuss the political background, the personalities. Roger is irreverent and unawed, you know—a tough reporter without being awed—you know what I mean? He laughs well."
What all that seems to mean is that CBS is going after the opposition's star, Brinkley, by double-teaming him. Leonard declined to go into the delicate details, but CBS clearly assumes that Cronkite will be able to handle Chet Huntley head to head while the literate, incisive Sevareid and the irreverent Mudd swarm all over Brinkley. If this sounds like basketball coach talk before the big game, that is how it is. But make no mistake, the CBS strategists are deadly serious about their game plan.
IN THE brief and fervid history of television competition at the conventions, the last two rounds have been traumatic for CBS. Before those ratings debacles of 1960 and 1964, CBS and Cronkite had done well competitively in 1952 and 1956. Television was so new to most people in. 1952 and the conventions themselves were so fascinating that year that hardly anybody was aware of anchor men or slick production. At the 1956 conventions, NBC put Huntley and Brinkley together as a team, but they were not a sensation. Nobody dreamed they would become the most famous hyphenation in all of television. Their nightly news program began to catch on during the following years, however, while Cronkite worked on special events and somebody else read the evening news on CBS. Then came the 1960 conventions. Huntley and Brinkley, cool and understated, carefully insulated by their producer, Reuven Frank, from the howling chaos that prevails in television control rooms at these affairs, were indeed a sensation. Frank, now executive vice president, and William R. McAndrew, then vice president and now president of NBC News, imposed a remarkable amount of order on the electronic tangle of their convention operations. CBS, in 1968, is just now reorganizing its communications, control, and production planning to catch up to the convention techniques of NBC.
As it happened, I visited the rival television headquarters at the 1960 Republican Convention in Chicago after NBC had scored its tremendous victory in the ratings and with the critics at the Democrats' conclave in Los Angeles. A Chicago newspaper actually gave front-page play to a story of the "panic" at CBS. At CBS I found what looked like panic to me, too, but a publicity man burbled, "What is all this talk of panic? We are not panicked. Let's get out of this confusion where we can talk." In the sanctuary of an empty first-aid room—nobody at CBS was physically wounded, anyway—the publicity man said, "Look, we are not competing for ratings. We are trying to do a job of electronic journalism, cover the news. We are not about to try to match Huntley and Brinkley with a couple of jokers. Our approach is like the New York Times, theirs is like the New Yorker. OK? Now, I'm not going to run down Huntley and Brinkley as newsmen, but I heard a guy say they reminded him of Weber and Fields. I heard another guy say he would like to book them into a nightclub when this is over."
This confirmed the CBS panic. By 1964, CBS had long since put Cronkite on the evening news, shaken up its executives, established an "elections unit" to worry about political events, and scored some dramatic breakthroughs in early vote estimates on election nights. Hopes were high at CBS as the Republican convention began. As it came out, CBS got good critical notices, but NBC got a big win in the ratings, 2 to 1 in some of the "major markets." There was another panic: for the Democratic convention Cronkite was benched ignominiously, and into the CBS anchor booth went Roger Mudd and the courtly veteran of radio, Robert Trout. They had their moments, but not enough people watched. NBC won big again.
The industry assumes that CBS, even after all its past troubles, will be a strong challenger to the Huntley-Brinkley network this year. Not only has CBS improved its lineup and supporting organization, but it has been more resourceful than NBC in covering many of the preconvention political developments. Cronkite's regular news show has moved up steadily in the ratings to a position just ahead of or just behind Huntley-Brinkley, depending on varying or obscurantist interpretations of the figures.
The third network, ABC, has never figured prominently in the news competition, although the president of ABC News, Elmer Lower, appears to be accorded special respect by knowing people in the industry. For 25 months, while the network tried to negotiate a merger with ITT to help relieve a financial squeeze, Lower planned full coverage of the 1968 conventions. "But when the merger fell through on the first of January, our budget cuts nicked me for $8 million," he said. "You don't make that up by firing secretaries and office boys." So ABC developed its plan to retire from constant live coverage of the conventions. ABC will be ready to "go live" when events warrant, Lower said, "but we don't want to play the other fellow's game." He thinks it is important for the program to stick to its own format, which will include nightly discussions, or debates, by William F. Buckley, Jr., and Gore Vidal. Anchor man for the program will be Howard K. Smith. William H. Lawrence, Bob Young, Frank Reynolds, John Scali, and Joseph C. Harsch will be among the participating correspondents. That group may be as perceptive as any network's lineup, but the big thing that ABC has going for it may be entertainment lead-in programming in competition with other networks' Convention shows. ABC recalls such statistics as this from 1964: on the first night of the Republican convention none of the networks' convention coverage received as high a rating in New York City as an independent station, WOR-TV, showing Elvis Presley in a movie called Loving You.
"If we have some success," Lower said, "it might persuade the other networks to move in our direction in the future. It might even persuade the conventions to reform. They have come into the twentieth century with a nineteenth-century format."
Television has had its effect on conventions, however. The first flickering experiment at the conventions of 1940 had little impact, but Lower would concede that full-scale coverage beginning in 1952 brought about many alterations in the conventions. The politicians played to the cameras, but they also tended to take much of their important decision-making deeper than ever into the traditional smoke-filled rooms.
Whatever its problems in covering events that politicians do not want it to see, television continues to change the structure and look of conventions. Scheduling sessions in the evening for the home audience means that business that could have been conducted in the afternoon often stretches the session into the next morning. Speeches are fewer and shorter. Sweaty orators, bellowing and waving their arms for an hour or more, have yielded almost completely to TelePrompter readers, younger and brisker fellows, some of them very slick and many of them no fun. The Republicans mean to enforce a rule this year sharply limiting nominating and seconding speeches. The Democrats have abolished the public polling of delegations. Both parties are cracking down on sign-waving, chanting demonstrations, hoping to shorten them radically and eliminate hired enthusiasts. Both parties are indoctrinating the delegates in the importance of perfect attendance, looking interested, and not making unexpected motions or fools of themselves on the tube.
WHILE many of the changes brought on by television may be for the best, there is something synthetic about this new kind of convention they are making. There is a lack of spontaneity, a sense of stuffy self-consciousness. There is something unreal about seeing Sander Vanocur starting across the floor to interview a delegate and getting stopped for an autograph. There is a certain unease in knowing that the orator of the moment was practicing a while ago on an offstage mockup of the rostrum,
getting himself in sync with the TelePrompter. I, for one, am wistful for the sweaty old orator in sync with some muse known only to himself, and likely to howl on in the most preposterous way for another 40 minutes. Realists tell me that I am wrong—that in truth we were all bored stiff by the old orator, that we have to accept the times in which we live, that at least we have to trade the old vulgarity for the new.
Yes and no. I doubt that serious harm has yet been done to the fundamental function of conventions—the mechanics of nominating candidates and adopting platforms. And there are advantages to the country in seeing what television is able to show of what is going on. Still, within the context of what television is doing to the rest of the political process in this country, there is something surreal about its obtrusive participation in conventions and its obsession with its own intramural competition.
Nearly everyone, whether or not he understands the cool circuities of Marshall McLuhan, realizes that television has become a revolutionary force in politics. It is enough to say that the medium's greatest wallop is the way it emphasizes the superficial qualities of a candidate—his physiognomy, mannerisms, "style." This can be crucial in any campaign, national, state, or local. I have the notion, for example, that a presidential preference primary in the era of television is subject to a kind of inflation that is truly dangerous. When the networks move in on a primary in a given state, the contest automatically achieves a greatly magnified national importance, even though candidates may be fighting over a relative handful of delegates. Such primaries often occur amid lethargy, parochial concerns, and confusion about national candidates and issues. The national impact of primaries is attributable in large part to the impact of television itself as a medium—and to commentators' sometimes simplistic interpretations. These primaries are peculiarly vulnerable to warping by the leverage of money. Money means good organization, door-to-door canvasses, local television exposure, mail and newspaper advertising, and drummed-up excitement. A candidate who has huge amounts of money, particularly if he has telegenic "style" to boot, gains an enormous advantage over less fortunate opponents in a brief primary campaign.
So the ultimate effect of television on campaigns before and after the conventions seems to me more dangerous than the effect on the conventions themselves. A convention, until the nomination is made, affords a candidate himself little opportunity to dominate the tube. In any event, conventions are where television with all its trappings is most obvious. This is when an industry that spends so large a part of its time spinning out cotton candy suddenly insists righteously that it has a public-service responsibility to swarm all over, under, through, and around a news event.
Actually television is in a trap at a political convention. If it agreed just to point its cameras at the surface of events in the hail, the politicians would press their opportunity to put on a self-serving show. When television plunges in to try to find such real news as subsurface deals and dissent, its legions stir up commotion, and the coverage is often illusory anyway. The real decision-making is almost always hidden from the cameras. What we see for the most part is television covering the public version of private arrangements.
The fact is that television coverage of conventions, however disjointed and superficial it may be at times, manages to get across to us a great deal about the way our political system works. We are still a nation of disparate parts. The conventions of each of the national parties are the occasions that bring various coalitions together every four years to pull and haul at one another; to test old power centers and form new ones; to compromise and, yes, to raise a little hell together in a carnival atmosphere. Television reflects it all, if not always clearly. The alternative to the present method of choosing nominees is to "go to the people" with a national presidential primary. But to "go to the people" in the age of mass media would be to hand to television—and to the richer candidates with "style"—an enormous power over the nomination. It would, in my opinion, be a boon to imagery rather than democracy. Television already has enough power—probably too much—in the making of Presidents. It is important to our understanding of one another in the North and South, in ghetto and suburb and countryside, that we hold on to the opportunity to communicate in the convention hall, however chaotic, rather than across the infinite distances (with their deceptive intimacy) of the mass media. A convention hall is a hard place to cover the news instantaneously and articulately, and the caucus room is an almost impossible place. So the result too often is disruptive or trivial. But we can learn to live with problems of coverage if the convention itself is a more sensible and workable instrument than a national primary, as I suspect it is.
Reason does seem to call for restraint by the networks—less obtrusive participation in the conventions, a sense of proportion about the competition among networks when men are competing for President of the United States, maybe even a little reverence for an old institution. If the conventions do not deserve television's reverence, surely they deserve better than a public smothering.
Back to you in the booth, Walter, Chet, David, Howard, but tell the boys to take it easy, will you?