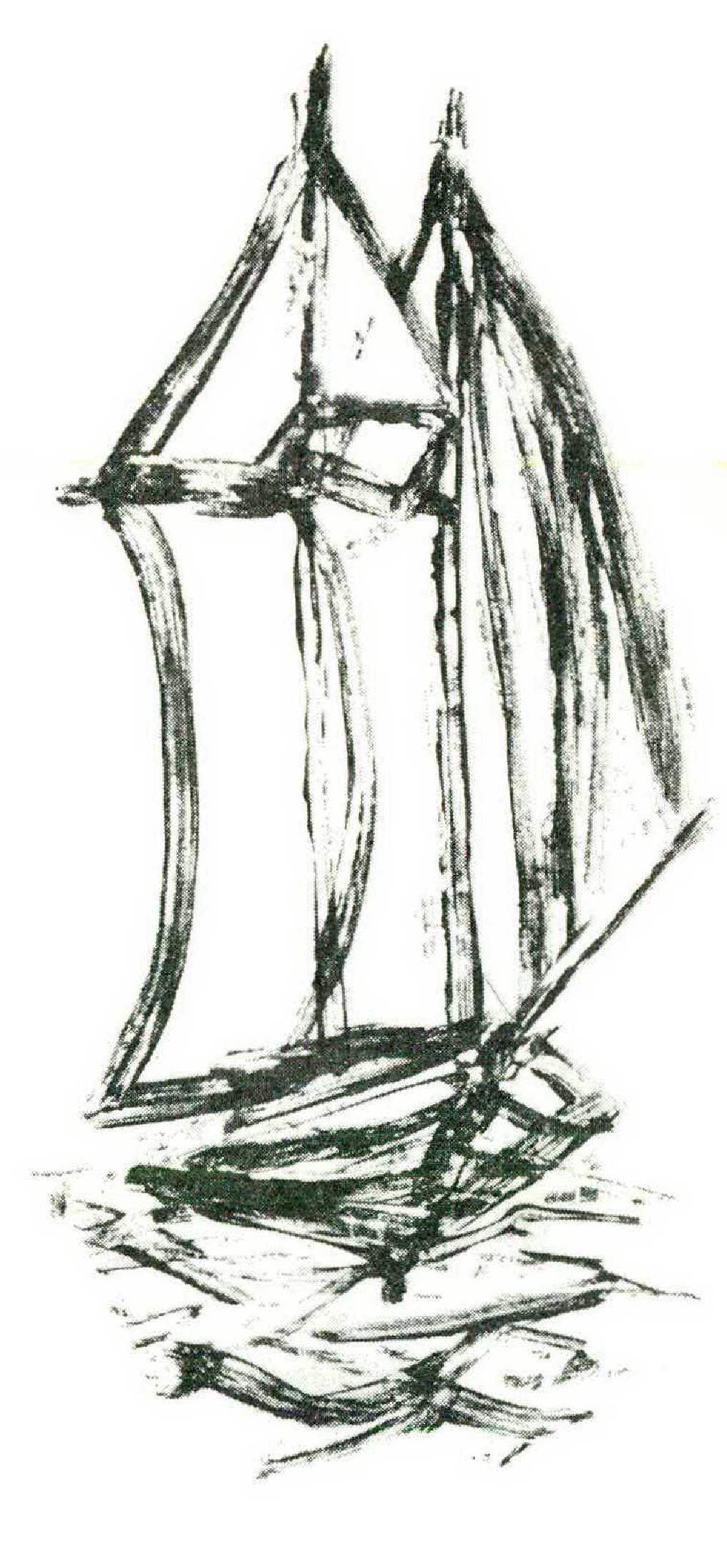 Connoisseurs of Caribbean islands are fond of comparing St. Vincent with Tahiti, pointing out that both arc volcanic, well watered, and extraordinarily lush. A British insurance company that operates in the Caribbean pushed the comparison even further. One year the company calendar featured a photograph identified as Mount Soufriere, the 4000-foot dormant volcano that dominates St. Vincent. Puzzled locals couldn't figure out where the photographer had planted his camera. Pressed for an explanation, the embarrassed insurance company admitted slipping in a shot of Tahiti.
St. Vincent, one of the British Windward Islands, is handier than Tahiti, but it was pretty well cut off from tourists until four years ago when it acquired an airfield. Now twin-engine aircraft hop over in thirty-five minutes from Barbados, about a hundred miles west on the main Caribbean jet routes. Yet St. Vincent is still by no means overrun. The island — eleven miles wide by eighteen miles long — offers a few simple hotels and one imaginative luxury resort with plenty of hammocks and no television. If St. Vincent's amenities seem too worldly, there is always its smaller dependency, Bequia, only nine miles south by boat. This island goes in for oil lamps and mosquito nets in a setting that one visitor described as "pure Maughamsville."
Early last winter, my wife and I put down on St. Vincent and headed for the luxury resort, called Young Island, which occupies its own twenty-acre islet six hundred feet off the south shore. This enterprise is the work of John Houser, an exHilton and ex-American Express executive, who in revolt against high-rise hotels went horizontal with a stylish version of a Polynesian village. He has built nineteen elegantly decorated double cabanas — "I wish I could think of another name for them," he says — scattered along a golden beach, around a free-form lagoon swimming pool, and up a verdant hillside. Bananas and papayas grow outside the doors. Palms and giant almond trees rustic overhead. Excessively large cut-leaf philodendrons screen private terraces and winding native-stone walks. An oval bar in a split-level longhouse plies each arrival with a welcoming drink named the Island Special. Its base is three ounces of rum. Three spitted hibiscus blossoms rise from the glass. The tropical languor lasts some time.
Young Island's rope hammocks, slung under palm-thatched shelters on the beach, provide a major form of recreation here. There is also a good snorkeling reef just off the beach. One visitor, a nurse by profession, trained digger fish, ordinarily bottom feeders, to come up and snap at toast crumbs. At sunset, one can stroll around the shore to a rocky belvedere and watch a display of wind-whipped clouds shaped like Thai dancers, outlined in red. Ship's lanterns light the way back to the bar and the curiously named Captain Bligh Room, where guests dine very well on such specialties as native lobster cooked over charcoal and three kinds of homemade bread, including an exotic banana bread.
Early one morning, we circumnavigated Young Island to explore Fort Duvernette, a neighboring sixacre islet that rises sheer from the sea either 196, 260, or 400 feet, depending on which tourist literature you read. Crumbling stone steps zigzag up the rock face to the top. Iron cannon, scarcely rusted, command a nearby bay. They bear a crown and the entwined inscription "GR 3" (for George III). The fort was once French, as its name suggests, but the occupants presumably got away with their own cannon when the Treaty of Versailles (1783 edition) dealt St. Vincent to the British for keeps. The native Carib Indians proved more intransigent than the French; they fought on — or "continued giving trouble," as a local history puts it — until 1796. A few descendants survive in a Carib village on the northern end of St. Vincent.
St. Vincent's capital, Kingstown, nestles in a harbor between two high points of land — a town camouflaged by greenery. A back street sign reads, "Everready Funeral Home — with all the latest designs in coffins and caskets — Undertakes Anything." Other merchants feature more cheerful items, like dutyfree yard goods of Sea Island cotton, which is grown here. St. Vincent also grows 95 percent of the world's arrowroot, but cornstarch substitutes have cut down the market, and most of last year's crop still sat in warehouses. As a St. Vincent marketing official observed, "You'd think because our people are always smiling we have no problems, but we do." He sighed. "Visitors talk only of the beauties of the island. Let them try to move our excess crops."
We studied St. Vincent's extravagant palette of greens — cool greens, hot greens, dull and shiny greens — when we toured the fertile Mesopotamia Valley, named after the meeting of two rivers. Beyond lies the Windward Coast, where the rivers run down to the sea and the Atlantic roars in on long black-sand beaches. Rolling downs mark a section called Argyle, which might pass for Scotland with palms. The Leeward Coast road, described as alpine, hangs above the sea, then curves around an enormous valley which belongs to a single family of planters, who raise bananas and beef cattle. A few families still dominate St. Vincent landholdings. "But there isn't any of that bobbing and curtsying anymore," said our driver. He added a comment on ottc unidentified plantation owner. "His parents left him a lot of land and a lot of cash. He lives high, with a fine house and a big yacht — and he's as ignorant as a bat."
St. Vincent bursts into a climax of vegetation in the Botanical Garden, generally considered the finest in the West Indies. It descends from Government House in a series of broad pleasances. Captain Bligh fetched breadfruit trees here from Tahiti in 1793, and a sucker grows on the very spot to prove it. The superintendent, Mr. Peters, a brown, grizzled elder, speaks of his trees with love, as if they were his children. He pointed out the Soufriere tree, which grew on the slopes of the volcano until the eruption of 1812. "They haven't grown wild here since," he said, "but a lady from Canada, she sent me some hormones, and I layered this tree and got a new young one." There are flowering red African tulip trees, acacias blooming in bunches the size of wastebaskets, and the utilitarian sour cucumber tree, from which hangs a tiny fruit that makes pickles and laundry bleach.
Aside from Young Island, there are comfortable accommodations on St. Vincent proper at Sugar Mill Inn, which occupies an old sugar estate overlooking the sea some distance away. (Plantation owners built to catch the trade winds.) The main house, formerly the sugar factory, is painted dusty pink and is covered with deep-red bougainvillaea and orange hibiscus. A modern bungalow wing stands in the shade of a banyan tree with a hundred-foot spread. Sugar Mill has a swimming pool and also transports guests to the beach. On Saturday night a bamboo band with homemade instruments turns up for a dance. On Cruise Day the same band plays the same repertoire for visiting ship passengers, who photograph the musicians, a prop policeman in a white topee, and each other holding rum drinks. Manager Gerry Palmer, a British veteran of the Indian Army, is a tolerant host. As he sat on the veranda one day with island friends, a cruise passenger teetered up to inquire, "You're natives?" Palmer smiled and stroked his Guards' mustache. "It's quite all right," he replied. "The natives are friendly."
Another small hotel on a southwest promontory of the island, the Blue Lagoon, is a converted private villa with precipitous lava rock gardens dropping off to the sea. The Rooks, a chatty English couple who own the place and have lived on St. Vincent for twenty years, like to reminisce about the early days when supplies were hard to come by. "I used to comb the beaches for old tennis shoes and cut them up for lavatory washers," says Mr. Rooks. Mrs. Rooks has a showy shell collection gathered around the island. The rooms, all with baths, are simple, the food mostly English, the view from the terrace elaborate, with a 180-degree sweep of mountains, offshore islets, and Bequia to the south.
Bequia itself — pronounced Beckway — is the largest of the Grenadines, a string of some hundred islands and rocks stretching fifty miles from St. Vincent to Grenada. These are favorite cruising waters for charter boats, and we picked up a passage on one bound for a day's excursion to Bequia. (Interisland schooners also make the nine-mile run two or three days a week, depending on the week.) Our boat was the Mektoub, a forty-two-foot Nova Scotia built schooner belonging to Captain Richard Weinman and his wife, Barbara. Weinman, a Frenchman constructed along the lines of the late Charles Atlas, is a graduate of a French naval academy, ex-Greenwich Village sculptor, now a full-time sailor. His wife, a cheerful sun-browned Smith girl, does the cooking on board and manages a Caribbean charter business. "We still visit New York," says Weinman, "but when we see the zombies going into the subway, we come back here."
We sailed early in the morning. Our course was 220 degrees, our speed about five knots on a reach; and the swells rose as soon as we cleared St. Vincent. Bequia Channel is rough; the bottom drops to more than two hundred fathoms, so the waters churn in a trough. To the west, the sea was navy blue; to the east, silver under the morning sun. The rigging sang. Then we lost the wind in the lee of Bequia's high, rocky shore and under power entered the harbor of Port Elizabeth, the capital.
For a promise of adventure, perhaps every Caribbean island should be approached by sea, in a small boat. Port Elizabeth straggles around horseshoe-shaped Admiralty Bay: a white police station, a few waterfront stores, and tin-roofed villas scattered up the hills. Coconut groves border the beach. A canted wooden hulk lies offshore; it was the subject of a lawsuit, I learned, and while the suit ran on, the boat settled.
About five hundred yards from town along the beach stands the Sunny Caribbee, wishfully renamed the Bequia Beach Hotel, but the old name sticks. A guest lay asleep on the dock with a paperback beside him. When our dinghy bumped the dock he woke up and said, "I've been here a month. It's time I turned over." The hotel is a twostory structure with a wide veranda on two sides, open to the breezes in the island style and surrounded by oleander, almond, and cedar trees. A Bequian of Scottish descent, Sydney McIntosh, built the place for himself in 1942, out of mahogany and greenheart salvaged from a torpedoed ship. These termite-resistant woods account for the hotel's solid condition. He even installed an electric power plant, but he couldn't get parts, so he abandoned it early. There are still bulbs in the sockets; the wires have long since crumbled. "They've been claiming they're going to get electricity on this island as long as I can remember,"Mr. McIntosh told me. "I get up with the sun and live my day, so I don't see what this electricity is all about."
The Sunny Caribbee, now under the same ownership as Sugar Mill Inn, manages well enough with oil lamps. Rooms are large, bright, layered with white paint, and have running water but no bathrooms, (A men's bath and ladies' bath lurk at the end of the hall.) Over the beds hang enormous mosquito canopies, which the maids tuck in, cocoonlike, at night. Mike and Phyllis Sprange, a Canadian couple who run the hotel, take food seriously. "The help christened me Mr. Hot Plate," says Sprange, "because I used to stand at the pantry door and feel the temperature of the plates as they were brought out." Among the dishes we sampled during our stay were tanin soup, made from a local root vegetable; chicken and corn cooked with coconut milk and served in a coconut shell; shirred lobster tenderized with papaya leaves. Rolls came from an authentic home bakery in Port Elizabeth. The baker is an aged Negress; her backyard oven is a steel oil drum fired with coconut husks and charcoal; she uses hard-wheat flour; her rolls are wonderfully good.
Bequia offers a sample of what the West Indies used to be before jets and super-resorts transformed the region. Its white beaches are deserted: one, next to the Sunny Caribbee, lured yacht-borne Princess Margaret ashore for a swim, so the Bequia ns promptly named it after her. Primitive roads, negotiable by jeep or pickup truck, climb through overgrown hills to kelly-green pastures. Across the island lies milelong Friendship Bay Beach, where a small modern hotel rises on a hillside. For Bequia, the Friendship Bay Hotel is virtually a Hilton, with its own electricity and a bath to each room. Friends who have stayed there recommended it to me.
At Friendship Bay we visited one of Bequia's family shipbuilding enterprises, the island's only industry. In a beachfront coconut grove that serves as a shipyard, Ernie Adams was at work on a seventy-six-foot island schooner, up on ways. A spare, seamed man of about fifty, whose grandfather founded the business, he said it took him close to a year to build a ship this size, working with hand tools and five helpers. The ship's ribs, for example, are hewn out of local white cedar by ax and adz, then fitted with remarkable precision. The schooner was almost ready for launching. An anchor lay on the sand, and about two hundred feet of chain hung festooned between two palms. "You haven't got anchor and chain, you haven't got no boat," observed Mr. Adams.
Before leaving Bequia, I dropped in, with the necessary advance permission, on the hideaway of a former New York and Chicago advertising man, T om Johnson, who lives at the slender southwest tip of the island. In an arch of volcanic rock called Moon hole he has carved out an open-front cliff dwelling facing the sea. Access is by small boat, and it isn't easy. Not quite content with his own comfortable pueblo, which spreads over at least thirteen levels, he is also constructing rock houses for friends. "He just starts to build a set of steps to somewhere and goes on from there," said Mrs. Johnson, a slim, tanned woman. "I do the gardens." The Johnsons expect to gather a colony of creative companions around them, in an atmosphere that offers few distractions from work. "Don't say Tom escaped," Mrs. Johnson warned. "He's not an escapist."
It seemed a fair statement, considering the logistical problems of building and supplying Moonhole. On the other hand, the winter escapist with no interest in work for a couple of weeks should make a note of St. Vincent and Bequia.