How Useful Was My Paperweight
A British free-lance author well known for his light verse, R. P. Lister is equally facile in writing prose.
I was scrambling about the fringes of the Selka glacier, in the LuleLappmark, when I tripped over a loose piece of rock shaped like the skull of an immature zombie partly decomposed. I thought it would make a nice paperweight. I put it in my rucksack and carried it six days over the mountains to the nearest post office. There I posted it to myself at an address in Athens.
After walking several hundred more miles across the tundra, I was arrested by the Finns on the Russian frontier. They released me, and I took a train to Stockholm. I spent the night walking about the town. At sunrise I met a fox on one of the bridges, near the Djurgården.
"Where are you going to, fox?" I asked him.
He made no reply, but trotted off toward Kungsgatan. I suppose he was having breakfast with some other fox up there.
I took a train to Rome. At Hamburg a Communist called Tonio joined me. All his money had been stolen in a fracas. I shared my cheese and blood sausage with him. At Milan a young priest came aboard.
"The Church is the enemy of the people," Tonio said. "Are you not very hot in that soutane?"
The young priest smiled. "I wear nothing underneath," he said.
There was no room on the seats that night, so I took my reindeer hide down from the rack and slept on the floor.
My friends in Rome gave a fine party. It went on all night. The next day I went down by train to Brindisi. I got on a boat at dusk and climbed into a lifeboat. When I woke up, the sun was rising over Albania. I took a bus to Athens.
I had a fine flat in Athens, in the Kolonaki district, with a wonderful view across the Hilton to Hymettus. It was a nice change to sleep in a bed. In the morning I received a green postcard telling me to call at the head post office for a parcel. I washed some drip-dry shirts and took them up to the roof. There was a woman there who had come up the back stairs from the boiler house. She spoke to me in Greek.
"Parakaló?" I said politely.
She waved her hand at my shirts flapping on the line.
"Catharsis," she said. Just then a puff of smoke came out of the boiler chimney to windward. My shirts turned black. I took them back to the flat and went down to the street.
I waited at a bus stop until a bus came along. It was labeled Apotheosis. It seemed safer to walk. The head post office was on the other side of the agora from the Acropolis. It was vertical. I queued up at several counters on different floors, signed my name fifteen times, paid over a pocketful of drachmas, and collected my parcel. By late afternoon I was back at my flat, with my rock from the Selka glacier, a bottle of ouzo, and some melons, and settled down to work.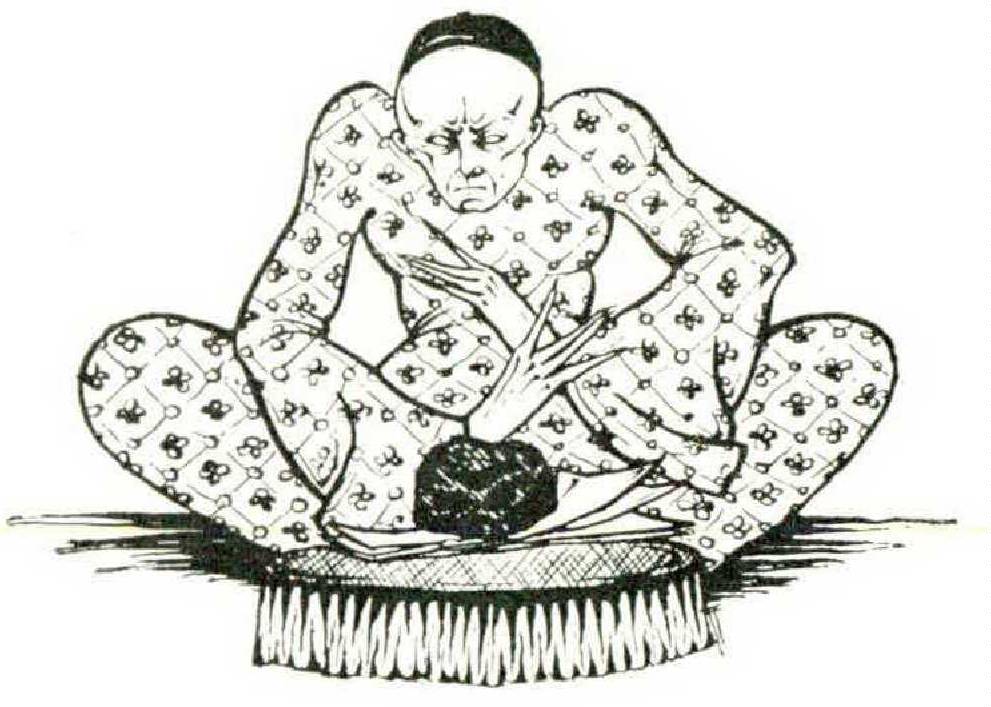 There was a nice breeze blowing through the flat when the windows were open. I took out my paperweight and put it on a pile of papers.
A dozen men were putting up a new block next door. They hammered nails into the scaffolding, poured bricks down wooden chutes, started up the cement mixer, and held long-range discussions on politics and the football results. I shut the windows again and put the paperweight away in my rucksack. The temperature with the windows shut was a hundred and ten.
After six weeks the building was still far from finished. I took a last look at Hymettus, caught a train to London, and went to live in a deserted mansion in Suffolk. The wind blew across the frozen orchard. I kept the windows shut, but the door kept blowing open, letting in cold air from the haunted wing. I got out my paperweight to use as a doorstop. When the wind blew, it swiveled around under pressure, and the ghosts got in.
I went out and chopped down a tree. It fell on a shed full of hibernating tortoises, knocking one end of the roof off. I took a piece of coping stone to use as a doorstop, and put my paperweight back in the rucksack.
It was still there when I went back to London and took a flat with an architect friend at eight guineas a week. I washed a pullover and put it on the window ledge to dry, using the paperweight to keep it from falling off. It fell off. I went down into the garden to get it back, and met the landlady. She said, "The rent is now twelve guineas."
The architect found a flat in Kensington. I stored my paperweight and other possessions in a friend's loft and went to Turkey.
When I came back, I was offered the use of a front room off Ladbroke Grove. I slept on a camp bed under the grand piano. We gave a great party to celebrate the Chinese New Year. I was talking to a monsignor when an office block came in through the door, sideways. I peered in through one of his upper windows.
"Who are you?" I asked.
"Office blocks don't talk," he replied, puffing cigarette smoke through his fenestration. Sometime later one of his architraves came loose. I got my paperweight out of the rucksack to hammer it back home, but only succeeded in denting his entablature. Somebody remembered there was a hammer in the kitchen drawer. I put the paperweight in my rucksack, under the grand piano, and there it remains.
As Sir Samuel Baker remarked, there is nothing so useful as iguana skin for lashing broken gunstocks. I wish I had him here to tell me what chunks of stone from the Selka glacier are useful for, but his present whereabouts are unknown.