A Darwin Sidelight: The Shape of the Young Man's Nose
In December of 1831 Charles Darwin sailed for Patagonia aboard the H.M.S. BEAGLE, a voyage he later described as "the most important event of my life."The circumstances of that remarkable journey and Darwin's lively encounters with the ship's captain, Robert FitzRoy, are recounted by Stanley Edgar Hyman, the distinguished poet and critic.
STANLEY EDGAR HYMAN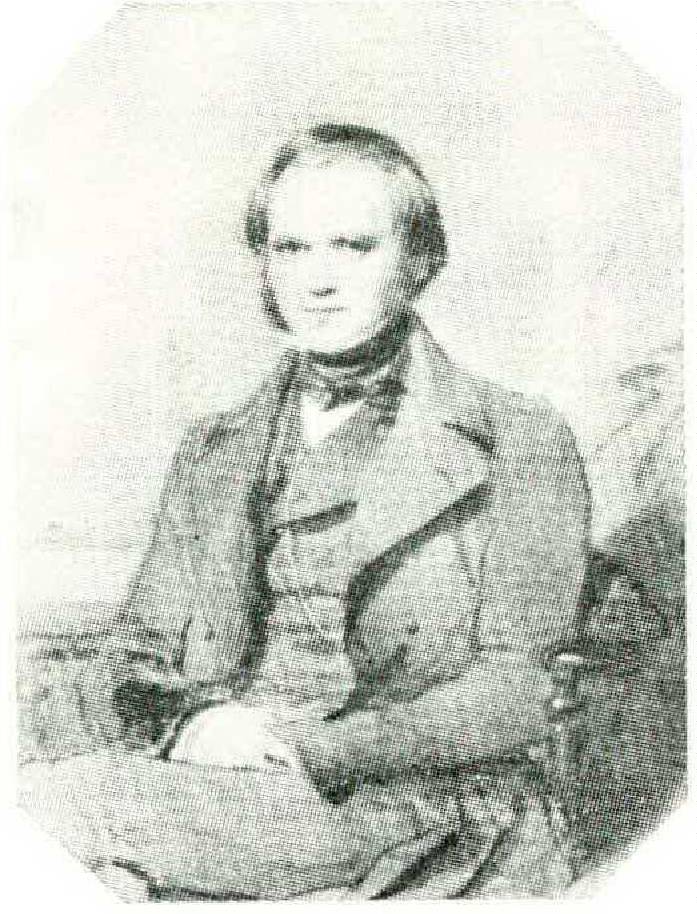 ON MONDAY, September 5, 1831, Robert FitzRoy was exactly twenty-six years and two months old. Young as he was, he had been in His Majesty's Navy for twelve years, and before that in the Royal Naval College. He had risen rapidly to lieutenant, then to flag lieutenant under Rear Admiral Sir Robert Otway, then to captain, and was generally regarded as one of the most promising young men in the British Navy, with a brilliant career already well begun. All the testimony agrees that FitzRoy was a remarkable seaman, and a conscientious and scrupulous master (he took great pride in the health of his crews, supplying such unfamiliar antiscorbutics as pickles and apples), if a fairly severe disciplinarian, so that on his second voyage all the officers and two thirds of the crew from the first volunteered to serve with him again.
FitzRoy came of excellent family, and was the grandson of the third Duke of Grafton on his father's side, making him a direct descendant of Charles II, and of the first Marquis of Londonderry on his mother's side. He was slight and dark, with a handsome, somewhat heavy Stuart face, a courteous although rather imperious Stuart manner, and the devil's own temper. In the words of a young man who later served under him, "he was devoted to his duty, generous to a fault, bold, determined and indomitably energetic, and an ardent friend to all under his sway." He was independently wealthy. Since 1828, Captain FitzRoy had been master of H.M.S. Beagle, a small deep-waisted brig of about 240 tons, rigged as a bark and carrying six guns, which had returned the year before from a two-year voyage surveying the coasts of Patagonia and Tierra del Fuego, and was soon to embark on a longer similar expedition.
On that significant Monday in 1831, Captain FitzRoy was in London, at his lodgings, about to see the young man who was later to describe him as "energetic." They had never met before, and their paths had intersected only through a fantastic comedy of errors. FitzRoy had determined to take a naturalist with him when the Beagle sailed again, having on the last voyage strongly felt the lack of someone trained in geology, able to explore "distant countries yet little known," which might perhaps contain valuable metals. Back in England, he had applied to Captain Francis Beaufort, the Admiralty Hydrographer, for permission to take with him some suitable "scientific person," who would share his cabin and mess. Captain Beaufort had approved the idea, and had asked George Peacock, mathematical tutor of Trinity College, Cambridge, to suggest a person. Perhaps understanding that he was to suggest a "parson," Peacock had first made the offer to the Reverend John Stevens Henslow, botany professor at the college, who had refused it because his wife "looked so miserable" when she encouraged him to go, and then to Henslow's friend, the Reverend Leonard Jenyns, a country vicar and amateur entomologist and ornithologist, who had actually begun to pack before he finally decided against going. Both had recommended a young man graduated from Cambridge that year; in FitzRoy's words, "Mr. Charles Darwin, grandson of Dr. Darwin the poet, as a young man of promising ability, extremely fond of geology, and indeed of all branches of natural history."
Peacock and Henslow had written to Darwin, describing the voyage and insisting that unqualified as he seemed, he was "the very man" to go; Darwin had almost missed the letters when they arrived during his absence from his home in Shrewsbury. Next, his father, Dr. Robert Darwin, had talked him out of going, for a number of very sound reasons, and Charles had written to Henslow and Peacock refusing the offer; then his uncle Josiah Wedgewood had talked him back into going, driven him to Shrewsbury, and talked Dr. Darwin into giving his permission; finally Darwin had written again, to Peacock, Henslow, and Beaufort, withdrawing his refusal. Darwin had raced by coach and post chaise to Cambridge to see Henslow, on Friday, September 2, and on Saturday had gotten a friend at Cambridge named Wood, who knew FitzRoy, to write recommending him. On Sunday Wood had received a letter from FitzRoy that shattered everything; Darwin learned that the captain was "so much against my going that I immediately gave up the scheme." Nevertheless, inexplicably, he had taken the Monday morning coach to London to see FitzRoy.
FITZROY'S letter to Wood, discouraging Darwin from going, has never been satisfactorily explained. During the interview, FitzRoy told Darwin that it was because he had invited a friend, a Mr. Chester, who may or may not have been fictitious, to come, and that there would not have been room, but that five minutes before Darwin's arrival he had received a letter from Chester saying that he would not be able to come. Later in the week he had another story, that he had "taken a sudden horror of the chances of having somebody he should not like on board the Vessel," and confessed that his letter to Cambridge was "to throw cold water on the scheme." Whatever the reason, the interview went very well. FitzRoy first mentioned all the disadvantages and hardships of the trip; then, finding Darwin undiscouraged and finding himself more and more taken with him, began to stress all the advantages; and finally he enthusiastically invited Darwin to come along. Darwin in turn was enormously impressed by FitzRoy; as he wrote to his sister Susan, "There is something most extremely attractive in his manners and way of coming straight to the point." FitzRoy asked him directly: "Shall you bear being told that I want the cabin to myself? when I want to be alone. — if we treat each other this way, I hope we shall suit; if not, probably we should wish each other at the Devil." Much later in the voyage, FitzRoy confessed to Darwin that what had chiefly worried him during the interview was the shape of Darwin's nose. He was an ardent disciple of Lavater and believer in physiognomy, convinced that he could judge a man's character by his features, and he doubted whether anyone with Darwin's lumpish nose "could possess sufficient energy and determination."
Apart from his nose, certainly, there was little to judge young Charles Darwin by. At the time of the interview he was twenty-two-and-a-half years old. The spring before, he had been graduated from Cambridge, where he had achieved no particular distinction, academic or otherwise, and had displayed no more interest in science than extracurricular friendships with such of the science faculty as Henslow and the geologist, the Reverend Adam Sedgwick. Darwin's chief adolescent interests had been a rather haphazard collecting, principally of beetles, and shooting, which was his particular passion. His father was convinced he was hopelessly frivolous, and had once told him, "You care for nothing but shooting, dogs, and ratcatching, and you will be a disgrace to yourself and all your family." On the strength of this unflattering judgment, Charles's patent inability to become a doctor, and his general lack of interest in any particular field or profession, Dr. Darwin had decided that his son had best become a clergyman, and his study at Cambridge was to have prepared him for the ministry. One of the arguments Josiah Wedgewood had used in favor of Darwin's going on the voyage, in fact, was that the pursuit of natural history was a very suitable hobby for a clergyman, and it was assumed that Charles would study for orders on his return.
That Monday in September was beyond any doubt the most fateful day in the lives of both participants. In Darwin's case, he never lost the conviction that he, and his whole theory of evolution, were entirely formed by the voyage of the Beagle. On his return, he wrote FitzRoy, "I think it far the most fortunate circumstance in my life that the chance afforded by your offer of taking a Naturalist fell on me," and said that what he had learned on the Beagle, "I would not exchange for twice ten thousand a year." Looking back on his career forty-five years later, Darwin wrote in his Autobiography:
The voyage of the Beagle has been by far the most important event in my life, and has determined my whole career; yet it depended on so small a circumstance as my uncle offering to drive me thirty miles to Shrewsbury, which few uncles would have done, and on such a trifle as the shape of my nose. I have always felt that I owe to the voyage the first real training or education of my mind.
The voyage not only gave him the germ of his theory of natural selection and much firsthand data for it, but it gave him the material for the early books and papers that made his reputation and earned an audience for his evolutionary hypothesis. The same extraordinary series of coincidences and accidents, culminating in the interview and acceptance before lunch Monday, determined FitzRoy's life just as definitely, and much more tragically. FitzRoy became, in the directest possible fashion, the godfather of the most disturbing idea of the past century and its first victim.
WHAT a glorious day the fourth of November will be to me!" Darwin wrote FitzRoy in October, 1831, referring to the date the Beagle was expected to sail (it actually sailed on December 27). "My second life will then commence, and it shall be as a birthday for the rest of my life." Relations between Darwin and FitzRoy in those months were of the best, and neither had occasion to regret his first impression: FitzRoy had written to Beaufort the day of the interview, "I like what I see of him much," and Darwin had written to Susan the next day, describing FitzRoy as "my beau ideal of a captain." After they were several months out, Darwin wrote to his father: "The Captain continues steadily very kind and does everything in his power to assist me," and he found FitzRoy's industry particularly praiseworthy: "He works incessantly, and when apparently not employed, he is thinking. If he does not kill himself, he will, during this voyage, do a wonderful quantity of work." At about the same time, FitzRoy was expressing similar ideas in a letter to Beaufort: "Darwin is a very sensible hard-working man, and a very pleasant messmate. I never saw a 'shore-going fellow' come into the ways of a ship so soon and so thoroughly as Darwin," and shortly afterward, "Darwin is a regular trump." When Darwin sent his first collection of specimens home, FitzRoy wrote to Beaufort: "I fancy that though of small things it is numerous and valuable, and will convince the Cantabrigians that their envoy is no Idler." Hard work was to be the chief thing that united them for the rest of the voyage: Darwin tireless at making observations in natural history and geology and collecting specimens; FitzRoy exhausting himself at hydrography, surveying, and navigation.
Before the Beagle sailed, however, Darwin had had one ominous experience with FitzRoy's sudden temper at real or fancied insults to his pride, and equally sudden cooling. At Plymouth, when they were buying equipment for the ship, FitzRoy had made a statement in anger to a shopkeeper who had offended him, and had seen by Darwin's face that he did not believe it. "You do not believe what I have said," FitzRoy challenged furiously when they were outside, and Darwin admitted that he did not. After a few moments of silence, FitzRoy said, "You are right, and I acted wrongly in my anger at the blackguard."
This was to be a pattern Darwin came to know well. Early in the voyage, at Bahia in Brazil, they had a bitter quarrel over slavery. FitzRoy defended the institution, and argued that he had just visited a Brazilian plantation where the owner had called up the slaves, and they had all testified they were happy and didn't want to be free; Darwin sneered at the value of such testimony, given before the slaves' master; FitzRoy became livid and shouted that he refused to live with a man who doubted his word. Darwin prepared to mess with the gun-room officers for the rest of the voyage, and suspected he might even be forced to leave the ship, but within a few hours FitzRoy had sent an officer to him with an apology and a request that they continue to live together. Shortly afterward, Darwin wrote to Henslow from Rio: "The Captain does everything in his power to assist me, and we get on very well, but I thank my better fortune he has not made me a renegade to Whig principles. I would not be a Tory, if it was merely on account of their cold hearts about that scandal to Christian nations — Slavery." There is no doubt that the two quarreled frequently about politics in general and slavery in particular, and if Darwin was prepared to give a little on Whiggery, he would not budge an inch on slavery. The fury of his references to it in The Voyage of the Beagle, its "atrocious acts," "heart-sickening atrocities," and moral "debasement," culminating in the ejaculation "I thank God, I shall never again visit a slave country," seemed aimed at FitzRoy as much as at English public opinion.
After a number of these quarrels, Darwin began to get some sort of perspective on FitzRoy. He wrote to his sister Caroline in April, 1832:
And now for the Captain, as I daresay you feel some interest in him. As far as I can judge, he is a very extraordinary person. I never before came across a man whom I could fancy being a Napoleon or a Nelson. I should not call him clever, yet I feel convinced nothing is too great or too high for him. His ascendancy over everybody is quite curious: the extent to which every officer and man feels the slightest rebuke or praise, would have been before seeing him, incomprehensible. It is very amusing to see all hands hauling at a rope, they not supposing him on deck, and then observe the effect when he utters a syllable; it is like a string of dray horses, when the waggoner gives one of his aweful smacks. His candour and sincerity arc to me unparalleled, and using his own words his "vanity and petulence" are nearly so. I have felt the effects of the latter: but the bringing into play the former ones so forcibly makes one hardly regret them. His greatest fault as a companion is his austere silence: produced from excessive thinking: his many good qualities are great and numerous: altogether he is the strongest marked character I ever fell in with.
The next year, 1833, things went well, and there were few conflicts of temperament to interrupt the work. FitzRoy began the year genially by naming a body of water in Tierra del Fuego "Darwin Sound," explaining in his Narrative of the voyage, "after my messmate who so willingly encountered the discomfort and risk of a long cruise in a small loaded boat." He ended it with equal geniality, organizing Christmas contests in running, jumping, wrestling, and other sports among the seamen, and distributing prizes to the winners.
The following year, FitzRoy named "Mount Darwin" after his persevering messmate, and later in the year delayed the Beagle ten days because Darwin was sick on shore, without telling him that it was for his sake. Darwin mentioned in a letter to a friend that the captain abhorred "the d — d scientific Whigs," but the reference seems amiable enough, and when they had a moderate discussion about the fixity of species, in connection with a wolflike fox on East Falkland Island, oddly enough it was FitzRoy who took the liberal, or mildly evolutionary, view, arguing that it might be a modification of the Patagonian fox, rather than a distinctly created species. The sudden blow came in November, when FitzRoy, overworked, furious with the Admiralty for refusing to support him in purchasing some auxiliary vessels to help the Beagle's survey (Darwin agreed with him that it was discrimination because he was a Tory), and in general morbidly depressed, irresolute, and obsessed with the idea that he was becoming insane, suddenly resigned his command for reasons of ill health. Darwin determined to leave the ship when he did, but FitzRoy was eventually persuaded by the officers to withdraw his resignation and finish the voyage. By the next March, Darwin was writing Caroline, "The Captain is quite himself again."
In July of 1835, the captain was so much himself again that he had a furious quarrel with the commodore above him, in regard to the commodore's slowness in rescuing a shipwrecked British crew; he threatened the old man with courtmartial, and in general, as Darwin wrote gleefully and illiterately to Caroline, showed everyone what a "taught hand" he was. During that year, Darwin and FitzRoy roomed together on shore at Coquimbo, and at Concepción again quarreled violently, this time over a matter of the greatest triviality. FitzRoy complained that the hospitality of the inhabitants obliged him to give a great party for them, Darwin argued that he was under no such obligation, FitzRoy "burst out into a fury" and shouted that Darwin "was the sort of man who would receive any favours and make no return," and Darwin got up, left the ship, and went to his lodgings on shore. When he came back to the ship after a few days, the storm had blown over and the captain was as cordial as ever, but the first lieutenant said to him: "Confound you, philosopher, I wish you would not quarrel with the Skipper; the day you left the ship I was dead-tired, and he kept me walking the deck till midnight abusing you all the time."
By January, 1836, Darwin was less optimistic about FitzRoy's chances of becoming a Napoleon or Nelson. He wrote to Susan:
I have been for the last 12 months on very cordial terms with him. — He is an extraordinary but noble character, unfortunately, however, affected with strong peculiarities of temper. Of this, no man is more aware than himself, as he shows by his attempts to conquer them. I often doubt what will be his end; under many circumstances I am sure it would be a brilliant one, under others I fear a very unhappy one.
In April, he wrote Caroline, "The Captain is daily becoming a happier man," and that FitzRoy had liked what he read of Darwin's journal (which later became The Voyage of the Beagle) and suggested its publication. In June they wrote an article together, advocating support for the missionaries in the Pacific, and when they got to Cape Town, had it published in the South African Christian Recorder over their joint signature. For the last few months of the voyage, things were again placid.
EACH committed to print a later retrospect of the voyage. FitzRoy's Narrative of the Voyage of H.M.S. Beagle, published in 1839, frequently mentions Darwin's activities as a naturalist, but he seems to have been chiefly impressed by Darwin's quick thinking and endurance, and he tells one story of Darwin's rescuing their boat from destruction, and another of Darwin going off to find water for one of their expeditions on land when FitzRoy and the rest of the party had succumbed to exhaustion. Darwin's Voyage, published at the same time, says almost nothing personal about the captain besides acknowledging his "undeviating kindness." By 1876, when he wrote his Autobiography, Darwin chiefly remembered FitzRoy's temper and their quarrels, and he summarized somewhat gracelessly: "He was very kind to me, but was a man very difficult to live with on the intimate terms which necessarily followed from our messing by ourselves in the same cabin."
Darwin's tone was not as reserved, however, on his return from the voyage. He wrote to FitzRoy the day after he got back to Shrewsbury, apologizing for being in a "dead-and-half-alive state" on the last few days of the voyage, and wishing that FitzRoy were with him. Later, when he had settled in London to work on his specimens, he wrote FitzRoy the letter that acknowledged the trip as the most fortunate circumstance in his life, "now that the small disagreeable parts are well-nigh forgotten." He showed the manuscript of his Voyage to FitzRoy sometime before publication, and there are marginal comments on it apparently in FitzRoy's hand: "A very happy expression," "A false metaphor," and "Good, but the 1st pt not quite clear." FitzRoy had married soon after the voyage and settled in London, and in April, 1839, Darwin went to take tea with the FitzRoys, where he heard the captain's wife talk about her new baby, which was, like all babies, beautiful, and had a voice as musical as a lute. The tea may not have been entirely peaceful, however, for Darwin wrote to Susan the next day: "The Captain is going on very well, that is for a man who has the most consummate skill in looking at everything & everybody in a perverted manner." Early in 1840, Darwin, now married and completely settled in his life work, wrote to FitzRoy, "I have nothing to wish for, excepting stronger health to go on with the subjects to which I have joyfully determined to devote my life."
In 1843, FitzRoy was appointed governor of New Zealand, and Darwin wrote to him, "I cannot bear the thoughts of your leaving the country without seeing you once again; the past is often in my memory, and I feel that I owe to you much bygone enjoyment, and the whole destiny of my life," and made arrangements to come to London from his home at Downe and pay him a farewell visit. By 1845 FitzRoy was back, recalled from office as the result of a petition by the white settlers, who accused him of favoring the Maoris. Darwin wrote him again in 1846, telling him of his current work on barnacles ("My life goes on like clockwork, and I am fixed on the spot where I shall end it"), sending him a copy of his Geology of South America but warning him that it wouldn't interest him much, and concluding: "Farewell, dear FitzRoy, I often think of your many acts of kindness to me, and not seldomest on the time, no doubt quite forgotten by you, when, before making Madeira, you came and arranged my hammock with your own hands, and which, as I afterwards hear, brought tears into my father's eyes."
Darwin wrote in his Autobiography, "I saw FitzRoy only occasionally after our return home, for I was always afraid of unintentionally offending him, and did so once almost beyond mutual reconciliation," but of this last quarrel there is no record, nor is there any record of further correspondence or of their ever meeting again. The different tenors of their lives were probably as much responsible for their drifting apart as was FitzRoy's temperament. Darwin had been living quietly and obscurely at Downe, rarely coming to London as his health got progressively worse, turning out one scientific work after another: three books on the geology of the Beagle's voyage, and then four weighty volumes representing eight years of intensive work, on the classification of a pinheadsized barnacle called the Cirripede, a specimen of which had interested him on the voyage. He was rapidly developing a scientific reputation through his books, as well as papers and monographs, and since 1839 had been collecting notes on the inflammatory problem of the fixity of species, first in secret, then gradually revealing his work to a few scientific friends.
FitzRoy's life had been as public as his former messmate's was private. In 1841 he stood for Parliament as the Conservative candidate for Durham, and became involved in a ridiculous and lengthy public brawl with a second Conservative candidate, a Mr. William Sheppard. It culminated when Sheppard, carrying a horsewhip, accosted FitzRoy outside his club, and said (or later claimed he said): "Captain FitzRoy, I will not strike you, but consider yourself horse-whipped." FitzRoy hit him in the head with an umbrella and knocked him down, but was prevented from offering him a meeting by his fellow officers. Each published his side of the controversy in an interminable sixpenny pamphlet, according to the wordy fashion of the day: FitzRoy in "Capt. FitzRoy's statement of circumstances which led to a personal collision between Mr. Sheppard and Capt. FitzRoy" in 1841, Sheppard in "Conduct of Capt. FitzRoy in reference to the electors of Durham" in 1842. FitzRoy lost the election, but the following year was elected to Parliament as member for Durham, and distinguished himself by bringing in a bill "for improving the condition and efficiency of officers in the mercantile marine."
From 1843 to 1845 FitzRoy was involved in his New Zealand fiasco. This too led to publications: the "Petition to Parliament from the inhabitants of the Southern Settlement of N. Zealand," in 1845, and FitzRoy's defense, "Remarks on New Zealand," in 1846. In 1848, FitzRoy was appointed acting superintendent of the Woolwich dockyards, and published a book, Sailing Directions for South America. The next year he was given the command of the fittingly named Arrogant, one of the early experimental screw frigates, and in 1850, for reasons of health and "his private affairs." he retired from the service and was placed on half pay, although he continued to advance in rank on the retired list. The next year he was elected a Fellow of the Royal Society, and in 1854 he was appointed chief of the new meteorological department of the Board of Trade, and devoted the rest of his career to developing the infant science of meteorology, which culminated in his Weather Book in 1863. In the opinion of Sir John Knox Laughton, the Secretary of the Navy Records Society, FitzRoy's two principal achievements, besides his remarkable surveying on the Beagle voyage, were the storm warnings he developed for the Board of Trade and his agitation on behalf of the lifeboat association, for both of which, Laughton writes, "seafaring men owe him a deep debt of gratitude."
MUCH as FitzRoy's mind was occupied with the improvement of British sailing, it came to be occupied even more with a thing that does not seem quite in character, religious fundamentalism of the most extreme sort. His Narrative of the voyage of the Beagle, published in 1839, contains two almost unbelievable final chapters for a sober work on navigation, "Remarks on the early migration of the Human Race," and "A very few Remarks with reference to the Deluge." These chapters are a somewhat hysterical attempt to use the observations made on the Beagle's voyage, the same materials out of which Darwin fashioned his theory of natural selection, to prove the literal truth of the first chapters of Genesis. FitzRoy writes that he himself had been "led away by sceptical ideas," and known "extremely little of the Bible"; takes a crack at the young Darwin ("I mention this particularly, because I have conversed with persons fond of geology, yet knowing no more of the Bible than I knew at that time"); and then goes on to refute these "men of Voltaire's school." The "days" of creation were literal days, he insists, since "Vegetation was produced on the third day, the sun on the fourth. If the third day was an age, how was the vegetable world nourished?" The lion would certainly have lain down with the lamb on the Ark, since "He who made, could surely manage," and moreover, the animals would have been frightened into submission by the Flood. He proves that Job's leviathan and behemoth were the extinct megalosaurus and iguanodon, and finds "remains of Arkite observances" in every country the Beagle visited, such as the Hebrew word "Shem," current among the Indians of Chile, "handed down from their ancestor of the Ark." "These remarks would be useless," FitzRoy explains, "were it not that they may reach the eyes of young sailors, who have not always access to works of authority." In another place: "If my few remarks tend, even in the least, to warn young persons of my profession against assenting hastily to new theories — while they induce a closer examination into the Record of truth — my object will be fully attained." FitzRoy's most indignant paragraph was aimed directly at the evolutionary view, which had hardly yet occurred to Darwin. He writes:
Have we a shadow of ground for thinking that wild animals or plants have improved since their creation? Can any reasonable man believe that the first of a race, species or kind, was the most inferior? Then how for a moment could false philosophers, and those who have been led away by their writings, imagine that there were separate beginnings of savage races, at different times and in different places? Yet I may answer this question myself; for until I had thought much on the subject, and had seen nearly every variety of the human race, I had no reason to give in opposition to doubts excited by such sceptical works, except a conviction that the Bible was true, that in all ages men had erred, and that sooner or later the truth of every statement contained in that record would be proved.
By 1845, FitzRoy had become so fanatically religious that the New Zealanders remarked in their petition: "They cannot but think that the somewhat obtrusive and absorbing observance of devotional duties . . . has contributed to give to Government House the air of a conventicle, and caused its almost entire desertion by ail but missionaries." Darwin's faith, meanwhile, had moved in the opposite direction. He wrote in his Autobiography:
Whilst on board the Beagle I was quite orthodox, and I remember being heartily laughed at by several of the officers (though themselves orthodox) for quoting the Bible as an unanswerable authority on some point of morality. I suppose it was the novelty of the argument that amused them. But I had gradually come by this time, i.e. 1836 to 1839, to see that the Old Testament was no more to be trusted than the sacred books of the Hindoos.
On the evening of July 1, 1858, papers by Alfred Russell Wallace and Charles Darwin, "On the Tendency of Species to form Varieties; and on the Perpetuation of Varieties and Species by Natural Means of Selection," were read before the Linnean Society, with Darwin not present, and the theory of evolution had been announced to the world. On November 24, 1859, On the Origin of Species by means of Natural Selection, by Charles Darwin, M.A., F.R.S., a small green-covered volume priced at 15 shillings, was published in an edition of 1250 copies. It was entirely sold out by publication day, and almost immediately England was in an uproar. One of the first public reactions was a pair of curious anonymous letters in the London Times, in the issues of December 1 and December 5, on the rather oblique subject of "Works of Art in the Drift." Darwin sent one of them to his friend Sir Charles Lyell, the geologist, with the note:
I forget whether you take in the Times; for the chance of your not doing so, I send the enclosed rich letter. It is, I am sure, by Fitz-Roy. . . . It is a pity he did not add his theory of the extinction of Mastodon, etc., from the door of the Ark being made too small.
THE great Darwinian battle came at Oxford, at the meeting of the British Association on June 30, 1860. Again Darwin was not present. The occasion was nominally a discussion of a paper by Dr. Draper of New York, on the "Intellectual development of Europe considered with reference to Mr. Darwin," and word had gotten around that the Right Reverend Samuel Wilberforce, Bishop of Oxford, familiarly known as "Soapy Sam," would destroy Darwin and his pernicious views once and for all. Almost a thousand people came, far too many for the lecture room, and they finally crowded into the library of the Museum. Henslow presided, and both Thomas Henry Huxley and Joseph Dalton Hooker, Darwin's two most enthusiastic scientific supporters, were there by chance, both having at first decided not to come. Draper read his paper, dully, for an hour. Then three more speakers took the platform and were shouted down, the third, a Reverend Mr. Dingle, almost mobbed when he drew two crosses on the blackboard and said, "Let this point A be the man, and let that point B be the mawnkey," and all the undergraduates began to scream "Mawnkey! Mawnkey!" until he sat down.
Then the bishop rose, and in a slick and effective half-hour speech ridiculed Darwin and his "hypothesis, raised most unphilosophically to the dignity of a causal theory," concluding with the earnest warning that it was all contrary to biblical revelation. The bishop got carried away, however, and just before concluding he turned to Huxley and asked him whether he claimed descent from a monkey through his grandfather or grandmother? Huxley struck his knee and whispered to a friend, "The Lord hath delivered him into my hands!" (The religious imagery of the free-thinking Darwinian forces that evening comes as something of a surprise; Hooker, too, writing of the affair to Darwin, said, "I swore to myself that I would smite that Amalekite, Sam, hip and thigh.") Recognized by Henslow, Huxley rose slowly, and in a few sentences demolished the bishop. He would rather have an ape for an ancestor, he said, than the sort of man who "plunges into scientific questions, questions with which he has no real acquaintance, only to obscure them by an aimless rhetoric, and distract the attention of his hearers from the point at issue by eloquent digressions and skilled appeals to religious prejudices." Then Hooker rose to speak, demonstrated that the bishop could not possibly have read The Origin of Species, and in any case knew nothing whatsoever of the scientific subjects under discussion. The bishop sat silent, and the audience was in a tumult.
When order was at last restored, one more friend of Darwin's, a man who had known him longer than either Huxley or Hooker, rose to speak. It was Rear Admiral Robert FitzRoy, Retired, a bitter and querulous old man at fifty-five. He indignantly denied Huxley's claim that the Origin was a logical statement of fact, strongly regretted its publication, and announced that reading it had caused him the most acute pain. Suddenly waving a Bible in the air, he shouted that he had always warned the young man against holding views contrary to the revealed Word of God, the only and the unimpeachable authority. He was immediately hooted down.
On April 30, 1865, by which time Darwin's theory of evolution had swept away much of the serious opposition and was on its way to being generally accepted throughout the world, Robert FitzRoy, now Vice Admiral, Retired, after one of his familiar brooding sessions, went into his bathroom before breakfast and cut his throat with a straight razor. The circumstances and reasons have never been made public. The Dictionary of National Biography does not mention FitzRoy's suicide at all; the Encyclopaedia Britannica says only, "In a fit of mental aberration he put an end to his existence." Darwin's biographers have agreed that evolution was an important factor: "A bitter disappointed man in a world poisoned by false gospels," says one; "Probably he never forgave himself for the part he had played in perverting Darwin's mind," says another. Darwin himself, writing eleven years after the event, was somewhat more charitable. He wrote:
Towards the close of his life he was, as I fear, much impoverished, and this was largely due to his generosity. Anyhow, after his death a subscription was raised to pay his debts. His end was a melancholy one, namely suicide, exactly like that of his uncle, Lord Castlereagh, whom he resembled closely in manner and appearance. His character was in several respects one of the most noble which f have ever known, although tarnished by grave blemishes.
If Darwin contributed to the subscription, there is no record of it. In all his later life, visitors agreed that his nose was his most prominent feature.