The Available Mr. Percy
Told he was "too good to he true," he replied, "Well, that's my imperfection." Others disagree: a journalist has called him "the hairsplitter from Illinois," and George Romney described him as an "opportunist." Who's kidding whom about Senator Charles Percy? An answer is offered by Stephen Hess' a former assistant to President Eisenhower and now a fellow at Harvard's Institute of Politics, and David S. Broder of the Washington POST. This article is adapted from their book THE REPUBLICAN ESTABLISHMENT, to be published next month by Harper & Row.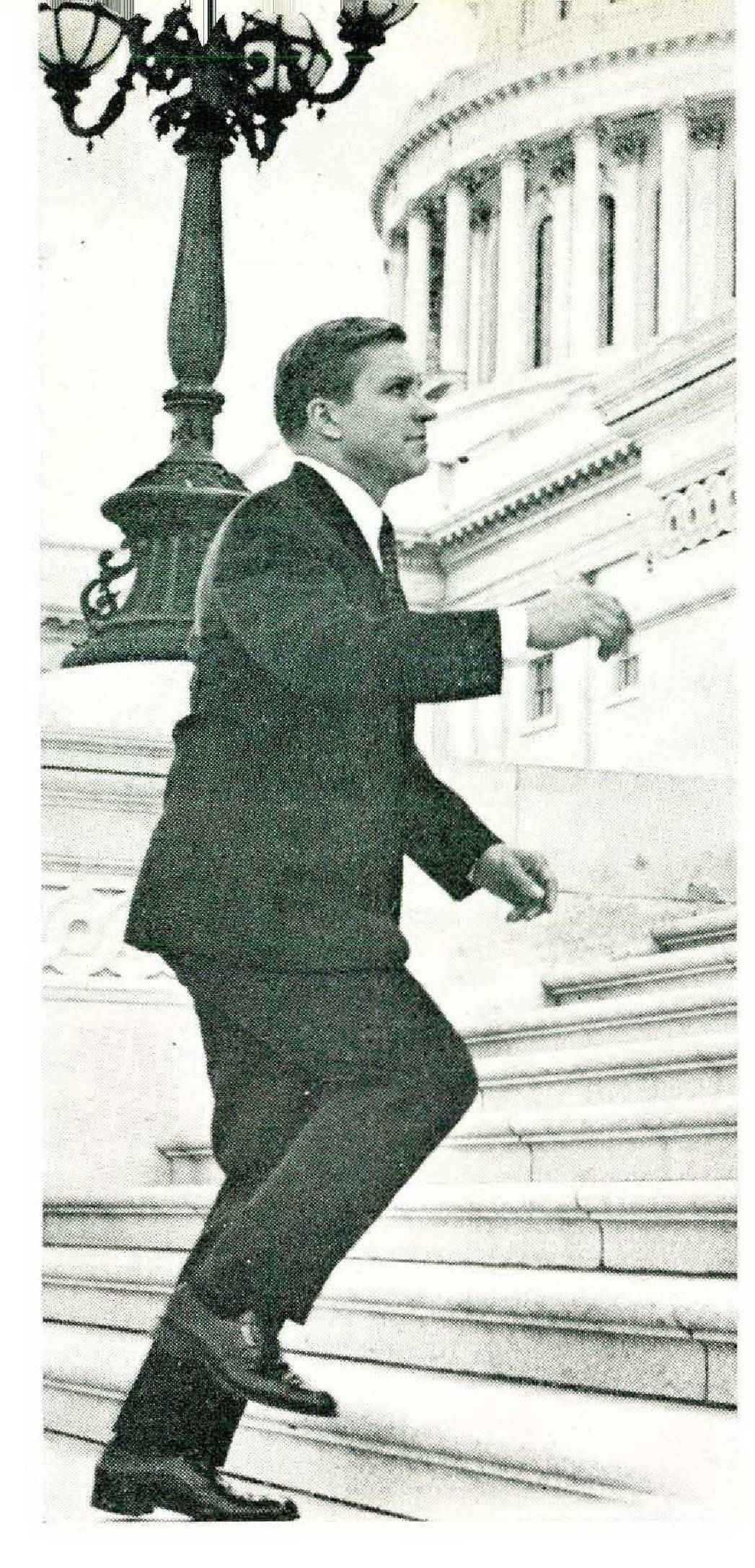 by Stephen Hess and David S. Broder
THE subject of Senator Charles H. Percy's possible presidential ambitions, currently a matter of intense interest to the Republican Party and the other aspirants for its 1968 nomination, is not a new one. It came up five years ago when the Chicago industrialist was visiting the White House to discuss reciprocal-trade legislation with President Kennedy. As Kennedy walked his guest to the door at the end of the interview, he put his hand on Percy's shoulder and said, "One last question. What are your political intentions?"
Percy replied that he did not know. "One of the exciting things about the future, Mr. President, is that none of us can really prescribe what will happen to our lives."
John F. Kennedy must not have been satisfied with the answer. For a bit later, as he strolled in the White House garden with Senator Everett McKinley Dirksen of Illinois, Kennedy suddenly asked, "What's Chuck Percy up to?"
The usually loquacious Republican leader, by way of reply, simply smiled and pointed his finger at the open French doors leading into the oval office of the President of the United States.
"His life sounds like a soap opera, doesn't it?" asks Charles Percy's wife, Loraine. Actually' it has more often been compared to a Horatio Alger novel, the rags-to-riches tale of a child of the Depression working his way up to corporation president by the age of twenty-nine.
Born in Pensacola' Florida, September 27, 1919, Chuck Percy started running at age five' when he began his business career as a magazine salesman in Chicago, where the family moved while he was an infant. He promptly proved that his abilities were exceptional, winning a plaque for selling "more copies of Country Gentleman to city people than any other urban salesman in the United States." Within a few years he had the largest schoolboy magazine route in the city. At the time, Percy's father was doing nicely as the cashier of a small bank. It was not until the bank failed in 1931, when Percy was twelve, that the boy's drive was also motivated by necessity.
During his high school years he held as many as four jobs simultaneously. He stoked furnaces before school, worked in the registrar's office during school, delivered newspapers after school, and on nights and weekends ushered at a neighborhood movie theater. But nothing stemmed the slide into poverty. The car was repossessed. The telephone was disconnected. Finally, Mrs. Percy sold her engagement ring.
A surprised campaign aide found out about this period when Percy was running for governor in 1964. "Why didn't you tell me you had been on relief?" he asked. "You didn't ask me," the candidate answered. "You don't go around asking members of the Chicago Club if they've been on relief," his supporter replied. "After that," writer Hal Higdon pointed out, "Percy seldom failed to mention his former welfare status."
"It was my mother's music and her religion that kept our spirits up," Percy now says. Mother's music was made on the violin. In fact, she had met her husband while on a concert tour of the South' he being from an old Southern family whose branches include a governor of the Jamestown colony and a drummer boy at Robert E. Lee's headquarters. Mrs. Percy, now in her midseventies' still plays in the Evanston Symphony Orchestra' and when her campaigning son toured the Illinois county fair circuit in the summer of 1963, she went along to entertain the crowds with her rendition of "Perpetual Motion."
Percy inherited little of his mother's musical ability, but her religion, Christian Science, has been a major influence in his life. Mrs. Percy organized Sunday-evening prayer sessions, had readings from the Bible and Christian Science publications at breakfast, and said grace at all meals — customs that her son continues. Like the equally religious George Romney, whose Mormon faith is as patriarchal in its orientation as Christian Science is matriarchal, Percy does not smoke or drink or swear.
Like Romney, too, Percy has a fetish about physical fitness, swimming daily if possible (he was a water polo player in college)' bounding up stairs two at a time rather than taking an elevator. And like Romney, he radiates an air of purposefulness and self-satisfaction that some find a bit too much to take. The Chicago Tribune' only an occasional admirer, once wrote that "Mr. Percy . . . affects an elaborate piety, like a figure in stained glass."
But however it strikes outsiders, Percy draws from his religious faith a confidence and sustaining power that are almost palpable. In both the tragedies of his life — the death of his first wife and the brutal murder of his daughter Valerie — Percy has maintained a composure that has been remarked with awe by his associates.
The distinctive feature of Christian Science, and the only one that could conceivably become a matter of public discussion if Percy ran for President, is its attitude toward medicine. Described in its official publications as "Christianity in its most practical and scientific form'" Percy's faith regards healing through prayer as central to its practice.
Percy does not take drugs or place himself under doctors' care for routine ailments, but he and his family visit a dentist and use an eye doctor. When the present Mrs. Percy fractured her leg while skiing, a doctor set it, but she refused to let him insert pins to secure the bone. When Valerie Percy was found mortally wounded her father telephoned both a neighboring physician and a Christian Science practitioner (a person specially trained in what is called "the healing ministry").
Asked how his religion might affect his public performance when he ran for governor in 1964, Percy replied: "It is a logical question: a Christian Scientist does not resort to medicine. Now, there's no law saying you can't. You don't withdraw from the church if you do. And you don't impose your beliefs on others. But your inclination is not to use medicine, and I never have. I personally believe in the power of prayer. But if someone does not believe in prayer for healing' doesn't choose to follow that route, then my position is he better follow some route, and if it is medical care, it better be the best medical care. . . . There is nothing in my religious belief that would hinder me in my performance of the functions of governor as they relate to the public health needs of all our people."
The religion-and-health issue has never been conspicuous in his campaigns, not even as much as the limited attention paid in Michigan to George Romney's Mormonism. In the 1966 senatorial race, according to his aide Scott Cohen, the candidate received only five letters relating to his practice of Christian Science.
In a 1967 interview, when Percy was asked some "what-if-you-were-President" questions, he said that the public character of the office — his responsibility to others — would necessitate that he follow the custom of having a full-time White House physician. He also said that he could think of no case in the medical histories of the last three Chief Executives — Eisenhower, Kennedy, and Johnson — where he would have declined the medical attention they received.
"But I've been healthy," Percy remarked. "My family has been healthy; my parents have been longlived." Then, discussing his religion, he made some remarks that offer an interesting insight into its place in his life and his own set of values.
"I find it a very satisfying thing," he said. "It depersonalizes what you are doing, makes it not just a matter of sheer willpower, but makes you feel there is a source of guidance and strength you can draw on. There is a sense of optimism about it which appeals to me. Also it is a wonderfully organized church, and I admire organization. The publications come regularly and are of high quality. I love the Christian Science Monitor. It gives you a balanced viewpoint. I've never found them shading an article toward me. They've never endorsed me and they never would; but they are wonderfully balanced. Ours is not a ritualistic church; I don't need ritualization of religion; Christian Science strips religion down to its fundamentals."
IF PERCY needed any additional reason to cherish kis religion, he could find it in the coincidence that led to his big break in the business world. The rigid formula of the Horatio Alger story requires that the hero be not only honest and hardworking, but also lucky. For Charles Percy the lucky break came when he entered the Sunday school class of Joseph McNabb' the president of a small camera company called Bell & Howell. (There is a persistent and totally erroneous story that Percy's first wife, who died in 1947, leaving three young children, was the boss's daughter.) Percy asked his religious mentor if he would give his father a daytime job so that the family could have some time together. McNabb, who liked the boy's pluck, complied. McNabb also gave the young Percy summer employment' and during one such period Percy revolutionized the customer service department by designing sixty form letters that fit nearly every situation. ("I've just taken four rolls of film and they all come out blank." "Dear Madam: Please take off the lens cap.")
Percy attended the University of Chicago on a half-tuition scholarship, and by his senior year' in 1941, according to Chancellor Robert Hutchins, he was the "richest boy who ever worked his way through college." (Hutchins' who replaced football with Aristotle, also told Percy, "You're exactly the kind of student I'm trying to keep out of the university." A dozen years after graduation Percy was a UC trustee.) Besides the usual college odd jobs — waiting on table and tending the library —Percy worked out two operations of considerable ingenuity and organizational skill. He took over a cooperative purchasing and servicing association for the fraternities. They had been paying local laundries 7.5 cents per pound' but by hard bargaining and throwing all his business to one laundry, Percy was able to get the price down to 3.5 cents. He made similar savings on food and supplies by buying in large lots. After three years the business was grossing $150,000 a year and Percy's cut was $10,000. He also recruited potential students for small colleges that were particularly hard-pressed by the Depression. "I got five cents for the name of every high school senior I obtained and ten dollars if he enrolled," Percy recalls. Later he hired others to do the legwork for him and paid them three cents a name and five dollars an enrollment. " That'" said Percy' "was the value of being an entrepreneur."
Entrepreneur Percy went to work full time for Bell & Howell upon graduation, and McNabb put him in charge of defense contracts,' a relatively modest activity. Within six months, however, Pearl Harbor was attacked, and Percy was soon supervising the bulk of his company's business. He was, on McNabb's recommendation, made a director before he was twenty-three — and before he left for the Navy.
In his three Navy years, Percy never went overseas, but suffered a permanent hearing impairment from his duties as a gunnery training officer. (He wears a hearing aid, either openly or concealed in the frames of his glasses, in places with bad acoustics, like the Senate chamber, and still suffers occasional embarrassment when he fails to hear a greeting or interrupts a conversation.)
Two years before his death in 1949, Joe McNabb informed Percy that he was leaving a sort of "corporate will" recommending that Percy succeed him as president, rather than his son or any of the other executives. Percy delights in telling the story of the tense days before the board of directors met to name McNabb's successor. "I tell you," he says, "it was Executive Suite all over again. I wasn't even a vice president then. McNabb's lawyer and I were the only ones who knew about the existence of the letter' and I wasn't sure whether it had been changed since Joe had told me his plans." On the fateful day in 1949, the letter was opened and the board of directors, an august body of industrialists whose average age was in the sixties, dutifully named McNabb's twenty-nine-year-old protégé as president of Bell & Howell at an annual salary of $40,000 — plus appropriate stock options' which the young executive declined until he could prove himself. Percy led his company for fifteen years.
During that period sales grew from less than $5 million a year to $160 million' company employees from fewer than 1000 to approximately 10,000, salaries from an average of $2000 to more than $7500. An employee profit-sharing plan was inaugurated, and the company' which had been privately owned by three families, was listed on the New York Stock Exchange. Where Bell & Howell had been almost exclusively a quality camera-maker, Percy diversified into business equipment, reproduction machines, automated mailingsystems' and instruments for the space and military programs. He pushed expansion into foreign markets. He also, like George Romney, went in for promotion with a flair. Living in the shadow of Eastman Kodak—just as Romney's company was dwarfed by the auto industry's Big Three — he tried harder.
BY THE mid-1950s, Charles H. Percy, having remarried (his second wife, Loraine, is a pretty Californian and fellow Christian Scientist he met on the ski slopes at Sun Valley), having made his company a success and himself several times a millionaire (he estimates his personal fortune "conservatively" at $6 million), was becoming increasingly restless and anxious to find a new role, if not a new life, for himself. "I simply found I was reading the political columns in the paper ahead of the business page, and I knew I was hooked," he says.
As if to prepare himself for this new life, Percy hired University of Chicago professor Robert A. Goldwin to come to his North Shore home every Saturday morning to give him a private course in political theory. Together they worked their way through the Federalist papers' Locke, and Mill.
He made extensive trips abroad, not for sport or casual sight-seeing, but as part of his constant emphasis on self-improvement. Before he joined the Navy in World War II, Percy had never been further east than Grand Rapids or west than Des Moines. As president of Bell & Howell he had traveled widely on business. Now his sole purpose was his own education. For a year before each trip he studied the chosen area, its government, agriculture, educational system, religion. In 1955, for example, he spent six weeks in India going from village to village, over 6000 miles by boat, train, plane, and Jeep. As on his previous trips, Percy came back with a filmed record. It was no movie of snake charmers or moonlight on the Taj Mahal. Rather, it was a story, as Percy saw it, of what the future of India could be. Back in Chicago he toured civic and educational groups with his film.
Chuck Percy was a do-gooder and a do-weller. Each day he began with a hymn — "We like to start the morning with a song." He was Poor Richard, the overachiever of the Protestant Ethic' the American Dream. Going up a ski tow he read magazine articles. Sound body' sound mind. Time is money. Waste not, want not. When he was told that it was politically disadvantageous to be thought "too good to be true'" he replied, "Well, that's my imperfection."
President Eisenhower, who was partial to the type, saw Percy as a comer. Right after New Year's, 1959, Percy, known to Ike as a major backer of his reciprocal-trade program and as a top fund-raiser for the Illinois Republican Party, stopped by the White House. "The nation has moved into a new period of danger, threatened by the rulers of one third of mankind, for whom the state is everything and the individual significant only as he serves the state'" the thirty-nine-year-old industrialist announced to the sixty-eight-year-old President. "We need a new understanding of the problems, not only to meet a deadly menace and extend the area of freedom in the world, but also to preserve and enlarge our liberties."
The President was excited; people did not usually burst into his office and deliver a Fourth of July oration. He called his speech writers, who were then putting the finishing touches on the State of the Union message. They frantically sliced away at their lengthy draft to make room for Percy's ideas. And standing before a joint session of Congress four days later, President Eisenhower — "permit me to digress long enough to express something that is much on my mind" — announced he would appoint a Presidential Commission on National Goals.
This "goals" business was heady stuff. Having set in motion the machinery that would at last give the United States a set of "national goals," Percy now turned his attention to "party goals." Shortly after the State of the Union message, the President asked Percy to head a committee to provide the Republican Party with a "concise, understandable statement of our Party's long-range objectives in all areas of political responsibility."
The "concise, understandable statement" turned out to be a 190-page paperback, entitled Decisions for a Better America. Its overall tone reflected the more liberal impulses left in the aging Eisenhower Administration, but like any committee-produced manifesto' most of its assertions had all the cutting edge of a soft cliché. The Republican Party, it courageously said at the outset, "must pursue definite goals, safeguard enduring values, yet be flexible and imaginative in welcoming change as the key to all progress." Later, it found that "if the working man and the employer are to enjoy fully the rich benefits of the American economic system, they must work as partners to produce more and better products with ever-increasing efficiency. Their interests are inseparable."
It was hardly a historic document, but it was good enough to make Percy, in the eyes of Eisenhower and Nixon, the logical fellow to head the 1960 platform committee. It took some arranging, because the conservative Republican leaders of Illinois did not regard Percy as their spokesman on platform issues or anything else of consequence. But phone calls from Republican National Chairman Thruston Morton convinced them the request came from the top, so it was honored.
The platform job proved easier to get than to perform. Caught in the unexpected liberal-conservative struggle precipitated by Nixon's last-minute meeting with Nelson Rockefeller, Percy was betrayed by his political inexperience.
"He tried to do it all with charm and personality," a conservative platform committee member recalls, "and this was a situation where you had to knock some heads. When you get right down to it, Chuck was naïve."
For a full day, the revolt in the platform committee against the Nixon-Rockefeller amendments raged unchecked. Finally, Nixon arrived on the scene, and the next morning Percy quietly handed over the gavel to the committee's vice-chairman, Wisconsin's tough-as-nails congressman Melvin R. Laird, who pounded the platform through while Percy busied himself rehearsing the narration for the film that was to accompany its presentation to the convention.
ONE lesson Percy learned from his humiliation was that the way to have political influence was to hold public office. He explored the possibility of running for the Senate in 1962 against Dirksen, but was persuaded there was no wisdom in challenging the old master in a Republican primary. So in 1963, seventeen months ahead of the election, he announced that he would be a candidate for governor of Illinois.
There were long odds against Percy's winning the nomination. For the choice of the party's regulars was popular Charles F. Carpentier, Secretary of State for nearly a dozen years, whose wellknown signature in Kelly green ink graced every driver's license, bookmobile, and highway safety booth in Illinois. To counter this long lead, the hardworking and confident Percy, better known in Eastern business circles than in Springfield political circles, began touring the state with his "Chuck Wagon" and his photogenic family a full nine months before the April primary. Then, as luck would have it, old Charlie Carpentier dropped dead. The conservatives put up a replacement, but now Percy was the favorite. Even a scurrilous broadside called "Mercy, Mr. Percy," whose center-fold pictured Percy in amiable conversation with Soviet Premier Khrushchev, could not deny him the nomination, by a two-to-one margin.
The November election, however, was another story. The year 1964' which most Republicans would like to forget, proved especially distasteful for Charles Percy. Barry Goldwater might claim he lost with honor and Romney that he won as best he could; but Percy, as he admits, lost with little honor. "The defeat for governor," he now says, "was probably well-deserved." There were three facets to Percy's campaign that caused distress to those who saw him as a bright hope of the party.
First, he ignored the highly structured Republican county organization, relying on his own volunteer committees, and generally convincing the regular party leaders that there was no good reason for them to exert any extra effort on his behalf.
Second, Percy came across to the voters as stiff' cold, and remote; rather, thought one reporter, "like the chairman of the board of a slightly dissident stockholders meeting." Recalling his 1964 performance, Percy says, "I was using statistics like an IBM machine." While he is basically a very serious person — a former aide can remember only one joke he made in a year — he is not doui. Yet in 1964 there was little of the amicability he later proved capable of displaying.
Third, on substantive issues Percy managed to disturb those who had considered him a liberal without making a corresponding gain among conservatives. He had been known as a progressive on civil rights — his record included nondiscriminatory hiring at Bell & Howell, strong backing for a state Fair Employment Practices Commission' and his name on a party platform with the most liberal civil rights plank in recent GOP history. Yet while Rockefeller, Scranton, Romney, and Scott bled in the cause of civil rights at the San Francisco convention, Percy was strangely quiet. He was off the floor "in conference" when the civil rights amendments to the platform were offered. On the most important civil rights issue of the year, he said, "Right now we aren't ready to force people to accept those they don't want as neighbors. I was for FEPC because there was a consensus in the state for it. There is no such consensus in Illinois for open occupancy." So Percy came out against open-occupancy legislation, stating that if elected, he would try to get compliance by voluntary means.
But what he calls "my biggest mistake" was his attitude toward Goldwater. "I was having enough trouble getting the gubernatorial nomination," he now says; "it would have been presumptuous of me to try to make a President, too." Instead, he promised to support the majority decision of the Illinois delegation, an action that, in fact' committed him to Goldwater, a candidate with whom he had little in common and one who was to prove immensely unpopular with the Illinois electorate.
In the general election he stuck with Goldwater — sort of. Although he wore a Goldwater button in his lapel' it was an all-gold model on which the name "Goldwater" was visible at a distance of up to, but not more than, three inches. If he was not quite what "Czar" Reed once called a "straddlebug," it was nonetheless true that his position was ambiguous enough for him to be caught in a "sidelash." Badgered by both the moderates and the conservatives, Percy lost the election to Democratic Governor Otto Kerner by 179,299 votes, while President Johnson's winning margin over Goldwater was an extravagant 890,887. There was little doubt that had Percy, like Romney and others, forcefully disassociated himself from the national ticket, he would have been elected.
It did not dawn on Percy immediately that his loyalty to the national ticket might someday be of use to him — when contrasted with a bolter like Romney. Having lost with Goldwater, in defeat Percy turned against him and all that he represented. He jumped aboard the "dump Dean Burch" bandwagon (after telling the embattled Republican national chairman to his face that he should resign) and generally heaped scorn on the Goldwater forces.
ONE quality of Percy's as a politician is that he is absolutely dauntless in the face of personal reversals. So, dusting himself off from the 1964 disaster, he looked around for the most productive way to employ his talents while waiting for the next electoral opportunity. He hit upon a novel plan: the New Illinois Committee. Why not try to do some of the projects — on a limited scale, of course — that he had proposed doing if elected? A sort of government-in-exile' a defeated candidate keeping campaign promises. The St. Louis GlobeDemocrat called the idea "refreshingly new."
With funds contributed by Percy's friends — not tax deductible — the former candidate began programs in literacy education, job-opportunity reporting, economic development' a family center in a Negro neighborhood. One program, Call for Action, allowed slum dwellers to phone their complaints into a tape recorder' from which volunteers took the information and tried to get landlords to make the necessary corrections. After dialing 346-6667, the Call for Action number, a recorded voice answered, "This is Chuck Percy. . . ." The New Illinois Committee — "formed to pursue those goals and activate those programs outlined in the new Illinois' that Chuck Percy has envisioned" — concentrated on the Negro ghettos, where Chuck Percy had run poorly in his bid for the governorship in 1964. It also undertook research reports on U.S. strategy in Vietnam and "a study of the 1954 Geneva accords on Indochina." Once again, Percy the do-gooder and Percy the welldoer were perfectly meshed.
Like his decision to run for governor against Charles Carpentier in 1963, his decision to run for the Senate in 1966 was an incredibly risky one. It was the sort of choice that only foolhardy politicians or men of driving ambition make — the same sort of decision that sent John Kennedy into West Virginia in 1960 and Richard Nixon into California in 1962. What made the move so fateful for Percy was that the race would pit him against the greatest vote-getter in modern Illinois politics' Paul H. Douglas, a former University of Chicago professor whose intellectuality and independence were of immense appeal to the liberals, yet a man who had worked out an advantageous peace with the Daley machine in Cook County — the most powerful city organization left in the United States.
When the old-guard Illinois Republican leaders instantly and joyously united behind Percy, it was not hard to believe that they had discovered a painless way to be rid of this pushy newcomer. But they did not reckon with Percy's talent for adaptation.
Now that he was a Senate candidate again, Percy said' " Truthfully, I am much more qualified by inclination and past experience to be in Washington than in Springfield. I would make a better senator than governor." He also changed his mind on civil rights.
Appearing before the Illinois Press Association on May 14' 1965, he admitted that he had been wrong to believe the real estate industry could be persuaded to adopt an effective fair-housing code, and therefore he would now support state legislation "to eliminate the evil of discrimination in housing." Later, when it was also clear that the state would not act, Percy backed a federal open-occupancy law, thus essentially taking the same position as Senator Douglas.
Douglas scored politically by describing Percy as the first public official "to raise vacillation to the level of moral principle." But he was unable to counter the major issues helping Percy in the race. Racial agitation in Chicago produced a suburban "backlash" vote that aided Percy' even though he did not court it. A sharp decline in the turnout in Negro areas plus Percy's own intensive efforts to increase his percentage there cut Douglas' margin in the central city. Downstate Republicans, worried by inflation and by the near extinction of their own party' voted the GOP ticket. Some liberals defected from Douglas because of his support of the Vietnam War. And no voter was left unaware of the difference in ages — seventy-four versus forty-seven — of Douglas and his former University of Chicago student. In all these ways, Percy's campaign was aided by circumstances that did not exist in 1964.
But the main difference between the 1964 and 1966 campaigns was Percy himself. As Howard James, the Midwestern bureau chief for the Christian Science Monitor wrote somewhat effusively on election night, "There is little question that Mr. Percy is a far different man from the business executive who tried and lost in 1964. Warmer, more knowledgeable, with greater feeling for the problems of the people of Illinois' white and Negro, he won because he had the people on his side."
Newspaper photographs showed Percy Indian wrestling in Franklin Park, Percy in the middle of 1200 costumed Lithuanians at a folk-song festival' Percy joining an Assyrian chain dance. Arthur Schlesinger, Jr., who flew to Chicago to try to hold the eggheads for Douglas' called Percy "the product of the black art of public relations."
Early in the 1966 campaign, John Dreiske, political editor of the Chicago Sun-Times, had described Percy as he was seen by Republicans across the state: "He seems so self-sufficient it is quite obvious he doesn't need you." But this picture disappeared with Valerie's murder in mid-September, There is no such thing as a self-sufficient father looking down at the battered body of his first-born. Polltakers in Illinois found little evidence of a sympathy vote. However, one had to be less than human not to feel a cold shiver and the start of tears when Percy, resuming the campaign with a bodyguard at his side, introduced his family from the back platform of a train, at his first whistle-stop, Joliet, and said, "I want you to meet my wife, Loraine, my daughters, Sharon and Val . . ."
He won by 422,302 votes— 55 percent. It was an important victory because the candidate was already a national figure, because he had beaten a powerful and widely admired incumbent, because he would represent a major industrial state, because he had that elusive quality that makes reporters add the supportive clause to his name — Charles H. Percy, a potential presidential candidate.
ON NOVEMBER 22' Percy flew to Washington for his first meeting with the capital's press corps' and the next day's headlines around the country proclaimed "A Presidential Dark Horse Talks" (Baltimore Sun), "Percy Disavows Presidential Ambition' But —" (New York Times). It was not really what the newcomer said; rather it was the mood that the reporters brought away from the session.
Over the next months Percy complained that the newsmen had him all wrong — he was "just a fellow trying to be a good senator." Yet he lengthened his national speaking schedule, and of his first nineteen speeches away from the capital, only eight were in Illinois. Charles Nicodemus of the Chicago Daily News's Washington bureau interviewed one senator (described as "a veteran, widely respected political craftsman"), who was "irritated in the extreme by what he considered to be Percy's proclivity for showboating." An actor portraying Dirksen at the 1967 Gridiron Club show expressed in a song an opinion that many believe the senator secretly holds:
Chuck Percy is only a freshman'
As junior as junior can be.
So why does he act like the leader?
Oh, bring back Paul Douglas to me.
To the old hands in the Washington press corps, it was clear within weeks that Percy, ninety-ninth in Senate seniority, had his eye on something other than the slow rise to legislative leadership.
While it is conceivable for a freshman senator to seek actively the presidential nomination — Robert Taft did it in 1940 — the odds against it are very long. Any calculus of the odds against Percy would have to take into account some of these assets.
Glamour and youth. At forty-eight, Percy is the youngest of the major Republican presidential prospects, and looks even younger than he is. He has a pretty wife, whose breathless voice and wideeyed wonderment at the strange ways of politics are not unlike those of Jackie Kennedy. An effective television performer, Percy also has the Kennedy flair for providing the sort of "happening" that mass-circulation magazines dote on. When his daughter, Sharon, married John D. Rockefeller IV last spring, the guest list was a who's who of American politics and society' and the event was recorded on page after page of living color in Life.
Brains, Ability, and Salesmanship. The one charge that has not been made against Percy is stupidity. Nobody cracks about him, as they do about Romney, that "down deep, he's shallow," or, as they do about Ronald Reagan, that "behind that glittering facade there is — a glittering facade." His mind may be almost as facile as Nixon's, and Percy does his homework. He scurries after new ideas with the persistence of a squirrel. Between his campaigns for governor and senator, he resumed his private political science seminars, this time inviting mixed groups of academics, journalists' and politicians to meet with him for two and a half days of intensive discussion of liberalism, conservatism, urban problems, reapportionment, civil rights, and other topics, at the University of Chicago's Center for Continuing Education.
But his skill goes beyond research in the realm of ideas. As a former manufacturer of consumer goods, Percy brings to politics a healthy respect for "product development." One man who has worked closely with him for the past few years says, "Basically' he is a merchandising man. He thinks in terms of a mix of activities — research' engineering, advertising, promotion and sales." And when Percy latches on to an idea, he does not rest until it has been sold to the widest possible audience' and always with the Percy label plainly in view. Such was the case with the National Home Ownership Foundation plan, written for his campaign use by a young intellectual named John McClaughry and peddled by Percy so successfully that when it was formally introduced in April, it enjoyed the co-sponsorship of every other Republican senator and over 100 representatives.
Issues. Percy, like Nixon, is inherently a centrist; his tendency is to shun the extreme. But the homing instinct competes in him with a flair for dramatic improvisation that is also part of Percy's concept of "dynamic" leadership. In juxtaposition, the two tendencies give him a unique and probably advantageous identification in the field of 1968 presidential prospects. His eagerness for innovation in dealing with specific problems pleases progressive Republicans; his instinct for the middle of the road reassures conservatives.
The same talents, however, leave Percy open to charges of "showboating" some of his stands, and conversely' of "trimming" others. During Senate debate on the consular treaty with Russia, Percy was one of the first to support Thruston Morton in challenging Dirksen's initial stand against ratification. But while sixty-six senators (including Dirksen) ultimately voted for the treaty, only Percy found it necessary to tell television viewers' "I've had 7400 letters against consular treaty ratification and forty-six in favor of it' and yet I'm going to vote in favor of it because it is in the best interest of the United States of America." (A member of Percy's staff estimated that 70 to 80 percent of the opposition mail was mimeographed form letters from a few sources, the largest being the toothless Liberty Lobby, an ultra-rightist group.)
An example of Percy's "trimming" was seen in his initial approach to the key issue of Vietnam. When the five freshman Republican senators appeared together on Meet the Press in January, 1967, each was asked whether he favored cessation or continuation of the U.S. bombing of North Vietnam. Mark Hatfield and Edward Brooke favored cessation. (Brooke subsequently reversed his position.) Howard Baker and Clifford Hansen favored continuation. Percy said, "I would like to see it stopped if we get something back for it," which provoked an observer to comment, "That makes the score two and a half to two and a half."
As 1967 has worn on, however, Percy has flirted more openly with the "dovish" minority of his party, represented by Senators Hatfield, Aiken, and Cooper. With Nixon, Reagan, and Rockefeller firmly identified as hawks, Percy waited until Romney gave general support to the Johnson Administration's conduct of the war, then moved to occupy the largely vacant ground of restrained "dovish" dissent. The same April night that Romney told a Hartford audience that American withdrawal from Vietnam would be "unthinkable," Percy told a Concord, New Hampshire, press conference, "Anything is thinkable," but added that a unilateral' precipitate American pullout would be "incomprehensible."
Later he called for a limitation in the bombing of North Vietnam, declaring that "escalation has hardened the determination of the enemy to resist . . . and alienated world opinion" without achieving the promised military results. He also proposed a "peace offensive" including a promise that the Viet Cong could compete as a legal party in South Vietnam if it renounced terrorism and violence.
Percy's position today is more "dovish" than that of most Republicans. But if public opinion forces the GOP to present an alternative to, not an echo of, the Johnson policy, Percy may well have staked out ground for as broad-based a Republican position on Vietnam for 1968 as his All-Asian Peace Conference proposal proved to be for 1966. That plan, calling for a convocation of Communist and non-Communist Asian nations to work out a Vietnam settlement, appealed to Republican doves because it aimed at peace and reflected their view that the Vietnam War had been over-Americanized. It also appealed to Republican hawks because it gave them a way of being for "peace," through a rather remote device, without requiring them to stop urging an intensification of the war. Like his Home Ownership Foundation bill, it became something on which every Republican could hang his hat.
One problem with such successes is that they strike some people as being just a little too clever. Taken together, the penchant for pleasing all factions and the talent for self-promotion, which are two of Percy's major political assets, add up in the eyes of his critics to the rather unpleasant word that George Romney applied to him: "opportunist." The specifics of Romney's charge — that Percy failed to support him in his fight for platform changes at the 1964 convention — were in part inaccurate and in part unjust. But the general description was not so far off target that Percy could afford to ignore it.
IN 1967, as the fight for the GOP presidential nomination begins to take shape, Romney and Nixon are committed to a flat-out, headlong assault, taking the primary route. Dark horse Reagan, an untested quality, might, as Barry Gold water said, be nominated "if after five or six ballots, he seemed to be the only one left."
But Percy has some options, and as the calendar draws toward the inevitable day of reckoning, he faces three alternative courses.
1. The fallback candidate of the liberal Republicans. As Cook County Republican chairman Timothy Sheehan put it, "We all know that the East Coast establishment is bankrupt for a presidential candidate. They have hooked their star [sic] to Romney of Michigan, who may rise or fall in time. In Chuck Percy we have a man who would make an excellent candidate for President.He is acceptable to the people and even to the Eastern establishment."
Percy's ties with the establishment are older and more intimate than Romney's. Even before he became an in-law of the Rockefellers, he was a member of the board of David Rockefeller's Chase Manhattan Bank and a member of the 1956 Rockefeller Brothers public-policy panel. He "belonged" to the traditional base of liberal Republicanism in a sense that Romney never would.
The problem with the fallback-candidate strategy is that Romney is already occupying the ground Percy would have to seize, and showing no sign of relinquishing it. Romney might stumble, but even if he did, there is no certainty that he would remove himself from the race and help Percy. Meantime, those, like Nelson Rockefeller and William Scranton, who could trigger a massive shift of liberal support from Romney to Percy are conspicuously refusing to do so. Their constant refrain to other liberals has been: Unite behind Romney, or you will lose control of the nomination. In a switch from Romney to Percy, they have said, enough time, votes, and momentum would be lost to allow Nixon or Reagan to seize the prize.
Personally, Percy has made it plain he would have no reluctance to battle Romney for leadership of the liberal Republican cause. Even before Romney's "opportunist" remark gave him all the excuse he would ever need for disliking the Michigan governor' Percy was visibly needling Romney. But the problem for Percy is that as long as Rockefeller, Scranton, and other leaders of the liberal wing stick with Romney' his tactics leave him open to the charge that he is a "spoiler." The fallbackcandidate strategy, in short, while possibly a workable one in the end, runs serious risks of antagonizing those in the party who are his natural allies.
2. The Compromise Candidate. A second possibility is to be, not second choice for one wing of the party, but final choice for both wings. On March 22, 1967, a coincidence of two events made this strategy look very appealing.
Governor Tom McCall of Oregon, a newcomer to the liberal ranks' wrote a round-robin letter to his fellow Republican governors, urging them to withhold endorsement of any presidential possibility until they could act in concert. For himself, McCall said, "as of today'" he would be inclined to favor Percy over Romney' whose Vietnam position is described as "vague."
The same day McCall made public his letter, the Saturday Evening Post published an interview with Barry Goldwater, in which the 1964 nominee — nominally committed to Nixon for 1968 — said some rather remarkable things. Nixon, his supposed favorite, "will have the most delegates, but probably not enough for a majority. . . . The trouble is everybody says Nixon is the best trained man for President, and then everybody turns right around and says he can't be elected. I don't believe that's true, but I don't see how to tear that image down." As for Percy, Goldwater said, "He's one of the smartest men who ever came to the Senate . . . and he's a fine, decent, attractive guy, too. He might be the most dangerous against Johnson, provided he could show he was really knowledgeable about foreign policy. Maybe more dangerous than a guy who had been around the woodpile too long."
Joint testimonials from the conservative 1964 nominee and a liberal governor who refused to support the national ticket in 1964 were enough to set anyone thinking. But the problem with the compromise-candidate strategy is that some conventions never get beyond the first ballot. For Percy to do all in his power to promote a deadlock and wait for Nixon and Romney to kill each other off is tempting, but it is no guarantee of success.
3. The Man of Tomorrow. The third possibility is to take a bye on 1968 and adopt a strategy most likely to land the nomination in 1972 or 1976. Nearly six years younger than Nixon' eight years younger than Reagan, and twelve years younger than Romney, Percy could well afford to decide that 1968 is not his year. Or he could position himself to be the vice presidential nominee, as Kennedy tried to do in 1956, knowing that if the ticket lost he would be the logical contender for the top job in 1972, and that if the ticket won, he would still be young enough to run for President even after eight years in the number-two job.
Characteristically, Percy's solution to the problem of choosing a strategy for 1968 has been to follow all three paths at once. He has solidified his position as the fallback candidate of the liberal wing by championing the cause of expanded EastWest trade, by advocating a variety of approaches to a peace settlement in Vietnam, and by attempting to identify himself as the party's urban expert in the Senate.
At the same time, he has heightened his hopes for being the compromise choice by careful courtship and favor-doing for conservatives — raising money for New Hampshire Senator Norris Cotton's re-election campaign, for example. He has made no overt move to launch a candidacy for 1968, and indeed, denies whenever asked that he has any intention of doing anything but being "the very best senator I can be."
But he also has kept the door wide open for a last-minute dash into the race.
Whether in 1968, 1972, or 1976, Chuck Percy's lifelong drive points him inevitably toward the goal Everett Dirksen told John Kennedy he had in mind.