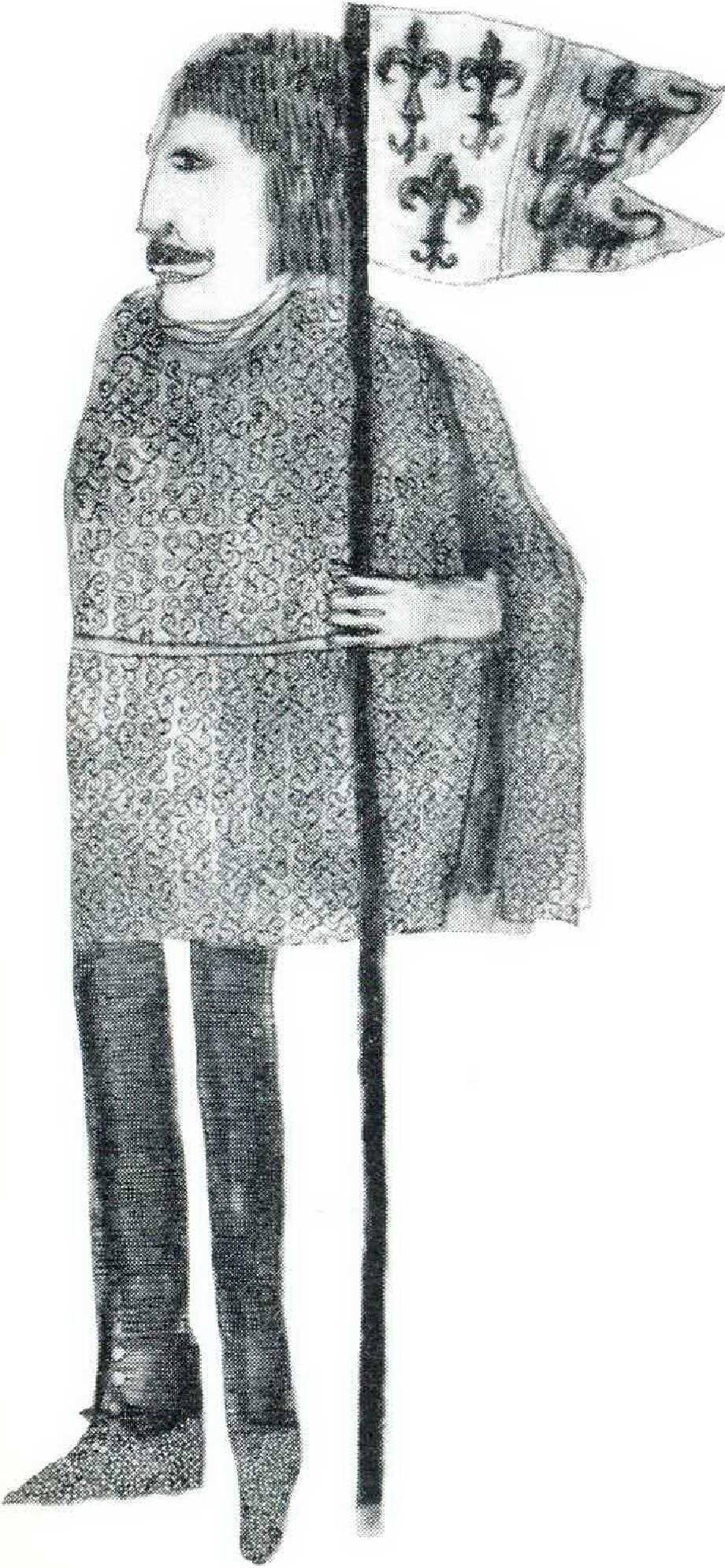 The Channel Islands lie off the French coast, visible from the Cherbourg peninsula, but their allegiance is to Queen Elizabeth II (as Duke of Normandy). They can be reached by sea from Weymouth but with more obvious convenience by air from London. A Viscount turboprop takes about fifty minutes to bring you to Guernsey, to a different country, and to what is in some ways a different world. Close at hand is the island of Sark, ruled by its Dame and her feudal court. Nearer still is the island of Herm, itself a sort of monarchy, and Lihou, site of an ancient priory and of a modern youth movement.
Last year the island of Guernsey celebrated the nine hundredth anniversary of its association with the English Crown. The main event in this festival was the revival of a prehistoric custom last observed in 1837: the Chevauchee de St. Michel, a procession on horseback around the island, with observances which might originally have been anything from fertility rites to human sacrifice. A traditional and popular feature of this ceremony is the privilege of the young men on foot (the pions) to kiss every girl they meet. The revival of 1966 in the costume of 1813, with Olivia de Havilland representing an ancestress, was a tremendous success and may serve to remind us that Guernsey is far more than a mere seaside resort. It is a place of very definite character, Norman in origin and dialect, feudal in many of its older customs, wildly picturesque along its coastline, and gaining further interest from the other islands within sight of St. Peter Port. But Guernsey is a place for the intelligent and discerning. It offers little to the lover of mass-produced entertainment, standardized night life, and mechanized gambling. Its summer visitors include honeymoon couples, families with young children, skin divers, campers, and yachtsmen. All these are harmless enough, but an American visitor might well prefer the spring or fall when the island is more itself.
Where but in Guernsey would the hereditary seigneurs have to attend the Chief Pleas of the Royal Court? Where else would one of them owe the sovereign a pair of gilt spurs? Where else would a seigneur have the right to shoot rabbits (but only with arrows) over someone else's land? Guernsey is a place of great fascination, but it must always escape the notice of the fast-moving tourist who wants to see Europe in a week. It reveals itself slowly, and then only to travelers with a taste for the traditional, the arbitrary, and the odd. To spend less than a week in Guernsey would normally be thought absurd, so that those in a hurry had best go somewhere else.
If Guernsey cannot be explored in haste, neither is it a place to be visited on impulse. A holiday there must be planned in advance, for both aircraft and hotels tend to be booked for months ahead, especially in the tourist season. For a transatlantic visitor wanting a double room with bath and telephone, the possible hotels number, perhaps, four, and all quite small by Flilton standards. Lesser hotels and guesthouses are numerous, respectable, clean, and (in dollars) absurdly cheap, with nontaxable drinks cheaper still. They do not, however, offer all the world traveler might expect. The bathroom will be along the corridor, the toilet (possibly) on the floor below, any iced water in the tap will be purely accidental, and the stairs, not the elevator, will be the means of ascent. Should you arrive unheralded, the States Information Bureau on the quayside will find accommodation for you, but what they find will not be the best rooms in the best hotel.
A number of the restaurants are excellent, and several overlook the picturesque harbor of St. Peter Port. Lobster straight out of the sea can be had, and these establishments are particularly attractive to yachtsmen coming ashore after a week on baked beans. Again, you need to book your table by telephone. From a sailing point of view, incidentally, Guernsey is no place for the novice. With a thirty-foot tidal range and a seven-knot current between jagged rocks, these waters require such seamanship as is found only among retired lieutenant colonels of the Indian Army.
The traveler on a ten-day visit may think it worthwhile to hire a small automobile for a week. Exploring the island, he will notice that there is a local tendency — widespread but not invariable — to keep to the left, a fashion he will do well to imitate. Thus avoiding mishap, he will nevertheless, after half an hour, find himself completely entangled in a spider's web of minor roads, well surfaced but with few signposts. To be hopelessly lost within an area of about eight miles by six is hardly possible, but to stray is easy, and usually rewarding. Allow one carless day for a voyage to Sark, where cars are forbidden and where you have a choice between horse-drawn carriage and bicycle. The island is very lovely, and the voyage there gives a general impression of the islands as a group. Allow another carless day for a visit to Herm, reached more quickly by launch and well worth seeing. A third carless day might well be spent in St. Peter Port, visiting the town church, Castle Cornet, and the home of Victor Hugo. The whole history of the island is reflected in the monuments which adorn the town church and which name the families of consequence. Castle Cornet reminds us of a military history which stretches from the Middle Ages to the German occupation. As for Victor Hugo, who wrote some of his most famous books in Guernsey — and one of them, Toilers of the Sea, about Guernsey — he left behind an oddly characteristic home, complete with a bedroom still ready for Garibaldi, who has not (so far) appeared. Victor Hugo worked and had his bedroom on the top floor, whence he had a view of the France from which he was an exile. Down the street lived his official mistress, the wretched woman who had to correct his proofs. He slept neither with her nor with his wife (whose bed, possibly, was on the first floor) but with young maidservants seconded to the attic on temporary attachment. It is doubtful whether Victor Hugo ever understood Guernsey, which is the more regrettable in that no subsequent author has understood it any better.
The cultivation of tomatoes is Guernsey's chief industry, tourism taking second place. Scenically, the tomato has done no good at all, bringing with it unsightly areas of greenhouse. Visually preferable are the Guernsey cattle, a breed now losing popularity in the calorieconscious U.S.A. There used to be sheep on the island, and a knitting industry still exists, producing not the jersey — which is exported, we understand, from an adjacent island of that name — but the Guernsey, which is superior in being relatively waterproof. It is a fisherman's garment worn by residents all winter and by real Guernseymen all year round. No visitor should leave without one for each member of his family; they are virtually unobtainable elsewhere.
Incidentally, one must visit the market, where the Norman dialect can still be heard, and Saumarez Park, where a folk museum is being formed around the Guernsey Kitchen. If one's stay should coincide with an agricultural show (the Royal, the South, the West, or the North) it would be worth attending if only for an hour or two, partly to watch the horse events and partly to see the flowers.
What are Guernsey's drawbacks? Well, first of all, a car there is useful, but one must be prepared to park it and walk, often over rough paths, to points from which the coastal scenery can be properly seen. St. Peter Port itself has narrow lanes and flights of steps, much of the town being inaccessible to the carborne. Second, the island offers more friendliness than luxury, more courtesy than competence. Service in shops can be maddeningly slow, not because of negligence, but because everyone has to pass the time of day. In so small a community (45,000) people are not just customers or employees; they are individuals, and have to be treated as such. A visitor should avoid imposing his executive schedule upon them, but adopt their tempo as his own: it will be good for the ulcers. Above all, the visitor must not try to cover the Channel Islands in a week. Jersey, to begin with, is a different world, of which the true Guernseyman has merely heard tell; all very fine, no doubt, if one likes that kind of thing. Alderney is remote; again, with its own appeal for persons of a certain type. Its attractions, which include a railway with a locomotive called Molly, are not to be appreciated in a few hours or even days. As for France, it is best explored properly or not at all. Looking at the map, one might easily decide to vary Channel insular sight-seeing with a pilgrimage to Mont St. Michel, a weekend in Paris, or some mild gambling at Dinard. Forget it! The local system of communications does not work like that. From Alderney the French coast is some nine miles distant, close enough to distinguish, through binoculars, the headlights of the foreign cars. To go there the traveler would have to begin by returning to London, a circuitous route which would be quicker and probably cheaper than anything you could arrange locally. Paris can be reached from Jersey, it is true, but the hydrofoil which offers a passage to St. Malo might well be uncomfortable if the sea is rough. H is far wiser, in short, to concentrate on Guernsey and its immediate neighbors, leaving Brittany for another year and postponing the Jersey visit until some indefinite future. Give yourself time to wander, to wonder, and to drink at the bar.
What memories will the stranger take back with him to New Jersey or to Guernsey Gounty, Ohio? He may remember the harbor at night, with the mail boat alongside and the castle floodlit. He may recall with pleasure a day spent fishing for mackerel, a picnic at the Table des Pions, a swim from the beach at Belvoir Bay, or the folk dancing between events at the West Show. And he may remember a small community which has somehow retained an ancient way of life, with Norman laws and documents, the offices of bailiff, procureur, greffier, and jurat, with the constables of the parish and the sheriff of the Queen, with seneschals, vavasors, bordiers, and pions. He will recall family names like De Havilland, Sausmarcz, Le Marchant, and Bonarny, street names like the Bordage or the Pollet, place names like Pleinmont and Tortcval, Castel, or Vale. He will think sometimes of sunset skies, green foaming waves, walls with a blend of different-colored granite, and coffee topped with a thick Guernsey cream. When the memory becomes too poignant he will recall that another year will bring another vacation, and that whoever has been to Guernsey once will surely want to go there again.