Shoprite Tours
(Scene: Travel agent's office. Husband and wife are standing at counter as agent examines a sheet of paper.)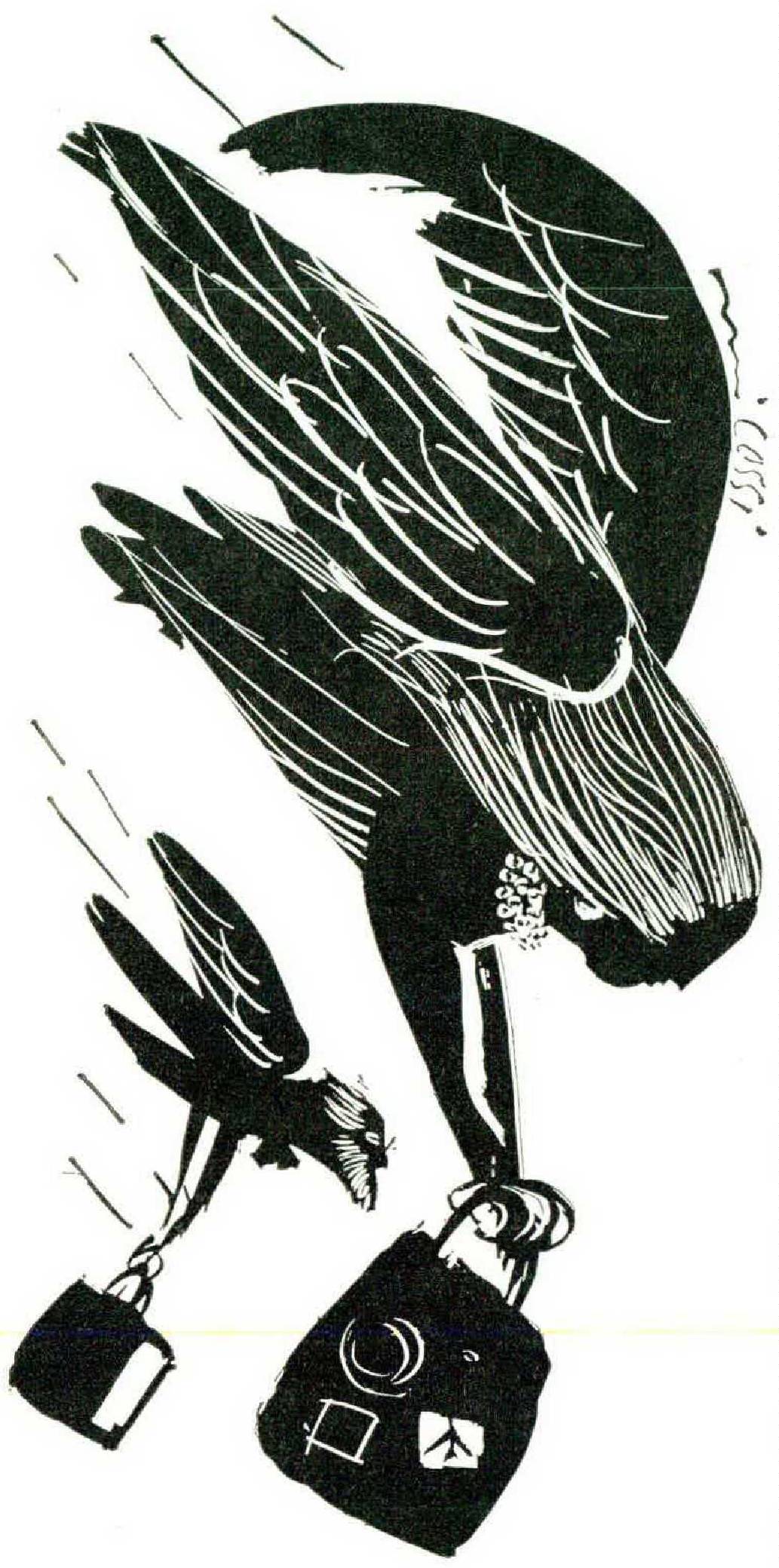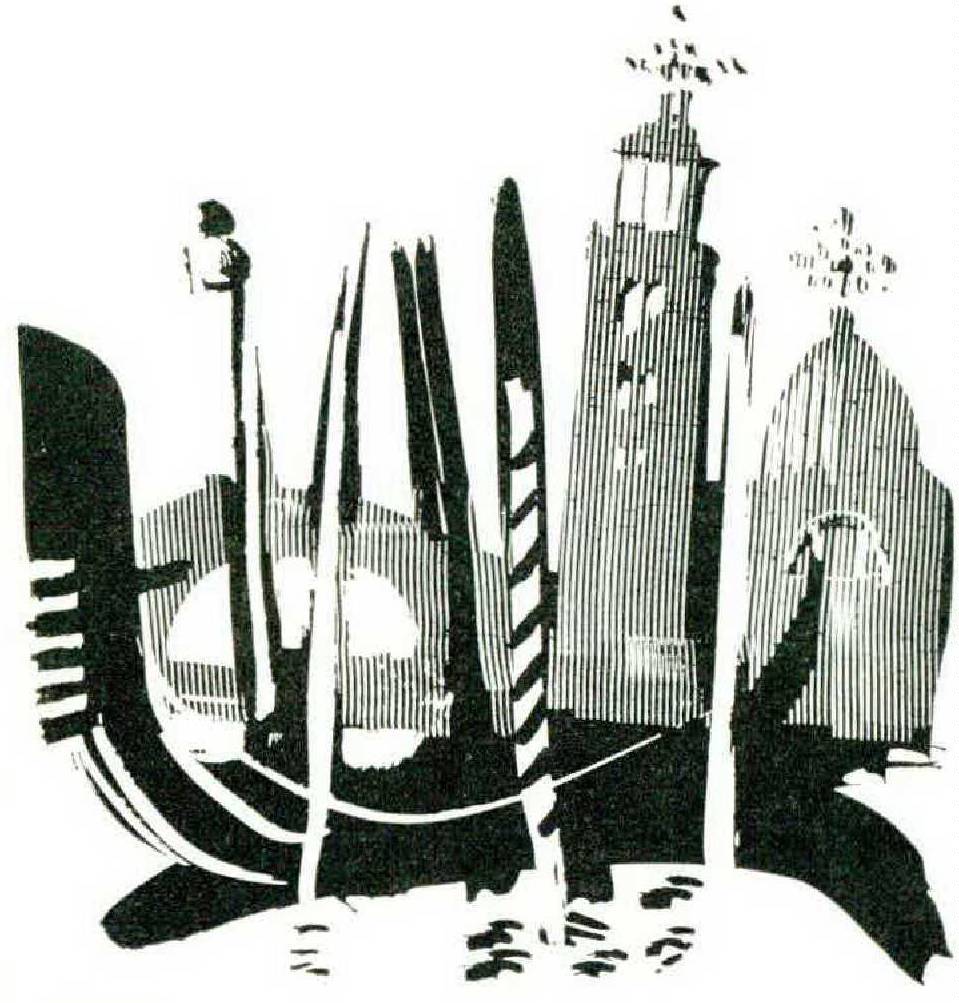 AGENT: I've got your itinerary all worked out, except for a few little details that we'll go over right now. You folks want a divorce? (Husband and wife shake heads in amazement.) In that case, we'll scratch Mexico. That means you start in England on the twenty-seventh, where you pick up your hundredand-twenty-four-piece set of Spode china and your bagpipes. You've only got an hour between connections.
WIFE : Won't we see the Changing of the Guard?
AGENT: Sorry, that's when you'll be at the National Health Service Dental Clinic getting your teeth fixed. It's free, you know, even for tourists — and an exclusive with Shoprite Tours, I might add.
HUSBAND: But the Guard —
AGENT: You'll see them on your slides. Now, on the twenty-eighth you get the night boat to Amsterdam for your full day in Holland, Belgium, and Luxembourg. That gives you the wooden shoes, a lace tablecloth (with matching doilies), and the re-enactment of the Battle of the Bulge by Hungarian Boy Scouts.
WIFE: Couldn't I get some Delft in Holland? My mother had —
AGENT: Delft? In Holland? At those prices? You must be kidding! You pick up your Delft in . . . let's see now . . . yes, in Hong Kong.
WIFE (wistfully): Delft should come from Holland.
AGENT: It does. These are guaranteed imported Dutch seconds — the blue is a little pinkish, but that's why you get a forty-five percent discount.
WIFE: My mother's Delft didn't come from Hong Kong.
AGENT: Look, folks, if you want to throw your money around like drunken sailors, you might just as well stay—
HUSBAND: I thought Hong Kong was the suits.
AGENT: The fitting for the suits is Hong Kong. You pick up the finished suits in Calcutta on the eighth.
WIFE: What about our car?
AGENT: Right. You wanted a red VW convertible. It'll be ready in Wolfsburg, Germany, on the third. You'll arrive at noon, the car comes off the line at four forty. Meanwhile, you can visit the famous Schlepperdinck wine cellars — or you can work on the assembly line until five. Their rate is a dollar seventy-nine an hour, and you might be able to slip a few extras onto your own car. Of course you're on timeand-a-half after five.
WIFE: I thought this was going to be a second honeymoon.
AGENT: All right. How about the bridal suite at Fensterlos Castle? Hot and cold running Rhine wine, seven full minutes of Gypsy fiddling, check-out time five thirty — an additional eleven dollars. (Wife and husband look at each other, shake their heads.) No? In that case, you'll be ready to roll in the Volks at five ten. You hit the autobahn at approximately six fifteen. You'll clear the Brenner Pass and will be in Florence picking up your three leather wallets, your monogrammed jewel box, and your matching end tables just as the sun climbs over the Apennines. That's a memory you'll always treasure, folks. Then on to Rome and the Vatican for a fiveminute private personal audience with that great religious figure — Charlton Heston — followed by a tarantella lesson with Marcello Mastroianni.
WIFE: But how about Venice? The canals, the gondolas —
AGENT: Venice is sinking! Besides, it's in your slides. Now. While your Volkswagen is being ferried across the Adriatic to Belgrade, you'll be on the plane to Hong Kong for that fitting. Waiting for you is a complete Chinese dinner with — get this! — three from Column A and four from Column B. And for an additional five dollars, you can create an international incident.
WIFE: Our car's going to Belgrade?
HUSBAND: What's Belgrade?
AGENT: What's Belgrade? Only one of the oldest and most exciting cities in Middle Europe. A veritable crossroads of the Ottoman and European cultures. The last outpost of the Rudnik Mountains. You'll find the world's greatest collection of ancient Serbian manuscripts in the National Library . . . a magnificent equestrian statue of Crown Prince Michael. From the twelfth century, Belgrade was the key city of Hungary and Serbia, giving command of the upper and lower Danube. Belgrade is glamour! Belgrade is culture! Belgrade is living history! Belgrade is where we sell your Volkswagen at a twenty-eight percent profit.
HUSBAND AND WIFE: Belgrade?
AGENT: Meanwhile, you're snug on an Air Borneo three-engine jet headed for Calcutta — two hours ahead of your suits. In Calcutta you'll join genuine native students as they stone a foreign embassy of your choice. And that same evening, you pick up your Hong Kong suits.
WIFE: You've forgotten our watches.
AGENT (with derisive snort): Please, madam. Your four A.M. flight out of Calcutta lands you in Geneva right at the watch factory. Your "his and hers" Yogi Bear watches will be waiting. And by a fortunate coincidence, you folks are going to be the millionth couple to come to Switzerland just to buy a watch — that month. There'll be a brass band, a speech by the burgomaster, and, to preserve this magic moment forever, two life-size statues of you and the missus in Swiss cheese.
HUSBAND: What are we going to do with two statues of Swiss cheese? I don't even like —
AGENT: The burgomaster will take them off your hands at twenty-nine cents a pound. You'll never miss the money.
HUSBAND: You mean we pay him?
AGENT: That's a lot cheaper than paying excess baggage on three hundred pounds of Swiss cheese.
WIFE: Couldn't we give them away?
AGENT: Not in Switzerland you couldn't, lady.
HUSBAND: How about the Matterhorn? I wanted to see it —
AGENT: It's in your slides: two hundred and forty genuine colorslides showing all those wonderful places you've always wanted to see. We throw in two double exposures and six out of focus so your friends won't think you're the sort of tourists who just go places and buy professional slides.
HUSBAND: If we're going to Hong Kong, Calcutta, and all, shouldn't we see a doctor for special shots?
AGENT: I'm glad you asked. Part of our package plan, which we handle more economically than any doctor (reaches under counter, brings out a hypodermic needle, which he holds up and clears of air), is a complete set of inoculations against yellow fever, typhoid, bubonic plague, typhus, the Aztec two-step, Calcutta tummy, Bombay itch, Swiss gout . . .