To Moosonee by Polar Bear Express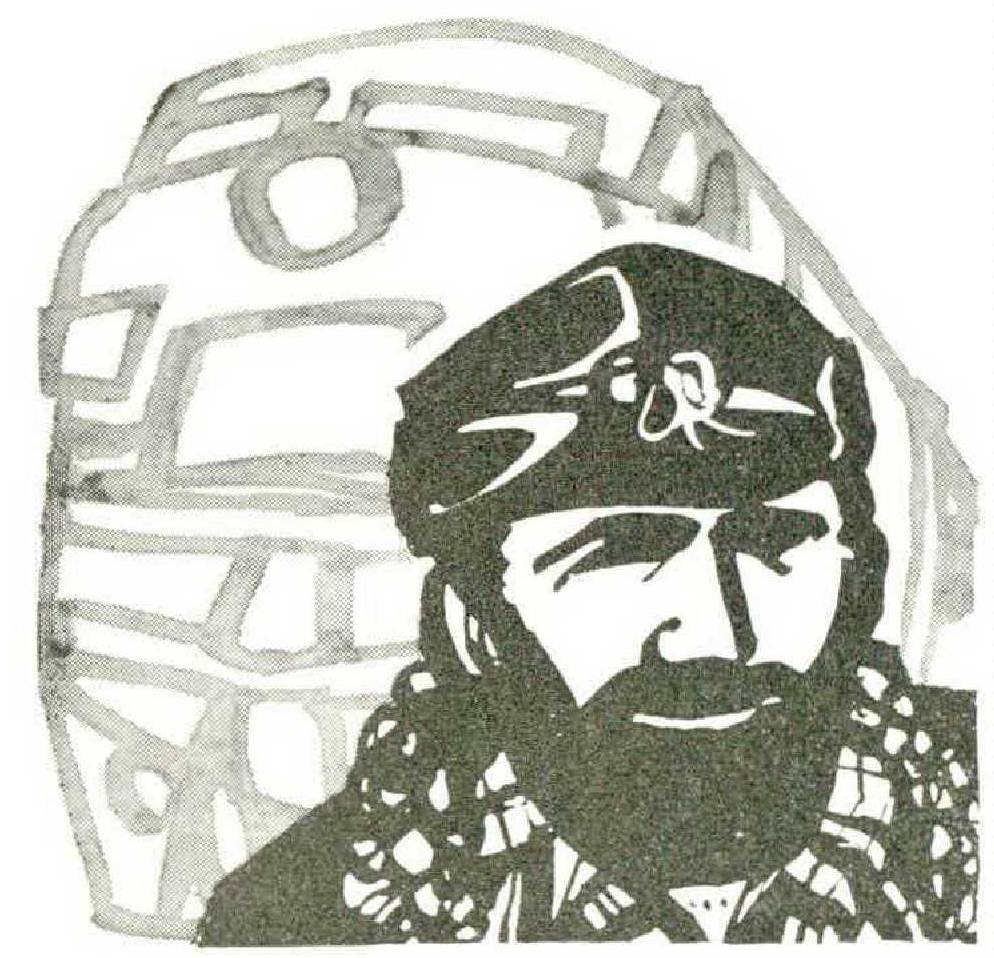 Moosonee and Moose Factory were our twin destinations. Frontier settlements of Cree Indians and rugged whites, they sprawl along the estuary of the Moose River near where it debouches into James Bay, the arm of Hudson Bay in northern Ontario. There is no road through the last 117 miles of wilderness to Moosonee, so my wife and I had taken a comfortable Canadian National sleeper from Montreal to Cochrane, and there changed to the Polar Bear Express of the Ontario Northland Railway.
The ONR is the main stem for thousands of square miles of the Arctic watershed. It's quite different from the commuter train that takes me to New York every day—the other passengers, for example. Most were men, dressed for hunting, letting their beards grow, boots on the seats, and drinking their whiskey straight from the bottle. Near the Roman Catholic bishop of Moosonee sat a Cree Indian woman, playing a phonograph to entertain her children. Young bucks working for the railroad got on and off at section maintenance centers. It was payday on the railroad, and as one youth with straight black hair and hatchet face swung aboard for the trip to Moosonee, he yelled to his comrades, "I'll come back drunk!"
Since the Polar Bear Express hauls both freight and passengers, we stopped occasionally to drop a freight car or pick one up. This meant that not too much faith should be placed in times of arrival and departure. Passengers wandered freely into the baggage car. I was there during one stop, and piles of gear and a canoe were passed out to some disembarking hunters.
At every wilderness stop, where there is never more than a small railway storage building and one or two houses, Cree children jumped aboard in giggling groups, enjoying their only contact with the outside world. Some bought candy in the restaurant car. Their mothers also shyly boarded the train, got out the other side, then crossed back again before the train started.
Instead of tables and chairs, the restaurant car has a counter and stools, for efficiency at the expense of decorum. The car is called Meechim, meaning "food" in Cree. The waitresses wear a neat conventional blue dress, but the individuality of the wilds finds expression — one blatantly blond young waitress had chopped off her dress at mid-thigh.
The code of the wilderness requires the Polar Bear Express to pick up anyone, whether or not he has the fare. The story is told that it was after the predecessor line threw Sir Harry Oakes off at Kirkland Lake that he discovered gold there and became a millionaire.
The country is fairly flat. The endless forest is relieved only by clearings at section stops, and by the crossing over the Moose River on a bridge built very high so it would not be carried away by ice jams.
After the fouror five-hour ride from Cochrane, arrival at Moosonee is exciting. The crowd at the station is a good part of the town's population. Some are there to get freight or packages off the train, the postmaster picks up his lean mailbag, an empty Canadian Air Force bus meets any airmen destined for the nearby Mid-Canada Line radar post, Indian and white guides meet their hunters, and many Indians seem to be just watching the train pull in.
A battered old station wagon, one of the few taxis, took us a few hundred yards to Log Lodge, ONR's hostelry on the Moose River. Log Lodge is actually three frame buildings and three log cabins. The boniface is Harley Winter, a well-fed, friendly but grave man, with many stories about the northland.
Crossing the puddled road and a strip of wild grass, I went down the bank to put my hand in the Moose River. It seemed warm for the beginning of October. All the excitement and bustle had moved from the station to the riverbank. At nearby docks several groups of hunters were hurrying to load freighter canoes with their gear and shotguns before dark. At another dock a floatplane was being loaded. A veteran navy amphibian was moored on the river, and another was slowly taxiing across the water toward waiting hunters. Down the river half a mile was a big freight barge, and across the road a helicopter was warming up. All this transport of men and goods indicates that Moosonee is not just the end of steel — it's also the jumping-off place for goose hunters, moose hunters, beluga whale hunters, fishermen northbound for Atlantic salmon and the exotic Arctic char, prospectors seeking industrial diamonds and minerals, missionaries to the Eskimos and Indians, and many others with interests in the nearby wilderness or the far reaches of Hudson Bay. Yet the activity around the docks shrank to small proportions in the perspective of the two-mile-wide river, the uniformly forested banks, and the setting sun.
After a hearty dinner at Log Lodge, we went shopping at the Hudson's Bay Company store, Wonder Snack Bar, and Joe's Store, and bought soapstone statuettes of birds or animals carved by Eskimos, and much cheaper than in Montreal or Toronto. The Hudson's Bay Company store is not a log trading post with bales of furs and barrels of Hour and rum, but one of a chain of modern supermarkets stretching all across Canada. The shoppers were mostly serious Indian women, with their husbands in tow.
Joe's Store is a site for sociological study. In the small premises were a screaming jukebox and about twenty adolescent Circe boys and girls, who stood against the wall, talked in little groups, stoked the jukebox, and occasionally bought a bottle of soda. The proprietor is a Scotsman who somehow migrated to Moosonee with his wife and seven children after the oil field where he worked on the Arabian Peninsula was expropriated. He likes Moosonee because it's unorganized territory, meaning that you don't need a license to build a store or drive a car, there's no city hall to fight, and you can do pretty much as you please.
There are only about four miles of road and about twenty cars, so there's no gasoline tax. Since the land is mostly muskeg, composed of rotting vegetation, squishy underfoot, a road must have a deep ditch on each side to dry it out enough so it won't disintegrate. Some of the ditches were foul, as if sewage had got into them. As a matter of fact, Moosonee's first small sewage plant arrived on the same train that took us there. The muskeg freezes solid in winter, making for better roads, and there's a six-lane ice highway across the Moose River, for this reason many inhabitants prefer the winter. This is not permafrost country, but one man's water pipes froze last winter and didn't thaw until August.
Store Creek, which provides Moosonee's drinking water, also divides the village proper from the Indian settlement. On the Cree side of the creek a muddy track wanders from the rails to the river, among dwellings facing in all directions in an undifferentiated field. Some houses are built of milled lumber, others of logs chinked with clay. Many are roofed with canvas or other cloth. I talked with a Cree who was carefully carving a long oar. Beside his ramshackle house stood a sixpassenger snowmobile with skis in front and a caterpillar tread in back. The Crees seem well provided with clothing, food, and boats, but apparently they have no desire for the white man's type of house and yard. A sense of territoriality is strong in the many dogs of Moosonee. We saw several Cree dogs driven back across the footbridge by the white folks' dogs.
Next day we went with several others in a freighter canoe to see the blue geese at the mouth of James Bay. This canoe, about twenty-two feet long, with an outboard motor on a squared stern, is the standard transportation for Indians and hunters, and is also used as a water taxi. There was a cold north wind, flying spray, and occasional heavy rain. A length of tarpaulin held over our heads kept us more or less dry, and a circulating bottle of bourbon kept us more or less warm. The riverbank had obviously been scoured out often by the spring breakup of the ice. Trees gave way to bushes, and these to marsh and wild rice.
At the entrance to James Bay a large area of the marsh has been made a bird sanctuary, where a government inspector in a sort of crow's nest on a mast watches for poachers. The promised blue geese were there in the thousands: large birds, close to the size of Canada geese, they took off'in great flocks, circled, and settled again. Indians smoke the geese and live on them all winter. Hunters travel thousands of miles to shoot them, and the hunting is so good it's slaughter. The ONR operates a hunters' camp, Hannah Bay Goose Camp, forty-five miles from Moosonee. The north wind sped us the fifteen miles back up the river, and we reached the dock just as the warming bourbon gave out.
While Moosonee is a product of this century, Moose Factory, founded on an island in the river in 1673, is the oldest settlement in Ontario. By 1680 it was the main "factory" of the Hudson's Bay Company, whose agent was called the factor. On a Sunday morning we took a water taxi over to Moose Factory and attended the service at St. Thomas' Anglican Church, a small wooden building more than a hundred years old. Most of the congregation is Cree, and a service in the Cree language is held later in the day. Banns were read, and a prospective bride's name was Annie Cowboy. The altar cloth is fringed moose hide bearing a formal design in beadwork, and similar hides hang before the lectern and pulpit, one with blue geese rising from a marsh. A leaded window shows two pioneers in a canoe.
Ours was a service of thanksgiving for harvests, so the church was decorated with vegetables, fruits, berried branches, and homemade bread, with a dead blue goose in the place of honor at the base of the altar. When the church once floated away on the river, which had flooded behind an ice jam, the parishioners towed it back to its foundation before the waters subsided, then later bored holes in the floor and plugged them, so if another flood came, the plugs could be pulled to let the water rise inside the church instead of floating it away.
We lunched with the children at the Moose Fort Indian Residential School. Children in Indian families can be sent there for ten months a year, with the assurance not only of education but of food and shelter when their parents might be off tending traplines. Many of them were weekending with their parents because food is plentiful at that time of year. They were so reserved that we found it impossible to get them to say anything beyond a direct answer to a question. They flocked around the supervisors, and obviously liked them. One dorm mother, who also breeds dogs and teaches dog obedience classes, had brought her Doberman pinscher puppy to play with the girls.
Moose Factory has a 200-bed hospital for Eskimos and Indians. Some of the Eskimo patients are down in from far distant settlements around Hudson Bay. Recuperating patients often take to carving soapstone figures, which the hospital sells for them. We have a delightfully corpulent and insouciant seal carved by an Eskimo named Danny from Povungnituk, on the northeast coast of Hudson Bay.
At the historical cemetery the oldest tombstones are dated in the early 1800s. One bears the motto "Conceived in sin. grown to glory." Most of them are leaning or fallen, showing how the muskeg has heaved with freezing and thawing. An old wooden grave marker, its foot rotted off, leans against the grave's iron fence enclosure. The inscription had been incised in the wood and then filled with lead. This and several other inscriptions are in the Cree language, in an alphabet formulated by missionaries. At the present-day cemetery in St. Thomas' churchyard, most of the grave markers are simple wooden crosses.
The oldest wooden building in Ontario is believed to be the Hudson's Bay Company's old forge at Moose Factory, erected in 1740. It is a small sturdy building, with handhewn siding, containing a great ironworking fireplace with a giant bellows on each side, also many blacksmith tools, relics of sunken ships, old ledgers of the Hudson's Bay Company, and large portraits of Charles II and other early royal members of the company. As part of the local Canada Centennial project, this building and an old stone armory are to be moved to the center of a new park, where they will be surrounded by picnic tables and benches.
Close to the old forge, the Hudson's Bay Company has a new supermarket, broad lawns bearing a historical plaque, two ancient cannon, and a large antique fur press, once used to compress and bale the furs before shipping. The "servants' house," over a hundred years old, originally housed employees. The present factor and his wife graciously gave us tea in their beautiful modern house with its picture windows overlooking the river. The Hudson's Bay Company is still doing business at the same old stand it has occupied for almost three hundred years, but is somewhat encumbered by its own historical relics.
Accommodations should be reserved in advance in Moosonee, unless one plans to use the Province of Ontario campsite on Charles Island, near Moose Factory. There are only about a hundred available rooms in Moosonee, and some visitors have had to sleep in the jail, which hasn't many beds either. Reservations for the daily Polar Bear Express, Log Lodge, or Hannah Bay Goose Camp are made through Ontario Northland Railway, 805 Bay Street, Toronto 5. Ontario. There is a five-day all-inclusive tour from Toronto for $100.
Teen-agers in particular would enjoy the $10 round-trip Passenger Special from Cochrane to Moosonee some summer Sunday. It has a recreation car with a dance floor and orchestra, and guitarists wandering through the train. When last summer's biggest group ■— 820 — all flocked to the river and took to boats for the ride to Moose Factory, with airplanes flying overhead, it looked like a big amphibious exercise in war games.