A Time for Comedy
What we need in America, says ATLANTICcritic Louis Kronenberger, is not simply better social drama or vivider documentaries, but our own successful form of serious comedy — "dark,"philosophical, intellectual, what you will.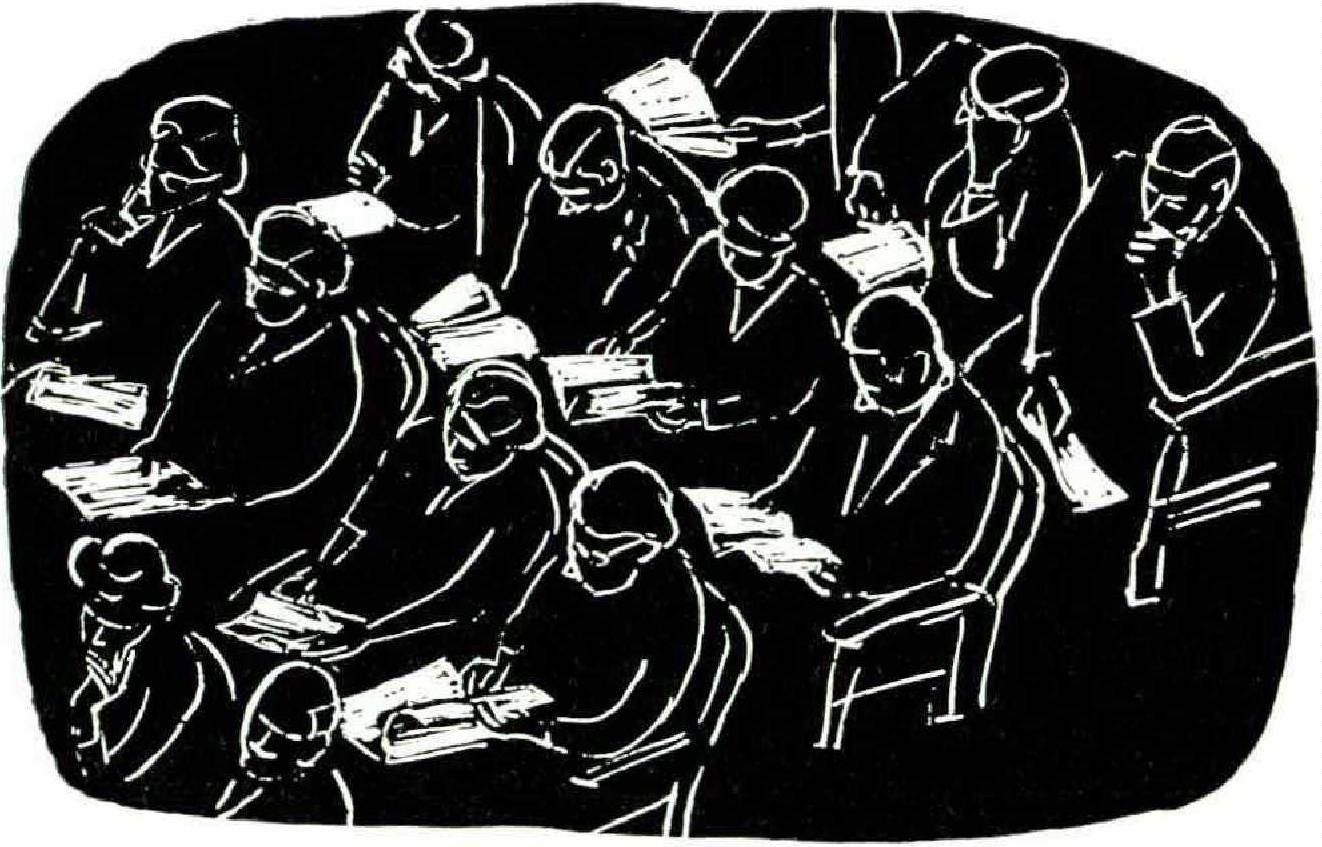 WHETHER or not our theater is a fabulous invalid, I know of no other artistic medium half so given to skin grafts and blood transfusions, to diagnoses and consultations and prescriptions for every type of doctoring and surgery. In one form or another, and in book form certainly not least, the invalid is constantly gone at, pounded and punched, wheeled into the operating room or placed in an oxygen tent. There are moments, indeed, when the American theater might be supposed a mere adjunct of articles on what is wrong with it —or not wrong with it, since almost as much is written by faith healers as by qualified M.D.'s.
As against a great pile of books which examine the recent or current American theater, there now appears a work called The Death of Tinker Bell, which bears the solider subtitle The American Theatre in the 20th Century. This, to be sure, is a title or subtitle one has often met with before; one, moreover, with overtones somehow suggesting that our twentiethcentury theater is still at a formative stage, youthfully groping and errant and not nearly ready for definitive judgment. But this time the subtitle brought me up short with the realization that we are now a full two thirds through the century, as far removed from Beyond the Horizon as it was from Bertha the Sewing Machine Girl. Our twentiethcentury theater has turned elderly, whether or not it has come of age; and a mildly historical peregrination of it seems much more in order than yet another promenading of the sixties.
The author of Tinker Bell, Joseph Golden, is a former professor of drama at Syracuse University (whose Press has published the book). He has gone at the century perhaps more as a setting or emerging theme for the American theater than as a chronology, providing an often genial unacademic text, and given to brisk lamentation for a theater that he feels has doomed the essentially pleasurable, fanciful, theatrical. Mr. Golden's style and unscholarliness can prove very trying — a riot of adverbs clinging to adjectives; barbarous misusages ("acquiesce to," "infused to," "both ... as well as"); misquotation blithely conjoined to wrong authorship (Thomas Hardy's "to see the world steadily and see it whole"); contradictory authorship (Margaret Fleming first rightly ascribed to James A. Herne, soon after to Edward Sheldon). That all this could be passed by a university press together with constant misspellings — from Euripedes to George Kelley, and Gaugin to Alexander Wolcott — seems strange indeed. There are also statements as startling as "A poet is one of the great anachronisms of the 20th century"; and Mr. Golden skates right over some of the century's most rewarding territory. But his book furnishes a fair amount of the longterm scrutiny it professes, it can be sensible and serviceable, and it does inspire the reader to create his own "retrospective," from Ben Hur to Virginia Woolf, and to assemble some of his own reflections.
FROM Ben Hur we ourselves can skate fairly fast through the Age of Belasco, of David Warfield as Peter Grimm, Richard Mansfield as Monsieur Beaucaire, William Gillette as Sherlock Holmes, Mrs. kiske as Becky Sharp — an age of stars and vehicles. If it was also an age of operetta advancing toward musical comedy, it was more valuably one of vaudeville and burlesque, of notable comedy routines, and of such great comedians-to-come as W. C. Fields, Fanny Brice, the Marx Brothers, Ed Wynn, Bobby Clark, Bert Lahr. The "serious" American drama of the period is full of virtual ghost names today, of Clyde Fitch and The Climbers, Augustus Thomas and The Witching Hour, Eugene Walter and The Easiest Way, and, more impressively, William Vaughn Moody and The Great Divide.
For the American theater itself, the great divide of course is Eugene O'Neill. If culturally he was part of a new American ferment in all the arts, in the theater he stood alone. He is as notable, indeed, for single-handedness as for stature; almost half a century later, he remains a pounding waterfall whereby a brackish stream became a stirred-up if muddy river. That there was much wrong with O'Neill only stresses how tremendously much more was wrong with the theater he came upon; to the man himself I shall return a little later.
After O'Neill there was a "serious" drama: a drama most often naturalistic in method, first influenced by Freud and later by Marx; as grazed by Expressionism as it could be grounded in photography; a drama suggesting now the headlines, now the editorial page. From Elmer Rice and Maxwell Anderson in the twenties, to the thirties of Lillian Hellman and Clifford Odets, and then to Arthur Miller and beyond him, it offers a kind of main-avenue continuity; standing in different degrees away from it were such playwrights as George Kelly, Thornton Wilder, William Saroyan, Tennessee Williams, and Edward Albee.
Two thirds through the century our achievement in drama seems insubstantial as a whole and short on fine single plays. Even a play so famous, so immensely relevant and, indeed, significant as Death of a Salesman lacks a commensurate stature and distinction. I agree with Mr. Golden that our two foremost talents have been O'Neill and Tennessee Williams. Yet O'Neill, we know, crucially lacked a gift for language (it is not just that he stammered; his dialogue could be all too poetical, or at once flabby and stagy), and Williams used language, as so much else, with little restraint. The one could grope in a blur of Freud and the Greeks and the grandiose; the other so assault the audiences' emotions while running amuck with his own as to seem both lurid and lush. It is a great pity that Williams, dowered with both a dramatic gift — for want of which most stage poets go slack — and a lyrical gift — for want of which most playwrights lack resonance — should have abused both talents, overheating tension, overdecorating corruption, flinging away the bridle while bringing down the whip. (Conversely, his "affirmative" plays have a sun-lamp appearance of health.) Yet beyond the real merits of his best plays, Williams brought new things to playwriting — for one example, what might be called the sustained dramatic aria.
For all his borrowings, perhaps O'Neill alone went it alone, suffering in later years, as much through faults as changing fashions, a kind of cruel defeat, only after his death to give the American theater, in Long Day's Journey Into Night, its greatest play. O'Neill's achievement here is fairly ironic: coming from a playwright infatuated with tom-toms and masks, trilogies and myths, Expressionism and psychoanalysis, Long Day's Journey triumphs in the simple form of almost straight autobiography. Remote from all the small virtues of the theater, the play constitutes a long, slow, redundant climb to greatness, with what so long had haunted O'Neill in turn made fiercely haunting.
But our drama as a whole seems less drama than theater. As Mr. Golden remarks, America before O'Neill offered a "theatre of great moments"; one thinks of old-fashioned unmaskings, of flamboyant recognition and retaliation and confrontation scenes. But American drama since O'Neill has not made any vast artistic progress. It has mated the melodramatic or the sentimental with the tendentious, instead of with each other; if has replaced the all-too-high-pitched with the outwardly hardboiled. In method (and skill) it has passed from stacking the cards to palming them; in substance (and seriousness) it has joined sensational effects to humanitarian causes. As against a few superior exceptions, there is a steady procession of such work from Street Scene on — The Last Mile, They Shall Not Die, Waiting for Lefty, Dead End, There Shall Be No Night, Native Son, Deep Are the Roots, Take a Giant Step, The Miracle Worker. Even when successful, these are no more than topically or theatrically so.
Mr. Golden, as it happens, passes clean over the one twentieth-century era that promised rather handsomely for the future — roughly, the 1920s, when poetry and the novel came roaring to life, and the stage, made to breathe by O'Neill, felt the tingle of many young playwrights: George Kelly, Sidney Howard, Maxwell Anderson, Philip Barry, Elmer Rice, S. N. Behrman, Robert Sherwood, Edwin Justus Mayer, Paul Green, Marc Connolly, George Kaufman. If today these playwrights suggest one of those dazzling college groups who fall short of their promise, their promise was undeniable, their performance often very exhilarating. And their talent, whatever its limitations, proved varied enough to give us in several forms what no one since has bettered. After each name we must, no doubt, add hélas, but our best comedy-of-manners playwright has been Philip Barry, our best comedy-ofideas playwright has been S. N. Behrman, our best playwright of sardonic artificial comedy has been Edwin Justus Mayer, and our most independent writer of comedy has been, I think, George Kelly. None of these men, to be sure, came close to an Importance of Being Earnest, a Caesar and Cleopatra, a Playboy of the Western World; had the comic vigor of an O'Casey at his best, the ironic sensibility and elegance of a Giraudoux. The one type of 1920s comedy that flourished and grew fat came from George Kaufman. A really witty man with a satiric eye, Kaufman, as I have said elsewhere, showed no concern for his targets, but only for his marksmanship. Totally lacking serious values, constantly working with various collaborators, Kaufman, in striving for box-office successes, fathered the gag comedy, his wit degenerating into other men's wisecracks, the road carrying us past the Lindsay & Crouses to the Chodorovs and Kurnitzes — the most traveled road, with some of the tinniest traffic, in the American theater. There have been pleasant offsets: a Saroyan's Time of Your Life, a Wilder's Skin of Our Teeth, a Paul Osborn's Morning's at Seven. But urbane or even carriage-trade comedy has virtually shared the fate of the carriage; a fate hardly different has overtaken any satire that went beyond spoofing, or that wasn't sick humor, which, reversing satire's therapeutic function, offers the insect's sting and not the disinfectant's.
THE last fifteen years have brought a great deal to the American theater scene, but little born of the American theater. What has most interested us has come overwhelmingly from abroad — the work, besides a belated boom in Brecht, of Sartre, Camus, Beckett, Genêt, Ionesco, Dürrenmatt, Frisch, and Weiss, of Osborne, Behan, Wesker, Pinter. This has been a pretty formidable invasion, against which we, in any avant-garde way, can offer far less — an Albee, a Gelber, a Le Roi Jones. The foreign invasion has greatly assisted domestic expansion, in helping to initiate a kind of countrywide "experimental" theater, whether through the civic repertory or the university workshop. Despite a good deal of faddism and chic triviality, much of this, much decidedly of Beckett and Gênet, has had real value. But just so, for anything impressive we are almost totally dependent on imports, and almost as much in trends as in talent.
This is not accidental or temporary: much more than other artistic mediums, the American theater reflects the virtues and vices of America itself. It displays the same practical ingenuity, quick-change adaptability, wide-eyed corruptness; the same concern for gimmicks, for pace, for packaging. This, in theater terms, means slick gag comedy, lavish musical comedy, sex without subtlety, fast farce. It means the chorus line for both its mechanical precision and its physical lure; it often means mere novelty posing as experiment, the ersatz parading as the real thing. It has very happily given us the Ziegfeld Follies, George Gershwin, Richard Rodgers, Cole Porter; George Abbott, Jed Harris, Jerome Robbins; The Green Pastures and Our Town, Guys and Dolls and Kiss Me Kate; very particularly, the libretto of Pal Joey, the score of Candide, the Mack Sennett ballet of High Button Shoes. At its best, it constitutes a truly engaging lightweight culture, an impressive expertise. But little about it shows any real relation to art, any vision of life.
Shaped for Broadway and box office, most of it has paid off, as it should have, splendidly. Where the box office has proved corrupting isn't where, as here, Broadway traded in the things that were Broadway's, but where they weren't or needn't have been. The lure of Broadway is understandably hard to resist. Thus, there are people who don't primarily write for money but who, just because they don't, feel they should be rewarded with a great deal of it. In the theater such people want, with reason, to be produced on Broadway, where success and reputation are best made and productions are most professional. Broadway, moreover, is our one true showcase for visitors: we have no Old Vic, no Comédie Française, only a Lincoln Off-Center. But Broadway is where playwrights without reputation (or with it) face all kinds of pressures and perils, from 2 A.M. hotelroom creativity to producers' curt ultimatums. This scarcely enriches a writer's talent or strengthens his character. Furthermore, the Broadway "situation" keeps getting worse because of an increasingly spineless acceptance of it: a "theater of hits or flops" is no longer, if it ever was, a Broadway dirge; it is a Broadway theme song. Higher and higher costs induce lower and more limited aims; and the glib optimism about the fabulous invalid whom nothing can kill fosters the cynicism of not even trying to restore him to health.
One factor in all this is how the "serious" theater is financed. Mr. Golden rightly remarks that "our painting, music and sculpture are taken seriously, and the theater is not." But if this is in part because the theater offers little to be serious about, it is also because the theater stresses money even where seriousness enters in. Painting, music, opera go forthrightly, even grandly, to art-minded supporters for patronage; the theater chases after backers, crying up profit. If Broadway has become too expensive for art, even more menacing than its economics are its tactics. It is painfully uncivilized, generally displaying a minimum of ethics, urbanity, cultivation. On all sides, moreover, Broadway is less and less a playwright's theater and more and more a director's, a play doctor's, perhaps worst of all, a hack adapter's — even original junk keeps getting rarer. In the 1960s, Edward Albee's is the only solid new American name with a Broadway address.
Probably the wisest thing is to accept Broadway, straight out, as show business (which on occasion offers something impressive, or shapes up something stylish and bright). As for how expensive Broadway productions are, or Broadway seats, this is almost part of the act. For multitudes of people, Broadway signifies status entertainment or a social event. Its social character, indeed, is what greatly helps keep it going. Broadway is part of being on the town, it is what fetches crowds from out of town; it is a form of splurging, a form of celebrating — a birthday, a graduation, a business promotion; it is dressing up, it is dining out before the show, being "in" at dinner parties afterwards.
There has been opposition to its scheme of things, of course, and something of an offset. Off-Broadway comes first to mind, but more significant are the repertory theaters in cities across the country, with increasingly higher standards in their choice of plays, and more professional efforts in production. Civic pride is sometimes abetted by Foundation money, so that the superior repertory theater has begun to acquire some of the standing of the city's symphony orchestra or art museum. Meanwhile, notable theater activity, often serving the community, has developed on the university campus. This two-fold advance is what seems most salutary in the American theater since the Second World War.
Yet a tremendous weak spot in the American theater persists. Off Broadway and nowhere near Broadway, quite as much as on Broadway, there is little new gifted American playwriting. A more adult aim, an essentially nonprofit approach decidedly count; as does decentralization, since the center, Broadway, is culturally just the hole in the doughnut. Yet for the talented, fairly established playwright the civic playhouse, with its limited audience and purely local press, has drawbacks as unwelcome as Broadway's. As a possible solution, I wonder whether six or eight cities could not eventually form leagues for rotating their top productions, thus combining a more substantial form of repertory with a less seedy version of The Road This sharing of costs and multiplying of audiences, this creating a full season's run for a play, could attract our soundest playwrights, and most flourishing ones. In any case, it seems vital to create a generation of playwrights for whom Broadway does not have to be a goal, or its methods a necessity.
YET more, perhaps, than just Broadway makes for artistic difficulty. Perhaps the state of the world does, and in our theater, the whole immediate, raw, uncathartic subject matter of war, crime, drugs, delinquency, racial conflict, violence, psychosis, so often both strident and cynical, embattled and nihilistic. All this, along with disgust for Broadway's shallow laughter and garish escapism, has forged a gospel in American writing identifying truth with insistent unpleasantness, while from Europe come grim surrealist fantasies, existential visions, allegories of evil, often accessible to our imaginations but remote from our experience. I cite this not to register critical dissent, for besides having intrinsic value, it clears the air, if only with a fine fresh breath of carbon monoxide. But though the best of the European plays may endure, so much in our own is mere raw material, unchanneled emotion, unfocused enactment, as to add to the confusion rather than clarify it; as to seem done, not cleanly with a scalpel, but clumsily with a blunt instrument — something obstructive to the true ends of art for being much more painful than powerful.
What it seems to me we need in America is not simply better social drama or vivider documentaries. We need something we have never really had — our own successful form of serious comedy: "dark," philosophical, intellectual, what you will, but something that rests, however spikily, on adult exhilaration and articulateness. Mr. Golden repeats the saying that a society gets the kind of theater it deserves; and our theater does predominantly mirror our ambitions, our preoccupations, our taste. Still, "the kind of theater it deserves" can be read in two ways. It can mean a Molière, a Chekhov, a Shaw, someone who proceeds to open our eyes, slap down our pretenses, strip bare our self-deceptions, but at the same time enchant our ears, rouse our minds, incite us to laughter. Molières and Shaws, to be sure, we had better not count on; but even in a time like ours we can hope for someone with their kind of good sense, their realistic insight, their witty, worldly knowledge of mankind. We can envisage someone who would make us a little less narrowly topical in our pursuit of truth, along with being much more selective in our taste for make-believe.