A Treatment--Supermarket Style
Lorris B. Smith is a former Nebraskan who is now living in Albuquerque. This is her first appearance in the ATLANTIC.
"Hello. How are you today?" wafted across my consciousness for the sixth time at least, and this time, like the others, the question was barely audible above the lulling background music. The sincerity that accompanied each inquiry promptly fluffed my ego and spirited my thoughts upward. Optimistically, I responded to each clean-aproned interrogator with a blithe, "Fine.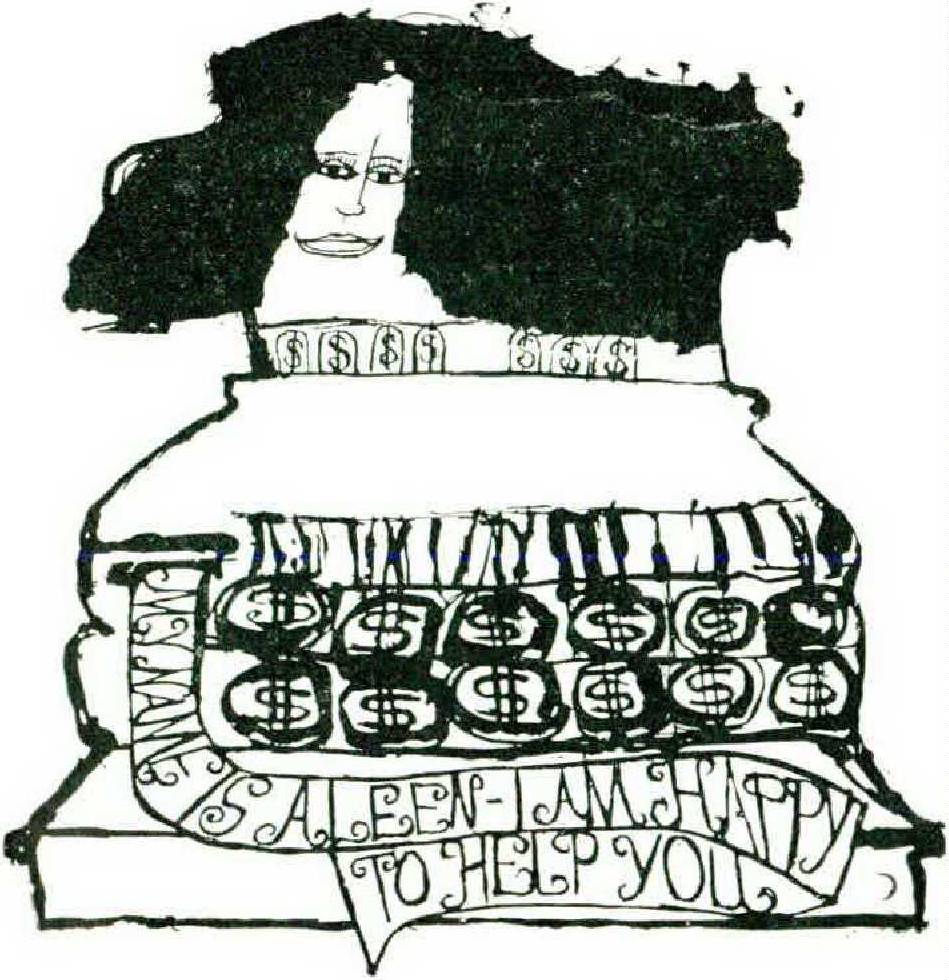 Thank you." At this, he'd smile benignly and drift away.
In a tranquil haze I plucked cans and boxes, bottles and bags from the well-stocked shelves while these disguised psyche manipulators of the supermarket circuit cudgeled, "Eureka! Plan A, 'The Therapeutic Treatment of the Grocery Shopper Under Simple Hypnosis,' works . . ." again and again and again.
This time "Hello. How are you today?" came from a round, doll-like face topped with short blond hair. Its youthful freshness, wide, engaging smile, and big blue eyes were undoubtedly capable of mollifying any difficult, stubborn attitude. And it all belonged to Arlene. The neatly printed pin attached to her blouse not only told me her name but also that she was happy to serve me.
Graciously Arlene asked, "Did you find everything all right?"
Influenced by Plan A, I murmured, "Oh, yes. No trouble, no trouble at all. Thank you."
Nodding and grinning, she adjusted her manicured, soft right hand to the cash register keys and her left hand to the myriad-sized items she pulled toward her, one after the other. In less than two minutes this feminine paragon of efficiency had established the fact that 1 could give her $23.91. The money transaction was the briefest encounter with reality, which overall made it quite painless.
Arlene proceeded with Plan B as she gurgled, "Here are your stamps. Since today is double-stamp day, you've collected quite a few."
"Yes. It seems so. Do you think they'll fill half a book?"
"Nooo," Arlene dawdled, but quickly offered, "but, maybe a fourth of a book."
These small, sticky bits of solid gold were being tucked into my purse when I discovered the coupon, nearly forgotten, which entitled me to some brown stoneware free if my purchase was over $7. I held the
I tattered paper out to Arlene, and she bubbled, "Oh, good. You have your coupon. This week we have the stoneware cups, and you can get three of them because your groceries totaled a little more than $21. And remember, next week the saucers will be available. One saucer will be given free with each purchase totaling $7. And, they match the cups."
"How wonderful."
"This," continued Arlene, handing me a sealed white envelope, "is one half a check. Each time you buy something here you'll be given a check, a make-believe one, that's been torn in half. If you get two halves that fit perfectly, that match exactly, you may win a one year's supply of groceries, absolutely free."
Spellbound, I reached for the white square she held out to me and placed it securely next to my wallet.
"Do you know about our special drawing?" Arlene exhaled with mysterious overtones. "Just select one of these cards," held with the air of a novice poker player, "and you might win up to $100. Ah, there you go. Take that home and rub away the black spot with a little butter on a paper towel — that way you won't get your hands dirty — and the amount you win will appear. I hope you have better luck than to pick one that says 'Nothing This Time.' "
"Are there many of those?" I ventured, a little shaken.
"Not that I've seen." Arlene reassured me before asking, "How about your Bonus Card? Did you bring it to be punched?"
Feeling like an eight-year-old who is habitually asked if he's brushed his teeth, I answered in kind, "No, 1 didn't. I forgot."
"No bother. I'll just initial your receipt tape, and the card can be punched from this the next time you're in the store."
"Thank you. I really would like to win that home freezer, so I'll hurry back with my card."
"Yes, do that. Don't lose that tape, though, because when you get enough to total $I25 you're given a very nice folding card table. This offer is kind of limited, so don't wait too long to gather your tapes."
"How much longer will this be available, do you know?"
"Uhmmm" — Arlene concentrated — "just about six more weeks. Do you think you'll make it?"
"Oh, I've just got to. There must be something more I should buy."
"When these groceries are unpacked, you might discover several items you forgot to get, and that will help."
My watery eyes held this angelic girl in their adoring grasp. "Yes. Oh, yes. You're sure to be right."
Smiles, music, prizes, gifts, Yours for Only . . . Choose Any One . . . absolutely free . . . double stamps . . . I had to get back; I couldn't stay away. Arlene knew the signs, and she was well aware of my inevitable return. Even so, she closed this encounter with a soothing, "Thank you for shopping Gimmick Stores, and do come see us again."