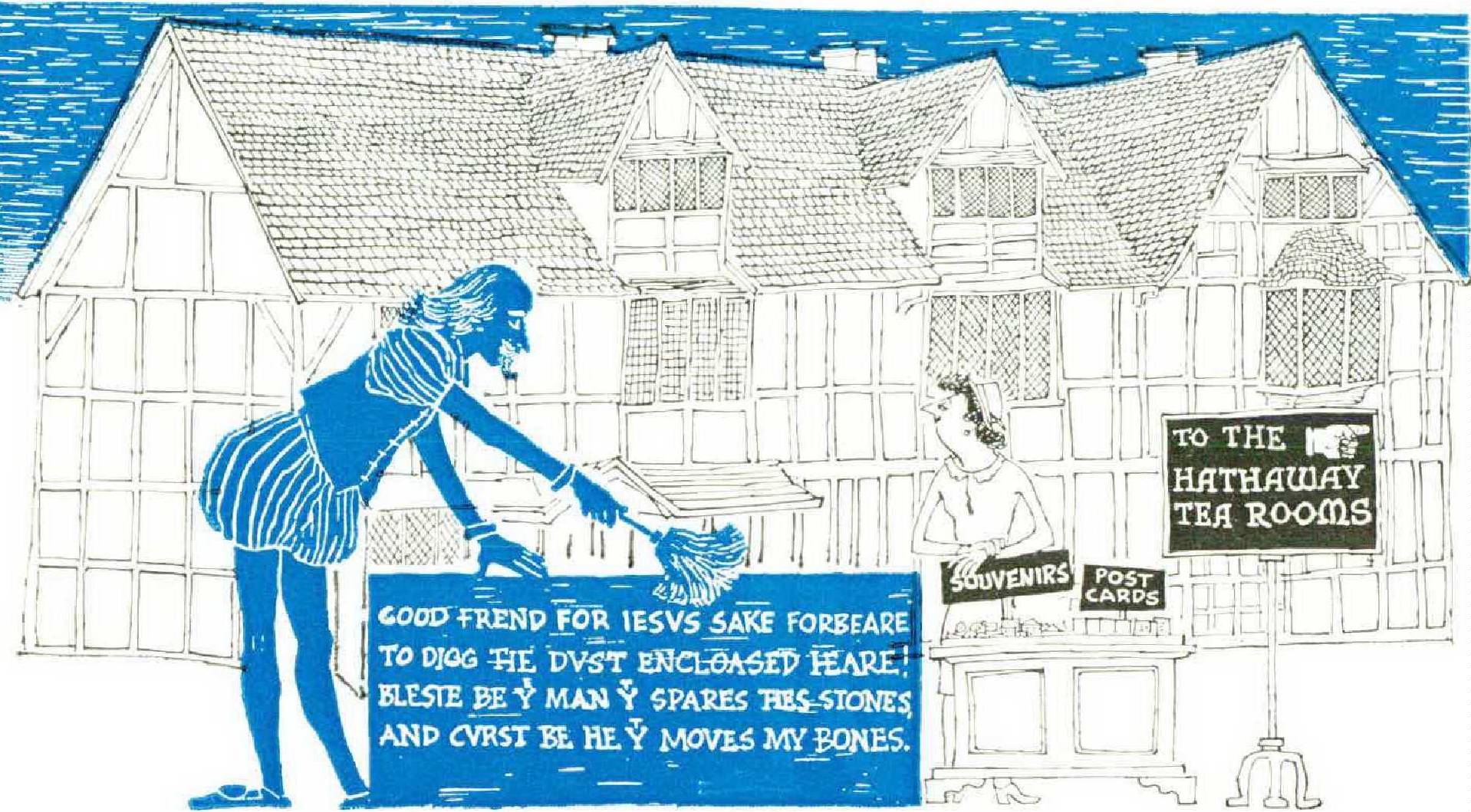 pleasures and places
BY NGAIO MARSH
I don't know whether there ever really was an establishment in Stratford-on-Avon that called itself Ye Old Shakespeare Radio Shoppe. I have heard it, as Macbeth says, by the way, and incline to hope that it is true. Provided they are kept within bounds, such antic dispositions on the part of local commerce have, for me, a certain awful charm. In a similar vein, I do not really mind the lorries that blatter over Clopton Bridge or the hordes of trippers blankly wandering from bun shop to Birthplace, from bus to Burial Place, and from Bancroft to memorial bust. I don't mind folk dancers sweating it out on the green and in the marketplace or those handwoven cloaks and scarves that might have been created for Miss Margaret Rutherford in one of her more rococo roles. All these elements, though they may distress the purist, don't bother me. They keep Stratford from displaying an excess of good taste, a fault that could never be ascribed to the dramatist himself.
Indeed, I believe that Shakespeare, if aware of them, would greatly relish these mild excesses. He adored solemn nonsense and all kinds of skulduggery. Were he here, he might well introduce us to a modern Morris side as rich in comedy as Costard's Worthies or Peter Quince's local drama society. I am glad Stratford has not been preserved in aspic, that the plays are so successfully produced to such polyglot audiences in such a bustling, shrewdly run town. Their author was himself a shrewd man of business and surely a bit of a bustler. He was accustomed to mixed audiences, and he saw nothing wrong with success.
On the other hand, there is not too much nonsense at Stratford-onAvon. The Shakespeare Trust and the dynasty of the brewing House of Flower, great benefactors to the theater and town, have kept a wise hand upon the preservation and upkeep of most of those places and objects that really matter. (Though what, oh, what, has become of that wonderful bookshop called the Shakespeare Press?) There is no nonsense about the house in Henley Street or the garden at New Place.
Stratford is not an outstandingly beautiful town. It has a thriving, down-to-earth air about it, a provincial air that it has worn since the days when its local boy made so very good. It has some nice old buildings, two fine churches, and a lovely bridge. There are at least three superb pubs and a theater that dates from the very worst period in modern British architecture, a building in which the functional casts an uneasy backward glance over its own shoulder at art nouveau. The more excessive manifestations in the latter vein had been removed before their present comeback into aesthetic popularity, a circumstance over which the directors may or may not now whip the cat. In my opinion they have done well in all their alterations, and I find the interior of the Royal Memorial Theater much more welcoming than it used to be. In its exterior appearance, only an act of God could effect any improvement.
But whatever one may think of the playhouse itself, wonderful things are done within its walls, and that, of course, is why, after London, it is my favorite town in all England. Here the most heartwarming assemblages of words in dramatic literature crackle and blaze and sing, and here, sooner or later, all the bestactors in England come to send them flying about the house. Here, every four years or so, if we are lucky in the cast, Feste may sing his last little song gaily enough to break your heart. The cold dawn air at Elsinore moves through this theater, and so do the bawdy winds of Egypt and the unruly gale that blows chimneys down in the country around Ferres. It's a great place for Tempests, Stratford. There one has seen history on the rampage and the destruction of bodies and souls and also the unsentimental splendors of true love. Theseus' palace has melted into a wood near Athens, and the moon, new bent in heaven, has been crossed by the Duke's oak, moving silently across the stage at the heart of a dream. But of course it's not a wood near Athens; it's a wood near Stratford that has come into the theater, and the Duke's oak grows less than a mile away on some hillside toward Charlecote.
It is, after all, for Shakespeare himself that one goes to Stratford.
The only thing that I really boggle at in the place is that atrocious effigy of William Shakespeare in the church. Whether it is a substitute for some original or not, whether it is the original repainted and changed, or whether it has simpered there in its present form for four centuries is a secondary consideration. The first thing that must be said about it is that it is the work of some wretched journeyman who was neat enough in the churning out of scrolls, buttons, and ornament but had no ability at all when it came to attempting the human head. The fact that in no human face are the proportions between right and left side exactly matched has not been observed by this duffer. There is no modeling and no bone. The thing might have been made from a potato. To say it is merely a mask is an insult to maskmakers. It is nothing. A thousand pities, I consider, that the Cromwellian army didn't mistake it for some incredibly complacent saint and make away with it, but I daresay they rather admired it. One can well imagine that such objects were the done thing among well-to-do burgesses in Cromwellian Warwickshire.
Apart from the effigy, all is quietly pleasing in the church at Stratford. It feels alive, unselfconscious, and peaceful. It was here on winter Sundays that coughing drowned the parson's saw while Jack the shepherd stamped down the lane outside and blew on his frozen nail. Strange indeed to walk up the aisle, stand at the sanctuary rails, and look down on the Shakespeare family burial place and at William's epitaph:
Good friend, for Jesus' sake forbear
To dig the dust enclosed here!
Blest be the man that spares these stones
And curst be he that moves my bones.
I wish the family had thought of carving a couplet from "Fear no more the heat of the sun" instead of this little affair, which is less odd, really, than it seems, because there was a charnel house at Holy Trinity in Shakespeare's time, and the dead were shifted unmannerly and thrown into it to make room for their successors. For all we know to the contrary, the quatrain may have been one in general use, but I have never heard of its appearing in any other place. Perhaps his widow made it up.
Someone once wrote with great truth that for four centuries Shakespeare has attracted madmen like a magnet. Fortunately, perhaps, they tend to stay away from the church in Stratford since most of them deny his authorship of the plays. But there are some anti-Stratfordians who would disobey the epitaph and dig the enclosed dust. They have a theory, I am told, that a confession or some other damaging piece of evidence must have been entombed with the poet. There is no likelihood of their theory being investigated, and whatever fragile wraith of William Shakespeare lies, face upward, a very little way below those stones, it is not likely to revisit the glimpses of the moon or encounter the gaze of the twentieth century. There he lies almost in the middle of England. He was a most remarkable man.
If you walk from the Falcon Hotel to the parish church, you come at once upon the Guild Chapel, and hard by it, Stratford Grammar School. One of the favorite arguments of the anti-Shakespeare angries is based on a notion that because he was not a university man, Shakespeare was incapable of writing the plays. This ridiculous assumption takes no account of the fact that the school was undoubtedly a good one according to the practice of the times and that Shakespeare must have attended it. A fellow pupil has left us a letter in very good Latin which he addressed to his father at a tender age. There's no reason to suppose young Shakespeare was any less well versed than this lad. As the son of a leading citizen, he received the education befitting his station, and we know it was rigorous and terribly thorough. It is pleasant to think of him banging the door of the house in Henley Street behind him and stamping down High Street on a frosty dawn with his satchel on his back and his breath wreathing his head like smoke. Or dawdling, reluctant, through the languors of midsummer toward the awful boredom of long, droning lessons laced with the terrible "jerks" of his pedagogue's cane. The grammar school has no lists of that time, so we cannot tell what his place in class may have been, but everything he has written about schoolboys suggests that he did not enjoy his lessons. Well, there stands the old halftimbered school, lurching slightly with age but perfectly hale and hearty and still in action. If the present headmaster is a wise man, he will be at pains to make sure that his boys are not sickened by Shakespeare as Shakespeare himself seems to have been by the relentless cramming of the Elizabethan curriculum.
From the Falcon Hotel it is only three minutes on foot downhill to the theater, the Avon, the swans, the Bancroft archery lawn, and that piece of Victorian statuary that has Shakespeare sitting capably on a pedestal while a selection of his created personages take up appropriate attitudes around and beneath him. The prospect here is bland, and it is upon this blameless green that folk and country dancers from all over England keep their own earnest midsummer revels. There is a market square and a cross, where delinquents were whipped in Shakespeare's time; there is a nice puppet shop, and opposite it, and next door to the birthplace, the very beautifully designed Shakespeare Center, where the modern consorts in perfect accord with the ancient, and where treasures are housed in safety. Here, as you enter, are superb glass panels, engraved by the New Zealander John Mutton, whose galaxy of saints and angels hovers about the entrance into Coventry Cathedral.
There are fine things in Stratford, and there are simple pleasures too. One can be ferried across the Avon for a penny, or hire a boat and potter upand down-stream among inevitable swans. One can stand on Clopton Bridge and watch the returning eddy that Shakespeare remarked upon, and one can, of course, between plays, visit the memorial places.
Better than any of these demure excursions, I find, are the walks one can take around and about the town. One can walk, for instance, in the early morning or after sunset, over the fields to Shottery, up to one's knees in mist, with nothing awake but a few Warwickshire cows. In the course of many such walks I have never yet entered Anne Hathaway's cottage. It has always been full to the doors of sightseers or else shut. I don't mind very much. There it is, and it looks very nice. I like better to hear with my mind's ear the outdoor sounds that pleased Shakespeare: the musical confusion of hounds and echo in conjunction, the lark that at heaven's gate sings, and the cuckoo that mocks married men. And I like especially to look at the groups of trees and the grassy margin of a hill against the sky where my mind's eye can see Wat the hare, poor dew-bedabbled wretch, sitting up on his hinder parts and listening for the fell sounds of the pursuit.
Shakespeare never quite left Warwickshire behind him. The countryside and the little town accompanied him to London, and there are very, very few of his works in which they cannot be found. It is for this reason, as well as for what goes on in the theater, that I like to go to Stratford.