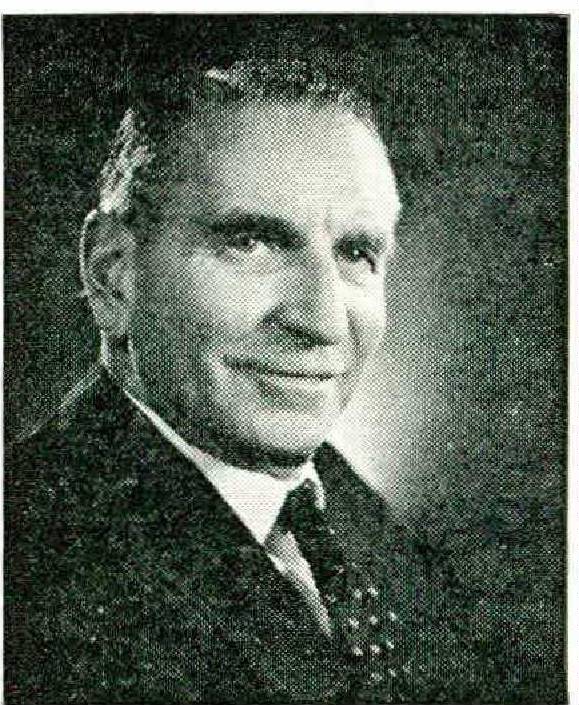 BY EDWARD WEEKS
WHEN Edith Wharton was visiting her cher ami, Waiter Berry, in Paris, so Mrs. Winthrop Chandler told me, she came down with measles. There she lay scaled off in quarantine, and after the fever had subsided, her host called to her through the closed door to ask how she felt and what she was doing. "Languid" was the reply. "Why don't you try writing a short story in French?" he suggested. And such was the beginning of Ethan Frome, written in French, transcribed at Berry's instant encouragement into English, and probably the best single thing she ever did. It may be doubted that she continued the exercise in French once they perceived how well it was going, but that she made such a promising start is in itself quite a feat. Walter Berry's magnetism perhaps had something to do with it, too.
The ability to create in a borrowed tongue is given to few. Joseph Conrad's conquest of English was begun during the long watches aboard ship and perfected ashore in the winter months when the freighters he was serving on were laid up. Alfred Knopf, who called on Conrad, says that he spoke with a strong accent and that even toward the close of his career he never quite trusted his command of the English vernacular, which is why there is relatively little dialogue in his work. Conrad, whose speed of composition rarely exceeded 300 words a day, felt more secure working within the more formal architecture of his prose.
Isak Dinesen, in private life Baroness Blixen, was a Danish aristocrat, who learned her English as a child and learned to tame it to her way of thinking during her early married life on a coffee plantation in Kenya. Friends recall that she loved to spin fantasies at length; she told them marvelously well and in English. She had an English lover, a bush pilot, and his help should not be discounted.
I remember lunching with Vladimir Nabokov, many years before Lolita, at a time when he was lecturing on Russian literature at Wellesley. He was going on to his class that afternoon, and I noticed that the pocket of his tweed jacket was bulging with papers. "What have you got there?" I asked. "Some passages from War and Peace" he said; "the Garnett and Maude translations are so dreadfully wooden that I've had to make some of my own. Poor Tolstoy!" This surprised me, for I had always heard Constance Garnett spoken of with awe, but. when I re-examined her version of the world's greatest novel, the criticism was true enough: you waded along, feeling the power of the stream but instinctively supplying your own adverbs and adjectives.
This was in the early 1940s when the Atlantic was publishing Mr. Nabokov's first stories, and beauties they were; "Cloud, Castle, Lake," "The Aurelian," "Mademoiselle O" were three of the eight I recall with special delight. He would write them in Russian, a friend would make a literal translation, and the author would then revise the English to give it his particular gloss. He was already collecting rare words with the avidity with which he collected butterflies. I do not know when he made the irrevocable leap of composing in English from start to finish, but I know the day came, for we celebrated it by publishing in the magazine his poem of farewell, "Softest of Tongues," ending:
But now thou too must go; just here we part,
softest of tongues, my true one, all my
own. . . .
And I am left to grope for heart and art
and start anew with clumsy tools of stone.
He learned to read English before he could read Russian, but not till forty years later had he acquired the mastery to compose in that foreign tongue.
FROM RUBIES TO LOLITA
SPEAK, MEMORY (Putnam's, $6.75), which VLADIMIR NABOKOV has described as his "Autobiography Revisited," is a composite of eloquent and witty recollections written in English over a decade, published, many of them, in the New Yorker, and now amplified and made more accurate with the help of family data. A book of many reveries, I prize it for its pensive, brooding quality, for the pinch of salt with which the author always takes himself, and for its enchanting clarity. "What am I doing in this stereoscopic dreamland?" Vladimir asks, and the answers come clear and satisfying.
Nabokov is of the Russian nobility, his grandfather for whom he was named being an eminent jurist and statesman who served the Czar as Minister of Justice. His grandmother was the Baroness von Korff, and there was wealth on both sides, so that Vladimir at seventeen inherited from his uncle a fortune of two million dollars, which he enjoyed — at least on paper — for one year before the Revolution wiped it out. From his father, a liberal editor who had been Junior Gentleman of the Chamber until dismissed for his writings, he inherited his audacity, his irony in the face of adversity, and his love for Russia and for butterflies.
From his birth in 1899 until 1917 Vladimir was indulged as the eldest and most promising son, educated by governesses or tutors in the country estate at Vyra with its fifty servants, or in the town house at St. Petersburg. This first phase, which dominates more than two thirds of the book, is as vivacious a picture of the Russian aristocracy under the last Czar as any I have read, a picture made intimate by the brilliance of the family portraits (father, mother, and Sergey), by the disclosure of his calf love for Polenka, the peasant girl, and his romance with Tamara, by the nostalgic descriptions of the Russian seasons, and by his wry blending of the past and present so that one never forgets that the boy in center stage is soon to be the exile. Thus, when his mother read aloud to him and came to a dramatic passage, she would pause, and before turning the page, "place upon it her hand, with its familiar pigeon-blood ruby and diamond ring (within the limpid facets of which, had 1 been a better crystalgazer, I might have seen ... a whole period of emigre life for which that ring was to pay)."
The final cutoff came in the Crimea, and for Vladimir the long exile began — lodgings in Trinity Lane while he studied at Cambridge, friendships and differences with the Russian literati in Berlin and Paris ("You will die in dreadful pain and complete isolation" was Ivan Bunin's cheerful farewell after a ghastly luncheon), his translations into Russian of Rupert Brooke and Alice in Wonderland,, his marriage, and his turning from poetry to fiction, all leading eventually to the ship for America, the lean years of teaching, and his eventual liberation by Lolita. Throughout he has alerted us to the clues life has given him for his fiction. He shows off his exotic vocabulary with the pride of a lepidopterist, and the words sometimes become burdensome. But in all, this is an elegant book doing for Nabokov's generation in Russia what Sir Osbert Sitwell has done for his in England.
WINSTON ON THE RISE
The project of writing the "official" life of his famous father has been in RANDOLPH CHURCHILL'S mind since 1932 when he received his first tempting offer from a publisher and when his father flagged him down with the promise that he would eventually be given full access to the Churchill archives. That body of papers grew to be the most voluminous by and about any man in our century, more articulate and far bulkier, for instance, than those of FDR, Stalin, or Hitler, and it is small wonder that Randolph's work will run to five volumes. One can say with assurance that if those to come are as admirable as the first, WINSTON S. CHURCHILL, YOUTH, 1874-1900 (Houghton Mifflin, $10.00), this will end by being one of the few really distinguished biographies of our time.
The biographer is to be congratulated for the knowledge and fairness with which he has filled in the background, and above all, for the skill with which he has let his father speak for himself. Winston's letters were kept by his mother from the age of eight onward, and it is quite fascinating to follow the development of his style and selfknowledge: "My temper is not of the most amiable," he writes at the age of ten; and from Harrow some two years later, "I am not very good at Latin Verse but it is of very little importance. Prose being the chief thing in which I am rapidly improving."
Randolph, Sr., Winston's father, the brilliant, arrogant Parliamentarian, and Jennie Jerome, his gay American mother, were wholly absorbed in politics and society, and the rearing of their two sons, Winston and his younger brother, Jack, was delegated to schoolmasters and in summers to that indispensable nanny, Mrs. Everest. This was bitter medicine for a boy hungry for love, and Winston's loneliness may account in part for his sloppy performance as a student. Despite his appeals for a visit, for autographs (when his father was Chancellor of the Exchequer), for a more generous allowance, he had been at Harrow eighteen months before his father ever came the forty miles to see him.
Winston's teachers generally underestimated his ability (and none more so than his father); what he did learn was to fight his own battles and be buoyant. His ineptitude in the classics ruled out Oxford, but his championship in fencing and his dash as a horseman made him a candidate for the army. In his letters from Sandhurst, written before he came of age, we feel his charm and the temper of his steel as he confronts his parents. By this time his father's early promise in Parliament had been ruined by mental instability and his mother was recklessly blowing what remained of the family fortune. When after his father's death Winston was commissioned and sent to India as a subaltern in the 4th Hussars, his pay was $ 1000 a year and his family was riddled with debts.
The biographer sets this struggle for self-confidence amidst the luxury of Victorian England; he judges the young cavalryman's ardent ambition to vindicate his father; his belated awakening to books; his pushing desire to be wherever there was fighting, and by his sword, and soon by his pen, to achieve a reputation that would lead him into Parliament.
Since the army was his only ladder, Winston was determined to take every physical risk for medals and honor. In superb letters we see him badgering his mother to intervene with the Prince of Wales or Kitchener, and in the next, berating her for her extravagance. We watch his assaults on Cuba, Malakand, the Khyber Pass, against the dervishes in the Sudan and the Boers in South Africa; we gasp at the audacity with which this military correspondent in his twenties dares criticize his superior officers ("I am in great disfavour with the authorities here. Kitchener was furious with Sir E. Wood for sending me out and expressed himself freely. My remarks on the treatment of the wounded — again disgraceful— were repealed to him and generally things have been a little unpleasant. He is a great general but he has yet to be accused of being a great gentleman. It is hard to throw stones at the rising sun . .."); we note the friends he makes and the enemies, and mark that even those who detest him are overheard to say that "he may be Prime Minister one day."
This too is the gentle Churchill, the bachelor who when not raging against barrack life was consoled by "returning to my books, my butterflies & my roses." This is the conscientious Churchill, bailing himself out of debt with his exhausting lectures in America and incidentally persuading Mark Twain to autograph all twentyfive volumes of Twain's collected works; and it is the brave Churchill in his incredible escape from the Boers. A younger son of a younger son, he could hardly hope to inherit the grandeur of Blenheim. What came to him naturally was the love for glory and the fighting spirit of Marlborough.