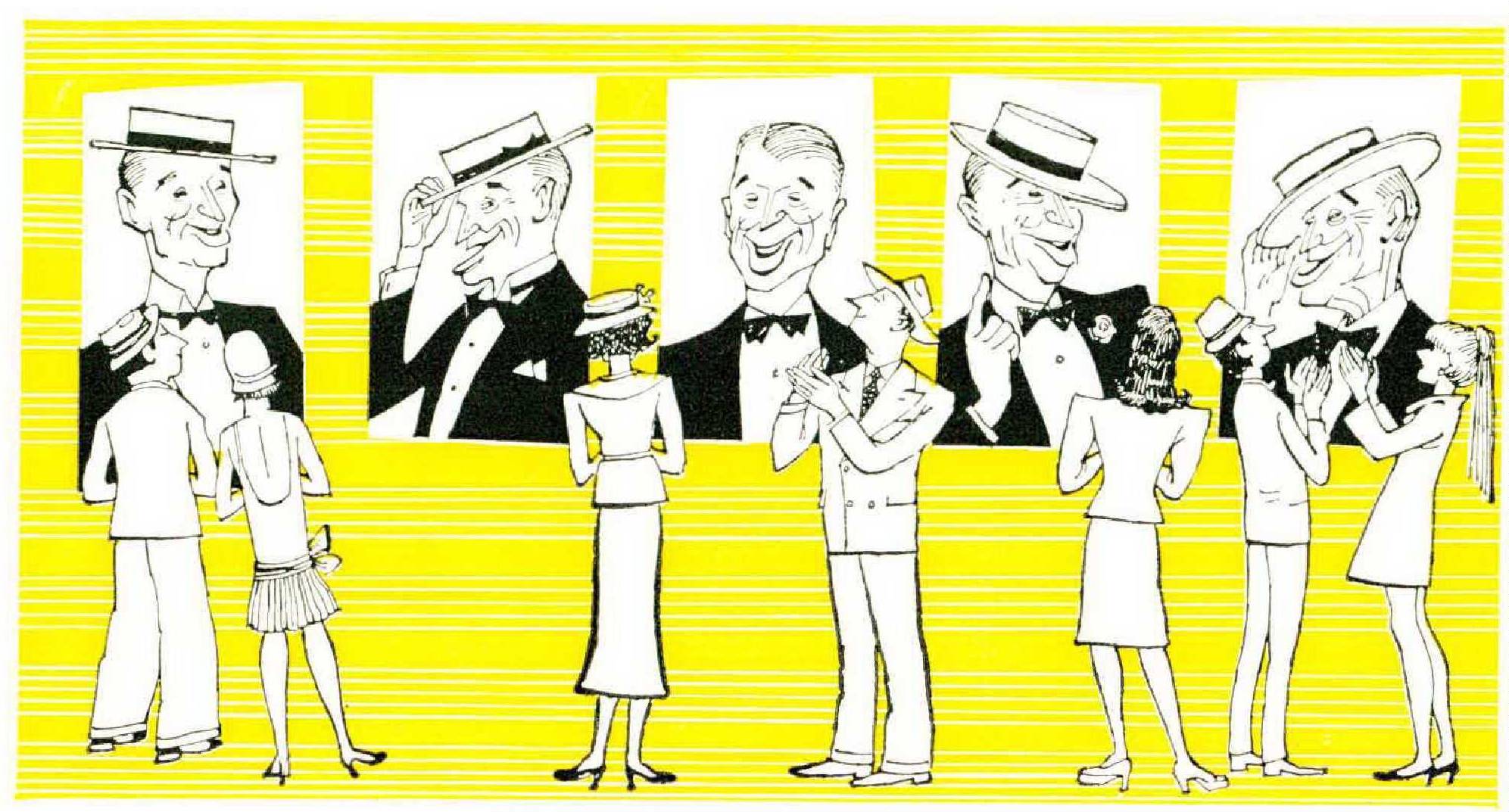 they shall have music
BY HERBERT KUPFERBERG
Two years ago, when someone asked Maurice Chevalier how it felt to be seventy-seven, the famous French entertainer gave a reply which has since become legendary. "Not bad," he said, "considering the alternative. . . ."
Now, at seventy-nine, M. Chevalier seemed hardly to be considering the alternative at all as he sat in a sunlit hotel room and talked about not only his present activities but his future intentions. His silver hair was smoothly combed back, and he wore a navy suit and a blue polkadot bow tie. He would only have had to put on a straw hat to be instantly recognizable the world over.
"The Atlantique is a very intellectual journal," he said seriously. "I am sure your article will be a big success because it will be about a very simple person."
There were two reasons for talking with Maurice Chevalier. One was that he was in the United States for his first visit in several years, this time to sing nightly for a month at the Empire Room of the Waldorf, which had been newly redecorated for the occasion. The second was the appearance of the most extensive and lavish Chevalier record album ever issued, a four-LP collection of sixty songs covering a sixty-year span, all freshly recorded during the last year (London GHS-56001/4, stereo; GH46001/4, monaural).
Chevalier has been making records since he first visited a primitive studio in 1907 or 1908 and recorded, on an ancient cylinder long since lost, a song whose title he has forgotten. In the years since, he has seen in turn the arrival of phonograph records, movies, radio, and television, and mastered each new medium. He has appeared on theater, concert, and nightclub stages everywhere, beginning as a boy in his teens and continuing into what he cheerfully acknowledges to be old age. And through it all he has been singing exactly the same songs in the same way.
"I try to be myself and perform in my own style," he explained. "I truly am a simple person. I sing from the heart more than from the throat, and I try to have a little truth in everything I sing. I know the singers of today, men like Aznavour and Becaud. They are talented, and I admire them, without envying them. We are friendly, and have nothing to say to each other. The new singers today, they all want to impress. They shout, they knock the floor, they open their shirts. But I am sure that little by little melody will come back, and a good song well sung will be the thing. It has to come, or else the whole world is going to go nuts."
Chevalier's four-record album is the best documentation — if that is not too portentous a word for such a lively collection — of the songs that have been his trademark since the start. It represents Chevalier on native grounds, for the recordings were made in Europe, and the songs are almost entirely in French. This is the Chevalier of the Paris music halls and one-man shows rather than the Chevalier of the Hollywood movies and New York nightclubs.
Chevalier isn't altogether happy about this. In the first place, he is very proud of his success in America. In the second, he has no aversion to being well paid for his efforts, and he thinks that an album of thirty French and thirty American songs might sell more copies than an exclusively French album of sixty. During his stay in New York he devoted considerable effort to trying to persuade RCA Victor to produce such an album, but with what results remains to be seen. "When I sing in only one language I am like a man on one foot," Chevalier said.
Nevertheless, to one listener at least, London's new Chevalier album represents le véritable Maurice, the poet of the boulevards, by turns gay, sentimental, carefree, and nostalgic. Chevalier himself is an interpreter rather than a creator; he knows no music in an academic sense, and while he has taken a hand at writing lyrics for himself, he has always basically depended upon songs brought to him by others. But he has a sure instinct for what suits him; Buffon's famous aphorism " Le style est l'homme même" fits him perfectly. Whether the song is by Christiné, Oscar Straus, Trenet, or Aznavour — and he has sung music by all of them — the results are always indisputably Chevalier. "When they bring me a song, I know very fast whether I feel it or not," he says.
The songs in the new London album cover a period from 1908, when Chevalier was twenty years old and already a music hall star, to the present. One can almost read a history of modern France into such songs as "La Madelon de la victoire" of 1918, with its references to "Joffre, Foch et Clemenceau"; "La symphonie des semelles en bois" of 1942, in which a lilting melody is made from the tapping of the wood-soled shoes worn by Frenchwomen during the Occupation; or "La chanson du maçon," another World War II number that sings of the reconstruction not only of bombed-out homes but of a shattered nation.
But the basic Chevalier song is one in which a simple truth is expounded with an ironic twist and set to a melody that sticks in the consciousness. It is hard to imagine anyone else ever singing a number like "Quand un vicomte," with which Chevalier has scored a great success in France, but which he has never brought to America, although its sentiments are ; as valid here as anywhere:
Quand an vicomte
Rencontre un vicomte,
Qu'est-ce qui se raconte? —
Des histoires de vicomtes.
With great gusto, the song goes on to remark that when a policeman meets another policeman they talk only about policemen; that when a bigot encounters another bigot they whisper to each other about bigots; that when an old maid meets another old maid the conversation invariably is about old maids, and so on to the end of humanity. The refrain runs:
Chacan sur terre
Se fou, se fou
Des petites miser es
De son voisin de dessous;
Nos petites affaires,
A nous, a nous,
Nos petites affaires
C'est ce qui passe avant lout.
Mature tout ce qiion raconti
Partout, partout,
Qu'est-ce qui conte a fin de contt
C'est nous, nous, nous.
Not too roughly translated, this means: "Everyone on earth doesn't give a damn for the little troubles of his neighbor below; our own little affairs are what come before everything. In spite of what everyone says everywhere, what counts at the end of the story is us, us, us."
Other Chevalier songs in the album are less cynical, dealing with such matters as the pleasures of a return to France after long months away, the pangs of youthful love, and the sights and sounds of the Paris streets and their denizens. As Chevalier readily admits, he never had much of a voice, which left him that much less to lose with the passing of the years. Today his gravelly tones and his characteristic little break on a note stand him in as good stead as ever, and his enunciation remains a model of clarity, which is a claim that very few singers can make.
Thus such songs as "Valentine," "Mimi," "Prosper," "Ma Pomme," and "Ah! si vous connaissiez ma poule" remain as brisk and bright as they were twenty years ago. And perhaps there is more feeling than ever in such great numbers as "Folies-Bergères," which reflects upon the aging process of a typical spectator at that theater, and winds up with the consolatory thought that while the man in the audience grows older, the girls on the stage remain young forever, and "Quai de Bercy," perhaps the greatest Chevalier song of all —a lender depiction of the poor people of Paris enjoying the scent of wine among the piled-up barrels at the Seine wine depot, and discovering that "l'amour est le vin des clochards" — "love is the wine of the vagabonds." It is at such moments that one remembers the remark of Francis Poulenc, the composer of such works as Dialogues des Carmélites and Chansons Villageoises, that Chevalier's songs helped teach him how to write melodies in a popular vein.
Unfortunately, the new London album fails to give either the texts or the translations of the songs Chevalier sings, substituting a totally useless chronology of the passing years. This is the one lapse in an otherwise exemplary production.
Far from looking upon a collection like this as a summation of his career, Chevalier is full of plans for further recordings and appearances.
"If God lets me," he said, "my intention is to reach the age of eighty going to till the places in the world where I have been happy singing, and then to conclude in Paris with one more appearance at the Théatre des Champs-Elysées and two or three charity concerts at the Comédie-Française. And then, my big dream is not to travel anymore, but to broadcast on television from my home at Marne-la-Coquette near Paris. I would have the best young entertainers in Europe perform there, and I could invite the whole world into my house to hear them. That would be a marvelous way to conclude."
Chevalier nurtures another dream, to make one more memorable movie. It was playing romantic leads in such Hollywood films as The Love Parade, The Smiling Lieutenant, and One Hour With You that made him an international personality. His first "old man" role came in Le silence est d'or, a charming French film by Réné Clair about an aging actor, which inexplicably never had much success in America.
(C) 1935, 1938, editions Raoul Breton. Renewed 1963,1966. All rights reserved.
Since then Chevalier has played uncles, fathers, and grandfathers, both singing and nonsinging, on the screen, and has become known to a whole new generation of moviegoers in such films as Gigi, Fanny, and Can-Can. But he is still looking.
"I enjoyed all those," he said, "but they were supporting roles. I am still waiting for a really great part for an old man."
"What about King Lear?" it was suggested.
He laughed. "I will have to read the script first," he said. "I told you I wasn't an intellectual."
Record Reviews
Barbor: Concerto for Cello and Orchestra
Britten: Serenade for Tenor, Horn, and Strings
Frederic Waldman conducting Musica Aeterna Orchestra with Raya Carbousova, cello; Charles Bressler, tenor; and Ralph Froelich, French horn; Decca DL-710132 (stereo) and DL-10132 Of the two contemporary works on this record, Samuel Barber's Cello Concerto is a beautifully lyric and imaginative composition, while Benjamin Britten's Serenade for Tenor, Horn, and Strings is a modern masterpiece. Britten has artfully combined his unusual instrumental array and the human voice to enhance the loveliness of seemingly disparate poems by Tennyson, Blake, Jonson, and Keats. Few song cycles, contemporary or otherwise, are more haunting than Britten's in its setting of the refrain of Tennyson's "Nocturne": "Blow, bugle, blow, set the wild echoes flying,/Bugle, blow; answer, echoes, answer, dying."
Poulenc: Babar the Elephant
Harsányi: The Little Tailor
Peter Ustinov, narrator, with Georges Prêtre conducting Paris Conservatoire Orchestra; Angel S-36357 (stereo) and 36357
Peter Ustinov's name and photograph are featured most prominently on this record, and its primary appeal is doubtless intended to be for children. But Francis Poulenc wrote some characteristically charming music to illustrate Jean de Brunhoff's celebrated tale of the little elephant, and it's possible that adults may find the music adding jusi the right amount of freshness to a familiar story. Tibor Harsányi's score for the Grimm tale, which some of us know as "Seven at One Blow," has its points, too. And Mr. Ustinov recounts both stories with clarity and conviction.
Virtuoso!
Charles Rosen, pianist; Epic BC-1312 (stereo) and LC-3912
Charles Rosen is widely admired as a serious and thoughtful pianist, one especially adept in modern music. Here he indulges in an exhilarating display of old-fashioned virtuosity, playing a series of fingertaxing transcriptions and arrangements, including the Strauss-Godowsky "Wine, Women, and Song," the Schubert-Liszt "Soirées de Vienne" No. 6, and the Kreislcr-Rachmaninoff " Liebesleid." Most fantastic of all in their sheer dazzlement are Rachmaninoff's piano transcription of the scherzo from Mendelssohn's A Midsummer Night's Dream, and Moritz Rosenthal's phenomenally difficult arrangement of Chopin's "Minute Waltz" in thirds. For amateur pianists this is a record to be listened to not in envy but in awe.
Leontyne Price— Prima Donna
Leontyne Price, soprano, with RCA Italiana Opera Orchestra conducted by Francesco Molinari-Pradelli; RCA Pictor LSC-2898 (stereo) and LM-2898
If any additional evidence is needed that Leontyne Price graces any kind of operatic music she sings, it is provided by this handsomely packaged record, which encompasses arias by Purcell, Mozart, Meyerbeer, Massenet, Charpentier, and Samuel Barber. But the record also demonstrates that Miss Price's most natural habitat is Italian opera, for nothing else here touches her singing of "Io son L'umile ancella" from Cilea's Adriana Lecauvreur, and, more particularly, the "Willow Song" and "Ave Maria" from Verdi's Otello. Here is perhaps the richest and most expressive soprano voice of our time setting forth some of the greatest music ever written for the human voice.
Verdi: Falstaff
Leonard Bernstein conducting Vienna Philharmonic Orchestra, with Dietrich Fischer-Dieskau and Rolando Panerai, baritones; Ilva Ligabue and Graziella Sciutti, sopranos; Regina Resnik, mezzosoprano; Juan Oncina, tenor; and others; Columbia M3S-750 (stereo) and M3L350: three records
Bernstein's Conducting of Falstaff, the comic masterpiece of Verdi's old age, was first revealed a few seasons back at the Metropolitan Opera; and European audiences have had a chance since to savor it also. Now it is on records, in a Viennese production featuring as the fat knight the renowned lieder singer Dietrich Fischer-Dieskau. Unlikely choice though he is, Fischer-Dieskau performs magnificently, with more weight to his voice than had been previously noted (close-up microphone placement may have been involved, but why look a gift bass in the mouth?). In any event, it is the wonderful orchestra-vocal fabric of this opera, rather than any single standout performer, that provides the richness of this recording. Conductor, singers, and engineers all serve the score so magnificently as to make the hearer aware only that he is caught up in one of the most delightful and exciting experiences in al music — which is just what Verdi's Falstaff is.
Aristophanes: Lysistrata
Hermione Gingold as Lysistrata, Stanley Holloway as the Commissioner, Miriam Karlin as leader of the Women's Chorus, Edward Alienza as leader of the Men's Chorus, and others; directed by Howard Sackler; Caedmon TRS-313-S (stereo) and 313: two records
Lysistrata, Aristophanes' gusty epic about the women who abruptly terminate a war by refusing to sleep with their husbands until they make peace is not essentially a verbal play. But it certainly comes to uproarious life in this vigorous, juicy presentation headed bv Hermione Gingold as the shrewd, but never shrewish, leader of the ladies for peace. Even a striptease scene, invisible as it is, comes through as bawdily comic, and the girl at least sounds like a knockout. The Dudley Fitts translation is full of puns and anachronisms, and the Spartans are made to talk with a Deep South drawl. But everything works admirably. Curiously, for once Caedmon provides no printed text of the play, and the passages from Thucydides offered in its place aren't much of a substitute.
Bernard Shaw: Saint Joan
Shirley Butler directing cast including Barbara Jefford as Joan, Alec McCowen as the Dauphin, Michael Horedern as the Earl of Warwick, Max Adrian as the Inquisitor, Mark Dignam as the Bishop oj Beauvais, and others; Argo ZRG-5470/2 (stereo) and RG470/2: three records
This British Argo recording is available here as an import through London Records, and is worth acquiring by all Shavians as the finest recording yet made of his masterpiece, Saint Joan. First of all, it is absolutely complete, without a line omitted, which is more than any other "complete" recording, or for that matter, most stage presentations, can say. Furthermore, it has been made to fit comfortably onto three LPs, at the trifling cost of having several sides end in midscene. Finally, and most important, it is a superb recording in every respect, with a fine British cast in which every character is made to come alive, and every line is clearly spoken. Sound effects arc held to a minimum, but when they are used, it is with chilling effect, as the clank of Joan's leg chains when she enters her trial chamber. No text of the play is provided, but for the first time none is needed.
Camp!
Rudy Vallee, Keely Smith, Horace Heidt, Nick Lucas, Renzo Cesana, Sammy Davis, Jr., Harry James, Harry Belafonte, Dean Martin, and Glen Gray and the Casa Lama Orchestra; Capitol T-2472 (monaural only)
That loosely used and ill-defined term "camp" is here used to signify entertainment fads and favorites of the past now regarded with affectionate disdain. For example, here is Rudy Vallee crooning "I'm Just a Vagabond Lover," Keely Smith intoning the "Indian Love Call," Horace Heidt solemnly explaining how to make a band, Nick Lucas singing "Tiptoe Through the Tulips" (not a bad song, that), and Renzo Cesana, once known as "The Continental," murmuring his way through some nonsense about champagne and roses. To these ears it all sounded more cornball than campy, but not a bit unpleasant. Television is better?