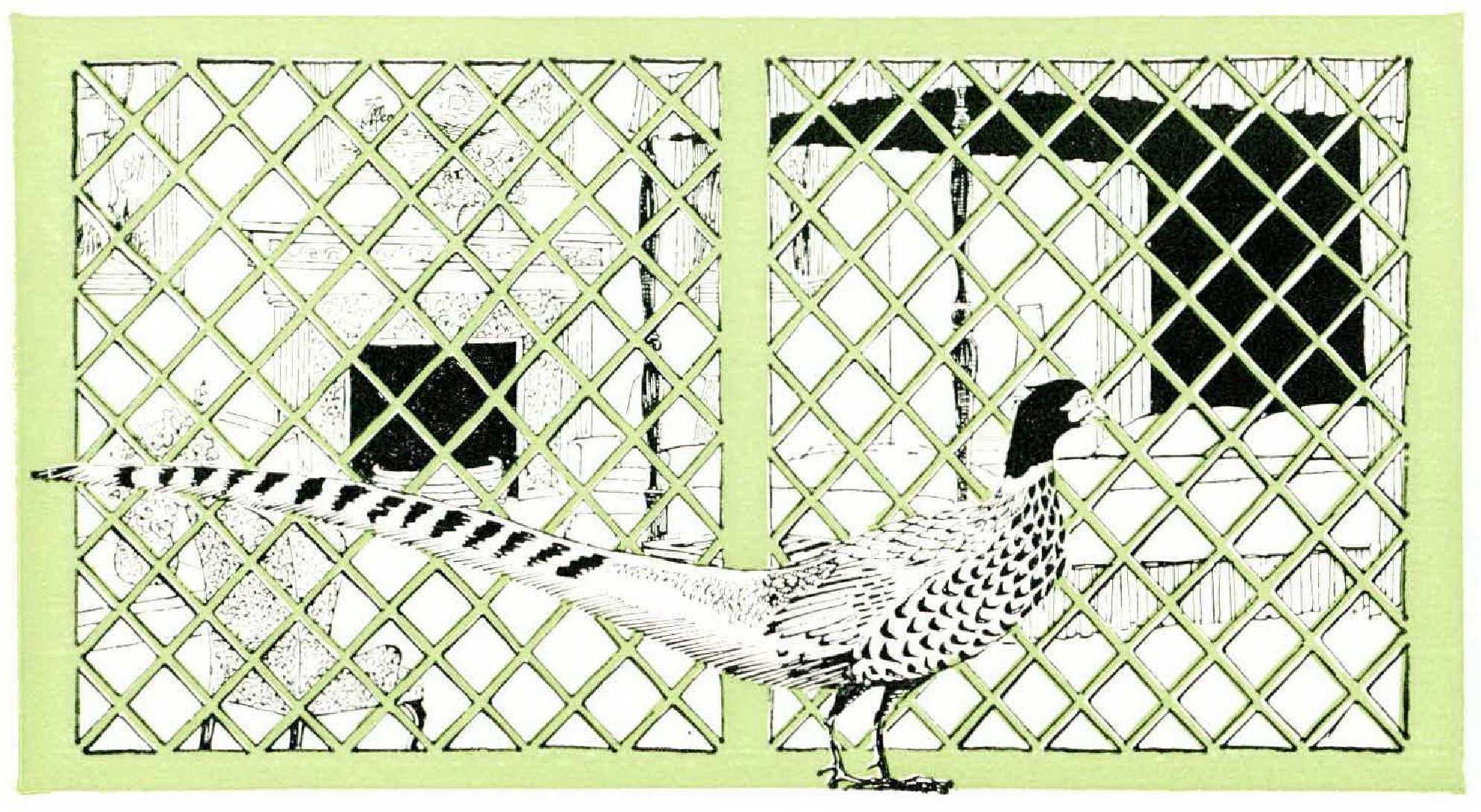 pleasures and places
BY TERENCE PRITTIE
Two miles from Littlehampton and about twice as far from Bognor Regis, in the county of Sussex, is a small seaside resort called, by the H. G. Wellsian name, Climping-onsea. It is no more than a single village street, leading past the Black Horse Inn to a car park abutting on a stretch of muddy shore. In August and on weekends during the rest of the summer the car park is usually full. So is the stretch of seashore, with conventional English family parties: Pa in shirt sleeves and sweating profusely, Ma underneath the parasol, and Little Alfie howling his little head off. Climping-on-sea fits perfectly into the sorry picture of the south coast, with Beachy Head and Dungeness a litter of paper bags and banana skins, and Littlehampton, Hastings, and so on hives of restless holiday activity and redolent of fish-and-chips.
In this bungalow-haunted landscape there is an oasis of quiet and comfort, even luxury, a bare half mile from Climping-on-sea. When William of Normandy landed at Pevensey in 1066 he brought with him a certain Roger de Montgomery, to whom he made a handsome grant of land between where Littlehampton and Bognor nowstand. Roger was a friend of the Benedictine Order and helped them found a chapel and manor at Climping. Henry V disestablished the French Benedictine owners in 1415, and Henry VIII suppressed the Order. The estate passed from one owner to another — including the lady who masqueraded so successfully as "Colonel" Barker. One manor house after another was pulled down; only the twelfthcentury Norman chapel survived.
Then in 1927, Lord Moyne, who was later to be murdered by the Stern Gang in Cairo, bought the 1100-acre estate. On the site of the Norman, Tudor, and Georgian manor houses which had each risen and disappeared in turn, he built a family home, which since his death has become one of the most unusual hotels in Britain. Its construction began in 1930, and Lord Moyne's intention was to make Bailiffscourt — the name which was all that survived from the days of the bailiff whom Roger de Montgomery installed in his Norman courthouse — a replica of a medieval English manor. He went to immense pains to achieve his purpose.
The house was built of tawny brown Somerset stone, used so much in Bath and the Cotswolds, by local Sussex craftsmen. The style was basically sixteenth century, plain and sensible, without castellations, crenellations, and the like. The main building had two stories, twenty rooms, was compact, and was constructed around an open ten-yard-square inner courtyard. It was of stone and wood, with stonemullioned windows and oak doors, furniture, and paneling. In his search for authenticity Lord Moyne imported whole buildings and parts of buildings. A seventeenth-century timber house was brought from Old Basing, where the Cavaliers put up their last-ditch resistance during the civil war. A fifteenth-century house came from Loxwood in North Sussex, after the building had already been sold to a bidder who intended to break it up for firewood. One oak ceiling was brought from the Huish Episcopi rectory in Somerset, and medieval windows from Munchelney Abbey in the same county. Fireplaces were imported from Letchworth and Hitchin in Hertfordshire.
Lord Moyne bought good pictures — including an Antonio Moro portrait of Queen Mary Tudor — and English, French, Swiss, and German sixteenthand seventeenthcentury tapestries. He bought 200year-old pewter and silver. Every sort of incidental fitting was dug up in the remains of a neighboring eighteenth-century Georgian farmhouse. Bailiffscourt became an entity, an example of painstaking reconstruction rather than of slavish patterning or imitation.
When Mr. and Mrs. Birer turned Bailiffscourt into a hotel two decades ago, they could exploit all its advantages. It was, in effect, a medieval manor house but had central heating, modern appliances, and a wellappointed kitchen. It had privacy, for the estate was bought by the Marquis of Normanby and has been kept intact. Cock pheasants call outside the hotel windows, and partridges feed among the hooves of the horses of the riding school. Bailiffscourt has its own beach and its own carefully restored Norman chapel. Its corridors echo to the appropriate creaks and groans, and it even has an underground passageway.
It has an excellent cuisine and a wine list with really good values. Few other country hotels in Britain produce five-course luncheons and dinners, with a choice of four main courses and cheeses which could not be bettered by any restaurant of the Guide Michelin. When I stayed there I noted particularly a Quiche Normande — shrimps done in pastry with mushrooms, tomato, sherry, and cream — Mediterranean prawns, with rice, tomato, and garlic and fried in olive oil; Salpicon of Chicken — spring chickens halved and sautéed in olive oil, with garlic, saffron, basil, and almonds — and a chestnut and rum mousse, silky on the palate and beautifully decorated with Crême Chantilly and whole marrons glacé.
Birer's Hotel, Bailiffscourt, is not cheap by the standards of the English countryside. Bed and breakfast cost around $7 to $9, and full board and lodging $70 to $80 a week. But it has another, special advantage for visitors from outside Britain — it is perfectly situated for seeing something of one of the most attractive corners of England. Only five miles away is Arundel, the home of the Duke of Norfolk, and open to the public on weekends; and Goodwood House, the home of the Duke of Richmond and Gordon, is only eight miles away. A mile or two farther is Parham House, the Elizabethan home of the Pearson family, and a mile or two nearer, at Bignor, there is a Roman villa. Chichester, with its cathedral, is twelve miles away, and the whole countryside is fairly studded with Norman churches, mostly twelfth century. At one of them, in Climping itself, the red-cheeked parson is apt to launch into a diatribe on the manners of the younger generation or to put up an equally vigorous defense of Billy Graham.
There is much to be said for seeing one part of England rather than rushing over the length and breadth of it with too little time to catch more than fugitive glimpses. In this corner of Sussex lush woods and arable land stretch to within fifty yards of the Channel breakers; and the plain runs to the foot of the Downs and merges with the marshes of Selsea and Chichester Harbor. This was well-tended country in Roman times, and was a base for the Norman colonization of England. Bailiffscourt certainly is the ideal base for exploring this part of the country, offering time for reflection in the evening, over the right glass of wine, with the rooks cawing in the park and the sea, two hundred yards across the fields, lapping softly on the sand dunes.