The Dalmatian Coast on the Cheap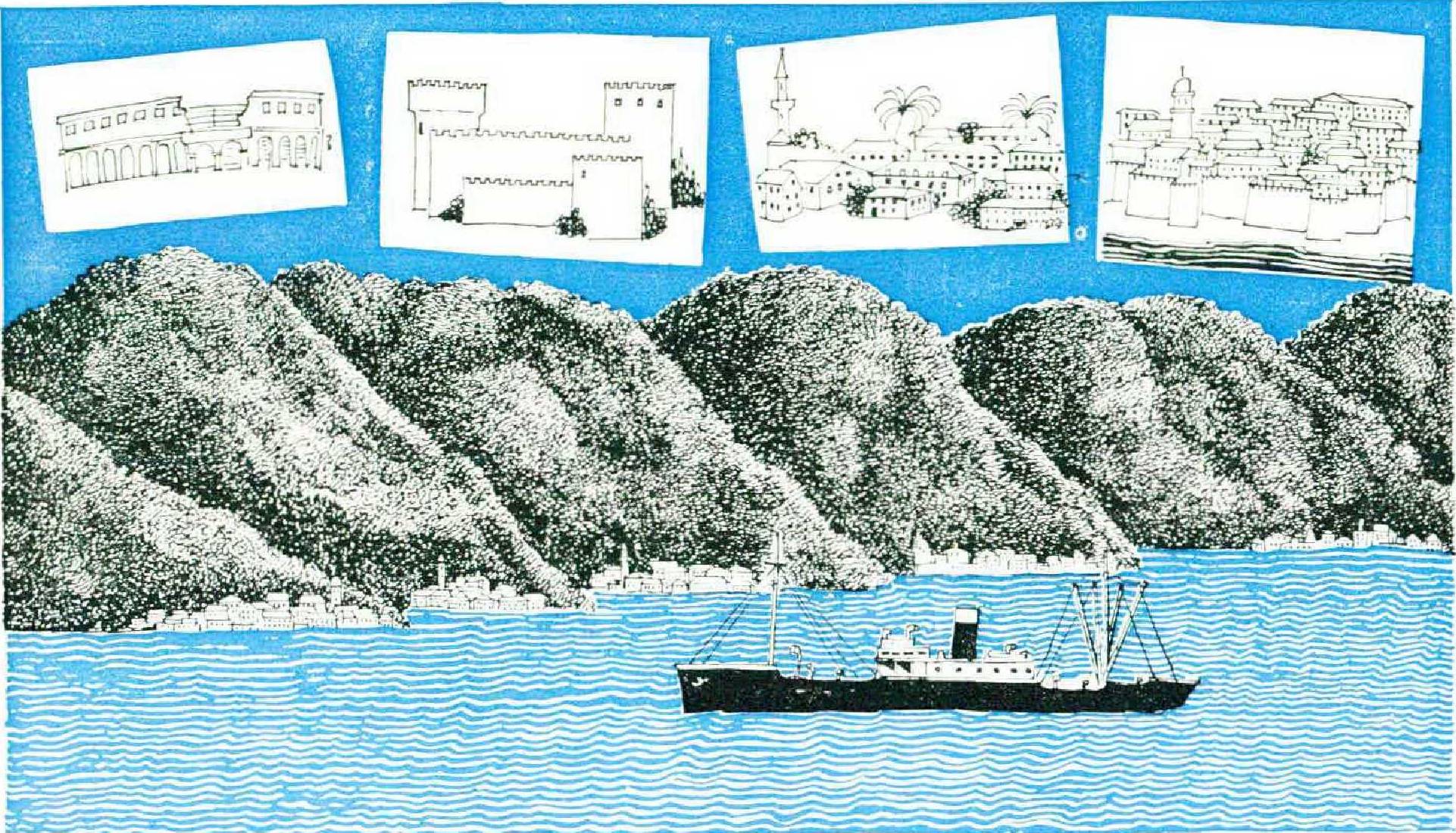 The customs shed at Piraeus was ominously deserted. The customs man who happened by brought us little comfort. He swore that our Yugoslav cargo-passenger ship Orebić was not in the harbor. Bag and baggage, we were ready to leave Greece for another glorious sail up the Dalmatian Coast to Trieste, and no ship.
As it happened, he was wrong, but not to be blamed. Piraeus is a busy port, thronging with craft of all kinds. Put a good-sized fishing boat or a moderate-sized car ferry in the way, and one could easily miss seeing the Orebić altogether. Framed at quayside by two Mediterranean cruise ships, she was all but invisible. With cabin accommodations for only thirty-six passengers, she was so small her main deck barely reached the level of the dock. Her gangplank was almost a frill. Any reasonably spry old lady could have sprung aboard her without its assistance. We followed our luggage aboard, and a pleasant young steward showed us to our cabin. We must have walked down the inside passageway a good twelve feet to reach it.
"This cabin is larger than the last one," I remarked to my wife. Three years ago we had made the same trip on another Yugoslav cargopassenger ship. Then our cabin was so tiny that if I was at the washstand shaving, my wife could not open the outside door without shoving my face through the mirror. Our present quarters offered perhaps a square yard more space. We had our own bathroom, but the facilities were more like those found in a rustic campground, duckboards and all, than in the sort of bathroom one finds on the average cruise ship.
Why, then, were we here? What was the big attraction in all this?
The answer was a travel bargain, one of the best in our experience, which includes several trips on freighters. We had a five-day voyage ahead of us, with liberal amounts of time scheduled ashore. Plenty of luxury liners, including some Yugoslav ships, make the same trip in half the time, but for those travelers who want to see more for less money, this cargo-passenger run is the answer.
Friends had warned us that the Yugoslavs had a weakness for rancid olive oil and a lamentable habit of drenching most of their food with it. This may well be true in some sections of the country, but it is not so on their ships. The food was excellent. The salads were well dressed, and featured the best lettuce we encountered anywhere in the Mediterranean. The dining saloon steward served with a deftness worthy of the most decadent capitalistic ship afloat. Yugoslav table wines are exceptionally good, especially the white wines, and cost little. The bar offered such a satisfying possibility as slivovitz, the splendid plum brandy, at ten cents a glass. I can only say that the wine and slivovitz are so good that even French tourists have been known to praise them.
The trip provided bonuses before we reached the Dalmatian Coast. The Orebić sailed from Piraeus across the Bay of Salamis and passed through the wedge-shaped Corinth Canal, so narrow that only miniature ships like ours can go through it, and with sides so high we had the feeling of being in a deep canyon. Our ship stopped for cargo at two ports in the Gulf of Corinth (Itea, the port of Delphi, and Patras) and next morning put us ashore for a four-hour visit on Corfu.
After Corfu came the wildly rugged and beautiful southern coast of Albania. Great thick slabs of land plunged steeply down to the sea, with impossibly precipitous crevices folded in between them. We only looked, we didn't visit, for today the Albanians have joined in the hot pursuit of the tourist pound, franc, and mark, but not the tourist dollar. They are said to welcome nearly all nationalities now except two: Yugoslavs and Americans.
By morning we were off Yugoslavia, and soon we entered one of the most beautiful inland seas or fjords in the world. To travel up the twists and turns of the bays of Kotor as they reach inland is something not to be enjoyed elsewhere this side of Norway. Jagged mountains tower above the bays on all sides. Mellow red-roofed villages line the shore at water's edge, with rows of handsome houses fronting the stone quays, and an inner bay provides an especially appealing sight, two tiny islands, each with an ancient church. One of the islands is natural; the other was made long ago by sailors who wanted to build a church of their own. A gray ruin ashore, with a rugged bell tower crumbling beside it, reminded us of the great traditions of the bay as a spawning ground for mariners.
One of the oldest maritime academies in the world was established here centuries ago, and this building once housed it. Peter the Great sent sixty young Russian noblemen to the academy; the fleet they subsequently captained inflicted three defeats on the supposedly invincible Swedes.
Each port of call offered at least two tempting possibilities for sightseeing. Kotor itself is a walled medieval town with a fine twelfthcentury church and a maritime museum. From Kotor it is possible to take a bus tour up twenty-six hairpin curves to the rocky, barren, windswept wilds of Montenegro and the old capital of Cetinje, rejoining the ship at Dubrovnik. On the other hand, by staying with the ship, one has the trip back down the bays, and arrives at Dubrovnik with more time for sight-seeing there.
Dubrovnik is, of course, unique — the most complete and perfectly preserved walled city to be found on any coast. Standing out over the water with its battlements and towers, the compact old city is like a dazzling series of magnificent stage sets conjured up to bring the past to life. Indeed, a dozen plays and operas are staged in its squares and on its castle walls during the summer festival. The ghost of Hamlet's father strides real battlements, Othello plays out his tragedy before a palace worthy of Venice and Cyprus, and Don Giovanni and The Barber of Seville are produced against genuine backdrops of earlier times.
For six hundred years the republic of Dubrovnik was an independent sea power, making shrewd trade agreements, paying tribute money to the right places, and leaping nimbly from the protection of a waning major power to that of a growing one as the occasion demanded. How could such a city fail to exploit tourism with a sure hand? Yet "exploit" is hardly a fair word to use if one considers prices. In Dubrovnik, as in most parts of Yugoslavia, first-class accommodations, including three meals, are available at no more than five dollars a day per person. New, modern resort hotels are springing up everywhere.
At the end of the fifteenth century in Dubrovnik the town fathers had the good sense to order all wooden houses pulled down and stone ones built in their places. Even then, in 1667, earthquakes and fires devastated the city, but it was painstakingly rebuilt. At that time its famous main street, the Stradun, was laid out. The smooth stones of the Stradun, polished by centuries of shoes, make up an eye-filling work of art in themselves. It is important to add that although several thousand persons live and work in the old town, no cars are allowed inside the walls, so that strolling there remains an unspoiled pleasure.
Dubrovnik is stone—stones and stonework, arches and fountains, statues and carvings, narrow streets between handsome stone facades, curving stone-stepped lanes sweeping up out of sight toward the city walls and battlements. Along with the usual churches and palaces, gates and squares, there are many minor fascinations, such as one of the oldest pharmacies in Europe, dating from the 1300s, still preserved in the Franciscan monastery.
Bus tours are available at every port and are satisfactory if the tourist knows what he is supposed to see and insists on seeing it. The guides are sometimes inclined to be hasty and superficial, bypassing interesting minor attractions and otherwise shortening the tour. We took a bus tour at Dubrovnik and regretted it. First a lot of lime was spent driving up into the hills to get a bird's-eye view of the city on a day when not even a bird could have seen through the haze. The trip was enlivened in some measure by our guide's consistent reference to passing olive groves as "olive oil trees," until we half expected to see them tapped like maples to draw off the oil. When at last we returned to the city, he proceeded to lead us on a footrace through unusually attraclive palace courtyards and monastery gardens, pausing only for rapidfire descriptions to accompany tensecond views of paintings, cloisters, statues, and fountains. This sort of thing particularly annoyed us when we considered that bus tours were the only overpriced service we encountered in Yugoslavia (they cost more than comparable bus tours in either Greece or Italy), The yield was better the next day in Split, where a bus tour seemed the best way to see nearby Trogir. To be sure, our start was not promising, When only nine of us signed up. three taxis were provided instead of a bus. Such arrangements should be refused, since most of the partyis then without the services of the guide between stops, and the average Yugoslav taxi driver's English does not qualify him as a substitute,
Trogir is an especially well preserved small medieval walled town, set on a tiny island, with a Venetian fortress thrown in for good measure, Outstanding among its attractions is the medieval sculptor Radovan's greatest masterpiece, the portal of the Cathedral of St. Lawrence, Once we had convinced our guide we were serious about our sight-seeing, he did a thorough job of showing us both Trogir and the ruins of the Roman Dalmatian capital of Salona, on the way back to Split. But it is the Palace of Diocletian in Split that is the must for all visitors. Diocletian was a local boy who made as good as anyone possibly could in those days by becoming a Roman emperor. When he retired, an unusual move in itself, he returned to his homeland and built the largest Senior Citizens' Sunset Village ever known, First there are the recently excavated underground halls to see. They were built to provide a level platform for the upper halls, and to be a sort of air-conditioning unit through which sea breezes could circulate and cool the living space above. The palace was so vast that when most of its original buildings were destroyed, an entire town (in which three thousand persons live today) was built atop its remains, Architecture of all ages, from classical to modern, mingles on its narrow streets. In the center of the palace the great mausoleum of Diocletian still stands, long since transformed into the cathedral. The columns of the peristyle, or central courtyard of the palace, remain in place, as does the Temple of Jupiter nearby. The temple is now the baptistery, where for centuries all persons born within the walls of the palace have been baptized. The immense palace stands in the heart of the modern city, facing the sea, only a couple of hundred yards from where our ship tied up.
The next port of call, Zadar, is only an afternoon's sail farther on, with arrival at seven in the evening. Though the town was bombed heavily in World War II, its greatest attractions survived: the massive, towering, splendidly grim and fortresslike ninth-century Church of St. Donat, and the Roman forum on which its foundations were laid. Only in recent years have excavations begun on the forum.
Departure was scheduled for midnight, which meant that we passengers were expected to return an hour or so ahead of sailing time. Back on the ship we sat in the bar capping our night with a slivovitz and watching the bar steward fish for squid in the clear, clean waters of the bay. He could do this without neglecting his duties; though standing at the rail outside, he was not twenty feet from us. One nice thing about a ship like the Orebić was that if anything was going on anywhere, we could be there in ten seconds flat to watch. From our cabin I could reach the stern in six. If we walked forward a few yards, we did not need an invitation to come up to the bridge — we were on it.
From Dubrovnik to Rijeka, and especially in the waters off Zadar, islands are numerous and beautiful, with fine old towns well worth a detour if time allows. Any country would be irresistible that had islands named Krk, Rab, and Pag. By forming what is almost an inland sea, the islands also add the attraction of smooth waters for those who worry about seasickness. Somewhere in this area we passed the Opatija, our sister ship, making the weekly run in the other direction.
The final stop of any consequence before Trieste is the ship's home port, Rijeka. It arrives there at six thirty in the morning and stays all day until eight thirty at night. Rijeka has been under many flags in the course of its history, and once bore the more familiar name of Fiume (as do all the old manhole covers on its streets to this day). Fourteen hours there would be a long, long time indeed, since it is a commercial city with nothing much to offer the tourist. Fortunately, however, a full day there makes possible visits to either of two first-rate attractions, the Postojna caves and the ancient city of Pula.
The Postojna caves contain a series of chambers great and small that continue for over twelve miles. My wife, who is not much for caves but somehow keeps finding herself trapped in them on tours, felt we did the entire twelve miles on our former visit, and rebelled against a repeat. Instead, we went to Pula, and I was forced to concede a point: except for cave enthusiasts and grotto fanciers, Pula should take precedence if there is time only for one of the two places.
Pula has many delightful features. First of all, one can reach it comfortably and cheaply by public bus, thus eliminating the hurry-up treatment of the standard bus tour. The route down the coast takes in Opatija, a plush resort with an extraordinarily tropical climate (palm trees, lemon and orange trees, and bamboo flourish there). Pula itself is situated on the point of the Istrian Peninsula. Besides an unusually well preserved Roman amphitheater, the town offers a compact collection of antiquities — temples and churches, triumphal arches, double gates, ancient walls, a fort, and a museum —that can be seen on a walking tour of as little as twenty minutes, but which merit as much time as can be spared. To mention a detail, there are corner caryatids on the town hall, Telemon on the south and Sirena on the north, that are as amusing and appealing a pair of comic medieval carvings as we have seen anywhere.
At all times in Yugoslavia, we were able to go ashore and travel with complete freedom, whether by tour bus or public transportation. Three years ago our bar steward was a disagreeable, stone-faced Communist, apparently the Party's watchdog aboard the ship. The captain and crew didn't like him any better than we did, and told us so. If there was a Party member on board this time, he was wearing a disguise — a smile — because we never spotted him. Of course, most of the population have to content themselves with being mere socialists; only about 15 percent are privileged to be Communist Party members, and these fortunate few probably have to be spread fairly thin. The people did not seem very repressed last time we were there; they seemed less so this time.
A final night aboard ship, and morning brought Trieste. All I know about Trieste is that it is mercifully close to Venice. We tipped our three stewards — cabin, bar, and dining saloon —just as we would have on a capitalist ship, and decided we would miss our small craft, bathroom duckboards and all.