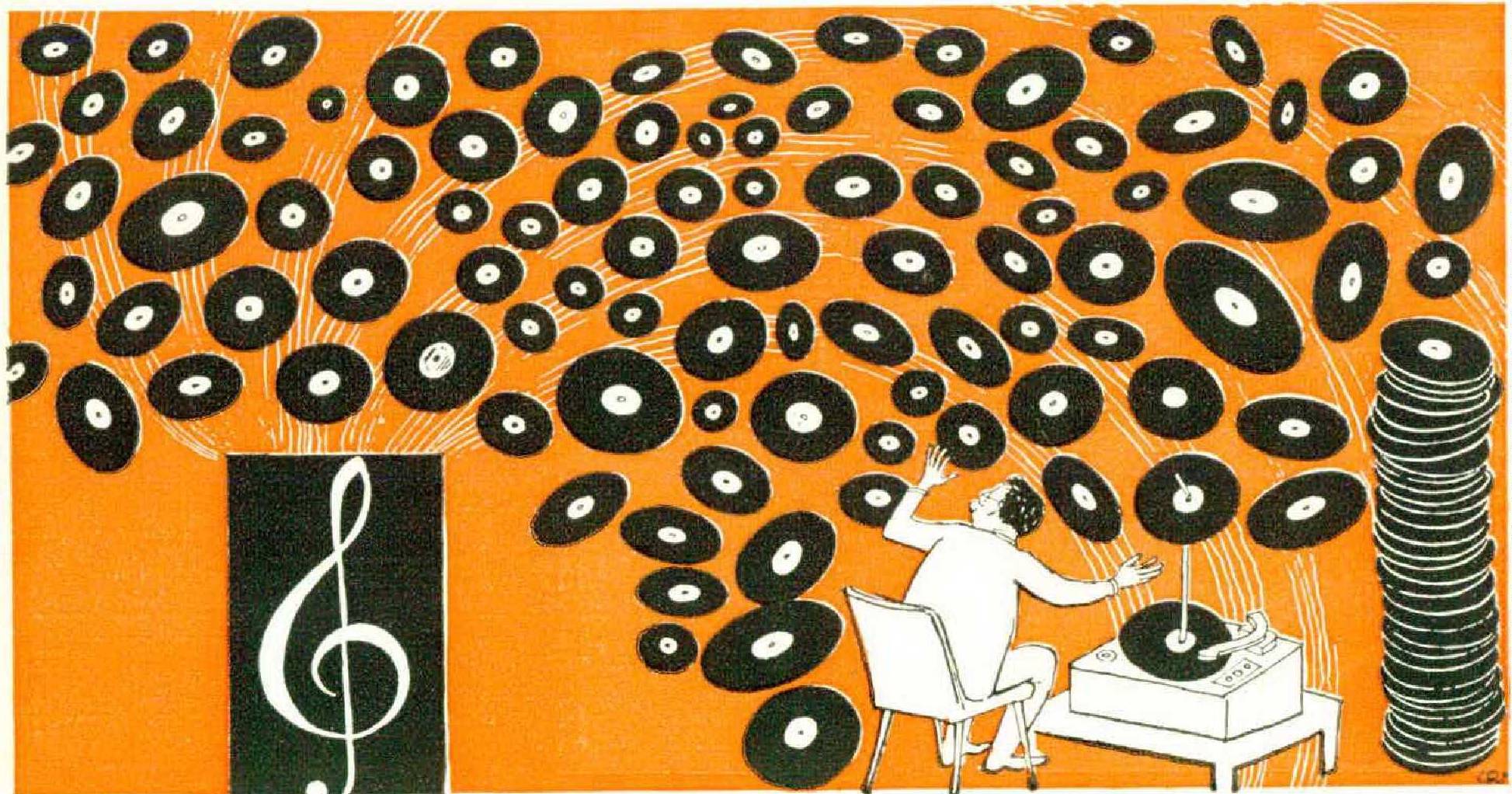 Once upon a time, so the fairy tale runs, there were only two kinds of records, Victor Red Seal and Columbia Masterworks. One had a red label, the other blue; each offered familiar music played by famous artists; and both cost the same price, which never changed.
Or at least it all seems like a fairy tale. Chances are that things were never quite that simple, and that even in that distant era record collectors had their problems and perplexities. But life really became complicated when the long-playing and later the stereophonic record introduced a whole new set of record labels and prices into the market. In fact, it has only been in recent years that the list of labels has shaken down to about a dozen more or less major producers and the price structure has achieved a degree of stabilization.
Now, in the last quarter of this year, three new labels, Crossroads, Seraphim, and World Series, have reached the market with major impact. A fourth, Odyssey, will make a spectacular bow in January. And very likely others will follow.
What makes the entry of these new labels so interesting is that each is a subsidiary of a major company, and each is priced at $2.49 for both stereo and monaural — that is, about half the going rate for quality classical records. All the parent companies involved — Angel (for Seraphim), Columbia (for Odyssey), Epic (for Crossroads), and Philips (for World Series) — after launching their lines with a massive burst of some twenty records apiece, expect to put out an average of four or five releases monthly, provided, of course, that the public responds. RCA Victor at first viewed the scramble to get in on the $2.49 market with magisterial aloofness, but a spokesman later acknowledged that the company was keeping a close eye on developments and might well enter the field.
What will be the effect of good classical records costing half or less the established list price ($4.79 for most monaural releases, $5.79 for most stereo) is a matter of conjecture, and even of trepidation among manufacturers. No one really knows whether the record public has expanded sufficiently in recent years to sustain so many new bargain labels. And, equally important, no one can predict what the effect will be on higher priced records, which will continue to exist, whether peacefully or not, with the new ones. Some in the industry believe that the new labels, if successful, are bound to bring about a general readjustment of price levels. Others think that, like paperback books, they will find their own market without disturbing already existing patterns.
But whatever happens eventually, right now the record collector is in the happy position of being suddenly confronted by a huge number of excellent recordings offering an extraordinary range of music and performers, reasonably well packaged and annotated, and purveyed at a list price of $2.49 (World Series is priced a penny higher, at $2.50, to be precise). Life being short and LPs long I have not been able to listen to every one of the seventy or so records that have thus far appeared in the new lines, but I have heard a good many of them complete and have sampled others. What follows is a report on each label based on both announced intentions and achieved results.
Crossroads: This line is put out by Epic Records, which itself is an affiliate of Columbia. Unlike the other new labels, which draw on a variety of sources for their material, all the Crossroads recordings emanate from one producer, the Supraphon Company of Prague, and all feature Czech performers. That best known of eighteenth-century musical travelers, Charles Burney, once called Bohemia "the conservatory of Europe," and the description seems no less apt today. The first twenty-four records issued by Crossroads are capably played and recorded in a stereo sound that is tolerably good if not quite up to the best that has been achieved in this part of the world. Several of the performances are unimpressive, such as a Mahler First (22160012, stereo; 22160011, monaural) and a complete Smetana's Má Vlast — "My Country" — (22260002, stereo; 22260001, monaural), both by Karel Ančerl and the Czech Philharmonic. But others of the Crossroads line are extremely well played, notably Beethoven's Archduke Trio, Opus 97, by the Suk Trio (22160022, stereo; 22160021, monaural); Mozart's Sinfonia Concertante in E-flat for Violin and Viola, K. 364, by Josef Suk, Milan Škampa, and the Czech Philharmonic conducted by Kurt Redel (22160016, stereo; 22160015, monaural); and Schubert's "Trout" Quintet, Opus 114, by members of the Smetana Quartet, with Jan Panenka, piano, and František Pošta, double-bass (22160030, stereo; 22160029, monaural).
Crossroads customers will have to accustom themselves to strange names among composers, too, some being such worthies as Jirovek, Novák, Reicha, Vejvanovský, and Voříšek, not to mention a full complement of more familiar Middle European composers from Benda to Janáček. One of the most engaging releases features a first recording of a Symphony in D Major by Jan Václav Hugo Voříšek, a Bohemian contemporary of Beethoven whose music is a remarkable blend of romantic grandeur and lyricism (22160008, stereo; 22160007, monaural).
Odyssey: Columbia will introduce its Odyssey line next month and, unlike Crossroads, which deals exclusively in new recordings, it will include re-releases, among them deleted items by Casals, Lipatti, Schweitzer, and Bruno Walter. Odyssey has also acquired rights to the superb Haydn, Vivaldi, and Corelli albums originally made by the late Max Goberman for his Library of Recorded Masterpiece subscribers. Columbia says the Odyssey line will also include "new recording projects we feel are needed," which raises the hope, however faint, that the label might resume Goberman's project of recording the complete Haydn symphonies, cut short by his death after the first sixteen volumes.
Seraphim: "Seraphim," according to the dictionary definition carried on each record jacket in this series, are "Angels of the highest order." But that hasn't prevented more than one wag from referring to them as "fallen Angels," and there seems at least a degree of truth in the jest. Many, though by no means all, of these recordings, represent deletions from the Angel catalogue, records which sold out their stock at $5 or more, and which are now sent forth again, newly engineered and packaged, at the lower price.
More than its competitors, Seraphim represents a "big name" line, with its initial release of twenty albums, including recordings by Furtwängler, Flagstad, Schwarzkopf, Christoff, Hindemith, Klemperer, Fischer-Dieskau, and others of like renown. Most of these are available only in monaural; Angel has sternly (and wisely) resisted the temptation to indulge in artificial rechanneling of old sound into new. A few of the recordings are ancient, such as Richard Strauss's 1941 performance, with the Bavarian State Orchestra, of his Alpine Symphony (60006). But many of the reissues are of reasonably recent vintage, and it is a pleasure to have back in the catalogue at almost any price such cherishable items as the late Guido Cantelli's sensitive Schubert's Unfinished Symphony (60002), Gerald Moore's delightful illustrated lecture "The Unashamed Accompanist" (60017), and Solomon's finely shaded performance of Beethoven's Piano Concerto No. 1 in C (S-60016, stereo; 60016, monaural).
Three complete operas are included in Seraphim's initial release — Sir Thomas Beecham's well-remembered La Bohème with Victoria de los Angeles and Jussi Bjoerling (IB-6000, monaural only: three records); Donizetti's Elisir d'amore with Tullio Serafin conducting a lively La Scala cast (SIB-6001, stereo; IB-6001, monaural: two records); and Mozart's Marriage of Figaro (SIC-6002, stereo; IC-6002, monaural: three records) with Dresden State Opera singers including Hilde Güden, Hermann Prey, Anneliese Rothenberger, Walter Berry, and Edith Mathis. In some ways, this is the most interesting of all Seraphim's operatic albums, for it has never before been released in this country. It is sung in German, which should have a strong appeal to those accustomed to taking their Nozze di Figaro in the form of Figaros Hochzeit. Despite its change of language, this Figaro manages to be light, smooth, and sparkling. It would be wonderful to have so delectable a recording of it in English. In January, Seraphim plans at least one more stimulating operatic release, the long-deleted Paris OpéraComique recording of Poulenc's Les Mamelles de Tirésias.
Seraphim's annotations are ample and authoritative, and librettos of the operas are provided. In every respect, this is an honest, straightforward product, and some of the bargains are remarkable.
World Series: Philips' low-priced line is more complicated and varied than the others so far released. It encompasses recordings from a variety of sources in the United States and abroad; it includes both rereleases and new productions; its older recordings have electronically reprocessed sound, thus giving a two-channel effect; and it introduces a new type of "compatible stereo" which enables the same record to be played on stereophonic and monaural equipment.
Of the older recordings made available by World Series, perhaps the most important is a two-record album of the complete Sonatas for Violin and Piano of Charles Ives, released originally by Mercury (PHC-2002). Also welcome back are the Bach Brandenburg Concertos by Szymon Goldberg and the Netherlands Chamber Orchestra (PHC2004, two records) and Clara Haskil's performances of the Beethoven Piano Sonatas Nos. 17 and 18 (PHC-9001).
Among the most notable World Series releases of new recordings are a glowing performance of Dvořák's Symphony No. 6 in D, Opus 60, by Witold Rowicki and the London Symphony (PHC-9008); a recorded premiere of two mystical-sounding masses by the Burgundian master Pierre de la Rue, who lived from 1460 to 1518 (PHC-9021); a set of "Concertos Comiques" based on French popular songs of the early 1700s by Michel Corrette (PHC9012), and a fine album of the complete Schubert Trios by an excellent American ensemble, the Beaux Arts Trio (PHC-2003, two records).
But it is World Series' "compatible stereo" that is perhaps its most provocative contribution. Such a sound system was introduced in Europe a few years ago, and has apparently been working there with fair success. Each World Series record contains a brief technical explanation of the process, which can be consulted by those interested in the engineering aspects; the musical end result is a record that offers reasonable sound separation on stereo equipment, and that also can be played safely with a monaural stylus. To this listener, "compatible" stereo sound seems somewhat less clearly focused and defined than the best "pure" stereo. But it is close enough to make further improvements and refinements well worth waiting for. And if compatible stereo proves successful on a low-priced line, how long will it take for the rest of the industry to adopt it? That is still another of the fascinating, and as yet unanswerable, questions raised by the sudden surge of new labels.
Record Reviews
Mahler: Symphony No. 6 in A Minor Berg: Le Vin (text by Baudelaire)
Erich Leinsdorf conducting Boston Symphony Orchestra, with Phyllis Curtin, soprano; RCA Victor LSC-7044 (stereo) and LM-7044: two records The Sixth is the least recorded of Mahler's symphonies; indeed, it is no exaggeration to say that this is the first time it has been recorded well. Mr. Leinsdorf has been at pains to establish the proper text of the work, and he has given it a magnificent and blazing performance. Mahler's Sixth is a strongly percussive work of super-Wagnerian grandeur; it seethes with emotional tension, and is colored by such exotic instruments as cowbells, chimes, tam-tam, and a special kind of semimusical hammer devised by Mahler himself. Leinsdorf gives the work a driving forcefulness without depriving it of its spacious exaltation. If anything can establish Mahler's Sixth in the repertory, this recording is it. Unfortunately, the fourth side of this album is thrown away on a minor work of Alban Berg's, an unimpressive setting of three verses from Baudelaire's Fleurs du Mal. The whole thing lasts twelve minutes; surely the odd side in so important an album could have been put to some better use.
Mozart: Symphony No. 40 in G Minor, k. 550 Schubert: Symphony No. 5 in B-flat, D. 485
Rudolf Barshai conducting Moscow Chamber Orchestra; Angel S-36371 (stereo) and 36371
The Moscow Chamber Orchestra, which this season is making its first American tour, has more finesse and subtlety than the larger Soviet orchestras which have visited these shores, and its conductor, Rudolf Barshai, is an extremely sensitive musician. So it is no surprise to find the orchestra giving altogether refined and delicate performances of those two symphonies.
The Schubert, especially, comes through with a clear, balanced, and mellow sound. The Mozart is a shade more muted, though some listeners may prefer to hear it this way, with its drama and emotionalism underplayed.
Sibelius: Seven Symphonies
Akeo Watanabe conducting Japan Philharmonic Symphony Orchestra; Epic SC6057 (stereo) and BSC-157: five records This, apparently, is the first integral recording of the complete Sibelius symphonies, or at least the first to come out in a single album. But even more remarkable is that the performers should be a Japanese orchestra and conductor. Considering the distance between Helsinki and Tokyo, Mr. Watanabe and his musicians acquit themselves nobly, bestowing great care on the music's inner details. Perhaps because of this meticulous attention to individual phrases, the large and craggy contours of the music are somewhat softened. Recent recordings of the Second by George Szell and the Fourth by Herbert von Karajan remain unchallenged by the Japanese versions, but Mr. Watanabe and his musicians show their skill and subtlety in a fine recording of the Fifth, which seemed to this listener the best of the set.
Verdi: Don Carlo
Georg Solti conducting Royal Opera House Orchestra and Chorus, with Renata Tebaldi, soprano; Grace Bumbry, mezzo-soprano; Carlo Bergonzi, tenor; Dietrich Fischer-Dieskau, baritone; and Nicolai Ghiaurov and Martti Talvela, basses; London OSA-1432 (stereo) and A-4432: four records Don Carlo, which is about Philip II of Spain and the rebellion of Flanders against foreign rule, is a problem opera, and this is a problem recording. The problem in both cases relates to an unevenness of quality: the opera has passages of tawdriness and grandeur alike, and the performance juxtaposes scenes that are charged with musical excitement and those that permit one's interest to slacken. Nevertheless, the overall effect is surprisingly strong; Verdi, as always, transformed his kings, princes, priests, and rebels into strong-blooded human beings, and infused his music with emotion. Carlo Bergonzi makes for a rather bland Don Carlo, but Renata Tebaldi and Grace Bumbry pour fervor as well as vocal richness into their portrayals of Elizabeth de Valois and the Princess Eboli. As Posa, the noblest figure in the opera, Dietrich Fischer-Dieskau is skilled and intelligent, but he lacks the vocal velvet of a true Italian baritone. The most memorable scene of
all, as in most Don Carlos, is the magnificent confrontation of the two black-voiced basses, Ghiaurov and Talvela, in the scene in which monarch and priest grapple over the fate of a man and the future of a nation.
Herschel Bernardi Sings "Fiddler on the Roof"
Herschel Bernardi with orchestra conducted by Peter Matz; Columbia OS-3010 (stereo) and OL-6610 The original Tevye in Fiddler on the Roof was, of course, Zero Mostel, and he also sang the role in RCA Victor's original-cast album. But since November, 1965, Tevye has been sung by Hersehel Bernardi in the long-running Broadway show, and now he has made his own Fiddler on the Roof recording. He sings all the songs himself, including those (like "Matchmaker, Matchmaker") written for other characters, and also recites a pleasantly unobtrusive spoken narrative between the numbers. But the most attractive aspect of the record is its inclusion of two songs by Jerry Bock and Sheldon Harnick which were apparently cut from the show before it opened. One of these, "When Messiah Comes," is so agreeable and characteristic a Fiddler on the Roof song that one regrets its omission on the stage. People who have begun to wear Zero's original-cast album thin should find Hersehel's version a welcome replacement.
Ives: Trio for Piano, Violin, and Cello; Copland: Vitebsk; Bloch; Three Nocturnes
Nieuw Amsterdam Trio (Edith Mocsanyi, piano; John Pintavalle, violin; Heinrich Joachim, cello); Decca DL710126 (stereo) and DL-10126 There is merit in all three of the twentieth-century works on this record, but, as happens so often, it is the Charles Ives piece that emerges as a masterpiece of originality and imaginativeness. Ives incorporated in this bold and breezy trio flashes of such well-remembered tunes as "My Old Kentucky Home," "Rock of Ages," and "Tararaboomdeeay," and somehow made them all part of a fresh-colored and appealing work, alternately whimsical and lyrical. All three compositions are played expertly by the Nieuw Amsterdam Trio, a New-York-based ensemble of foreign-born instrumentalists.