Raymond Lewenthal Individualist of the Keyboard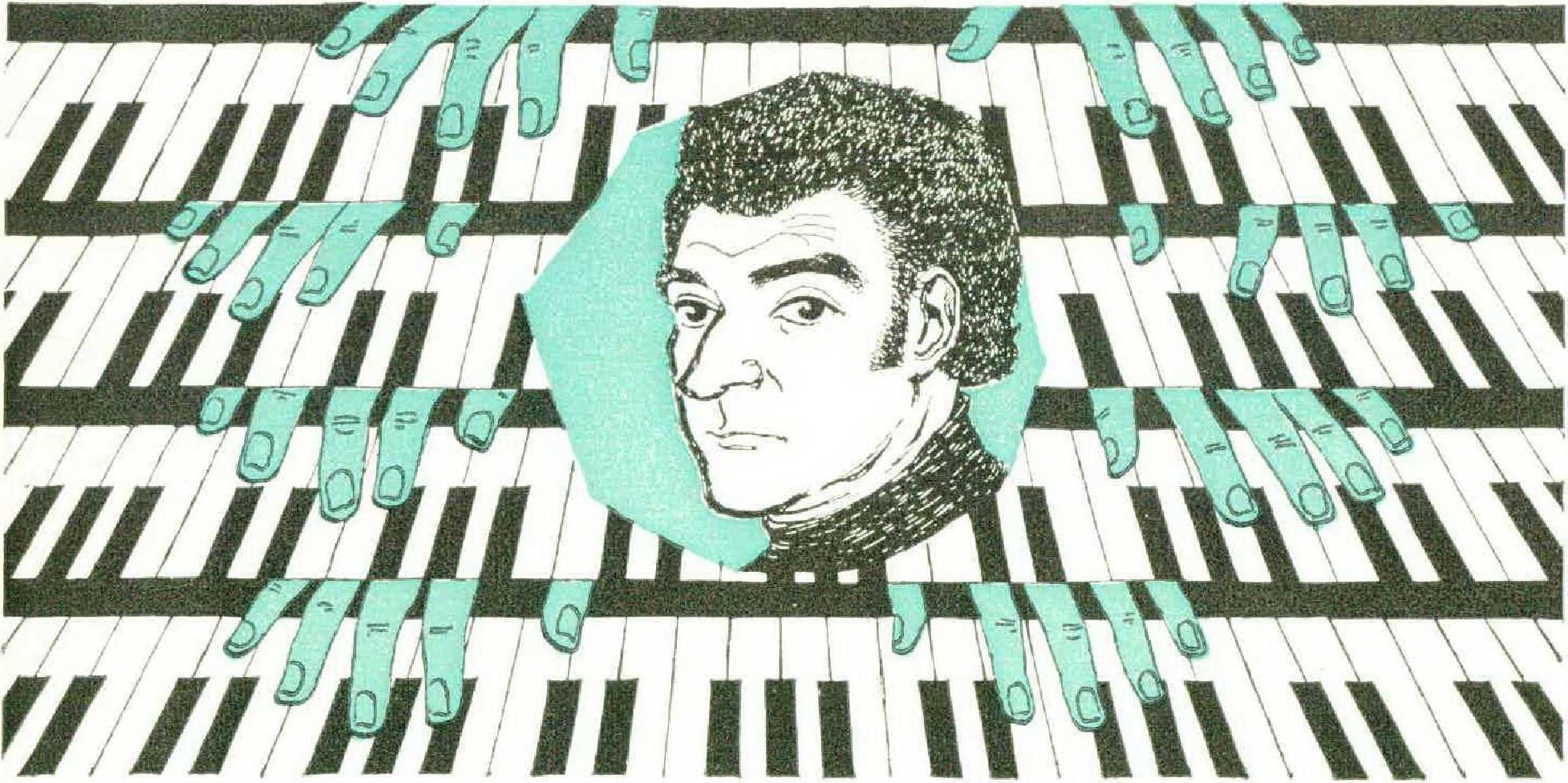 BY HERBERT KUPFERBERG
Raymond Lewenthal is a concert pianist. That means he is one of a small group of Americans who earn — or try to earn — their livings by giving solo recitals or playing with orchestras across the country. It is difficult to guess how many such pianists there are in the land today, as distinguished from pianists who teach, accompany, or work on the staffs of various musical institutions. A fair estimate, though it's probably a high one, is that there are perhaps 125 American solo recitalists competing for concert dates today, and some of these are a lot more successful than others.
Lewenthal is by no means a typical example. He has had not one career, but two, for at the age of forty, after a decade of almost total inactivity, he has only just resumed playing in public. His appeal so far has been largely to piano specialists rather than to the general musical public. He has not undertaken any extensive national tours; he hasn't even got a regular manager, an omission almost unheard of in musical circles. And yet he recently signed a recording contract with RCA Victor, has single-handedly (or rather double-handedly) revived interest in an obscure French composer-pianist named Charles Valentin Alkan, has set out upon some novel explorations of the Liszt piano repertory, and in general has established himself — though how securely remains to be seen — as a distinctive musical personality.
The current generation of young American pianists ("young" in music is a designation running from the early twenties to the mid-forties) abounds in remarkable performers, virtuosos with steel fingers, formidable techniques, and keen musical intelligences. John Browning, Van Cliburn, Leon Fleisher, Gary Graffman, Byron Janis, and perhaps a dozen others are all superbly equipped and trained young pianists, each with his own particular following of admirers and advocates. Yet none, with the obvious exception of Cliburn, has become known as a great individualist of the keyboard, occupying the same sort of place held by a Rubinstein or a Horowitz in the older generation.
Van Cliburn's concert fee is $6000 a performance, which is about as high a price tag as exists in the music business. His topranking colleagues of his own generation have to be satislied with perhaps one third of that amount per performance. A pianist receiving in the range of $1750 to $2250 for a night's work — though not very many of them do get that much — is perhaps entitled to figure he is being reasonably paid for his years of study, work, and training. Yet the fee is somewhat misleading, for 20 percent of it goes to the artist's management, and in addition, he must pav his own travel, lodging, publicity, advertising, and other considerable expenses. Assuming that a pianist has an American concert tour of twenty-five dates at $2000 apiece, does some recording, and also fills several engagements in Europe (where fees are lower), his yearly gross may reach $60,000. Of this, when his expenses are paid, he may actually keep half. Probably less than a dozen American pianists today are able to do that well. "No one can become a concert artist without being a fanatic," says one management official.
Raymond Lewenthal is, in his own way, a fanatic, especially in his current "second" career. When he first began playing, his musical life pursued a fairly normal course for a promising young pianist. He was born in San Antonio and reared in Hollywood, earning his first money as a child actor in the movies. He studied piano with excellent teachers in the United States and later with Alfred Cortot in Paris. He won several prizes, and in 1948, when he was twenty-two years old, made his debut as a soloist with the Philadelphia Orchestra, playing the Prokofiev Third Concerto with Dimitri Mitropoulos. The performance was a huge success, and Lewenthal seemed well launched. For three years he toured the United States, giving recitals and appearing with other orchestras. What happened after that is not altogether clear, but it is evident that Lewenthal underwent a combination of professional and personal setbacks. This period, three or four years after a successful debut, often is crucial for an artist. The initial impact is gone; cities which have welcomed a performer in the past now may wish to hear someone new; managements begin to lose interest; the list of concert dates can shrink dangerously.
To cap it all, Lewenthal was set upon by a gang of thugs in Central Park, New York, one summer's night in 1953, and wound up with seven bones broken in his arms and hands. He recovered completely, but having no concert schedule left, had to support himself for three years playing the piano as an employee of Hunter College, including the assignment of being the accompanist for a girls' gymnasium class. Then he successively went to Europe and South America, but on neither continent could he establish himself. In 1961 he was back in the United States, another frustrated pianist.
If Lewenthal's career has started to flourish anew, it is largely because of his concentration on two composers, Alkan and Liszt. While in Europe, Lewenthal had come upon the music of Alkan, a French eccentric who lived from 1813 to 1888 and wrote some quite original and prodigiously difficult piano music. In 1963, WBAI, a New York FM radio station, invited Lewenthal to give a lecture-recital on Alkan; the response was so great that a concert of Alkan's works seemed in order; and this proved so successful that RCA Victor asked Lewenthal to record the music: the resultant release (RCA Victor LSC-2815, stereo; LM-2815, monaural) wound up, to everyone's surprise, on the classical best-seller charts for nearly six months.
Now Lewenthal has come up with his second recording for Victor, and it is almost as unusual as the Alkan record. It is devoted to two works of Franz Liszt's, both of them almost unknown today, the Hexameron and the Réminiscences de Norma (LSC-2895, stereo; LM-2895, monaural).
The Hexameron gives a revelatory glimpse of the fantastic pianistic world of the nineteenth century. It was composed, or rather assembled, in 1837 for a Parisian charity concert organized by the Princess Belgioioso, one of Liszt's innumerable feminine admirers. Her idea was to stage a kind of musical marathon in which the six leading pianists of the day would in turn each play a variation, written by himself, on a march theme from Bellini's new opera, I Puritani. The pianists selected, some of whose names have lived to this day, were Liszt himself, Sigismond Thalberg, Johann Peter Pixis, Henri Herz, Carl Czerny, and Frédéric Chopin. Mr. Lewenthal, who has done copious research into the affair and writes about it at length in his accompanying notes, says that the event never came off as the princess had planned. But the variations were actually written by the six men, and Liszt used to travel about Europe playing the complete set himself to considerable acclaim.
It's entirely possible that no one has played the Hexameron since, until Mr. Lewenthal decided to record it for Victor. The piece, which lasts twenty minutes, is great fun to hear because it covers the entire spectrum of pianistic virtuosity and because the individual entries are fascinating to follow. Chopin, for example, composed a beautiful, if brief, slow variation, which stands out from the more showy passages. The Norma reminiscences on the other side of the record make for more of a unified composition; here Liszt wove Bellini's operatic themes into a rhapsodic piece that has a pianistic lyricism of its own. He also left himself plenty of opportunity for virtuosic display, including use of the "threehand" effect, in which the fingers juggle notes so swiftly and the pedal is used so adroitly that a central melody seems surrounded by a bass accompaniment on one side and treble embroideries on the other. Mr. Lewenthal tosses off such passages brilliantly.
Although his concertizing and recording these days are mostly devoted to music of this sort, Lewenthal dislikes being looked upon as a specialist.
"I don't want to be regarded as a kook that found a kooky composer," he said during a talk at his small apartment in the East Seventies of New York. "I play Alkan out of conviction, not as a gimmick. I have an affinity for the nineteenth century, which was the great century of the piano. So far as I am concerned, both Haydn and Mozart were in a twilight zone of nonpiano music. And most contemporary composers don't understand the piano very well, though there are exceptions, like Sam Barber. But it's the nineteenth century that is the era of the pianist."
Along with his musical interest in the nineteenth century, Lewenthal cultivates a kind of romantic, almost demonic, stage demeanor that has faintly Lisztian overtones. A tall, gangling man with a strong-featured face, piercing eyes, long sideburns, and a luxuriant crop of hair, he might indeed be a figure from the past. He likes to play in rather dim light, creating almost the effect of a presence rather than a person. "To me a concert is a theatrical event," he explained. "Lighting, timing, appearance all have their importance. Bright lights blind me. And I think an audience can concentrate better in subdued lighting. I write my own program notes, but I don't want people to read them during the concert."
Other pianists are watching Lewenthal's new career with curiosity. There are many who think the novelty appeal of his programs is bound to wear off. And it is true that his major impact so far has been on the musical intelligentsia of New York. But he has been invited to London for three concerts devoted to Alkan and Liszt next January, and dates on the continent are expected to follow. Lewenthal also thinks his kind of programs, with such composers as Chopin and Schumann mixed in with Alkan and Liszt, will eventually find an audience on the regular American musical circuit. Even if he continues to be regarded as a specialist in reviving the neglected music of a century ago, he does not believe that the classification need be unduly restrictive.
"You must play all to find the best," he said. "I've got a lot of composers I've been doing research on."
Record Reviews
Handel: Messiah
Colin Davis conducting London Symphony Orchestra and Choir, with Heather Harper, soprano; Helen Watts, alto; John Wakefield, tenor; and John ShirleyQuirky bass; Philips PHS-900125 (stereo) and PHM-500125: three records Although the approach of practically every Christmas seems to bring forth at least one new Messiah recording, some do manage to achieve a special quality. Colin Davis' has a feeling of intimacy uncommon in a work so frequently overblown and oversung. The chorus here numbers forty, the instrumentation is said to be Handel's own, and the four solo voices are extremely well matched. The test of any Messiah is how it conveys the beauty and majesty of Handel's matchless music, and Davis' forces do so admirably, with lively tempos, excellent sound, and meticulous care for such matters as musical clarity and verbal enunciation. Everything is so scaled as to draw the hearer toward the work, rather than, as sometimes happens, forcing him back in sheer awe of the sound. The result is a Messiah ideal for home listening.
Judith Raskin Sings Mendelssohn and Mahler Songs
Judith Raskin, soprano; George Schick, pianist; Epic BC-1305 (stereo) and
LC-3905
A generation ago, the Mendelssohn songs on this record would have seemed moving and eloquent, the Mahler merely puzzling. Today the effects are reversed; "puzzling" may not be quite the word for Mendelssohn's elegant and graceful songs, but they remain largely cool and external. Mahler's more emotional and intense — one is tempted to say neurotic — music seems far more closely attuned to our times. This is particularly true in the deeply expressive songs from that sorrowful cycle Des Knaben Wunderhorn, several of which are included on the record. In any case, there is musical gratification to be had in hearing Miss Raskin, one of the finest young American sopranos of today, singing Mahler and Mendelssohn alike.
The Light Music of Shostakovich
Andre Kostelanetz conducting his orchestra; Columbia MS-6867 (stereo) and ML-6267
Dimitri Shostakovich doesn't exactly emerge a Johann Strauss from this collection of galops, polkas, waltzes, and folk music, but the collection is a bright and joyous one just the same. Shostakovich has always had an irreverent, folksy vein, and it comes out here with considerable verve and an occasional touch of raucousness. These short pieces are taken from various ballets, films, and stage works. Kostelanetz merits commendation on two counts — his enterprise in programming these works and his ebullience in performing them.
Great Moments in Show Business
Walter Huston, Eddie Cantor, Al Jolson, Dick Powell, Burns and Allen, and others; Epic FLS-15105 (stereo) and FLM-13105
This nostalgia-drenched collection of entertainers of the past is distinguished by two out-and-out classics in their original forms — Walter Huston singing "September Song," and Clayton, Jackson, and Durante performing their full routine of "Can Broadway Do Without Me?" These stand up as solidly as Beethoven's Ninth, and they're a lot shorter, too. Furthermore, Dick Powell, who doesn't live so pleasurably in the memory, comes up with a surprisingly smooth "Lullaby of Broadway," recorded in 1935. But some of the others seem distressingly dated and faded, such as Al Jolson in "Rock-aBye Your Baby With a Dixie Melody." Feeblest of all is a George Burns—Gracie Allen comedy routine recorded in 1933. They must have had better years than that.
Songs by Tom Lehrer
Tom Lehrer, singer, accompanying himself at the piano; Reprise RS-6216 (stereo) and R-6216
The rapidity with which Reprise is issuing Tom Lehrer records indicates what the small band of early Lehrer fans had long suspected — the existence of a mass market for the great man's musical observations on the life about him. In this case, Reprise has had the excellent idea of having Lehrer go back to his first record, issued on his own label in 1953, and record all the songs anew. The contents, presented with the familiar and undimmed Lehrer musical prowess, include such items as "I Want to Go Back to Dixie," "Lobachevsky," "Be Prepared," and that classic among college marching songs with a soft sell, "Fight Fiercely Harvard."
Edward R. Murrow: A Reporter Remembers (Volume I — The War Years)
Edward R. Murrow, reporter, with narrative announcements by Douglas Edwards; Columbia 02L-332 (monaural only): two records
No one who heard them has ever forgotten Edward R. Marrow's wartime broadcasts from London, and this album offers a fine selection, not in snippets but in complete, or nearly complete, form. Murrow covered the speeches and actions of statesmen and generals, and these records give his reports on the debates in Commons and the rise and fall of governments. But his unique gift was to convey the feeling of a people, and he was able to do this whether he was riding an R.A.F. bomber over Berlin or watching the homefront preparations for the unmerry Christmas of 1940. There are many passages in this record to revive the memories of those old enough to remember the war or to engage the interest of those too young. But for this listener, at least, the most spellbinding of all was a report on the everyday life of a little town on the Bristol Channel just beginning to feel the ravages of Britain's greatest war. If anybody today is doing this kind of keenly penetrating, quietly humorous, deeply human broadcast reporting, he hasn't yet shown on my television set.
Velvet Is the Beat
John Cacavas conducting an orchestra; Gallery GS-6201 (stereo) and GM-3201 Gallery Records is a new label, with an address at 609 Fifth Avenue, New York, and I mention this release here because it seems to me to offer the best stereo presentation of popular tunes since the "Persuasive Percussion" releases of Enoch Light on Command years ago. John Cacavas has assembled an excellent collection of jazz musicians, and the arrangements of such numbers as "Speak Low," "Old Devil Moon," "The Sweetest Sounds," "Do I Hear a Waltz," and the "Third Man Theme" are smooth, skillful, and remarkably easy to take. And the sound is a dream, with as good a three-channel stereo effect as a hi-fi fanatic could wish.
Yevgeny Yevtushenko: Babii Yar and Other Poems
Read in Russian by the author and in English by Alan Bates; Caedmon TC1153 (monaural)
The Poetry of YevtushenkoRead in English by Milt Commons with Jere Jacob; Folkways FL-9869 The best exponent of Yevtushenko's poetry is Yevtushenko himself. Even to a listener comprehending not a word of Russian, the fire and fervor of his verses are unmistakable. Fortunately, the Caedmon release provides not only the poet's voice but English translations, spoken (with inappropriate blandness) by Alan Bates. The Folkways release is entirely in English, with Milt Commons and Jere Jacob the readers, the latter providing the greatest sense of involvement of all. The only poem common to the two records is "Babii Yar," that unforgettable indictment of anti-Semitism, German or Russian. But the records together also display Yevtushenko's wide poetic range, including an unexpected vein of warm humor, as in the poem "On a Bicycle," one of the highpoints of the Folkways collection.