Diary of a U-Man
To assemble under one magnifying glass Ihe many lives of Sir Harold Nicolson is the feal performed in this month's essay by ATLANTIC critic Louis Kronenberger.
by LOUIS KRONENBERGER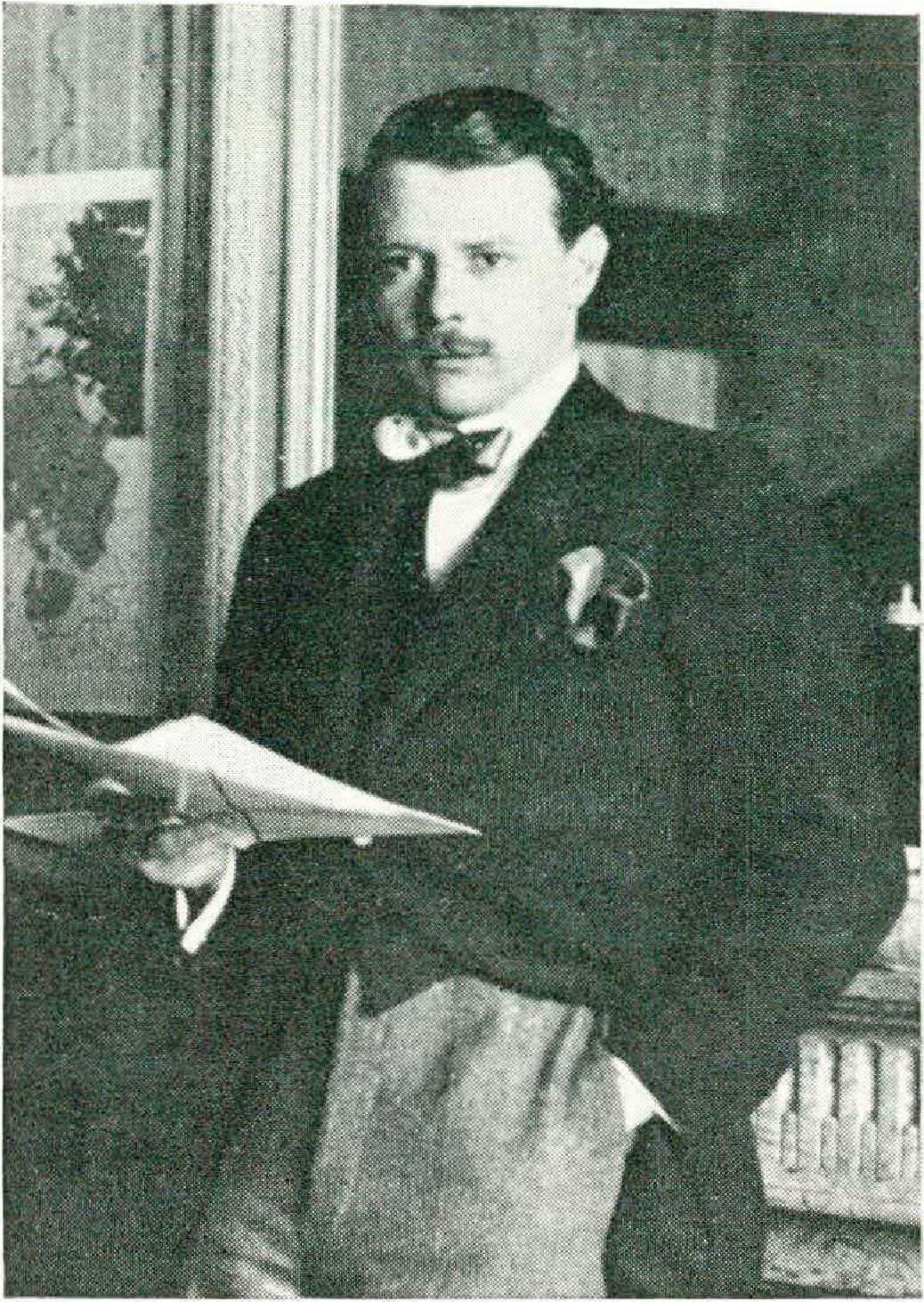 SIR HAROLD NICOLSON has been a small particular adornment of his age, thanks not least to his chameleon way of adorning it. Because of his versatility, he has been a writer whom a dozen sorts of reader could come to know and appreciate. Certainly the reader of belles lettres knows his biographies — of Byron, Tennyson, Swinburne, Verlaine, Sainte-Beuve, Benjamin Constant — and his literary criticism. But the far-from-literary English reader would have encountered Sir Harold too, as a mass-circulation newspaper columnist and a participant on the BBC. The student of cultural history will be aware of The Age of Reason. The American businessman may remember Sir Harold's life of Dwight Morrow; the English patriot, his official biography of George V. A student of England's foreign relations would know Sir Harold's life of his diplomatist father, Lord Carnock, or his book on Lord Curzon. For the inquirer into diplomatic niceties there is that distillation of Sir Harold's own Foreign Office years and experience, the informative handbook called Diplomacy. The connoisseur of minor literary delights will have cherished Some People as a kind of companion volume to Max Beerbohm's Seven Men. Even the specialist in gardens will know of Sir Harold by way of his marriage to V. Sackville-West; as, thanks to his inner-circling of society, will the specialist in gossip. From its very beginnings — Sir Harold was born in 1886 in Tehran — his life has been multifaceted, polylingual, cosmopolitan, and at the same time monumentally English, ineradicably upper-class.
Accordingly, the publication of the first volume, extending from 1930 to 1939, of Sir Harold's Diaries and Letters is the record of an often intimately placed observer, is a kind of tour, during an eventfully unsettled era, of various hives and capitals of political, social, cultural activity. Opening with Nicolson's leaving the Foreign Office to work on the Evening Standard, it concludes with England's declaration of war against Hitler. Nicolson — he became Sir Harold in 1953 — was never to find anything less to his liking than his year-and-a-half stretch as a newspaper columnist. He resigned, having joined Oswald Mosley's pre-fascist New Party and become editor of its political organ, Action — only for Mosley to swerve toward fascism, the paper to fold, the party expire, and Nicolson break politically with its leader. Sir Harold's wife had thought it all insane from the outset; and quite fruitless, certainly, were Sir Harold's efforts to divert Mosley from fascism, even on the last-ditch ground of its being altogether unsuited to a nation lacking a military tradition and possessing a sense of humor. Sir Harold's prophecies about Nazism were hardly more successful: by 1932 he thought that Hitler had "missed the boat."
For the next four years, until Sir Harold won a National Labor Party seat in Parliament, he led a rather loose-endish, wide-ranging life. In these earlier years there is much about the Nicolsons buying and turning Sissinghurst, an old Kentish castle already in ruins in the eighteenth century, into a habitable home, which Miss Sackville-West was to endow in time with one of the finest gardens in England. There are, again, the books Sir Harold wrote in the early thirties, among them a novel called Public Faces, in which he prophesied, by name and function, the atomic bomb. There are trips abroad on one mission or another, and a first trip for both Nicolsons to America on a double lecture tour; there are later American trips, and there are a great many social occasions, literary encounters, and London sidelights. During these years the Diaries is lavish with anecdote.
Thus, on the social side, at a Cliveden weekend: "In order to enliven the party, Lady Astor dons a Victorian hat and a pair of false teeth. It does not enliven the party." On the literary side, A. E. Housman hated questions about Shropshire, having from his sketchy knowledge of it pulled several topographical boners in A Shropshire Lad. Or there is the Duchess of Marlborough on Proust: "His snobbishness was just snobbishness—he would repeat names to himself succulently." When she said she thought the Duke of Northumberland had a lovely name, Proust "grew very excited . . . got up, flung the door open and yelled 'Madame la Duchesse de Northumberland.' This brought on a fit of coughing." D. H. Lawrence, Frieda Lawrence told Sir Harold, said to her: "If people really knew what you are like, they would strangle you." "Did he say that," Sir Harold asked, "angrily?" "No," she answered, "— very quietly, after several moments of deep thought." Sir Harold had more than one meeting with James Joyce. At a lunch in his honor, Joyce enters "aloof and blind. . . . My first impression is of a slightly bearded spinster." At lunch, "I say to Joyce, hoping to draw him into conversation, 'Are you interested in murders?' 'Not,' he answers, with the gesture of a governess shutting the piano, 'not in the very least.' " " 'Are you interested,' asks Desmond MacCarthy a little later, in [Sir Richard] Burton?' 'Not,' answers Joyce, 'in the very least.' " At a subsequent meeting in Munich, Joyce reported that someone had taken Ulysses, hidden inside a prayer book, to the Vatican, so that it was blessed by the Pope. (Joyce pronounced Ulysses "Oolissays.")
THE Nicolsons' American tour — they visited fifty-three cities, spending sixty-three nights on trains — included joint appearances, when they sat on a stage discussing before large audiences "Changes in English Social Life," "What We Think About Marriage," and "How to Bring Up Children"; they were the lions, says their son Nigel Nicolson, the able editor of this book, "of the American lecture-circus." Socially they found the experience very trying — "the intelligentsia of Springfield, Massachusetts," let conversation languish, and a Toledo lady remarked that when she first saw the Grand Canyon, she said, "My, if only Beethoven could have seen this!" There were compensations to the trip, however. The Grand Canyon was one: Miss Sackville-West, wrote her husband, "is very much impressed. So am I." Alice Longworth was another: she "had a sense of background." Mount Vernon was a third: its ceilings and furniture indicated "a high level of culture and taste." More endurable were Nicolson's later trips to America when, at Mrs. Dwight Morrow's invitation, he undertook to write her husband's life. His being her houseguest coincided with Hauptmann's arrest and trial, and Sir Harold saw a good deal of the Lindberghs. At the breakfast table Lindbergh never once glanced at the papers where he was front-page news. At the height of his celebrity after flying the Atlantic, Lindbergh got 52,000 telegrams on one day, 63,000 on the next; at the height of the kidnapping excitement, there were 100,000 letters a day. Anne Lindbergh told Sir Harold that when she and her husband, bearing one of the most famous names in the world, dined with the Hoovers at the White House, Mrs. Hoover all through the evening called them Mr. and Mrs. Lindgrün. What, wondered Nicolson, "would Freud have said to that?" As for the biography of Dwight Morrow — who is described in the Diaries as having "the mind of a super-criminal and the character of a saint" —■ before Sir Harold was through, the House of Morgan, with whom Morrow had been connected, created difficulties. Sir Harold, it appeared, showed them too little awe and reverence. He agreed to make some changes, so that "the result is soft and flabby." But he felt that Morrow himself came through, and "I am not really discontented with the book."
When Sir Harold entered Parliament late in 1935, a political tension already ominous and formidable during the earlier years of the Diaries was about to become visible in headlines which are part of history — the Rhineland, Spain, Anschluss, Munich, the invasion of Czechoslovakia, the SovietNazi pact, and then Poland and war. In England, besides Mrs. Simpson and the King's abdication, there was an atmosphere of delay, of indecisiveness, of the ostrich and the unicorn. The Diaries abound in political weather reports. March 10, 1936: "Long talk with Ramsay MacDonald. . . . The country will not stand for anything that makes for war. On all sides one hears sympathy for Germany." A week later: " I found all the lobbies and corridors [of the House] buzzing with people getting signatures to . . . resolutions, the first to the effect that nothing would make us go to war, the second to the effect that nothing would induce us to break our word." March 29, 1938: No administration [says Malcolm MacDonald] "could possibly risk a war when our anti-aircraft defenses are in so farcical a condition. ... It would mean the massacre of women and children in the Streets of London." June 30, 1938: Unity Mitford [a cousin of hers reports] "wants the Jews to be made to eat grass." September 20, 1938: The London Times, with its wonted magisterial calm, appraises the sellout of the Czechs: "The general character of the terms submitted to the Czechoslovak Government could not, in the nature of things, be expected to make a strong prima facie appeal to them." By now Nicolson was vocally against appeasement: he, Winston Churchill, Anthony Eden (who had resigned from the Cabinet), and Duff Cooper were the only Government M.P.'s who "did not cheer Neville Chamberlain" when he went off to, and came back from, Munich.
As a member of the National Labor Party, Sir Harold had a liberal voting record in the House of Commons, and despite gaffes that hurt him politically, he quickly gained a reputation as a speaker. "I have achieved a prominence in the House which is unjustified by my juniority. Thus when I am called, there is a burst of applause and people flock in." He was to keep his seat for ten years.
THE many, at times conflicting, sides to Sir Harold's achievement and career cannot but bring into prominence his rather quick-change, man-ofthe-world personality, as well as his view of the world and, ultimately, of himself. He was by temperament, says his son, an "aristocrat." I am decidedly ignorant of the distinguishing nuances between the two words, but would myself define him as insuperably upper-class, even in its "U" sense, its caste sanctities, its fetishistic enslavements. Sir Harold would seem to have had no inner aplomb at all. From the Diaries one gets an impression of an encyclopedic knowledge of rules, forms, proprieties, solecisms; of What's Not Done; of choices—between two restaurants, two waistcoats, two words — so crucial as to invoke, socially, the consequences of the Lady or the Tiger. All this, though it conveys an impeccable sense of worldliness, equally suggests a curious sense of worry. The true aristocrat, I would think, is a much more well-bred law unto himself; Miss Sackville-West. one might suppose, was a true aristocrat. Sir Harold is constantly and self-concernedly soliloquizing in his Diaries, though far less often like Hamlet than like Prufrock, even the Prufrock of the trousers rolled: at the Eton and Harrow match, he feels "rather out of it" for wearing a trilby hat. It just happens to be T. S. Eliot who once remarked that there is someone more important than the aristocrat, and that is the individual. The individual in Sir Harold seems often blotted out by a stuffy and insular caste-consciousness. The statement of the judge in the Hauptmann trial "was one of which even an English judge need not have been ashamed." "Our host," says Sir Harold somewhere, "was the perfect type of the second-rate school and the second-rate college." The smokingroom of the House of Commons was "not in the least like the smoking room of the Travellers Club. . . . Shouts and laughter and an almost complete absence of decorum"; and when Churchill and others beckoned to him, "I had to go toward them feeling stared at and conspicuous." Sir Harold could be so put off as to freeze, says his son, on encountering a single false note in people's "conversation or even their pronunciation ... or a doily under the plate or a grapefruit on it." I keep being reminded of an Englishman from a famous family who, thinking England too stuffy, went to live in Paris, and in a final burst of rebelliousness threw his Old School tie into the wastepaper basket. The next day he saw his valet wearing it and sacked him.
Much of all this clearly qualified Sir Harold to be a diplomatist of merit or an adroit novelist of manners. And Sir Harold could, to be sure, laugh on occasion at himself; his was a sophisticated stuffiness. As a matter of fact, it is perhaps the "outsider" who can come closest to being the complete cosmopolite, the true citizen of the world — he is obliged to cling to so little, he can adapt to so much, he need adhere to no barnacled traditions, no mildewed observances. With Sir Harold the excess of caste feeling was aggravated (at least till his wife came into an inheritance) by the shortage of money. Earlier Sir Harold could only groan, and he and his wife scrape and retrench, even though—it is their son speaking — "they were running three houses . . . and they had two secretaries, a cook, a lady's maid, a chauffeur, a valet and three gardeners." All this keeping up with their ancestors meant putting up with very grubby methods of moneymaking. Grinding out chitchat for the Evening Standard, tangling with the House of Morgan, reviewing books in trains, at home, in the House, living through lunch in Springfield, Massachusetts, made for something very abrasive to Sir Harold's French-laundered reflexes.
But there was quite plainly a Harold Nicolson of wit and vivacity, of talent and taste, and of sympathies born of something principled rather than predetermined. And if one bangs away at his snobbish and squeamish side, it is because it so vitally colors, and discolors, his book; so much gives to the annals of an eventful era the accent of a petulantly privileged world. This, to be sure, is not all loss; indeed, it furnishes us, aware already of his many other roles, with one Harold Nicolson the more, with one whose self-avowals have their notably human value. Sir Harold is the first to confess to the hard choice that must be made between principle and ambition. With him, however, the choice does not appear, as it were, so clean-cut; what seems amiss is less the large central conflict between ambition and principle than the jostling of one ambition against another. Yet it is quite understandable: the multiplicity of endowments alone, without regard to the scarcity of money, might conspire to make Sir Harold feel a little bit nowhere from taking him everywhere.
There is certainly in the Diaries an element of real self-scrutiny, full of honest insight or self-depreciatory self-commiseration. There are also, at times, bits of moralistic i-dotting, and of I-patting ("I do detest cruelty in any form") as well. But all this constitutes one of the ultimate merits of candid self-portraiture; and we must remember that though we are encountering all this in print, it was set down in privacy. About the whole thing, furthermore, there is a wonderful freedom from cant: unlike a Henry Adams, Sir Harold never pretends to gag over the silver spoon. In the light of his temperament and training, he is doubtless the kind of product that only the very exceptional man will refuse to be. If we must still feel that at his worst Sir Harold is like Emily Post without her capacity to grow, he is no less a kind of born-out-ofseason enlightened and civilized Whig. If the era helped turn the man of birth into a diner-out in blatantly smart society, the man of parts into a species of Official Biographer, we can scarcely argue that he should, instead, have invited his soul or cultivated his garden. He was a foreordained man of the world, which he plainly wanted to live in as well as write about; and he is more interesting and rewarding than other "aristocrats" of his age if only because he is more interested and aware. Following her temperament no less, Miss SackvilleWest remained at Sissinghurst, to which Sir Harold, who lived in London, came only for weekends. But they wrote constantly to each other; and however unorthodox, their relationship bears all the postmarks of a happy marriage.
Very possibly the Diaries and Letters, which will extend to three volumes of selected material, and which Sir Harold insisted to his son were not written for publication, will have a continuing value as a both on-stage and behind-the-scenes chronicle of events and occasions, and a continuing interest for the gallery of personages in them, the stream of talk and winds of doctrine. But we must wait for the later volumes to know. In this first volume there are no major revelations or even incisive portraits of major figures; rather, there is much that portrays the confusions of the time, much that was shady in advance of what would prove heroic, and chic and trivial in a decade that has come to signify drabness and want. Diaries and memoirs such as these have been, of course, an upper-class tradition in England from as far back as Bishop Burnet and Lord Hervey; the solidest of them all, and one very relevant to Sir Harold's for its correspondingly large social and political opportunities, is the nineteenth-century Greville's. But it would be quite unsound to bring Sir Harold into comparison with Greville, whose Memoirs were indeed his lifework, and who dined out pen rather than fork in hand. The overriding reason, however, is that with Greville what counts most is the history we imbibe, and with Sir Harold the sellhistory. Yet the self in Sir Harold speaks in many ways for many similar Englishmen, more than one of whom, I venture to think, darts in and out of the pages of this often engrossing book.