Mystery in the Countinghouse
As in his study of Republican finances in the April ATIANTIC, Mr. Pincus here examines the Democrats' bookkeeping and comes up with some questions that are as interesting as his facts about the party's money matters. The author has reported Washington affairs for nine years, and for three years has focused on political fund-raising and spending. He is editor of "Potomac."the Washington POST'S Sunday magazine.
by Walter Pincus
WHY should I contribute to them?" a New Yorker growled at me during the 1964 presidential campaign as we both stood on a curb watching candidates arrive for a political street rally. "They'd just stuff it in their pockets. You know," he confided, "they're all a bunch of crooks."
New Yorkers are not unique in this country. The image of politicians as corrupt has been deeply etched in the American mind —— and it's the attitude that works most against any candidate who seeks campaign funds from the average voter. This reluctance to give money to politicians, combined with rising campaign costs, makes fund raising the major single problem facing almost every candidate for public office.
Against this background it is sad to report that the Democratic Party in recent years has done more rather than less to increase the public's already grave doubts about honesty in the handling of political money. Four times since 1964 the President's party organization has been involved in embarrassing "exposés" of its fund-raising efforts: heavy promotion of the $1000-a-membership President's Club (the Budweiser, Brown & Root, and California right-winger incidents being the most recent); the $15,000-a-page corporate advertisements in the 1964 convention program, which were, despite criticism, brazenly repeated in the 1965 $15,000-apage movie premiere book; and stories of the $10,000-per-couple invitations to participate in the White House social whirl — though denied — which worked along with the others to harden attitudes toward political giving.
Making matters worse have been the headlined inquiries into the Washington activities of former Senate Majority Secretary Robert G. Baker and Senator Thomas J. Dodd of Connecticut. Both men, it has been alleged, used political funds for personal expenditures, and both as Democrats have been directly linked through friendship to the President. The press and the public have always had severely limited knowledge of party finances, shaped mostly by sensationalized stories. What is new and most disturbing in today's situation is the growing cynicism of professional politicians and donors who have attempted to follow the handling of Democratic Party funds in the past three years.
From the beginning of the 1964 presidential campaign year, through midsummer, 1966, $20 million or more have passed through the Democratic treasury — in the form of cash, checks, and bank loans. Yet despite the requirements of good business practices and state and federal laws regulating the reporting of contributions, less than a handful of persons know how it all was raised and spent. The professional "pol's" normal hesitancy to speak of campaign money was carried to its extreme during this period by the Democrats' former treasurer Richard Maguire, who not only refused to talk with newsmen, but made it a practice to keep his own counsel even within the party hierarchy.
As a result, there are some severe strains within the party organization created by the distribution of political funds. For example, the Democratic National Committee, which has had problems collecting its share of state fund-raising dinner proceeds since Maguire's departure, now requires local politicians to turn over 50 percent of the gross receipts before the President arrives to speak at a function. In addition, the status of various accounts and programs worth tens of thousands of dollars has been hidden while the party's legal campaign-fund filings under the federal Corrupt Practices Act have been both incomplete and inconsistent, creating a large credibility gap.
While the press frets over this tarnished public record, the professional politicians are quietly shaking their heads over a series of behind-thescenes fund-raising problems. The Democrats destroyed a major source of state and local campaign money by inspiring Congress to pass a law specifically denying a business tax deduction for corporations purchasing ads in political program books. Such political ad books have been the mainstay of local party financing. On the national level, they had been considered outlawed by federal statutes which bar corporations from contributing directly or indirectly to federal candidates. The new legislation was a direct response to the two Democratic ad books. Most of the corporation purchasers in one or both books either did business with the government (such as top defense contractors General Dynamics, and Douglas and Lockheed aircraft manufacturers) or operated under federal regulation (such as Continental and Pan American airlines or Union Pacific and Southern railroads).
The 1964 Democratic convention-program ad book raised $1.75 million, and the second book, linked to an ambitious program of nationwide fund-raising movie premieres, collected about $1 million worth of ads. No reports have ever been made public concerning the distribution of the funds raised by either book. Democratic Party chairman John Bailey said any funds raised by the program book in excess of the 1964 convention costs would be used for "educational" purposes. Early in 1965, well after the election, it was disclosed that one 1964 "educational" project was the supposedly nonpartisan National Council for Civic Responsibility, a group headed by Arthur Larson and organized to combat right-wing groups during the presidential campaign. Some $50,000 taken in by the convention book was passed on to the Larson group. using a Washington-based foundation, the Public Affairs Institute, as intermediary. What was done with the remainder of the 1964 money has never been disclosed, though rumors have circulated —and been denied — that funds were channeled into the South to support Negro registration drives by civil rights groups.
Proceeds from the 1965 ad book, said to total more than $600,000, have rested for almost a year in a New York City bank. Originally the money was to have been distributed among Democratic congressmen participating in the fund-raising premiere program. However, when adverse publicity indicated such corporate money might find its way into congressional campaigns, President Johnson stepped in and asked that a new plan be developed. Negotiations with the American Heritage Foundation for a bipartisan registration drive to be financed with the ad book money fell through.
In 1965, the Democratic National Committee took another fund-raising step that made professional politicians wonder. Together with the Democratic House and Senate campaign committees, the national group sponsored a $100-aplate congressional fund-raising dinner. The purpose of the affair was to pull together an early war chest to get a head start on the 1966 election. Proceeds of the dinner were to be divided equally among the three sponsoring groups. A dinner committee was established, and by tradition it was to receive the funds. At least that was the understanding of the two Hill committees.
The dinner was a big success, with the party controlling both the White House and the Congress out selling tickets to every interest group and constituent it could reach. On the night of June 24, 1965, more than 8000 people crowded both the D.C. armory and the new Washington Hilton Hotel. However, July and August came and went, and the Hill groups expectantly awaited their share of the receipts. In September they learned that the national committee had taken the money as its own, using the Hill committee's share to finance their ambitious movie-premiere program.
Unhappiness on all sides led to a complete separation of Hill fund-raising efforts from those of the national committee. Though the President spoke at this year's congressional dinner, the solicitation and handling of receipts were controlled entirely by the Hill.
THE Democratic Senatorial Campaign Committee, headed by Commerce Committee chairman Warren Magnuson, expects to give $10,000 to each Senate candidate this fall. In addition, it provides to incumbent Democrats funds for air travel and limited public relations activities. The House committee limits its candidate aid to funds—anywhere from $500 to $2500 —for Democratic candidates depending upon need and the whims of a leadership group headed by Michael Kirwan (D., Ohio). Both groups also serve as conduits through which various interests, such as the trucking industry, channel contributions they do not want traced directly back to the donor.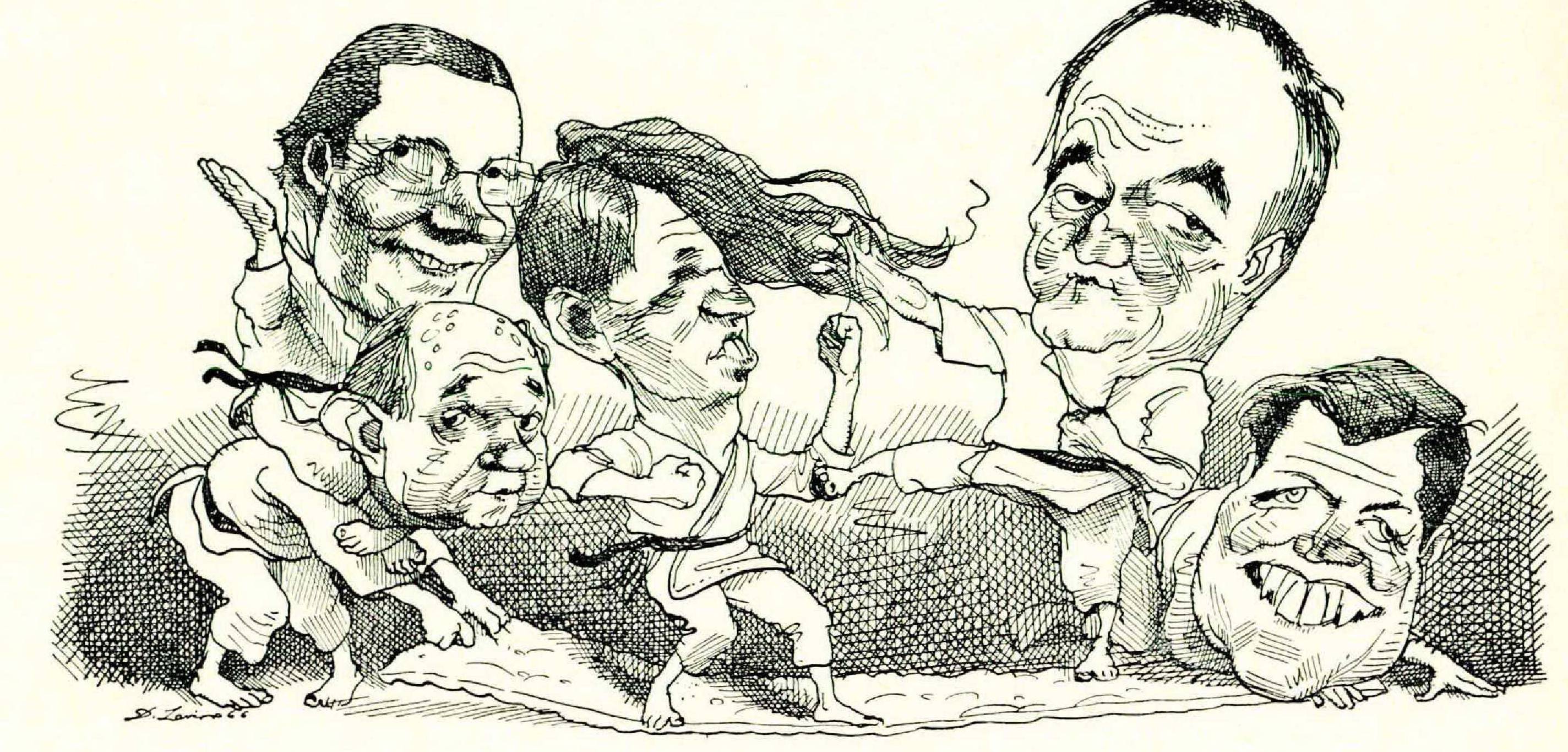 The Democratic National Committee, in its publicized statements, has said it hopes to raise funds this year for its own distribution to selected House and Senate candidates. The figure most often mentioned is $1 million —equal to the combined resources of the Hill committees. Though officials are quick to say that all party contributions will be coordinated, candidates will be forced to make separate pleas to each committee.
What really has the professionals shaking their heads, however, is the Democrats' so-called 1964 campaign deficit. According to top party aides, there was only one period prior to election day, 1964, when the shortage of money was made an issue among those directing the campaign. "It was October at the time of the final big payment for television time," one official recalled recently. Other than that moment, however, the JohnsonHumphrey campaign appeared to have had no money problems. In fact, some veteran politicians still remark about the unusual $20-per-diem payments to workers, always in advance and always in cash. And those cash payments were not limited to party employees. When White House staffers traveled with the President, they too were reimbursed in cash, their payments coming from the Democratic National Committee through the White House finance office. One career employee in that office later remarked that it was the first time he had ever seen cash passed out to presidential assistants in this manner.
At the Democratic National Committee meeting held during inauguration week in January, 1965, party officials called their deficit from the recently concluded campaign modest, "in the neighborhood of $1 million." Against the 1960 Kennedy record deficit of $3.8 million iL seemed modest. Perhaps to illustrate their lack of concern, the Democrats turned the inaugural gala — traditionally a $100-aperson fund-raiser —into a free show for the $1000 President's Club donors of 1964. Treasurer Maguire, in his three-minute report to the national committee, advised them to enjoy themselves — and promised them an audit of the party's financial position. Twice during that meeting Maguire was given a standing ovation.
Yet less than six months later, while the national committee had under way ambitious and costly programs in support of freshman congressmen, news stories quoting Democratic officials cited a $2 million debt from the 1964 campaign. In December, Maguire resigned, and in late January, 1966, a top party official told a private press group that the 1964 deficit was over $3 million. A year and a half after the campaign, he said, bills were still coming into Washington for payment. In June of this year, President Johnson himself told a President's Club meeting in New York at an off-therecord session that the party was over $4 million in debt when he was inaugurated in 1965.
Recalling past statements and even sworn reports filed with the Clerk of the House pursuant to the federal Corrupt Practices Act, professionals now are giving little credence to these "deficit" stories. In the past three years, the party has played fast and loose with figures. For example, early in 1965 the Democratic National Committee reported that it spent $900,000 more than it received during the first five months of the year. Despite the fact that this was money actually paid, not owed, party officials called it a deficit. When pressed, they said it was an accounting problem. Just recently, Cliff Carter — who briefly replaced Maguire as party treasurer only to retire suddenly — said that such excesses of payments over receipts were made up by loans. He added that under his interpretation of the campaign-fund reporting laws, loans do not have to be listed as contributions. Justice Department officials disagree with him.
If there is no 1964 deficit, why have the Democrats made one up? The answer to that rests with the traditional problem of raising money for a national committee during a nonpresidential election year. During 1965, the Democrats were unable to get enough money to operate at the levels they had programmed. The President's Club, which provided over $4 million in 1964, reportedly was good for less than half that much one year later. And although the party had been successful in wooing the big donors, it had lost touch with its little contributors. In fact, a 1965 contest designed to stimulate $10 donations was such a failure that it would have been dropped except for press inquiries. The winner, when finally named, turned out to be a Washington labor official who also works for the national Senior Citizens Council, a group which in 1964 and 1965 was financed in part by Democratic National Committee funds.
Under these circumstances, a 1966 appeal for funds to pay off debts incurred in 1965 would have little chance for success. The professional donors, like the professional politicians, this year have their eyes and money on congressional races. The only broad solicitation for support to aid the national party would have to be made on the basis of the last national election, ergo the growing 1964 deficit.
IF there is a certain cynicism and duplicity characterizing the Democrats and their campaign financing, the sources rest with two individuals. Few men have left an important Washington post with less public notice, having personally had a greater impact on the American political scene, than pink-cheeked Richard Maguire. It was in character that the announcement of his resignation last December came late one Saturday afternoon when the Sunday papers were already filled with news of Vietnam and a Gemini space flight.
Before Maguire, a Boston lawyer, became party treasurer in 1962, Democratic finances had been disorganized and primarily dependent upon 50,000 small contributors and a handful of wealthy liberals. He took the informal $ 1000-a-membership President's Club — formed in 1961 under John F. Kennedy to help pay off his 1960 deficit — and turned it into the prime source of party campaign money. He instituted benefits to these big contributors: a personal handshake with the Chief Executive at a cocktail party, a signed picture, access to Administration officials on problems, an invitation to a White House social function, special treatment at the convention, and private luncheon briefings from Cabinet members.
When the President's Club became successful, Maguire turned to another technique, the political ad book. Though his predecessors had dropped ad books in 1940 after passage of a federal statute aimed directly to prevent the practice, Maguire went right ahead and successfully promoted the convention program book. With the assistance of others, particularly former White House appointments secretary Kenneth O'Donnell, Maguire also developed an organized method for soliciting government employees for $100-a-ticket Washington fund-raising functions.
For Maguire, the job of treasurer was a very personal task, and few, if any, were privy to his handling of fund records. His unconcern for the public's interest in such matters is apparent in the filings of committee records, required under federal law made during his term of office. Names were often misspelled, contributors were studiously listed out of chronological order, and figures occasionally failed to add up. For example, on November 17, 1965, the Johnson-Humphrey Committee (under Maguire's control) closed out its activities with a transfer of $8000 to the Democratic National Committee. That committee (also under Maguire's direction) never recorded receipt of those funds.
While things were going well for the party, these matters were overlooked. But when public criticism developed over the ad books, and Hill leaders complained over their lost dinner money, and civil servants complained about being pressured, the character of Lyndon Johnson began to assert itself.
"President Johnson," one of his key aides said during the 1964 campaign," is trying to stay as far away from campaign funds as he can. Do you know he will only take large contributions from personal friends? He won't take them from people he has never met before. They have to go to Walter Jenkins or Cliff Carter." The reason was simple. Lyndon Johnson had been hurt by the Bobby Baker scandal, and he didn't want to get close to anything that might turn into a scandal.
He began to get uneasy over Democratic money early in 1965. A newspaper story appeared in April saying that the Democrats had not paid for use of the presidential plane during the 1964 campaign. Within hours after the story appeared, a check for $149,019.69 was hand-carried to the Treasury Department from the Democratic National Committee. Maguire had been called in from vacation to take care of the matter. Other criticisms were voiced, not only of the second ad book but also of Maguire's general handling of funds. The President requested an audit of the party treasury — the one Maguire had promised in January had never appeared. The failure of the 1965 drive to raise enough for the party's expanded activities did not help Maguire at the White House. And the President's fall illness, which forced cancellation of two fundraising appearances, cost the party nearly $1 million.
Maguire's resignation from the committee had long been rumored. Immediately after the 1964 election, friends said he wanted to pick up his Boston law practice. The President's inability to get a successor— specifically United Artists President Arthur Krim—led to Maguire's staying on through 1965. The disappointing fund-raising results of last year, combined with the costs of the ambitious public relations programs undertaken for Democratic freshmen, and adverse stories on Democratic money, made Maguire's position at the committee uncomfortable toward the end. Nevertheless, he has a warm letter from the President which will look impressive on the wall of his law office. In the wake of his leaving, however, his former colleagues are more and more openly pointing to him during talks about the money mess.
Since Maguire's departure, the President for the first time since he took office has come out with a campaign-fund reform bill. And while he takes the legislative high road, his aides quietly indicate that much of the old secrecy and obscurity in Democratic fund handling was part of Maguire's system. A close check of the record today, however, leads to almost as many unanswered questions. A Texas friend of the President's is listed with his wife as contributing $8000 to the party this year. Asked to confirm how much he gave, he counters, "How much docs the record say I gave?" When told he is reported as giving $8000, he replies, "If that's what it says, that's what I gave."
The final irony of the recent course of Democratic fund-raising is that under Maguire during the Johnson Administration, the party took steps toward the only realistic reform that will solve the dilemma of money for politics. While traditional reformers have called for broadening the base of party financing, Maguire — who faced the task of raising adequate rather than ideal funds — went to the larger rather than the smaller contributors. And he turned directly to the corporations in the ad books rather than going through receiving contributions from individual corporate officials.
The Republicans have been quick to recognize Maguire's genius. In late 1964 they formed a $1000-a-membership congressional Boosters Club, which provides limited services to donors. Though it can't produce the President, the Boosters can hold off-the-record seminars featuring top GOP leaders. As a fund-raising program it has been enormously successful. In addition, the Republican House leaders were quick to put together an ad book of their own in 1964, soliciting the same corporations that bought ads in the Democratic book. In 1965, plans were under way for a second Republican book when Congress passed the law preventing tax deductions for such ads.
Big individual contributors, corporations, and unions — like it or not — are the present-day financial constituents of political candidates. The federal statute books contain a variety of sections aimed at controlling their solicitation and expenditure of campaign funds raised from them. For the most part, however, these laws are the result of pious reactions to some campaign-fund scandal. They make it harder to raise funds, but contain loopholes large enough to permit their evasion by all but the meticulously honest.
Maguire knew how to reach the real money-men. and by keeping their funds in the states he protected them from disclosure under current fundreporting laws. His methods may not have been the way reformers would have liked to have it done, but then Maguire never claimed to be a reformer. He knew political campaigns are not financed like ordinary businesses. You are measured only by whether you win. You get no additional votes if, after Election Day, your books balance or you have a surplus.
And if the problem of campaign financing is ultimately to be met, the answers will have to come from politicians such as Maguire, not from persons bent solely on reform steeped in the traditional "all politicians are crooks" attitude. Ways will have to be devised to permit today's contributors — big donors, corporations, and unions — to play their roles publicly. And in that vein, perhaps Maguire was way ahead when he brought back the political ad book. Legalized, the ad book presents a much stronger fund-raising potential than does the current proposal to give deductions for individual contributions of up to $100.