Competitions Here and Abroad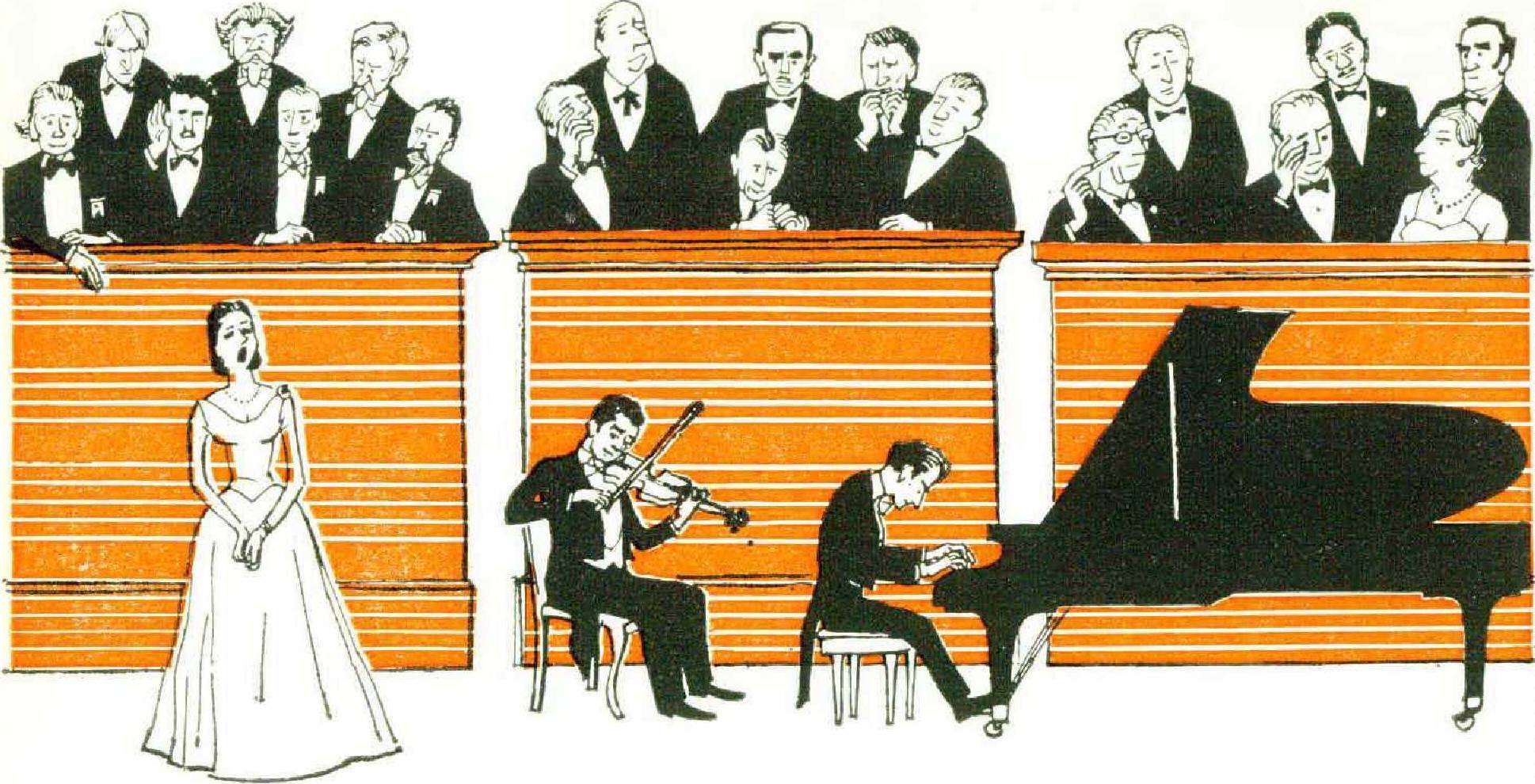 The shortest line for an American seeking musical fame and fortune runs from here to Moscow and back again. This axiom, which might be called Cliburn's Law, has just been reaffirmed by an attractive young woman named Jane Marsh, who decided only three years ago that she wanted to be a singer, and who right now confronts as promising a future as any soprano in the business.
This sudden upsurge is due entirely to Miss Marsh's winning first prize last June in the vocal division of the Tchaikovsky International Music Competition in Moscow. In so doing she became the first American to win the top award in the Moscow competition since Van Gliburn in 1958. Cliburn's victory also made him a celebrity overnight, but he had considerably more of an advance reputation than Miss Marsh. She had sung a few important dates, such as the opening concert of the Boston Symphony's 1965-1966 season, for which Erich Leinsdorf invited her to appear in Beethoven's Ninth Symphony, but to the musical public at large she was a virtual unknown.
Now, in the few months since Moscow, she has signed a recording contract with RCA Victor, declined a contract with the Metropolitan Opera (which she regards as "premature"), accepted an invitation to return to Russia for a concert tour next season, and in general has been offered so many engagements to sing in the United States that her agent, Columbia Artists Management, Incorporated, can hardly keep track of them.
Miss Marsh is brown-haired, blueeyed, pretty, and stands five feet eleven, although she is so neatly proportioned that she does not convey an impression of undue height. She is a San Franciscan by birth and an outdoor girl by inclination, competing in swimming meets and giving rodeo-riding and roping exhibitions on her own colt, Sandy, in Western horse shows. She is taking her musical eminence with cool selfassurance. She hesitated a bit when asked whether she thought that musical competitions, which, after all, have been going on in one form or another since the Greek Olympic Games, were a good way of uncovering talent.
"I don't know whether they are a good way, though they certainly are a way," she said as she sat in a Chinese restaurant on Sixth Avenue not far from her New York apartment and consumed a thoroughly American steak dinner. "The trouble is that they can't be completely fair. Sometimes those who place one, two, and three are very close together, and yet ail the recognition goes to the number one winner. Another thing is that there are two kinds of people psychologically, the competitor and the performer. Very seldom are both combined in the same individual. Essentially I'm a performer, not a contestant. But I've trained myself to think of auditions and competitions as performances, and to imagine that I really am giving a performance up there."
The Moscow competition is split into four divisions, with separate contests for singers, pianists, violinists, and cellists. Whatever else it may disclose about a contestant, it certainly explores his stamina to the full. All the vocal entrants had to undergo three separate rounds of tests. In the first (in which seventy of the original one hundred starters were eliminated), each contestant was asked to sing (a) a folk song from his own country, (b) a Russian folk song, (c) a standard aria selected from a list of thirty, and (d) a seventeenth-century aria.
In the second round, the requirements were (a) a vocalise written expressly for the competition by a Soviet composer listed in the program as S. Oorbach, (b) two more Russian songs selected by the contestant, (c) an aria by a modern composer selected by the contestant, and (d) a Russian aria chosen from a list. The final audition was made up of (a) a repetition of the Russian aria, (b) a "grand scene" from an opera or a song cycle with orchestra, and (c) a modern aria.
Everything had to be sung in the language in which it was written, and the time intervals between the rounds, while they varied, were minimal (Miss Marsh's schedule worked out so that she had four days between rounds 1 and 2, but only one between rounds 2 and 3). A large public audience was always on hand, and applauded the contestants generously. The panel of twenty official judges was also friendly; Miss Marsh says that many of them phoned her to congratulate her on her twenty-fourth birthday, which she celebrated during the competition. Mr. S. Oorbach, the composer, also called her to say how well she had sung his vocalise. Although she had only three numbers in the final and decisive round, Miss Marsh recalls that they made for some forty minutes of singing, consisting of Tatiana's lengthy letter scene from Tchaikovsky's Eugene Onegin, Desdemona's Willow Song and Ave Maria from Verdi's Otello, and "Ain't It a Pretty Night" from Carlisle Floyd's Susannah —an American work totally unfamiliar to the Russians, but one which they appeared to enjoy.
After returning to this country, Miss Marsh went almost directly to the Berkshire Festival at Lenox, Massachusetts, along with two other American contestants from Moscow, Veronica Tyler, a soprano who took a second place, and Simon Estes, a bass who took a third. There she had a joyous reunion with Leinsdorf, one of the first major musicians to recognize her talent. "He said he was as thrilled as if I were a member of his own family," Miss Marsh said.
At Tanglewood, thousands of people, not to mention a goodly number of critics, had their first chance to hear Miss Marsh sing. Her voice is one of utter purity, with plenty of strength behind it, and she has a natural gift for languages, speaking fluent German and Italian, and picking up enough of a Russian accent in her Moscow stay to impress the judges there. At Tanglewood she gave every sign of a singer poised on the verge of a notable career.
Nevertheless, her situation is somewhat different from Van Cliburn's in 1958. When he returned in triumph he had only to tour the United States playing his two Moscow prize winning pieces, the Tchaikovsky B-flat Major Concerto and the Rachmaninoff Third; indeed, there are those who complain he has played little else since. Miss Marsh obviously cannot go through life repeating the letter scene from Eugene Onegin and the Willow Song from Otello (both of which, incidentally, will be on her first record for Victor). She is an opera singer and belongs on the stage, which is where she intends to go. A great many people will be listening with curiosity when she gets there, for with Miss Marsh, as with most others, the big question is not what happens at competitions, but what happens afterward.
Two recent cases in point are those of Itzhak Perlman, an Israeli violinist, and Ralph Votapek, an American pianist. Perlman, who is only twenty years old, represents a reverse trend in musical competitions, for he found his prize by journeying to the United States rather than by leaving it. American musical competitions have been flourishing for a good many years, even though few except musicians have been aware of them. One of the most prestigious is the Leventritt Competition, held annually in New York since the early 1940s; its cash award is only $1000 (Moscow pays 2500 rubles, the equivalent of $2800), but it guarantees its winner appearances with five orchestras, the New York Philharmonic, the Cleveland, the Pittsburgh, the Denver, and the Buffalo. Fees for these concerts vary, but a Leventritt winner can expect enough additional engagements to give him about a year's work in the nation's concert halls. Cliburn won the Leventritt in 1954, four years before he went to Moscow.
The Leventritt limits itself to one instrument a year (usually the piano or the violin), and it attracts a somewhat smaller field than the Moscow Tchaikovsky, though often a very distinguished one. When Itzhak Perlman won the final round in 1964, he triumphed over eighteen highly skilled competitors.
Perlman, for all his youth, is an old hand at competitions. His original trip to America resulted from one, for he was a lad of thirteen in Israel when he participated in a talent contest whose winners were packed off to the United States for appearances on the Ed Sullivan television show. Perlman came over as part of a package that also included a folk-dance troupe, a soprano, a team of duo-pianists, and a hand-shadow artist. He has remained in America ever since, studying, working, concertizing. As a child, Perlman was afflicted with poliomyelitis and was bedridden for a year. The disease left him with braces on both legs, so that he walks with two canes and plays his concerts sitting in a chair.
The young man had the misfortune to make his first Carnegie Hall appearance during one of New York's recurrent newspaper strikes; consequently his debut went unreported. His Leventritt triumph, on the other hand, became page-one news — not as a tribute to its musical importance, but because his Guarnerius violin was stolen backstage when he put it down for a moment to accept congratulations (it was recovered the next day in a nearby pawnshop).
Perlman, a handsome, personable, curly-haired young man, is regarded by many authorities as one of the prospective great violinists of the generation ahead. Other violinists come to his concerts—always a sure sign — and he has a distinctively warm tone and formidable technique as well as youthful exuberance. He has signed a recording contract with RCA Victor and a managerial contract with S. Hurok; he has played in Europe and returned in triumph to Israel. Most significant of all, his American concert schedule is not only holding up but gradually expanding; in the third season after his competition victory he still is in demand.
Ralph Votapek's renown was established at the richest and most lavish musical competition ever staged in the United States, the Van Cliburn International Competition, held in 1962 at Fort Worth, Texas. Named in honor of Texas' most famous musician, the contest offered a first prize of $10,000, an unheard-of amount for such affairs. Money was put up by local sources, spearheaded by the National Guild of Piano Teachers. No fewer than forty-four contestants turned out, including pianists from France, Portugal, Japan, and four from the Soviet Union. The competitive quality was high and the excitement intense, with the top prize finally going to Votapek, a twenty-three-year-old American from Milwaukee. Along with the cash award to Votapek went the other almost inevitable cachets of success — the contracts with Victor and Hurok, a Carnegie Hall concert, an extensive recital schedule, and appearances with some of the country's greatest orchestras.
Before his victory at Fort Worth, Votapek had achieved a remarkable record in other competitions, starting with his student days at the Milwaukee Conservatory and carrying through three Midwestern contests as a youngster. Later on he was a finalist in the Leventritt and Mitropoulos competitions, and in 1959 the winner of the Walter W. Naumburg Award, entitling him to a debut at New York's Town Hall.
Votapek, who is especially adept in modern works, has amply proved his mettle as a competitor. But now, four years after Fort Worth, he is caught up in the even tougher rivalry of the concert world, where prodigious young pianists are plentiful, and where last year's award is not necessarily a shortcut to next year's booking lists.
Votapek's experiences so far, as well as those of countless other competition winners, raise such questions as whether the qualities which may impress a judge in a contest will necessarily register with the public, and even more important, whether such factors as growth, maturity, and the insight born of thought and experience can ever be checked off on a tally sheet. These are the matters which will really decide what place artists like the Ralph Votapeks, Itzhak Perlmans, and Jane Marshes are to hold, and on them the jury is still out.
Record Reviews
Beethoven: Piano Concerto No. 5 in E-flat, "Emperor"
Glenn Gould, pianist, with American Symphony Orchestra conducted by Leopold Stokowski; Columbia MS-6288(stereo)and ML-6288
Of the twenty-odd recordings of the Emperor Concerto in the Schwann catalogue, none is odder than this. The thirty-four-year-old Gould and the eighty-four-year-old Stokowski take the Emperor for a kind of romantic romp, making it sound by turns Schumannesque and Chopinesque — anything but Beethovenish! To add to the other burdens of the music, Mr. Gould sings his way quite audibly throughout. It's all rather irrepressibly— not to say ostentatiously — youthful; and considering the enormous basic talent of the participants, one is tempted to suggest they start all over again.
Berlin: Annie Get Your Gun
Ethel Merman, Benay Venuta, Bruce Yarnell, Jerry Orbach, and others, with orchestra and chorus conducted by Franz Allers; RCA Victor LSO-1124 (stereo) and LOC-1124 Age not only hasn't withered Ethel Merman, it has positively rejuvenated her. It was twenty years ago that she first appeared as Annie Oakley in Irving Berlin's lustrously melodic show, and here she is, singing as exuberantly and impertinently as ever in a recording made of the 1966 revival by the Music Theater of Lincoln Center for the Performing Arts. Annie Get Your Gun has always been one of the great shows for songs; it seems hard to realize that "There's No Business Like Show Business," which has almost become Broadway's national anthem, comes from the show and hence is only twenty years old. Other by-nowfamiliar items are "Doin' What Comes Natur'lly," "The Girl That I Marry," and "They Say It's Wonderful." There's also a frisky new number called "Old-Fashioned Wedding." All are sung perfectly.
Donizetti: Lucia di Lammermoor
Georges Prê'retre conducting RCA Italiana Opera Orchestra and Chorus, with Anna Moffo, soprano; Carlo Bergonzi, tenor; Mario Sereni, baritone; and Ezio Flagello, bass; RCA Victor LSC-6170 (stereo) and LM-6170: three records Lucia as a coloratura soprano showpiece is an operatic staple; Lucia as a musical tragedy is a dramatic rarity. This recording deliberately sets out to take the latter view: customarily excised passages are restored, characters are presented as human beings rather than vocal machines, a sense of musical frenzy is absent. Dramatically, the outcome is surprisingly successful: the Bride of Lammernioor becomes as pitiable a creature as Shakespeare's Ophelia, and even her villainous, debt-ridden brother takes on a vestige of human dignity. But all this is accomplished at a cost: Anna Moffo doesn't ignite the role of Lucia as brilliantly as some of her recorded rivals. Still, this is a Lucia different from all others, and one suspects that the differences may provide abiding satisfactions.
The Fugs' First Album
John Anderson, bass; Tuli Kupferberg, tambourine, maracas; Vinny Leary, guitar; Ed Sanders, tambourine, maracas; Pete Stampfel, guitar, fiddle, harmonica; Ken Weaver, drums; Steve Weber, guitar; vocals by all seven; ESP Disk 1018 (monaural only)
The Fugs, a group that is so far out it's in, represents the ultimate in the culture of the East Village, New York's newest citadel of the avant garde. What they have to say is provocative and sometimes unprintable (though not, apparently, unsingable), and they set it forth with a zeal that attracts fascinated audiences to their dingy playhouse. On records (this is a reissue of their debut release, dating from 1965) their musical shortcomings arc plainly apparent — no Bob Dylans, they — but it's the message, not the music, for which one turns to the Fugs. And if the message is essentially no more profound than the familiar complaint that things are tough all over, at least it's delivered with a gusto and cheekiness that score their points. Especially successful is a ditty called "Nothing," a masterpiece of total negation that has a certain poetic imagination and rhythmic life. Somewhere beneath all the din and denunciation there beats something, the only question being, what?
LSD
Interviews and recordings by Lawrence Schiller; medical consultant, Sidney Cohen, M.D.; Capitol STAO-2574 (stereo) and TAO-2574
The Psychedelic Experience
Readings from the book " The Psychedelic Experience," by Timothy Leary, Ph.D., Ralph Metzner, Ph.D., and Richard Alpert, Ph.D.; Broadside BRX-601 (monaural only)
Recorded documentaries have discovered lysergic acid dyethylamide, the controversial mind-stretching drug. Broadside's The Psychedelic Experience is a flat statement of advocacy, but delivered in so dry and draggy a manner as to make the whole experience seem remote and abstract. Capitol's LSD, however, brings it close to home, with its sounds of contorted jazz music, giggly girls, and generally disjointed testimony by youths back from an LSD "trip." ("Trip" is the accepted word for a psychedelic experience, and those who peddle the drug are called, logically enough, "travel agents.") Naturally, the general atmosphere often is weird and unreal, but there are some humanly shattering moments, as when a teenage girl, asked whether her mother knows she takes LSD, answers: "Yeah, she knows everything. I don't have to hide anything from my parents. They're not that way. . . . We have a very good relationship. We don't love each other, but that's OK. Y'know?" This obviously isn't a record for relaxed listening, but it casts light on an important and disturbing problem.