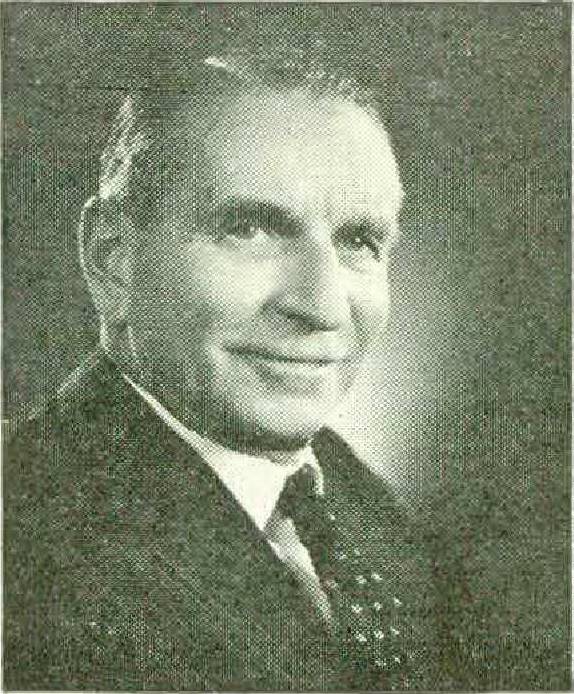 BY EDWARD WEEKS
WITH several hundred thousand others I belong to a small club known affectionately as "We Happy Few in Gander." People began joining WHFIG early in World War II when the transatlantic seaplanes found it necessary to refuel in Newfoundland and lit on Gander as a haven of comfort and relief. Membership from the outset was signalized not by a striped tie but by a Short Snorter, a dollar of the old-fashioned size, on the blank surface of which other members inscribed their names. When one greenback was covered, you simply pasted another to it with Scotch tape and kept on collecting signatures. Much-traveled members like Edward R. Murrow or Air Marshal Peter Portal must have had Short Snorters of prodigious length. I wonder whatever became of them.
The club included the airport and the rambling hamlet of Gander, and there was nothing as imposing as the Century or the Pacific Union Club in either. The few dwellings wore a disconsolate air, and on one lawn, if such you could call the stubble, reposed a bathtub which I noticed on my first visit and again on my second and third. Could it be the same tub, planned for a spring planting of nasturtiums, or had the owner taken out a trial subscription to Crane Plumbing?
As a comfort station Gander was, let's face it, rudimentary: the toilet facilities were so primitive, if I remember rightly, that there were not even partitions between the single-seaters. Not until late in the war was there a hideaway providing comfort, steak, and liquor for the V. I. P.'s, appropriately referred to by the G.I.'s on the base as "Hotel De Gink."
But no other club in the world ever generated more relief than Gander. The flights originating in America usually took off at Baltimore, and those aboard who were making their first Atlantic crossing often began with a queasy fear of airsickness. But by the time we coasted into Gander they had gained confidence, and were in the act of gaining the goodwill of their British compatriots. At Baltimore the British entered the cabin of the plane with their prehistoric hauteur; they were loaded down with food parcels and bulkier objects wrapped in brown paper containing their gold-visored hats, their swords, and other accouterments of war which they could not wear as they passed through the neutrality of Eire. They made straight for the corner seats — in a corner you could ease your shoulders into a sleeping position; they appropriated just as much space as possible, and then slowly began to thaw. By Gander they were treating some of us with the civility one finds on St. James's Street, a softening up which was accelerated by the steak dinner served in the airport barracks.
However hot Gander might be in midday in July, when at dusk we were aloft on the long leg between Gander and the River Shannon, the unheated, nonpressurized cabin at 18,000 feet became zero-cold. One skimpy narrow blanket was allotted to each pair of passengers, and on my initial flight afforded precious little warmth for me and my immaculate English seatmate, the economist Henry Clay, as we sat bolt upright, shivering and snatching at the inadequate strip.
"Mr. Clay," I said finally, "have you ever heard of the American custom of bundling?"
"No," was his reply, "I can't say I have."
"Well," I said, "it's a method of heating once practiced in the Colonics, and the first step is to remove your shoes —"
We did so, then lay side by side in reverse positions, head to feet, pulled the cover on top of us, and in moments were asleep.
"Jolly fine that!" he said when we came to.
For all members of WHFIG who came down on the Shannon estuary there was a special dispensation in the form of Irish bacon and two or three fresh eggs, the last to be had in a long time. We were the first of seven seaplanes to land at Limerick on one unforgettable morning, the last three coming in from the British Eighth Army in Libya, and the dining room was full of masculine banter as the relays went to work on those eggs. Then the purple clouds which had been lowering at us like a Victorian painting opened, and before the marmalade was finished, the downpour drowned out any hope of reaching London that day. It was announced that we would be taken by bus to different hostelries in Limerick and Foynes, and as the allocations were made, Archibald MacLeish, who was one of our company, was badgered by his table: You're a poet, they cried, and now that you are going to spend the night in Limerick, you should give us a new one for the occasion. It was not long in coming:
There was a young lady of Foynes,
An ardent collector of coins,
She took threepenny bits
With the quick of her wits
And pounds with the quick of her loins.
MacLeish was a proper member.
BLACK RULE GONE MAD
It is one of GRAHAM GREENE'S many gifts to make a story so plausible in its disreputable and dangerous setting that we follow every lead of his characters eagerly and with apprehension. He prefers the Latin countries of the South because of their corruption, naked power, and unlimited pretense. His new novel, THE COMEDIANS (Viking, $5.75), has been placed in Port-au-Prince at a moment when Haiti is in the hands of Papa Doc, a dictator who has frightened away the tourists, expelled the Western diplomats, and now intimidates his own people with the cruelty of his secret police. For style, irony, and invention few living writers can hold a candle to Mr. Greene when he is at his best, as he surely is in The Comedians.
Haiti under such a regime is black rule gone mad. Into this nightmare ventures a handful of passengers from a small freighter, some as innocent as Mr. and Mrs. Smith, the American zealots, and at least one Mr. Brown, part Englishman, part gambler, who has no illusion about what he is stepping into. The Smiths are vegetarians — he stood as presidential candidate and polled ten thousand votes against Truman — and both are dedicated to the belief that what Haiti most needs at this moment is a vegetarian center, for which they have collected a meager fund. (Few English writers can portray Americans, but the Smiths are drawn to a T.) With their absurd food and their blind faith in the future they would be laughable were it not for their courage and their unconquerable loyalty to each other. To offset their innocence there is the self-styled "Major" Jones, who hints of his military exploits in an improbable way, and Mr. Brown, the narrator of the story and a charmer, who in his shrewd disenchantment gives color and credence to whatever happens. These are the comedians.
Brown, a man to remember, got his start in Monte Carlo, where his mother was a high-priced courtesan and his father reputedly English; with impeccable French and good luck he has lived on his wits until middle age in England, bluffing his way as a waiter into a soft berth in the Trocadero and later parlaying a tidy profit from the sale of phony drawings to suburbanites. Luck was still with him when a postcard from his mother in distress brought him to Port-au-Prince, where it seems she had been running a tourist trap known as the Trianon. When it became his, he set out to make it the best hotel on the island, and was well into the black when Papa Doc's tyranny rubbed out his fortune and his safety. Now he is returning, having failed to unload his hotel in New York and because of his love for his mistress, Martha. Brown is shrewd in his suspicion of human nature, obstinate in the tough questions he puts to the police, always deprecating his loyalty to Martha, and resourceful when desperate; a superbly drawn character.
ART OF RETELLING
The art of retelling the exploits of the great discoverers — and in ALAN MOOREHEAD'S hands it is an art — depends upon the faithful assimilation of the original chronicles, the selection of what is most revealing and dramatic, and finally, in striking a fair balance between our hindsight and the contemporary reaction. In THE FATAL IMPACT (Harper & Row, $5.95) Mr. Moorehead has highlighted the penetration of the Pacific over a period of eighty years, from the late 1760s to the 1840s, choosing in three areas — Tahiti, the temperate east coast of Australia, and the South Polar regions — "that fateful moment when a social capsule is broken open, when primitive creatures, beasts as well as men, are confronted for the first time with civilization."
When Captain James Cook sailed the Endeavour into Matavai Bay on April 13, 1769, the Tahitians were probably happier than they were ever to be again. It was not the first time they had encountered white men. Bougainville had touched there briefly only two years before, but Cook, his scientific companions, and his crew were to be there three months, living ashore and entering into a social compact which was to have profound effect. Cook, who began life as a farmer's boy and grocer's assistant, was twenty-seven when he joined the Royal Navy, and a well-ripened forty when he commanded this, the first of his three uncharted voyages. He was a masterly navigator, a man of great common sense, trusted and followed by his crew. "He was a big man," says Moorehead, "with a tight and determined mouth . . . but the eyes are patient and understanding . . . and always when he is dealing with coloured people he is without prejudice." With him on the first voyage went a wealthy young botanist, Joseph Banks, with the likable manners of Eton and Oxford, and money to pay for part of the expedition; and among his retinue were a Swedish doctor, a pupil of Linnaeus, two artists, two Negroes, and two greyhounds.
They found the Tahitians people of uncommon beauty, the women generous, and the days idyllic. True, the Polynesians were light-fingered and could and did steal almost everything — watches, compasses, firearms — but Cook was severe about this, and the missing objects were eventually retrieved. Banks and company were busy collecting scientific specimens; the crew lent themselves to the tattooing; and those who watched the amorous dances were never to forget.
Cook was to make three voyages in all, and they are lustrous and poignant reading. Those who came after, the French who claimed the islands for their own and the missionaries, so intent on wiping out the ancient culture, depleted the joie de vivre. Disease reduced the population from forty thousand to eight, and when Gauguin portrayed the women more than a century later, they were never smiling. As the book moves into the second and third zones the narration becomes more brutal and more hazardous; not less readable but an anticlimax.
When the publisher proclaims that IN COLD BLOOD by TRUMAN CAPOTE (Random House, $5.95) is "a serious new literary form" and a "masterpiece," he is providing readers with a highminded aesthetic excuse for reading about a mean, sordid crime. Mr. Capote is a dramatist, but what he has put together here is a meticulous, longwinded, often tedious, always synthetic chronicle of a four-person killing and the torture that preceded it in a well-to-do Kansas farmhouse. The author spent years working up the elaborate transcripts of what the townsfolk, the police, and the murderers said; and I think his time would have been better spent had he exercised the freedom of a dramatist. The obligation to abide by his script results in a milk-and-water characterization of all the victims and in endless special pleading from the murderers. Before we swallow this sauce of a "new art form," let us remember William Bolitho's magnificent analysis of criminal behavior in his Twelve Against the Gods, and Rebecca West's terse and withering book The Meaning of Treason. Those two authorities were using the factual record just as scrupulously as Mr. Capote, but in the dramatic quality of their writing they made good where he does not.