A Gourmet's Guide to Europe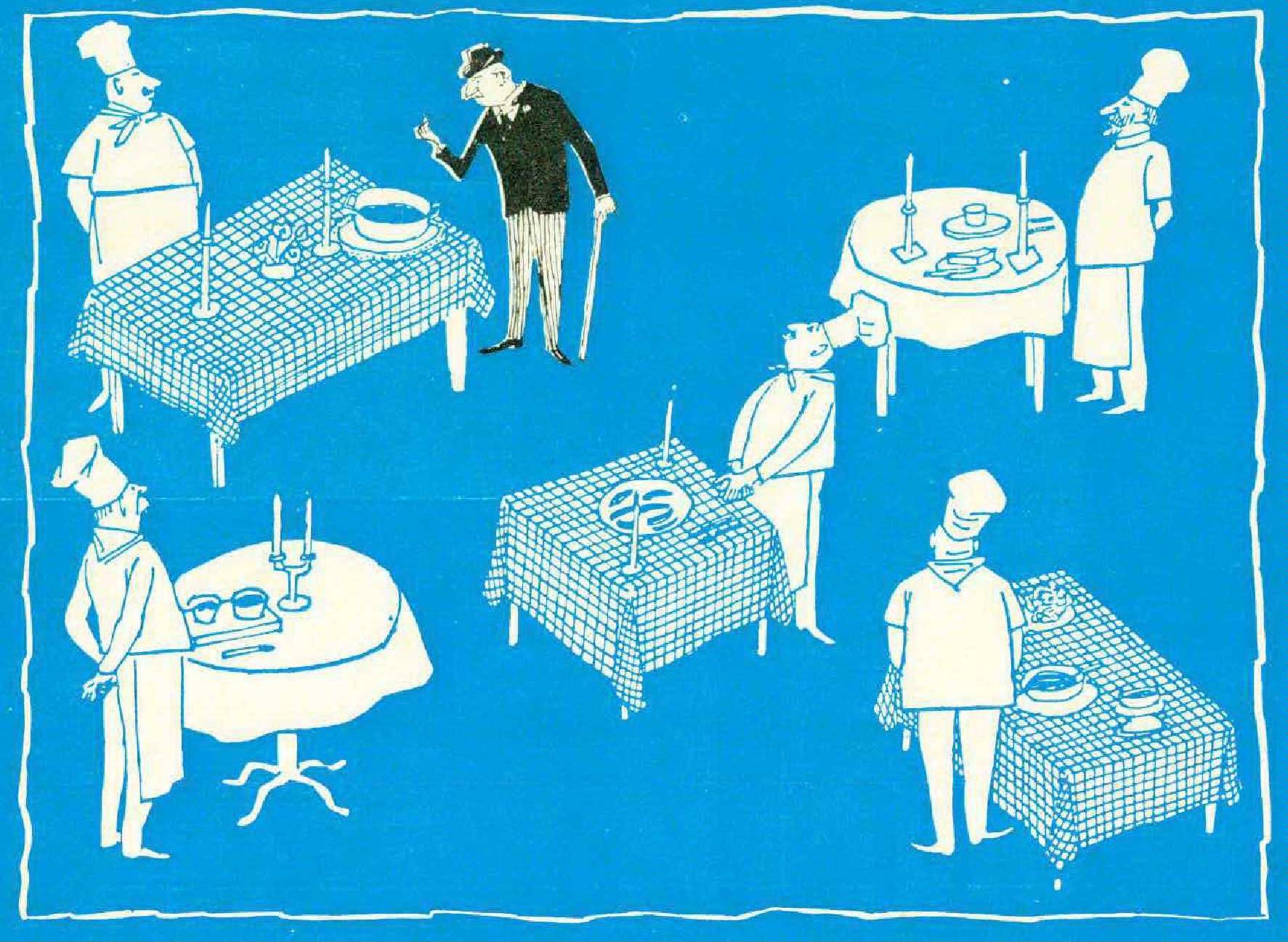 A neighbor recently returned to me It's Still Maloney, inscribed by the author to me and my wife. The neighbor had kept it for years. I have lost around a dozen copies of H. F. Ellis' masterpiece The Vexations of A. J. Wentworth, no longer possess it, and my bookseller is unable to find one for me. I once achieved the return of The Great American Novel, by Clyde Brion Davis, by sending a collect telegram demanding it from the friend who had borrowed it several years earlier. I still lend books inscribed to me by the author, and I persist in the delusion that my name on the flyleaf will ensure their return, even though these books disappear like ordinary copies.
One book I have long since ceased to lend, after losing two copies and finding it hard to replace, is a small red volume stamped in faded gilt The Gourmet's Guide to Europe, by Lieut.-Col. N. Newnham-Davis. My copy is the second edition, dated 1908. I have read it many times over the years, as much for enjoyment of the author's crotchets and opinions as for information about the restaurants he sampled so energetically. A dozen or more of his recommended places in France were still flourishing when I first went there in 1925, and a few are extant today, however severely beset by battery-bred poultry and quickfrozen vegetables. But rambling about with Col. Davis is pleasant: a true Edwardian exploring the pleasures of the period, bringing his own Englishness with him to whatever foreign locality he goes.
Prunier's, for instance, the colonel classifies under the heading "Foreign Restaurants of Paris," on the grounds that it "has been partly captured by the United States." Of its oysters he concluded, "I am sufficiently patriotic to prefer a Colchester Bag to a Boston Steak, but the latter combination of good beef and good oysters is to be obtained in perfection at Prunier's."
The colonel seems to have begun his venturing among menus as a schoolboy at Harrow, when his French was so inadequate as to bring him a mysterious meat dish which he ordered on the bill of fare in the expectation that its position far down on the page meant that it would bring him a very sweet dessert. A typical Newnham-Davis anecdote describes his luncheon one day with a lady at the Tour d'Argent and his conversation with its proprietor, Frederic Delair. "It is a small oldfashioned house, with a narrow entrance hall and a low-ceilinged parlour," he begins. "I can remember the days when its floors were spread with sawdust. . . ." At any rate, the colonel gives a tentative order: " 'Eggs, a bird, a vegetable, an entremet,' I had said, as if I were inventing a new drawing-room game, and Frederic had gone into a reverie — the reverie which precedes some wonderful combination. I insinuatingly said, 'For the eggs,' as the cue for his first pronouncement. Frederic breathed hard and looked at the ceiling. 'Uffs à la plat,' said the lady, who fancied we were both at a loss as to how eggs could be cooked. Frederic came back from the clouds and gave the lady one look. It was not a look of anger or contempt, but simply an expression of pity for the whole of her sex."
The colonel is full of good information on the matter of hors d'oeuvres. He calls them "a Russian invention," designed to keep the diner at ease while the chef is cooking the fish, but oysters and caviar are too desirable to be included in so lowly a category. "The real gourmet," the colonel contends, "who orders a dozen Cancales or Marennes with which to commence a dinner rarely introduces fish into his menu. Caviare, be it black or grey, be it sent from the land of the Volga or the states of the Danube, is too excellent to be a mere relish. It is a dish for déjeuner; and the man before whom has been placed a jar of good caviare sunk in cracked ice, who has a fresh lime and some Brittany butter at his elbow, and who is brought relays of hot toast, may well leave the consideration of the plat which is to follow until his appetite for caviare is appeased."
His own preference to the hors d'oeuvre is "a thimbleful of strong hot soup" which "would stimulate without cloying" and leave the diner's appetite undiminished. One could continue quoting the colonel at length, for he went everywhere and tested the local specialties, including Tripes à la mode de Caen, and it was in Caen that the proprietor sought to add to his meal a Caneton Rauennaise. The colonel declined: "I told him that 'to every town its dish.'"