The Vale of Kashmir Won't Be Undersold
pleasure and places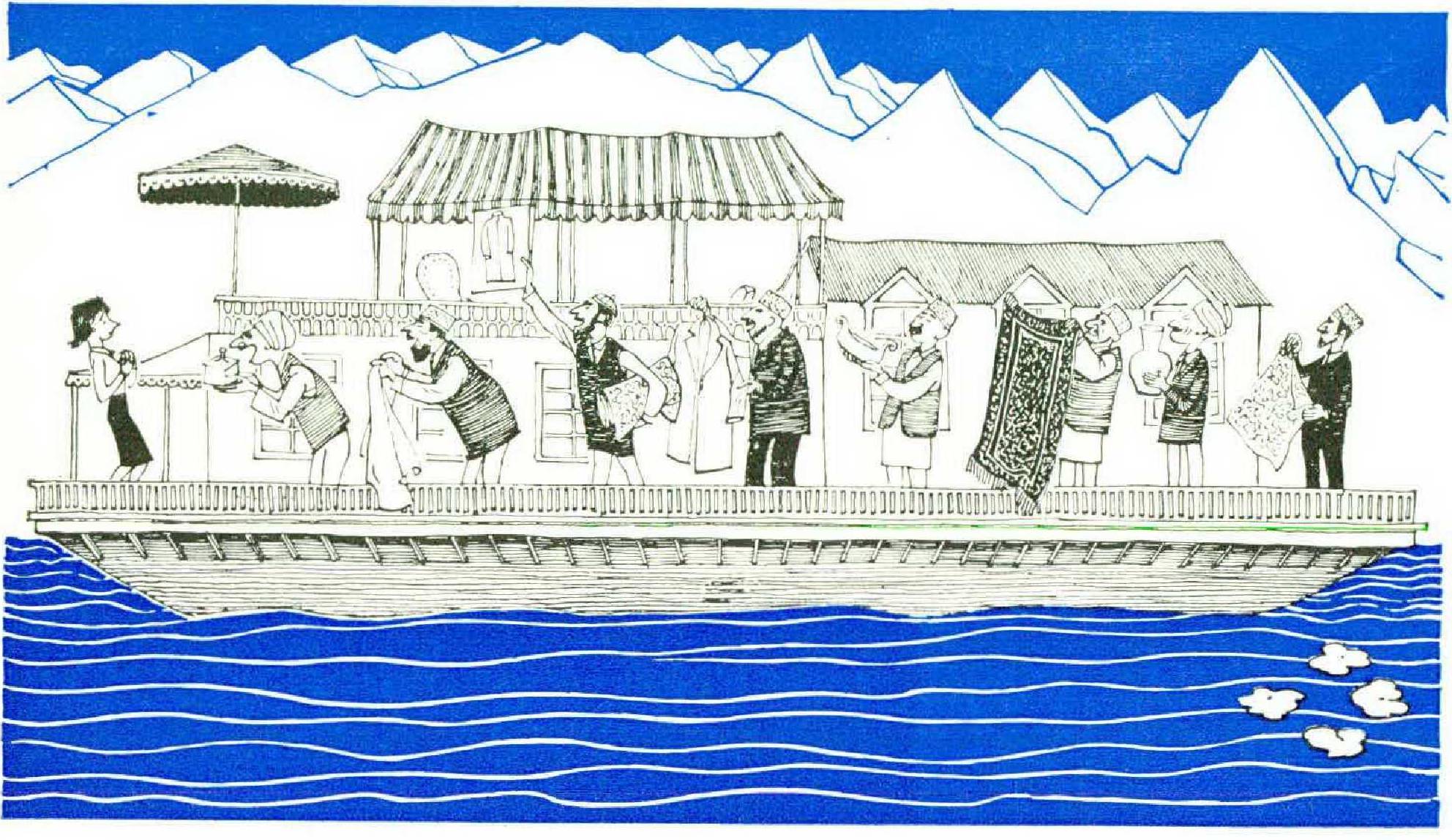 BY ROCHELLE GIRSON
To hear some impressionable types go on, you'd think all that Kashmir had to offer was paradise: beneath the misty Himalayas lagoons carpeted with fluted aquatic shrubs and voluptuous lotus blossoms, a vale where, reclining like an odalisque on "full-spring" harem cushions, a lady can relax on shikaras paddled by grizzled gondoliers with pale-blue eyes who chant, in wry echo of bygone GI's, "Whiskey! Soda! Cigarettes! Pop!" You'd think the big deal in Kashmir was the fish and wild game, the golf course at Gulmarg, the hikes from Pahalgam to the glaciers, the six-to-ten-dollar-a-day deluxe houseboats at Srinagar.
"Serene-a-gar," they pronounce it, and serenity I expected as I crossed Dal Lake to the private marsh where the H.B. Cutty Sark was moored. A houseboat "special class" with black-bordered white awnings, it has an upper-deck terrace, a dining room, parlor, and two bedrooms, each with a bathroom featuring "modern sanitary fittings" (and when you get the hang of just how to yank the chain, they work fine). The beefy arms of its settee and chairs recall the late thirties — ultramodern Kashmiri Grand Rapids. It has turquoise lace curtains, red Oriental carpets, and plenty of brass bric-a-brac and Air France ashtrays to make it real homey.
As I stepped gingerly from the unsteady water taxi onto the Cutty Sark's veranda, for I am no athlete, Gulam Rasool, "Barber, Ledies and Gents Hair Dresser and Massager," parked his shikara parallel with mine. "Salaam, memsahib!" he greeted me heartily. "You need a haircut? A shampoo?"
"No. No, thank you," I said, trying to visualize my head.
"Please, I give you fine massage. Very good for the nerves."
"I can give you massage," interposed my manservant, Abdul.
"That's swell," I said, "but what's for lunch?" Abdul consulted the cook in the tiny kitchen boat to the rear.
"Lamb cutlets," he reported.
"Well," I said, "all right for now, but let's have Kashmiri food in the future." I'm keen for culinary adventure.
"May I come in?" inquired a swarthy gentleman in a dark business suit and brown caracul hat, coming in. "You are interesting in a cashmere coat?" he asked, handing me a card reading "Dead-end Tailors and Cloth Merchants."
"I'm sorry," I said, "I already have one."
"Please, you would like a nice suit? I make for you very cheap."
"Say," I asked, "can you run me up a Punjabi?" For two years now I have been dying for a Punjabi, the balloon-trousered costume with thigh-length tunic and gauzy stole worn by Pakistani and neighboring Indian women.
"Yes, yes," he said — I thought a bit impatiently. "I will make for you the Punjabi. This afternoon I will bring you swatches."
"Come this evening," I suggested. "This afternoon I am going to see the Shalimar!"
We were gliding by the floating gardens on the A-One Enterprise, my very own shikara, when Abdullah the capmaker (not to be confused with Abdul the houseboy and camera bearer) came abreast in his boat. "Salaam. Memsahib, you like to buy beautiful Kashmiri hats?" Well, ever since I took up elementary anthropology, I've been intense about native artifacts and adornments, especially those that might enhance my apartment and wardrobe, so I said, sure, I'll look at them. Opening a large, dingy cloth bundle, Abdullah, who was wearing one of his own beanies, pulled out a kaleidoscopic array of Juliet caps intricately embroidered with gold and silver thread, paillettes, pearls, and bright beads. I popped a couple onto my head, but they were for women with a larger cephalic index. "Please, tonight I bring you better ones," he said.
Just then Osmana & Son, the gunmakers, drew up to my left. "Good afternoon, madam. You like to buy knives? A nice dagger?"
"No, thank you," I said, "I hardly ever need one."
"Please, a sword stick? A shooting stick?"
"No."
"A catapult?"
"No. No, thank you."
"Madam, you are interesting perhaps to buy a nutcracker?"
Abdul shooed away the munitions dynasty, and for a few minutes all was silence save for the sucking of the oars in silt. In some of the channels the vegetation is so lush you feel as if you were rowing in a thick minestrone. We passed embankments where Kashmiri peasants stood calf-deep in the tortoise-shell water, slapping the week's wash vigorously against the rocks, while brown naked children splashing alongside them screamed at me across the lake, "Meem-meem, salaam!" — the local equivalent for "Hello, Dolly!" — to which the correct response is a salute. From time to time a drab river woman, crouched like a frog on the prow of her unpainted punt, would pole rapidly toward us. her head averted from the evil spirit in my single-lens reflex.
The brief tranquillity was rent by the appearance of A. R. Chakru, "excellent art manufacturer in wood carving and plain furniture," who held up a black and silver Tibetan rice bowl — and was about to display other Asian vessels from the recesses of his shikara when I stalled him. "Later, later," I pleaded.
"You are kindly invited to come to my showroom in Srinagar," he said. "I will send my shikara for you tonight." I nodded absentmindedly. First of all, the Shalimar.
Ignorantly, I had always taken it for granted that the Shalimar was some sort of limpid pool, though why it should seem better grammar to be loving pale hands beside a pond, which it isn't, than a large formal garden, which it is, I don't know. Anyway, Emperor Jahangir, that sentimental Mogul, designed this "Abode of Love" for his inamorata, Nur Jahan, some four hundred years ago. They say that until the couple could get their union legalized (she was a commoner) Nur used to brew and peddle Shalimar perfume, though probably not for Guerlain. However, this may be purely gossip.
The Shalimar was parched and seedy, its principal attraction the mosaic tree of life motif on its marble columns. The chinar leaves inlaid there are ubiquitous in Kashmiri folk art, as indeed are those bulbuls, who, for my part, can have the Shalimar.
On our return to the A-One Enterprise we passed a languid young Sikh sitting under a tree — it may have been a chinar for all that I, a nonbotanist, know — embroidering a doily. Thirty to forty thousand Kashmiris, I'm told, are engaged in fancy needlework; most, if not all of them, are men.
As we approached the stoop of the Cutty Sark a white-turbaned caliph from an old Persian miniature greeted me from the shadows of his shikara with a soft-voiced "Salaam.""I am Butterfly," he announced, like one of the Magi bearing gifts. "Butterfly has the most beautiful shawls in all of Kashmir. You will not find their like anywhere." Butterfly, by appointment to H.E. the Marchioness of Lady Linlithgow, H.E. Sir Regionald Dorman-Smith, Governor of Burma, not to say H.E. General Sir Claude Auchinleck. the C in C in India, stretched out a truly lovely cashmere stole with a crocheted pattern.
"Butterfly, it's heavenly, but I have just arrived, and I want to shop around — to see," I said pointedly, "where I can get the best prices."
"I have embroidered shifts," he said "You like baby doll pajamas? Tea cosies . . . ?"
Out of the dusk materialized the Dead-end Tailor. He stepped down into the parlor, took off his shoes, and sitting cross-legged on the floor with his hat on, opened a square, cloth-wrapped parcel full of the softest, most subtly hued wool. A powder blue caught my eye. Powder blue always catches my eye. "What would you charge for a coat in this?" I toyed, caressing its ribs. "For you, madam, only fifty dollars."
"It would be crazy. I haven't anything to wear it with."
"I will make you a matching skirt. Altogether, sixty-five dollars."
Having just entered the portals, Mr. Aziz, who with his brother, Mr. Sultan, owns a flock of these houseboats, remarked that I might as well get a jacket, too. and told the couturier to throw one in for another ten bucks. "I can't afford it," I protested. "I just ordered two suits in I long Kong."
"Madam, 1 beg you, do not lose this opportunity!"
I could sec he was getting emotional. "Can you," I asked, suddenly recalling a page that I'd ripped out of Pan Am's copy of Vogue, "duplicate a coat by Balenciaga?"
"Madam, it is simple," he said, reaching for the tape measure.
"But where," I hedged, "is the Punjabi material?"
"Please, I bring that tomorrow." Clearly, Punjabis didn't much interest the Dead-end Tailor.
"Memsahib," came Butterfly's thin, patient voice, "now may I show you my shawls? I have been waiting for you for two hours."
"Tomorrow, Butterfly. I am tired and hungry."
With his frail gentility Butterfly tugged at my heartstrings, but Deen, his stocky competitor next in the queue, unknotted my purse strings. "I am a poor man," he told me, his eyes bloodshot with sincerity as he ribboned the carpet with shawls. "I do all of my own embroidery. Deen will give you the best prices."
"Like how much for this stole?"
I inquired. Deen suggested the going rate. "No, no, too much. I am a poor woman."
"Make me an offer," he challenged, so I sportingly halved his quotation. "Madam." he cried, "it is impossible!" I shrugged; others were courting my commerce. However, to still his sighs I said I'd take four. So, tearfully, Deen agreed to the bargain.
If I had forgotten our tryst, the milliner hadn't. In the dim light I tried on two dozen caps, selected a red one and a gray, and ordered four more at three dollars each, which he said it would take his aged father three days to embroider from an old family design. Mr. Aziz exchanged glances with Abdul. "You will pay him ten dollars for the six," asserted my solicitous landlord. They are getting six dollars apiece for the identical chapeaux in New Delhi.
A half hour later the twenty-fivedollar-a-month cook capped a ground lamb gushtaba with a gossamer soufflé, after which in the front room Abdul served anise coffee. Palming a jawbreaker yawn, I asked Mr. Aziz what one did about bolting the doors for the night. "Oh," he said, "it is not necessary to lock the doors. Abdul will sleep here." I glanced at Abdul with misgivings. Razor burn is rare in Kashmir.
The next morning was gloriously sunny, and I was reflecting that we needed fresh flowers when the florist appeared under my pantry window. "They're beautiful," he proclaimed, holding aloft a large mixed bouquet.
"They're bea-"-tiful," piped in his small, ferret-faced grandson. "They're mag-ni-ficent. They're stupen-dous."
I handed a bunch to the sleepyeyed Abdul as the floating drugstore took over. "Madam, you wish to buy cigarettes? Shampoo? Chocolate bars?" I noted in his showcase Surf, Halo, Colgate toothpaste, and Delsey double-ply tissue. The last — he responded to a not entirely idle question — costs four rupees a roll, or about eighty-four cents, if you don't play around with the black market.
Hot on his stern was the postcard merchant, which was sheer telepathy, for I woke with an urge to communicate with my cronies. Not such a sensitive was the furrier, who simultaneously appeared at the threshold waving a string of chinchillas. "Those," I said, "are above my station," and sat down to some cornflakes.
I was just hazarding an afterbreakfast smoke when M. A. Ramzana, showing up with the gems, piled at my feet sparkling rubies, emeralds, topazes, and garnets, along with some rather dull jade. Just like Tiffany's. While I was wondering whether I'd be committed for buying those amethyst earrings (I calculated that the settings alone would cost me more in New York) Mr. Aziz arrived to squire me on a tour of the town. Our first stop was the Indo-Kashmir Carpet Factory. Employed there were dozens of families, with each working on individual rugs and paid as a unit. The youngest members, who were squatting, knees to chin, in front of the huge looms, were only six or seven years of age. To tie knots with the speed of hummingbirds' wings, fingers have to be trained early; what baffles me is how anyone learns to translate into patterns the arithmetic code above them. Although for years I have ascetically insisted I like bare, polished floors, a brief fondling of carpets that looked like silk, carpets that were silk and so pliable they could be draped like a toga, left me lusting for even a four-by-six Shalimar runner. The item that really undid me was the crewel-embroidered draperies (tree of life pattern) for one fifth the tag in the States. All I can say is that expensive window dressing better make me feel secure — once I have covered the personal check they pressed me to give them.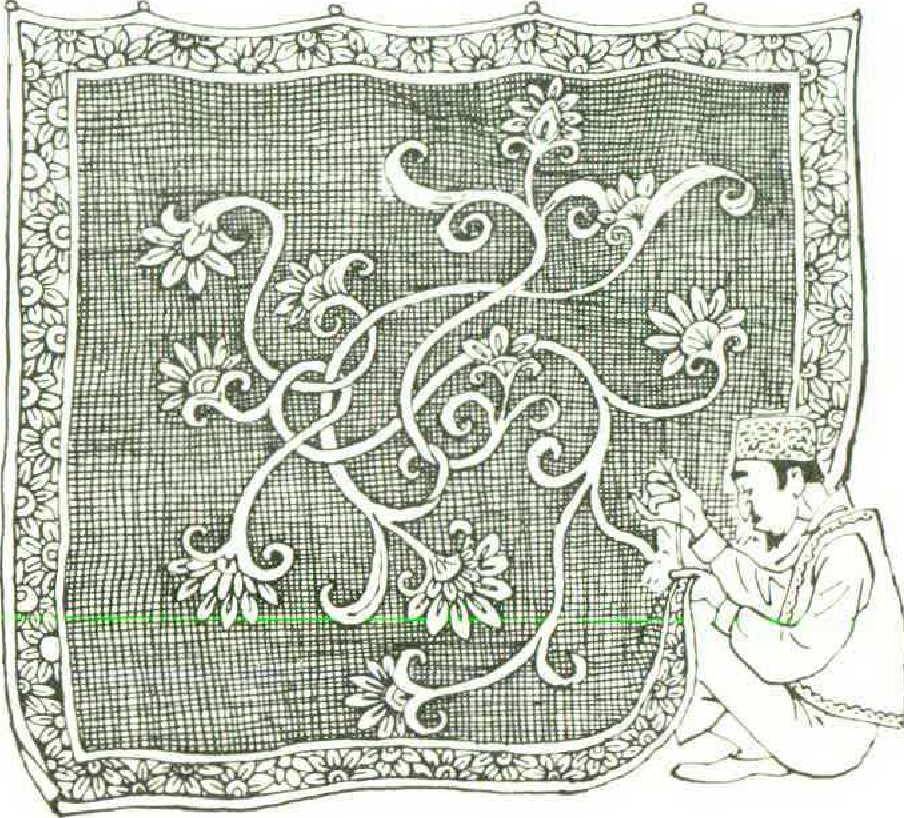 Utterly spent, I was stuffed by Mr. Aziz into a horse-drawn tonga for the short trot to Sunshine Alley, an establishment whose specialty is "paper machie." The proprietor lacked Deen's nice sense of trade, but his lamp bases and boxes were so refined I quite forgot those that Cheap John had been pushing in the morning, and laid in an ample supply. Then, for diversion, we had a look in the basement at a mound of antique rugs, priceless carpets from Tibet, Bukhara, Shiraz, Kerman, and Meshed, going for a song that was out of my range.
As I sipped the comforting tea that the oarsmen had made on a charcoal brazier in the rear of my shikara, I observed that many of the houseboats we passed on our return to the Cutty Sark were far from deluxe — hovels with doors four feet high. Through them women wearing flamboyant bandannas, their bared ears circled with heavily fringed silver crescents, crawled onto tiny porches.
Poor Butterfly was on mine when we landed. "You mean you will not buy anything from Butterfly?" he asked, his long fingers nervously plucking a threaded needle from his turban. "Butterfly has embroidered linen dresses for little girls. You will not find their like anywhere." Wearily, I ordered one for each of my nieces.
Gulam Rasool was making his last rounds. "Memsahib," he called out as I was opening the door, "you are interesting in a massage?"