Trend in Toys
GEORGE BOWMAN is a former Army officer, a West Point graduate, and a technical writer for an aircraft company in California.
THE DOLLHOUSE OF THE DAMNED
Description: Metal two-story dollhouse, approximately three feet square. It contains seven rooms, thirty-eight separate pieces of plastic furniture, and 110-volt transformer. Built-in kitchen incorporates oven capable of producing heat, refrigerator with real ice, and sink with operative faucets. Kit includes figurines of homeowner and wife. Instructions on box state that house has curse on it. When switch is pressed, house shakes and vibrates because of simulated earthquake, and walls of living room collapse, crushing sofa on which couple is sitting. Price, $49.95.
Accessories: Dishes, silverware, dog, brick patio, four tiki torches, street, mailbox, first-aid kit, ambulance, model of general hospital emergency room. Total price, $159.50.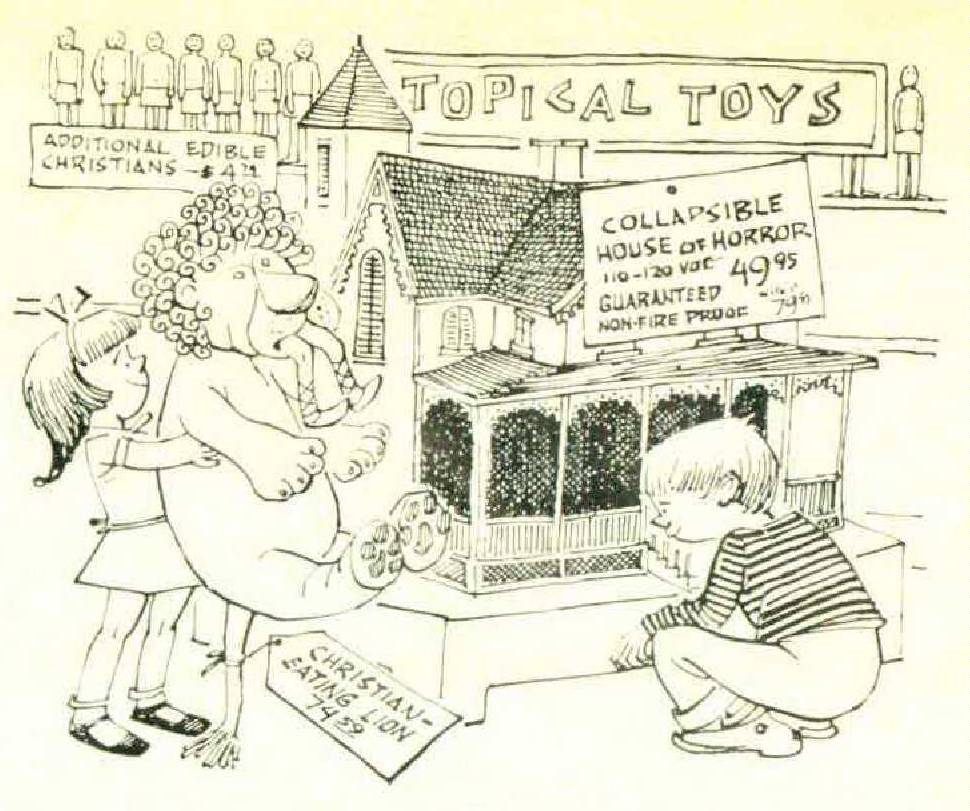 THE LAST MILE
Description: A passageway, open at the top, about one foot wide and eight feet long. Corridor leads to small electric chair, powered by 6-volt battery. Upon actuation of button, a little metal prisoner, accompanied by priest and jailer, slowly walks toward chair. At end of passageway owner of toy places condemned man in position, secures straps and electrodes, and closes toggle switch, sending output of battery through chair. Acrid smoke emanates from prisoner. Price, $39.50.
Accessories: Six-foot strand of dimming lights; barber kit; direct phone to governor's mansion; individual cells, each with prisoner, to place on either side of passageway (price, $.75 each); figures representing warden, witnesses, and reporters; phonograph and record producing jumbled sounds and sound effects, such as "I didn't do it, I tell ya!", "You guys shut up!", the Twentythird Psalm, and tin cups beating against bars of cell doors. Total price, $89.95.
NERO'S ARENA
Description: Scale replica of the Colosseum, approximately four feet in diameter. Kit comes with twentyfive plastic lions and a hundred kneeling Christians. Depending upon throw of dice, one player, representing lions, disposes of second player's Christians. Second player is able to move Christians around arena and back to GO. Base of arena painted bright red in spots. Price, $9.95.
Accessories: Six thousand all different degenerate Romans to insert in seats; sound-effects record for cheering throng and roaring lions; numerous parked chariots, horses, gladiators, and trumpeters; model of Mount Vesuvius; and a large down-turned thumb. Total price, $75.00.
UNDERDEVELOPED COUNTRIES GAME
Description: Large flat metal base plate, representing portion of capital city of newly independent country. On plate are inserted cardboard buildings labeled U.S. Embassy, Library, and so on, and other unfinished structures with signs reading U.S. Foreign Aid Project. Buildings contain thin panes of real glass. Tiny American flag may be attached to pole in front of embassy. Entire base plate enclosed by protective asbestos walls. First player, representing nationalist spirit, throws dice and attempts to smash and burn all objects on base plate. Second player, calling himself UN Peacekeeping Force, tries to prevent this. Price, $24.50.
Accessories: Spare buildings and flags; fire extinguisher; small plastic figures representing rioting students, paratroopers, UN soldiers, and embassy officials; tanks; barricades; guns; small combustible books for inserting on library shelves; matches; pebbles for breaking windows; ten feet of miniature barbed wire. Total price, $59.95.
Frankly, I think it's time to return to the footballs, the roller skates, and the Old Maid decks. And it wouldn't be a bad idea to put the batteries back in the flashlights.