Sahara Holiday
A Californian who has followed her forester husband to the far corners of the earth, Agnes Newton Keith went as a bride to North Borneo, where she wrote the Atlantic Prize book LAND BELOW THE WIND. There in Sandakan she and her infant son, George, and her husband, Harry, were captured by the Japanese, and after three and a half years of prison camp she wrote her next great book, THREE CAME HOME.For the past decade the Keiths have been working for the United Nations in Libya, and what follows is an excerpt from Mrs. Keith's new book, CHILDREN OF ALLAH,to be published by Atlantic-Little, Brown in February.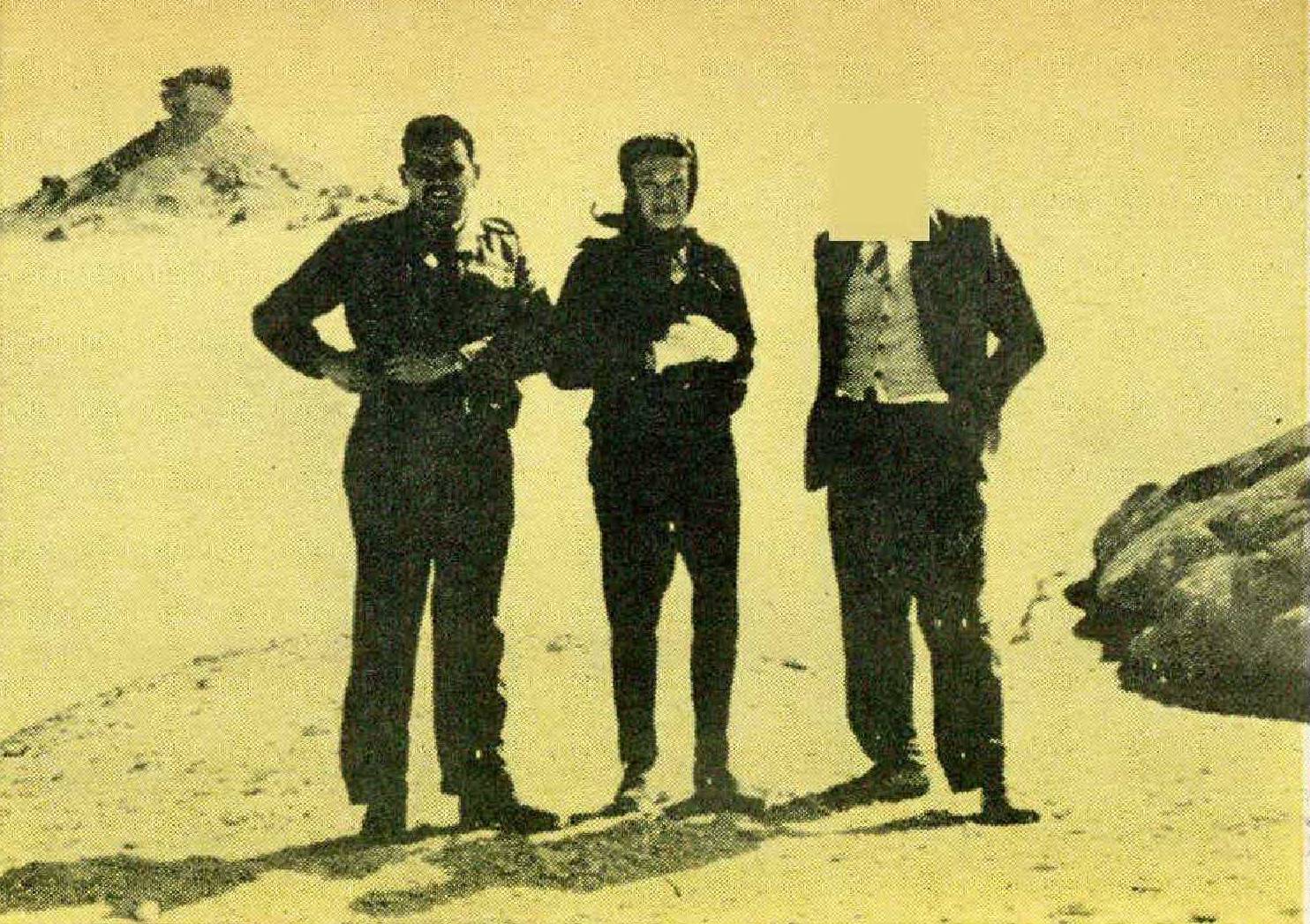 Copyright © by Agnes Newton Keith
WE HAD discussed the Sahara trip often enough, but something always got in the way. This time it was the approach of Ramadan, the great Muslim fast.
"But we must go!" says Badreddin earnestly, "we must! Only," he adds, nodding his head emphatically, "we must be back home again before Ramadan commences!" He looks exactly now as I imagine a desert sheikh might, his strong Semitic features glowing with enthusiasm in his dark, handsome face. Yet he is an extremely gentle and civilized young man, one of the best educated Libyans, and a member of the Tripolitania Forest Department.
Hammet, Harry's right-hand man, agrees about getting back before Ramadan. He also nods his head energetically, saying in a shocked tone, "We couldn't travel all day in the desert without food or water!" He looks horrified at the mere thought, and hastily lights himself another cigarette from his gold lighter, thinking no doubt of the monthlong daylight abstention from cigarettes.
"Could we travel on the desert at night, then?" I ask. "You can eat after dark."
"Certainly not!" says Harry shortly. "It's too cold, you couldn't see the country, and everybody gets bad-tempered in Ramadan anyway. And the oasis people will all be having their own feasts, and they won't welcome non-Muslim outsiders.
Ramadan is a shifting feast, or possible famine, which lasts for one lunar month of twenty-nine days and thirteen hours. Its observance by strict daytime fasting includes abstinence from food, drink (including water), and smoking from sunup to sundown, and it is one of the five pillars of Islam. To keep this ritual of abstinence is the rule for all good Muslims throughout the Arab world, although they keep it with varying degrees of strictness. It is always a period of strain, for daytime work is performed on empty stomachs, while the pursuit of pleasure goes on all night with eating and tea drinking, card playing, and exchange of family visits until the sun rises. Just before dawn the last meal is served, and neither food nor drink may be taken again until the sun goes down.
Libya is one of the strictest of all Islamic countries. This kingdom is orthodox Islam by government edict, by respected precept, and by personal example of its aesthetic monarch, King Idris, who is also its religious leader. Young Arabs from other Islamic countries who come here to work soon find they are keeping Ramadan more strictly than ever before in their lives. Libyan public opinion may not be openly defied — although, as I have sometimes heard Libyans say laughingly, one Muslim alone may be quite liberal, but two together are always orthodox!
"So now we shall plan our trip for March," says Badreddin triumphantly. "Agreed?"
"Good," says Harry. "We will take the plant presses and collect specimens of flora all the way."
Hammet nods amiably, but without enthusiasm. He wouldn't be left behind for anything, but he would prefer a different goal than a Tuareg mud village on an old Sahara slave track on the southwest boundary of Libya! Now, if we were going to drive to Cairo —
"I've always wanted to go to the Sahara Desert!" I say to Badreddin, suddenly realizing that I have.
"Not Sahara Desert!" says Harry. "That's redundant. Sahara is desert in Arabic, eh Badreddin?"
Badreddin smilingly agrees. "And as four fifths of our country is Sahara," Badreddin adds, "it is time for Hammet and me to discover it!"
Hammet gives him a glance, half amused, half annoyed, and lights himself another cigarette, the bejeweled face of his gold wristwatch gleaming brightly as he smokes. He'll be with us when the time comes, he knows — and so do we.
"So now we make plans," says Badreddin. "What Land Rovers can we take?"
"Any that still run!" says Harry.
"I shall drive the best Land Rover for my father," says Hammet firmly.
"Is number fifty-seven still running?" asks Badreddin anxiously, beginning to fear shortage of transport.
Badreddin is a very large young man in every way, and one who inspires confidence. At twentyfive years he is sure of himself and filled with enjoyment of life. He often wears a quizzical, amused expression on his face when he listens to us discuss Libya, and he doesn't hesitate to tell us our mistakes. He is observant and learns quickly. He never questions his Islamic faith and is certain of the virtue of the things in which he believes, and unashamed to fight for his ideals of decency and right living. He is not naïve or easily fooled, but he is without cynicism. He is an outstanding character, and gives me great faith in the future of Libya.
Badreddin's father was one of the very limited hierarchy of old-time Libyan teachers, at a time in Libya when education was almost a crime. That Badreddin should achieve an excellent education regardless of obstacles was, I think, inevitable from his early upbringing. He was one of four Libyans who qualified a few years ago for a two-year FAO scholarship to study at Cyprus Forestry College, where he won top scholastic honors. When he returned to Libya he joined the provincial forest department.
Badreddin and Hammet are unlike each other in character, except for hot tempers, but fortunately they never get angry at the same things. Hammet's dominating personality, which reminds people that he descends from the Karamanli Pashas, is seldom in abeyance, but when he talks in a manner that Badreddin calls "big nose," Badreddin laughs at him and calls him "effendi-effendi," a sort of superlative of gentleman, and they both laugh. Their characters almost complement each other; perhaps for this reason they remain firm friends.
Both so sure of themselves, and both so different — yet both types are necessary here: one sophisticated and worldly who hurries to meet new ways; the other steeped in the Islamic past.
Hammet has now been working with Harry for a year, and although he has had no professional training, he is proving very helpful. He knows all the people of importance, and between his wife and himself he is related to most of them, a deciding factor in the Arab world. As the government failed to designate any local counterpart for Harry to work with, Harry is trying to transfer to Hammet some knowledge of administrative training, and enough interest in the forestry program to keep it alive when he leaves. Hammet now speaks English well enough to express himself.
When I talk with Hammet and Badreddin and Suleiman and Salem and others like them, I find it almost impossible to believe that Libyan education was practically nonexistent until 1951, the year of Libyan independence. These young men have had one advantage above the majority of Libyans: they represent a very small privileged class, which means that they are of the limited few who have not had to support themselves from infancy.
Hammet, Badreddin, Harry, and I were the early nucleus of the desert trip, which soon included Gerry Van Hoorn, an attractive young Dutch expert in hides and skins, the most eligible bachelor in the FAO Mission — and the most efficient at remaining so. He was thoughtful, he was kind, he was just what women like; it was impossible not to love him, and impossible, it seemed, to get beyond that. Accompanying Gerry in his Land Rover will be Assad, his young Libyan assistant and an excellent driver.
MARCH comes; we are six now, with two Land Rovers "still running," as Harry says. It is inadvisable for one vehicle to travel alone in the desert. Three of us are Europeans and foreigners to Libya, and three are Libyan Muslims, but we are all equally strange to the Sahara, the Libyans being sightseers there as much as we. Only they speak the language.
I had read enough about past desert explorations to know that our insignificant little trip would represent nothing in the line of an accomplishment. With go-anywhere trucks, the desert is becoming a tourist item, although it still swallows some, and others turn back. The nomad on his camel is no longer surprised by blue jeans — he may even be using a pair for his underwear — and the little Arab urchin in the oasis may be dressed in a U.S. gift flour sack. The days when Rosita Forbes had to disguise her sex to travel to Kufra by camel are vanishing. Freya Stark, the intrepid Arabian chronicler, is no longer a woman alone in an Arab world. T. E. Lawrence would turn pale at the liberties taken with his overwhelmingly masculine kingdom. These simple facts one cannot alter.
The only thing that is important about this trip is that no one — not we, nor the Libyans, nor anyone else — can possibly know and understand Libya by sitting in a sidewalk café in Tripoli or Benghazi, or even in the gilded desert capital city of Sebha. The important thing about this trip is that we went.
Our traveling preparations were varied. I packed food for Harry, Gerry, and me, on the basis of a non-Muslim diet, which included smoked sausage, salami, pork and beans, coffee and whiskey, tinned corned beef and stew; I packed another diet for the Muslims with sardines, tuna, cheese, spaghetti, salmon, tinned cake, pudding, tea, and lots of sugar. We hoped to get oasis bread as we traveled.
Additions to the menu turned up on the day of departure, with Assad bringing a huge bag of greens and a bag of special bread, while Hammet and Badreddin had eggs, tomatoes, beans, onions, oranges, potatoes, green peas, and more sugar — not all of which items travel well in the bottom of a Land Rover!
For washing and cooking, I brought along a disreputable old galvanized bucket, two ancient cooking pots, one medium size and the other very large, in which to cook spaghetti, and a large metal colander to drain spaghetti. This colander immediately became Harry's relentless enemy because it had two obtruding handles and never fitted anyplace. Harry threw it away several times, only to have it retrieved by the following Rover and surreptitiously returned to me. Finally one handle came off, the body bent into an ellipse, and then it fitted nicely into the bucket and was acclaimed a success.
We all had bedding rolls and camp cots, and we also had with us numerous large containers full of water, which we hoped to be able to refill at wells as we went along. And perhaps the most vital to ensure our return, we carried a full load of spare parts for the Land Rovers.
As the distance you could travel in a vehicle in the desert was largely determined by the amount of gasoline you could carry to bring you home again (these were the days before oil company gasoline dumps), we had an extra gas tank installed and were carrying two hundred liters. We knew we would be able to refill our tanks at Sebha, the Fezzan capital, and possibly again farther south, and we hoped to reach the southern Libyan border. We started out with Hammet driving one Land Rover, with Harry and me in the front seat and luggage jammed tightly in back, and Gerry driving his Land Rover with Badreddin and Assad.
For centuries in the past, Tripoli was the principal Mediterranean marketplace for black slaves, as a result of its location at the northern seaboard tip of slave-trade caravan routes which crossed Africa south to north and southeast to north from the countries of Nigeria and Sudan. We were planning to follow in reverse one of these old caravan routes, going from Tripoli east to el Buerat, where the sands of the Sirtic Desert meet the sea, and then south through the Sirtic Desert, passing through Hun and Sokna, old caravan stops, then through Sebha, and southwest to Ghat on the Libyan-Algerian border. This caravan route continues south through Air in French West Africa to Kano in Nigeria, but Ghat was as far as we expected to go, as the business of our expedition was primarily Libyan flora, not African caravan routes.
Ghat we knew by our reading was one of the oldest caravan stops in existence, built centuries ago, probably by the slaves of the Tuareg, who are themselves the original caravan people who transported chained African slaves in stumbling, starving thousands over the cruel sands and lived on the profits. The most romantic and bloodcurdling stories of the Sahara are those told about these whiteblooded Aryan desert people, the Tuareg. Fantastic tales of glory and foolhardiness bathe them in a mist of romance, through which the tall veiled men parade with impressive majesty, so that today when you look at a Tuareg, the cloak of the past hangs almost as clearly on his shoulders as does the long draped indigo cotton garment which sweeps the desert floor.
WE LEFT Tripoli late in the afternoon, as we planned to travel one hundred forty miles east along the coast over a good Italian-built road to Misurata, where we would sleep in a little Italian hotel. We would get off to an early start the following morning for the first desert stretch. At Misurata we joined two other Land Rovers and their four occupants: Peter, an English FAO agronomist; Elham Talaat, an Egyptian FAO assistant agronomist; and Aminta and Carlo, driver-mechanics, both Italian.
The following morning we left at eight, as everybody had different ideas about what was an early start, Harry's being six and Hammet's being nine. So far, we had traveled east along the Tunisian highway, which parallels the coast. Now we continued sixty miles farther in this direction to el Buerat on the edge of the Sirtic Desert. Here we stopped again at the little signboard arrow pointing across an open sandy plain with the simple words scratched on it, TO THE SAHARA. There is always something audacious in the sight of this little handmade shingle standing boldly beside the best highway in the country and confidently directing traffic to take off across an open stretch of desert.
We follow the arrow, and now the road consists only of occasional stone cairns piled up to suggest the desirable direction, and this marked path becomes worse than the plain and develops into a corduroy track, progress along which is comparable with driving on the sleepers of a railroad track. Corduroy, if consistent, is best driven fast, and three Land Rovers diagnosed this piece as being fifty-mile corduroy and set off at this speed, their drivers shouting advice to us as they passed.
Stung to action, we tried fifty and found it better; instead of banging up and down, we vibrated violently. We were just congratulating ourselves in chattering syllables when we struck a three-footwide sand pit. There was a noise like passing the sound barrier, and perhaps we did! Anyway, the luggage shot up in the air, and the pots, pans, colander, blankets, pillows, and Hammet's suitcase shot forward on top of us, and we came to a halt.
But no necks are broken, and the wheels still turn, so we continue. Each time, just as we work up to a good speed and relax, we strike another sand pit. My neck seems to me to be snapping perilously, but I remind myself that I have read that the human body can stand as much as a mechanized vehicle can. Fortunately, I do not know at the moment that we have already cracked the Land Rover's steering arm!
Meanwhile, I see between sand pits that we are passing scattered bits of scenery, historic Roman monuments, crenellated Turkish ramparts, great seas of dusty gravel, occasional lakes of pale lilac matthiola, and long drifts of sand. There is a ghibli rising, and the air is full of dust. Although we call ghiblis sandstorms, they carry dust more than sand, according to Ralph Bagnold, who, in Physics of Blown Sand and Desert Dunes, says that sand seldom rises above six feet and is too heavy to stay long in suspension without great velocity.
Now, with the dry visible yellow wind on my face, with the desiccated sand plain stretching before me, with vegetation in chalky outlines, I am convinced at last of the reality of the Sahara. Three-foot-high rivers of windblown sand are flowing about the car. After miles of swimming upstream through a wind-borne landscape, we come to Bu Ngem, where an abandoned Italian fort perches strategically on top of a sandy hill.
It seems a good idea to take refuge from the ghibli inside the fort while we eat lunch. We find the mud-walled fortification occupied by laborers, who tell us they are working on the road — probably digging those sand pits! Anyway, they are very courteous and sweep up one corner for us to use, for which we give them fifteen cents. Then Hammet starts to boil water for tea, and we get out the food.
Meanwhile, I am looking for a distant secluded corner. I find a place in full blast of the ghibli but out of sight of man, and have just unzipped my slacks when a small Arab boy hustles around the corner, dragging behind him a baby gazelle. He jumps into a sales talk on how much I need that baby gazelle, and please give him some money for it. But I wasn't in the mood at that moment for gazelles, or small boys!
I return to our corner of the fort, and we eat a flymenaced lunch of sardines and bread, with a choice of coffee or tea. While I am now beginning to revel in the drama of the ghibli, in the opening-up before us of the Sahara and the escape from Tripoli life, I see that our Libyan friends are distressed by the fly-covered sardines, the sand-sprinkled bread, and the intense heat. As we are all still strange to each other as travel companions, conversation continues on a high and impersonal level.
We are under way again by three. We lose the ghibli as we approach the shadow of the tall cliffs of the Jebel Uaddan, but the road continues to be corduroy, and often we leave it to bowl along the gravel plain in false security, until at top speed we strike a dry wadi bed, which almost breaks our necks; then we return to the corduroy and vibrate on it until the plain seems preferable, and so on. I was to learn later that this strip of corduroy before reaching Hun was not the worst in the run, but no other stretch ever bothered me so much again. It was a day devoted entirely to shaking up the liver and loosening the womb, and when both were still with me by nightfall, I called the day a success.
ABOUT six thirty we see a dark strip on the horizon which turns into a fringe of dusty palm trees. We lose this glimpse of the oasis temporarily to twist through a series of outlying sand dunes until we find signs saying, STAY ON THE ROAD. THIS AREA IS HEAVILY MINED! But where is the road? Presumably we are on it, as we aren't being blown up. The Sirtic Desert was a battlefield in World War II, and Hun itself was intermittently used by both sides as a military airstrip. Even today a boy guarding his sheep, a woman fetching water, a man looking for firewood may be blown up.
Suddenly we emerge from the dunes, almost in the shade of the dusty date palms, and find ourselves about to enter a bright, white, clean-looking little village, which is Hun. Already I can feel the dust less heavy on me, my throat less parched, and the struggles of the day retreating. We find the government rest house, unload our food and liquid gas stoves on the veranda, and take the bedding rolls inside. Four of us set up our camp cots in one room, and six in the other.
Now that we have stopped for the night, the drivers devote themselves to the vehicles, much as a good rider devotes himself to his horse, while the passengers breathe down their necks giving unwanted advice. We have had two blowouts, and Carlo is helping Hammet patch the tires, preliminary to putting inner tubes in. Aminta goes over every possible nut and bolt in his Land Rover, tightening it. I don't see how any vehicle can stand such shaking. It is eight o'clock, and the last daylight is fading before the men are able to leave the vehicles.
It would be gratifying to say that meanwhile I had cooked a fine spaghetti dinner for all of us, but the fact is that I could not get that damn fancy gas stove to burn, and no one paid attention to my shouts for help, so I gave up (rather easily, perhaps) and sat down and drank gin, which made me, at least, feel amiable. The rest were tired and cross and picked on each other, except for Gerry, who is never out of sorts, and Carlo, who is a cheerful, handsome Italian boy filled with tireless energy.
In the end, Carlo boldly took over the stove and operated on it with a reckless hand and apparent success, for suddenly blue flames shot verandahigh. In no time at all my caldron of water was bubbling and ready to cook the spaghetti, and Carlo and Aminta prepared a marvelous pasta meal in the best Italian tradition. Meanwhile, I located the lime juice for our Muslim travelers, and the whiskey for those who favor it, while Hammet built a fire of twigs to boil the tiny blue teakettle. Very shortly the morale of all was greatly improved.
THERE are only two facts about the Fezzan that people never try to dispute: it is the southern province of the United Kingdom of Libya, and it is desert. Except for these two things, the area may be correctly described in apparently contradictory terms, according to the temperament of the narrator. You can say that the nomad never settles because he has no home to settle in, or that he has no home because he doesn't wish to settle. You can suggest that if he had a house he would only use it to shelter his livestock (which he does) because he knows no better life; or you can understand that four walls about him anyplace will stifle him; or you can refer to pastoral facts and find that he shifts habitations from the need to follow dwindling desert resources. In the desert the narrow path between sufficiency and starvation, between survival and extinction, is often indistinguishable except by the result. Here, reality is a mirage and truth is nebulous.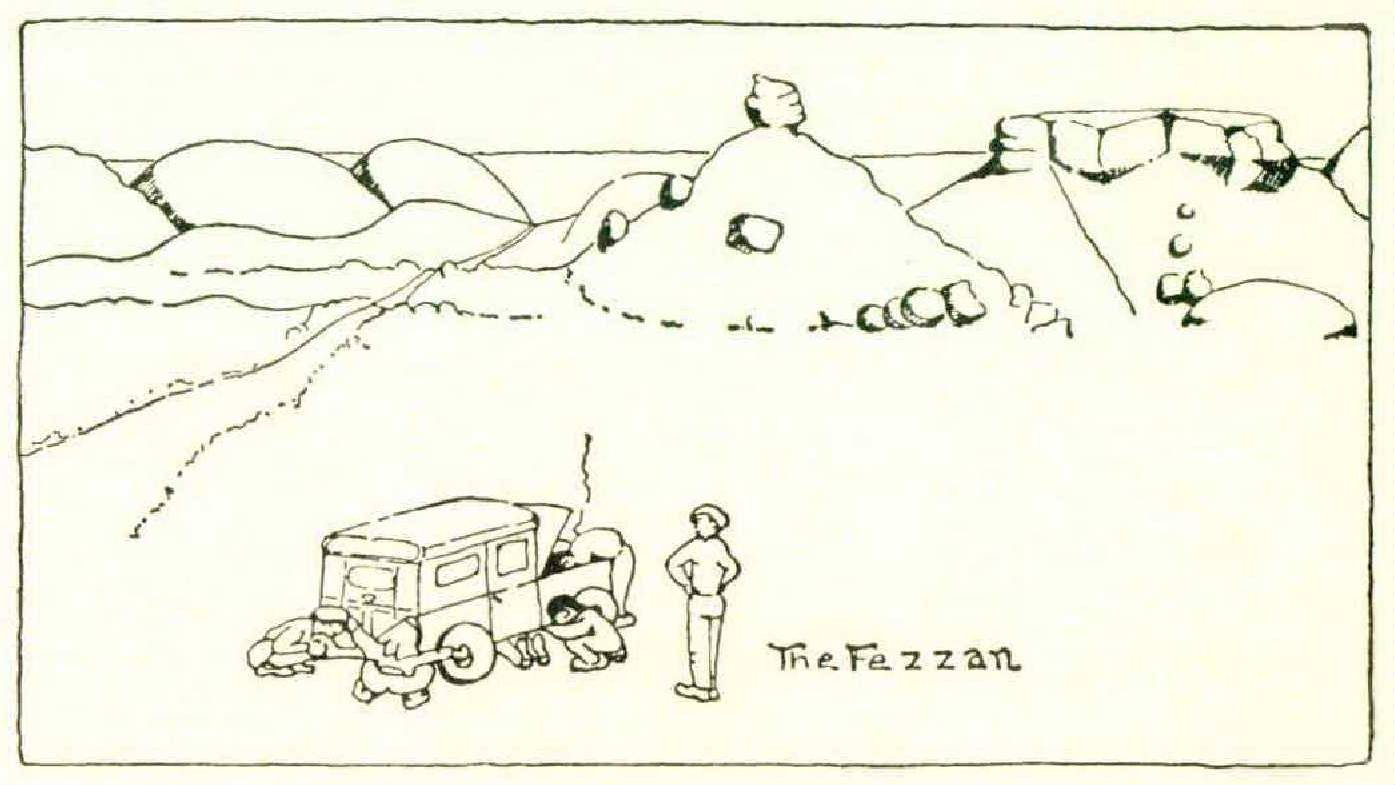 Next morning, our first stop is the government experiment date farm just outside Hun. This is run by the government under management of the FAO date expert, Jef Dowson, who spends much of his time here. He has done wonders with the date palm cultivation in this area, and is enthusiastic in plans for the future. Jef himself looks more like an Egyptian famine than any of the Arabs who are working with him; desert life is harder on Europeans than on those who are born to it, perhaps because they work harder. Jef speaks excellent Arabic. He loves date culture passionately — perfectly adjusted to the desert, I guess!
A few miles from Hun we come to Sokna, also famous in slave-trade history. Sokna exists where it does because of the wells in the oasis, which for centuries have brought caravans here to call. The village is completely enclosed by a high white limestone wall, finished on top in a distinctive crenellated design all around the wall. The same design had been repeated in the Ghadames walls, also on the slave route.
We stop at a well just outside the village to watch while water is drawn up by man and camel power exactly as it has been done for centuries. The camel, with the water container, which hangs inside the well, attached to him at the end of a long rope that passes over a pulley above the reservoir, stands close to the surface opening apparently supervising, while the container is submerged and filled by a series of expert man-made jerks. Then at a signal from the man, the camel, with a supercilious look, ambles away from the well, thus drawing the container to the top.
There is a magnificent Acacia nilotica growing beside the well, and in its shade I sit down to sketch. This is the first Acacia nilotica I have noticed since leaving the Sirtic Desert. Upon inquiry, we learn there are a number growing in Sokna, planted here by the local people for the acacia's economic value; the pods are used in tanning hides, and have for centuries been used for trade and barter. Gerry as a tanning expert is interested in this.
Peter has led in everything so far, setting speeds, calling halts, telling people to hurry, slowing them down, saying let's eat or let's not eat, contributing the last word on everything; after all, he is an Expert. The problem is that he is accompanied by Experts Talaat, Van Hoorn, and Keith, who have their own Expert ideas on matters. How fortunate that I know nothing.
After leaving Sokna, those who think they know desert travel best take the lead. This means that Peter and Aminta in their Rovers are in front, breasted by Hammet, who can't bear to be second, breasted by Gerry, who thinks there must be an emergency someplace! Neck and neck, the chariots race over a sand and gravel plain where the marked path is corduroy and the unmarked one is gutted by dry wadis, until Harry suggests to Hammet to drop back in second place.
"But my father," says Hammet, unwillingly slowing, "you are the leader! You should be first."
"Damn it all, I want to see the country!" says Harry. "Slow down."
Behind us is the beige, gold, and bisque of sanddune country, with its friendly fringes of oasis palms backed dimly by the shape of Jebel Uaddan. Before us opens a very different landscape shadowed by long forbidding dark humps of mountains which change to purple and black as we approach and look as if molten lava had been poured over them, as indeed it probably has been in ages past. For this is the forerunner of Jebel Soda, the Black Mountain, a volcanic massif once entirely lavacovered, now weathering slowly down to plains.
The track on which we travel is striped in distinct and varying colors according to the different geological strata we are crossing. I could never have imagined anything like it! Here is the pale, shiny lime green of gypsum, here a yellow strip of sandstone, now the rusty red of iron, now the chalk white of lime, the black and purple of basalt, and sometimes a sand drift of salmon pink blown up from the Red Desert — fantastic and incredible.
As we go southward, the coal-black humps become angular and geometrical in shape, rising up sheer and straight from the plain, examples of hard strata which have survived erosion. Lesser brown humps lie among them like giant ant hills which have had buckets of coal tossed over them.
We have been warned to watch for Maeruacrassifolia in Wadi Tengesir, a dry wadi which descends from Jebel Soda and runs north into the flood plain approaching Sokna. Maerua is almost the only tree which still survives in the Jebel Soda region, probably because it does not burn well enough to be cut and carried away for firewood. All the other trees, such as Acacia tortilis and its variety raddiana, have been destroyed, from Hun to Sebha, for firewood, just during this century.
Badreddin, in the leading Rover, spots the first Maerua, a tree about twenty feet high with smooth white bark and dark-green foliage which grows in a dense, full crown and makes a beautiful display against the bare black mountains.
Now large lustrous black boulders lie all around us, weathered from the lava mass and still weathering into black rocks, black stones, black gravel, and ultimately, black sand. The track is marked by single boulders pried out of chocolate sandstone and standing upright like a parade of penguins, with one black side, one brown. Under their guidance we are being swallowed into a world of dark shapes.
We stop at Wishka, on the divide, which Hammet says is the last place we will find water until we reach Sebha. There is an artesian well here, and we water the motors, fill our bottles, and take long cool drinks. The water is clear and sweet, quite different from the brackish water in the oases below. We are high, about 2500 feet, the approximate level of Jebel Soda Plateau. Yesterday sand, sky, and air were all one medium; today blackness and brilliance alternate. Up here, filled with cool fresh air and sweet cold water, we are truly gripped by the holiday spirit, and Hammet and Badreddin are fooling about like teen-agers, a circumstance I could never imagine taking place in Tripoli!
ONE distorted wind-bent, sand-bitten tree stands alone on the steely sunstruck plateau before us. For as far as we can see in any direction, there is no other vertical object visible except this one desiccated tree, and it is the only sign of almost-green for several hours.
The midday sun is blinding, but the wind is cool and fresh up here where the weathering rock dust is too heavy to be lifted in the current. The basalt tableland, sheeted over with glittering gravel, gives off a blackish sheen except where the clear blue waters of mirages swell and ripple over it in soundless, shifting floods. We park the Land Rovers, and as we start toward the tree on foot, the shimmering pale-blue mirage lakes seem to break before us and pour away, then close in silently again behind. In all this phantasmic, unreal scene, the mirages alone seem real.
Arrived at the tree, Harry says in respectful tones, "This must be the tree the Tuareg talk about. The Maerua crassifolia is the only tree besides the Acacia raddiana that will grow on top of this plateau. "
"How did it get here?" demands Badreddin. "By windblown seeds?"
"Who knows how this one came," says cautious Harry. "It's rare, but it's native."
"Perhaps the seed was spilled from a caravan in the old slave-trade days," I suggest hopefully.
"Why should it be?" says Harry.
"Why shouldn't it be? They spilled plenty of human seed along the way!"
"How old is it?" asks Hammet.
"I can't say," says Harry, who never makes a guess.
Anyway, it is a tree, although compared to the Maeruae we found in Wadi Tengesir, with their rich bottle-green crowns, it is a sapless, fleshless, bloodless, almost colorless relic, a victim of hunger and thirst — but still it lives! Now the investigation begins, the measuring as well as marveling. The men photograph it, circle scientifically around it, search for seeds on and near it, scrutinize the trunk, branches, leaves, and bark, which is white as a bone. At last we turn away, and the blue ripples of mirages retreat before us, then close in again behind, leaving the thirsty specter growing in a lake. Someone looks back and says, "And it's really only a miserable, scruffy little thing!"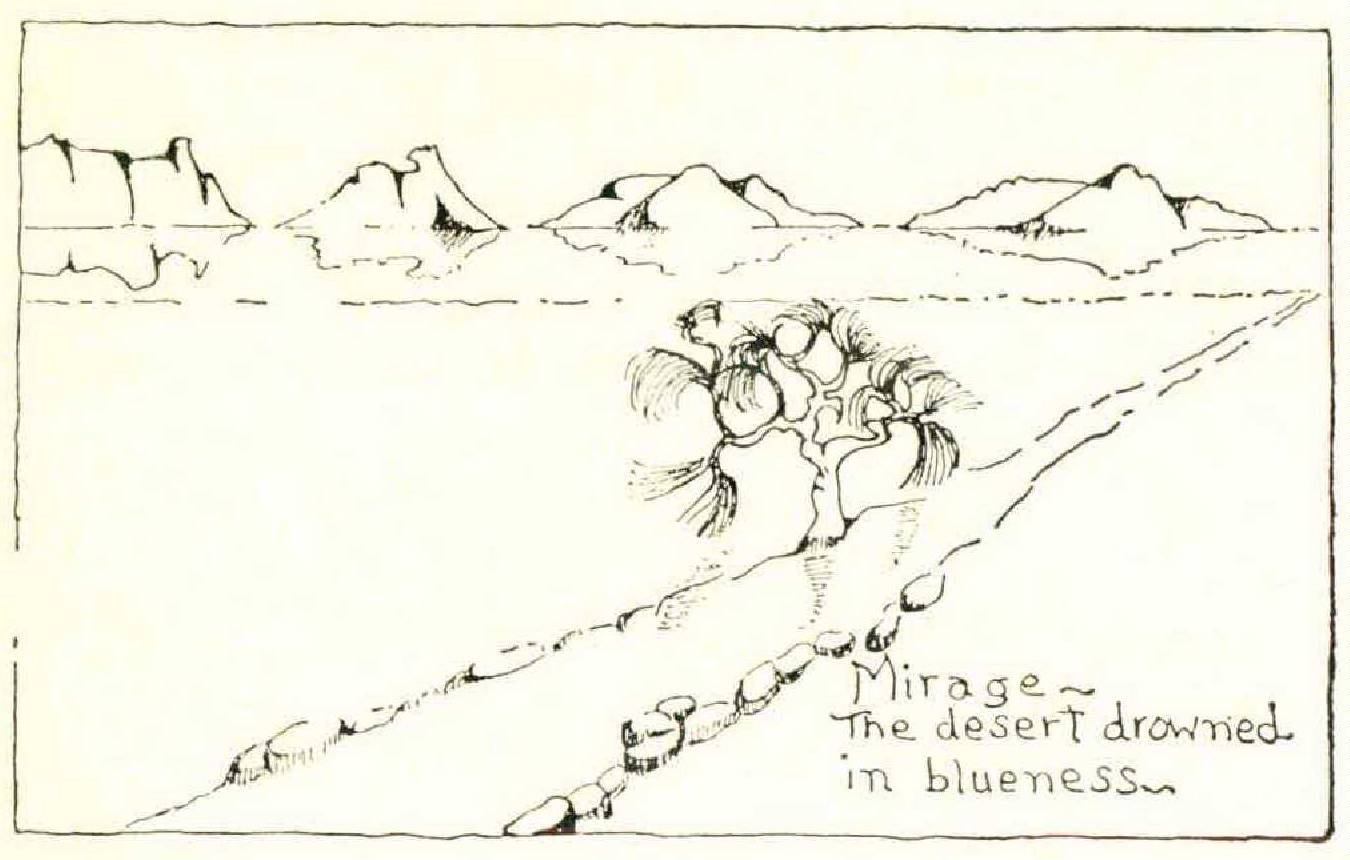 And this is the real truth of the desert. A miserable, scruffy little thing may be a miraculous sight in a long day's travel, a thing of pure beauty, a proof of fertility, a sign of God, and a promise to man. Yet undeniably it may still be only a miserable, scruffy little thing. In the desert, of all places, beauty is in the eye of the beholder.
There is no permanent human settlement anyplace in the Jebel Soda. The massif sometimes receives up to an inch of rainfall in years when there is none at all on the desert floor. In such a year nomad herdsmen drive their livestock up to graze. What they graze on I can't imagine, as we haven't seen a glint of green, except the Maerua, which was scarcely green, or a spear of grass in six hours of travel.
What agony this stretch of the journey must have been for the slaves driven over it in barefoot herds in caravan days! Yoked neck to neck, naked men, women carrying babies, crying, sickly children, with their black skins gray with dust and broken with sores, stumbled on bleeding feet over the sharp rocks, lurching and almost falling, held upright only by the wooden yoke which tied them to their neighbors. Each night the ill and the dead were cut loose from their places between those who had survived, and were left behind in the wilderness to perish. Today, mounds of human bones and camel skeletons are still found along all these routes, and not all of these are centuries old, for the trade lasted well into the twentieth century. Slave traders used to estimate to lose 80 percent of every human cargo and still make a good profit.
It is a long way to come from the inferno of those days to the carefree wonder of sailing through mirages in a Land Rover. My former concept of a mirage as a neat little pastel picture, possibly upside down, projected into the middle of a sandy yellow desert is all wrong. Instead, I am projected into the mirage, which itself dominates the landscape, absorbs it and drowns it, and me with it, to such an extent that it seems that I may be imaginary, or an optical illusion, but the mirages are real. Sometimes as we drive, the road is only a slim peninsula surrounded by sea, and sometimes it narrows to a thin strip of blue tape which unrolls as we go and rolls up after us. And thus lost in light waves and tricked by sight, I am momentarily existing in a painless medium, when suddenly the leading Land Rover comes to an abrupt stop. We breast it and shout, "What's the matter?"
Peter gives the answer with sweet reasonableness: "Matter is it's three o'clock. Let's eat!"
AFTER bread and tinned tuna, we continue across the steely surface, now pursued by a new set of mirages with yellow sand dunes floating in them like custard on pudding. We know by the maps that sand is not within view from here, and the mirage dunes must be promises of what is still beyond our sight. After another hour of travel, the dunes begin to solidify, while the mirage waters withdraw to the horizon with the lessening intensity of the four o'clock sun. Soon the sharp outline of the gravel plateau softens to an undulating one caused by the stealthy appearance on our right of a long line of symmetrical, saffron-colored dunes. These creep up as we travel until they predominate over the blackness of gravel, and suddenly all about us there lies the beige of sand.
There are high dunes and low ones, sand drifts and sand shadows, and smooth, rippling yellow sand is coated thickly over all the landscape, with one exception. This is a hard brown sandstone peak looming ahead of us which in weathering seems to have taken the shape of a sharp-featured face; it is known as Garibaldi's Head. We have crossed the border now into the Fezzan.
We stop here to photograph, Hammet and Badreddin with mad enthusiasm photographing us all against Garibaldi's Head, and getting us to photograph them against every available landscape oddity. I nag Harry into taking a couple of snaps with me in them (it is the Sahara!), but he would much prefer a tree.
The color about us is marvelous, the sky still Madonna-blue, the sand golden against chocolate hills. "Oh, isn't it beautiful!" I say to Peter.
He answers me rebukingly, "Our ideas of beauty differ."
I realize then that the color green is missing, and Peter has the English love of a green countryside, and a pastoral one. "But I love the emptiness of it, the barrenness — it's uncluttered," I say.
"But you wouldn't want to live here?" Hammet asks with horror.
"In the desert? I'd like to try it, anyway. Would you?"
Both Hammet and Badreddin shudder. "No, no, in sha' Allah! No, no!"
Harry finds three naked spears of grass, Aristida plumosa, nearby, and then we leave, but not before deciding to change the name of Garibaldi's Head to Pasha's Head in Hammet's honor, as he is probably the first one to visit it.
Pasha's Head rises from the foot of the pass which we now descend to reach an undulating valley floor, crisscrossed in the distance by small choppy blue waves which prove to be hills. These are the sand hills and dune masses of Ramla Zelaf, turned a glorious cornflower blue in the lessening light. After the austerity of Jebel Soda, the scene before us has a pleasant pastoral quality, in which the rippling sands look like ripe wheat fields, and the blue hills might easily be abloom with lupine.
However, the way proves far from pastoral, and for two hours we crisscross sand and stony desert, with the road frequently blocked by long golden dunes of migratory habits around which we must drive, or try to. We have just passed Peter, who is really our best driver, stuck in a dune, when as we slow for the turn our car settles softly down into the sand. For a moment Hammet churns up the sand in a last four-wheel effort to get out; then he switches off the motor, and we all jump down.
Shall we try it again, with a lightened load and two of us pushing? Or try the second step first (as each failure digs the car in deeper), and scour the surroundings for dried vegetation to place in front of the wheels to give them traction? The third step of untying the long sand tracks we try to avoid because of the time needed to attach them securely again to the vehicle.
At this moment Gerry and Assad whiz past, waving. They apparently see our trouble, find a hard spot ahead to stop their car, and return on foot to help. Now, with all of us pushing, the car pulls free —just as Peter's car passes, once more in the lead! It's a game with the drivers, and no one can afford to feel superior — although each one does.
Just before seven o'clock we near new Sebha, the provincial capital of Fezzan. Unlike those of genuine oasis villages, the approach to Sebha is not heralded by sight of a welcome strip of dusty palms, which to the traveler mean water, for modern Sebha does not owe its existence to the vital fact of water, or to any vital fact. It is a synthetic town built to the dream specifications of a provincial capital, and it houses imported government personnel, plus experts, foreigners, and weekend visitors who usually come by air.
The one interesting architectural feature of Sebha is visible immediately: the old Italian fort on a nearby hill, called Forte Regina Elena by the Italians, which fell to the French forces in World War II and became Fort Leclerc. Under the French post-war administration of this area, Fort Leclerc was occupied by the Foreign Legion troops, principally of German nationality. When by agreement with Libya the French evacuated the Fezzan in 1956, they removed all pipes, plumbing fixtures, and fittings from Fort Leclerc before turning it over to the Libyan military forces, who now occupy it. This fact is uppermost in my mind as I look up at its looming mass and try to visualize the problem of carrying water in buckets up that hill.
Harry and I are fortunate in getting a room at the little New Sebha Hotel, with a comfortablelooking double bed and an adjoining bath, but no water in the pipes. Our proprietor sends in several buckets of water, with which we sponge off the top film of sand. My hairline and scalp are still salmoncolored, and though I brush vigorously, my dark hair stays gingery and stiff. I scoop sand out of my ears, scrape it out of my nails, put on a clean but sandy shirt, as red dust has penetrated my valise, and hurry to the hotel bar, where our entire party has met for iced drinks and a hot meal. Very soon I am forced to admit that the synthesis of Sebha out of sand and cash is serving to make me very comfortable !
The next morning the men devote to overhauling the Land Rovers, and we find that ours and another one have broken steering rods, which must be replaced with new ones from the load of spare parts with which we travel. So far, our car has had four punctures, and three new inner tubes are completely demolished. It is quoted that after every eight thousand desert miles, all the spare parts of a desert truck need replacement, but we seem to be reaching this goal too fast with Sebha only eight hundred miles from Tripoli.
AS I have no mechanical advice to give, I am free this morning to go with Marianne Lapper to visit the Fezzani families of some of her students. Marianne is a UNESCO education expert who teaches adult education in old Sebha, called Sebha Gedid, the original Sebha oasis. To go from the capital city of Sebha to old Sebha requires only five minutes travel, but it is five centuries removed in time. Old Sebha is as obviously impoverished as the Sebha capital is pretentious and improvident.
Marianne Lapper, a slender, blond, blue-eyed young German woman of keen intelligence and great sensitivity, is completely dedicated to her work. She and I met first by chance in the British military hospital in Tripoli, where she was under treatment for dysentery and I for an infected kidney. We found ourselves so sympathetic in outlook that I think we both enjoyed our stay in the hospital. Marianne is a talented Orientalist and linguist, and speaks Libyan Arabic fluently. She is also "Dr." Lapper, but everyone in the Fezzan calls her Marianne, including the local policemen. They do it in such a respectful yet affectionate manner that "Marianne" spoken thus becomes a veritable honorific, and one soon forgets both "Lapper" and "Dr."
We park the car in blinding sunshine, just outside the old mud city wall, and pass through a narrow doorway to enter the city. Inside, it is dark and cool, for the street is really a covered passageway with the upper floors of dwellings meeting together above the street. We follow this alley in dusk, and I trip in several ruts as the sloping path climbs, turns two corners, and stops before a closed door. We knock; voices answer from above, and Marianne replies in Arabic; and then we open the door and enter.
In contrast with the dark passage outside, the interior of the house seems bursting with hot white sunlight, which pours down on us from the open sky two stories above. This is the first southern oasis house I have entered, and knowing that they are built without windows in order that no man may see the women inside, I was not prepared for the flood of brightness. Steps lead to a second story above us and then continue upward to the roof. The house is built of mud blocks, with construction beams of palm trunks, the only available desert wood. There is no furniture of any sort, only a woven reed mat rolled up against the wall, and several homemade pottery cooking pots standing near on the earth floor.
Three women are waiting to greet us; in a house of this simplicity, personalities dominate surroundings, and these women are like flames of desert life.
Two of them are middle-aged; one has an oval face with aquiline features and blue eyes, and the other has a broad, round face with brilliant black shoe-button eyes. The old lady, their mother, remains seated on the smooth earth floor. Her face is heavily lined with both sorrow and laughter, and her eyes sparkle with wicked humor, and malice, too, I think. They all have tan skins but are certainly not Negroid, although the word Fezzani usually introduces a person of black African blood. As in most Libyan homes and all oasis ones, several generations of a family live together.
They greet me with the Muslim welcome, a handshake followed by a kiss on the back of one's own hand. They welcome Marianne, however, as a sister, as one of themselves, as one who enters their house by right of mutual trust and deep affection. In fact, they express a feeling for her which if I had not seen it I would not have imagined could ever exist between Libyan women and any foreigner. I was deeply impressed by the honesty, strength, and simplicity of this relationship. I had heard from Marianne, when we were in the hospital together, of some of the difficulties of her first year in the Fezzan, and it seemed to me that in the relationship I saw today her reward was being won.
Before we leave, Marianne asks permission to take me to the rooftop, from which we can survey all the other rooftops of Sebha Gedid. This is banned territory for men, as all household roofs are strictly for women — the rooftop is woman's only freedom.
After taking proper good-bye formalities, we leave the household, I very much impressed by the apparent brightness and gaiety of these women who live their lives behind closed doors, in a life that to me would be unbearable. As we close the door after us, Marianne calls my attention to the fact that it is made from split sections of the trunk of a palm tree which have been joined together to make a very attractive door.
We visit several other friends of Marianne's and find one who is very ill with a liver complaint, and is, as we visit, receiving a massage from a friend for her malady. Marianne tells me that this patient went first to local Arab doctors and made no improvement, then to a French doctor, still without apparent benefit; then she returned to a local Arab doctor again. He has just finished giving her a course of treatment which consists of burning her flesh with a white-hot iron, as a result of which her ribs and back are covered with long scars. This treatment, the patient tells Marianne, is giving her some relief! It occurs to none of them that her illness may be beyond cure.
As it is midday now, we start back along the covered passageway, walking slowly and talking.
"Is there much illness in old Sebha?" I ask, my eyes still filled with the sight of those long raw red scars caused by cautery.
"Well, what you saw today was probably the result of a lifetime of bad diet. Certainly, undernourishment and trachoma are the greatest problem, although, of course, social diseases have further-reaching effects through the children. No one can possibly estimate how widespread these diseases are, except to say that there is an overwhelming amount, more than any report would dare to say. As to trachoma, among the fifty girls that I have at school, forty-nine of them had trachoma. All have been treated through the school, and most have been cured."
"About what age do the local girls marry?"
"Anytime after eleven years of age — and from then on they are usually perpetually pregnant. Some of them have never menstruated; they were married and presumably became pregnant just before they would have had a first period."
"Can't somebody try to teach them family planning, or birth control?"
"Agnes dear! You are talking centuries and centuries ahead of us here! In any case, the women don't wish to escape pregnancy, because as long as a woman continues to get pregnant, her husband has less excuse to take another wife. Also, children are very much wanted here and receive a great deal of affection — even if they can't be fed properly. But a tremendous number of children die before they are four years old. That, I suppose, holds down the population."
"What do the children eat?"
"Dates. Especially the black Fezzanis. The lucky ones may have goat's milk, but many of the oasis children after stopping with mother's milk eat nothing but dates up to the time they are nine or ten years old. To them, food is dates."
"I remember a little Fezzani boy," I recall then, "who came up from the desert to live with some friends of ours in Tripoli. He actually refused to eat at all for days, until they finally got him some Fezzani dates. He wouldn't touch the sticky Tripoli things they sell in packets."
"The Fezzan people could never exist without date palms," says Marianne. "Nothing is wasted; even the stone is ground up and fed to livestock. All these local mud houses here are roofed with date palm fronds plastered with mud. Sayed Umar Sha'aban, the father of one of my pupils, set out the other day on a journey of several weeks to guide a camel party across the Rebiana Sand Sea to Kufra. I asked his wife what he took to eat. She said his pockets were stuffed with Fezzan dates, and he had a sack of them tied at his waist, and he had a little packet of tea, and a full water bag, and that is all that he took. Think of crossing one of the worst stretches of the Sahara like that!
"I don't mean," Marianne continued, "that all the oasis people use nothing but dates. Some of the farmers grow barley, wheat, millet, onions, and tomatoes. Many of them make bazin from barley flour; they knead it into dough and eat it uncooked, and it's nourishing. Some even make wheat flour into pasta, like spaghetti — but those things are eaten sometimes; dates are always used."
"What about their sheep and camels?"
"Sheep here are never slaughtered for food! They're only used for wool. Camel—well, most people can't afford any meat of any sort. Sometimes a very old camel may get slaughtered, if he's too old to plow and too weak to carry! People don't use money here: they don't have it. A family income averages about twenty dollars a year."
We pass through the gate in the old city wall now and step outside into the sunshine, into a different world. The shadowed one we have left was welcoming and friendly, but not, I knew, a world for me — only for the women of a Muslim world. That world has its own strength and power, which reside in its very exclusion, its walls and closed doors, its secret thoughts and unexplored minds, its faith in old ways and in the following of ancient rites. Here the old order and its followers now survive spiritually with self-respect. Tear down the walls, open the doors, draw in the sunlight, destroy old rites, and bring reason to bear on old faiths — and what would be left to them here? Where and how does Fezzan life offer them any living alternative?
Speaking my thoughts aloud, I ask Marianne, "But could these people survive in a different life? A leap out of darkness into full sunlight is as dangerous as from sun to darkness."
And Marianne answers, " They are already successful in part in handling their incredibly difficult and dreadful desert environment. Their primitive ways meet their primitive needs. They depend only on desert resources. I do not wish to change them; I only hope to teach them to use more completely their own resources."
TO UNDERSTAND the people of the oases one must first visualize the vastness of the desert area in which an oasis stands and the utter isolation of each tiny group of date palms, vegetation, dwelling places, hidden women, and plodding men, each oasis usually having less than a hundred persons. These spots are like pinpoints on a clean sheet of paper with nothing connecting them to each other, or to anything else. Yet no one point is located by accident; each one is placed exactly where, by necessity, it must be; exactly where, and only where, water may be obtained by digging for it.
For the treasure of the Fezzan is a buried treasure: it is not gold, or salt, for which gold was once traded in equal measure; nor is it the notorious million-dollar African slave trade of days gone by; nor will it even be oil, in the long run of future years. Wealth of the desert lies here in the huge buried layer of water-permeable rock forming a geological basin which underlies the entire circular structural basin of the Fezzan. Under the windbeaten, desiccated desert of today, this deep, porous layer of sandstone and conglomerate rock has been accumulating water during thousands of years, and while man was busily destroying his resources above soil, nature was busily storing up treasure for him below in this priceless water reservoir. Groundwater is the secret of every grass-blade, barley grain, and date palm which grows in the Fezzan.
Here is a land almost without rain, without even a cloud. In some years, precipitation is completely nonexistent; in others there is only a trace. The average yearly rainfall was estimated to be, throughout a period of the last eight years at Ghat in the southern Fezzan, a half inch; and it is the opinion of a French meteorologist who has just completed a study of this area that rainfall is steadily growing less. With half an inch of rain falling on a parched surface, there can be no runoff or catchment. There exists here only this many-centuried safe deposit of groundwater to make existence possible for man, animal, or plant.
Fezzan oases are located along four narrow areas where the water table comes close to the land surface. In these areas, wells of varying depths which tap the porous underlayer will bring water to the earth's surface. Sometimes water is also found in natural flowing springs. In such an area, very shallow wells of only three or four feet in a dry wadi bottom will often flow freely because they draw water from the wadi floor alluvium, which itself draws water from the underlying sandstone layer. This explains why a wadi may suddenly appear across a desolate gravel plain, looking as green as a green pencil stripe drawn on white paper. Yet if you stop and search, you will find no visible dampness, not even a drop of water or a drink, but vegetation will find it.
There may be only twenty or fifty people living in an oasis, or a hundred, or several hundred, but each oasis is surrounded by an uninhabitable area which makes it as isolated as an island. Its date palms and inhabitants are constantly enveloped in one of two arduous climates. During part of the year the dwellers swelter and bake in a blinding sun, and are swept by the merciless ghibli, which crosses the Sahara like a yellow tidal wave, sometimes drowning whole villages in seas of sand, and destroying vegetation, camels, and men with all their mortal relics. The ghibli leaves behind it, in poor exchange, new mountains of bone-white sand, fresh pink scallops of shifting dunes, knife-edged crescent-shaped ones, and black granulous plains. During the rest of the year temperatures drop during the night to freezing, veering winds turn cold and damp, the sun is bright but comfortless, and no rain descends.
Physically, the desert people just barely survive, but spiritually they are strong because they are steeped in their own cultural tradition, which has developed from the urgent needs of their lonely lives. Desert necessity is their essence. Until their needs change, their way of life cannot do so. For any outside force to try to alter their ways without changing their desert exigencies would be as destructive as to take fins from a fish and replace them with feet, and then throw it back into the sea.
IT IS just outside Sebha that I had my solitary experience of being a heroine. I expect I shall never let any of my fellow travelers forget it.
There are some fine Stone Age rock drawings not too far from Sebha, and these Marianne and I went to see early one morning with a young Sebha policeman, presumably to escort us, but really because he wanted to drive the Land Rover. Of course there was no road or trail, but Marianne knew the way. Although the sand was soft in places, the policeman and I shared the driving and had no difficulty in arriving at the slightly mountainous location where the paintings are. I was extremely enthusiastic, as these were the first I had seen on site, although compared with those of Lhoti's book on the Tassili N'Ajjer, the Sebha ones were unspectacular and lacking in variety. Still, anything that one sees oneself on the site is more exciting than a great wonder which one reads about.
Marianne and I decided that Harry and Gerry must come to see the pictures in the afternoon, as we were leaving Sebha the next day. Consequently, we started out just after an early lunch, with Harry and me in one Land Rover and Marianne and Gerry in the other. As our Land Rover had been loaded for the next day's start, it was very heavy, and we soon found that the sand, which in the early morning with the night chill on it had offered a crusty surface and good resistance to our wheels, was now mushy and soft. Gerry and Marianne in their unloaded Land Rover, with Gerry a more skilled sand driver, were sailing along, while Harry and I bogged down twice and had to dig out, and once used sand tracks.
Since it looked as if our loaded vehicle couldn't make it, I suggested that Harry shift into the other Rover and go with Marianne and Gerry to see the drawings and leave me behind in our Rover to sketch. This was agreed.
"We'll be back in two hours at most," Marianne estimated, "as we are only three quarters of an hour from the gara now."
"Be sure to wait right here," Harry warned me. "Don't try to get smart and drive off anyplace on your own as you'll surely bog down or get lost. And your Rover has the sand tracks."
"Yes, dear. I know you wouldn't like to lose the sand tracks!"
They skimmed off at a terrific rate, which is the only way to keep going on sand, and almost immediately they were lost to sight beyond the long dune on my right. Even their sound vanished like magic, blocked by the sand-dune stretches.
"Suppose they get lost!" I thought, feeling suddenly very alone. "Or if the wind rises and covers their tracks from here, how will they find me again? And if they don't come in two hours, what do I do?"
Well, it had been my idea. I got out my pencils and paper to sketch, and found nothing to draw but one long dune and another long dune, and another. Anyway, there was too much time for sketching; I had gotten used now to being hurried every moment as I sketched, to get back in the car and not delay the others. Finally I gave up and wrote in my diary. Then I went for little walks in all directions, always keeping the car top in sight.
When I stood on top of the dune I could see off in every direction, and there was nothing to see but more dunes. I saw by my watch that it was four o'clock, and the others had been away two and a half hours. I sat in the car and waited another half hour, meanwhile thinking carefully about what Harry had said: Don't drive on your own or you'll bog down or get lost! But I had the sand tracks, and if they had bogged down, they would need the tracks.
Three hours now. Something twitched in my fingertips, and the next moment the Rover was moving. "Dear God," I thought, "it isn't getting killed that I'd mind — but just don't let me get stuck!"
I had my plan in mind. I headed in the direction the others had disappeared in, only I mounted the dune and remained on top. I intended to stay on the crest of the dune where the sand was always hardest, and travel its length. Meanwhile I was praying for another longitudinal dune running in the same direction which would join mine, so I could mount it with a running start from my present dune. Still I saw nothing of the other Rover.
I traveled about half an hour, gaining confidence with every minute as I skimmed the crest of the well-organized dunes, which obligingly laid themselves end to end, almost overlapping. "It's easier than it looks," I thought. And at that moment I saw I was coming to the end of my dune range. "I'll not go down," I determined. "There's sure to be soft sand at the dune base, and I haven't the guts to risk getting stuck. While I'm on top, I can always turn around and go back."
But could I turn around on the narrow crest? Well, I couldn't back up all the way! Before I tried the turn, I stopped the car and decided to progress on foot to the extreme end of the dune for a final look around for the others. I did this, and unbelievably, scarcely crediting my own eyes, wondering if it was a mirage, I looked far down the soft end slope of the dune and saw way below me three very small, very busy sand-digging figures, and a Land Rover bogged in sand up to its springs.
One seldom experiences such a moment! There was I, unstuck, unlost, mobile, and bringing the rescuing sand tracks! Admittedly, it was also nice to meet up with one's companions again.
I gave them a shout. They looked up. They were shocked. They couldn't believe it. Not Agnes! We told her to wait! Then with one mind, they all started crazily waving me back, and shouting, "Stay on top! Stay on top! Don't come down here!"
I thought myself that it was time for them to stop giving me their advice. I was the one who was mobile.
So we unlashed the sand tracks again; we dug them out this time, and the Rover got going. I went back to my darling, adorable, reliable vehicle and prayed that by God's good grace there would be just space enough for me to turn it around on the crest. There was. Thus the day ended in my only triumph of the trip.
We left Sebha at eight next morning, and I think we were all glad to go. New Sebha is too synthetic to attract devotion. One cannot be loyal to a lightless lamppost, a dry bathtub, a WC without W, a village without villagers, and a soulless city filled with transient inhabitants who count the days till they can leave.
PETER and the three in his two Land Rovers leave for Brak, an oasis north of Sebha, from where they will return to Tripoli. Now we are down to the original six persons and two cars, headed south for Ghat. It is a glorious morning with a brisk, cool breeze and clean, dry air — one of those days which I didn't know existed when I was describing the arduous climates of the oases!
In my notebook for the pre-Ghat area, I have drawn a sharp-edged outline of dark geometrical shapes, quite unmountainlike, but part of the Hoggar massif. At the bottom is scrawled, "We are rushing madly toward this!" On the next page I have a collection of small round black mushrooms afloat in a bowl of brown gravy, with the note that "these mushrooms are mountains." Then as the sun goes down behind the distant massif, I have noted, "Little brown ant hills (several hundred meters high!) pop up in front of us, quickly turning purple in the lowering sun, except for a shimmer of white calcium on top like drifting snow."
With the sun now lost behind the mountains, the shadowed landscape grows increasingly ghoulish. It is quite fitting that at this moment we should arrive at the foot of the Jebel Jinn, a craggy, tortured, pinnacled mountain which, according to legend, is inhabited by powerful and unpleasant supernatural jinn. Looking at this landscape at sunset, black and ragged against a burning sky, I feel quite willing to leave it undisputed with the jinn.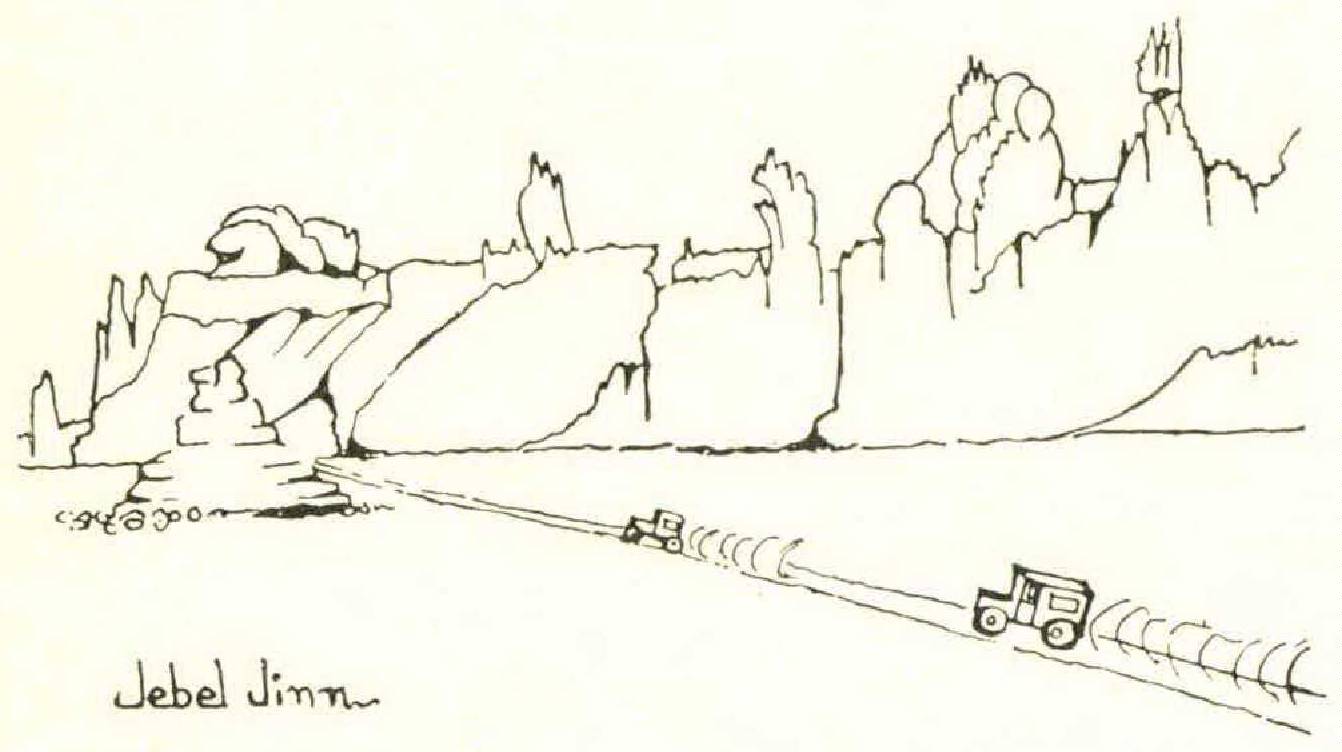 Rapidly the scene about us turns dark violet, then black, and soon there is nothing to tell us where the road is except when we get off it and suddenly strike a wadi bed — and my neck snaps. It is eight o'clock when we realize that we are traveling smoothly on a real road. Then all in a moment, with no warning of lights ahead, no glow even in the sky, the road twists abruptly, and we are in Ghat. By the starlight we can see white walls running beside the road, and dark shadowed palms, and then, proceeding slowly around another twist, we arrive at the police station. Here we exchange greetings and ask directions, and then with a policeman walking amiably beside us carrying his oil lamp to show the way, we are led to the rest house.
In Ghat, a Tuareg oasis, both men and women are free to come and go as they wish — almost too free for our good repose. All night in the rest house courtyard where we are trying to sleep, we are visited by interested onlookers and spectators who have come to see the new arrivals. All night, dozing pleasantly, all of us travelers lying together under the great Zizyphus spina christi tree, with its white bark shining and its canopy spread over us, I hear cheerful Fezzani voices making us at home with "Lebas, lebas, lebas, Hammet! Lebas, Badreddin! Lebas, friends!"
As Ghat is a Tuareg oasis, or at least one which exists under the Tuareg tradition, the work is all done by either serfs or women, as the men never work. The women are all unveiled. The market ladies are certainly tough-looking babes; it was one of them, it seems, who tried all night to get into Hammet's bed! She couldn't have been much to our elegant friend's taste. Still, it is pleasant to meet with friendly smiles, and natural curiosity without antagonism. It is good to escape from the too great contrasts between Muslim women and Western ones which I find in Tripoli — a contrast which makes the Western woman seem bold and shameless and the Libyan Arab woman slightly ridiculous. Here in Ghat there is a relaxed atmosphere, and the girls neither run and hide nor look embarrassed. And if they behave a bit boldly, this is accepted in their own tradition, and they are only doing what comes naturally. In fact, illicit love affairs among the unmarried women are not a disgrace, as the Tuareg women have a completely individual code of behavior and morals.
Now in the morning, in the glittering white sunlight, the market women sit cross-legged with their food items spread on round trays on the earth floor, and balancing their less breakable wares on their heads. They are dressed in dark draped robes of black or indigo-blue cotton, with bright colored scarfs and baracans floating about their heads. They look decidedly grubby and smell very strong, and I can easily visualize them as washing with the desert sands! Nevertheless, Ghat has a wonderful artesian well and good water supply, and later on I found crowds of women at the public watering place, washing their clothes and themselves with great gusto. Perhaps it was I who smelled strong this morning!
The most objectionable inhabitant of Ghat is the fly. In a desert oasis one never sees a lone fly; instead, one sees a fleshy aura of them surrounding every particle of food and every person. They are furious and frenzied, seldom seem to be airborne, and never travel alone. They mass in solid formations and cluster in large beady bunches like berries. They settle on the sticky mouths of children like blackberry jam, swarm on the watering eyes of infants, and turn small black baby faces iridescent with their shimmering gray wings.
For above all they love babies, and every infant carries a buzzing halo about his head. They stroll on his eyelids, flutter in his lashes, crawl in and out of his nostrils, cluster in the drip from his nose, and cling to his baby lips. They never desert him; stark naked with all his orifices exposed, he is perfect fly bait, and they go with him wherever he goes, his blackness ashimmer with wings.
The Tuareg aristocrat has three outstanding physical characteristics: he is tall and white-skinned (if you can see his skin) and has straight hair. As most people of Ghat are dark-skinned with kinky hair, they are probably not true Tuareg, but the offspring of slaves still working in the farmlands for the benefit of the aristocrats. The Tuareg themselves scorn all forms of work. They are, by tradition, warriors only.
Tuareg males are brought up on the saying "Shame enters the family that tills the land !", and the men literally have never worked the land. The women do all the business and handle all the cash. They are also free to love where they wish, although I didn't see much to tempt a man in the market today.
In days past when the Sahara was a battle place for semi-nomad desert tribes, each one battling for survival, the Tuareg was the supreme warrior and was happiest when he was engaged in a bloody brawl. With the coming of comparative peace in the Sahara, once severely enforced by the French Legionnaires with the help of the Chaamba camel legions and now generally accepted, the warrior Tuareg has literally fought himself out of his old, once-respected job and place in desert life, and today the Tuareg men seem to have no valid reason for being. They sit about all day on the desert floor outside the city walls, covered from head to foot in indigo-blue drapes, their faces completely veiled in dark-blue folds of the litham, with the narrowest slit for their piercing black eyes, which are all too frequently dimmed by trachoma.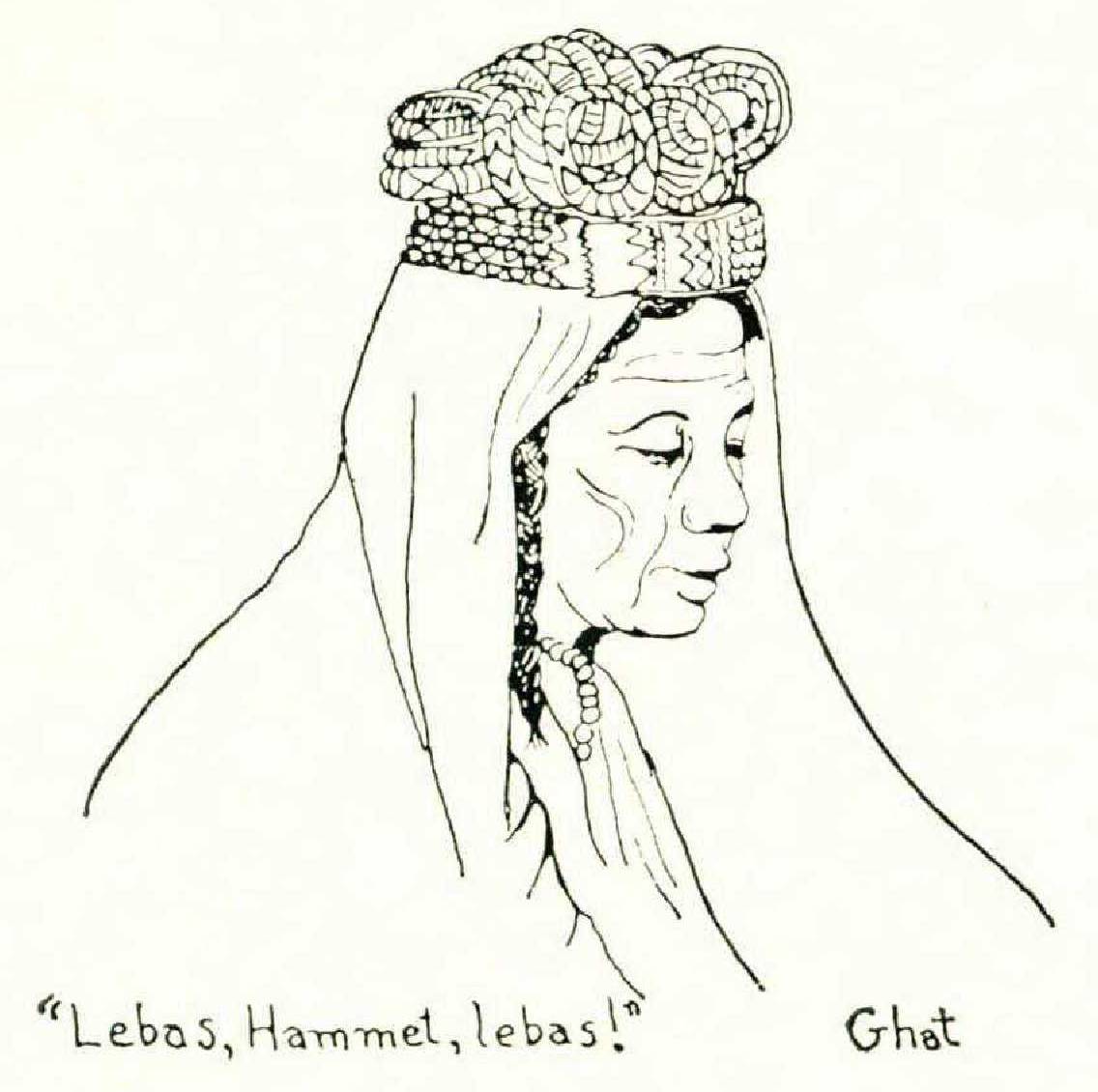 They never remove their blue garments, and their bodies themselves are permanently dark blue from the effect of perspiration on the indigo dye. They do not remove their veils for sleeping, or even when eating, for by the Tuareg code of etiquette the mouth should never be seen, and to eat visibly is considered an act of indecency. Consequently, they shove their food up under the veil, and suck it down. Reason suggests that these decadent, grubby, unsanitary men are practically worthless in the world of today, but one still cannot escape a gasp of admiration at the sight of a tall, very straight, blue-robed Tuareg sitting like a ramrod on his racing camel.
Harry and Gerry, Badreddin and Hammet have just come from a long discussion with the mudir of Ghat, and the amenokal, the chief of the local Tuareg, about the future of Ghat. The sad fact is that Ghat has no future; her Negro slaves who work the land are dying off, and her young men are leaving because there is no longer a living to be made.
Her prosperity in times past has been derived from the caravan trade which traveled north and south from Kano through Ghat to Tripoli and back to Kano, carrying slaves, gold, ivory, ostrich feathers, and leatherwork and returning with salt and silks. Now the caravan routes have decayed, from the abolition of slave trade and the competition of the Mediterranean sea routes. For in the past it was not the Tuareg or the Arab, but the Negro slave who cultivated the oases and beat back the Sahara.
My companions are also discussing the fact that a small girl has been offered for sale to Hammet to take back with him to Tripoli! The fact that such a suggestion is regularly made to travelers in the desert is a cause of great embarrassment to the Libyan government, which does not countenance the traffic in human beings any more than does any other respectable government. However, it is not always possible to see that the law is respected in every isolated oasis of the Sahara. The law is the responsibility of the state, but its observance is the responsibility of the people.
After a tremendous meal to satisfy our rapacious appetites, we all settle down in the shaded courtyard to snooze. But the biting flies do not permit this, and we are wide awake when the informal afternoon reception begins, as various persons of importance arrive to pay their respects — or possibly for us to pay our respects to them. I am usually in a state of confusion about who is honoring whom, as Arab salutations are so copious and customs of hospitality so lavish that all persons present seem to be honored. As we are six and our visitors are also six and there is no place to sit except our cots, we all settle down on them in close propinquity while Hammet prepares tea.
Gerry's cot has two people on it already, and when the seventh visitor later arrives, a tall, wide, robust policeman who settles down on Gerry's cot, the cot, with a loud splintering noise, collapses on the pavement. Tremendous roars of joy from everyone greet this disaster, and from then on the success of the party is assured. Just why I laughed so hard when this happened and still laugh when I remember the scene, I am not certain, but I suspect that it is because I have now acquired the Eastern habit of laughing at all disasters which do not happen to me. Perhaps hilarity is based on a sensation of relief at one's own escape, more than rejoicing at the bad luck of others.
We all sleep in the courtyard each night to escape, if possible, from the smell of the waterless WC, which has been accumulating its burden since the last slave train came through! It is awkward being in the center of town and having to dash to its outskirts morning and evening. I should prefer to camp outside the town on the desert, but the hospitable police insist that we stay here — and use the modern conveniences. Anyway, this courtyard for me is unforgettable; the Zizyphus tree is a spectral white mother in the starlight above us as we lie in our cots each night.
This is our last night here; we are in bed, but no one seems sleepy. Badreddin is talking with Harry.
"Did you know that the people of Ghat are the most individualistic in all Libya?" Badreddin asks.
"I thought you were all that way!"
Badreddin laughs. "Yes, perhaps. But these people never think alike about anything, the policeman says. That is the reason that Ghat is divided into two quarters, the 'yes' quarter, and the 'no' one."
"Is that big policeman himself from Ghat?"
"No, Ghadames. He's a real Tuareg."
"The ancestors of these people in Ghat were certainly black," Harry says.
"I think the original people of Ghat were the Atara; they're black. Only the Tuareg doesn't describe the Negro as black: he calls him blue; and he says that the Hausa is black, the Arabs are white, and the Tuareg are red!"
"What about Jebel Jinn?" Harry asks. "Do the evil spirits ever come down here to Ghat?"
"Oh, yes. But there are holy men in Ghat who can throw out the evil spirits of the jinn!" says Badreddin, laughing.
"Maybe we take one holy man back to Tripoli with us!" suggests Hammet.
"Instead of that little girl!" somebody says.
"Is it still true that the Tuareg won't work?" I ask. "That he thinks it is a disgrace?"
"Oh, yes, my mother. He must save all his strength for love! He is an Expert for love!"
Much laughter.
"Very nice life!" says Hammet.
The next day we are looking back at Ghat in the early morning light, slightly nostalgic but not actually discontent to be on the road again, our hearts filled with mixed pictures of this Sahara oasis. In our memories we can feel the blazing sun and the welcome coolness of shade, and see the jewelgreen foliage and the glowing color of sun-drenched skins, the white teeth of laughter in dark faces, the wrinkled visages of "old crones" of thirty years, the round, dusky smoothness of young wives of twelve, the immobility of babies' eyes outlined by metallicwinged flies. We can smell the reek of rotting vegetation and the stink of dirty drains, and hear the silence of the star-strung sky by night, and the splash of falling water.
Hammet did not buy the little girl. But as a parting gesture, just as we were all packed into the Land Rovers, one of the old market ladies came up and tried to sell me a slave! All principles of human freedom aside, the last thing I want to be responsible for is introducing any more primitives to twentieth-century civilization.
HAVING come from the extreme southwestern boundary of Libya at Ghat, we laboriously but happily retrace our steps in a northeastern direction. A return trip always has both its sorrows and consolations. I admit to enjoying the privilege of regular baths, hair shampoos, and manicures, and these loom pleasantly ahead as we travel toward Tripoli. Yet I dread being caught up again in the endless round of conventional actions which make up my daily life in Tripoli, but which count for nothing out here under the Sahara stars. I look forward to a swim from the rocks at the Underwater Club, and a mixed drink at the bar — not half as strong as the ones we drink unmixed in the Sahara. Perhaps it is the duality of my life in Libya which makes me enjoy it so much, for it is both basic and gay.
Now I have a bond with the Sahara. Before leaving Tripoli I was reading ethnographic notes by a French historian of the Libyan desert, who wrote of the joy of the desert men in singing their nomadic songs of the seasons, especially of the harvest season, and of the winds of the Sahara. The historian translated some of these singing poems from Arabic into French, and I, translating with my stumbling French, wrote them out for myself in English. They were simple, primal, imaginative, and steeped in the essence of the abject dependence of the nomad on the moods of the Sahara. Who, except a follower of Islam, could accept destruction after destruction as sent by Allah and make a song of it; suffer loss after loss, drought, famine, and sand flood and sing again; celebrate every success of crops, increase of flocks, birth of a child, or vista of beauty as sent to him by Allah and sing again of Allah's will be done? Job, perhaps. As I read those songs in Tripoli, they seemed far away from me in time as well as in space.
But now I have a bond with the Sahara, and I more clearly hear the voice of the nomad when he sings. When he hymns the brutal force of the Sahara winds, I feel a bond. When he tells his children that the wind of the ghibli leaves nothing living behind it on plain or dune, "not even the fetus in the mother's womb," I recognize his cry. When he tells his children that the wind from the north draws up from the earth the shrubs for his flocks to feed on, and makes women fertile and men virile, while the child in the womb grows strong, I hear his song.
Now, from Ubari we pass through African-inhabited Twish, and then along an oasis strip where a string of tiny places is noted on the map only as "potable water." We are working our way up toward Sebha now, and before we approach it we sight what I remember so well — the vivid pink dunes brought south by the winds of the Hamada el Hamra, the Red Desert, as it weathers its stony red plains. These gaudy dunes have drifted against the jagged black shapes of the distant monsters of Jebel Soda, the Black Mountain.
For a couple of days then the suffocation of Sebha grips us. Marianne has flown to Tripoli, but the men of our party are here to discuss their findings from Ghat and Ubari with the Fezzan ministers and directors. The story is always the same: the oases are dying from loss of young male life. If matters are to be mended, not only must plantations and other projects be begun, but manpower must be inveigled back and young men must be shown a better oasis living.
Can this be done? The oasis mudirs have shaken their heads at us all along the line; the young men won't come back! And if they do not come? Well, a little more time and the oases die.
From Sebha we got to Wishka, the divide, where we drink joyfully once again some fresh, cold, nonsaline water. We cross through the wicked Jebel Soda, covered as if with scattered fragments of jet and cut steel of celestial origin, the most viciouslooking stretch of the trip, all glittering, angulated black. We come to Hun and buy some dates to take home, but we do not sleep here. Instead we hurry on to have the last night of the trip where we spent the first night.
We had all gone out to see the Libyan desert, Libyans and foreigners together, all equally sightseers there, with a common Sahara goal. But more than the desert, we had found in its desolate stretches something memorable that we hadn't bargained on — a period of complete, perfect, and unblemished companionship regardless of religion, nationality, or race. This was true for Harry and me, and I know that it was the kind of relationship which had to exist for all of us or it could not exist for any of us. In the desert, we had quickly come to take for granted this miraculous companionship.
But here tonight in the semicivilization of a small village hotel on the edge of Tripoli, with Ramadan about to divide our group into halves again, we become acutely conscious of the precarious and precious quality of this fragile relationship. Now suddenly we fear that this may slip from us. Now sadly we see that life may never be like this again.
Next day outside our Giorgimpopoli villa, in the glare of the sun and the cool of the sea, our Mohamed welcomes us home with cries of horror at our sand-coated condition and secret envy of our trip. There is a great stack of mail inside, he says: already the world closes in. Gerry and Assad say salam 'alekum, and addío, and head for home. Hammet is fidgeting to get home for a bath: Harry is anxious to go inside and press his plants. Only Badreddin and I are melancholic, unwilling to end the trip.
"In Arabic," Badreddin recalls, "Sahara is desert. Shall we go again, you think, my father? In sha' Allah?"
"In sha' Allah! If God wills! In sha' Allah!" Harry says.
Who can say more?