No Uncertain Terms
JEROME BEATTY, JR., who lives in Mashpee, Massachusetts, is the author of many light articles and books. This is his first appearance in the ATLANTIC.
Last year when we were planning a motor trip out West and back, we started to work on the itinerary. The route hinged not on the locations of mountain passes and deserts, but on which towns and cities our friends lived in.
Over the years we had received Christmas cards, letters, and oral invitations to "come visit us sometime" from certain people. We had carefully kept a record of these. Now we plotted the sources of these rash declarations on the map and drew a line between them. That would be our route.
Now, I don't want to give the impression that we baldly started out with the expectation of moving in on these kind folks. After all, we have children of our own. and we are fully aware of the confusion and hard work that accompanies houseguests, no matter how considerate they try to be. No, what we wanted to do was visit our friends out of pure sociability, but at the same time take advantage of as much hospitality as they were willing to offer.
The problem at hand was to ascertain how much. That required writing letters to these parties, carefully worded letters which would elicit a response that could be grasped firmly and considered a commitment. As a professional man of words, I was given this task by my wife. I did a fine job, using such loaded phrases as "stop by" and "our own sleeping bags." Each missive was a case of its own. In writing to one family in the Rockies, for instance, I subtly brought in the fact that we had so enjoyed having their daughter live with us while she attended the last semester of private school near our home.
Well, when the replies came, I found out the fallacy in the theory that Americans have forgotten how to communicate. When our backs are to the wall, when the chips are down, we are second to none in our power of expression. Let me give some examples.
We had wisely saved a Christmas card sent in 1962 by some very old friends in Benton Harbor, Michigan, on which the wife had doodled, "Wish we could get together sometime." When I wrote them, I composed a gem of a letter which made it apparent that we were driving to Benton Harbor as a big favor to them, in answer to their desperate plea. There was no reply for about two weeks. I now can visualize the frantic scramble in that household. His blast at her for the Christmas card note. Her reminder that we were his friends. She finally won, for the reply came from his office, where she had sent him to solve the problem. He did. The answer came on company stationery, dictated to a secretary whose initials appeared in the lower left corner. It stated that a terrible thing had happened: the whole bunch of them had to go East to a wedding at exactly the same time we would be passing through Michigan. The close of this letter from a chap I had known since the sixth grade was "Very truly yours. . . ."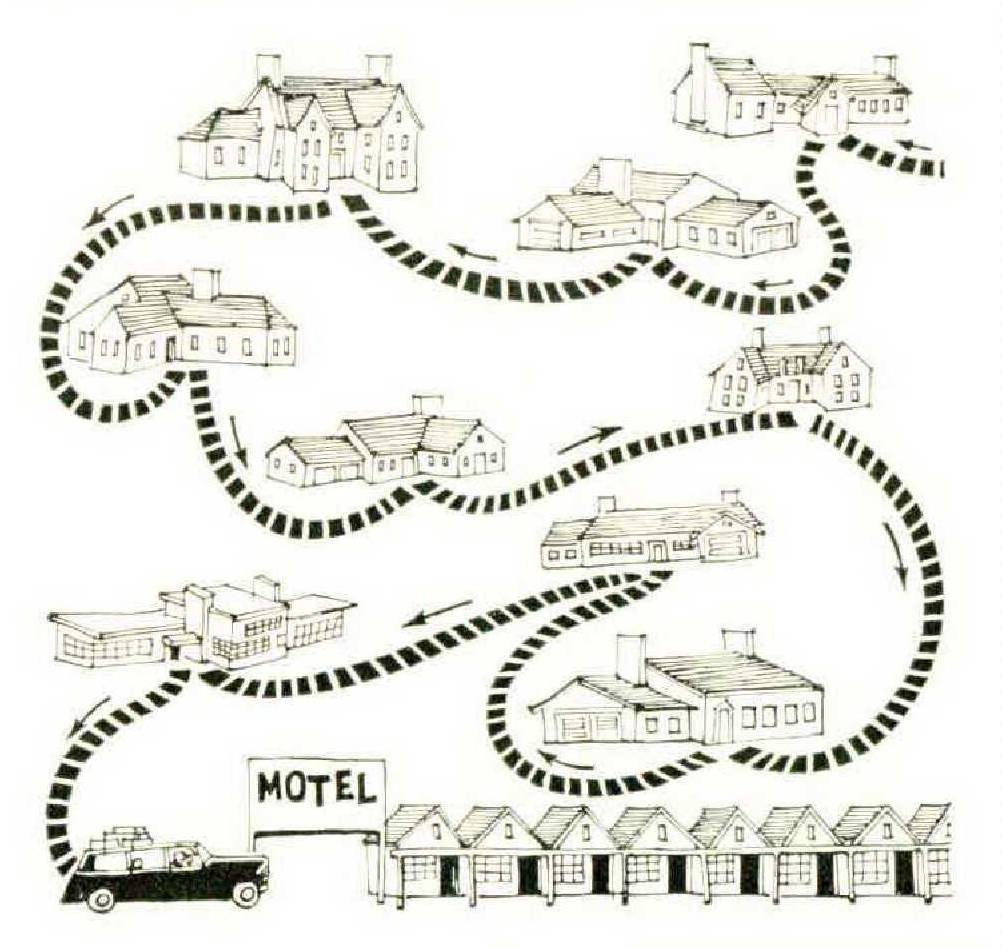 Oh, well, who wanted to go through Michigan anyway? We had Santa Fe to look forward to, where a fine amateur cook and artist lived on a ranch with his equally talented wife. Their reply was enthusiastic. You'll love this part of the country, it said. We'll show you everything, including a luncheon at the best restaurant you'll ever see. That was rough, for we would have liked fancy home-cooked meal by this gourmet. What was rougher was the P.S.: "Can we obtain your hotel reservations for you?"
Good grief, what's the matter with these people? However, there was a good bet coming up from Phoenix. It was a welcome relief from the double-dealing of these other socalled friends. The Phoenix response gave directions that started at Oklahoma City, so there was no chance to get lost. There were all sorts of wonderful demands, such as "come and stay a while" and "you've got to bring us up on all the Connecticut gossip" and "Anne says she can put up four very nicely."
We skipped Santa Fe and headed for Phoenix. We did have a lovely visit with our friends. It wasn't easy, for when she "put us up," it was in the Continental Motel a mile and a half down the road. At least the rates were off-season.
A fellow in Denver who had boarded with us more than once while on business trips to New York had answered my letter from home with a rather interesting note. He said, "We're having two bedrooms and a bath added on, and they ought to be finished by the time you arrive." If that isn't a commitment, I don't know what is. We headed for Denver singing songs of the open road. When we drove up to the chap's abode, there was a wing consisting of framework and no more. Lying around were plasterboard and plywood subflooring. There were also tools for two. We spent a couple of days in a roominghouse across the street. I put in a six-hour day helping nail together the walls and floors of this addition.
Our motel bills were running very high as a result of the intransigence and evasiveness of various acquaintances. There were other experiences not worth more than a brief mention. A Los Angeles family flew to Catalina "unexpectedly" as we closed in. A Wyoming cattleman took us at our word and pointed out a dungridden field where we could pitch a tent. We showed up at one house with enough food and drink for two families, but they insisted we go out to eat. We did. I made a halfhearted stab at the check which was successful. They kept the food and drink, and we went on our way looking for a motel at 9 P.M.
There was, however, one fabulously successful experience. Relatives own a lovely home near San Francisco, and they responded to our letter by phone, insisting that we come and move in and stay as long as we needed or wanted! That we did, spending four happy days in their swimming pool or in the Bay City or touring the wine country. We had fun. and we thanked them sincerely when we left.
"You must come and stay with us sometime," we gushed as we parted in August. They smiled broadly.
We were home before Labor Day, in time for the opening of school. One morning the phone rang.
"We're here!" cried the San Francisco relatives. "We took you at your word, and we're going to cover the World's Fair from stem to stern. Now, how do we get to your place?"
When they packed up and departed six days later they invited us to drop by and see them next time we were in California. That won't be possible this year. We're going to Europe, and I'm busy writing to all our friends in England, France, and Italy.