Shunpiking on the Moon
"The first round trip to the moon will be a week-long journey. . . . Later stays will be longer when we are able to provide . . . what every traveler needs away from home — a motel room and a youdrive-it car."
W. F. MIKSCH is a free-lance writer living in Newtown, Connecticut, and has contributed many light pieces to these pages.
— Dr. Wernher von Braun
The "fun capital" of the moon is, of course, Copernicus, on the dustdrenched southern shore of the Sea of Rains, and the tourist who comes here for the first time falls so completely under its exotic spell that he feels he never wants to leave again. Since this feeling seldom lasts longer than twenty minutes, the tourist will be pleasantly surprised to find that any number of car-rental agencies offer him a quick way out of Copernicus.
For example, a clean late-model you-drive-it sedan might have awaited him at the spaceport had the traveler cared enough to signal ahead by Telstar. But reservations are not necessary; cars for hire are in abundant supply here, and whether the space trotter chooses to drop in at one of the dozens of rental garages which cluster along bustling Crater Drive or simply to phone down from his suite in the Copernicus-Sheraton, he need wait no longer than it takes smiling attendants to empty ashtrays before he is put in the driver's seat.
Once seated and buckled down (the importance of seat belts in lunar motoring cannot be overstressed, for nothing is so apt to spoil vacation fun as the endless tap-tap-tap of a relatively weightless skull against the car's hardtop roof), the tourist is ready to go. All that concerns him now are the same two questions that have faced every tripper since Marco Polo: "Where next?" and "Are there any good motels?"
The first question is answered simply. A most rewarding excursion is the drive north to Plato, where there is a crater every bit as majestic and stupefying as the one at Copernicus; and there are plenty of other craters to visit en route. To the south, both Guericke and Bullialdus offer excellent vistas to crater lovers, but unhappily this once-unspoiled resort area has, through overexploitation, become déclassé and quite expensive (lunaburgers at some driveins cost as much as 9000 drogules — that's sixty-five cents in American money!), so that this season, with the knowledgeable rent-a-car set, the drift is definitely northward to Plato.
As to motel accommodations, much depends on which northerly route the voyager elects to take. The new six-lane Van Allen Beltway boasts some of the most up-to-date motor courts in our galaxy. However, since the Beltway circles the entire perimeter of the Sea of Rains, there is always the danger of not getting off it in time and winding up back in Copernicus. For this reason alone, many motorists become "shunpikers," eschewing the Beltway in favor of the more leisurely meanderings of Route 611 (Sunset Boulevard) and the old Jules Verne Highway. While caravansaries along this route are numerous, most are reminiscent of the "mom and pop" motels which flourished back on earth during the thirties and forties, so the shunpiker should resign himself to something less than creature comforts, to put it mildly. On the other hand, there are such compensations as breathtaking scenery (craters, crater floors, crater rims, crater walls) and the fact that unless the motorist deliberately turns around he cannot return to Copernicus.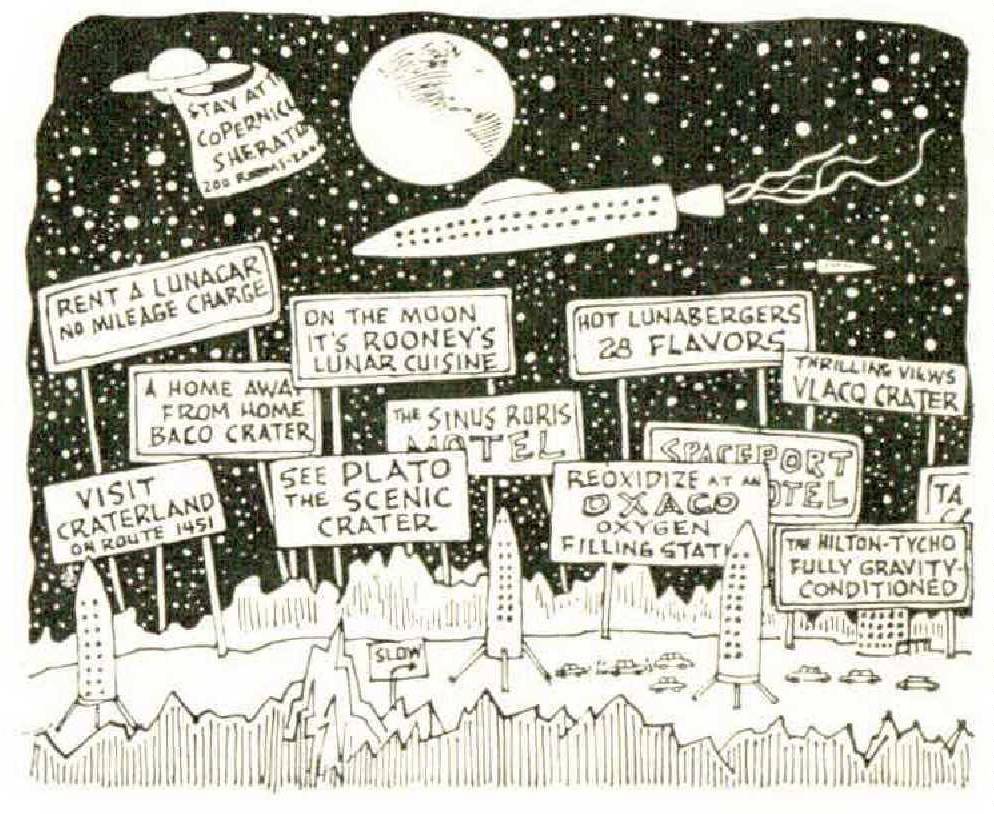 Leaving Copernicus, its rays fast fading in the sullen gloom, the shunpiker heads westerly on 611 toward Kepler, a magnificent crater hard by the Ocean of Storms. To come to Kepler during its Penumbra Festival is an unforgettable experience, for then noisy and colorful processions shuffle through the streets for a solid week, accompanied by string bands. Penumbra occurs, however, only when there is a total eclipse, and since any eclipse always comes as a total surprise on the moon, the Kepler Chamber of Commerce cannot do much in the way of advance publicity.
A stimulating side trip while speeding through Kepler is the short detour to the original Edgar Rice Burroughs Space Museum and Roadside Zoo. Here one may view the long sword of John Carter, Virginia gentleman and Warlord of Barsoom, as well as cagefuls of appalling interplanetary beasts including thoats, banths, wild calots, veres, bastos, tharbans, and zitidars. Small children in the tourist's party will especially be attracted by these ferocious brutes, and vice versa, so that a roll call of the family before departing is a good idea.
Once outside Kepler, the moment most travelers can scarcely wait for, the Jules Verne Highway bears north through a haunting, crater-pocked landscape in lackluster shades of gray. This is Buck Rogers National Park, and while many motels and rest areas line this stretch, it is well to put off stopping until Aristarchus is reached.
Aristarchus, the halfway crater between Copernicus and Plato, is, like so many other places on the moon, without much atmosphere. It does, however, offer the more persistent sightseer some points of interest. One of these is the Old Rocket Graveyard, a massive scrap pile of rusted nose cones, shattered television cameras, and other debris dating back to the Great Rocket Bombardment of the sixties.
For a truly gourmet dinner, the sojourner in Aristarchus unfortunately can do no better than the Hôtellerie de Fromage Vert, an intimate public house in the Wernhervonbraunplatz. Just ask for Henri, the genial host, and specify the Menu Turistico, also some vin ordinaire, 1948. This always gets a rise out of Henri.
The final leg of the journey should prove no more eventful than the first, and presently the happy shunpiker arrives in Plato, where he may check in at the ultraswank PerigeeHilton Motor Lodge and soak in a tub of dust.
Bon voyage, and don't take any wooden drogules!