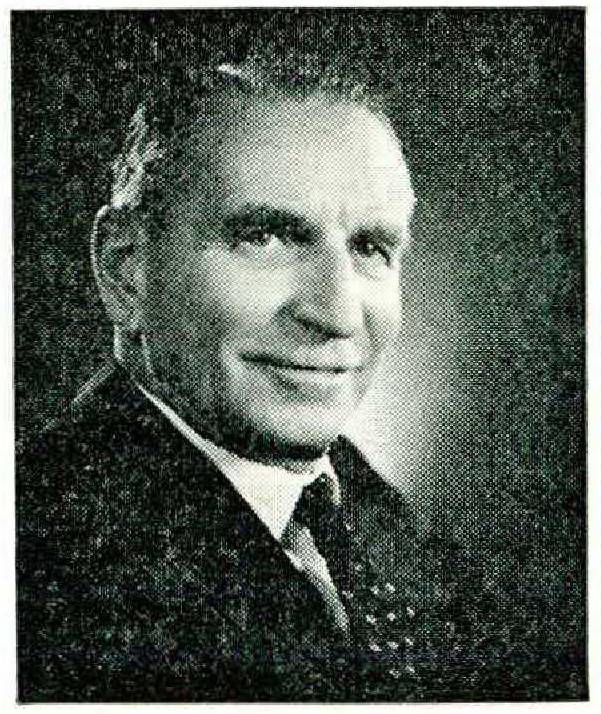 BY EDWARD WEEKS
WHEN one thinks of Dame Edith Sitwell, one remembers her Plantagenet beauty, her height, which must have given her punishing moments when she was a debutante, and her long hands, the slender fingers flashing with heavy stones, the aquamarines for which she had a particular liking. She was warmhearted and shy, had a mischievous sense of humor, and would bow her head when overcome by laughter. She was a fine poet and one of the most generous patrons in English letters.
Our friendship began in the summer of 1943 when I went north to Yorkshire to call upon Osbert and her at Renishaw, the tall stone country house crowned with gables and battlements, surrounded by garden courts and ancient box, which the Sitwells had built in 1625 and which had withstood siege in the Civil War. My visit had been arranged by Logan Pearsall Smith, who had shown me the page proofs of Left Hand, Right Hand, the first volume of Osbert's monumental memoir. The prose in its richness and power had bowled me over; I wanted to put some of it in the Atlantic and to publish it all in book form. But of course I was an unknown quantity, and when they came to meet my train, the chauffeur parked the car so that they could get an instant view of the emerging American. If they liked what they saw, they intended to drive me back; if not, I could come by taxi and the call would be a brief one. I was a good deal younger than they expected, and, as they told me later, they took a chance.
Sheep were pastured on the slopes leading up to the fine pile of Renishaw, and Osbert explained that they kept the turf down on the nine hole golf course, which had been opened up to the villagers. I was shown into a guest room, and then, after Osbert had walked me through the gardens, uncared for during the war but still beautiful, and had taken me up to the rooftree to show me the vastness of the estate and the colliery flaming in the distance, it was time to freshen up for our late dinner.
This was my nearest approach to living in a castle, and it pleased my sense of decorum to have Edith look so regal when she joined us for sherry. She was all in black with a turban which accentuated her high forehead, her exquisite pale skin, and her resemblance to Queen Elizabeth. I had been restraining my enthusiasm for Osbert's book, and now I let it go. In this Edith supported me; and all evening our talk was to keep coming back to Sir George, their father, so imperious, not to say eccentric, in his plans for his children, and to Henry Moat, the butler whose understanding of the family was as deft as his humor. When I complimented Osbert on the claret, he smiled and said that it had been paid for by a libel suit; "The gift of Bernard Shaw really," remarked Edith, "for he came to our support with a letter in the Times that simply demolished the defense." When I left Renishaw I had the much desired option on Osbert's work and Edith's promise that she would send me a new poem.
Thereafter I saw her on my annual trips to Europe, at Renishaw, at her club in London, and one memorable spring at Montegufoni, the vast incredible villa outside Florence on which Sir George had spent a fortune. She showed me her notebooks — there were scores of them - - handwritten, crammed with quotations she prized and with comments on poetry and life. I learned oher affection for Dylan Thomas and the encouragement she gave to a recluse like David Jones, whose work she admired. And of her scorn when she bristled. The English engage in literary feuds as if with stilettos. After the First World War the three Sitwells were the butt of hostilities, for they had had the impudence to be unorthodox not only in what they wrote but in the artists they patronized. Edith herself had hearty respect for eccentricity — her book The English Eccentrics is a collector's item — but the full power of her ridicule was reserved for those who in the pompousness left over from Edwardian England had small use for poetry. She took up arms for any poet whose work she thought truly good, with a lack of jealousy that is by no means universal in the profession.
Beginning in 1923 Edith made two major contributions to literature. As a critic she defended poetry, belaboring stick-in-the-mud readers with her witty, elegant bellicosity, and more than any other, she derided the lingering nineteenthcentury notion that poetry should be a relaxing diversion, a tame bit of drawing-room bric-a-brac. I was to feel the full force of her conviction during the seven years in which she selected and edited tor us The Atlantic Book of British and American Poetry. Inevitably there was a certain amount of horse trading between us as this huge and magnificent anthology took shape. For instance, she insisted on including a portion of Anathemata by David Jones, a long poem which had never been published in America, and I retaliated by pressing upon her American poets of whom up until then she had been ignorant. The complete manuscript when delivered ran to more than 3500 pages (a proofreader's nightmare), and the last-minute additions were endless. "My dear Ted," said Osbert as the three of us were dining together in New York, "Edith has just discovered the most amazing young poet, a Puerto Rican only nine years old. He writes entirely in punctuation symbols. You really must make room for him at the end." As the book was then being plated, I involuntarily groaned before I realized that my leg was being pulled.
Her second contribution and the larger of the two was in her own poetry, enriched by her sensitivity to sound. Throughout her life she was entranced by the possibility of creating, through the sound of words and their duration, emotional meaning counterpointing and reinforcing the literal meaning of the text. Poets of course have always worked with music, with undertones and overtones of meaning and with meters that alter the normal speed of speech. Dame Edith — and I give her the title which the Queen conferred upon her in her maturity — by considering ail these elements in combination gained remarkable and novel effects in her poetry and incited younger poets to a more flexible, daring use of language.
Brave as she and Osbert had been in confronting intellectual hostility in their youth, they were both nervous and apprehensive when they came to America to lecture. At their initial reading at Town Hall in New York they could hardly be heard by the overflow audience, but their assurance and their delivery improved with each performance, and when at last they came to Boston, to a predominately undergraduate audience which filled every inch of Jordan Hall and hung from the chandeliers, the hush and expectation of the listeners brought them to their best. I had introduced them and was on stage, so I could watch the effect. In the end there was crest after crest of applause, and when they had taken their last bow, Edith was weeping. "It goes to my heart," she said. "It is all so different from the jeers and catcalls when we first did 'Facade'."
THE SPIRIT ENSLAVED
In WHITE LOTUS (Knopf, $6.95) JOHN HERSEY has written a half-fantastic, half-realistic novel of racial conquest; a story, powerful at the outset, tedious in the middle, and strongly moralistic at the close. There are those who commend it — it is the February choice of the Book-of-the-Month Club — but I have my reservations.
The story begins some fourteen years after the United States has been overrun by the yellow men from China, when a defenseless little town in Arizona is suddenly invaded by slave traders. They come as jazz musicians, blaring away, in a Packard, Pierce-Arrow, and Overland; pick out two quislings; and before dawn have herded together the healthier townsfolk in their nightclothes or naked, ready for their march to the sea. Those who resist are beheaded. What happens on shipboard is as degrading as what happened on the slave ships from Africa, and the sale and separation when the captives reach China might have taken place in the slave markets of Mississippi. All this is a feat of imagination, somewhat jumbled, as in a dream, for they are brought to the China not of Mao but of the Mandarins.
In Peking the slaves, known to the yellows as "pigs" or "smalls," are all renamed, and our narrator, a pretty, tenacious adolescent, becomes Shen's White Lotus; she and the older boy from Arizona whom she used to admire, now known as Wu's Nose, have something going for a while, and on an off night he deflowers her. But the trouble is that in their rags and degradation these creatures have too little scope in which to establish their individuality; with the exception of Lotus, Old Pearl, and later in the story, the Rock, they are all one-dimensional.
Mr. Hersey's re-creation of Old China is in vivid detail. And the women captives, as they are ground down in the silk sweatshop or by prostitution and disease, have their instant of pity. Among the males there is as little reason for hope as in the Warsaw ghetto, yet they rise and set fire and are executed and persist. This is purging by mortification, but I must have people to believe in if I am to suffer so long a text. For those who please to wake from this nightmare it is comforting to remember that in their long history the Chinese have never conquered anyone.
JUNGLE AND DESERT
As a schoolboy, OLIVER LA FARGE had been nicknamed "Inky," whether for his jet-black hair or ink-stained fingers I never knew. In college when he and I were on the staff of the same magazine, it was clear he had two callings: to write fiction and to explore the past, and it was as an anthropologist working in Central America that he began. History to him was a two-way street, with as much to be learned from the Indians in their half life on the reservations as from the temples swallowed by the jungle. His interest in primitive cultures, like his love for the Southwest, was early fixed; he became a zealot and in time a Horatius in defense of the Indians' rights. But throughout his many books, beginning with Laughing Boy, his first and very successful novel, he wrote with the power and grace of a born storyteller.
THE DOOR IN THE WALL (Houghton Mifflin, $4.95) is a posthumous collection of Mr. La Farge's short stories, all twelve lighting up the mysteries which attract the anthropologist, the occupational hazards in the field, the encounters between the new invaders, the men of research, and the aborigines, whose traditions go back to the days before the Spanish conquest. In a story like "The Real Thing," the stark strength of La Farge's description of the ancient Mayan ceremony, the dignity of the Indians, and the hopeless pathos of the bereaved mother are in sharp contrast to the selfish, inquisitive preoccupation of the visiting journalist. In "Independent Research," the explorer gone to bottle and to seed was never more pitiable. In "The Timely Death of Wallace Caswell," we watch with delight the young Ph.D., freshly returned from his most important "find," defend his own in the pecking order of the university. Stories like these have an unimpeachable authority. They open the mind to the endurance and wisdom of the Indian; they make us participate in realms we could not otherwise imagine.
THE TWO EMPRESSES
To an infrequent reader of Russian history like myself, ZOÉ OLDENBOURG'S biography of CATHERINE THE GREAT, well translated from the French by Anne Carter (Pantheon, $5.95), is pleasurable because of the sympathy and understanding which it devotes to her formative years and because it is concerned with the evolution of a woman first and a political being second. Catherine II was born Sophia Augusta Fredericka, the daughter of one of the minor German princes. Her father, Prince of Anhalt-Zerbst, was a professional soldier in the King of Prussia's army, and through him his daughter owed her primary allegiance to Frederick II and to the Protestant Church. In the hands of her favorite governess the little Princess matured early. Languages came easily to her; she wrote French exceptionally well; and she had an inquiring mind. When she was quite young, among the things she wanted to know were: why should Marcus Aurelius be damned because he had lived before the Redemption, what was the nature of chaos, and what was circumcision?
Vulnerable to eczema and pleurisy she came slowly to her good looks and good health, and had it not been for her ambitious mother and the Empress of Russia's desire to find an unassertive mate for the Grand Duke, the future Peter III, she might have ended as inconspicuously as she began. Mme. Oldenbourg, Russian by birth but long established in France as a historian, is at her liveliest as she describes the long, exhausting trip which mother and daughter made by sleigh in the dead of winter to the Russian capital. The young Princess, fourteen by now and beginning to shape up, did not have her own bed sheets, much less a trousseau; but she did have intelligence, and she learned fast. She wooed and won the confidence of the Grand Duke, who, though her own age. was much less mature and already the neurotic victim of a tyrannical upbringing. She was too young to love him, and a severe attack of smallpox on the eve of their betrothal damaged what physical attraction he might have had.
The Princess, who was rechristened Catherine at their wedding, set herself to learn the Greek religion and the Russian tongue and most of all how to earn and hold the respect of the fitful, lusty Empress Elizabeth. Married at fifteen, cut off for life from her father, whom she loved, and handicapped by the silly scandals of her mother, it is a wonder that Catherine kept her head as she did in the most licentious court in Europe. The pity she felt for the man who shared her bed and the consolation which she gave him when he turned to her in despair are not less creditable than the decorum which she maintained under the constant spying of the Empress. After seven years of marriage the elder woman relented; by this time her demands for an heir, which Peter seemed unable to father, were so insistent that she openly encouraged the first of Catherine's lovers. The affection and revulsion and the ever increasing rivalry which existed between the two women are the hard core of this book, and the biographer has treated it with a decency of disclosure and the tension which it deserves.