they shall have music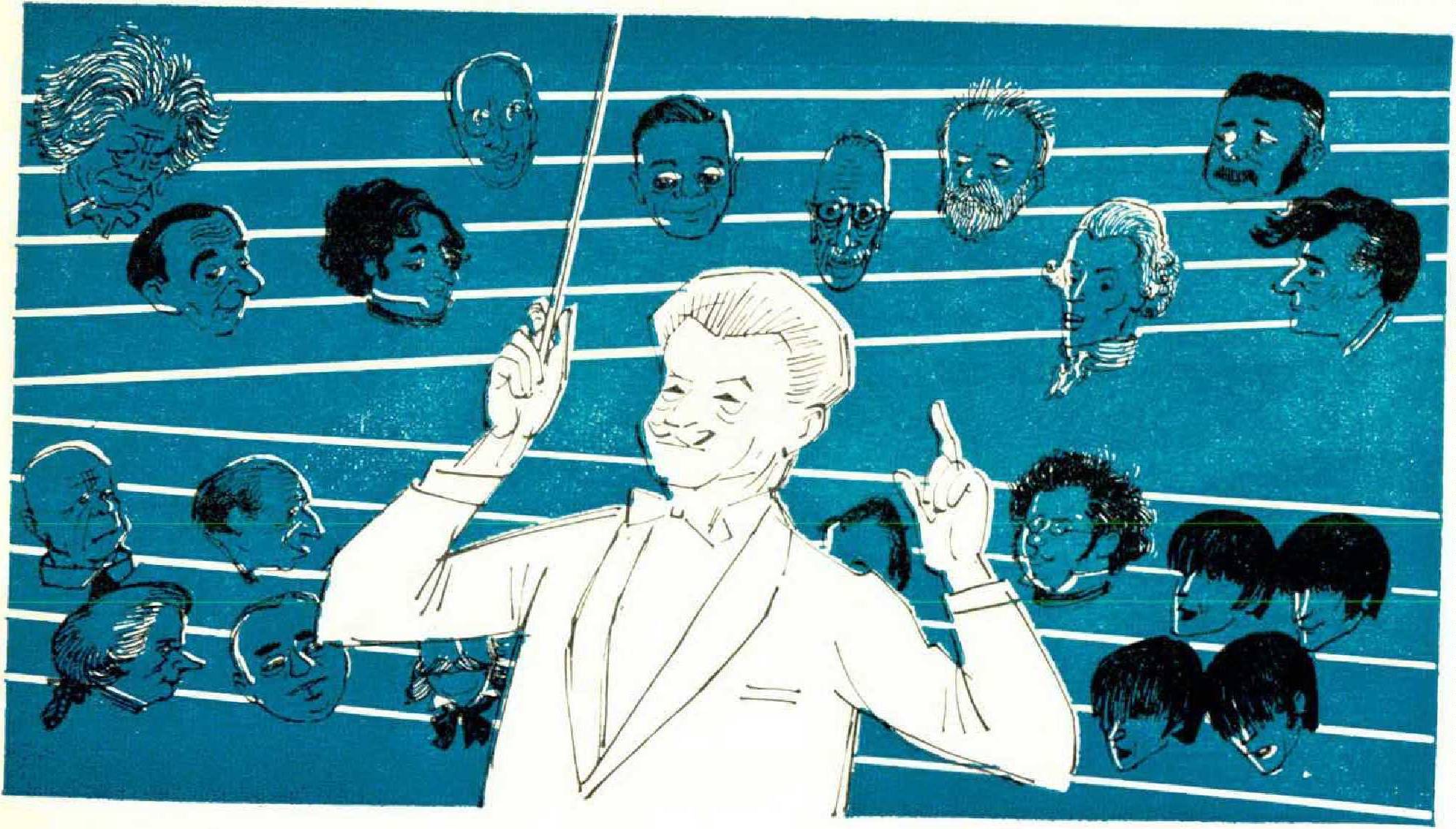 BY HERBERT KUPFERBERG
A distinguished-looking gentleman with silvery-gray hair and a neat military mustache paused in front of a record-album-cover display at the international division of RCA Victor's headquarters in New York and exclaimed, "Now, there's one I've never seen before!" The jacket in question bore the title Promenaden Konzert Nr. 1 — Arthur Fiedler und das Boston Pops Orchestra. The man who stared at it in pleased surprise was Arthur Fiedler himself.
Mr. Fiedler is not customarily surprised by seeing his name on record jackets, for he has recorded more individual pieces than any other living symphonic conductor. As director of the Boston Pops, he embodies, as no other serious musician does, the idea of classical music as a pleasurable pastime. There is a paradox in this concept, for few conductors work harder at their occupation than Mr. Fiedler. Between conducting the Boston Pops and Esplanade Concerts, touring with his own Pops orchestra, guest-conducting other orchestras throughout the country and around the world, and recording everything from Prokofiev's Love for Three Oranges to Hoagy Carmichael's "Stardust," Fiedler leads the kind of life that has little time for calendar watching. Nevertheless, anniversaries have been crowding in on him recently — his seventieth birthday (he was born in 1894 on December 17, a date which, he observes, he shares with Beethoven), his fiftieth year with the Boston Symphony (which he joined in 1915 as a violinist), and the thirty-fifth anniversary of his association with the Boston Pops (which he took over in 1930).
Years ago the composer and critic Virgil Thomson astutely observed that although everybody admired the Boston Pops concerts, no one had been able to imitate them. Thomson described the orchestra's repertory as "the bridge between simple song and the high art realms of music . . . the door through which young people enter the magical domain of musical comprehension. . . . The Boston Pops are really a lovely success story. They have no budget troubles. They have no audience troubles. They have no program troubles. They just play everything and play it beautifully, and everybody loves them,"
The Pops' bridge-crossing repertory is probably more extensive than any other in the world. The orchestra's active library has grown under Fiedler's guidance to include, at last count, 115 suites, 110 marches, 106 overtures and preludes, 92 piano concertos, 51 musical comedy medleys, 51 waltzes, and 49 "special selections," including a special Fiedler arrangement of the Beatles' "I Want to Hold Your Hand," complete with handclapping and cries of "yeah, yeah, yeah" by the string section.
So indissoluble does the link seem between Mr. Fiedler and the Boston Pops concerts that he is sometimes regarded as their creator. Actually, they were in existence before he was born, dating back to 1885, when the Boston Symphony, then four years old, inaugurated a summer series of "Promenade Concerts" at the old Boston Music Hall. The tables, the beer, the informality —still the basic elements of a Pops concert at Symphony Hall — were all in evidence on that first July night. (Nowadays the Pops concerts run nightly, except Mondays, throughout May and June.)
Fiedler first applied for the Boston Pops conducting job in 1927 when a now-forgotten Italian conductor named Agide Jacchia was stepping down after nine seasons in charge. The orchestra's board of governors warmly thanked but firmly rejected Fiedler; they wanted, they said, an "international figure" for the Pops, and they found one in Alfredo Casella, the Italian composer and conductor. But Casella's concerts, devoted largely to Italian opera overtures, failed to engage the public, and Pops audiences began thinning out. In three years Casella was gone and Fiedler had started his unprecedented thirty-five-year tenure.
Fiedler says he wanted to be a conductor almost from the moment he became aware of music. His father and two of his father's brothers played in the Boston Symphony, and although he was born in Boston and attended the Boston Latin School, he got some of his musical training prior to World War I at the Royal Academy in Berlin. He was twenty when he joined the Boston Symphony.
"I played violin first, then viola," he recalls. "I also filled in as the orchestra's organist and celesta player, and took a turn on percussion. I did everything except sweep the floors. But I always wanted to conduct, and it was then terribly difficult for a young American. So I organized some of the Symphony players into the Fiedler Sinfonietta, and we played in and around Boston for a long time. We expanded or contracted in numbers according to the programs we played. We did Mozart serenades and some Handel organ concertos with E. Power Biggs and pieces by people like Pachelbel and Telemann and William Byrd. We also played modern works — Honegger, äarte Nacht, Histoire du Soldat. We recorded some of these; at the time I suppose it was pioneer repertoire for recording.
"I'm after RCA Victor to resume this kind of recording. I want it as a means to sort of balance the scale for me. People say: 'Fiedler? Sure, he's all right. But all he can do is the Rhapsody in Blue." To even things out and also for my own pleasure, I'd like to record more of the classical repertory. In this country you get pigeonholed too easily. You become an extreme specialist. You don't even get classified just as a classical conductor. You become known as a great Mahler conductor. Or a Hindemith conductor. Or a Baroque man. You're marked."
Fielder is far from depicting himself as the clown who wanted to play Hamlet, He takes great pride in what he lias accomplished in Boston and also in the extensiveness of his own schedule, which has carried him through all fifty states except Alaska and to Europe and South America for personal conducting tours. His 1965 schedule includes his first visits to Japan and New Zealand. Fiedler has found it impossible to dodge the "Pops" label altogether during his foreign tours; his renown as a conductor of light music precedes him wherever he goes and influences the program requests of local impresarios.
However slight or frivolous a piece of music may be, there never is a trace of flamboyance or perfunctoriness in Fiedler's conducting of it; and his firm, precise, and steady beat serves him well in conducting serious repertory. Fiedler seldom gets an opportunity to conduct the Boston Symphony during its regular season ("Arthur would like to be called on, but lie's not going to beg," says a longtime associate), but he has developed a wide symphonic repertory in his years of conducting other orchestras. A typical Fiedler classical program will encompass a Beethoven or a Tchaikovsky symphony, perhaps the Grieg Piano Concerto or the Sibelius Violin Concerto, and the Respighi-Rossini Boutique Fantasque or a similar work. He is particularly pleased that a request came in this year for an all-American program during a concert tour of Belgium; in response, Fiedler plans to offer Copland's El Salon Mexico, Gershwin's Concerto in F, Samuel Barber's Adagio for Strings, and Leonard Bernstein's Candide Overture. He likes it remembered that the Boston Pops Orchestra has given first hearings to more than one modern American work, including Walter Piston's The Incredible Flutist.
As adventurous as his tastes are, the most substantial works Fiedler gets to record nowadays are pieces like the Gershwin Concerto, Britten's Toung Person's Guide to the Orchestra, Saint-Sacns's Carnival oj the Animals and Chopin's Les Sylphides. But however much he would like to try his hand at heavier fare, as in those recordings of the 1930s with his Sinfonietta, Fiedler is pragmatic enough to realize that his Boston Pops releases have been accruing handsome royalties since he began recording for Victor thirty years ago. In fact, one of the earliest Boston Pops singles was a smash hit. It was produced during the first recording sessions ever held by the Pops, spread over a ten-day period in 1 935. "I had a few' suggestions as to repertoire," Fiedler recalls. "I told them about a tune I had heard called 'Jalousie.' 'We never heard of it,' they said. 'Well,' I answered, 'it only takes three minutes and fortyfive seconds, so it will fit nicely on one side.' So we made it." Eventually. "Jalousie," a tango by an obscure Danish composer named Jacob Gade, became the first record made by a symphony orchestra to surpass a million in sales. "We've re-recorded it many times; in fact, every time there's a new kind of sound we rerecord it again," says Fiedler with the wry smile of a man who has perhaps heard too many new kinds of sound.
Fiedler is constantly on the lookout for new material not only for his Boston spring series but for his recording schedule. RCA Victor reports that it has sold 4,600,000 Boston Pops LPs, and says that its export pressings, with jacket covers in German, Spanish, French, and Italian, make it the best-selling American orchestra in Europe. All this requires fresh material with popular appeal, and no one is more assiduous in seeking it out than Fiedler himself. He first heard of the Beatles when he was in Liverpool conducting the local Philharmonic. He eagerly accepted the chance of joining with Victor's prize jazz trumpeter, A1 Hirt, for a recording of Haydn's Concerto in E-flat for Trumpet and Orchestra. F'icdlcr modestly claims credit for the album's title: Pops Goes the Trumpet. He keeps a close eye and ear on Broadway shows; Victor promises that a projected Pops album will be entitled Fiedler on the Roof.
Over the years Fiedler inevitably has received offers to become the principal conductor of other respected, if second-rank, American symphony orchestras; with equal inevitability, he has turned them down. His present setup suits him perfectly — twelve weeks with the Boston Pops (ten in Symphony Hall, two of free concerts on the Charles River Esplanade, where a bridge has been named after him), a brief Pops series with the San Francisco Symphony, guest appearances, concert tours, and recording sessions. In his fifty years as a musician in Boston, he has seen Karl Muck, Henri Rabaud, Monteux, Koussevitzky, Munch, and Leinsdorf at the head of the Boston Symphony; none of them has matched his tenure with the Pops. Indeed, although the Pops is essentially the same orchestra as the Symphony, it almost assumes a different identity when Fiedler steps briskly onto the podium.
"There is great music, and there is light music," says Fiedler. "Both are worth hearing and playing. Why get into a musical rut? I like the stimulus of change. I have the freedom to do what I want in Boston; the governors of the orchestra have the habit of letting the conductor run the show, whether in the winter or in the spring. I have carte blanche. And that is as it should be: you don't tell the minister of your church when you hire him what his sermons are to be."
Few people have likened Arthur Fiedler to a minister, or his concerts to sermons. And yet his Boston Pops has been as successful a mission as music has yet sent forth to work among both the unconverted and the true believers. And after thirtylive years, the mission is not yet over.
Record Reviews
Alheniz: Suite Espanola; PavanaCapricho; Cantos «!e Espaiva
Alicia de Larrocha, pianist; Columbia MS-6603 (stereo) ami ML-6003 Spanish music has its own distinctive flavor, whether played on a piano or on any other instrument; and when the performer has the idiom in her fingers and her heart, even minor compositions take on a compelling attractiveness. Such is the case with the works on this record, which are made to seem thoroughly engaging and agreeable in their Spanish rhythms, colors, and melodies. None of these pieces quite reaches the level of Albeniz's Iberia (previously recorded by the same artist); some even have a vaguely nightclubby effect. But for all their lightness and sentimentality, they are nonetheless lovely and graceful, and can fill a room with gay and enchanting sounds.
Samuel Barber: Piano Concerto
William Schumau: A Song of Orplieus
George Szell conducting Cleveland Orchestra, with John Browning, pianist, and Leonard Rose, cellist; Columbia MS-6638 (stereo) and AIL-6038 These two contemporary works make admirable companion pieces. In fact, the coincidences are almost startling. Both composers are fiftythree years old; both write in an idiom which is a nice blend of the modern and the traditional; both concertos begin with a statement by the solo instrument while the orchestra waits silently. But there are differences. The Barber piece has greater scope and proportions. It is a major composition, with a confident start, a triumphant and somewhat jazzy finale, and a richly textured slow movement in which the piano spins a lovely strand of sound through the orchestral fabric. Schuman's rhapsodic work for cello and orchestra, based on a Shakespearean passage (Henry VIII, Act III, Scene I), is more modest in intent, contemplative in mood, and lyrical in nature. Both works are played surpassingly well by Mr. Szell and the Cleveland Orchestra, and the soloists are impeccable in technique and zealous in their devotion to these two new works.
Mozart: Horn Concertos Nos. 1 — 4
Barry Tuckwell, horn, with London Symphony Orchestra conducted by Peter Maag; London CS-6403 (stereo) and CM-9403
Eric Pengel, horn, with Vienna Symphony Orchestra conducted by Bernhard Paumgartner; Mercury SR-90407 (stereo) and MG-50407 Mozart wrote his four horn con-
certos for a friend of his named Leutgcb, who was expert on the instrument and also ran a cheese shop in Vienna. The world owes this Leutgeb a debt, for the music is of rare loveliness, mingling breezy hunting tunes with passages of the utmost romantic tenderness. Symphony orchestras seldom bother with concert presentations of these works, pleasurable as they are, but all four of them fit comfortably on one record, and any collection is richer for having them. Each of these latest versions is admirable, the London a shade more so by reason not only of the skill of Barry Tuckwell, the soloist, but of the sheer orchestral smoothness of the London Symphony under Peter Maag. In addition, the London recording offers a bonus unavailable elsewhere — the fragmentary start of another horn concerto in E-flat (K. 98a), never finished by Mozart. It consists of ninety-one bars and lasts but a few minutes, but it is unmistakably Mozartean music, and the solo horn trails off all by itself in an unforgettably wistful and forlorn fashion.
Battle Stereo
(Paul Itevere's Bide; Napoleon's Retreat; The Battle of Gettysburg; The Charge of the Light Brigade; The Battle of Britain )
Bob Sharples, musical director; London SP-44037 (stereo)
Having "Yankee Doodle" and "British Grenadiers" pouring oppositely and simultaneously from two speakers is as effective a demonstration of stereo separation as any, and it is typical of the material on this record, the latest of London's "Phase 4" sound spectaculars. Similarly, the record places "La Marseillaise" and the Russian czarist anthem in opposition to symbolize Napoleon's retreat from Moscow, and makes "Dixie" vie with "The Battle Hymn of the Republic" to depict the American Civil War. Needless to say, the music is punctuated with gunshots, cannon fire, and other warlike sounds, all spotted for maximum stereo effect. A rather clumsy attempt has also been made to introduce spoken voices, among them Jefferson Davis exhorting the Confederates, Abraham Lincoln reciting the Gettysburg Address, and Winston Churchill rallying the British in 1940. None of them sounds in the least bit convincing. Still, for sheer martial music and noises, scientifi-
cally placed for stereo display, the record is highly effective, and it concludes with a tremendous head-on outpouring of "Land of Hope and Glory."
Edward Everett Hale: The Man Without a Country
Edward G. Robinson, reader; Caedmon TC-1178
The Man Without a Country first appeared in the Atlantic Monthly in 1863, and in the ensuing 102 years Edward Everett Hale's story has lost none of its sturdy patriotism or hcart breaking pathos. At least it seems as moving as ever in this masterful reading by Edward G. Robinson. An actor who once specialized in movie gangster roles might seem an odd choice for retelling the sorrowful story of the rash officer who was granted his wish never to hear again of the United States of America. But with skill and sympathy Robinson seems almost to get inside the skin of the unfortunate Philip Nolan, in both his initial pride and his ultimate contriteness. In spoken form, this tale can move a listener to tears, just as its printed version undoubtedly did a century ago.
Richard M. Sherman and Robert B. Sherman; "Mary Poppins"
Original cast sound track with Julie Andrews, Dick Van Dyke, Ed Wynn, and others, arranged and conducted by Irwin Kostal; Buena Vista STER-4026 (stereo) and BV-4026
The Hollywood sound track is such a depressing form of record life that one welcomes this release almost with disbelief: a film score without the customary overblown climaxes and soupy interludes, and even with a charm and graciousness that make it quite distinctive. Walt Disney's Mary Poppins, adapted from the stories of P. L. Travers, is essentially a children's film, and the music and lyrics by the two Messrs. Sherman are a nice blend of innocence and sophistication. The score as included on the record is much too long, and has its share of musical doodling and padding, but several of its songs are irresistible, such as "A Spoonful of Sugar," "Chim China Cheree," and that orthographer's nightmare, "Supercalifragilislicexpialidocious." The sweet-voiced Julie Andrews is in fine form, and the rest of the cast is excellent. Even the sound is less viscous than is customarily the case on sound track records.