Marguerite Caetani
An American by birth, Marguerite Chapin Caetani, during her life in Paris and Rome, became one of the great patrons of letters and the editor of two famous periodicals published at her own expense, COMMERCEand BOTTEOHE OSCURE.We are happy to publish this memorial portrait written by her intimate friend the biographer IRIS ORIGO,author of LEOPARDI, THE MERCH YNT OF PRATO, THE WORLD OF SAN BERNARDINO,and THE LAST ATTACHMENT,a brilliant account of Byron's love affair with Countess Guiccioli.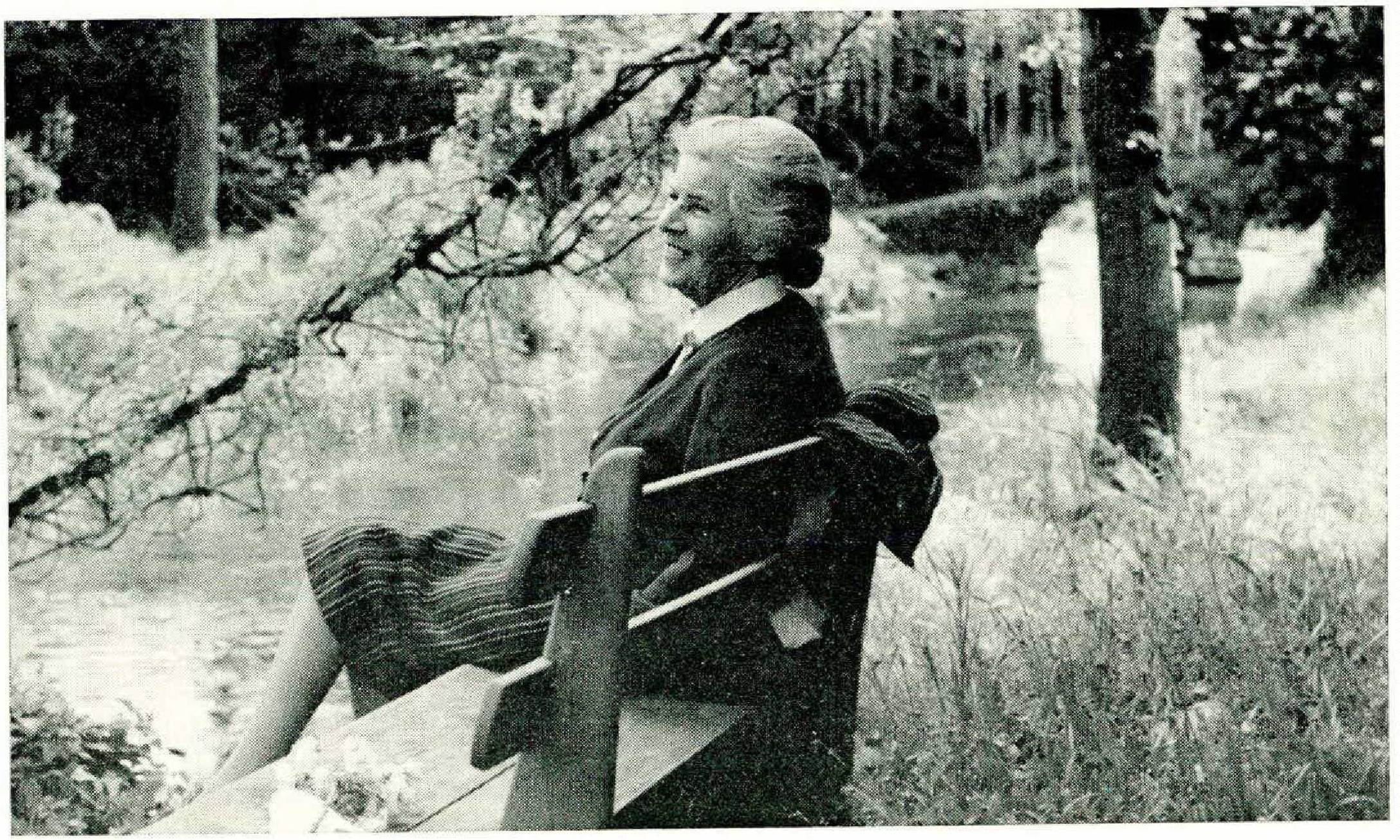 THE friends and admirers of Marguerite Caetani, Duchess of Sermoneta, who on December 5, 1958, attended the exhibition in Rome entitled Hommage à Commerce, saw, as they came in, the portrait of a lady: an enlarged photograph of a young woman dressed in the fashion of the first decade of the century, who sat, with her head resting on her hand, looking through a window. Over the roofs of Paris, perhaps? Over those of Rome? Over the gardens of Ninfa? One could not tell. All that one could see of the lady herself was the back of her head, and her hand in her lap, holding a flower. Yet that mere outline somehow suggested a mixture of alertness and restraint, of vagueness and tenacity, of ruthlessness and romanticism, which evoked, for her friends, one person only. "Marguerite Chapin discovering Europe": there she was, young and undaunted, and her discovery was to include — as no doubt she had decided it should, from the first day of her arrival - all that was most significant and vital in the literature, art, and music of her time.
It was in Paris, in the mid-1920s, that her destiny began to take shape. Marguerite, the daughter of Lindley Hoffman Chapin and Leila Gibert, had been born in 1880 in New London, Connecticut, and it was not until 1902 that she went to Paris, to study singing with Jean de Reske. Here she lived, in conformity with the conventions of the time, with a dame de compagnie in a small apartment, traveling a great deal, avoiding formal society, whether French or American, but becoming acquainted with the world of musicians, painters, and writers in which she always felt at home. She then acquired (though her New England origins always remained as clearly perceptible in her character as in her looks) an incurable addiction to European life. She never returned to America to live, and it was in Paris that she met (and later married in 1911, in London) a rising young composer as good-looking and as devoted to the arts as herself: Roffredo Caetani, Prince of Bassiano.
After the First World War they settled at Versailles, in the Vilia Romaine, adorned by the paintings of Vuillard and Bonnard. This became their home in France, and once a fortnight they would lunch with a small group of friends: Paul Valéry, Valéry Larbaud, Alexis Léger (St. John Perse), Léon-Paul Fargue, and sometimes also Jean Paulhan, Adrienne Monnier, and a few painters and musicians. After a number of these meetings, the suggestion was made that the ideas exchanged should be set down on paper; perhaps in the form of a series of letters. No, said Léger, why not issue a little periodical? The title was discussed with some heat: Valéry suggested Propos, Larbaud Échanges, Léger Commerce – commerce d'esprit– and it was his suggestion that prevailed.
"Let's talk about Commerce," wrote Valéry to Marguerite in 1924, when the idea was taking shape. "If I had been able to be present at the meetings of the Secret Committee" – he was away in Rome "I would have asked you to give a precise shape to our plan, and to take every possible step to distinguish this periodical from any other magazine. . . . What is essential is to acquire authority, assuming in the World of Letters, or on the borders of that horrible world, a particular strategic position – that of people who are entirely open-minded, who no longer need to make themselves known and to fire at the chandeliers, and who, on the other hand, are not bound to any particular trend. I do not think it necessary to announce the periodical noisily in the press, nor to define its aims beforehand. I do not think it useful to mention the names of its editors on the cover. My idea is that we should not be facing an audience, as if standing on a stage, but rather as if we were in private, the audience being authorized to look in through the window."
At about the same time, Valéry Larbaud was writing to her about the plan as it appeared to him: someone had suggested that a company should be formed for the publication of the periodical, but this Larbaud resolutely opposed.
"To my mind," he wrote, "the review should remain entirely in your hands, should be your property– a fine house in which you would receive the people you chose to honor with your confidence. A company, which would necessarily have to be registered with the Chamber of Commerce, alarms me, both for your sake and ours. It would turn a purely friendly and private affair into a public institution. . . . When I agreed, with enthusiasm, to the idea of this review, my motives were the following:
"To respond, within the limitations of my capacity, to all the kindness I have received from the Prince and you, to prove my affection to you and to deserve yours; to see my name appear beside that of Paul Valéry – a piece of vanity which I am proud to confess; to give to L. P. Fargue and Alexis Léger, whom I consider two of our best poets, an opportunity to increase their output; and finally, to found with you a review which would be unlike any other, that is to say, one which, despite its title, would never be commercialized."
All these ideas were carried out. Commerce did remain wholly in Marguerite's own hands and never became commercialized, and some of the finest work of the authors whom Larbaud had mentioned first came to light in its pages. From the beginning, the magazine was chiefly concerned with contemporary work, and with creative writing rather than criticism or scholarship. Though of old New England stock and married into one of the most ancient feudal families of Rome, Marguerite seldom selected material for her periodical from work rooted in the traditions of the past. Even though the earliest tomb of the Caetanis lay in the Vatican grottoes, close to one attributed to the First of the Apostles' and her husband's ancestors included Pope Boniface VIII, she never drew upon the rich family archives of the Middle Ages, nor even upon the more recent ones, which included Filippo Caetani's correspondence with Stendhal, and Michelangelo's with Taine and Gregorovius. It was the present and the future that were her concern, both in life and art, and it was to the writers and artists of her own day, and even more to the young ones of the rising generation, still obscure and often penniless, that her doors were flung open.
DURING the eight years of the appearance of Commerce (1924 to 1932) Marguerite was singularly fortunate in the close circle of friends who remained her collaborators and advisers. The three official directors of the review were Valéry, Larbaud, and Fargue; but Paulhan also often provided her with material from the manuscripts submitted to him as editor of the Nouvelle Revue Française, and, although his name was not permitted to appear, it was the taste and judgment of Alexis Leger that was the supreme court of appeal. Marguerite herself did all the unrewarding tasks, financed the whole enterprise, and gave life to it by her own zest – and kept, as always, in the background. To read the letters from her advisers is to receive a most vivid impression of the creative enthusiasm which animated this group, though made up of men otherwise so different from each other, and also of their devotion, at once grateful and protective, to the young woman whose generosity, idealism, and tenacity held them all together. She had, in those days, the sparkle and bloom of youth, as well as the swift grace of movement and the beauty of finely drawn bones, on planes perfectly related to each other, which remained to her even in old age. It was, for all the European patina which had mellowed it, a very American, Henry Jamesian beauty – clear-cut, fresh, and vital. But from her correspondence it is plain that it was a different quality that drew so many of the ablest men of her time around her: the spiritual and intellectual climate which she created. As some people are without knowing it the carriers of a disease, so Marguerite was a carrier of the creative genius. She believed wholeheartedly, generously, disarmingly in her authors and in their work, and they gave her in return an affection which had a very special flavor.
"Dear Princess," wrote Léon-Paul Fargue (who was to become a close friend of the whole family), "I am writing to you on this miserable scrap of paper because I have got no other within reach, but I feel an immediate, imperative need to tell you how fond of you I am. One loses too much time, one never communicates enough, one has this mania of parting and meeting and parting again, and so one often discovers the other person too late. It isn't always Time who fails us, but we who fail him, so let's speak out frankly and with no delay. Whoever knows what may happen? But this must be said, and quickly. And I must tell you about the deep and respectful affection of your friend, which nothing – not even the worst – could affect. If I have not been spoiled by mankind, I have found you."
There is a similar note of devotion, too – tender, grateful, protective, and faintly amused – in the letters she received from Hofmannsthal. One of the earliest, with which he returned to her a manuscript which he frankly described as "very vulgar," commented that her having sent it to him at all suggested to him "a trait in your character that charms and moves me: your faith, when someone tells you that he would like to do something, that he really knows how to do it. How sympathetic that is! How sympathetic you are!"
"It is an exquisite pleasure to think of you," he had written in the preceding year. "You surround yourself with poets and artists, and the air around you remains very pure and very clear, with no shadow of snobbishness. You talk to dogs as one should talk to dogs, you talk to plants as it is fitting to talk to plants, you talk to poets as one should talk to poets – and you remain yourself, of an unfailing grace. You are admirable."
Admirable, yes, but also so generous and impulsive as sometimes to be a little disconcerting. One day Valéry came to lunch, and admired the large crystal bowl in which she brewed her coffee. The next day a similar one was on his doorstep, the most recent of a long series of gifts.
"I should like," he wrote, "to place myself in this glassy globe, and extract from myself some kind of essence, which I would send you in a little jar. It would not be, perhaps, a suitable gift for you, but the truth is that my brain can no longer find, by any normal methods, a way of thanking you. I shall become extremely prudent, and when I see you, I shall beware of admiring anything in your house, for fear of receiving it the next day. But you are a fairy, and would guess my temptations as easily as you satisfy them. What can I do? I put on my scarf. I weep into a supernatural handkerchief. I brew my coffee in Charlemagne's globe. Are you satisfied by this curious sight?"
SOMETIMES, too, as all the friends who worked with her could testify, the childlike enthusiasm and energy which caused Marguerite's plans to be carried out were also tinged by the persistence and unreasonableness of a willful child. She was possessive with her friends and imperious about their work; she had a very American impatience with either compromise or delay; and she did not really find it possible to believe that anyone could refuse her requests.
"You are kind and terrible," wrote Valéry, "an affectionate friend and a cruel tigress, and one feels that however hard one may try to hide oneself in the infernal regions, to transform oneself in to a swallow, to grow a beard and wear green spectacles, it is all in vain – one cannot escape from your charms or your arrows. But truly, my dear friend, how do you expect me to write anything whatever (even very bad) for this autumn which is already here! And how can even you require that I should contribute every three months to Commerce. . . ?
"As for the periodical, I am thinking about the difficulty of filling its four numbers worthily, while still remaining in the field of literature. We run the risk of looking exceedingly like ourselves, from one quarter to the next."
Yet that, after all, was precisely what Commerce did avoid. Glancing through its back numbers, one is struck not only by their quality but by their variety. In addition to the work of its original founders, poetry was represented by such writers as Claudel and St. John Perse, Aragon and Supervielle, Ungaretti and T. S. Eliot, and prose by such authors as Gide, Jean Giono and Jouhandeau, Artaud and André Breton, Faulkner, Joyce, and Virginia Woolf. The translations included, indeed (for the whole periodical appeared in French), were no less remarkable than the originals: there was T. S. Eliot translated by St. John Perse, early drafts of Joyce's Ulysses rendered by Valéry Larbaud, Lorca translated by Supervielle, Hardy and fragments of Poe's Marginalia by Valéry, Holderlin by Groethuysen, Leopardi by Ungaretti.
The service which Marguerite rendered to her widely different friends in bringing them together, even sometimes in spite of themselves, is shown in another of Hofmannsthal's letters, a remarkable tribute from a man of letters to another.
"You introduced me to Claudel," he wrote, "and I am infinitely grateful to you. Everything I remember about it moves me strangely, even what might seem embarrassing: his heaviness, his bourgeois appearance, his absence of taste, of subtlety –of all ʽtheir qualities, which they value so highly. But it is not all this that matters; it is not a question of possessing the gifts which are allied to the intelligence, but of carrying within oneself an exquisite and original vision. And in possessing that, he is alone, alone, alone in the whole of France. It is not a question of ad-mitting, but of ad-miring him. Madame, read 'La Ville' again in its first version (later on, in changing its style, in humanizing it, in rendering it more French, he has come near to destroying the grandeur of its beauty) — but read it again, it is amazing how much it holds, how much it embraces and with what a daring style, so new and so rich: terrible in some passages, and in others of a beauty which one could almost gobble up, like a bunch of roses painted by Manet. Someone told me that Claudel is no longer in fashion in Paris, that there is only a certain amount of snobbery available and that this store, for the moment, has gone to Valéry. No, decidedly I don't understand them and I don't want to. But I shall never forget in what a charming, generous, kind manner you went on insisting, when I did not want to meet him."
The world of Marguerite's salon (though she would not have liked the word, with its implications ol a formal, self-conscious society), the world, in short, of Commerce, became, thanks to her, a literary society which always managed to remain "above all rivalries, clans and parties," a meeting place for authors who frankly did not like each other, but were willing to come together there, "in a great timeless kingdom." We find ourselves in "a world beyond the stars," but also, as Valery had hoped when the plan was first conceived, looking through the window at a singularly cosy, harmonious private party. In the words of Georges Limbour: "What gives these numbers such an exceptional and distinguished character is that the authors published in them – however proud, turbulent and intransigent they may be in their own particular groups – have always appeared here as guests." And the hostess, to whom the world of the creative imagination was always a little more real than the one she could see and touch, was Marguerite.
WHEN the Caetanis left Versailles in 1932, Commerce came to an end, but the writers who had contributed to it continued, on their visits to Italy, to enjoy the hospitality of Marguerite and Roffredo' whether in Rome or at Ninfa. There, within the crumbling walls of a medieval ruined city in the Caetani lands between Rome and Naples, which had been abandoned centuries before on account of the malaria that infested this part of the Pontine Marshes, a green underground stream suddenly gushes forth from beneath the castle walls, swift and cool enough for mountain trout, and there Marguerite and her daughter Lelia made a garden of haunting and melancholy beauty. The tall stone pines, the great avenues of cypresses, the thickets of bamboos which had always been there still grow among the rums, but now the walls and towers are also smothered in climbing roses, clematis, and jasmines, and at the foot of the walls and battlements there are gay carpets of small rock plants. Whole orchards of Japanese fruit trees, mimosas, camellias, and magnolias flower there in the early spring, and later on, great clumps of lilacs and delphiniums and Chinese peonies, while Japanese irises flourish in the marshland, and the stream which once formed the moat becomes, in April and May, a forest of calla lilies.
Here on Sundays Roffredo and Marguerite kept open house for an extremely varied collection of guests: foreign diplomats and men of letters, elegant Roman ladies and Englishwomen with stout boots and an expert knowledge of gardening, bearded young painters or musicians and classical scholars from the American Academy, eminent foreign statesmen and rising young politicians. When they arrived, Margucrite would be sitting beneath the trees, in faintly shabby country clothes, with her gardening gloves – just drawn off – on the ground beside her. Roffredo would come out of the house, his tall, slim figure slightly bent, his finely chiseled, distinguished features lit up by the same courteous welcome for even the most unimportant guest, and swiftly Marguerite would cross the grass to join him and to greet their guests by the little round stone table beside the stream, with such warmth and naturalness (even though the name of the last young American poet might have escaped his host; even though lunch had been ordered for twenty, and thirty had just arrived) that even the shyest visitor and the youngest child were at once as much at ease as the French ambassador and the President of the Republic. For often the guests would bring their children, too, to picnic in the grass, while their elders lunched out under the trees; and Marguerite, by the sheer force of her unawareness or disregard of any barriers of nationality or social standing, somehow fused them all together, and there was a great deal of talk and laughter, while further down the stream, where there was peace and silence, an absorbed fisherman was casting for trout — until the heavy storm which so often breaks over the Pontine Marshes in the afternoon sent us all indoors or drove us back to Rome.
Even after the outbreak of the Second World War, these gatherings continued until, during the German occupation, Ninfa became a refuge for the partisans from the hills and the peasants from the plains, in which two opposing armies were interminably moving back and forth. And meanwhile, a great personal sorrow had come to Rollredo and Marguerite: the death, on the Albanian front, of their only son, Camillo, the last male descendant of the long Caetani line – whose death held an especial bitterness, since all his charm and talents were cut short for a cause and a regime in which he had never believed.
"You have been much in my thoughts," wrote T. S. Eliot to Marguerite at that time (he was a cousin, as well as a friend of many years' standing), "and I knew that your loss would not become easier. I do not pretend that such a loss ever does: only in time perhaps it is simply like learning to live without one's eyesight, or crippled. One just makes do and carries on the rest of life. I don't even maintain that faith makes loss easier; it just, it I may say so, improves the quality of the suffering and makes it sometimes fruitful instead of useless."
WITH Camillo's death, a shadow fell upon Palazzo Caetani – never referred to in words, but never again dispelled. But as soon as the first Allied jeep appeared, the doors of Ninfa were again flung open, first to the liberators and then to a collection of guests as varied as before, and in particular to the young writers and artists whose liberation (sometimes in the most literal sense, for many of them had been in prison) and immediate creative production were vital tokens of the end of the fascist regime. In a sense, those meetings were a continuation of the first gatherings in Paris from which the idea of Commerce had sprung, and it is not surprising that a similar plan should then again have taken shape: that of a new international periodical, to be entitled Botteghe Oscure. Its name came from the dark arcades which flanked the streets beside the Circus Flaminius, built in 220 B.C., and which in the Middle Ages, when the Circus had fallen into ruins, were used as shops. This new periodical, too, was to be a "commerce d'esprit," "concerned," as Archibald MacLeish put it, "not with writing about writing, but with writing itself," and welcoming for twelve years (1948 to 1960) some of the same contributors as its predecessor, as well as many new young writers who might otherwise have found it difficult to make their voices heard at all.
To maintain that the contents of this quarterly were not sometimes uneven would not be true. "The defects of Botteghe Oscure," as Alan PryceJones has pointed out, "are those of a difficult age" — one in which it was singularly hard for a writer not only to find the peace and leisure he required, but even, while so many new media were capturing the popular attention, to retain the conviction that what he was doing was still essential. But it is surely on the best work published in a collection, as indeed on the best, not the secondary, work of any single author, that a final judgment should be made.
This was what Marguerite herself believed, and it was owing to her inspiration that Botteghe Oscure — a periodical less selective than Commerce, more uneven, more varied, in a sense more truly her own — maintained an international character, as free from the formulas of any close coterie or clique as from the affectations of any of the "little magazines," open to any new currents of thought or modes of expression, unprovincial and unconventional. It was here, under the direction of Giorgio Bassani, that a large section of Il Gattopardo first appeared, beside such other Italian stories as Petroni's La Casa si Muove and Soldati's La Giacca Verde, and also fiction and drama by Moravia and Calvino, Arpino and Cassola, Elsa Morante and Silone, and Bassani himself; while English and American prose was represented by Carson McCullers and Isabel Bolton, Truman Capote and Tennessee Williams, Elizabeth Bowen and Leslie Hartley, German by Hofmannsthal and Rilke and Bertolt Brecht, French by such old friends as Valéry, Paulhan, and Georges Limbour, and more contemporary writers such as Camus and Malraux.
Poetry, too, offered a rich harvest. It was Botteghe Oscure that first published Dylan Thomas' "Over Sir John's Hill," "In the White Giant's Thigh," and "Do Not Go Gentle Into That Good Night" — as well as poems by William Carlos Williams and Vernon Watkins, Theodore Roethke and Robert Lowell, Auden and Cummings, Montale and Saba and René Char. And to these must be added many younger writers such as James Agee, Burns Singer, and W. S. Merwin, whose work first reached an international audience in these pages, and plays for radio in both prose and verse –including Archibald MacLeish's This Music Crept by Me Upon the Waters, Kay Cicellis' Death of a Town, Giuseppe Dessi's La Giustizia, and the first version of Dylan Thomas' Under Milk Wood— thus forming a bridge, as Alan Pryce-Jones pointed out, between the printed word and the new media which were then opening for the writers of the future. And if, beside all this, there was also some work of lesser quality, it would surely be churlish to complain, since it was the result of Marguerite's firm determination to cast her net with wide enough meshes to give every young writer his first chance.
In vain did her friends and admirers sometimes gently protest that five hundred pages were really a great many for a single number of any periodical, that even printers must be paid, that she herself was draining her resources and exhausting her strength, and that her young authors themselves might, as Archibald MacLeish put it, "be swallowed up in their own paper." Truman Capote, too, whose novels The Grass Harp and The House of Flowers were first published in Botteghe Oscure, and whose advice Marguerite had asked about the distribution of the periodical in America, wrote, quoting an American publisher, that this was not a magazine but a book, and deplored the excessive toll it drew upon Marguerite's energies.
"I want to say this: I believe, and have from the first, that you are attempting to do too much singlehandedly.... It is not possible to read, accept, reject, proof-read ad infinitum. . . . Moreover I'm perfectly certain that you have no accurate record of your correspondence."
He was right – and it was equally true, too, that she kept no record of her accounts. Sometimes six months would pass before she could pay her printer's bill, but at the same time, large checks were going off to obscure young poets. Sometimes the same piece would be paid for twice; sometimes an unfortunate author would write reminding her that he had never been paid at all. And then there were the lost manuscripts, the lost pages – page 17 under the sola, page 24 flown away into the garden and, occasionally, an irate cable from a contributor pointing out that the second verse of his poem had been placed before the first. But Marguerite's dismay was so great, her excuses so disarming, that everything was somehow set right.
As to any question of retrenching, she was adamant. When her helpers advised her to diminish the number of her contributors or to cut down the fees she paid them, she would merely give a vague smile, sell one of her fine collection of modern pictures, send off a few more checks, and go on as before. I can see her still, sitting under the trees at Ninfa on a sunny spring day, with a few of her helpers around her and manuscripts heaped high on the table and chairs and overflowing onto the grass, while she handed the pages around and whenever any doubt arose, pleaded for their inclusion. "But he is so delightful," she would say of the author, or "He is having such a hard time," or "He made us all laugh so much last Sunday." Increasingly, that was the swiftest way to her heart. And as she spoke, her clear gaze would seem directed not so much upon the person she was addressing as upon the beauty of the surrounding scene, the new clematis which had just flowered on the wall and yet further still, toward a more remote, ideal world, that of the poetic imagination. And so, beneath the flowering trees of Ninfa, the numbers grew and grew.
MARGUERITE's mailbag during those years contains so many letters of gratitude, from the old and the young, the celebrated and the obscure, that it is very difficult to choose among them. Even men to whom graceful phrases – except in their own poems – Mid not come easily were able to find them for her. "Even if I don't write," wrote Theodore Roethke, "you remain in my mind, actively, as a symbol of graciousness and of another kind of ordered life, in which art matters. You deserve letters even better than those Rilke wrote to his Countesses (and how he loved to roll a title on his tongue) or that Yeats wrote to Lady Gregory. I have thought of such letters, but am a Prussian (by descent) and can't write them. Alas for me – not you."
Roethke sent her, as well as other poems published in Botteghe Oscure, a sequence entitled (from Christopher Smart's line) "Where Knock Is Open Wide," about which he wrote to her, "It is the most difficult thing I ever attempted: a tragic dramatic poem in the language of a very small child. I hope you find it moving and unlike anything you have seen."
It was, I think, some quality of perpetual youth in Marguerite which, quite apart from financial need or the wish to have their voices heard, caused young writers of so many lands to gravitate toward her. They were at ease with her, they laughed with her, they felt assured of her inexhaustible tolerance if they should fail to deliver the work they had promised, and for which they had sometimes been paid in advance. Their trust was an instinctive response to her faith in them, to her complete selfeffacement and lack of vanity. "Self-serving declarations," as MacLeish wrote, "were not in her vocabulary." For indeed her generosity had its roots in a conviction which neither the passage of the years nor any individual disillusionment ever destroyed – that no work of art could ever be sufficiently repaid, that it was always the artist who was the giver.
Moreover, it should in fairness be stated that many of Marguerite's authors showed a disinterestedness equal to her own. Theodore Roethke wrote, during one of the crises of the magazine: " If you're broke, sweetie, you can have the damn thing for nothing." And there is a firm letter from James Agee, apparently written for the sole purpose of pointing out that she should spend her money on someone else. "I couldn't ever adequately tell you," he wrote, "how grateful I am that you want and offer to help me. T wish I thought I could be helped. My situation is that I have a wife and two children and presumably more to come, so that I'm beyond the kind of help which for a single person can make so much of the difference between a lot of freedom to work, and too little. ... If I were able to help artists, I think it would come natural to put the help where it would bring the most and best work for the longest — unless l felt exceptionally strong convictions about the ability of someone who was not single. And I think it works the other way, too. Single, you live stripped down, even your luxuries are no more than occasional fun which you can feel you've earned, and if you have been given money, you can feel with a clear conscience that you are putting it to its right use. Not single, your living and responsibilities are much more complex and difficult."
Whether they accepted Marguerite's gifts or not, her contributors had one perennial reason to be grateful to her: the warmth of her enthusiasm, the sensitiveness of her appreciation. "I can't tell you how great a joy it has been to me," wrote Katherine Abbott, "that someone whose judgment I must respect as I do yours should care at all for the poems; it seems to affirm them and to make them exist. It is such a solitary business writing in the air, and one doesn't know how to trust one's judgment or how far the whole is subjective only."
ONE suspects that the letters which gave Marguerite most pleasure were those oi her least sophisticated contributors. Unconventionality and unsophistication in any form had the nostalgic charm for her which they often hold for those who are themselves stably placed at the apex of an aristocratic society; she found in them a form of vicarious escape. There is a letter, for instance, from Dylan Thomas in 1949, apologizing for the brieiness and unsatisfactoriness of their meetings in London:
"In London I am flustered, excited, unable to concentrate; I am so nervous, usually for no reason, that my nervousness too often turns to unintentional rudeness; I am stupid, shy, and garrulously arrogant in turn; all I seem to want to do is to get away from where I am and from what I am doing, however much I might like where I am and what I am doing: I can almost never say what I really mean to say; I am out of my world –; though what that world may be, God knows – altogether. And it is for these reasons . . . that our meetings were so brief, and so very few. . . .
"I wanted to talk to you about your magazine, and to hear you talk about it; I wanted to discuss with you several things in it that seemed to me of particular interest; I wanted to suggest to you the names of a few little-known English writers whose work I thought you might like to see. And instead of that, all I could do was to talk, disconnectedly, about myself, scatter you with ash, gollop up your whiskey-and-soda, make an inexact arrangement with you about a short story of my own, and then rush off into the London night T loathe."
The description bears the stamp of truth, but it is probable that Marguerite herself enjoyed the occasion.
By the end of the same month Dylan was thanking her for a check, writing about "the skeleton of a story" which was to be ready by March 15 ("if I am not, before then, popped into the cooler, peeled, pipped and sliced"), and also answering a letter of hers about his poem "Fern Hill":
"I am glad you like 'Fern Hill' best of my poems to date. I also used to like it, and think it was among the, say, half dozen of mine which came nearest to what I had in heart and mind and muscle, when first I wished to write them. I do not, now, read any of my poems with much pleasure, because they tell me I should be writing other poems now; because they say I should work on poems every day; because, when I see all their faults, I think that in the new poems I should be writing those kind of faults, at least, would not occur again; because, falling so short of the heights I had wished them, they are cruel and not-to-be-gainsaid reminders of the fact that only through unceasingly devoted and passionate work at the words of always new poems can I hope to gain even an inch or a hair's length. I do not like reading my old poems, because I am not working on new poems; because I must earn my living by bits and pieces of forced prose, by exhibitionist broadcasts, by journalistic snippets; because, nowadays, I can never spare the time to begin, work through, and complete a poem regardless of time; because my room is littered with beginnings, each staring me accusingly in the face."
And of course Marguerite could not resist such a plea, and on January 12, 1950, Dylan was acknowledging "that lovely New Year's token not out of the blue, but of the pouring black" – and telling her that his story for her was "only half completed," but that he would try "very, very hard" to finish it before leaving for America. He added, obviously in answer to some comment of Marguerite's:
"Yes, I am frightened of drink, too. But it is not so bad as, perhaps, you think: the tear, I mean. It is only frightening when I am whirlingly perplexed, when my ordinary troubles are magnified into monsters and I fall weak down before them, when I do not know what to do or where to turn. When I am here, or anywhere I like, and am busy, then drink's no fear at all, and I'm well, terribly well, and gay, and unafraid, and altogether a full, happy fellow only wanting to put into words, never into useless, haphazard, ugly and unhappy action, the ordered turbulence, the ubiquitous and rising grief, the unreasonable glory, of the world I know and don't know."
It was in this year that – with letters of introduction from Marguerite to her sisters and to Archibald MacLeish – Dylan Thomas set off for his first lecture tour in the United States, and on his return in the spring of 1951, he was sending to Marguerite a letter containing the first hint of the work that afterward became Under Milk Wood — "a longish play, as yet untitled, in verse and prose, which I have been thinking about for a long time. I will send it to you soon. I do hope you will publish it - unless, of course, it is too long (or too bad) — as I am, at the moment of working on it, pleased and excited with it. It is gay and sad and sentimental and a bit barmy. So am I."
A few weeks later he was outlining it for her (in a long, beguiling letter published later in No. XII1 of Botteghe Oscure) with the plea that to get it finished he required, "and, I am sorry, at once," £l00. The sum was sent to him, and, 1 suspect, a good deal more besides. But by the end of 1952 the play still had not reached Marguerite, and Dylan was asking her "to try to trust me again."
And once again Marguerite did, and in the end the first version ol I'nder Milk Wood (then called Llareggub) did reach her — and what better reward, after all, could a patient editor wish for?
One other correspondence in particular is worth noting in Marguerite's last years: the letters which she exchanged with her distant cousin, Isabel Bolton — one old lady opening her heart to another.
"You are the only living person," Isabel wrote, "who knows me as a creature with a childhood and girlhood and youth. I am to those I know an old lady who has written several novels and moves very modestly in literary circles. A Nobody out of Noman's land, and that is in a queer way what gives me the brass to go on writing. I feel as though I were Miss Nobody, Miss Everybody, and oh dear Marguerite, it is only the experience of growing old that can bring to the heart the amazing knowledge that only age can carry with it of heightened feeling, of a more sharp and poignant edge to all we think and feel, bearing within us the knowledge of our accumulated wisdom and wanting passionately (I think up to the last) to do something with this rich accumulation."
Meanwhile Botteghe Oscure was still going on, until the end of its twelfth year, with innumerable difficulties surmounted and each number growing fatter. But year after year, it made heavier demands upon both the energy and the purse of its founder, until in 1960, after the death of her printer and devoted friend, Luigi De Luca, and under the pressure of her husband's ill health and her own poor sight, the twenty-fifth and last number appeared. "I think you can be proud," wrote Robert Lowell (who with his wife had become a close friend), "of your years of service, of bringing the many nations together, and of pepping up so many young poets. Your magazine is part of the story of Europe's rising out of the flatness and desolation of war."
With the completion of the work which had been her main interest for so many years, something in Marguerite herself also came to an end: her contact not only with literature but with the young, and so, in a sense, with life itself. She, too, was becoming "Miss Nobody, Miss Everybody" –retiring into a shadowy limbo which was strangely, poignantly reminiscent of what Theodore Roethke had foreshadowed in the poem "An Old Lady Muses," which he had written for her several years before.
I am benign in my own company,
A shape without a shade, or almost none . . .
My shadow steadies in a shifting stream;
I live in air; the long light is my home;
I dare caress the stones, the field my friend;
A light wind rises: I become the wind.
Only rarely, unexpectedly, could she be brought back to the familiar, everyday world by a gesture of affection, or if, by suddenly remembering some story or phrase which aroused her innocent, childlike amusement, one could make her laugh. To the last, as in her youth, Hofmannsthal's appraisal of her remained true: "The air that surrounds you is very pure and very clear" – as fresh and cool as the spring beneath her castle walls. It was fitting that her life should close there, at Ninfa, in the midst of the garden in which she had read so many manuscripts, laughed with so many friends, planted so many flowers.