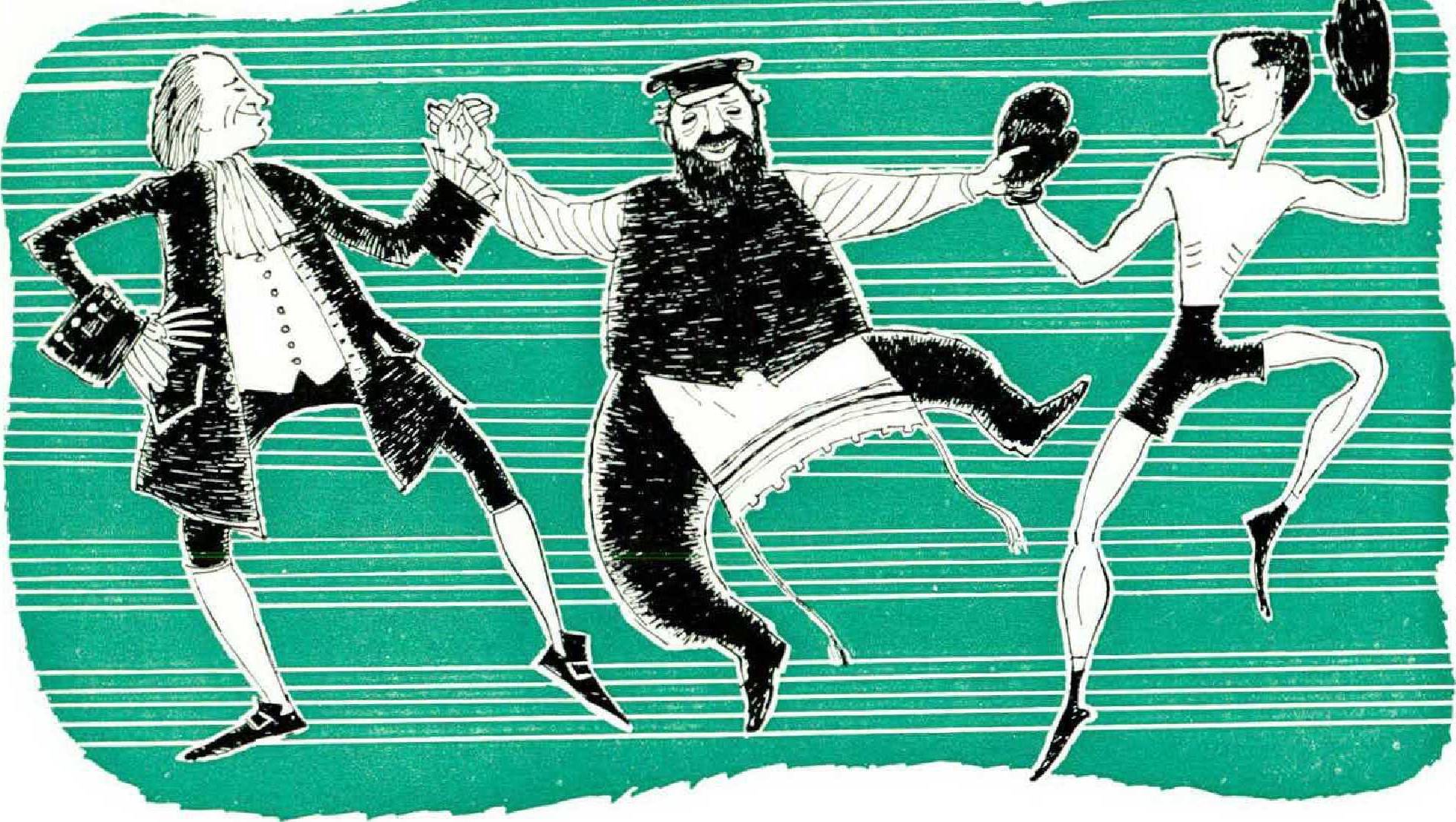 A solitary fiddle begins playing a little dance tune, music that is plaintive but pleasant, and of a faintly Hebraic cast. A second fiddle enters in counterpoint, playing its own rhythmic melody. Hardly have they begun to blend when a spoken voice breaks in, talking with fond nostalgia of the way things were with the Russian Jews in their little villages generations ago. Soon the solo voice has begun to sing, and joining in are choruses and other solo voices and a full orchestra. Suddenly a distant village and an even more distant way of life have come into being.
This is the beginning of Fiddler on the Roof, this season's biggest musical hit on Broadway, and — if originality, imagination, and solid musical merit count for anything the most memorable original-cast show album (RCA Victor LSO-1093, stereo; LOC-1093, monaural) to be issued since My Fair Lady. The solo voice, of course, is that ol the incomparable Zero Mostel; the music and lyrics are by Jerry Bock and Sheldon Harnick, the most promising pair of collaborators to emerge since Lerncr and Loewe split up; and the original inspiration for the show comes from the Yiddish short stories of Shalom Aleichem.
A tale which may well be truthful recounts that when Shalom Alcichem (a pen name which means "peace be with you," the traditional Hebraic greeting) came to America from Russia, Mark Twain went to call on him, and said, "1 wanted to meet you because I understand I am known as the American Shalom Alcichem." It was a graceful way of acknowledging that the Yiddish writer had long been spoken of as the Jewish Mark Twain, and of expressing the literary kinship of two writers who were shrewd and aflectionate observers of humanity.
Translating Shalom Aleichcm into music is even more difficult than translating him into English. But his folktales and his characters have been made to fit neatly into the form of a Broadway musical, or perhaps it would be more accurate to say that the musical's form has been neatly altered to accommodate them. The start of Fiddler on the Roof is typical of the inventiveness and unconventionality of the show; in place of the obligatory overture there are the two wailing fiddles weaving a background for Mr. Mostel's spoken introduction. He is enacting, or should one say creating, the role of Tevye, a poor, pious, but rather independent-minded dairyman, blessed with a large family (all girls) and saddled with the cares of daily life in an uncertain world. The opening number is called " Tradition," and before it is over, the various elements of the family — mothers, fathers, sons, daughters — have taken their places in the musical pattern, and other members of the community — the beggar, the matchmaker, the horse trader, the rabbi — have stepped forward to establish their identity. At the end all have been combined into a polyphonic musical tapestry far more complex and skilled than the customary Broadway ensemble. In "Tradition," Mr. Bock has composed the most arresting musicalshow opening within memory, and one which is just as exciting to hear in the recording as it is in the theater.
It would be too much to expect all of Fiddler on the Roof to remain on this level, and there are passages that are musically trite. But a surprising proportion of the songs have a distinctive charm or subtlety ol characterization. " Matchmaker,
Matchmaker" is a lilting little trio sung by three ol Tevye's daughters as they sweep out the kitchen, wondering what kind ol husbands the future holds for them. ' Il I Were a Rich Man" is Tevye's dream of happier days, decorated with little Hasidic burblings of musical joy. "Sabbath Prayer" is a quiet mood piece of tranquillity settling down over an orthodox community on the Sabbath eve. "Tevye's Dream ' is a gorgeously comical musical canvas of a fanciful visit by apparitions from the other world bent on breaking up an intended marriage. "Sunrise, Sunset" is a tender song about the heartbreak of vanished childhood. "To Life" is a rollicking wedding celebration dance. Unusual care has been taken with the orchestrations, which abound in warm instrumental colors. Woven through the musical fabric are reminiscences of Yiddish folk songs and synagogue cantillations. and yet the score impresses one with its sheer freshness and originality. And in Zero Mostel (who, befitting the character he plays, has a voice in almost everything that s going on), Maria Karnilova, Julia Migenes, and the others, Fiddler on the Roof has musical interpreters able to convey all its laughter, tenderness, and hope.
The rather special quality of Fiddler, both in subject matter and musical treatment, raises questions about how it is likely to fare in the commercial record market. It is filled with fine songs, but few of them are prospective hit parade material; they are too close to their milieu and their characters for easy adaptation to dance numbers. The first attempt to issue a set of Fiddler on the Roof instrumental arrangements, by Claude Ogerman and his orchestra (RCA Victor LSP-2964, stereo; LPM-2964, monaural), is so contrived and clumsy that it sends one rushing back to replay the originalcast album for reassurance.
Last season's Hello, Dolly show album, also issued by RCA Victor, has sold a million copies. Its score is almost trivial by comparison, but it has what fiddler lacks, a simple and catchy title song, The all-time best seller among show albums remains Columbia's original-cast release of My Fair Lady, which is said to have reached the five million mark. Fiddler seems highly unlikely ever to attain a figure like this. Yet those who respond to its particular qualities of warmth, nostalgia, and authenticity may find it filling a place in their hearts which no other show album is ever likely to occupy.
Another current Broadway show, Golden Boy, also has elements that give it an individualistic quality. In plot, lyrics, and music Golden Boy is decidedly inferior to Fiddler on the Roof; it suffers from musical platitudes, limping verses, and an unconvincing story. But for all that, it is motivated by a certain underlying vitality which bursts through in its dance sequences and production numbers.
Golden Boy is a musical adaptation by Lee Adams and Charles Strouse of a 1937 play by Clifford Odets. The original hero was an Italian youth who wanted to be a violinist but discovered he could make big money lay becoming a prizefighter. Autres temps, autres moeurs: the Italian lad, in keeping with today's theatrical styles, has become a Negro, with his name changed accordingly from Joe Bonaparte to Joe Wellington (surely there must be some comfort there to the ghosts of Waterloo). Joe Wellington is played by Sammy Davis, Jr., hitherto best known as a nightclub singer; his nemesis, a big-time gambler and policy-rackets operator, is played by another popular entertainer, Billy Daniels. The climactic scene is a tremendously exciting prizefight presented as a ballet against the background of a roaring crowd; the two most striking numbers are "Don't Forget 127th Street, a song and dance sequence that catches both the humor and the bitterness of a group of Harlem slum dwellers, and "No More," which begins as the wail of a Negro boy rejected by a white girl and builds into a powerful chorale of racial pride and dignity. The rest is mostly a string of conventional love songs and situation numbers, redeemed only by the energy of the performers. But for all the skimpiness of its music, Golden Boy, which has been recorded by Capitol (SVAS2124. stereo: VAS-2124. monaural), has the lure of Sammy Davis, Jr., in its title part and the appeal of a theme that is topical and timely.
Their own intrinsic qualities aside. Golden Boy and Fiddler on the Roof are typical of the kind of Broadway musical show which has reached maturity in the last twenty years, and which may ultimately prove to be as representative and durable an American contribution to musical theater as was the work of Gilbert and Sullivan for Britain, Jacques Offenbach for France, and Johann Strauss for Austria.
Many songwriters and show-writers have had a hand in the development of this new style: one can detect its mark in a work as old as Jerome Kern's Showboat. But its characteristics probably were established most spectacularly and solidly in the works of Richard Rodgers and Oscar Hammerstein II. from Oklahoma! to South Pacific, and its possibilities are as yet far from exhausted. The old subdivisions of ballads, love duets, choruses, comic numbers, and the like, each punctuating the spoken play at regular intervals, wore broken down; instead, book, lyrics, and music were fused into a cohesive and consecutive whole. Subjects began to be taken from American history and legend; sometimes the themes became startlingly contemporary, as in Kurt Weill's Lady in the Dark, which had a psychotic as its heroine.
Most striking of all. perhaps, has been the emergence of dancing as a powerful instrument of dramatic expression rather than a purely decorative embellishment. Slaughter on Tenth Avenue, the startlingly realistic ballet which Richard Rodgers composed for On ΥTour Toes in 1936, first demonstrated the possibilities. Broadway choreography reached its highest pitch in Leonard Bernstein's West Side Story, where the dancing alone frequently provided the forward surge of the story. In the old days a musical comedy star could be reasonably satisfied with himself if he cut a passable figure in a hussar's uniform and could reach the A below high C. Nowadays he must be able not only to sing the challenging music that Broadway composers provide for him but to act convincingly and dance with agility.
It is no accident that Jerome Robbins, who was responsible for the dancing in West Side Story, has both choreographed Fiddler on the Roof and directed the entire production. Mr. Robbins is already working on his next project, a musical version of Thornton Wilder's The Skin of Our Teeth, with words by Betty Comden and Adolph Green and music by Leonard Bernstein.
All this is not to say that the oldfashioned musical, with its sentimental plot, its charming choruses of villagers, its tender love duets, and its artful touches of comedy and perhaps patriotic homilies, is altogether dead. As a matter of fact, it has been revived quite handsomely this season on Broadway in a show called Ben Franklin in Pans, by Sidney Michaels and Mark Sandrich, Jr., which is being released by Capitol (SVAS2191, stereo; VAS-2191, monaural). Its score encompasses a rousing sailors' chorus, a duet sung in the swaying basket of a balloon, and a richly comic sequence in a monastery vineyard. All of this charm might be wasted were it not for Robert Preston's warm and ingratiating portrayal of a shrewd and wise old Ben Franklin artfully persuading a lady friend of Louis XVI's to induce the King to recognize the infant nation across the sea. No one watching the play dreams he is witnessing history accurately recreated, or even seeing a fairly lifelike representation of a famous man. But the atmosphere of the show is pleasant, the girls are pretty, and the music is easy to take. The only question is, Is that enough anymore?
Record Reviews
Bizel : Carmen
Georges Prêtre conducting Paris Opéra Orchestra and Chorus, with Maria Callas and Andrea Guiot, sopranos; Nicolai Gedda, tenor; Robert Massard, baritone; Jacques Mars, bass; and others; AngelSCLX-3650 (stereo) and CLX-3650: three records
With all due modesty, let us claim this recording as a tribute to the power of the press. Each new release of a Carmen, whether by Victoria de los Angeles, Regina Resnik, or Leontyne Price, has brought forth journalistic requests, nay demands, that Maria Callas be permitted to essay the role. And here she is at last, in a performance recorded on Carmen's home grounds by a cast whose faultless French is a joy to the ears and a blessing to the music. This is a recording which leaves no doubt that Callas is the Carmen of our day; with her smoky voice, her dramatic flair, and what one can only call her innate instinct for the character, she emerges as an interpreter on a par with the legendary Conchita Super via. Her "Habañera" is a beautifully sung selfportrayal rather than the operatic set piece it so often is. and her "Chanson Bohène" is as frenzied yet thoroughly musical an expression of abandon as one could wish to hear. Aside from an occasional swoop from one note to another, hers is a Carmen as perfect as we are likely to hear. With all this, it is unfortunate that the rest of the participants generally fall short of Callas' achievement. Andrea Guiot, the Micaela, Nicolai Gedda, the Don José, and Robert Massard, the Escamillo, are all singers of ability and style, but none can be said to add an electrifying quality to the proceedings. Only Jacques Mars, in the small role of Zuniga, makes a genuine musical impression. The chorus seems strangely indifferent to its tasks, but the orchestra under Georges Prêtre plays with brilliance. Above all, there is Callas single-handedly re-establishing Carmen as one of the greatest of all operatic roles.
Jón Leifs: Iceland Overture; Páll Isólation: Passaealia; Henry Cowell: Symphony No. 16, "Icelandic"
William Strickland conducting Iceland Symphony Orchestra; Composers Recordings Inc. CR1-179 (monaural)
Iceland's renown as a musical center has hitherto been rather limited; indeed, it may come as a surprise to some listeners, as it did to this one, that Iceland maintains a symphony orchestra, as well as composers capable of writing for one. Both Jon Leifs and Páll Isólfsson, however, turn out to be composers versed not only in their craft but with a fine sense of melodic and dramatic musical values. Leifs's Iceland Overture is a forceful, sometimes craggy piece that makes good use of folk melodies; Isolfsson's Passacaglia, rather imitative of Bach as it is, nevertheless has sweep and power of its own. The American composer Henry Cowell wrote his Icelandic Symphony recently on commission from the orchestra, and this is its first recording. Cowell is a skilled and shrewd technician who blends traditional Icelandic tunes and styles with a light dose of twelve-tone treatment. The rhapsodic slow movement of this work conjures up Norse folk sagas, and a Sibelius-like elegaic mood hovers over the whole. The Iceland Symphony Orchestra makes an excellent impression in its first venture into commercial recording.
Walton: Cello Concerto Bloch : Schelomo
Charles Munch conducting Boston Symphony Orchestra, with Gregor Piatigorsky, cellist; RCA Victor LSC-2109 (stereo) and LM-2109 All things considered, the cello has fared rather well at the hands of modern composers, possibly because from Casals on there has been a reasonable supply of virtuosos eager to find new material to perform. Sir William Walton's concerto, written in 1956, is dedicated to Piatigorsky.
It is a lyric and fairly somber work, whose dark colors seem to shimmer and glow in this sympathetic collaboration between Piatigorsky and Munch. Although it was previously available in monaural, this is the recording's first appearance in stereo. Ernest Bloch's Hebrew rhapsody Schelotmo has by now assumed the familiarity of a modern classic, and Piatigorsky plays it here with conviction and suppleness.
The Kennedy Wit
The voices of President John F. Kennedy, Adlai Stevenson, and David Brinkley, edited by Bill Adler: RCA Victor VDM-T01 (monaural only)
In his spoken introduction to this unusual collection of John F. Kennedy's lighter remarks, Adlai Stevenson characterizes the President's wit as "fast, audacious, impertinent, but always good humored." The adjectives are well substantiated by the ensuing excerpts from President Kennedy's speeches and press conferences, and by casual remarks uttered within microphone range. Not all the passages are as funny as David Brinkley keeps telling us they are going to be, but there are plenty of well-remembered sallies, such as the President's acceptance of an honorary degree at New Haven with the remark that he now had the best of both worlds, a Harvard education and a Yale degree," or his wry selfintroduction at a French banquet: "I am the man who accompanied Jacqueline Kennedy to Paris." There also are other less celebrated but equally delightful passages, including a charming address to the Irish Parliament in Dublin. The record is not especially well organized, and some of the press conference exchanges seem less pointed and pungent now than they did at the time. The Kennedy humor may have lacked the reflective and homespun quality of Lincoln's, but it carried very much of a twentiethcentury style and flair. And as preserved here, it embodies poignantly the late President's youthful exuberance, political zest, and love of life.
Through the Years With Vincent Youmans
Ellie Quint, soprano; Millie Slavin, mezzo-soprano; Bob Quint, tenor; Nolan Van Way, baritone; Paul Trueblood and Rita Segree, pianists; John Beal and Giulio Ruggiero, bassists; Lou Gatti, percussionist; Evergreen MRS-6401/2 (stereo) and MRL-6401/2: two records This ambitious tribute to the music of the late Vincent Youmans succeeds in casting a warmly affectionate light upon a popular composer who more than held his own in the era of Gershwin, Kern, and Irving Berlin. Youmans was afflicted by tuberculosis and died an invalid in 1946 at the age of fortyseven. He wrote only ninety-three published songs (of which thirty-six are included in this album), but among them were such "standards" as "I Want To Be Happy," " Tea for Two," "Time on My Hands," "Without a Song," "Great Day!" and, of course, "Through the Years." All of these, along with a selection of less familiar numbers, some surprisingly attractive, are performed stylishly by a group of alert and able young singers and instrumentalists. There is an unusually intimate and uninsistent quality to the album which permits Youmans' songs to shine through in all their rhythmic vigor and melodic inventiveness.