Mr. America
JEAN FRITZ is the author of many magazine articles and several books, most of which are for children and young people. She lives in Dobbs Ferry, New York, with her husband and two children.
The search for Mr. America began in the Long Island ranch house of a publicity man named Bobo Jackson. Not Mr. Sexy America, not Mr. Good-looking America, not even Mr. Personality of the Year. This was to be the search for the mature, educated American male. The man who had arrived. Not the best in breed, but the most typical specimen, a composite picture of the wellprepared man at the height of his career. The participants would be alumni of leading colleges, and the preliminary contests would be staged — where else?—at college reunions.
Bobo had never attended a reunion himself, nor had he kept up with his own college friends: so to acquaint himself with the type of candidates he could expect he collected a group of representative alumni magazines. One by one, he opened them to that most revealing of all sections, Class Notes.
And he was hooked. It was the class secretaries who did it. Right through those dull-looking pages and that crowded type they came through, smiling, waving, bowing. "Nice going, Sunny," "Congrats to you. Doc" (always a cheery word and a pat on the back), "Kudos for Bixxy Morris and a big hurrah for Skip." "Good work. Chuck," a proud secretary wrote, reporting the birth of Chuck's second child. "Keep the young fry coming."
Bobo recognized a stylist when he met one, and down to a man the class secretaries were that. It was a joy to watch how cunningly they avoided the commonplace. You would never catch a class secretary, for instance, calling himself a class secretary; he was a scribe. Of course, there was the Dartmouth man who wanted to be known as Ye Olde Sec. and the Cornell man who was Your Obedient and I tumble Servant, but these were in the same tradition; and it followed that a scribe would not gather news, he would glean or garner it, and naturally enough, not from letters but from epistles, which in turn had not been written but penned. It all made for heady reading. Bobo found himself collecting favorite words as if he were making his own Class Notes Treasury: stalwart, sterling, erstwhile, esteemed, heartfelt, oldsters, royally, highlights, exchequer, gala.
Secretaries, Bobo noted, were apt to be particularly inspired by wedding and engagement notices. "Joe (the Toe) 'booted' his last field goal when he married Dottie Clay on June 22." "John O'Hare and Miss Elizabeth Adams will 'splice' a nuptial knot." "Bob Noyes fled the 'bachelor ranks' on August 17th."
Bobo was fascinated by the whimsical use of quotation marks. Sometimes they were used in place of a wink, a tip-off that the messages enclosed were intended to be humorous. Sometimes they were simply a mark of self-effacement. Indeed, there were some men who, unable to take credit for whole sentences at a time, were forever reaching for quotation marks to pull around certain words. "Other plans," wrote a diffident Bowdoin man, "call for removing 'rust' from my German and gathering material for an 'opus.' " What adaptable things quotation marks were, Bobo marveled, going on now to an entry from a senior citizen from Cornell. "February," he wrote, "often called the birthday month of Presidents, we can call the parade of presidents, as we watch these stalwart classmates, unafraid of their shadows, retire from active business and revert to senior classman status and start 'takin' their ease.' Latest candidate for the 'slipper and pipe' league is Steve Wright. . . . It is doubtful if Steve will 'sit idle'. . . . Looks for sure like Steve will stay 'active for '65.' "
There were a few brave souls here and there, Bobo found, who could brazen it out with figures of speech with no props at all, quotation marks or otherwise. Bobo's own nomination for the Pulitzer Prize went to a Dartmouth man, who reported that few babies had been born to the class over the summer but a number of men had achieved academic honors. "If the expected Papoose Parade failed to materialize over the summer, a surfeit of pedagogic poop permeated the tepee."
It was when a secretary cut loose on his own. however, that he was most often at his lyric best, and invariably it was the passing of time that aroused him. Give a class secretary a new year or a fall leaf and he was running down the field.
"Freshmen, football, pretty girls receiving 'mums,' " one Dartmouth man wrote, "and we know it is fall. Speaking of freshmen, age is creeping up with a nephew of ye Ed. already ensconced in Hanover. . . . Sort of makes one think the leaves i are turning all over the world."
"Back in the saddle again!"! sighed another alumnus. "It just seems like it was yesterday that the weather was warm enough for the first trip to the beach, yet Labor Day is upon us already. Maybe one of these days some genius will devise a way of stopping the clock. Wouldn't that be wonderful?"
Bobo blew his nose, not sure how much of this stuff he could take at a time. At the next item, however, he braced up.
"Holy schmokes!" wrote an exuberant correspondent. "That season is upon us again, forsooth. Zooks! It may seem like just another annum peered down the rathole, but the start is unique for us now that we're a year and a half shy of the Fifteenth; no new chillun reported all summer !"
Thoughtfully now, Bobo got down to business. What kind of man would this Mr. America be?
"We're no bunch of prize packages," a Cornell man wrote as if he had anticipated the question. " 'In sum, we're average,' Tom added meanly."
Bobo nodded. Yes, a candidate for the title was on a middle rung of the ladder, and professionally he could be doing almost anything— "taking a fling at the business world," "wielding a scalpel," "cutting his teeth on the stock broker's business," "making like an army officer." But one thing was sure. The American Male was a hometown boy and a family man.
"I like a man who is proud of his home town," another Cornell man is quoted as saying. "But after all, aren't Cornellians like that? Wouldn't you say that that is part of what a Cornellian is? He may go to the ends of the earth but return he does to what is his own."
Bobo flipped through a few more years and came to Hubie Colman.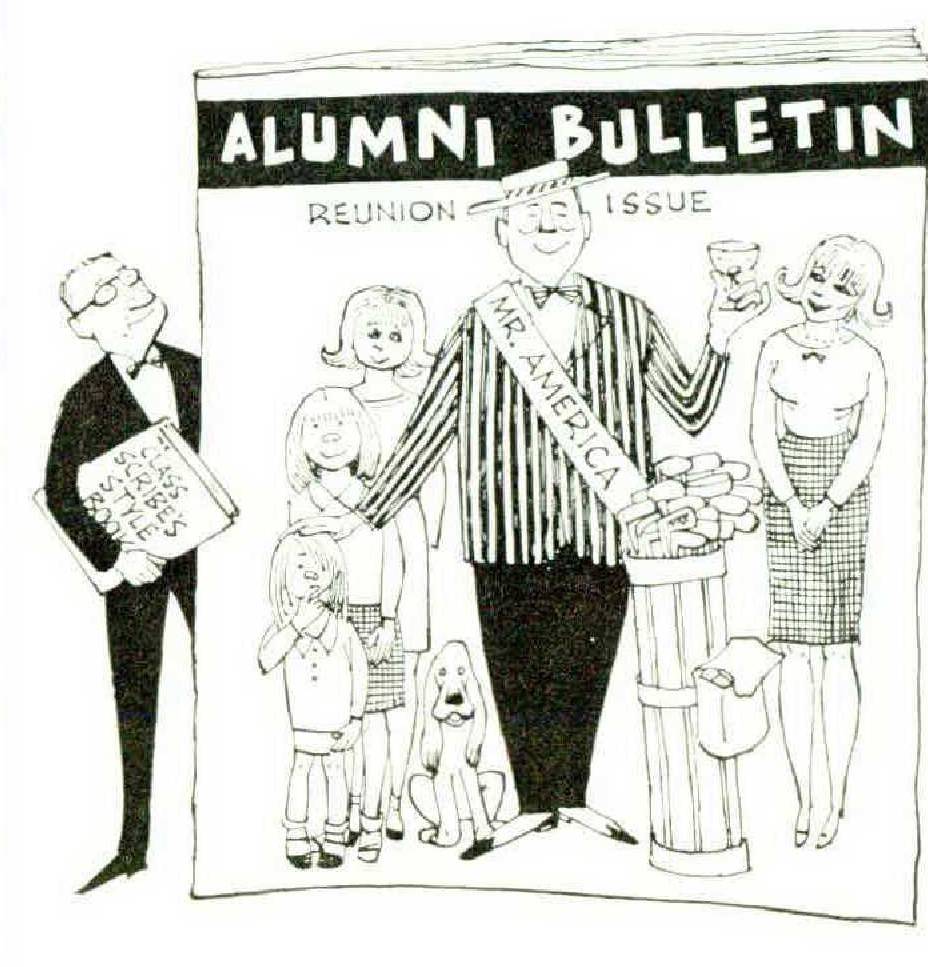 "When you talk to Hubie," the class secretary fondly reported, "you know his family comes first." Then
came Herb Davis of Amherst. Now, there was a man. His three daughters were all "top students and sportsminded, which more than confirms Herb's capabilities as a father." Amen to that, Bobo agreed, but the secretary hadn't finished. "Herb Davis," he wrote, "epitomizes the raison d'etre of Amherst." Herb himself was sports-minded. In his spare time, when he wasn't confirming his capabilities as a father, Herb coached a boys' ball club. A man could hardly expect more of Herb; but still it was a pity, Bobo thought, that he hadn't gone further. If only Herb had played golf, like so many of the other typical alumni. Or if he had sailed. What a raison d'etre that would have made him!
Bobo felt he could almost define Mr. America by now, but he didn't have to. A class secretary did it for him, indirectly but succinctly.
"Welcome back to the old stand!" he wrote. "Hope your summer was as good as you had planned it to be — the kids winning all the ribbons at camp, you breaking par consistently, your wife raising the biggest vegetables and brightest flowers on the block, and your houseguests helpful and uncomplaining."
There was Mr. America, Bobo thought, right smack in the middle of that paragraph. All he needed was a crown; and this led Bobo to thinking about reunions. The first item he found was an announcement not of a reunion but of an interim party for Dartmouth's class of 1930. "Hear! Hear! (and heed)," wrote the secretary, "the clarion call to our informal gathering in this our 34th (gad!) year out of Dear Old."
Bobo was so absorbed that he didn't hear his family returning from their morning sail. He was, as a matter of fact, picturing himself at his own reunion (it would be his twentieth) when the door opened and his wife and two children walked into the den. Windblown and wet, they were full of news about the races next week. Bobo looked at them in a daze. He didn't hear what they said; there was only one word that came through: sailing. Then his eyes caught on his bag of golf clubs leaning against the wall in a far corner of the room. Slowly Bobo brought his attention back to his two children — Tommy, age twelve, Sally, age ten. He looked at them as if he had never seen them before. Wonderful kids. Straight A students. Sports-minded. Bobo returned to the mirror. He studied himself at length and from several different angles. When he had finally finished, he nodded at his reflection.
"Hear ye! Hear ye!" he clarioncalled.
Ebullient and genial, Bobo Jackson joined his ux and his two talented, athletic children, who had meanwhile adjourned to the kitchen.
"Cast your eyes on the stalwart classmate who is going to wend his way back to the Dear Old. Your esteemed pater familias is returning to the old stand, namely his alma mater, forsooth."
Sally was reading a Nancy Drew book and didn't look up. Tommy addressed his mother.
"What's the matter with him, Ma?" he asked. "Has he been drinking?"
Bobo winced. "Imbibing, son," he corrected. "Imbibing." An estimable suggestion, Bobo decided, and forthwith he poured himself a glass of liquid refreshment. He raised his arm. "To the future Mr. America!" he cried.
At last he had the attention of his whole family. Betty, his "better half," turned from the stove. Tommy and Sally tapped their foreheads "significantly."
"Who?" they chorused.
Bobo bowed his head. "Mr. America," he said. "Your obedient and humble servant."