Joséephine Baker Chez Elle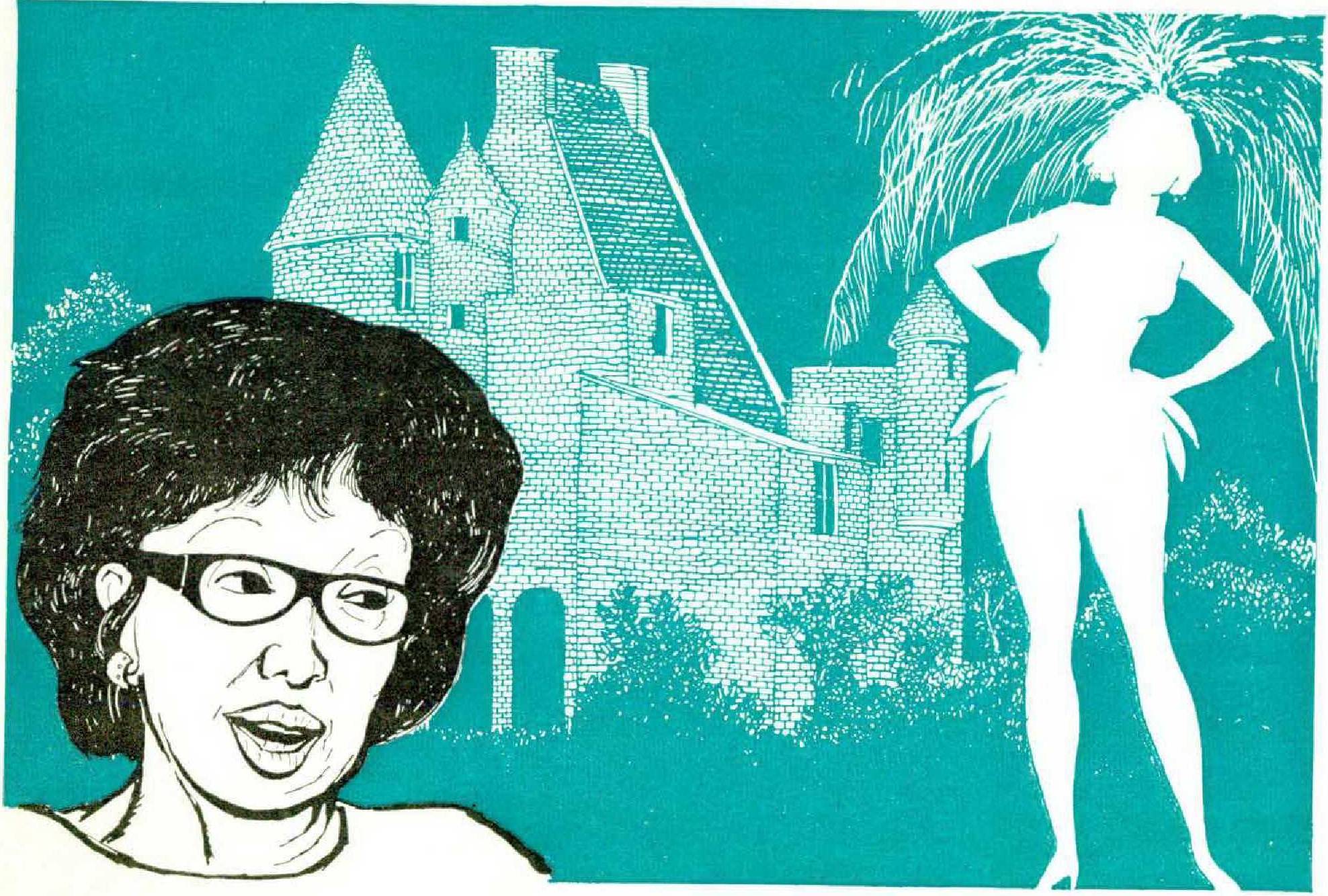 Some months ago I found myself driving through the ancient province of Périgord in southwest France, site of two French national monuments noted for their durability. One is the twenty-thousand-year-old wall paintings in the Lascaux caves, now barred to visitors because a mold has attacked the frescoes. The other is veteran St. Louis-born chanteuse Joséphine Baker, who bought the nearby village of Les Milandes in 1940 and who has herself managed to survive some forty years in show business without visible damage.
I had heard that the celebrated entertainer was in danger of losing her restored medieval hamlet because of financial difficulties, so I decided to drop in before the place went the way of the Lascaux caves. Les Milandes's picture-postcard village square of gray stone walls and red-tiled roofs is called, appropriately, the Place Josephine. Here, early one morning, I encountered my first member of the Baker family — a motherly woman carrying a tray of croissants, pineapple upside-down cake, and coconut cookies as big as tennis balls. She smiled and said "Bonjour," then switched to Missouri English as we fell into conversation. She proved to be Joséphine's sister, Margaret, a dark, heavy woman of great dignity, as different as one could imagine from her incandescent sister. She told me she was the village baker and that she had been up tending her ovens since one o'clock that morning. I asked her how she got started in her enterprise.
"When Joséphine sets her mind on something it usually happens," Margaret said. "She brought me here to Les Milandes fifteen years ago and asked me what I like to do for a living. I said I like to bake. So Joséphine told me. go bake for the village. At first I was afraid — I didn't think I could do it." Margaret smiled widely. "Last year I sold seven hundred sponge cakes. I get special boxes made for them because I bake American style. Those French patisseries come out flat, but my sponge cakes, they rise right up to heaven."
As I explored Les Milandes, it became apparent that in this village Joséphine Baker had indeed set her mind on a number of things, and they had happened. Les Milandes and its owner proved to be an extraordinary, often paradoxical mixture of showmanship and idealism, worldliness and missionary zeal. Mme. Baker (called Bah-kaire here) ran the entire village: the round-towered fifteenth-century Château des Milandes, once the seat of the seigneurs of Castelnau, which she now occupied with her eleven adopted children of various races and nationalities; the Chartreuse des Milandes, an old stone charterhouse converted into a twenty-one-room, year-round hotel; a restaurant, a bar, a sweetshop, and a souvenir shop in the village square; an ivy-covered museum called the Jorama, devoted to a panorama of exhibits dramatizing Joséphine's life. There was also an amusement park with a miniature zoo, a miniature golf course, a fullsize Olympic swimming pool in the shape of a J, an indoor theater, an outdoor theater, and a rustic cabaret with dancing and entertainment, The surrounding fief of four working farms supplied food to the village, and a Gothic chapel, dating from 1410, served its spiritual needs. The whole Baker establishment, covering some 740 acres in the Valley of the Dordogne, overlooked the winding Dordogne River.
The mistress of all this domain called her place the Village of the World, Capital of Brotherhood, an experiment in fostering understanding between peoples. "I believe it is necessary for everybody to know everybody, to understand everybody, don't you?" Mine. Baker said to me as we sat in the salon of her château before an enormous Dordogne fireplace of carved limestone. Her eyes flashed. "At Les Milandes I have made a start." Then, with a sudden laugh, "You must meet my children — you will see."
Joséphine Baker, born the daughter of a St. Louis washerwoman, is chic and self-assured. With her Italian haircut and dancer's figure, she looks far younger than her sixtyodd years. It is easy to imagine her as she must have been in the 1920s. Then, fresh from the old Plantation Club in New York, she introduced le jazz hot to her first Paris audience at the opening of the Revue Nègre in the Théâtre des Champs Elysées in 1925. A year later, as a star of the Folies Bergére, she created a sensation dressed in her most famous costume, a simple string of bananas around her waist. By 1927 she was reported to be worth a fortune and to have received forty thousand love letters and better than a thousand proposals of marriage, including one from a raja. The critic André Levinson, in one of the milder tributes of the period, called her "a sinuous idol who enslaves and incites mankind."
Wearing a short-sleeved jersey pullover, tartan skirt, and sandals, Mme. Baker briskly stirred a pot of soup in the kitchen of her château, where she had taken me to meet her children. With no noticeable help from the kitchen maid, she was giving lunch to six quiet, smiling little boys seated around a table.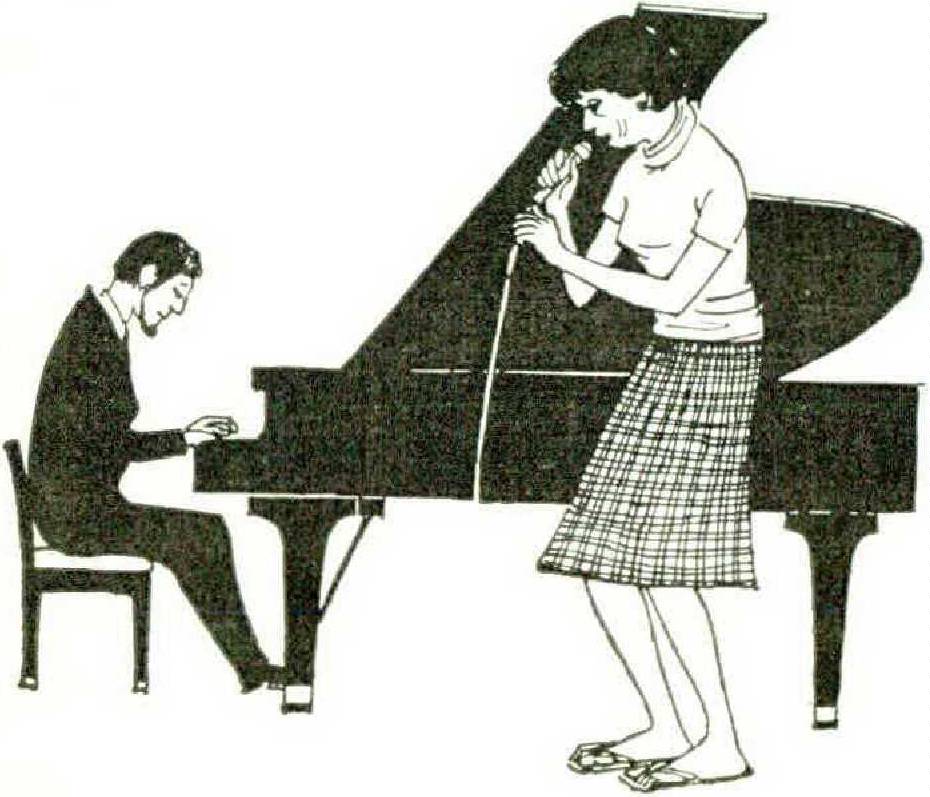 "My five other children are in school in Switzerland," she said. "The oldest is twelve. I have one girl; all the rest are boys. It is more important for men to get along together, don't you think?" She has a trick of asking rhetorical questions and rushing on. "My children come from nine different countries — three from France, and one each from Algeria, Japan, Israel, the Ivory Coast, Venezuela, Finland, Colombia, and Korea. We do not speak of different races here but of coming from different lands. Each child keeps his own religion, and each learns seven languages."
"Count, mes enfants," she commanded the children. Each of the boys, who ranged from three to ten years old, counted up to twenty in a language different from his native tongue. When anyone stumbled, she encouraged him, laughing. "Come on, count for Maman." She applauded each performance. "They are all legally adopted," she said, "but at sixteen they will go back to their countries to perfect their own languages."
A pink-cheeked, bristly Frenchman in work clothes entered the kitchen: M. Durand, foreman of the estate. In rapid French, he told Madame that it looked like rain. Did she not think he should bring in the hay? Joséphine considered. The white Angora cat, Mustapha, had scratched himself behind the ear — that was a sign of rain. The sure sign, however, was that her corns hurt. It was decided: the hay must be brought in. Then, shifting quickly from French and her lady-of-themanor role, she turned to me. "Come down to the cabaret later and watch me rehearse. I'm getting ready for a concert tour."
I went back to the hotel for lunch. As French provincial inns go, the Chartreuse des Milandes provided some startling decorative notes. The pale-blue main lounge was as formal as a Parisian salon: the chairs and ottomans were covered in beige felt; strewn on the soft gray wall-to-wall carpet were leopard skins, in memory, perhaps, of the gaudy days when La Baker strolled along the Champs Elysées with a brace of leopards on a leash. In the cardroom, pale green with a seventeenth-century carved ceiling, pony-skin-upholstered armchairs surrounded a great stone fireplace. The gray and white dining room accented with old-rose table linens offered, at Paris prices, a menu on the elaborate side.
Up a stone staircase, on the second floor, were a series of bedrooms dripping with organdy and pastel chintzes and dedicated to Frenchwomen famous in history or literature. Each door was inscribed with a name: a charming sisterhood of the bed, including La Pompadour, Du Barry, Camille, Agnès Sorel, La Montespan, and Madame SansGêne. The nameplate of the most luxurious chamber read, simply, Joséphine. But I was assured that Joséphine Bonaparte, not Baker, was the inspiration.
On the third floor, each bedroom was named for a different country, presumably to express the theme of world brotherhood, and each relentlessly carried out a national decorative theme. The attractive Frenchwoman who managed the hotel showed me with special pride the red, white, and blue U.S.A. room; its most arresting feature was a set of Western saloon doors that swung open on the bidet.
I went down to the cabaret in the amusement park for the rehearsal. Joséphine was deep in a bilingual conference with an Italian orchestra leader and her arranger from Paris, a pale young man with a fringe of beard. At midafternoon only two tables were occupied: one by a group of reverent teen-agers like those who worship name singers in the United States; the other by a family of stolid French bourgeois tourists. Transient tourists often dropped into the park, I was told, and during the summer season Joséphine sang at the cabaret every Saturday and Sunday night. "For me the stage is only a means of getting money for the village, for the children," she said. "They are my important work."
Mme. Baker ran through her songs in a marvelously husky voice with a pronounced beat. They were ballads for the most part, French, Italian, Israeli, Spanish. Her body moved to the Latin-American rhythms as sinuously as a young girl's. "The next two songs are for my American friend here," she announced in French, and sang "You Are My Lucky Star" and "Bill." For more than an hour she worked hard, stopping for frequent consultations with her arranger, listening to tape-recorded playbacks, and correcting her phrasing. Joséphine Baker is still the thoroughgoing professional, combining a sure, flexible voice with an electric presence. It is not surprising that when she came back to the United States for a series of Broadway appearances, followed by a tour, capacity houses gave her standing ovations.
But in the lobby of the Chartreuse des Milandes that evening after the rehearsal, Mme. Baker, still clad in her pullover and skirt, was the gracious hostess, cheerfully greeting her guests with a brandy glass in her hand. The hotel guests were a mixed bag of well-fed middle-aged French couples, elegant young Parisians in sports clothes, and traveling British. There was even one amazed American couple who had descended from a Buick with New Jersey license tags. Joséphine had a word for each guest in French or English, and she seemed to enjoy her role. When I went up to my room (Italy: white walls, tomato-red ceiling, emerald draperies and bedspreads, Venetian barber-pole lamps), Mme. Baker was still holding court.
The next morning I walked over to the Jorama (admission, five francs) to inspect memorabilia of Joséphine Baker's career. The museum was crammed with old theatrical scrapbooks, posters, exotic costumes, Madame-Tussaud-like figures, and a miscellany of major and minor citations. Around the entrance chamber was a series of hand-illuminated parchment sheets telling the Story of Joséphine. It began as a fairy tale should: "Once upon a time ... a little girl walked upon the banks of the Missouri." And the story went on to tell how, as a child, Joséphine first danced for her brother and sister in St. Louis, later went on to conquer Paris, then the world.
In the next room was a tableau of life-size wax effigies, dramatically lit, representing little Joséphine and her family in a primitive Missouri cabin during the early years of the century; and in still another room, a tableau showing Pope Pius XII in 1950 receiving Josephine and her husband, Jo Bouillon, the French orchestra leader. Unfortunately, the waxworks had a somewhat grisly air because the heads had been temporarily removed for cleaning.
On the walls of the museum hung an assortment of bronze plaques and framed certificates: from the Chicago Urban League, for Achievement in Race Relations; from the American Jewish Congress, for Meritorious Service; from the Hair Stylists Guild of Los Angeles, First Lady of Style and Fashion: from the YMCA Christian Street Branch, Philadelphia, for the Extension of Principles of Human Rights and Dignity; from the Women's Sunday Morning Breakfast Club of Los Angeles, International Mother of the Year. Glass showcases displayed the spectacular couturier costumes that Joséphine wore during her farewell performances at the Olympia in Paris—great sentimental occasions in both 1956 and 1959. Then, unexpectedly, in another showcase were mementos of her wartime work in the French Resistance: her uniform of lieutenant in the Air Auxiliary of the Free French Forces, her Medal of the Resistance, her Legion of Honor. Mme. Baker's war record was, in fact, impressive: after the Nazis occupied France, she went to Morocco, where she worked in intelligence, drove an ambulance, and entertained Allied troops. Possibly because of her connection with the Resistance, she has been accused of once being a Communist. Her answer is usually the same: "Everyone who believes in brotherhood has been accused of Communism. Don't you agree?"
I spoke to Mme. Baker about Les Milandes's reported financial problems. She was hopeful. "My American appearances have been more successful than I ever dreamed of. Still, it is very expensive to have so many children. There are the tutors, you know."
I have learned since that Les Milandes was about to be put up for auction, and that friends of Joséphine Baker's, led by Brigitte Bardot and André Maurois, raised money to stave off the most pressing creditors. A worldwide appeal has been made for additional funds, but the final disposition is unresolved at this writing.
Before leaving Les Milandes, I had a talk with Joséphine Baker's brother-in-law, Elmo Wallace, who is Margaret's husband. I had stopped in the village sweetshop for a dish of Margaret's authentic American ice cream, and found Elmo behind the counter. He is a calm, slow-spoken, lanky Negro of indeterminate age. When I ordered an ice in my best French, he looked at me sharply.
"You speak English?" he asked.
I said I was an American.
"I'm an American, too," Elmo said. Then he told me he had lived on one of the farms of the château for sixteen years and was now a French citizen. An enthusiastic hunter, Elmo hunted with falcons. "I trained them myself, same as the French kings," he said. I asked him how he liked his life at Les Milandes.
"Fine," he said. "I like the French people. Of course, they have their ways, but then we have ours. One's about the same as the other."
And so Elmo summed up the case for Joséphine Baker's Village of the World, Capital of Brotherhood, leopard skins, waxworks, J-shaped pool, and all.