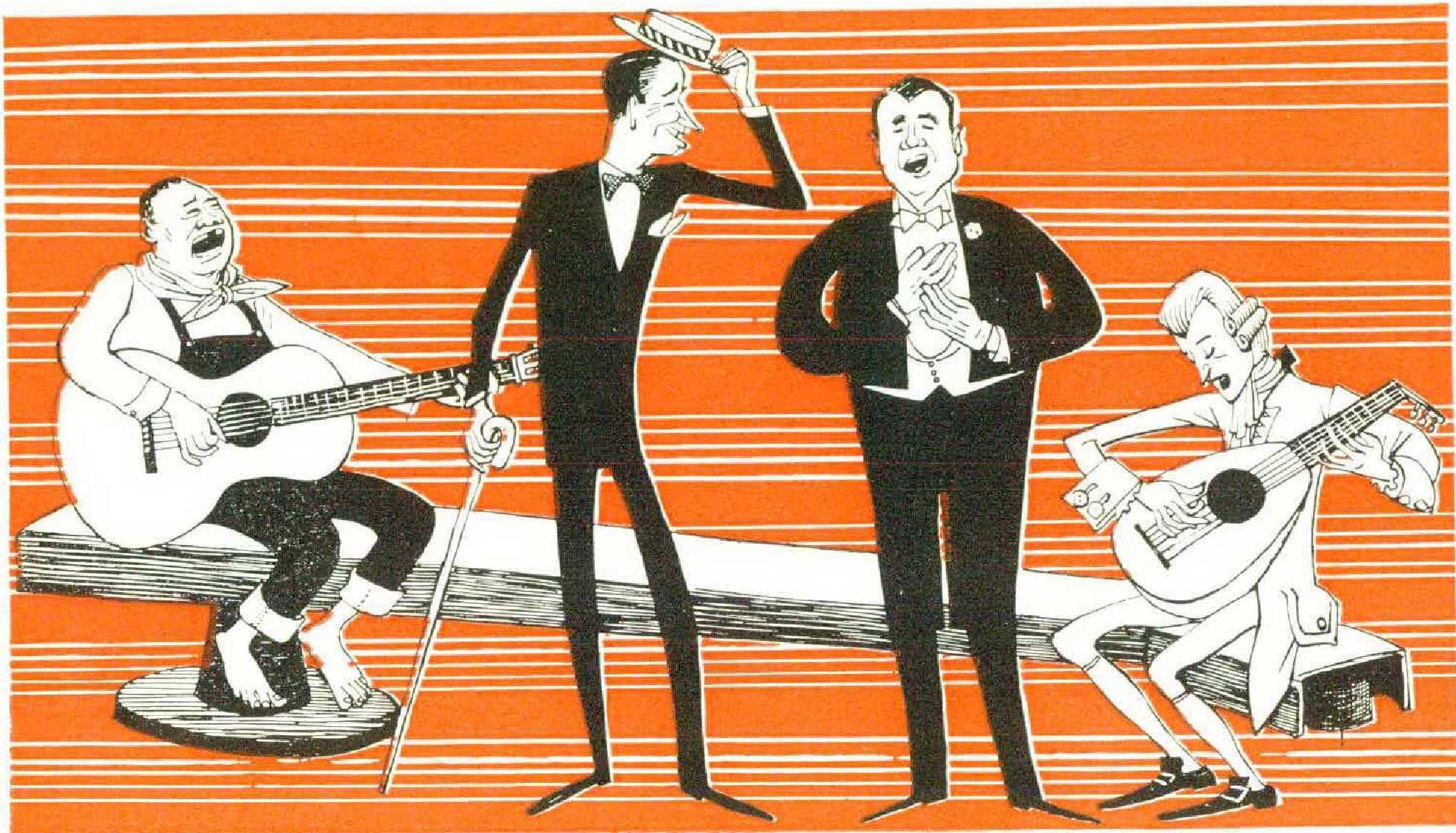 It was a Scottish politician and patriot named Andrew Fletcher of Saltoun who first gave currency to the sentiment that "if a man were permitted to make all the ballads, he need not care who should make the laws of a nation." Fletcher of Saltoun died in 1716, predeceasing by some years the advent of the Beatles, the Animals, the Beachboys, the Cliff Dwellers, and various other modern ballad makers, who could conceivably have given him second thoughts on the matter.
Consideration of Andrew Fletcher's aphorism at this late date is prompted by the recent issuance of a number of records devoted to exponents of national styles and specialties in popular song. The eighteenthcentury Scotsman, a much traveled man for his time, could hardly have anticipated that a Maurice Chevalier would someday convey to millions of listeners the gaiety of Paris in a song, or that a Richard Tauber would do as much for the sentimentality of Vienna, or that a Huddie Ledbetter would give voice before the world to the anguish and humor of the American Southern Negro. Whatever the differences in language, technique, and outlook that separate such performers, these three share an ability to give popular songs the substance that enables them to survive from one generation to the next.
Chevalier is a particular case in point, because although he is still active and singing at the age of seventysix, increasing attention is being paid by record companies to the product of his vintage years in Paris — the twenties and thirties. A new generation has grown up which knows him only as the benign gaffer who specializes in such ditties as "I'm Glad I'm Not Young Any More" and "Thank Heaven for Little Girls." But travelers accustomed to returning from Europe with old Chevalier 78 rpm records tucked under their arms will be happy to know that eleven of the ancient Chevalier classics have been reissued on a Capitol LP entitled The Young Chevalier (T10360). Actually, Chevalier was close to fifty when these recordings were made, so the "young" is purely relative. Nevertheless, his elan was never brighter; the songs are a fine blend of hopefulness and irony, skepticism and cheer. Included are such choice numbers as "Ma Pomme," "Mimile," "Ca e'est passe un dimanche," and " Quand un vicomte," a song which takes note of the curious fact that when one viscount meets another the talk is of viscounts, and when one policeman meets another they discuss other policemen, and so on to the end of mankind.
But for at least one listener, the prize of the record is a song called "Ca fait d'excellents français," which, as far as can be determined, is making its first appearance on LP. This pre-World War II number goes over a French Army unit rank by rank, trade by trade, ailment by ailment, and political affiliation by political affiliation, and arrives at a conclusion no more startling than that everyone from the colonel down to the private deuxieme classe is a good Frenchman. Of such slight, yet durable material are the songs of Chevalier made.
Chevalier selections that are more recent in origin are offered on an MGM release (SE-4205, stereo; E4205, monaural), which includes such songs as "April in Paris," "You Made Me Love You," "September Song," "Valentine," and others, sung almost entirely in English. Songs like these, even when they are aimed so obviously at the American market, are always welcome, for whatever Chevalier does is marked with his own flair and panache. But what is really needed is a sustained effort to systematize on LP records such songs as "Prosper," "Quai de Bercy," "Folies-Bergère," "La chanson du maçon," " Une pipe sur le piano," and many others — to create, in other words, a kind of Code Maurice in records to go along with the Code Napoléon in law.
Richard Tauber, who died in 1948, was a singer of a different background from Chevalier's, but he was equally inimitable, and he commanded the same kind of affection. Tauber, who was born in Linz, became the embodiment of the Viennese tenor. He had a voice and temperament that could meet the demands of Mozart's Zauberflöte and Schubert's Winterreise, but audiences gave him their adulation principally for his singing of Viennese operetta and German light music, just as they loved John McCormack more for "Mother Machree" than for "Il mio tesoro."
A new Tauber collection (Capitol T-10369) includes twenty-one German songs that are as unshakable in their sentimentality as Chevalier's French songs are in their jauntiness. Such numbers as "Du, du liegst mir imHerzen," "Ach, wie ist's möglich dann," and "Der Mai ist gekommen" are traditional in origin and unpretentious in words and music. But when they are sung by an artist who can bring to them both beauty of voice and a sense of conviction, they become not only agreeable but affecting. The sound of these old recordings is faded, just like, one cannot help thinking, the colors of a pressed flower. But they are deeply enjoyable nonetheless.
A sampling of the kind of popular songs that might have been heard in the America of two hundred years ago is given on a record called Songs From a Colonial Tavern (Decca DL74546, stereo; DL-4546, monaural). The tavern designation can be taken quite literally, for Tayler Vrooman, the singer, has been performing these songs in the restored taverns of colonial Williamsburg, in Virginia. Mr. Vrooman, who accompanies himself on a six-stringed lute, has delved into eighteenth-century songbooks to discover what was being sung in Britain and the colonies two centuries ago, and he has come up with a goodly number of ballads, catches, and love songs. Among them are "Lilliburlero," beloved of Uncle Toby in Tristram Shandy, "The Jovial Beggars," "From Good Liquor Ne'er Shrink," "I Married a Wife of Late," and many others. Occasionally Mr. Vrooman is joined by Jan DeGaetani, mezzo-soprano, and Marvin Hayes, bass.
As a ballad singer, Mr. Vrooman is straightforward and robust, with not much variety or subtlety to his style. But the songs are lusty and gusty, and they come across with all their vigor and juiciness. If this record represents a fair cross section of tavern singing as it used to be, both the art and the repertory have sadly declined in our days.
American folk music has had few figures as commanding as Huddie Ledbetter, a six-foot-tall Negro known as Leadbelly. He learned many of his songs in the various Southern prisons in which he spent a good deal of his younger days, and he sang in a jazz and blues idiom that was partly traceable to his association with jazz musicians. He is credited with being the composer of "Good Night, Irene," an accomplishment which alone entitles him to some small niche in American musical history.
Leadbelly, who died in 1949, came along too early to cash in on the vast upsurge of interest in folk music of the last ten years, but he left an extensive legacy of recordings. Many of these have long been available, but now RCA Victor has dug into its files to reissue some of the earliest Leadbelly recordings, including "Easy Rider," "Good Morning Blues," "Rock Island Line," and "The Midnight Special" (LPV-505).
In all these songs Leadbelly accompanies himself on the twelvestring guitar, an instrument he played with phenomenal strength and agility. His zest and his innate musicality are unmistakable, though at times he is rather difficult to understand: rhythm, not diction, was Leadbelly's strong point. But the message gets across quite plainly.
"Good Night, Irene" is not included on the Victor reissue, but it happens to be among the songs on a Leadbelly record coincidentally released on the Allegro label (LEG9025). These, too, are early Leadbelly songs, most of them originally issued by Musicraft in 1939. To hear Leadbelly himself sing "Good Night, Irene" is an adventure in authenticity that is worth experiencing.
A spoken as well as a musical tribute to Leadbelly is incorporated in a new Pete Seeger collection, recorded live at the Village Gate nightclub in New York and released by Disc Records, a subsidiary of Folkways (DS1101). A nightclub is far from an ideal recording site, especially a nightclub as noisy as this, but the record offers unusually good repertory: "Good Night, Irene," "This Land Is Your Land," "Reuben James," "Old Dan Tucker," and "Big Rock Candy Mountain," with its entrancing vision of the hoboes' paradise:
In the Big Rock Candy Mountains
The cops have wooden legs,
The bulldogs all have rubber teeth,
bulldogs The hens lay soft-boiled eggs. . . .
Seeger performs with ease and assurance and succeeds in turning the performance into a kind of community sing, in which the home listener may or may not feel impelled to join.
Finally, a small independent company called Spire Records, whose product is distributed by the World Library of Sacred Music, 1846 Westwood Avenue, Cincinnati, Ohio, has put out a record of a work that is remarkable for its originality and imaginativeness. It is called An American Mass Program, and it is a novel setting of the Roman Catholic Mass in a folk idiom written and sung by the Reverend Clarence Joseph Rivers, in whose church (St. Joseph's, Cincinnati) it was recorded.
An American Mass Program is sung in English, and its music is an astonishingly successful combination of two seemingly disparate styles, Gregorian chant and Negro spiritual. To hear the rise and fall of a plainsong line suddenly colored by a blues note or a gentle syncopation is a startling but not unpleasing experience. Father Rivers has achieved a score that moves with a natural and easy flow of melody; he has even found a fresh, unassuming, and appropriate setting for the Lord's Prayer. He sings his Mass in a warm and sensitive voice that he uses with skill and inherent musicianship. His English is clear and distinct. And the voices of his congregation blend beautifully with his own from the opening Introit — here called "Entrance Song" — to the closing setting of the Twenty-third Psalm. An American Mass Program puts to shame many a more pretentious record of religious music, and points toward a new avenue that "popular" music — here meaning music of the people — might fruitfully explore.
Record Reviews
Charpentier: Te Deum; Magnificat
Louis-Martini conducting Chorale des Jeunesses Musicales de France and Orchestre Jean-François Paillard, with Martha Angelici and Jocelyn Chamonin, sopranos; André Mallabrera, countertenor; Remy Corazza, tenor; Georges Abdoun, baritone; Jacques Mars, bass; Maurice André, trumpeter; and Marie-Claire Alain, organist; Vanguard BGS-70663 (stereo) and BG-663
Marc-Antoine Charpentier lived a busy and fruitful creative life on the fringes of the court of King Louis XIV, writing masses, motets, psalms, and other sacred works by the hundreds; for his pains he is sometimes confused nowadays with the composer of Louise. However, MarcAntoine is being gradually rediscovered through records, if not through concert performances. His Te Deum, a brilliant and soaring work, was first released by the old Haydn Society some ten years ago — a recording which did much to awaken American listeners not only to the genius of Charpentier but to the glory of the whole school of Versailles composers. Now Vanguard has undertaken to make an up-to-date recording of the same work, with stereo enhancing its spaciousness and grandeur. The array of vocal and instrumental forces is first class, with the festive mood (Charpentier was one of the most unsomber church composers who ever lived) established at the outset by some dazzling trumpet playing by Maurice André. The Magnificat on the reverse is a more subdued but scarcely less worthy expression of the joys of faith.
Mahler: Symphony No. 8 in E-flat, "Symphony of a Thousand"
Maurice Abravanel conducting Utah Symphony Orchestra and University of Utah Choruses, with Jeannine Crader, Lynn Owen, and Blanche Christensen, sopranos; Nancy Williams and Marlena Kleinman, altos; Stanley Kolk, tenor; David Clatworthy, baritone; Malcolm Smith, bass; and Alexander Schreiner, organist; Vanguard VSD-71120/1 (stereo) and VRS-1120/1: two records Always excepting the celestial choirs, which presumably await us all at the end, Mahler's Eighth Symphony calls for the largest massing of musical forces most people are likely ever to confront. It demands eight vocal soloists, three separate choirs (two of men and women, the other of boys), various solo instruments (including mandolin), an organist, an offstage brass section, and, of course, an oversize orchestra. Mahler's aim was to convey an apocalyptic vision, and he chose for his texts the medieval Latin hymn Veni Creator Spiritus and the final scene of Goethe's Faust, Faust's ascent to heaven. In assembling its forces for this recording, Vanguard acknowledges that it fell somewhat short of the "Thousand" in the traditional title. But it does claim the participation of nearly nine hundred performers, vocal and instrumental, with no fewer than sixteen microphones employed to pick up their tones. Curiously, in many passages there is an impression of serenity, if not intimacy, that one does not associate with so vast an assemblage or so massive a hymn. Far from being a musical mob scene, Mahler's Symphony of a Thousand turns out, under Mr. Abrava-
nel's sensitive control, to be an exalting experience. Does it produce, in stereo, the same effect as at an actual concert-hall performance? Perhaps not; there are limits to what even sixteen microphones can enregister. But the score's musical and spiritual impact are unmistakable and seem unlikely to be re-created soon on records.
Nicolai: The Merry Wives of Windsor (excerpts)
Robert Heger conducting Bavarian State Opera Orchestra and Chorus, with Gottlob Frick; bass; Ruth-Margret PütZ and Edith Mathis, sopranos; Gisela Litz, mezzo-soprano; Fritz Wunderlich, tenor; and Ernst Gutstein, baritone; Angel S-36149 (stereo) and 36149 Otto Nicolai once wrote: "German opera contains plenty of philosophy, but not enough music. Italian opera, on the other hand, contains plenty of music but no philosophy." In Die lustigen Weiber von Windsor he undertook to reconcile the two styles, using the same Shakespearean plot that Giuseppe Verdi, a 100 percent Italian, was to take up fifty years later — for his Falstaff. Nicolai's score lacks the subtlety and quicksilver quality of Verdi's, but is nonetheless rollicking and lusty — qualities not inappropriate to the Fat Knight. These spiritedly sung excerpts abound in musical geniality and gaiety, especially when Mistresses Ford and Page are indignantly comparing identical love letters and when Falstaff and Ford are joined in a rousing "buffo-duet," to use Nicolai's own description. Gottlob Frick, best known in this country as a saturnine-voiced Wagnerian villain, turns out to be a musically agile comedian, and his lady friends are never less than charming. The Overture is as dazzling as ever, with conductor Robert Heger finding a delicious pre-Johann Strauss lilt in the score, which, after all, dates from 1849.
Gilbert and Sullivan: Utopia Limited (complete)
John Landis conducting Lyric Theater Company of Washington: three records, monaural only (available through direct order at $11.75 from lyric Theater Company; Inc., 3029 North Fourth Street, Arlington, Virginia)
Gilbert and Sullivan: Utopia Limited (excerpts) and Trial by Jury (complete)
Isidore Godfrey conducting D'Oyly Carte
Opera Company: London OSA-1155 (stereo) and A-4155
Utopia Limited, the next to the last of the Gilbert and Sullivan operettas, was regarded by Bernard Shaw, who attended its premiere in 1893, as musically the finest. Nevertheless, it has gone into almost total obscurity, from which two recordings now seek to rescue it. One is by the Lyric Theater Company of Washington, a community group which has presented it successfully on the stage; the other is by the D'Oyly Carte troupe of London, which no longer has the work in its active repertory. One can admire the enterprise and energy of the young Washingtonians, who perform the work complete; but at the same time one wishes they possessed the skilled professionalism of the D'Oyly Carte company, which performs only five excerpts as a secondside filler for Trial by Jury. The Lyric Theater recording, including dialogue as well as songs, makes it clear that Utopia Limited, a cheerful tale of a South Sea monarch's attempt to adapt his island paradise to the British way of life, is major Gilbert and Sullivan — or at least major Sullivan — with an intricate and imaginative opening chorus, a melting love duct, a satiric aria about tenors, and a clever chorus in the style of a Christy Minstrel show. The combined effect of both recordings is to convince the listener that Utopia merits speedy restoration to the active roster of Savoy operas.
Red Army Ensemble, Volume 3
Colonel Boris Alexandrov directing Red Army Ensemble; Angel S-36206 (stereo) and 36206
Devotees of Russian choral singing, which is like no other in the world, should find rousing listening in this latest collection of Red Army songs, resoundingly recorded during a visit to Paris. Perhaps it was in recognition of their surroundings that this powerful group of singers and instrumentalists decided to record La Marseillaise, and in French at that. In any event, the sweep and surge of the performance leave no doubt that the Red Army choristers know a revolutionary song when they sing one. The rest of the record is made up of Russian songs, both folk and patriotic. The Soviet National Hymn follows La Marseillaise and sounds relatively tame, as most national anthems do.