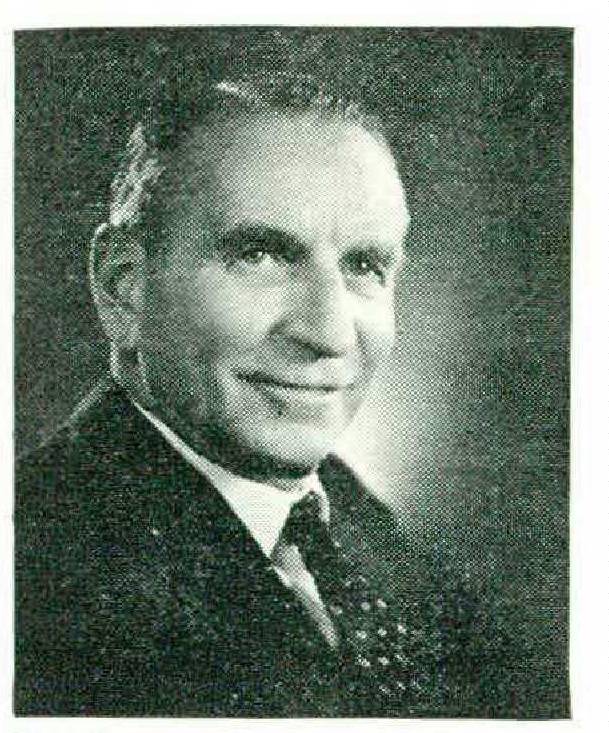 BY EDWARD WEEKS
THE first movie I ever saw was a Pathé comedy shown on the open veranda of the Grenville Arms Hotel in Bay Head the summer of 1909. The film, which I believe was produced in France, followed the mishap of a bachelor who, having ripped his pants, thought to take to his bed until they could be repaired and returned to him. We watched him get into bed, a narrow cot that plainly ruled out sex. At this point enter the landlady to tell him he was wanted on the telephone (which was enough of a novelty to inspire that popular Columbia record "Cohen on the Telephone"). Having no trousers, our hero ingeniously wrapped about him the strip of linoleum from his bedroom floor. But in negotiating the stairs, he lost his balance and began to roll. Out the door and down the street he rolled, now only his head visible, as his linoleum tube swept over an applecart, then a couple on a tandem bicycle, raised havoc in the vegetable market, and went rolling on for fresh conquests with all Paris in pursuit. I think that at one point even the Eiffel Tower was threatened — perhaps that was what stopped him and led to his eventual exposure and arrest; but the whole farce in its jittery way was a miracle, and convulsively funny.
It never occurred to us that those jumpy, fastertitan-life productions lent themselves to comedy far better than to serious drama, but it certainly occurred to the producers, who hammed up every love scene or attempted seduction, so that it became not even melodrama but sheer farce. If there was ever any sex in the Keystone Kops and their well-wrapped bathing beauties, I never detected it, and even in The Perils of Pauline it was the tossing and torture Pearl White received and not any disclosure of her pulchritude that I looked for. This was all right with me, for I was at the stage where my parents' embrace embarrassed me and where the meager love stories in Kipling seemed mawkish and better to be skipped.
There must have been love interest in The Birth ofa Nation — though it ran a poor second to the heroism—for I do remember the dashing charm of that fine Confederate officer, H, B. Warner (anyone present remember him in The Quaker Girl?), and the plaintiveness of Lillian Gish. Theda Bara must have made with her eyes and bosom, but in my photographic memory she seems as mysteriously encased in beads as a Turkish corner. Surely what we looked for in Mary Pickford was her undiluted, 30,000-calorie sweetness as she pled for our sympathy in Little Lord Fauntleroy; what we looked for in William S. Hart was the poker face, the hat cord under the chin, and horsemanship which for the first time exuded the real dust of the plains; just as what we looked for in Douglas Fairbanks were his incredible leaps, his swordsmanship, and the audacity of Three Musketeers rolled into one. Not till the tempo of the films had slowed down, not till the piano player with his bagful of parody tunes ("Pony Boy, Pony Boy," and here comes Bill Hart) had been eliminated, not till Pola Negri, Rudolph Valentino, and Clara Bow brought passion to the screen, did "It" become a box-office attraction, and in view of the overdosage since, I sometimes wish we could have continued in our innocent, one-dimensional world.
THE GREAT CHARLIE
In the days before movie actors were taught to speak, there was an unspoken subtlety in their performance, a suggestive subtlety and pantomime in which Charlie Chaplin was without rival. Here is the way Chaplin would do it, told in his own words: "... in the hotel lobby I felt I was an impostor posing as one of the guests, but in reality I was a tramp just wanting a little shelter. I entered and stumbled over the foot of a lady. I turned and raised my hat apologetically, then turned and stumbled over a cuspidor, then turned and raised my hat to the cuspidor. Behind the camera they began to laugh." This was the genius that made his Tramp endearing.
MY AUTOBIOGRAPHY by CHNRLES CHAPLIN (Simon and Schuster, $6.95) is the most original, virile book about the theater that has been written in a long, long time. Chaplin's parents were English vaudevillians who were both on the rocks before young Charlie was born. His father was a brooding man with dark eyes, addicted to the bottle; his mother a soubrette, dainty and attractive, who in her good periods reminded him of a bouquet of flowers. At eighteen she had run off to Africa with a middle-aged man, and the result of this adventure before she returned to the stage was her older son, Sydney, Charlie's senior by four years, whose loyalty and earnings were indispensable as their mother faded away into insanity.
The penury and despair of Charlie's boyhood are like flashes out of Dickens. Charlie was schooled not in the three R's but in the theater. He made his first stage appearance at the age of five and a half in the Canteen at Aldershot, where he captivated the tough soldier audience when his mother had lost her voice. He lived for a time in a school for destitute children which makes Dotheboys Hall sound like Eton, and when he escaped from there, he worked as news vendor, toy-maker, printer, and glassblower, always with a hankering to get back on the stage. He joined a troupe of clog dancers, had a bit part with Marceline, the famous clown, at the London Hippodrome, and scored a precocious success before he was thirteen as Billy the pageboy in Sherlock Holmes. When he came to play the vaudeville circuits in America, he had all that the London stage could teach him; Charlie's performances as a drunk caught the eye of Mack Sennett, who signed him up for three films a week at a salary of $150. Neither Mr. Sennett nor the curvacious Mabel Normand nor anyone connected with the Keystone Studio had a premonition of what they had let themselves in for. "We need some gags here," Sennett said to Chaplin. "Put on a comedy make-up. Anything will do."And on the way to the wardrobe Chaplin chose his destiny: baggy pants, big shoes, a cane, and a derby hat, the coat tight, the hat small, and the shoes large, everything a contradiction, and because Sennett had expected him to be older, he added a small mustache. So, the Tramp was born.
Because his stuff was so outrageously different, the cutters kept throwing it out; this led to a showdown and a new contract in which Charlie was to write and direct all his own comedies and was to be given a twenty-five -dollar bonus for each picture. One picture called Twenty Minutes of Love he made in a single afternoon, and it was a continuous laugh; Dough and Dynamite took all of nine days and cost $1800, but because Charlie had exceeded his budget of $1000 he was not paid his bonus for this one.
Success when it comes is seldom as much fun to read about as the hard way up, as Moss Hart so well demonstrates in Act One, and too many stage memoirs degenerate into a tedious succession of triumphant first nights. But the second and prosperous half of Chaplin's book is redeemed by the inside story of the big films like Shoulder Arms and The Gold Rush, the very mention of which stirs affection; by the daring with which he, Douglas Fairbanks, Mary Pickford, D. W. Griffith, and William S. Hart formed United Artists; by his insatiable curiosity, and by his personal encounters — here is how he took the world when his hardest days were behind him. I am assured that he wrote this book himself with help only in researching detail. His recall is both sharp and vivid. In only one particular is the prose stilted: it seems curious to me that when he writes about women who obviously meant so much to him, his descriptions are so cliché-ridden and devoid of individuality.
NATURALIST AT LARGE
Among the royal jewels of radio in its great day were Information Please. The Town Crier, Allen's Alley, Town Meeting of the Air, and Jack Benny. It is hard to believe that there are now Ph.D.'s who never heard Information Please, who never gasped at the quick wit of Clifton Fadiman the Emcee or the surprising range of knowledge which JOHN KIERAN had within his grasp. How Mr. Kieran came to know so much about athletics, natural history, American birds, the city of Manhattan, cement sewers, and belles lettres is now disclosed in a friendly autobiography, NOT UNDER OATH (Houghton Mifflin, $5.00). He was born in New York City, the son of a college president, but the best days of his impressionable years were spent on the old farm in Dutchess County, and there his appetite, his curiosity, his irrepressible zest for every gleam and mood of nature were aroused. There he also learned to distinguish a Spitzenburg from a Baldwin in two bites.
As with Charlie Chaplin, so with John Kieran it is the story of how he caught on that is most endearing. I like his nonpaying venture into the chicken business, when, led on by a succulent advertisement, he ordered a pen of Plymouth Rocks for breeding. When the undersized, scrawny chickens were delivered, John wrote a letter of complaint beginning:
Dear Sirs: Received your consignment of lice. There
were also some chickens in the box. . .
A more lasting investment made at this time was his purchase of a copy of Chapman's Handbook of Birds of Northeastern North America. After the chickens came a trial run as a construction worker, and by the process of rejection, this led him to apply as a sportswriter for the New York Times in 1915. John had played five different sports in college, and in this form of reporting, his enthusiasm, his humor, and his eye that never missed a trick made him the best.
His network of friendships grew as John matured, and by 1940 he was known and loved from coast to coast. During the war, overworked, worried about his ill wife and John, Jr., an infantry officer apparently missing in Sicily, he suffered the first of his angina pains while taking a sprint in Van Cortlandt Park. The attack was to change his life, ruling out smoking and inducing a more reflective attitude, as is evidenced in this characteristic comment: "The intermittent angina pains usually came when I was taking my customary morning walks in the woods and fields. On such occasions I would simply lie down on the flat of my back and breathe slowly until the pain left me. This was no disturbance of the peace."
For more than a decade now he has been a landmark on the beaches and in the woods of Cape Ann, and the photograph of him, binoculars to his eyes as he scans the long beach, has this caption: "A low sun, a long shadow and one last look before starting home," suggestive of the sageness and serenity in this pleasant book.
BEYOND THE BEYOND
PAUL BROOKS is one of the staunchest defenders of our wilderness, of our Thoreau inheritance, anywhere to be found. With his wife, Susan, in the bow of their canoe, he has sketched and explored our most rugged and remote national parks. On a single trip he has made portages half the length of Fifth Avenue. He cooks as well as he writes, and out of his love for the unspoiled has grown his philosophy for the preservation of our American heritage. ROADLESS AREA (Knopf, $4.95) is a collection of his papers, many of which first appeared in the Atlantic, with three score drawings by the author. They give to us who are less adventurous the sense of being on these lonely streams, of camping under the stars, of savoring the last frontiers, and of realizing how imperative it is for man's spirit to conserve such sanctuaries, whether in Alaska or in the rain forests of the Olympic Peninsula, on the Concord River in Massachusetts or in Kenya. Mr. Brooks, who is an accomplished editor, is quite aware of the blisters, mosquitoes, and the many unpredictables; he writes with humor, vividly and with strong conviction.