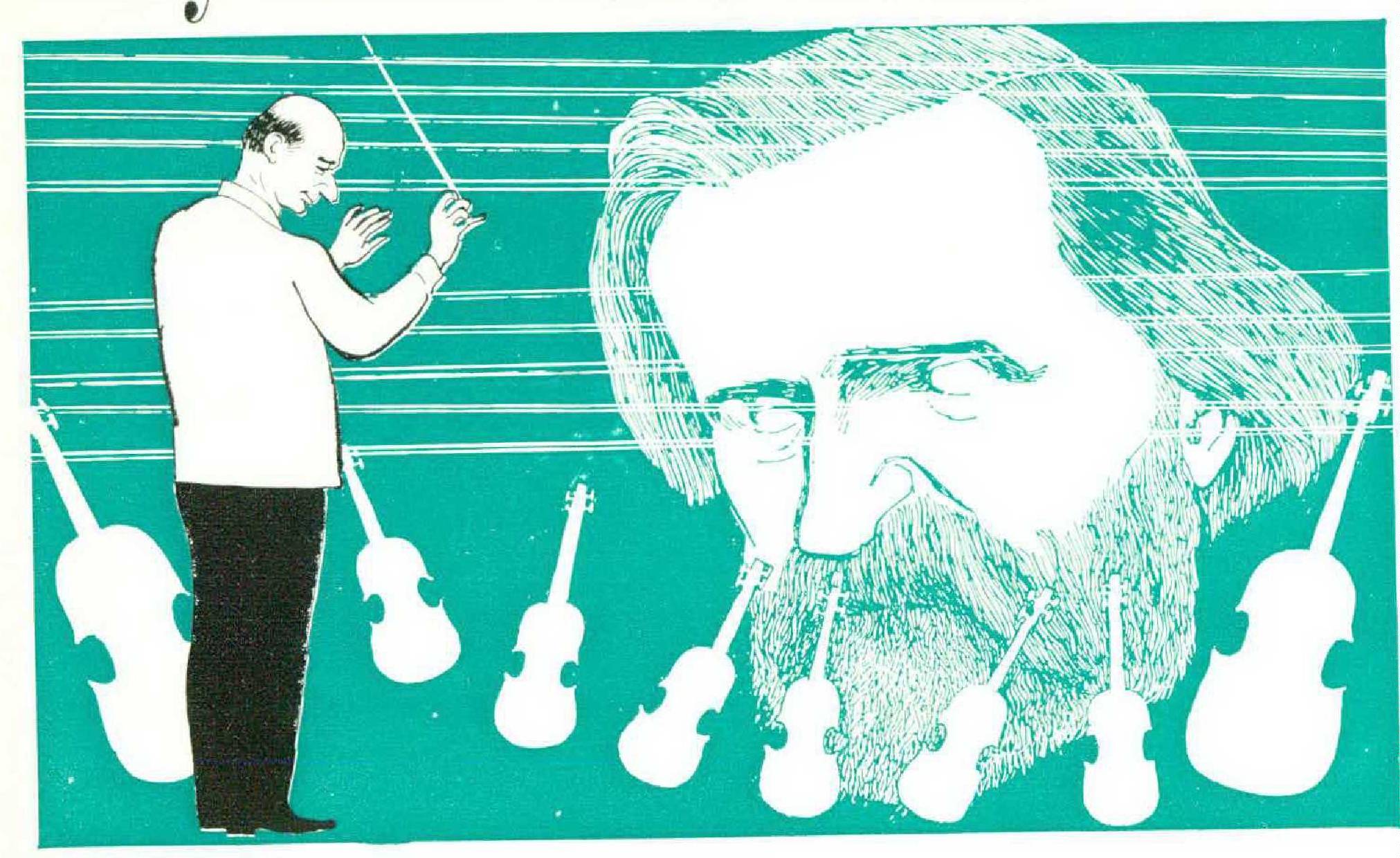 That Giuseppe Verdi wrote one string quartet to go along with his twenty-six operas is a fact well attested by musical historians. Unfortunately. it is a fact infrequently demonstrated in performance. Verdi's Quartet in E Minor seldom attracts the attention of chamber music ensembles, and for many years it has been absent from the record catalogues.
William Steinberg, the conductor of the Pittsburgh Symphony Orchestra, feels a sense of missionary zeal toward the Verdi quartet, and he has transcribed it for string orchestra. Even more important, he has persuaded Command Records, a label not notably given to experimentation in the classical field, to permit him to record it.
The Verdi quartet, as it emerges in Steinberg's full-bodied treatment, is a work well worth attention. Admittedly, if Verdi weren't the world's most famous composer of Italian opera, it would be completely forgotten. But it remains music of cheerful mien and melodic charm, a kind of romantic serenade concocted from breezy Italian tunes and sparkling, graceful rhythms. Verdi's quartet is anything but a student work; he was sixty when he wrote it, to pass the time (so he said himself) while a new production of Aïda was being prepared at Naples. Some listeners have professed to hear echoes of Aïda in the quartet: others a foretaste of Falstaff.
In any event, Verdi didn't compose the quartet for academicians (any more than he composed his operas for them), and not all the rules and regulations of stringquartet writing are observed to the letter. The slow movement isn't very slow, for example, and the third movement exists mostly for the sake of a lilting melody inserted in the middle of it. But its expansive mood, its romantic themes, its swift fugal passages that seem to wink at the listener as they go by make the Verdi quartet a thoroughly friendly and refreshing work. Also, it might be noted in passing, it lends itsell admirably to the harmless musical sport of "Guess who?" In a spirit of scientific experimentation, this reviewer played the Verdi quartet for half a dozen reasonably knowledgeable listeners, none of whom suspected its authorship. Brahms, Tchaikovsky, and Dvorak were among the composers suggested, which gives some idea of the range, as well as the attractiveness, of this music.
In addition to casting a pleasant sidelight on Giuseppe Verdi, this recording of the Quartet in E Minor tells a good deal about William Steinberg, whose musical tastes, as reflected in his program-making, are sometimes the delight and sometimes the despair of his audiences. Steinberg, who is now sixty-four, has over the last ten years brought the Pittsburgh Symphony to a level where it is ranked by many authorities among the Big Six of American orchestras, along with the Boston, Chicago, Cleveland, New York, and Philadelphia (the order, be it noted, is alphabetical). Steinberg has just taken the Pittsburgh Symphony on an eleven-week European and Middle Eastern tour on behalf of the State Department, including stops at Frankfurt (where he was conductingopera when the Nazis drove him from Germany in the 1930s) and Edinburgh (where he and his orchestra were the final attractions of this year's festival).
This fall Steinberg is widening his activities in the United States, too. Leonard Bernstein, die musical director of the New York Philharmonic, is taking a sabbatical from his post to concentrate upon a new Broadway musical he is writing. Of the four conductors who will replace him, Steinberg has been accorded the lion's share of the season, with twelve weeks. He wall also make his debut at the Metropolitan Opera House, directing three operas, Verdi's Aïda, Wagner's Die Walküre, and Samuel Barber's Vanessa. It is an ambitious year, but quite in keeping with the active life led by Steinberg, whose career has included the founding, with Bronislaw Hubermann, of the Palestine Symphony Orchestra; the associate conductorship of the NBC Symphony Orchestra with Arturo Toscanini; and a seven-year stay in Buffalo, New York, where he raised the feeble local Philharmonic to the status of a strong and respected orchestra of the second rank.
Wherever he may perform, Steinberg has no intention of altering his penchant for playing the kind of music he thinks ought to be played. A stocky, sturdily built man who likes to smoke a pipe, he talks freely about his "suicide" or "crazy" programs.
"It's my mishugos," he says, using the Yiddish slang for craziness, or eccentricity. "I don't want to go along my whole life with Brahms and Tchaikovsky symphonies. So I deviate sometimes from the average bourgeois program. I play the Manfred of Tchaikovsky, the Lelio of Berlioz, the Mahler Six and Seven. Who plays the Elgar Symphony No. 2 nowadays? I do. This season I am giving a Bruckner cycle with the New York Philharmonic. In Pittsburgh I made a program of a Vivaldi bassoon concerto, the Verdi quartet in the string orchestra version, and the Mahler First Symphony. We give fifteen or sixteen contemporary works a season in Pittsburgh; I have a conviction that a conductor must show uncommon works to an audience. I find that the smaller cities are often more progressive and receptive than the large ones like New York. They know the difference in Buffalo."
Ironically, Steinberg seldom has an opportunity to record the kind of music he likes to propagate. His previous recording affiliations, for Capitol and Everest, have taken him, for the most part, down familiar paths. And his three years with Command have been largely a round of Beethoven, Brahms, and Tchaikovsky. His debut on the Command label three years ago, in Brahms's Symphony No. 2 in D, created a sensation by reason of its superb sound and its forceful musicianship, but it led not to Bruckner and Elgar, but to further recordings of Brahms.
Even within the limits of standard repertory, Steinberg is managing to leave an individualistic imprint on the LP catalogue. He is on the way to joining the select list of conductors (Ansermet, Klemperer, Krips, Scherchen. Toscanini, von Karajan, Walter, Weingartner) who have recorded the nine Beethoven symphonies. Command has already released Steinberg's performances of Nos. 3, 4, and 7, and to these it now adds Nos. 1 and 2, coupled on a single record. Steinberg brings to Beethoven's First and Second a crisp and direct approach; his tempos are brisk, with no lingering or languishing. Other recordings of these symphonies (Bruno Walter's, for instance) generate more warmth, but Steinberg's have as much vigor and polish as anyone else's. And the stereo sound — always a Command hallmark is spacious and crystal clear.
Steinberg tends to regard musical interpretations, his own no less than others, as subject to change. Recordings he has made in the past, he says, undergo re-evaluation in his own mind. "Years ago," he said, "I made a recording of the Mozart Jupiter. Afterwards, I had qualms about it. I almost felt as if I no longer wanted to stand behind it. Then in later years I heard it again, and now it seemed right. I am constantly reconsidering music. To fix an interpretation loses its value. As I conduct, I am always in a fluctuating state — not, I hope, petrified."
As a technician, or "stickman." to use the musicians' term, Steinberg is economical of motion and firm of purpose. "I try to disappear as a person behind a screen of music. I am no jack-in-the-box," he says.
Steinberg is reluctant to express preferences among composers, remarking that as a conductor he cannot afford to play favorites. Nevertheless, he acknowledges a partiality toward Mahler and Bruckner, those discursive twins of post-Romanticism. With both Bruno Walter and Dimitri Mitropoulos gone, Steinberg believes that he is as well equipped as any living conductor to carry on the Mahler-Bruckner heritage. Nor is he discouraged by the thought that American concert audiences do not respond to Bruckner's rambling scores as eagerly as Middle-European listeners. Symphonic programs, Steinberg holds, should be made up not only of music that audiences like but of music they ought to like.
Nevertheless, Steinberg tends to be philosophical about a recording schedule that leans heavily toward the surefire and the commercial. "Records must sell," he says. "Of course I would like to record noncommercial works. But whatever we record, we give all our energies and abilities. I tell my orchestra at the recording session: 'This recording must be good; it will be fixed for all eternity.' How long is eternity? Until the next time."
Enoch Eight, the former popular bandleader who established the Command label as a purveyor of Persuasive Percussion and similar pops records and later developed a classical fine built mostly about Steinberg and the Pittsburgh, cheerfully acknowledges that he intends to stick to the tried and true in future releases.
All the same, he readily accepted Steinberg's suggestion that the Verdi quartet be recorded. "We found there was no other version in the catalogue," said Light, "and Steinberg wanted very much to do it. So we went ahead. I try things that I think are good." However, Light did hedge his bet slightly, for, coupled with the Verdi quartet, which is receiving its lone LP recording, is the Tchaikovsky Nutcracker Suite, which is receiving its thirtieth.
Record Reviews
Bach: Suites No. 3 in C and 4 in E-flat for Unaccompanied Cello
Pierre Fournier, cellist; Deutsche Grammophon Archive ARC-73187 (stereo) and 3187
Pierre Fournier is the most elegant of cellists, and the smoothness and sureness of his technique were never displayed better than in these two Bach suites, which are, despite their difficulties, unmarred by grunts, scrapes, wheezes, and other manifestations of the cellist's trade. But there are other qualities to commend this record, too - most notably, a serenity of spirit which well befits these remarkable compositions for a solitary instrument. Fournier can make his cello dance through a gigue or a bourrée; he can spin out a single strand of melody or match Bach's most complicated rhythmic demands. And in so doing, he reveals not only the performer's craft but also the composer's art.
Bizet: Carmen
Herbert von Karajan conducting Vienna Philharmonic Orchestra and State Opera Chorus, with Leontyne Price and Mirella Freni, sopranos; Franco Corelli, tenor: Robert Merrill, baritone; Frank Schooten, bass; and others; RCA Victor LDS-6164 (stereo) and LD-6164: three records
Although Carmen today is universally regarded as the supreme French opera, its first performance in Paris in 1874 was a failure, and it was not until it was staged in Vienna the next year, with added recitatives by Bizet's friend Ernest Guiraud, that it began to conquer the world. So a Viennese recording, with such modern refinements as an American soprano in the leading role, has at least historical justification. This recording is Viennese Carmen at its best, with von Karajan directing a meticulously played and cogently sung production, with Miss Price (who has never sung the part on the stage) giving a carefully planned and thoroughly prepared portrayal of Carmen, with Mr. Corelli contributing a fine tenor gleam and some unexpected sensitivity to the role of Don José, and with Mr. Merrill his robustly sonorous self as Escamillo. It is probably as stellar a Carmen as can be produced anywhere in the world, and quite the solidest version in stereo. Et pourtant — as Carmen herself might say — something is lacking. Aside from the gingerliness with which the principals approach the language, aside from the inability of the Viennese choristers to create the illusion of southern Spain, or, for that matter, northern France, there is a certain methodical weightiness that deprives the work of much of its surge and vigor, especially in the first two acts. It shows almost immediately in the Cigarette Chorus, which is languorous almost to the point of parody, and in the "Habañera" itself, whose measures are made to seem portentous rather than seductive. A measure of French flavor is provided by a bevy of Paris Opera singers, engaged for lesser roles such as Zuniga, Morales, Frasquita, and Mercedes; and the lovely, if Italian-accented, Micaela of Mirella Freni is a pleasure to hear. Vienna could not offer a more conscientious Carmen. But it does not exhaust the opera's possibilities.
Mozart: Complete Wind Music
London Wind Soloists directed by Jack Brymer; London CS-6346/50 (stereo) and CM-9346/50: five records
These five records, available singly or as a set, demonstrate Mozart's ability to write astonishingly beautiful music for the most unlikely combinations of instruments. The antecedents of these works were the "table-music" with which noblemen were wont to be entertained at dinner, and the serenades that were played out of doors in the eighteenth century. But Mozart, with his never-failing resourcefulness and his superb skill in tone color, touched even these trifles with genius. Three of the pieces on these records are masterpieces: the Serenade in B-flat for Thirteen Wind Instruments, K. 361; the Serenade in E-flat, K. 375, for two oboes, two clarinets, two bassoons, and two horns; and the Serenade in C Minor, K. 388, for the same eight instruments. But the lesser pieces are a delight to hear too, with their perky oboes and bouncy horns, and general air of high spirits alternating with gentle melancholy. All five of the records are highly recommendable, but if a choice of one must be made, it might well be Volume 3, which contains two cheerful divertimentos and the great Serenade in C Minor, one of the most emotionally charged pieces Mozart ever wrote. He later arranged it as a string quintet, but it has more power and color in its original wind version. Performances by the London Wind Soloists are excellent throughout.
African Concert
Les Troubadours du Roi Baudouin; Philips PCC-6U (stereo) and PCC-214
Les Troubadours du Roi Baudouin are a troupe of young Congolese singers and percussionists who have been trained musically by Franciscan priests. Fortunately, they have been encouraged to perform African rather than European music, although some Western touches are inevitable. In this collection, sung in Swahili and other native tongues, they sing of such diverse matters as the plumage of birds, the joys of childhood games, the menace of crocodiles, and the sound of the railroad locomotives that have invaded their continent. Their opening song, tlAh Ibada," is a hymn in praise of Ugandan martyrs that combines a captivating lilt in the melodic line with an exciting percussive rhythm. The songs that follow never quite attain this level again, but most have a freshness and exuberance of their own. The record album gives texts and translations of the songs and is attractively illustrated with woodcuts.
Dust Bowl Ballads
Woody Guthrie, folk singer, with guitar accompaniment; RCA Victor LPV-502
Woody Guthrie, the granddaddy of the American song of protest, made these recordings in 1940, when memories of the Oklahoma dust bowl were still vivid and John Steinbeck's The Grapes of Wrath was still in vogue. Re-released now in the new Victor Vintage Series, they still produce a powerful effect. In blues and ballad rhythms they tell of dust, dust, dust, as evidenced in their titles: "The Great Dust Storm," "Dust Cain't Kill Me," "Dust Pneumonia Blues," "Dust Bowl Refugee," and the ultimate, "Dusty Old Dust." Among the most fascinating and poetic are two songs called "Tom Joad," about the hero of The Grapes of Wrath, and written, according to Guthrie, "because the people back in Oklahoma haven't got two bucks to buy the book, or even thirty-five cents to see the movie, but the song will get back to them and tell them what preacher Casy said." Their sense of mission, if anything, strengthens the musical impact of the songs, and Guthrie sings them in a straightforward style without a trace of whine or plaintiveness. And there's more than one touch of humor, as in the ballad of a girl who escaped from Oklahoma only to faint in a Texas rainstorm. She had to be revived, so Woody sings, by having a bucket of dirt thrown in her face.
Shakespeare: Hamlet
John Gielgud, director, with Richard Burton, Hume Cronyn, Alfred Drake, Eileen Herlie, Linda Marsh, George Rose, George Voskovec, and others; Columbia DOS-702 (stereo) and DOL-302: four records
This is an "original cast" Hamlet, the players being those of the 1964 Broadway production starring Richard Burton. And from Hamlet's entrance to his death scene, it is Mr. Burton who dominates and shapes the play with his rich and expressive Welsh voice. Unfortunately, some of his pre-eminence is purely relative, for this is a mixed cast indeed, with a wry and dry Polonius (Hume Cronyn) side by side with a weak Ophelia (Linda Marsh), and a resonant and resolute Ghost ( John Gielgud) matched with an unconvincing Claudius (Alfred Drake). Despite its four-record length, the play has been somewhat trimmed. Since Hamlet owes so much to Hamlet, there are many stirring moments in this production, notably several of the soliloquies and a powerful and moving graveyard scene. Mr. Burton's Hamlet is eminently worth preserving. But of the two other recorded complete Hamlets available, that by the Shakespeare Recording Society offers a more consistent sense of dramatic unity, and that by the Marlowe Society for London a more consistent awareness of the shadings and subtleties of the English language.