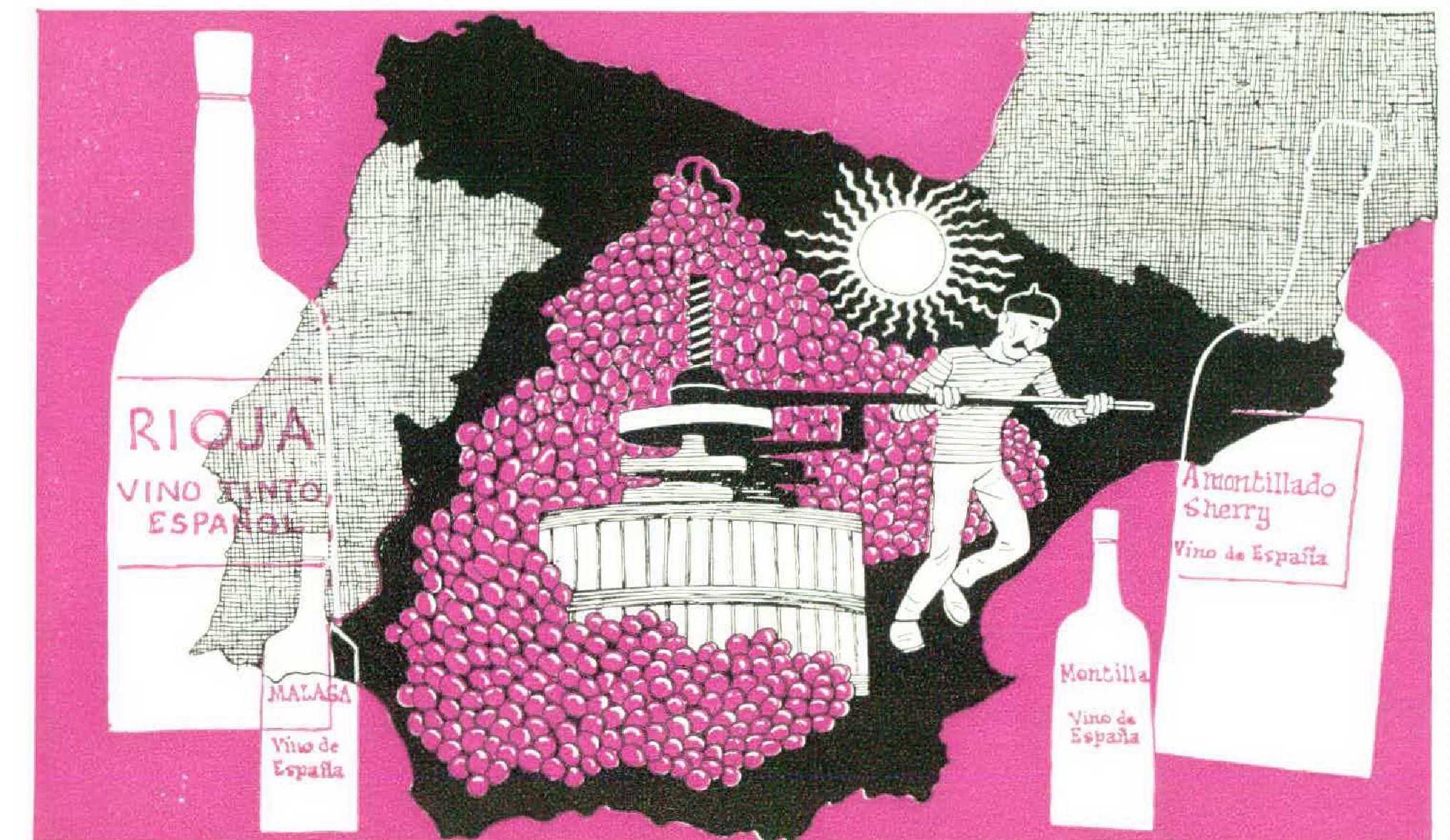 To nine out of ten topers, Spanish wine means sherry — Finos, Amontillados, Olorosos, and a score of branded names of long lineage and decent antecedents. Spain's table wines have, by comparison, attracted very little attention abroad, not least because the Spaniards themselves have neglected to export them as they are and have preferred to ship the worst of their products to southern France, where some of the most nefarious wine factories in the world exist. Much of what passes as Bordeaux, Burgundy, or a wine of a lesser French region is an unskillful blend of the base wines of the Spanish Levante and La Mancha, married to rough but simple Algerians, with a tincture of the neutral wines of the French Mediterranean littoral added.
Yet Spain has plenty of drinkable table wines and some very good ones. And as the standard of living rises in Spain, and the need to earn more in order to import more becomes greater, increased attention will be paid to the quality of Spanish table wines and to the selling of them. Their day will come.
The first thing to note about them is their quantity. The Spaniards make around twenty million hectoliters of table wine each year, or about five times as much as the Germans, with their vastly better-known Rhines and Moselles. A bad Spanish grape harvest is very rare indeed. The enemy is not, as in France or Germany, spring frosts and autumn rains; it is drought. Thus the 1956 grape harvest in Spain was excellent; in France it was bad, and in Germany it was deplorable.
Spanish vines get all the sunshine they need, the grapes ripen quickly and can be harvested early, and pests are much less a problem than in the damper countries to the north. Labor is relatively cheap (in the vineyards the Spaniard earns less than half as much as the German), and there is no shortage of labor; the drift to the towns will become dangerous only in Spain's next phase of industrial expansion.
There is an easy rule for anyone wanting to sample Spanish table wines. Begin with a Rioja ("ReeO-Ha"), and let the wine be red. The Rioja vines are grown on the banks of the upper Ebro and its tributaries, partly in the Basque province of Alava and partly in the neighboring provinces of Navarre and Castile. These valleys are protected from the north winds and the rainstorms of the Bay of Biscay by the Cantabrian mountains, bleak giants of 8000 feet and more. The climate is grim in winter but perfect for grape growing in the spring and early summer. More than one million hectoliters of Rioja wine are made every year.
The three distinguishing marks of a good Rioja are purity, strength, and charm. Ample hours of sunshine mean that sugar need never be added to a Rioja, unlike some of the wines of France and most of those of Germany.
Sunshine gives most Spanish wines a high alcoholic content, much higher than the French equivalent. The unwary should heed this Spanish wines were never meant to be gulped down. Sunshine may help to give the red Riojas their limpidclear, light crimson color. It's another point in their favor — looking at one's wine, after all, contributes to the joy of drinking it (possibly why sybarites so often bracket their wine with their women).
And Spanish wines are cheap. A liter of vin ordinaire costs no more than eight pesetas (16 cents). A bottle of Rioja Clarete (claret-type) costs, in Spain, around 35 pesetas, a mere 70 cents, from the wine merchant, or 50 pesetas, $1, at a restaurant. This will be a wine which has spent from three to five years in the cask before being bottled, is possibly six to seven years old, and retains a charming freshness. You may have to pay almost twice as much for the six-toseven-years-in-the-cask wines of the Marques de Riscal, and they will be just about the most expensive on the wine list.
A Rioja Clarete or a Burgundytype Castel Pomal is a perfect accompaniment to any sort of meat course, from the chopped chicken, prawns, and rice which make a Valencian paella, to a cold plate of salami and smoked ham. But let it not be thought that the Riojas are the only drinkable Spanish reds. Halfway from Madrid to Granada is the Valdepeñas area, where grapes grow on a plateau more than 3000 feet above sea level. Cheap Valdepeñas reds are rough and have a dangerously high iron content (never leave a bottle of it open overnight, for you will be sure of a headache after drinking it the next day); the better wines of the region are deliciously dry and thirst quenching. The fable that Valdepeñas wines do not "travel" has long ago been exploded — I drank a particularly good one on the shores of Lough Derg in County Tipperary recently, and another in the middle of a Yorkshire moor.
Catalonian reds are on the sweet side, and their richness and strength are not to everyone's taste. Those of Aragon are lighter, and those of Galicia must be drunk in that province (they really don't travel well). Some adequate reds are now being made in Murcia, but those of Valencia are to be avoided. There are rosés being made in Catalonia and Aragon, possibly more for their color and tourist attraction than for any better reason. The well-established principle should be applied of drinking a mediocre rosé very cold. The supporters of this kind of wine can always argue that it is allpurpose and ends both hesitation and controversy over the wine list.
Spanish whites are just not as good as reds. This may sound sweeping, and there may be one or two minor exceptions and qualifications, but it is pretty generally true. The bountiful Spanish sunshine leads to whites being full, rich, and sweet. There are one or two, of a French Sauterne type, which will go excellently with strawberries and cream, a peach melba, or just fruit and nuts. But Spain has something better to offer with the dessert — the rich, darkgolden Malaga which went as sack to England in the Middle Ages and is made from the Muscatel grape.
For the male palate the Brillantes of Paternina and the Bodegas Bilbainhas are too sweet and sticky, and the Cepa de Oro is perhaps the nearest approach to a mediumsweet Graves. It is rumored that a Chablis-type Rioja is being produced in the Valley of Stones, on the upper reaches of the Ebro, and Galician whites, the palest and driest in Spain, are, again, usually regarded as bad travelers and are easily accessible only to those who are visiting Santiago de Compostela, or tracing the route of Sir John Moore's men retreating to La Coruña.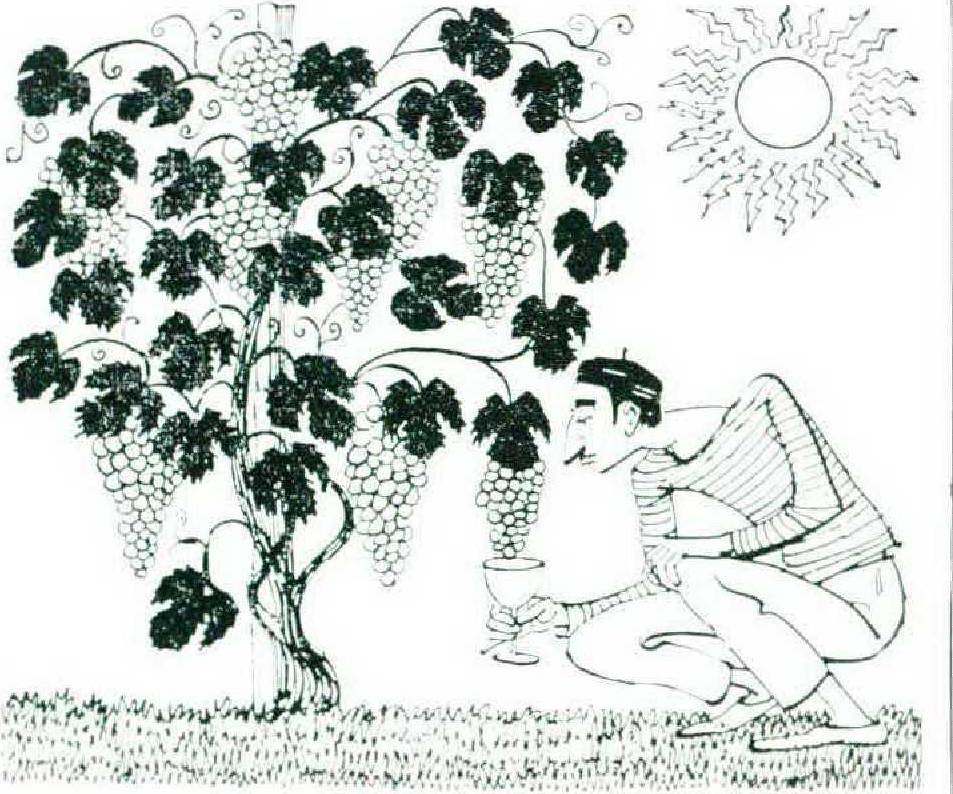 Worthy of mention is the Monti11a wine, which comes from the area north of Jerez and whose name has the same derivation as the mediumdry Amontillado sherries. Montilla is a sherry-type wine which is slightly fortified for export but which still carries a low rate of duty (it is built up to a 25 to 28 percent alcoholic content). The Spaniards drink it unfortified - a straw-sherry color, it is best at cellar temperature.
Yet there is no need to lament the almost uniform sweetness of Spanish whites, even if you are in Spain. For Spain, of all countries, has the best answer to that defect. Order a lobster canapé as your first course, before the soup, and drink a Garvey's San Patricio sherry with it, one year old, fresh, light, alluring. Move on to your consommé, and use an Amontillado with it, just as light but with all the fine maturity of its twelve years of life. And having engaged yourself in this conflict with your liver, go the whole hog — drink one of the Marques de Pascal's six-years-in-the-cask Riojas with your main course, and finish with a Spanish liqueur brandy. It is only twenty-five cents a glass, and even though it is not allowed to call itself cognac, it will be worth all of that.