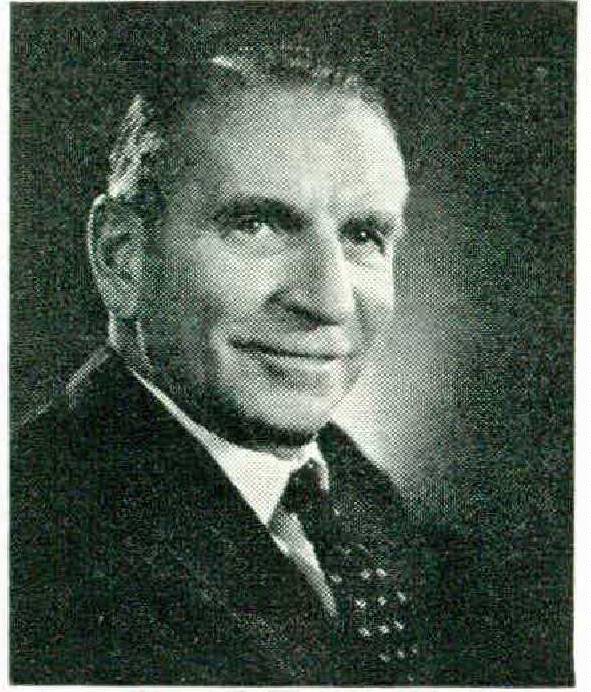 BY EDWARD WEEKS
THE Old Corner Book Store, on the corner of School and Washington Streets in Boston, with its leaded windows and sloping, snow-shedding roof, is now being restored as a national monument.
In its days of glory in the nineteenth century, the Old Corner was a literary sanctum where the early editors of the Atlantic had their office; a meeting place for the literati; the dispenser of tickets for the more famous lectures, like those of the Lowell Institute besieged by applicants, who in their eagerness crushed in the windows; and the showcase for the exciting new books from England and the Continent which were so keenly awaited. Its fame was predicated on the economic and literary supremacy of Boston in the years from 1830 to 1870, and the man who gave it the greatest luster was James T. Fields, who entered its employ as an office boy at the age of thirteen. A high school graduate from Portsmouth, New Hampshire, Fields had the natural endowment of a publisher: he was attractive to all ages, to women and to men much his senior; he had a gift for versifying; he was cheerful, appreciative, and a born listener. His lively second wife, Annie, summed it up nicely when she remarked that "his real interest is in what interests others." With his devotion to literature and his Yankee acumen, he rose in four decades to be the second editor of the Atlantic and the most distinguished publisher in North America. His achievements, His friendships, and his editing have been set forth in a sympathetic and pleasurable volume, PARNASSUS CORNER, by W . S. TRYON (Houghton Mifflin, $7.00).
Jamie Fields, with his turned-down Byronic collar, his dark good looks, and his ingratiating manners, was the most passionate anglophile of the nine men who have edited the Atlantic since 1857; and it is of constant amusement to me to compare Mr. Tryon's account of Fields's editorial visits to England with my own, which have been annual since 1946. Fields entered publishing at a time when, save for the Concord-Cambridge authors, the best of history, biography, essays, poetry, and fiction came from abroad. So there was ample reason for him to go questing to London and Paris, and once in England, he could hardly tear himself away. On his first trip, made when he was thirty, he stayed for six months. On his subsequent visits he lingered on for eleven months, and was recalled to Boston only by the groans and protests of his overburdened partner, William D. Ticknor.
Fields's conquests at the outset were those of a young man who looked far younger than his years, and they included the aging poet Samuel Rogers; Mary Mitford, the essayist, whose enthusiasm for Fields, despite the fact that she was in her sixties, became, as the biographer says, "so fervid that it is almost embarrassing to read about it": and the great William Wordsworth, whom the American visited at Rydal Mount. This was the high point, for Wordsworth showed him his library and later took him for a walk through the woods, and whenever the poet started a line of his verses, Fields was able to complete it, to Wordsworth's gratification.
"My hunger," wrote Fields, "to stand face to face with the distinguished persons in English literature was not yet satisfied." On his second pilgrimage in 1850, still as a publisher, in addition to seeing his old friends, he dined with Elizabeth and Robert Browning, was elected to the Garrick Club, visited Thomas De Quincey in Scotland, where he paid daughter Margaret a £50 advance for an American edition of De Quincey's work, and, best of all, he opened up a warmly reciprocative friendship with Thackeray. On his third expedition, nine years later, which cost $8000, he was scouting as editor of the Atlantic; he took Annie with him, and a great help she was. Mr. and Mrs. Alfred Tennyson called, and so did Leigh Hunt; Thackeray had them to dinner, Charles Reade to breakfast, and Barry Cornwall treated them as celebrities at a banquet. The most spontaneous new friendship was with Charles Dickens, and on their long walks together they reached an intimacy which was to last until death. In between their London engagements the Fieldses made a leisurely tour of France, Switzerland, and Italy. Jamie edited the Atlantic at long range from Paris and London, and again many months were to pass before Ticknor protested that he did not want Fields "permanently" abroad.
Eleven months is too long for any editor to be away from his desk, and Mr. Tryon does not refer to a crippling blow to the Atlantic which occurred during one of these long absences, and which might have been averted had Fields been available. Harriet Beecher Stowe, the hatchet woman of her day, had been confided in by Lady Byron, and when the appropriate moment arrived, Mrs. Stowe offered to the Atlantic a longish article in which she described Byron's iniquities and the degradation endured by his faithful spouse. With Fields away, the decision was up to his assistant on the magazine, young William D. Howells. Mrs. Stowe was insistent and had her way, but her article was read with a growing sense of outrage; and although the figures are not precise, the legend persists that in three months' time, 15,000 Atlantic readers canceled their subscriptions. It was the largest quittance then or since, wiping out at one stroke the increase that Fields had so enthusiastically built up.
Finally, it is clear that Fields banked too much on his personal charm. He was evasive when he should have been downright in his rejections, and, a still more serious matter, he acquired the habit of making his contracts with his authors orally. It was his general practice to pay his writers ten cents for each copy sold, and this was fair enough when a novel was priced at a dollar, but during the inflation of the Civil War, when novels rose to $1.50 and then to $1.75, Fields took no notice of the discrepancy until Gail Hamilton, acting for herself and indirectly for Mrs. Nathaniel Hawthorne, brought the matter to court and compelled a compensation payment.
Nathaniel Hawthorne's novels were among the few American works which Fields was able to sell abroad, and he and the author were elated when he was able to persuade Chapman to pay a £200 advance for The Blithedale Romance. Since then the tide has turned, and in 1919, led by the late Jonathan Cape, English publishers became as assiduous in combing the American market in New York and Boston as Fields once was in London. International copyright has put an end to the pirated editions, and literary agents have hiked up the royalties and made it impossible for a publisher to have his way with mere verbal promises. Good American authors are as indispensable to an English publisher as to our own, and a novelist like Ernest Hemingway is as quickly out of print in London as in New York. Thanks to the jets, publishers come and go, with their mission accomplished, in less than three weeks, which is just as well, since the hospitality on either side is as killing as it was when Fields was young.
Mr. Tryon has been skillful in making us feel the magnetism with which Fields attracted such distinguished authors to "Parnassus Corner," and the good taste and good temper with which he presented them to the American public. He shows us the shrewd Yankee sense with which Ticknor and Fields built up their firm, and the leisurely untroubled friendliness which Jamie and Annie bestowed on the literary celebrities who came to what Henry James called "the waterside museum of the Fieldses" on Charles Street. Jamie loved to hold forth, and in an age of many lectures and hardy listeners, he delivered his forty-minute poem on Eloquence more than thirty times and his lecture on Cheerfulness so often that he must have known it by heart. But I do not think that he was as superlative an editor as Mr. Tryon would have us believe; it seems to me that he might have dug far deeper for his material about the Civil War—I have always envied the editors of the Century for the sheer brilliance with which they planned their great serialization of The Battles and Leaders of the Civil War — and it seems clear that in his infatuation with England, Fields overlooked the newer writing in America, especially in the West, which his successor, William D. Howells, was to find in the work of Bret Harte and Mark Twain.
THE MAKING OF A HEADMASTER
It would be impossible for anyone schooled in New England not to see in the foreground of LOUIS AUCHINCLOSS' new novel, THE HECTOR OF JUSTIN (Houghton Mifflin, $4.95), the ruddy, powerful presence of Endicott Peabody, the founder and headmaster of Groton School.
Dr. Peabody — known to his boys as the Rector — was the most formidable and influential headmaster of his time, and his influence today permeates those private schools which aspire to do what he did at Groton, just as it does the pages of this novel.
The story is centered in Justin Martyr, an Episcopal boys' boarding school thirty miles west of Boston. The year is 1939, and to the school in early September comes Brian Aspinwall as a temporary replacement in the English department. Brian, a graduate of Columbia, had been studying at Oxford when war was declared. He was rejected when he tried to enlist in the British Army, and now, undecided as to whether he is qualified to be a minister, he turns to teaching as a stopgap,
Brian is intelligent and somewhat effeminate, and the boys in his class and in his house give him the full treatment before he gains the upper hand. T he headmaster, Dr. Prescott, is swift to perceive what is going on, and in his direct and rugged way he tells the intimidated teacher what to do. Brian records these first impressions in his journal, and in this somewhat artificial text, with its solace and confession, we begin to judge his character and that of his boss.
Dr. Prescott, broad-shouldered as a bull, is still the leader and the driver for all his eighty years, shrewd in his understanding of the boys, and surprisingly sensitive in matters of religion. The faculty gather for coffee in the headmaster's study after Sunday lunch, and it is here that Brian meets the headmaster's wife, a great-niece of Emerson, now grown gaunt and emaciated in her wheelchair. But she still has fire in her eyes, and in an argument over contemporary fiction, in the course of which Brian stands up for Jane Austen, a sudden alliance is established between the fading woman and the young man. He reads aloud to Mrs. Prescott as her illness worsens, and their understanding, which the novelist touches with spirit and tenderness, opens Brian's affection for the school and for the man who founded it. Thus, his journal turns from being an act of self-assurance to a character study of Dr. Prescott, his triumphs and his failings; and the contrast between the two — the masculine boy-dozer as he faces up to his retirement, and the frail but not fearful young master as he measures himself for the ministry — is well drawn.
Mr. Auchincloss always writes with urbanity. He knows the moods of New England and depicts them well; he knows the rivalries and pettiness of faculty life and the resentment and loneliness of boys who cannot be pushed. I think the older women in the book, notably Mrs. Prescott, are more believable than the younger, such as Eliza Dean. But my deeper misgivings have to do with the form of the narration; the story begins in Brian's journal, then we have excerpts from a book by Horace Havistock, Dr. Prescott's oldest friend, who has come down to the school expressly to tell him that he must resign. Then we have a series of notes by David Griscam, followed by the memoir of Jules Griscam, his grandson and a black sheep of Justin. This shift from writer to writer is not contrived with enough individual divergence.
I am not convinced that they would all take to paper this way; nor when they come to writing dialogue, that they would do it with the skill of an experienced novelist.